What a day on Saturday, here's a recap and some thoughts
What a day on Saturday, here's a recap and some thoughts
Matthes- Keefer, it was fun to hang out with you, Heather and Aden at the Red Bull Straight Rhythm event the other night. The first time I had gone to one. It's a pretty cool deal, the vibe is way casual and I thought it was all set up for a fun time for the fans that were there. Couple things for you…I can't believe how popular this Ronnie Mac thing was and do you think that's the easiest 25K Marvin Musquin has ever made?
Keefer- Dude, I honestly think it was way better than MEC. It was more of a fun vibe and Uncle Ronnie fits our dirt bike demographic right? More people were over there at his pits than anyone else's. I mean the dude was drinking PBR's before he was lining up! That is rad!
25K! That's how much he made? WTF? Do you know how long it takes me to make 25K? HAHA…Good for him. I didn't even care about the open class, I mean we left before Hanny and Marv raced. The attendance was what I was shocked on. I wonder if it was because of the two-stroke race?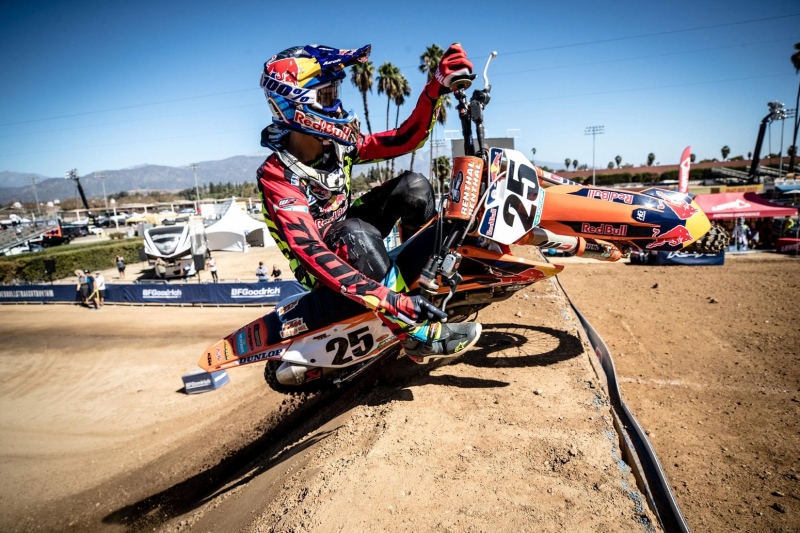 Musquin dominated the main class at SR to take home 25K. Photo courtesy of Red Bull
Matthes- People are seeming to love the two-strokes lately. I was pretty surprised to be honest that Ronnie was that good on a '98 CR250…I mean, he beat Ryan Villopoto straight up! I was stoked to see fellow RMArmy member Josh Hansen make it to the final and Kyle Chisholm rode pretty well also. As a former pro racer, do you think it would be hard or easy to race something like SR? Alex Martin told me he had 11 runs and still couldn't quite remember the proper rhythms!
Also, I told Red Bull Jeremy that he should work on expanding that two-stroke deal for next year as it's what the people wanted. Do you see current top pro's getting one done up for this race and then racing those? KTM, Husky and Yamaha guys?
Keefer- Ronnie's bike sounded the best honestly. I was listening to the bikes as they raced through and his was the crispest. Ride Red bro! Brownie broke a reed cage in qualifying and almost died and his bike just didn't sound jetted that well. I was more surprised that Sipes was still as good as he was seen though he is a woods guy now! He beat some pretty fast dudes as well.
SR would be difficult to get down in a hurry. I think that is why you saw some dudes get broke off this year. Jon Ames broke his femur, Chad got jacked, Haaker was injured, etc. It's tough to remember that much crap when all you see is jumps ahead of you. Corners are usually the rider's reset button (so to speak) to get ready for the next section (and remember it). That's not the case here is it!
Let's face it. I DO NOT like riding two-strokes that much. But…..They are a hit with new motorcycle owners and fans love them. I do like hearing a crisp two-banger go through whoops and I feel Red Bull should get more dudes for this and more people will come.
The RMArmy guy should of been Best Dressed too! Best looking bike of the night as well! I will give you that! But… It's till a sixth place bike. Let's get to the REAL Question. How was YOUR DAY Saturday?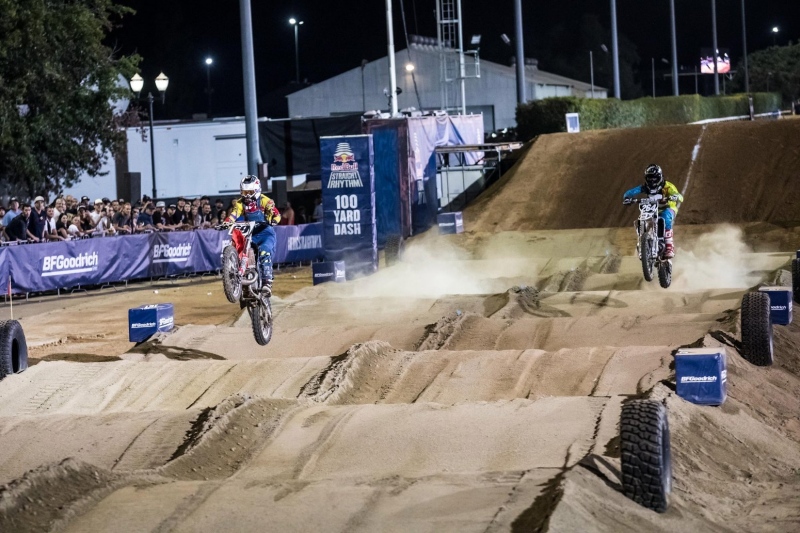 Ronnie Mac (left) was the star of the event which was kind of amazing. Photo courtesy of Red Bull
Matthes- I mean, it was amazing. When the clock struck midnight and Friday rolled into Saturday I was in one of Las Vega's finest adult establishments with David Vuillemin, a current SX racer that shall go nameless, my wife and some other friends enjoying looking at some topless women. Got home around 2:30AM, slept for three hours and then drove to Southern California track where as I arrived my 2018 RMZ450 was waiting for me on a stand. I continued my comeback to riding a dirt bike that day (going much slower than I had hoped to be) and then I was treated to a sub at Jersey Mike's by my factory mechanic/team Kris Keefer.
I cleaned myself up, hit a Starbucks up (paid for by Keefer) then got driven down to the Red Bull event. Watched some racing, talked to plenty of people including Mike Brown, Ryan Villopoto, Chad Reed, Mitch Payton (who offered me up an exhaust system for my RMZ), a guy who used to be in my circle that rides a Yamaha, Alex Martin, Troy Lee and plenty other people. I enjoyed the whole spectacle of the Straight Rhythm and then was driven back up to the Hi- Dez but not after getting a late night dinner also paid for by Keefer. It was truly a factory ride type of day!
Although the drive home was rough, I pulled into my driveway at 2AM thereby making it basically a 21 hour day. Did I dream that some guy in overalls and a '98 CR250 beat a four-time 450SX champion or what?
What a day!
Nay, it was "my day".
Keefer- Wow! I'm super jealous. Look, I am just happy you are riding a dirt bike because you do have a show pertaining to dirt bikes, so it makes sense that you ride one on occasion. I am also happy that I was at a big event (race) after the sun was set and my "day time SX only" status was bent slightly for the Red Bull Straight Rhythm. I am ecstatic that I spelled RHYTHM right in this email chain as well! Right? Yes, it's correct. Enjoy YOUR day Steve.