Matthes: Ryan Villopoto, on the show, back again. Thanks for coming on. Appreciate it. The great Ryan Villopoto.
Ryan Villopoto: Anything for you, Steve.
SM: If it's anything for me, how about two weeks ago when you were on you tell us, "Hey, I'm going to sign with Yamaha. It was a real cool thing." How about you tell us that?
RV: Why would I let the cat out of the bag early? It was awesome when I walked out the rig and everybody was like, holy shit!
Ryan Gauld: That was exactly what people said. I was there. I thought it was an electric bike or a YZ 65, and then sure as shit there is the man himself. Red hair, Monster hat, and a fucking blue shirt. It was beautiful. I had a tear in my eye. I have been Blue Crew since you were Blue Crew, and I almost cried. It was beautiful.
SM: Congrats on the Pulpy, btw. Did you get it?
RV: Yeah, I did get it. I just haven't pulled it out of the box.
SM: Fantastic. Pull it out, put it on the mantle right next to all those supercross titles.
RV: Actually, I did pull it out of the box. I don't know where it went. Maybe the boys were playing with it.
SM: Talk about it. What are you doing for Yamaha? How's it going? What'd you decide to do and all that? We want to know. What's up with the deal?
RV: Well, it's just getting started so it's really new. I've been in talks with them for a little bit. Obviously trying to work some things out and seeing how interested they were. You know how it all goes. It just doesn't happen overnight. Then just trying to figure out where I can fit into the program over there, if it was going to race team side or if it was going to be more marketing. It is all marketing at this point. We are going to do some super hooligan races. I think Sturgis is one of the ones that we're going to do. Huntington Beach is one that we're going to do. Obviously Loretta's Blu Cru. Photoshoots and things like that. So, it's pretty cool. They're all for me doing the super hooligan stuff. I actually wanted to race the one this year in Huntington Beach and wasn't able to pull it off. So to have them support me and totally back me up on it is pretty rad. They're like, we want to do it too! Send a technician. Let's rip.
SM: I was talking to Mike at Yamaha and he really said it's a blanket deal. Kind of whatever you want. Whatever they can help you with. There is no real plan right now, whatever it is.
RV: That's what was pretty rad. They were like, here's your umbrella of what we can do. I have some actual things in the contract that I'm going to do, but he goes, dude, it's an umbrella. We can side-by-side… Johnny Greaves has a team. He mentioned a couple other teams with the side-by-side, which is a huge thing that I'm looking forward to and into. It's pretty rad, to be honest. I'm pretty stoked on it.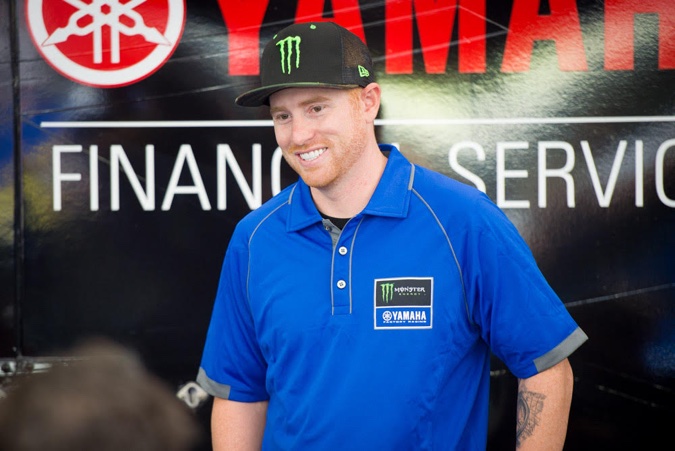 SM: We saw your Instagram story. You were out riding a Yamaha 450. What'd you think?
RV: Did you not read the whole deal that came across?
SM: I saw it, but it's just corporate BS. What'd you think?
RV: You were going to say that regardless. Everybody's going to say that. They're just paying him.
SM: What about that? Let's talk about that. People are saying that. What do you got to say to them about your deal and why you did it and everything else?
RV: First, did I ever race a 450 or 250 professionally? No I did not. It was pretty funny. It goes pretty far back. Mike Guerra was the amateur guy, and still is the amateur guy I believe. I maybe think his role has changed a little bit. This was fucking 2001. So, I go in the office. I'm in there for a meeting, and Mike's like, "I got to give you something." He goes, "I got a resume. I got to dig it out somewhere." He had to find it. Anaheim he brings it. He was like, "Oh dude, I got your resume." It's a resume. You know how YZ is. From me.
SM: You had a Yamaha. You rode for them back in the day, YZ 80s.
RV: Yeah. Well obviously pretty much everybody's first bike is a PW50. My first 80 was… I think I was on Yamaha 80s for four years. At the time, they didn't have really a place to go once you were to go pro. Mitch was kind of one of the very first people to have that team that was super legit. Yamaha of Troy was around, but they couldn't hold a candle at the time to Mitch. So, that was kind of the decision-maker to part ways in that. But I did ride a Yamaha for four years. It wasn't professional. No, it was not. So there is some history there. You guys will all see the resume here soon.
SM: The 450, you liked it? It was good? You're going to say it's good.
RV: Exactly. See what I said? You're sticking words in my mouth. Typical media.
SM: Yeah, fake news.
RV: Fake news, fake news. You know what? It was pretty rad. It was really good. It's got tons of power. It turns really well. The feeling of it is really good. Obviously this is bone stock. I picked the bike up on Sunday. I'm very impressed with it currently. It was a lot of fun. Take it for what you want, but it was really good.
SM: Will you get a Yamaha piano if you want one?
RV: I'm sure I could probably work that out, but why would I want a piano?
SM: I don't know, maybe you can play.
RV: Maybe work on a boat or something.
SM: Did you run into any Kawi guys and how's that gone, the switch? Obviously you know all those guys very well and you won all those races for them and you worked for them last year. You're on TV commercials and stuff. Is there a little bit of animosity there at all? Did you run into anybody, Bruce or Dan or anybody?
RV: I ran into Dan and Dan was super nice. I've seen Derek also. But I was busy obviously doing my deal with the new team and new deal. It is what it is. A lot of water is under the bridge over there. I think the easiest explanation, it's kind of weird that I had to get a Pro Circuit bike in the end.
SM: That might have been the first tip off for all of us to be like hmm…
RV: Right? It was a little bit of a rough time over there the last six months. Not throwing anybody under the bus, but it was definitely time to move on. Things weren't dealt with I think in the most professional way, that's for sure.
SM: You know they have a YZ 125 for these dream races that are coming up this summer?
RV: Pretty rad, right? To be honest, I think when they had just the one dream race I think it had this really cool vibe to it. Now they've added six of them, right? Three on the west, three on the east?
SM: There's a west series, a central, and an east. You can only ride one.
RV: Exactly. My point being, they had the one at Washougal. It was really rad. It was really fun, really cool. It was almost like bring your 125 out, mix your gas with your oil, and while you're doing it, please drink a Coors Light or a Rainier if you're in the Northwest. It had this really cool vibe around it. Now we have 11 races and now it's more like a series. Now it's kind of serious and now people are building these things. It's taken the cool factor out of it by having a whole series, in my personal opinion.
SM: Well just do one. No one says you need to… Just do one or two.
RV: I'm not saying I won't. I'm just telling you what I think about it.
SM: Nobody cares about that. Just do one, though. We want to see Ryan Villopoto on a 125.
RV: Why do you have me on the show if you don't care what I say or what I think?
SM: It's a good point. You're right. Just race them. Do one or two or whatever. Come on.
RV: I'm not saying I won't. Potentially I will.
SM: Will you do Pulp MX graphics on the bike?
RV: I can run the graphics, totally, but let's talk about a fee.
SM: How about all the publicity?
RV: What, for you?
SM: Yeah, that it would give you.
RV: You'd get all the publicity from me, so that you pay me to do that.
*******
SM: Gringo, congratulations on the Pulpy for favorite call-in of the show. Congratulations.
G: Bro, thank you so much. Forgive me if I sound a little funny.
RR: Gringo, this is Randy. I'm from the South so I know my accent is good, but you're going to say forgive you if you sound funny? Go ahead and say what you're saying.
G: I was jumping back into the track. I sat on my own nuts. That's why I'm a little bit in pain right now. I'm glad you're in, Randy. I got two things I want to say. Eli Tomac, is it possible, since you're talking about how these guys are sensitive little flowers, is it possible that the comment that was made last week may have crossed his mind right before he went down?
SM: I don't know. That means Keefer has made Marvin cry, and now this.
G: Is it possible. Something to think about. I'm just throwing it out there. The other thing I wanted to say about the Pulpy, man, I want to thank the Pulp Nation for voting for me and all. Let me tell you a little something. When I was in my 20's, I went to Hunts Point in the Bronx and I made a delivery. I seen while I'm eating my lunch, my peanut butter and jelly, a car pulls up.
There's a fire hydrant running, wide open. Girl gets out of the car. She cleans up with the fire hydrant. She's cleaning her va-jay-jay and all that. Pulled up her skirt. As soon as she gets done, another car pulls up and picks her up. When you see things like that, you appreciate things. I got a good, decent paycheck coming in. I got a dirt bike I can ride on a Sunday. I got a good woman at home. I just want to let you know that same analogy. I appreciate the Pulp family and the award. It's really appreciated.
SM: That's a touching story.