Well the third round of the Monster Energy AMA Supercross Series has come and gone and for the first time we saw a triple main event format with the newly formed Triple Crown Series. I was excited to see what riders would show up for the first two sprint type main events and which riders had the fitness for the longer final main of the night. From a fan's point of view I personally think there is too much downtime in the new format (especially for in home viewers). To get more viewers and fans connected to our sport I feel there are some things to work out with this format. The actual racing is great, but I think we need more of it during the night. Instead of just having the three mains for each class we should add the LCQ's to the night program and also have some sort of "B" main event to get the fans (that are at the race) more connected to the racing, instead of making beer runs at the concessions. I am happy Feld is doing something different, but I also think it can still be fine tuned a little as well. Here are some things that I took away from some key riders Saturday night at A2.
250 Class: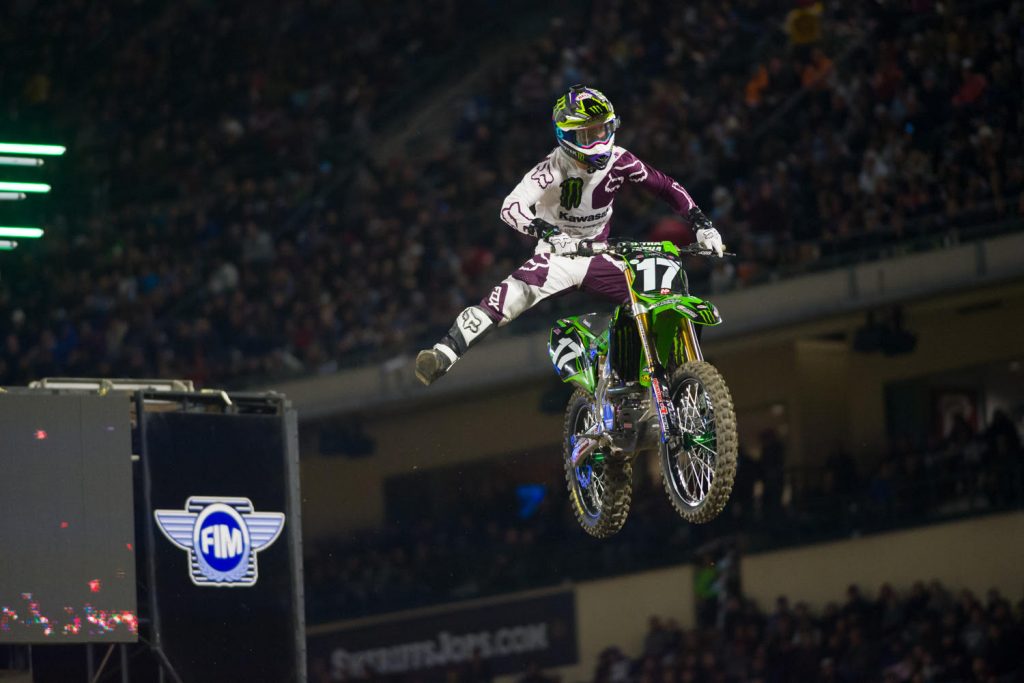 Joey Savatgy: Matthes and I talked about this guy on Friday's special Pulp MX Show before A2; Savatgy works hard, but we have seen him come unraveled late in some races this year and you know what happened last year. Savatgy and the Triple Crown format go together like peanut butter and jelly. The number 17 gets good starts and can hang it out for these short burst type motos. Savatgy is not flashy, is very neutral on the bike and is much better at rolling his corners this year. Once Savatgy wins he is a very dangerous man out on the track. Look for Joey to continue with his winning ways and get on the top step of the podium more in the coming weeks.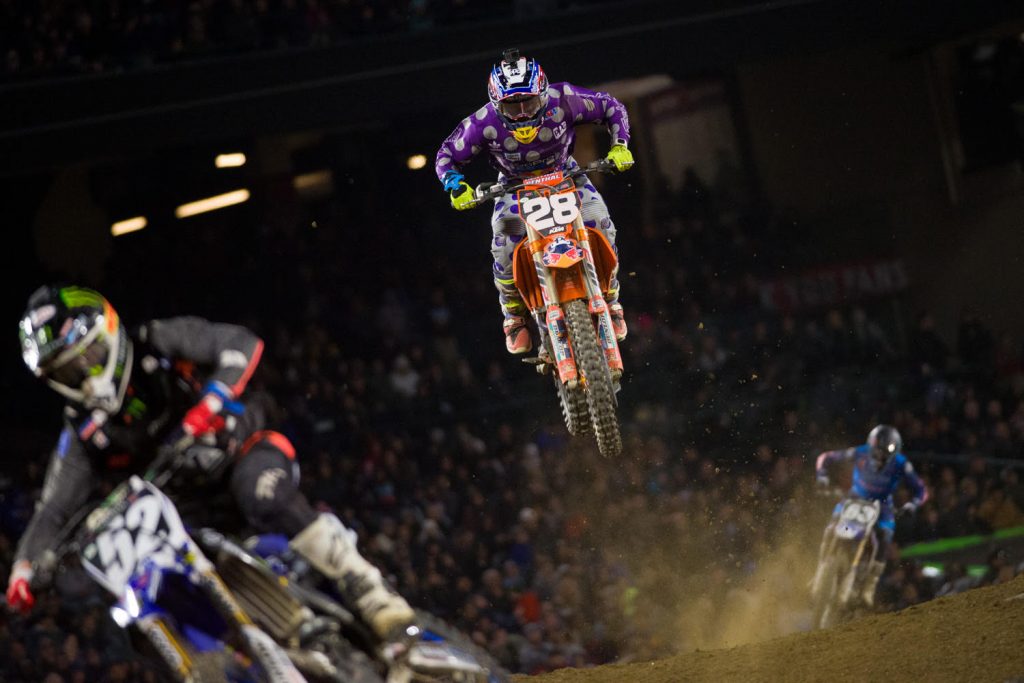 Shane Mcelrath: This was my pick for the championship this year and I am still looking good. Shane won the second main event, but some mediocre starts prevented him from getting on the top step of the podium. If Shane gets a holeshot he is dangerous with his sprint away type speed, I don't care who is second! However, if Shane gets a fifth or sixth place start he seems to have some trouble moving riders around. The good news is that the KTM he is riding gets great starts every main event. It is fast, very fast!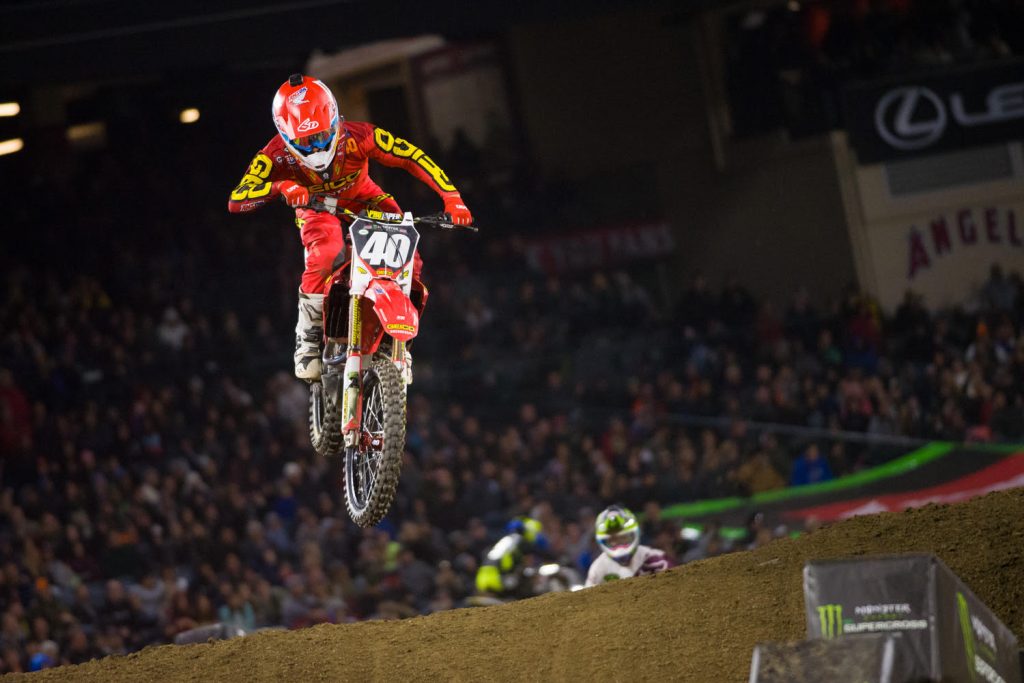 Chase Sexton: [BEST DRESSED ALERT] Chase is coming into his own and is not getting that intimidated with the seasoned vets in this class. His third moto was impressive as he held off Savatgy and a charging Cianciarulo for over half the race. For a younger kid Sexton has a smooth riding style and he doesn't rev the crap out of his bike as much as other riders in this class. Give this kid a year under his belt and he will be one to watch in supercross.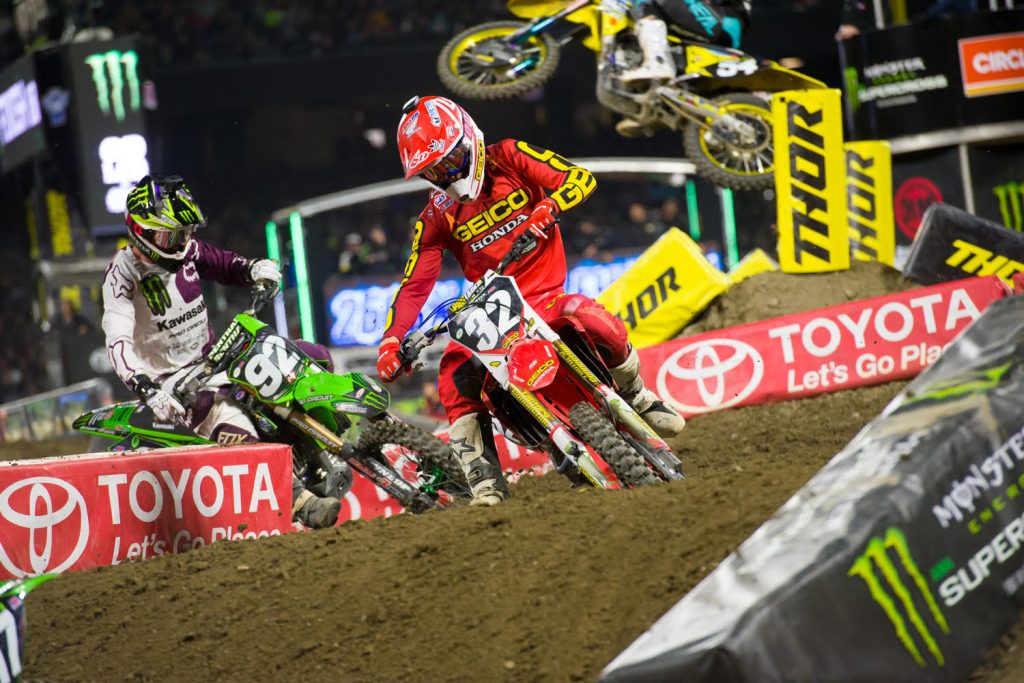 Christian Craig: [BEST DRESSED ALERT] A2's BEST DRESSED is Christian Craig and his teammate Chase Sexton! I mean come on! The all red Alias gear, red and white 6D helmet and Alpinestars boots were a thing of beauty Saturday night. I am not going to sit here and say it was easy to choose as Cole Seely's look was also very clean. Now, as far as CC's race I am going to admit that I am a fan of CC48's riding style and I am impressed that he is riding as good as he is while he has an ankle injury. If you looked at Christian's Instagram a week ago you would of saw the huge softball size ankle he is working with. He is sucking it up and realizes that he needs to do something this year if he wants to have a job come 2019.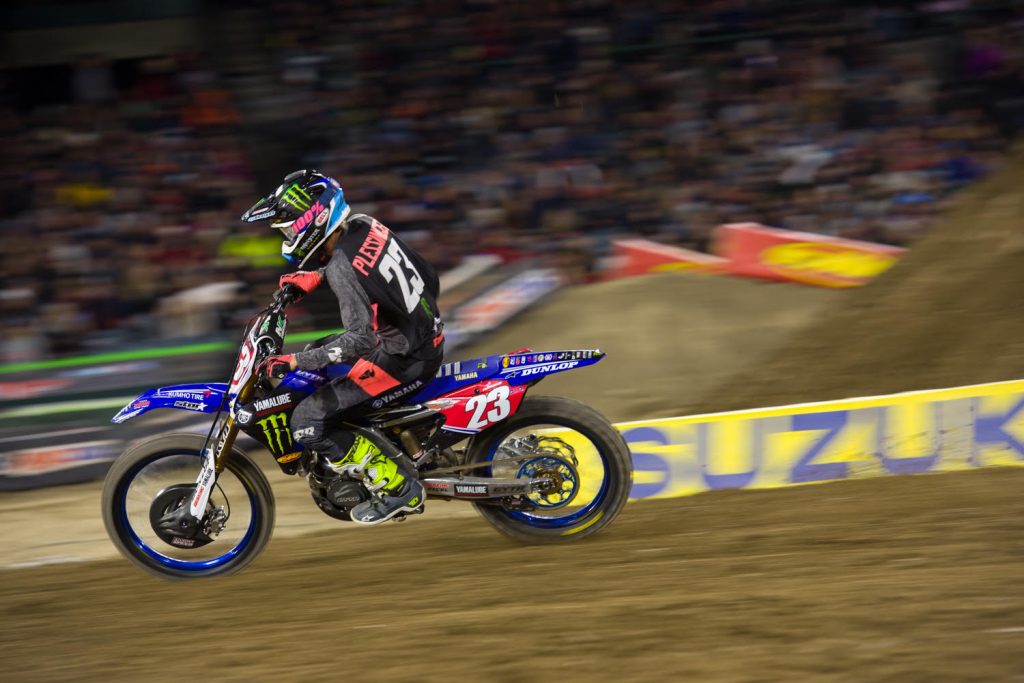 Aaron Plessinger: AP is so inconsistent with his starts. Yes, he came back from a bad start last week and won, but you can't expect that to happen every round. Not to mention that the A2 dirt was hard and slick, unlike Houston's soft and spongy dirt. AP needs to get a good start in Phoenix if he wants to get on the top three riders pace right away to have a chance at putting consecutive races together! Easier said than done, but he has he horsepower to do it, he just needs to dial in his clutch actuation off the start. When watching him start I can see that he double clutches it at times in the first 100 feet of the start. Just that little slight mishap can cost you a half a wheel and bam! Hello, 11th place rounding the first corner.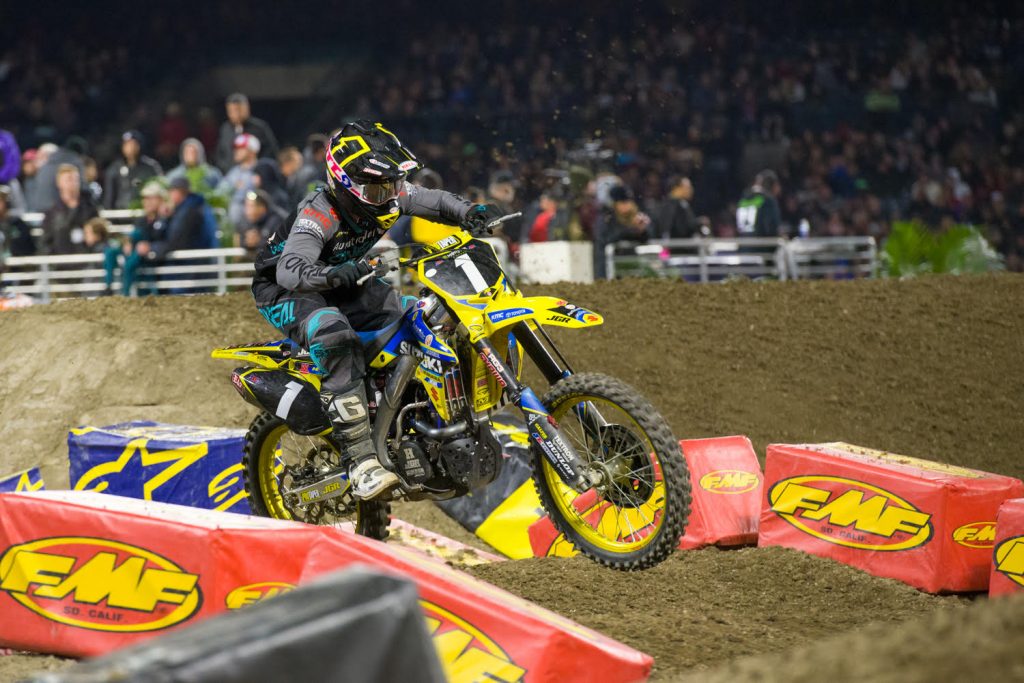 Justin Hill: Dear JGR, please put Hill on a 450 in the east to see what he can do. Yes, a lot of riders claim they are better on a 450, but Justin really drives this home in his interviews; that he really is better on a 450 more than any other rider does. No matter what you all think, I DO NOT think that the Suzuki is the problem here. Yes, it may not be as fast as the Kawasaki's or Yamaha's, but it is better than what Hill is showing us. Trust me!
450 Class: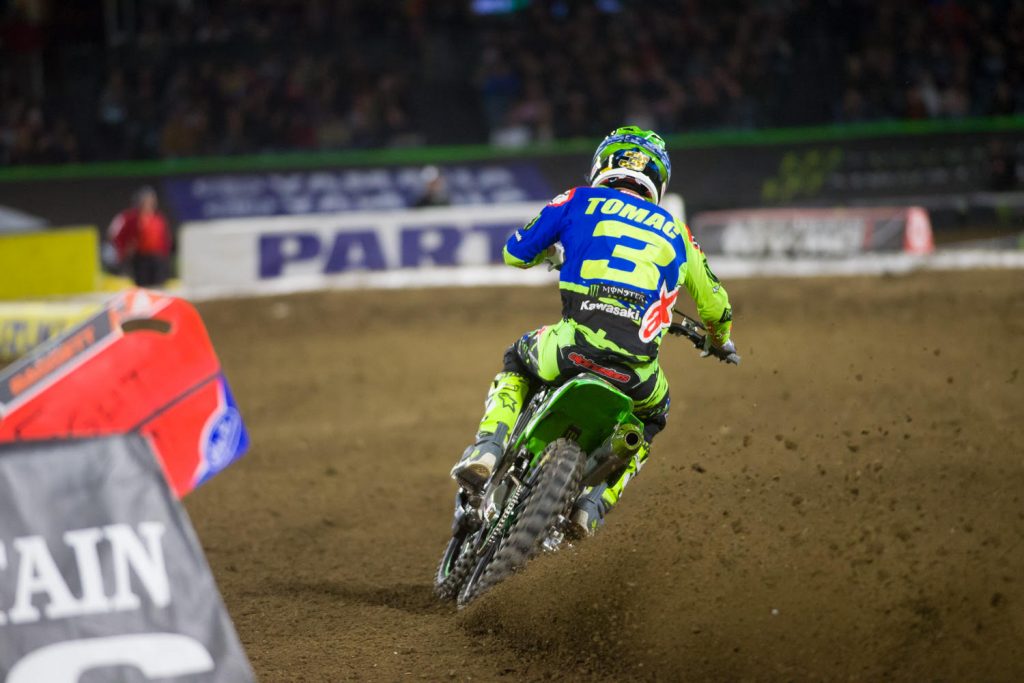 Eli Tomac: Doesn't race Houston, wins at A2. Seems legit…. Tomac was leading A1 before he dumped it over and bruised his shoulder heavily. With a 5-1-2 Tomac used consistency as his guide to get the maximum 26 points and put a smile on the Monster Energy Kawasaki rider's face. I also feel like now that we are going back to a traditional format for Phoenix we will see Tomac give Jason Anderson a run for his money in the main event. As far as raw speed is concerned Tomac and Anderson have it and they are the guys to beat when I comes to main event wins.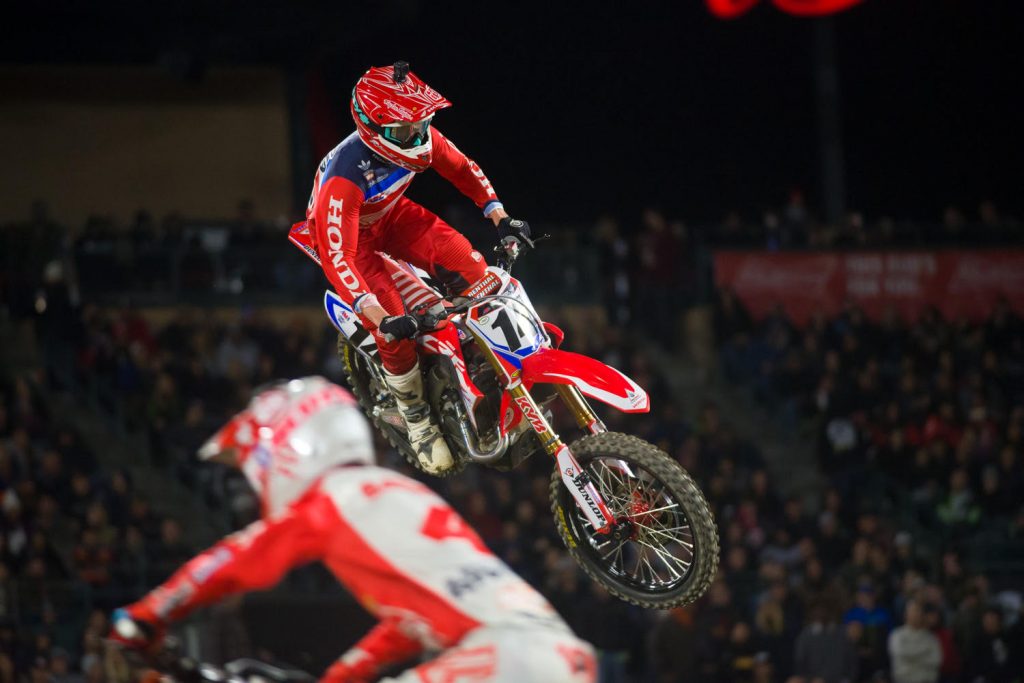 Cole Seely: I knew Seely would be good at this type of format, as he is usually pretty consistent and does well in heat races most of the time. His fluid, smooth style is something to emulate if you're a rider watching at home. He uses his legs so well and sometimes it almost looks as if he's not trying. Seely has gained some confidence now by winning the first main event of the night and sits in second in points. Remember the 250 west class a few years ago when Anderson and Seely were always taking each other out? Stand by for lift off again if we see these two close in the points come later rounds.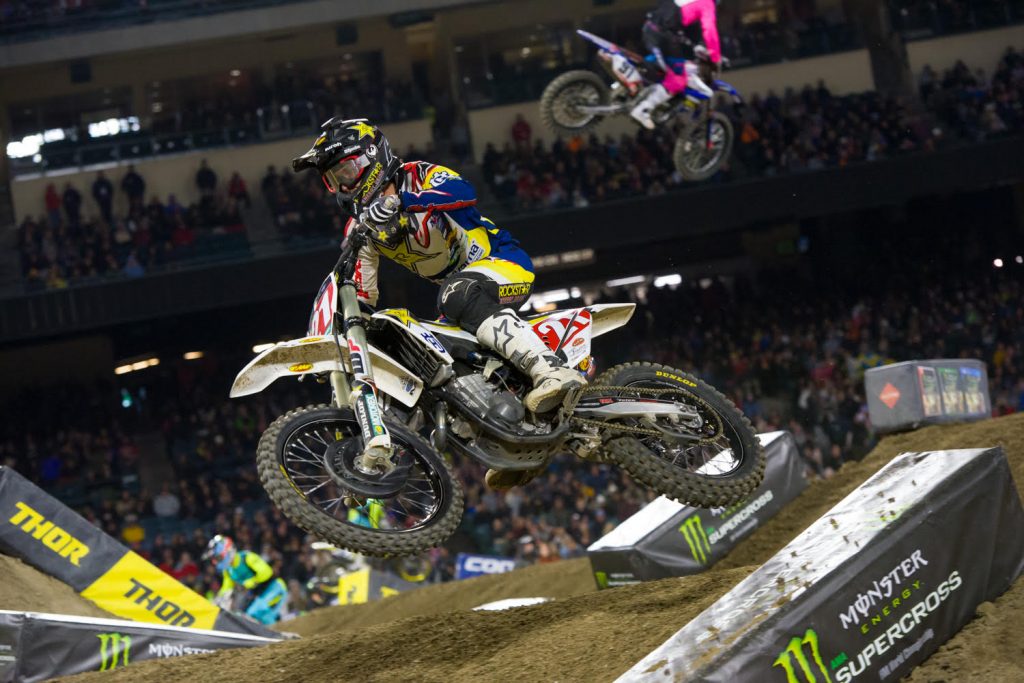 Jason Anderson: Frisky, fun, fast. The three F's! This is what I think of when it comes to JA21. F3 is what we call him in my household and he is the fastest man on the track every night. Yes, he makes mistakes, but if he gets a start it will be tough for anyone to beat F3. Anderson moves around on the bike a lot and rides on the rear of the bike more than anyone else in the series. If Anderson didn't get caught up in that first main event pile up I feel like we would have had a different winner Saturday night. Watch out everyone, F3 is coming for the title! Hmmmmm? Imagine that championship party? Wow!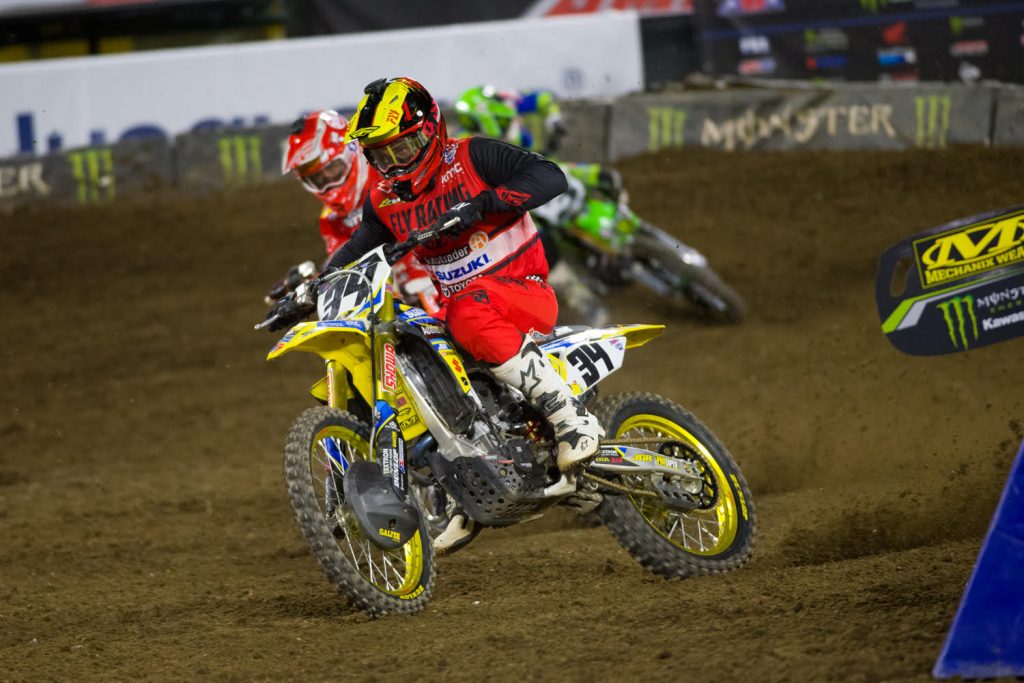 Weston Peick: GRRRRRR…..I feel like Weston is the Rob Gronkowski of moto. Weston is riding through whoops and jump faces and at times riders too! He is not my favorite rider to watch on the track, but JGR and Suzuki has got to be thanking their lucky stars for re-hiring him for 2018! There are no Suzuki's at all even sniffing a top 5. Pay this man Suzuki, as he could be selling you some RM-Z's this year!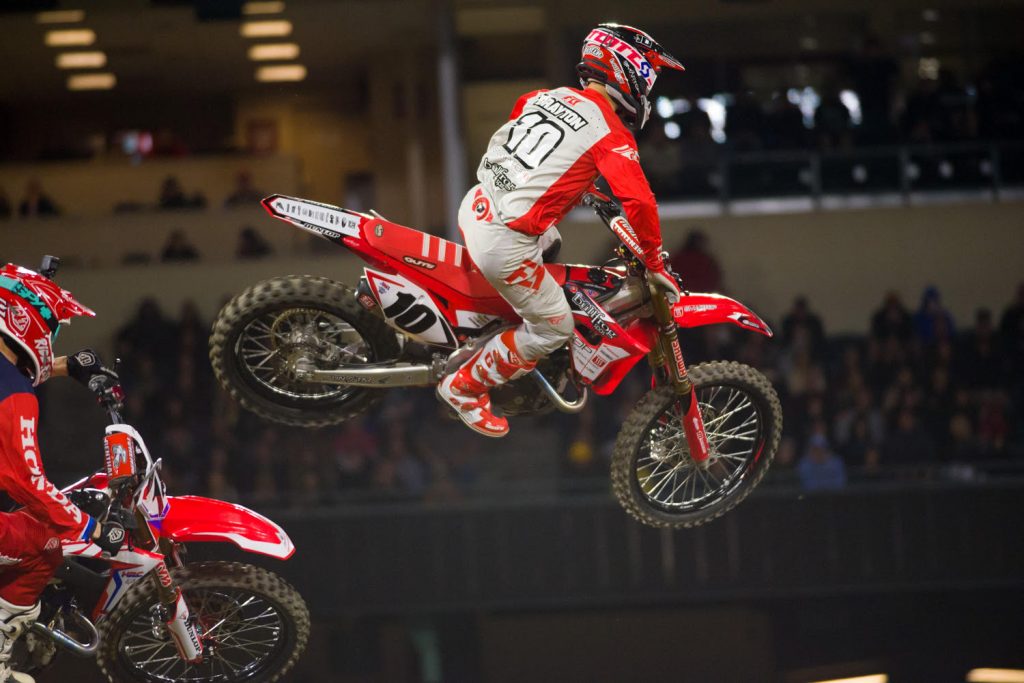 Justin Brayton: Justin is the second oldest dude in the series and maybe one of the nicest as well. JB10 is just quietly getting better with every round and when we get to some big whoops and large rhythms watch out because that is when Brayton is a gamer! Brayton is arguably one of the best when it comes to big whoops and the guy is not scared to quad stuff first. I am also stoked that Tony Alessi brought him back as this is the best sign that team ever had.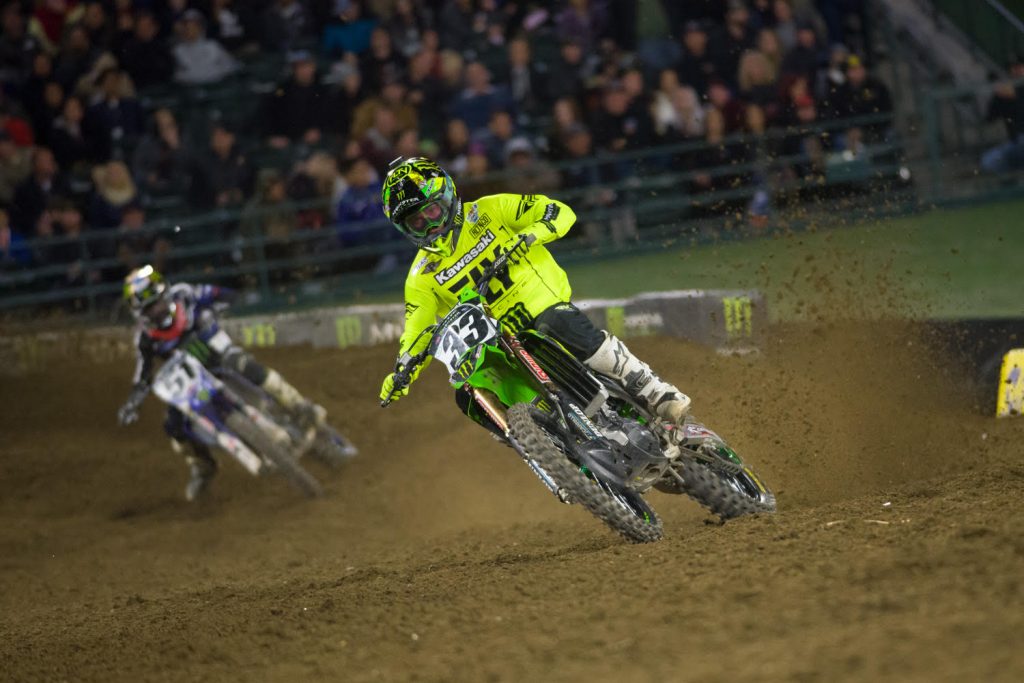 Josh Grant: JG33 is picking up steal y'all! Is he in shape to go 20 plus one? That is the question we all are asking ourselves. Grant does get better as time goes on and by the time Daytona comes around we could see Grant making podiums consistently. A 6-4-8 isn't something to write home about, but the finishes don't justify how well he rode Saturday night.