Matthes: It's good to see you on the team and back at the races for sure. Have they just said you're getting two, and then we'll re-evaluate? Is that kind of where it's at for racing fill-in?
Malcolm Stewart: As of right now, obviously Anaheim 2 will be the last if it stays the way it is. Not sure of anything on Bogle's side. Who knows. It could be fill another spot in. I really don't know. Only thing I know is I'm supposed to go out here, do my job, and whatever happens from there, it is what it is. If not, I'll show up next week for Phoenix on a Kawasaki again, privateer mode again.
We took a vote, me, Cade (Clason) and Alex (Ray), and we think JGR should…
What was the vote about?
JGR needs to build a third bike when Bogle comes back. We're all on board with that? Build a third bike?
Yeah, that wouldn't be bad.
You actually just answered my question, Mookie. I was like, what are your plans after Bogle comes back? Are you going to get back on the Kawi or what? Who knows?
Once you start racing you can't just pull out. Like I said, my dad's actually driving tomorrow morning the rig, my amateur rig. He's driving that out. So that actually will be at Anaheim. So, we're planning on everything. If things don't go the way it does go, or whatever the case may be, we're going to be ready no matter. You can't just wait and wait and wait. Last thing I need is to put out another press release saying I'm not going to be at Phoenix. "Why aren't you going to be at Phoenix?" So, I'm trying to plan ahead at least for worst-case scenarios, but who knows? They might build another bike. I might be finish off the rest of the season. I don't know. it is what it is. No matter what, at the end of the day I'm happy and I'm appreciative of what I've been put in so far. Like I said, JGR has been so great to me so far. It would be good to stay with them. If not, I'll keep on waving at them. Don't worry – I'll tell J Bone right now, if he is listening. I'm still going to walk in that semi after practice and we're still going to do the 1-2-3 break.
It's a lot easier when you have a team. The only thing you got to worry about is just riding, that's it. It's easy. Easier said than done. You got a trainer or you hire a trainer from your salary you get paid and boom, that's it. Don't get me wrong, you still got to go out there and perform, and that's a whole other can of worms, but as far as that, it's so much easier. The only thing you have to do is just worry about and ride. That's it. So, you don't have to worry about the bikes or anything. I think that was kind of the issue. I put so much thought in the wrong things that I totally forgot about my own program.
You forgot about the actual riding!
To be honest I forgot why I'm doing it, and that's the biggest issue. You forget why you're doing it. You're doing it because you have fun doing it. Not because of a job. If you wanted to I can just pull out and say I'm going to go work. I'll take your job if I have to. Overall, you got to just go back to the reality and just think about why you're doing that. Just kind of got that in the mind and been having fun so far. Even with things haven't really been going the way it's going, but you got to think positive at this point. I believe in myself. I think Buddy actually helped me out a lot, especially with my confidence and stuff. There's little things and stuff that I miss. It kind of reminds me of back in 2016 when I was at GEICO. Just little, bitty things. I think hearing things from another person, it's a little bit more different than your inner circle. You hear that, all you hear is "you need to go faster," or this or this. But hearing it from a different person, I don't really have the words to say it but it's just a different vibe. Buddy's (Antunez) easy to work with. Plus too, I was talking with him the other day. I was like, "You know what's crazy?" He's like, "What?" I'm like, "Dude, you used to race my brother. That's pretty sick!" Not many people are like that. Buddy's cool. He's easy to get along with. Obviously, he rides so he knows the mental side of things too. It's all good.
One of the things I heard this off-season was you had a chance at a ride, or you were talking to a team for a ride that had a clothing deal and you were like, "No, I got to wear Seven." Obviously James owns it and you've been one to support him, to support the company. Is that true? Would you wear something else if it came down to it?
It's hard. I'm imbedded with Seven, too. To be honest, we couldn't really work out the deal on both sides. It wasn't in agreement and next thing you know, time kind of goes by. That's kind of really where it stands off. We couldn't get an agreement going on. If I was going to have to switch to another brand, I don't know if I would be allowed to go back to the compound.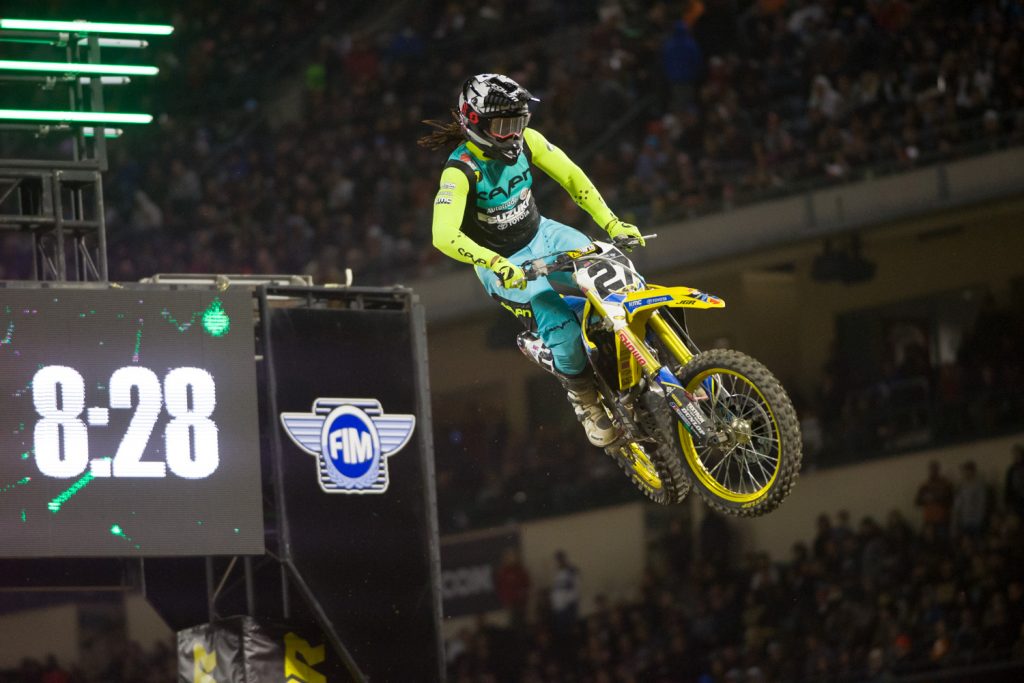 So, Seven is a huge deal?
Seven is the family. It's a family-owned deal. I'm pretty imbedded with it. If it really came down to the gear deal or not, that just goes to show you that they don't want you. That's really what it comes down to. Whoever it is, if they truly wanted you, they'll work around it. That's the bottom line. If somebody really wants you then they're going to do what they can to work it out. If you can't come to an agreement, then you can't come to an agreement. It is business. Everybody's here to make money and have fun doing it while they're doing it.
You got to ride outdoors. Why don't you ride outdoors? When are you going to ride outdoors?
I am, if some team will step up and give me an offer. I'm there!
Is that the official stance?
That is the official stance. Somebody needs to step up, give me an opportunity, and I'll be there.
How much is this going to cost Pulp MX? What do you need to do outdoors from Pulp MX? We'll pay your entries – is that good enough?
What about the motorcycles?
You got some Kawis. Just keep the Kawis. Don't give them back when Bruce calls. Just keep them.
You're going to pay for that fee too?
What are they going to do? Don't let them in the compound when they come to get the bikes. Just don't let them in.
They're going to fly a drone over there.
I want to see you outdoors. I think you're a great outdoor rider. You've had some good results.
I had good results outdoors. I don't mind outdoors, it's just somebody step up. Give it to me. I'm not saying give it to me in a bad way, but I'm ready. Obviously in 2014 I had a health issue, but everything else after that was good. I'm ready. I want to do a full season. It would be good. Better than sitting on the couch. At least just have somebody call me so I can at least go to autograph signings. Just let me sign autographs. Just let me do something. Let me do a parade lap. Just get me out. Just let me do something.