One And Done
Matthes was home taking naps, riding dirt bikes, taking Pookie out on dates and probably sipping a drink by the pool while I was in Atlanta, Georgia last weekend for round nine of the Monster Energy Supercross Series. I will have to admit even though I did the full pull (day and night) deal in St. Louis three years ago, I really don't know how Matthes or the guys that travel every week do this! It's a lot of work that some people may never really know about. In Atlanta it was a lot of walking back and forth between the stadium and the pits, talking to riders, getting some scoop, drinking other teams coffee and figuring out what type of jeans  Ry and Rarick were wearing. Seriously, the pits were far away from the stadium, but more on that later. I will say it was great seeing a lot of Pulp fans and getting to spend a little time with each of them. I love talking about dirt bikes and hearing everyone's stories about their motorcycles, which really makes the trip/job worth while. The second round of the triple crown in Atlanta was way more exciting and had less down time than the first round in Anaheim, so in no particular order here are some things that I witnessed and need to get off my chest.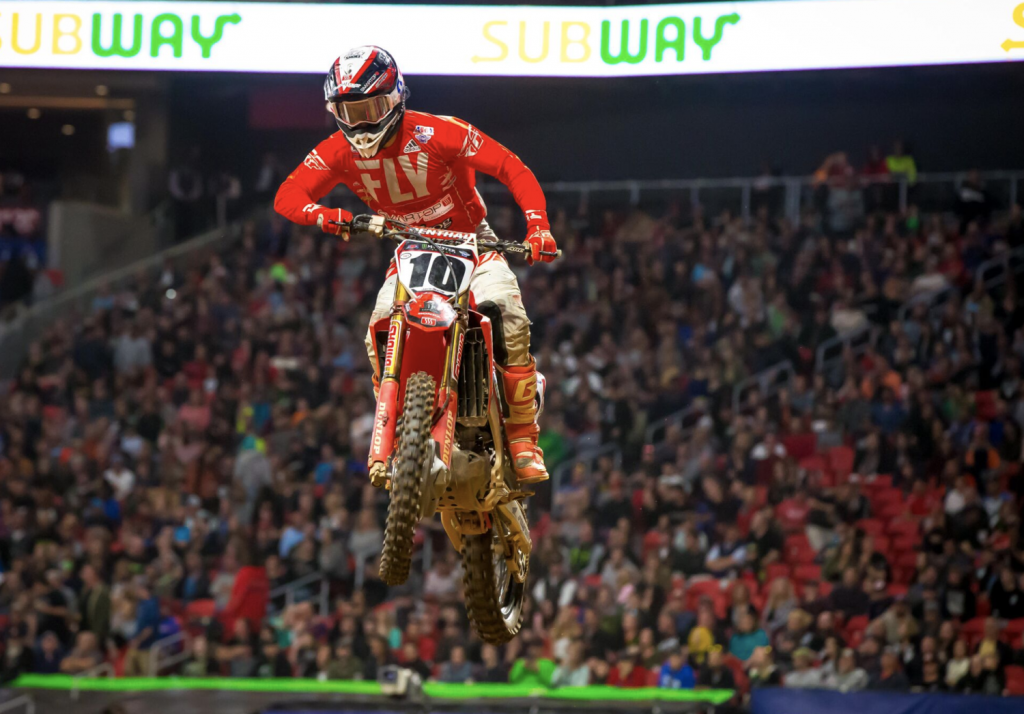 Justin Brayton: I learned that Justin Brayton listens to the Rocky Mountain ATV/MC Keefer Tested podcast! What! That is cool! Brayton had an awesome night in Atlanta and took the first main event win of the night. His starts were good and when it comes to jumpy, softer type tracks Brayton and his Honda excel. At 33 years old Brayton, to me, is riding the best he ever has. He is usually on the board in timed qualifying and is one of the first guys to bust out a huge combo in the rhythm lanes. Brayton also gave the Smartop MotoConcepts Bullfrog Spas Honda team their first main event win which was very cool for the guys over there. Did I mention he technique and style are not of a typical 33 year old rider. Elbows out and back always straight is something that I admire while watching JB ride. I really don't know who was more excited on the win? Brayton or Weege? Weege looked like he just won the lottery and was jumping around in the press box, nearly breaking his laptop, while punching the keys in pure excitement!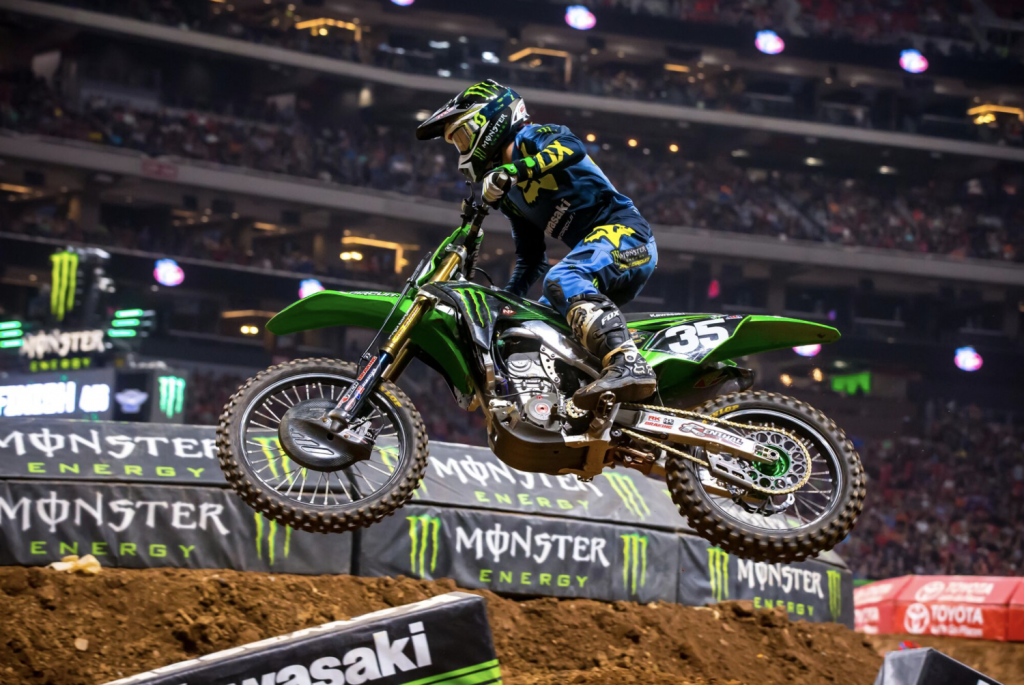 Austin Forkner/Zach Osborne Criss Cross: Osborne is a tough little guy isn't he? The press box erupted when the two collided and I immediately tweeted out that Forkner knew that Osborne was next to him and decided to move over, in order to close the door in the next corner. After watching the move over and over again I have come to the conclusion that Forkner wanted to move over on Osborne (obviously), but I don't think he expected the bike to react the much as it exited stage left. Osborne hit his nose on his handlebars after landing on the back of Forkner's Pro Circuit Kawasaki and jumped off like a graceful olympian. Osborne was visibly heated and knowing Zach for a while, I can attest that he usually has his emotions in check on the track. However, after the the main event you can see Osborne's "crazy eyes" come into play and he had to be calmed down. For Forkner to cross over that hard is dangerous and not good for either of them. For how bad that collision went, it could have not gone any better for both riders involved. Forkner and Osborne had to sit right next to each other in the press conference and not at one time did they look at each other. Daytona is going to be good!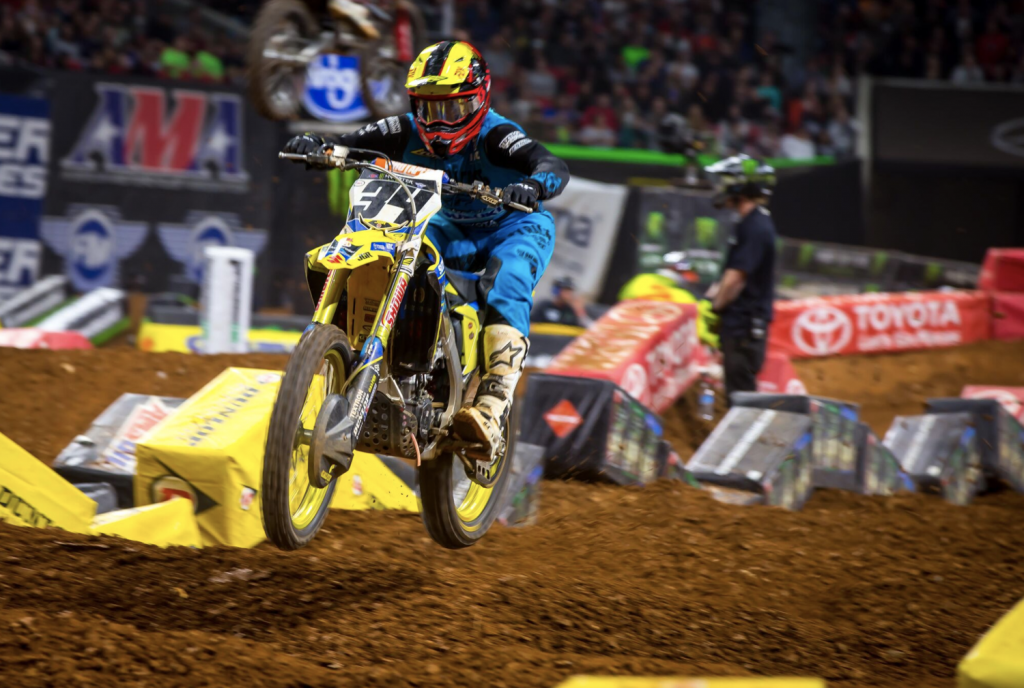 Weston Peick: As tough as Osborne is how about Weston "FLIPPING" Peick! Holy hell, that was a big crash in daytime qualifying. The dude rolled the windows up for almost three seconds and butters the back side of the triple with his body. The landing was more beat up than Peick was! I was watching Peick swing at the  tough blocks as he was crouched down in pain. One guy next to me said "he must be hurt bad" because he could see his head bobbing back and forth. I kindly told the man, "that is just a lot of f-bombs getting thrown out sir". Peick dusted himself off and came back to win the LCQ and get 12th overall on the night. Impressive!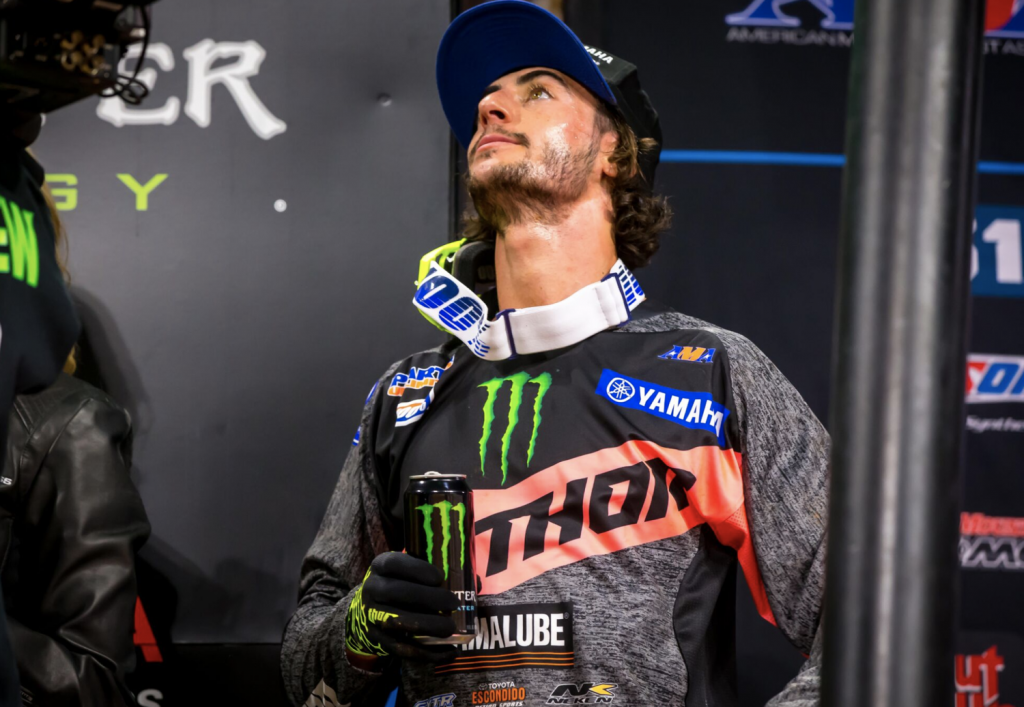 Dylan Ferrandis: The same place Peick ate crap is where Ferrandis crashed as well. Riders were coming out of the right hand bowl corner, accelerating toward the face of the triple and drifting towards the tough block (on top of the face of the jump). Ferrandis just clipped the edge of the tough block and it sent him into a gnarly swap in the air, forcing him to eject. His Monster Energy Star Racing Yamaha was mangled and Dylan was visibly hurt. This sucks because Dylan was riding so good and was one of the guys that could of beat Forkner and Osborne in Atlanta. He is aggressive and insane at rolling his corners. Dylan broke his arm in the crash and will be out until outdoors. Bummer for Dylan, the team and DV.
Atlanta Pits: I felt like I was my 87 year old grandpa telling people that I was walking uphill both ways just to get to and from the pits. Riders also had to shut their engine off and push their bikes once they were out of the stadium, which left some of the mechanics and riders with some extra circular excersize for the day. It was a weird set up they had in the Mercedes Benz dome and one that I have never really seen before. The venue itself is beautiful and I thought it was cool that prices of food and drinks weren't as expensive as some other stadiums I have been to. Water was $2.00 and two Chic-Fil-A sandwiches, two fries and a drink was only $20.00. Yes, they had Chic-Fil-A in the dome. Yes, it was good! No, I don't care what Steve says.
Flame Throwers And Monster Girls: Does anyone else think this is a liability? I mean Monster girls and flame throwers? Did the girls go to flame thrower school? Do they know how to handle that much heat? That is a lot of power to give to one Monster girl right? I need to know so many things, but I couldn't find any information on any of these questions in ATL. I literally saw one Monster lady's flame almost reach the front row crowd! She was flame throwing like no one's business and that sucker was damn near reaching the splash zone. If the riders/mechanics can't ride their bikes to the pits, how the hell can a Monster girl carry a flame thrower? Things that make you go hmmmmmm? A FLAME THOWER. Where is Elon Musk when you need him?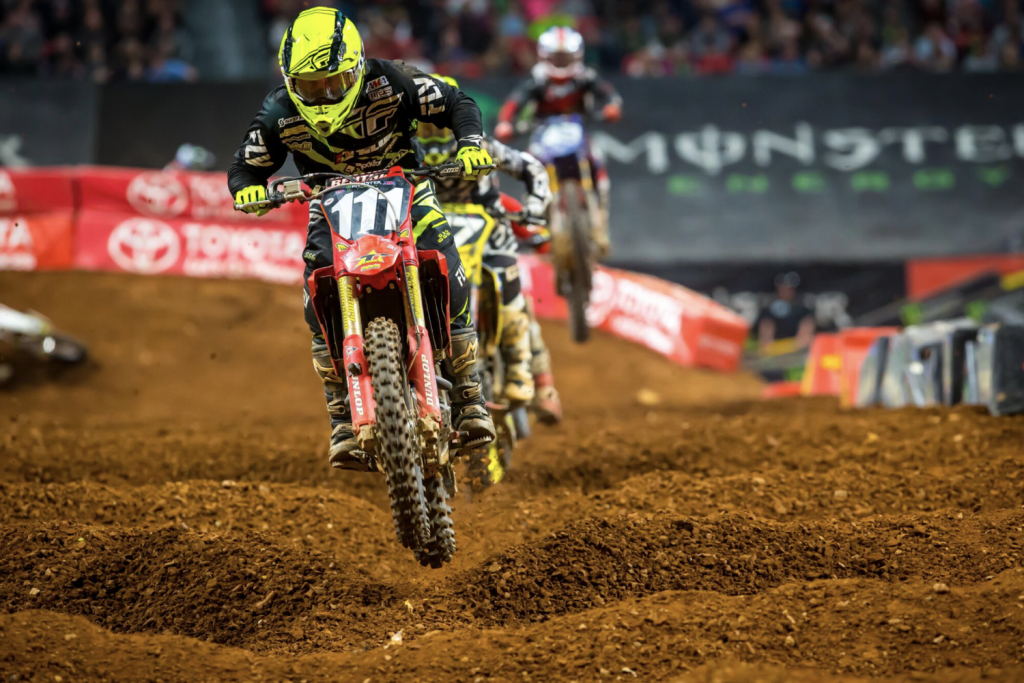 Chris Blose: I think I need to mend this relationship with Steve and Chris. I mean Hanny, Alessi and Barcia all have come back on the show. Why not CB? I like Blose and I think he is riding well for a guy that hasn't raced a Supercross in four years! He qualified seventh, but his Honda looks to be lagging a little bottom end in order to get out of the gate well enough to get him into the mix with the top guys. If you can qualify seventh in the 250 class you have the speed to get into the top five overall. Chris was supposed to race Daytona, but now has to get some things ready for the re-start of the AMA Arenacross series. Blose sits third in the Arenacross points, but the points reset over there in the Arenacross world, so look for Blose to go for a championship and maybe a return for a full season of Supercross once again in 2019.
Press box Life: I appreciate the press box for what it is, but I guess I just like being closer to the action. With a piece of glass in front of me I can't get the sounds and smells I usually can when I am down in a seat watching the action. I know sometimes people think that the press box is out of this world, but looking at the seating layout in the Mercedes Benz Dome there was really no bad seat in the house. It looks like there is usually a spread up there for the press to graze on, but I think that goes to NFL press and not moto press. Maybe I should cover a NFL game for Pulp? I mean sometimes Steve really gets into the "Press Box Life", but I guess I just like being amongst the fans more. It's cool that Vanilla Ice was in the press box, but I am not looking to rap or re-model my home right now.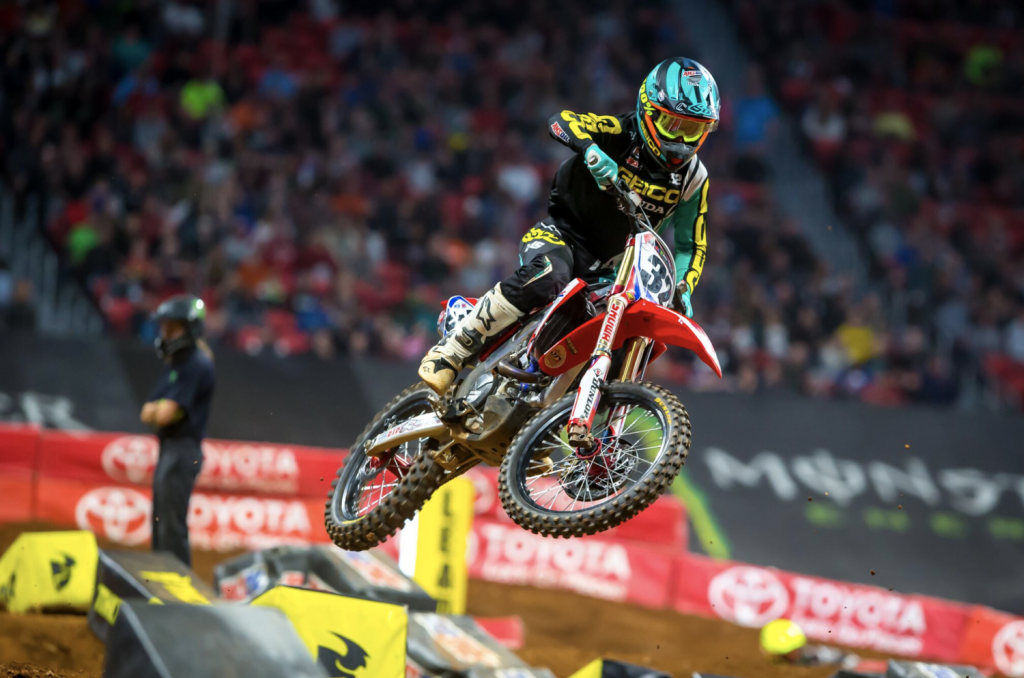 Christian Craig: CC32 rode strong all night with a 6-7-5 score for fifth overall. Craig rides the 450 so much better than his 250 because his technique and style is tailored made for a big bike. He is more of a smooth rider than a hang it out type of guy, so that precision and smoothness Christian rides with lends itself to the big horsepower of a 450. He has to get back on the 250 after St. Louis, but don't be surprised to see Craig back on the 450 after the East/West 250 race in Indianapolis.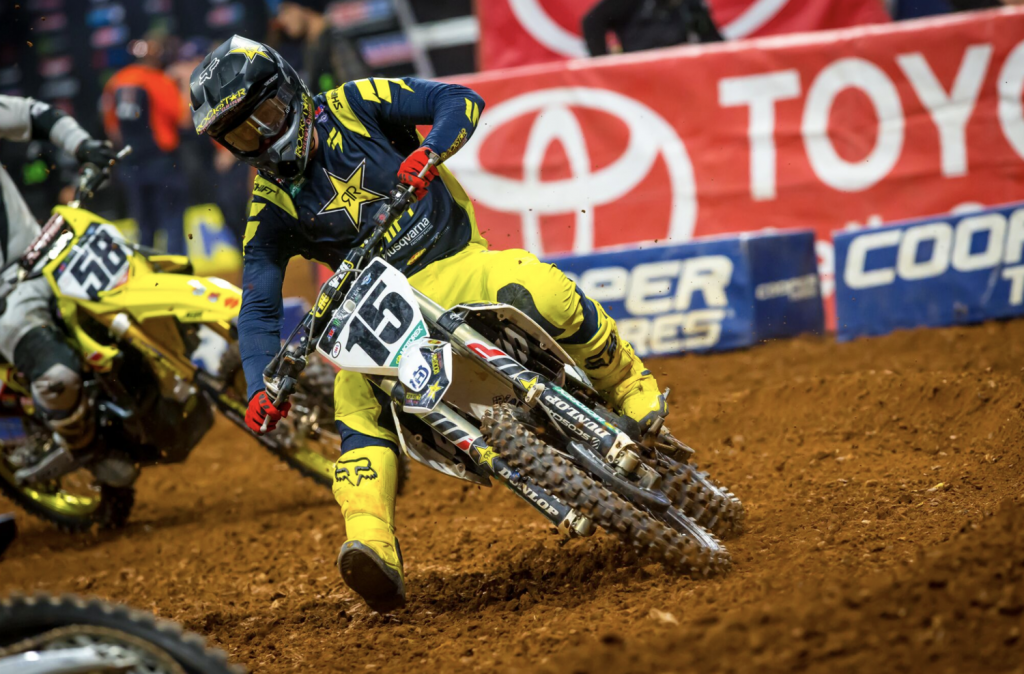 Best Dressed: Dean Wilson's yellow Shift gear popped off of his white/yellow Rockstar Husqvarna FC450. The all yellow Fox Instinct boots were also a nice touch and just added to the brightness of the whole set up he had. Fox and Shift custom gear factory "GEAR" set ups have been really good this year, I just hope they roll that into the production line you and I can go buy.