St. Louis provided the riders with great dirt, a good race track and some good racing. Well at least in the 250 class…Eli pretty much made it a snooze fest for us at home watching. Maybe it was me, but it seems like the tracks are getting better with each passing weekend. We are getting some decent size whoops, large rhythms and some nice big 180 degree bowl corners. I came home from testing on Saturday and studied some of the riders at St. Louis and here is what I came up with.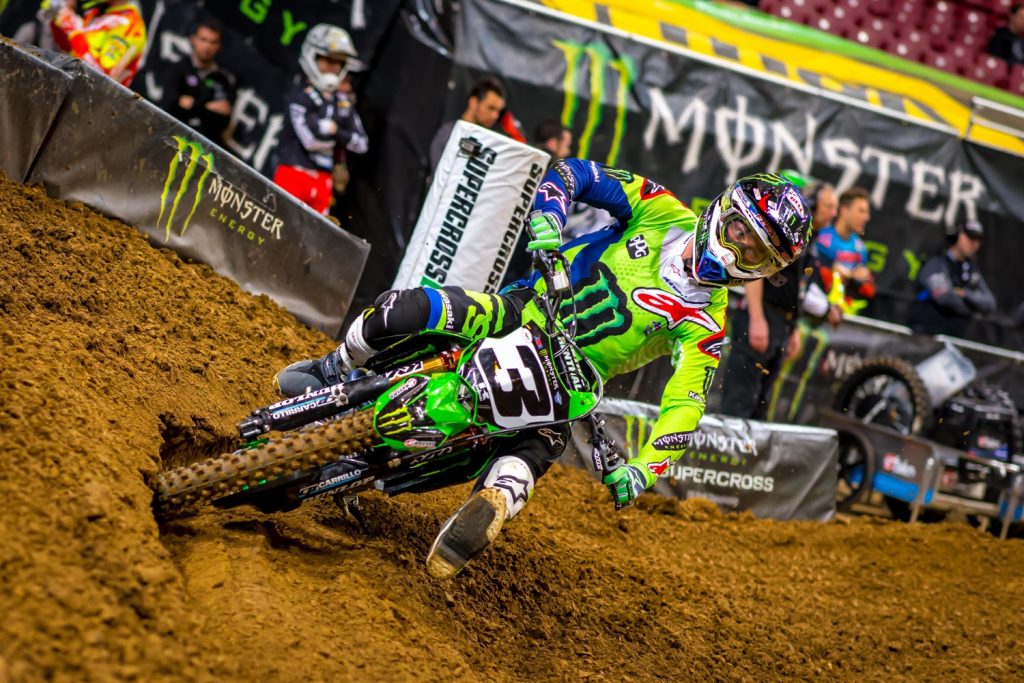 Eli Tomac: What in the actual hell did we witness Saturday night? Tomac had a seven second lead on the third lap! How? Because his rolling corner speed is on another level when the dirt provides a soft base with traction. Jeff Emig actually noticed something in the broadcast, which is a miracle in itself, but that is another conversation for another time. When Tomac pivoted his Monster Kawasaki in the left hander before the big three, three, three rhythm, my jaw dropped. He was in and out of that corner so fast, it was almost like he was sped up on the TV screen. The line was to get into the rut, rail the berm and try and make the first three out of the corner. However, Tomac would brake slid into the berm, swing his rear end around and pivot out of the corner with unreal precision and speed. Not only did he he get in and out of the corner, he would jump that rhythm consistently all night! WTF! When the dude is on, he is ON another level! He had a outdoor national size lead at the finish and lapped up to eighth place. Ten wins this year? Going to be close!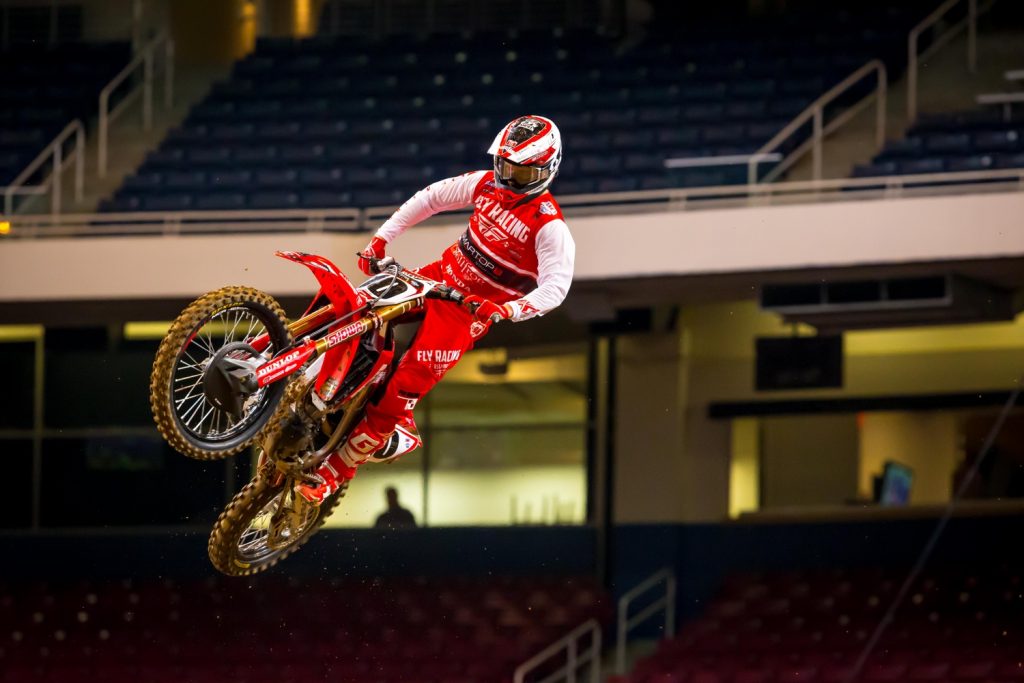 Justin Brayton: JB must of had a whirlwind week at home I would assume. People calling, cameras following him around, family coming to visit for your birthday and just the high he had to be on must of been insane! Just because Brayton won Daytona didn't mean he was going to coast in St. Louis. No, the dude gets second in qualifying, wins his heat race and gets fourth in the Main! If he would of got a better start in the Main he would of been on pace with Musquin. Not to mention JB10 hooks his bot under his footpeg just like Eli does when he hits a sharp jump. I have been mentioning this on the Pulp Show for a while and Brayton tagged me in one of his pictures on Instagram, proving to me he does this as well. Doing this keeps the rider locked in and close to the machine when the jumps are sharp. At 34 years old Justin is evolving his riding style and I love it! This proves you're never too old to learn something new to better yourself and your technique on the bike. Don't be surprised if Brayton wins another one this year. He has the confidence and the guy is a technical master when the track is jumpy.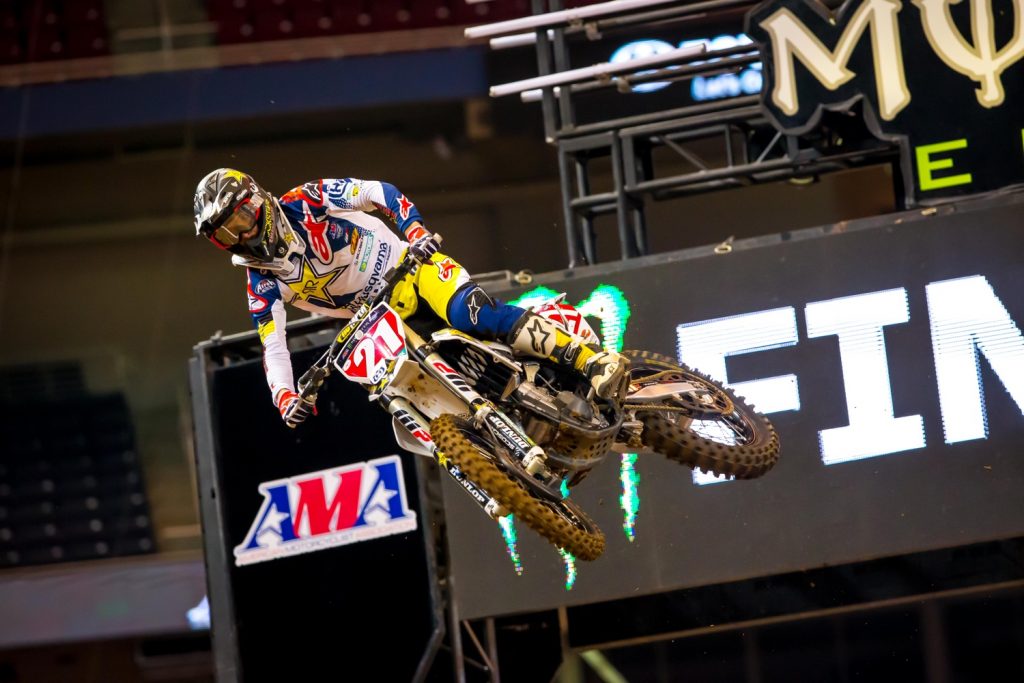 Jason Anderson: JA says he wants to beat Tomac straight up, but a piece of me inside says that JA is smarter than to mess with Tomac when he has a sizable points lead. The bonus for his  the championship is seven figures and that right there is enough to say "hey, chill down, I don't need to go ape shit and go dick measuring with Eli tonight"! I know Anderson is just as fast as Tomac, but maybe not on a track that is this soft and tacky. Jason's strengths comes on harder surfaces because he is very smooth on the throttle. Unlike the #3 where he just twists that right grip to the stop everywhere, JA is more calculated! When watching Anderson ride, make sure to pay attention to his legs and watch how much he pulls up with his heels and grips the frame when he jumps.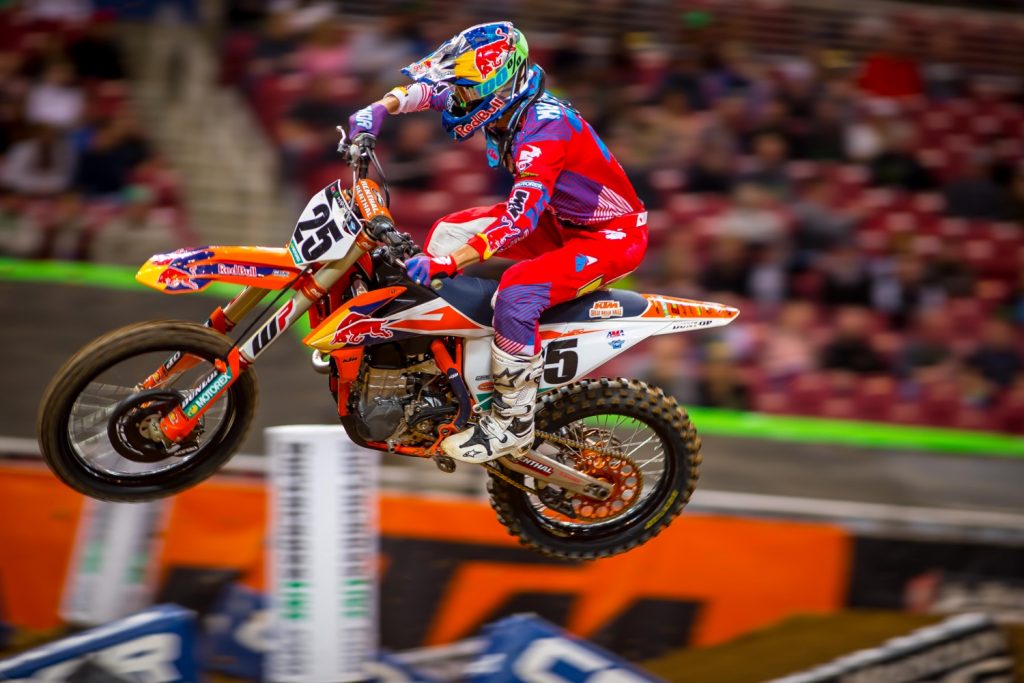 Marvin Musquin: I still love watching Marvin pick his way around the track. Marvin is probably the most relatable rider for us mere mortals to watch ride. Why you ask? Look, when there is something gnarly on the track that is super sketch, Marvin will not do it. He admitted that the three, three, three was just too sketchy for him to keep doing on a consistent basis. HE ADMITTED IT! I like that a rider can admit to himself that something is too gnarly to jump and puts it away in his mind. Most riders would be thinking about the section they are having trouble with all race long and would do it anyway, thus ending up crashing their brains out. Marvin says "nope, I am good, I am going to jump my way through those whoops, not jump that sketchy rhythm and take third tonight". Maybe that will not win him a ton of races, but it can pay off in the long run when it comes to staying healthy in a long series like this one. Hey a top three in the series is still a good bonus, keeps you on a factory team and lets you live to fight anther day.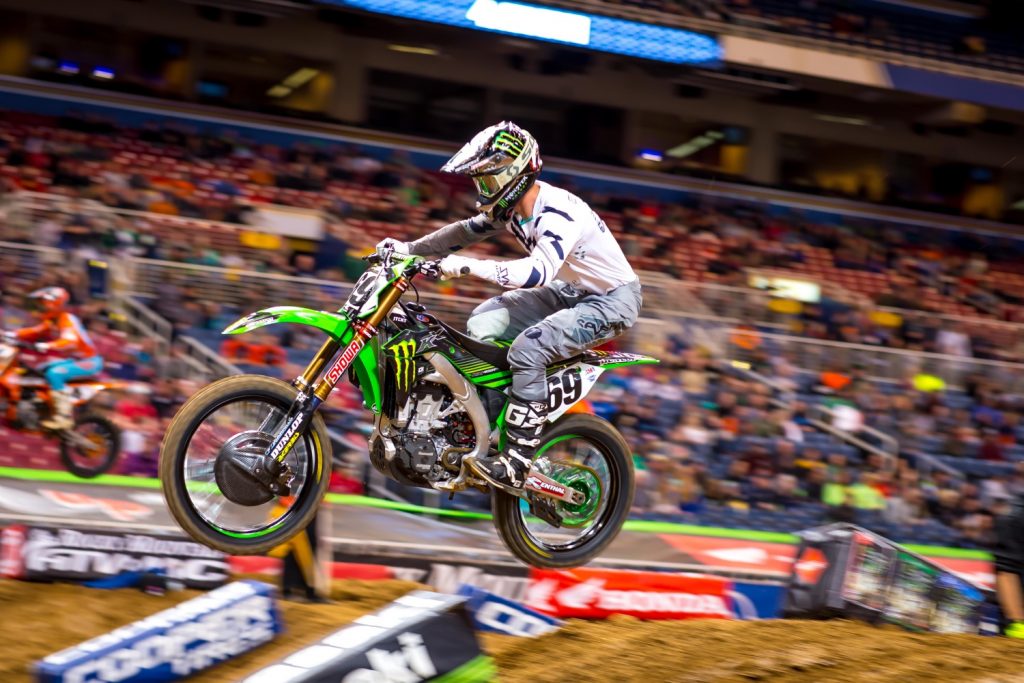 Tyler Bowers: Impressive night for "The Bear". Maybe not on paper, but for sure St. Louis was the best he has ridden all year. He crashed while leading his heat and was leading qualifying at one point. From going to full privateer to a very good fill in, Bowers is doing a great job for Kawasaki. I still don't know how he likes that Showa SFF-Air fork though! EWWWWWWW!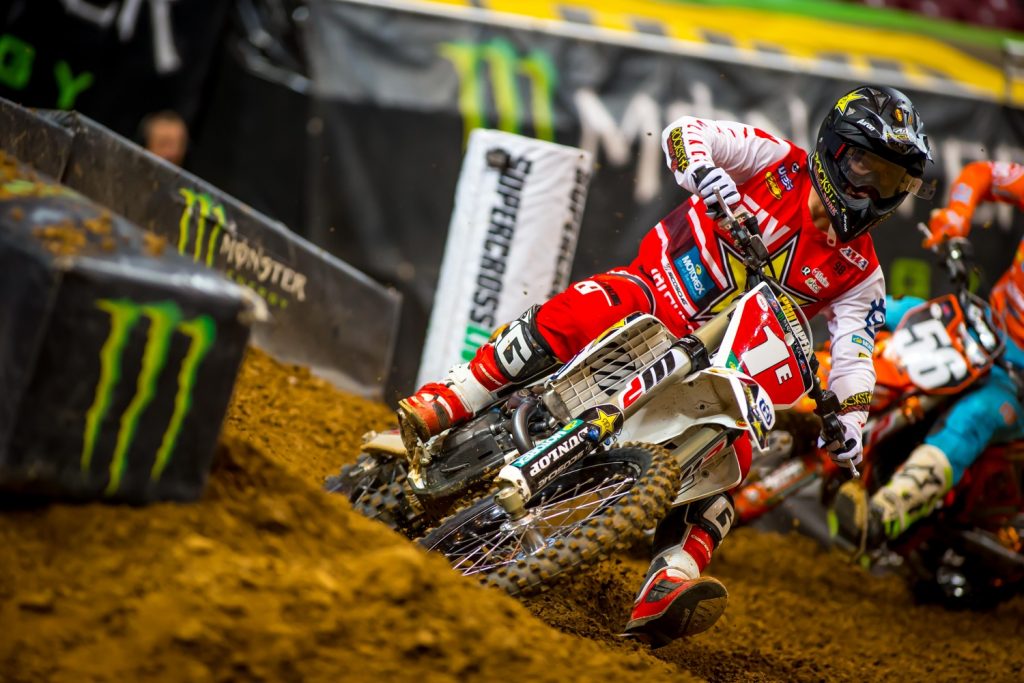 Zach Osborne: I will be the first to admit when Forkner got the holeshot in the Main, I was like oh crap, Zach is going to have his hands full. To my surprise though Zach started inching up on Forkner as he made that crucial dragons back mistake. Zach is known for being relentless and is like that damn mosquito that will not go away. You can swat him off, spray repellent on yourself, but that little SOB keeps coming back! Maybe Fly Racing needs to put a mosquito on the back of his pants? What do you think?  Zach is carrying a points lead that I don't see getting relinquished for the rest of the season. He is my pick for the East/West shootout next week in Indy.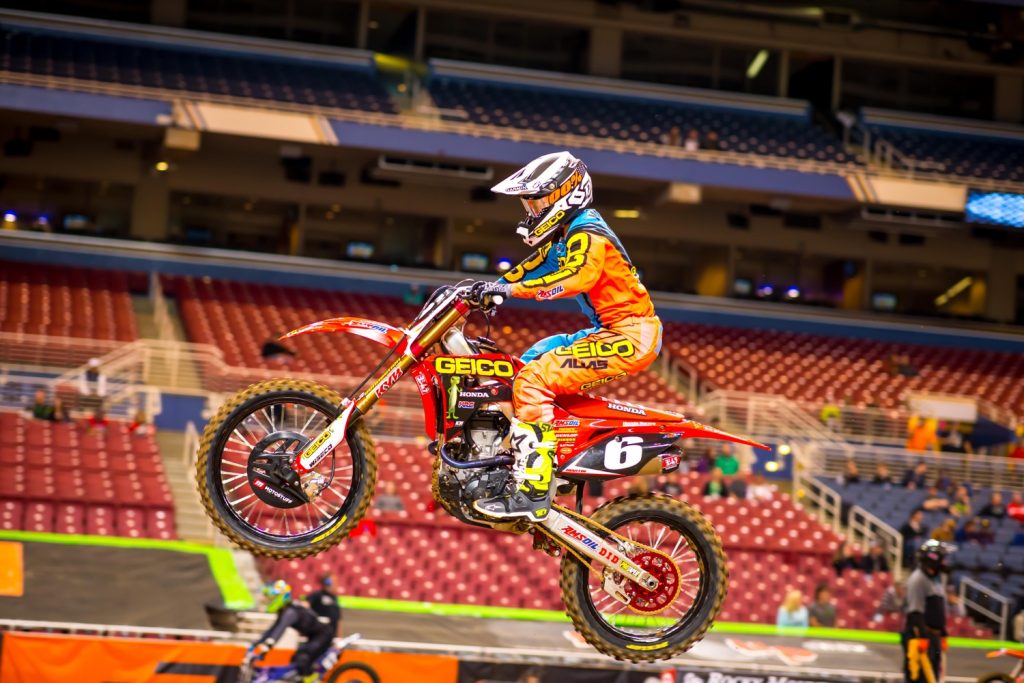 Jeremy Martin: Martin actually got a good start! Like I said last week in my article, I think that Honda is getting some more torque and increased HP's on their CRF250R! A tip of the cap also to his whoop speed this week! He had a great line on the left side of the whoops that was sneaky fast. Usually Jeremy Martin and whoop speed don't go together, but in St. Louis it was good!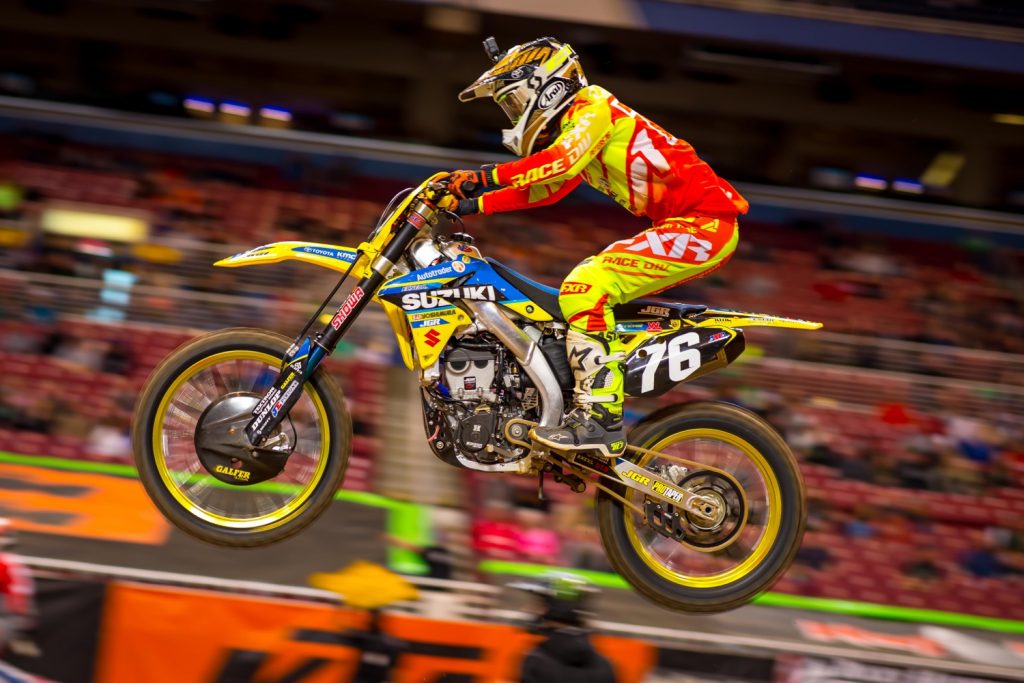 Kyle Peters: Kyle is not someone you watch and go "man, that dude looks sick on a bike"! There is nothing flashy there and for a smaller dude, he rides like a bigger sized rider. His whoop speed is decent and he doesn't stretch his body a lot over jumps like most smaller riders do. I am impressed that he is getting better as the series goes on and is usually a top five guy every week. Watch this dude ride when you get a chance, you will be amazed on how he rides 6'0 instead of 5'7.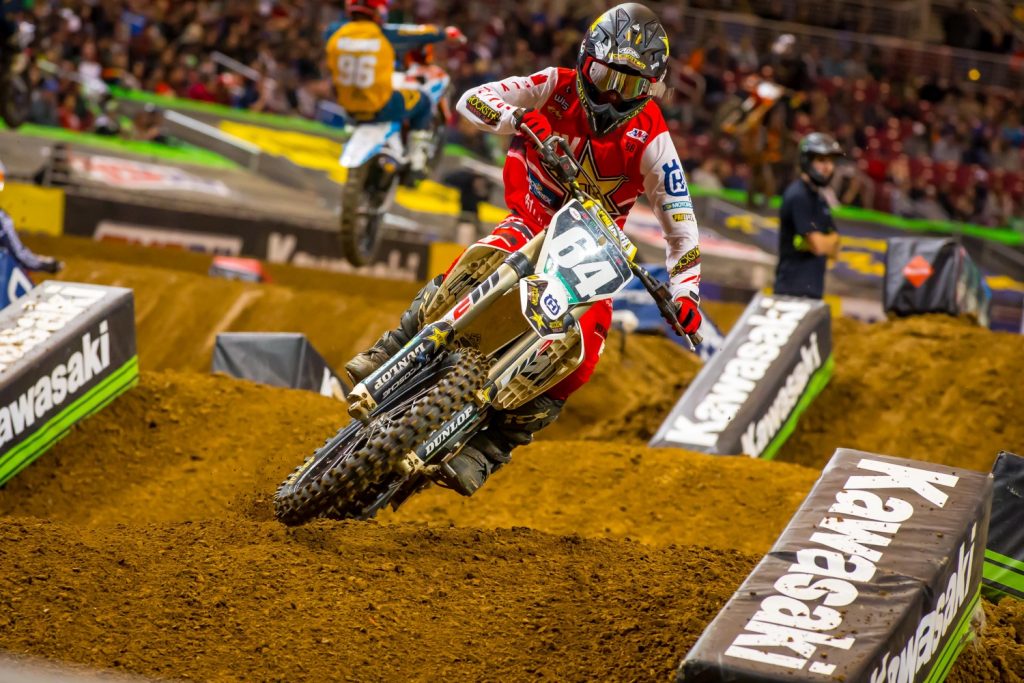 Michael Mosiman: MOSI-MAN! I have ridden with this kid up in the high desert a couple times and the first thing I noticed when I was riding with him was how he doesn't rev the crap out of his bike! Usually you hear the kids in his age range revving their way around the track on 250F's, but not MOSI-MAN! Mosi just rides a gear high and goes about his business quickly. His eighth place in St. Louis was better than it shows and for a kid his age he his very well spoken. when asked questions he doesn't give cookie cutter answers, speaks clearly and genuinely sounds like he's interested! I am all in on MOSI-MAN!