For this edition of Motocross Captured we are going to take a look back at America's first hosting of the Motocross des Nations at Unadilla, NY in 1987.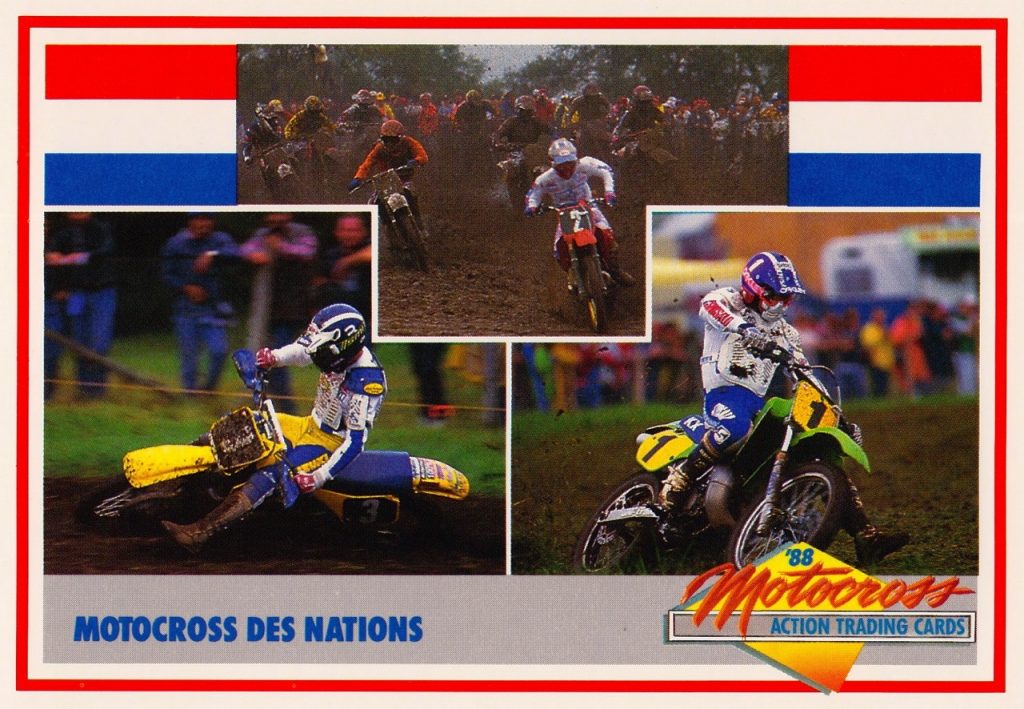 In 1987, for the fortieth anniversary of the event, the Motocross des Nations would be making a trip to the USA for the first time. Set to do battle at the historic Unadilla circuit in New York, America's team consisted of two current National champions and one past-his-prime legend.
Today, the Motocross des (forgive me, I refuse to use the term "of") Nations has once again fallen on hard times here in America. Once the pinnacle of the patriotic motocross calendar, the MXdN has found itself treated as an annoyance by the sport's glitterati and a pawn by the big-money energy drink companies that currently run the sport. Just getting the top U.S. riders to participate is a chore and very few people outside of the fans seem to actually care.
Unfortunately, this is hardly the first time this has happened in the forty-five odd years we have been participating in this annual event. After some mediocre finishes in the late seventies, America's motocross establishment began to lose interest in the Motocross and Trophée des Nations. At the time, it was a two-week event, with one week being dedicated to 250s (Trophée) and one week being assigned to the 500s (Motocross). With four man teams and an extended European stay needed, the powers that be began to balk at the cost of sending our racers to an event nobody cared about and we could not seem to win.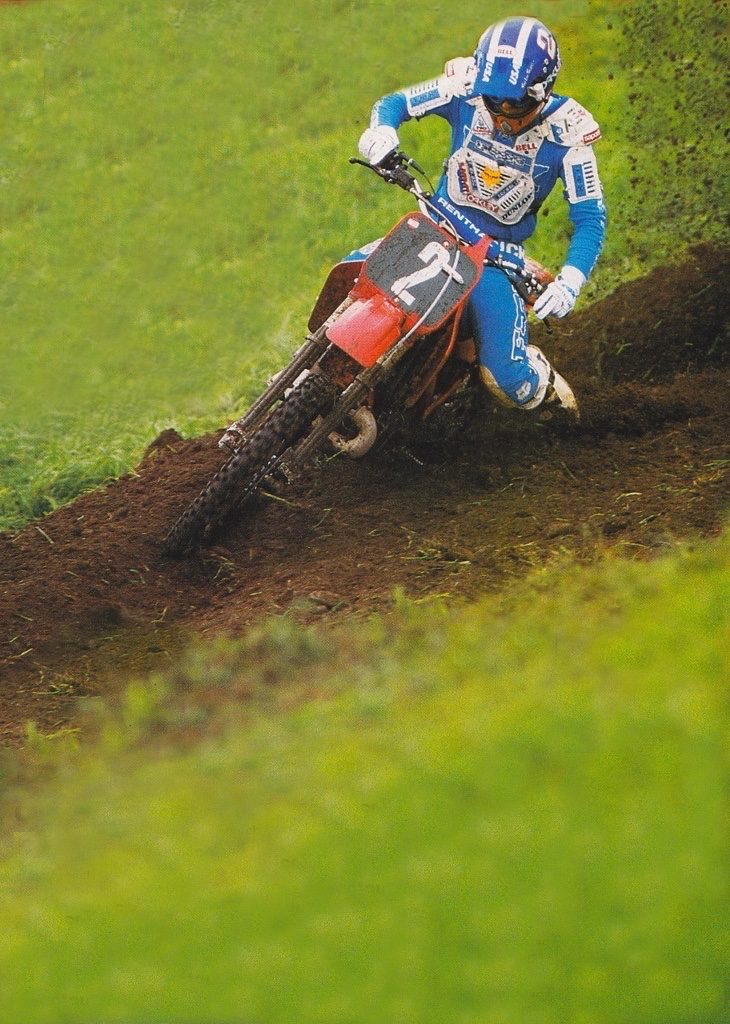 Motocross Nirvana: Today, Unadilla is one of the most polarizing tracks on the National circuit, but in 1987, it was considered the premier circuit in American motocross. Pristine and untouched for all but one weekend a year, Ward Robinson's farm was a sea of lush grass and deep loam just waiting to be roosted. Photo Credit: Tom Strattman
In 1981, this came to a head with several of the manufacturers actually refusing to help foot the bill for America to send a team. Thankfully, however, all was not lost, with several industry insiders stepping up to make sure the red, white and blue would be represented in the motocross Olympics. Leading this charge would be Hi-Point's Larry Maiers and Motocross Action Magazine's Dick Miller, who would spearhead a grass-roots movement to raise money and garner support for an American expedition to Lommel, Belgium (250s) and Bielstein, West Germany (500s). Joining the American effort would be Honda's newly retired five-time World Motocross Champion Roger DeCoster (himself an MXdN legend and ironically, a Belgian), who would help arrange for Big Red to send its entire team of Chuck Sun, Donnie Hansen, Johnny O'Mara and Danny LaPorte to represent the USA.
What would follow would be one of the most shocking upsets in motocross history, as the young and untested American team preceded to dominate both the 250 and 500 events. After almost not participating, America came roaring back to capture its first Chamberlain Trophy and signal to the world that the balance of motocross power was shifting.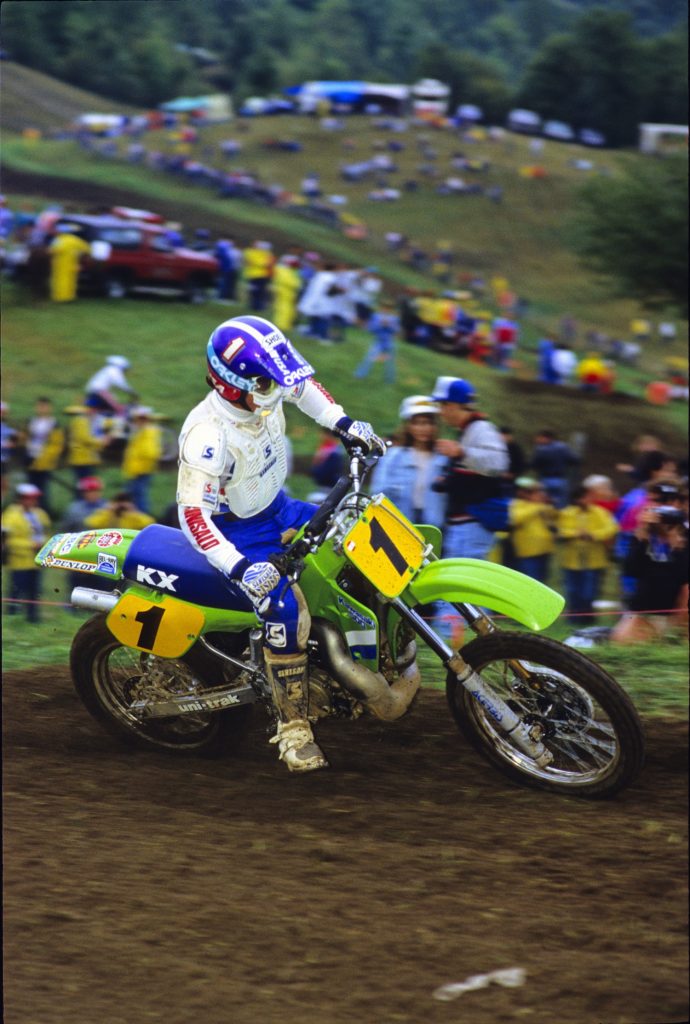 On Saturday for practice, the hilly Unadilla circuit was in perfect condition as the teams took to the track. Unfortunately, however, this did not last long, as overcast skies portended the deluge yet to come. Photo Credit: Paul Buckley
After the upset victory of 1981, the Olympics of Motocross took on a whole new luster in America (for better or worse, we Americans have a funny obsession about winning). The success of '81 meant it was no longer a chore to recruit the best we had to offer and the teams were all too happy to grab their share of the laurels of victory. After '81, Team USA would go on to capture the team title in Switzerland (1982), Belgium (1983), Finland (1984), West Germany (1985) and Italy (1986), before finally making its first-ever stop in America in 1987.
By the time the Motocross des Nations made its way to New Berlin, NY in September of 1987, the format of the event was very different than the one the USA had won in 1981. After decades of holding separate 250cc and 500cc class events, the FIM added 125s (the 125-class held their own less-prestigious event called Coupe des Nations from 1981-1984) and combined the three classes into one winner-take-all event in 1985. This new event dropped the Trophée moniker and became known solely as the Motocross des Nations. With all three classes participating simultaneously, the '85 event is also notable for the sheer lunacy of having sixty-three riders on the track at the same time. Thankfully, no one was killed by this dubious bit of judgment and Team USA won again.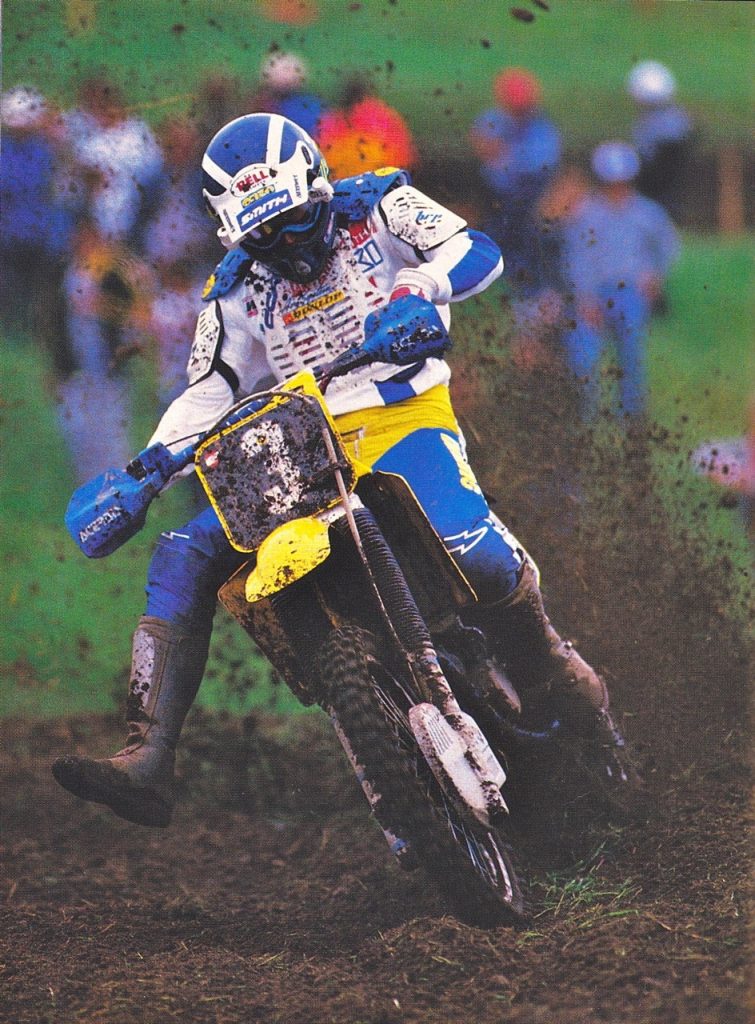 Buckwheat: In easily the most controversial pick in team history, the AMA decided to pass over America's reigning two-time 125 Motocross champion Micky Dymond, in favor of a 95% retired Bob Hannah. At this point, Bob was down to racing a small number of handpicked events every year and was a full decade away from his 125 National Motocross title.
For 1986, the format was again changed, this time separating the event into three motos, with only two classes racing on the track at any one time. This is basically the same format we see today (with some minor tweaks from year to year), with each country's team sending one rider from each class (125, 250 and 500 in 1986). At the time, many American pit pundits saw these changes as an effort to thwart the USA's dominance at the event. This thwarting, however, did not work and Team USA took home their most impressive victory to date, with Rick Johnson (250), David Bailey (500) and Johnny O'Mara (125) sweeping every class and every moto.
After the victory at Maggiora in 1986, Team USA entered 1987 with a six-year winning streak. Since capturing victory in '81, they had withstood format changes, rider injuries and mechanical failures, all the while continuing to bring home the gold. With this string of victories came a predictable swing in rider attitudes toward the event; instead of begging and scrounging for participants, Team USA's manager Roger DeCoster now had a willing stable of young racers looking to put on the red, white and blue.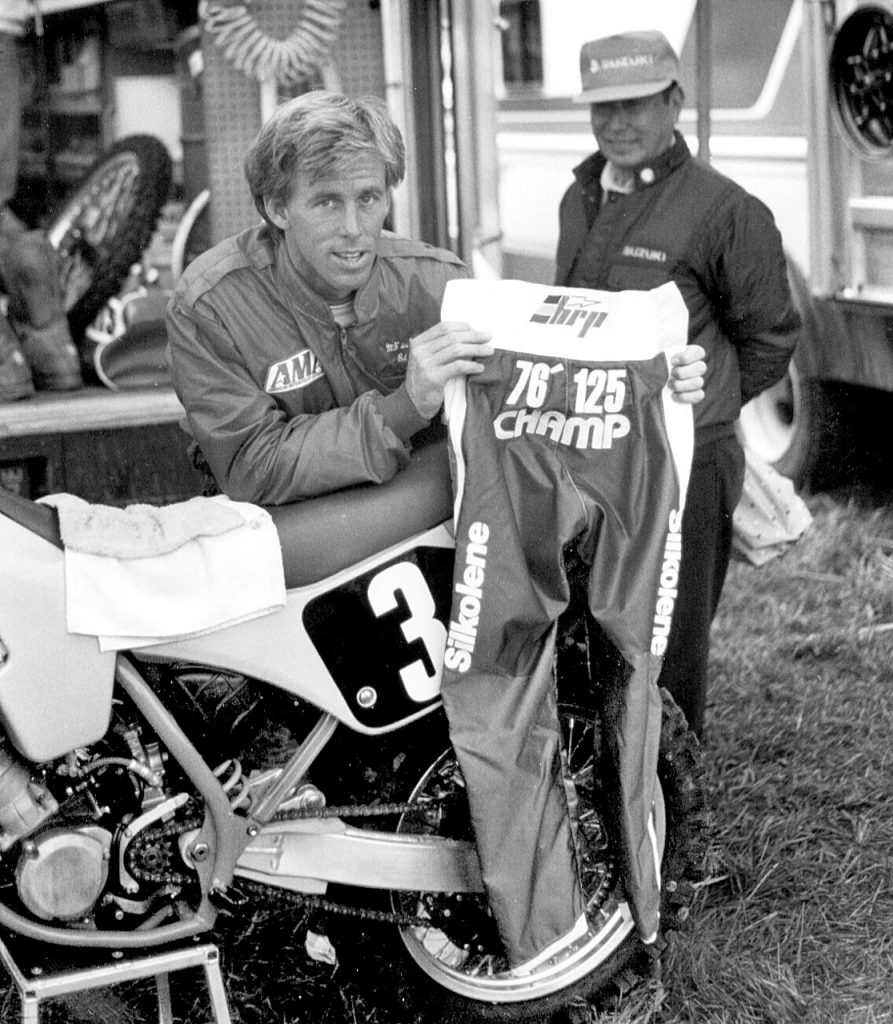 '76 Champ: I love this pic of Bob Hannah from Saturday practice for several reasons. Firstly, you have to appreciate his ability to poke fun at himself by highlighting his decade-old 125 title. Secondly, if you look at his RM, you can see that this is not the turd the rest of Team Suzuki was forced to run in '87, but actually a full-works version using 1988 RM250 bodywork and a prototype of the new case-reed motor that would make it to production in 1989. Lastly, we have the incorrect usage of the apostrophe on Hannah's pants, which shows that even before home schooling took over, grammar was not the strong suit of most motocross racers. Photo Credit: Motocross Action
For 1987, perhaps no rider felt this desire more acutely than Team Honda's Micky Dymond. In 1986, the newly crowned 125 National Motocross champ had wanted to go badly enough that he took one of his off weekends and flew to Brazil to race in the Brazilian GP. There, he waxed the Grand Prix regulars handily and proved that he would not be a weak link in any potential future team. In spite of this, however, Dymond was passed over in favor of his Honda teammate, Johnny O'Mara. While this was a bit of a snub to the champ, it could certainly be understood and justified. O'Mara was an established star, with both a 125 National Motocross and 250 Supercross title to his resume. He was also a multi-time winner at the event.
With this in mind, Dymond set out to make sure that would not happen in 1987. Off the track, he expressed his desire to go to USA team manager DeCoster and on the track he backed it up by repeating as 125 National Motocross champ. With O'Mara suffering an off year on his new Suzuki and no other competitors outshining him, it looked like '87 would be his year to represent Team USA.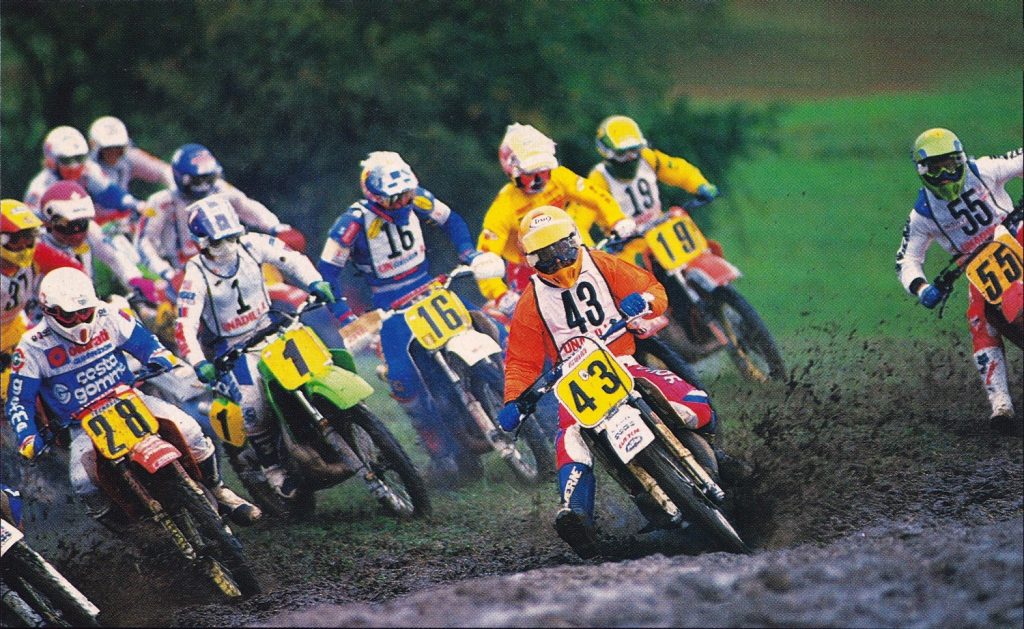 Moto One 125/500: By Sunday, a night of downpours had turned the perfect Unadilla track into a quagmire. Photo Credit: Dirt Bike
When it came time to make the final decision, however, the AMA once again passed over Dymond in favor of a complete wildcard. Instead of going with Dymond, or George Holland (who had finished second to Dymond for the 125 title), or even '85 125 champ Ron Lechien, they went with 1976 125 Motocross champ…Bob Hannah.
At this point, Hannah was 30 years old, half-retired and a full decade away from his competitive 125 days. When interested, he had shown he still had the speed to run at the front, but only on certain tracks and in certain conditions. While a legend, Hannah had also famously been one of the high-profile riders that had soured on going to the event in the late seventies. Now that America was winning and it was going to be held at Unadilla, the Hurricane wanted back on the team.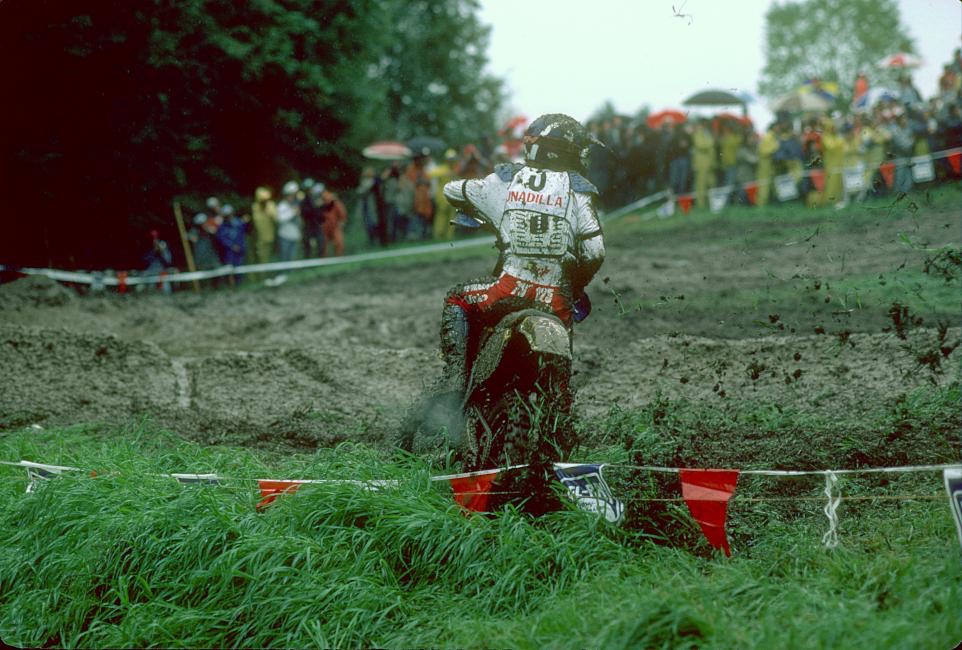 Screw-U: After a solid start, Hannah's first moto went south when he tangled with France's Jean-Michel Bayle coming out of the Screw-U. Unable to make the ascent in the slippery conditions, Hannah was forced to ride back down the hill and make two more attempts, before finally getting his RM125 to the top. By then, any chance at a moto win was history. Photo Credit: Racer X Archives
Looked at logically, this all seems like a ludicrous idea. Not exactly known as a "team player," Hannah would have been an odd choice even to ride a 250 (at least he had gotten a second in the 250s at Southwick in '87), but on a 125 it was pure insanity. Yes, in 1976, he had won the title, but he had not scored single point the 125 class in five years. Even worse, it was no secret that Suzuki's 125 at the time left a lot to be desired. For the AMA to overlook the best bike on the track and two consecutive 125 National titles, they had to really want the Hurricane on the team.
While the Hannah choice was a real head-scratcher, the other two selections for the team were a no-brainer. In the 250 class, we lined up three-time AMA 250 Motocross champ Rick Johnson. In the 500s, we suited up 125, 250 and Supercross champ Jeff Ward. At this point, both had served on multiple Motocross des Nations teams and neither one had suffered a defeat at the event.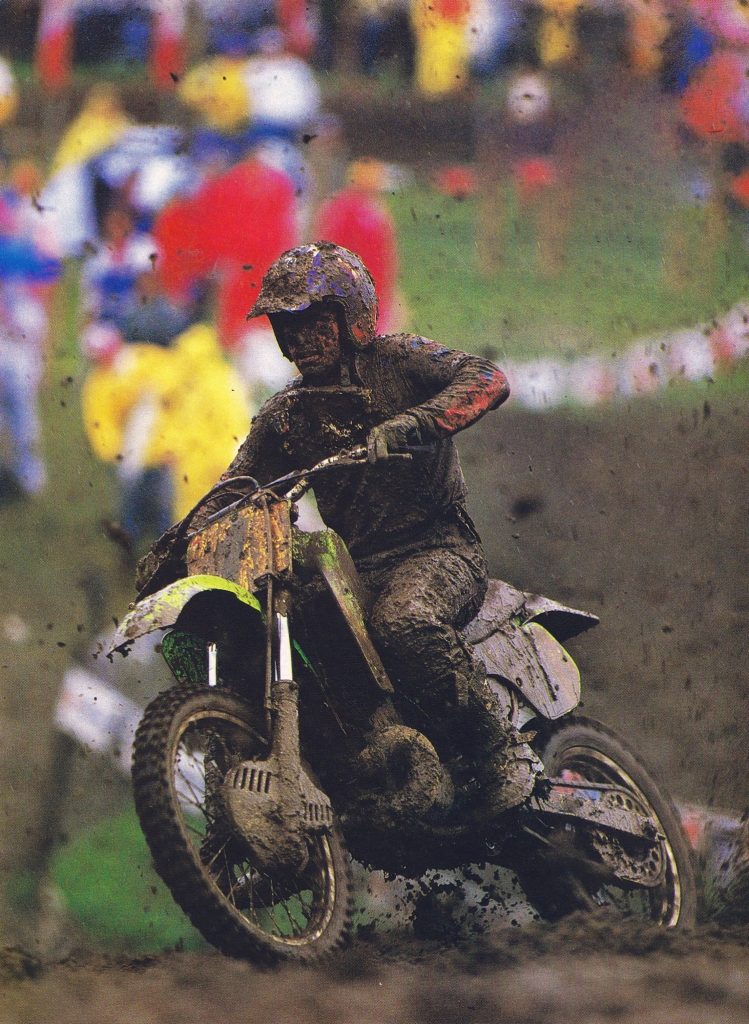 Mud, blood and gears: Ward's chance at a first moto victory all but ended when his Oakley goggles were blasted off his face by roost on the first lap. After that, it was survival mode for the 1987 250 Supercross champ. Photo Credit: Fran Kuhn
On Saturday, the riders making their way onto the 1.1-mile New York circuit for practice were greeted with lush green grass and deep, dark loam. Overcast skies meant dust was not going to be a problem and the track looked to be in perfect condition. At this point in time, Unadilla was not the slick, rocky and blown-out mess we know today. Years of racing had not yet stripped aside its best soil and the track sat untouched for 363 days a year. When the riders hit the track for practice, it was on virgin terrain and the Unadilla circuit was considered by most to be the best America had to offer.
By the time race day arrived on Sunday however, conditions had taken a decided turn for the worse. Heavy overnight rains had left the once loamy track an absolute quagmire, with nothing but more rain predicted in the forecast. For Team USA, this meant their home-court advantage was now out the window. Unadilla was already the most "Euro-style" circuit in America and adding deep mud to the equation basically negated any advantage we might have had coming in to the event.
After seeing the condition of the track on Sunday morning, there was a good deal of discussion about changing the format for the day. There was talk of running all three classes simultaneously and pairing the event down to two motos, but in the end, the AMA and FIM decided to stay with the same three-moto format they had used in Italy in 1986.
Dividing the motos into two classes each, the race format would feature the 500s and 125s first, with a second 250/125 moto and a third a 250/500 moto to wrap up the day. The scores would be tallied individually by class, with the top rider in each division earning one point for a class win, regardless of their overall placing on the track. At the end of the day, the team with the lowest overall point total would win the Chamberlain Trophy.
In the first moto, it was Holland's Kees Van der Ven who timed the gate perfectly and pulled the holeshot on his KTM 500, ahead of Finland's Kurt Ljungqvist and Canada's Doug Hoover. Amazingly, behind these three was Bob Hannah, who had beaten out a snarling pack of 500s to pull a fourth-place start on his underpowered RM125.
Unfortunately for Team USA, however, this advantage would be short lived. Before the end of the first lap, Hannah would tangle with France's Jean-Michel Bayle and get stuck on the infamous Screw-U uphill. After failing on his first attempt to make the ascent, it would take Hannah two more banzai charges to finally crest the steep incline. By then, any chances at a class victory for Hannah were all but gone.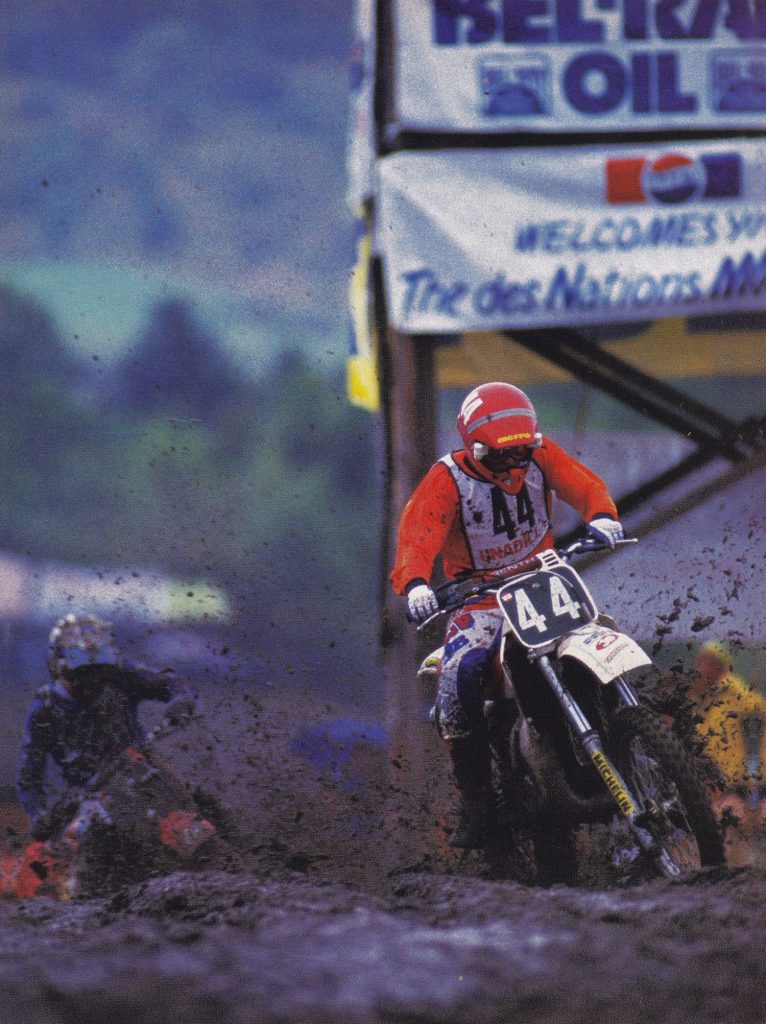 Moto Two 125/250: Holland's John Van Den Berk (44) pulled the holeshot in moto two ahead of the USA's Rick Johnson (2). This picture from only a few turns into the moto shows just how bad things were if you were forced to follow in the Unadilla muck. Photo Credit: Dirt Bike
In the 500 class, things were not looking much better with Jeff Ward buried back in the pack. In the first turn, Ward had narrowly missed being caught in a massive pileup by skirting up the inside of all the carnage. This had carded him a top-ten start, but that quickly went south after a face full of roost dislodged his Oakley goggles halfway through the first lap. After losing clear vision (maybe he should have used EKS Brand), it was pure survival mode for the Californian as he clawed his way around the muddy track.
By the end of the first moto, Ward had made his way all the way up to third, behind Dutch sand master Van der Ven and the newly crowned 500 World Motocross champion Georges Jobé. A bit farther back in the pack was Hannah, who had ridden the wheels off of his Suzuki to claim a ninth at the finish for fourth place in the 125 class. After the first moto, Team USA was in third, three points behind Holland and Belgium, who were tied for first.
In the second moto, it was the 125 and 250 rider's turns to do battle in the muck and mire. That meant Rick Johnson on his CR250R and once again, Bob Hannah on his RM125. Out of the gate, it was Holland's John Van Den Berk with the best jump and a clean (so to speak) holeshot ahead of Italy's Michele Rinaldi and Johnson. After immediately passing Rinaldi, Johnson stalked the 125 World Champ for a lap and a half, before blasting past the Duchman entering Screw-U. After making the pass Johnson put on a sprint, pulling out to a substantial lead and an easy victory.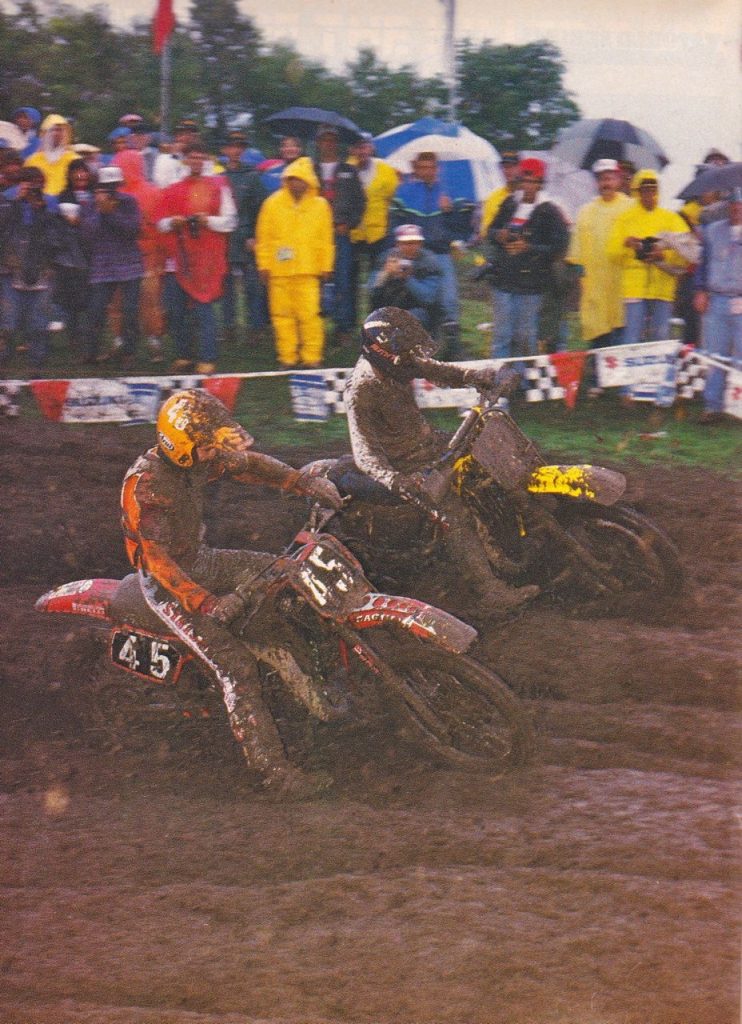 The second 125 moto featured a brief duel between Bob Hannah (3) and 1986 125 World Champ Dave Strijbos (45). The two passed each other back and forth several times on the sloppy circuit, before a crash ended Strijbos' day with a broken clutch. Photo Credit: Motocross Action
While Johnson was checking out up front, Hannah was pinning his factory Suzuki for all it was worth back in the pack. By lap three, he was up to fifth (first in the 125 class) right behind Rinaldi, who by now had been passed by Belgium's Eric Geboers for third. With legs flailing and throttle locked, the winningest rider in AMA history (at the time) continued to slowly reel in the leaders. By the 17-minute mark, he had moved past Rinaldi and was on the rear fender of early leader Van Den Berk. By this point, Geboers had zapped the Dutchmen for second, leaving the running order as Johnson, Geboers, Van Den Berk and Hannah, with Italy's Corrado Maddii in fifth.
After reeling in Van Den Berk, Hannah continued to pressure the Dutchman, until the sloppy conditions finally forced a mistake. While climbing out of Gravity Cavity, Van Den Berk cross-rutted and almost when down. In the split second it took the World Champ to regain control, Hannah blasted by into third. After making the pass, Hannah actually gained on the 250 World champion Geboers, but was unable to climb any higher than third. At the finish, it was Johnson in first, with Geboers in second and Hannah in third. This gave Hannah the overall 125 victory and moved the United States into a first place tie with Belgium in the overall team standings.
After crossing the finish line in the second moto, Hannah was literally mobbed by the estimated 22,000 fans that had braved the rain and mud to watch their heroes do battle on home soil. Cheers of "Hannah, Hannah, Hannah" went on for several minutes throughout the valley as the thirty-year-old Unadilla legend soaked them in. After making the team in one of the most controversial picks ever, Hannah had more than lived up to his end of the bargain by winning the 125 class in brutally difficult conditions.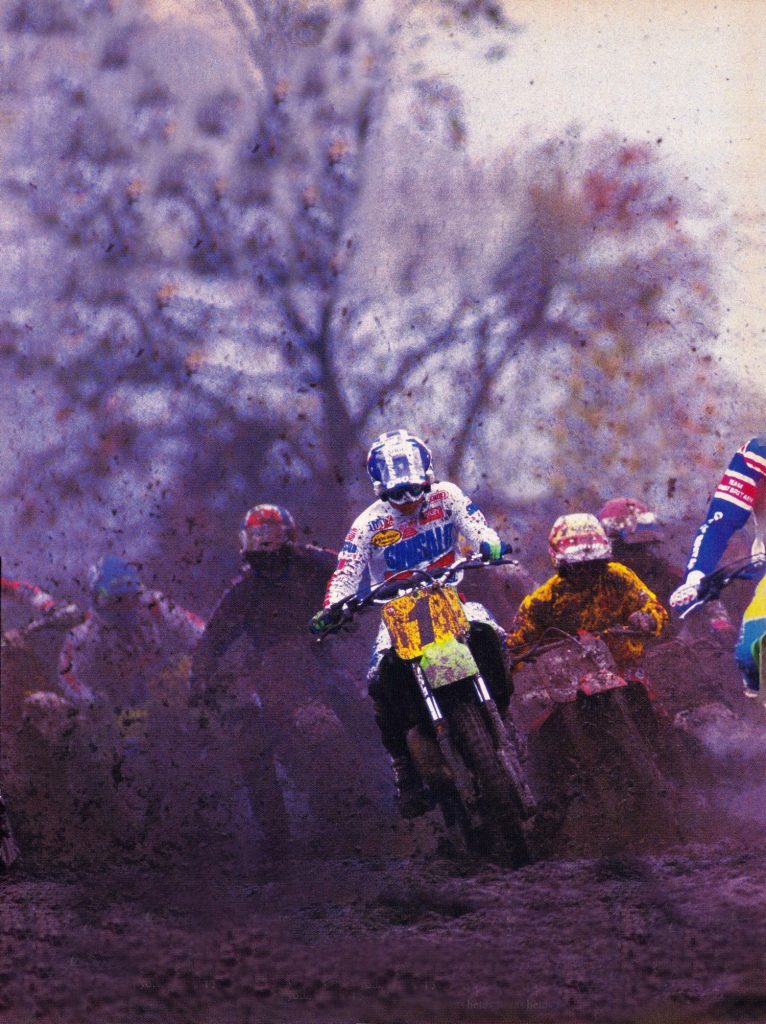 Moto Three 250/500: At the start of the third and final moto, America's Jeff Ward nailed a solid start behind Great Britain's Kurt Nicoll and Holland's Kees Van der Ven. This advantage would be short lived, however, as Ward and his teammate Johnson collided exiting the first turn, forcing Ward to back off and let several riders past. Photo Credit: Dirt Bike
After the Hill People's celebration had abated, there was still the matter of a third and decisive moto to be run. In this one, it would be Johnson on the 250 and Ward once again on the 500. Problems for Holland and France in the second moto had all but eliminated them from contention, but Belgium was still right there, with Germany now in third.
At the start of the third and deciding moto, disaster almost struck the Americans. Exiting the first turn, Johnson and Ward tangled, with the two almost taking each other out. As the Americans played bumper cars, the Dutchman Van der Ven once again nailed the holeshot on his KTM. After the near disaster, Ward backed off and allowed Johnson to pull ahead down the first straight. Commenting at the time, Johnson told Cycle News, "I'm thankful Jeff let me by – that's good teamwork."
After the excitement of the first lap, it was Van der Ven in front, followed by Johnson, Geboers, Van Der Berk and Britain's Kurt Nicoll. On lap two, Belgium's chances at a Motocross des Nations victory came unraveled. Moto one winner Jobé slid off course and sucked course banners into his rear wheel. The banners immediately got sucked into Jobé's rear brake and rendered it useless. After a lap, he pitted to try and get them out, but by the time he was back on track, Belgium's chances were all but up in (brake) smoke.
While Jobé was pitting, his teammate Geboers was having his own issues. Knowing he had to win to have any chance at a team victory, the diminutive 250 World champ was riding like a man possessed. Unfortunately, mud is not particularity conducive to this sort of pin-it-and-pray style and the sloppy conditions eventually claimed Geboers…and then claimed him again…and then a third time. "I just kept crashing," Geboers told Cycle News' Kit Palmer at the time. Even with his many misadventures, the Belgian managed to salvage a respectable fifth in the moto.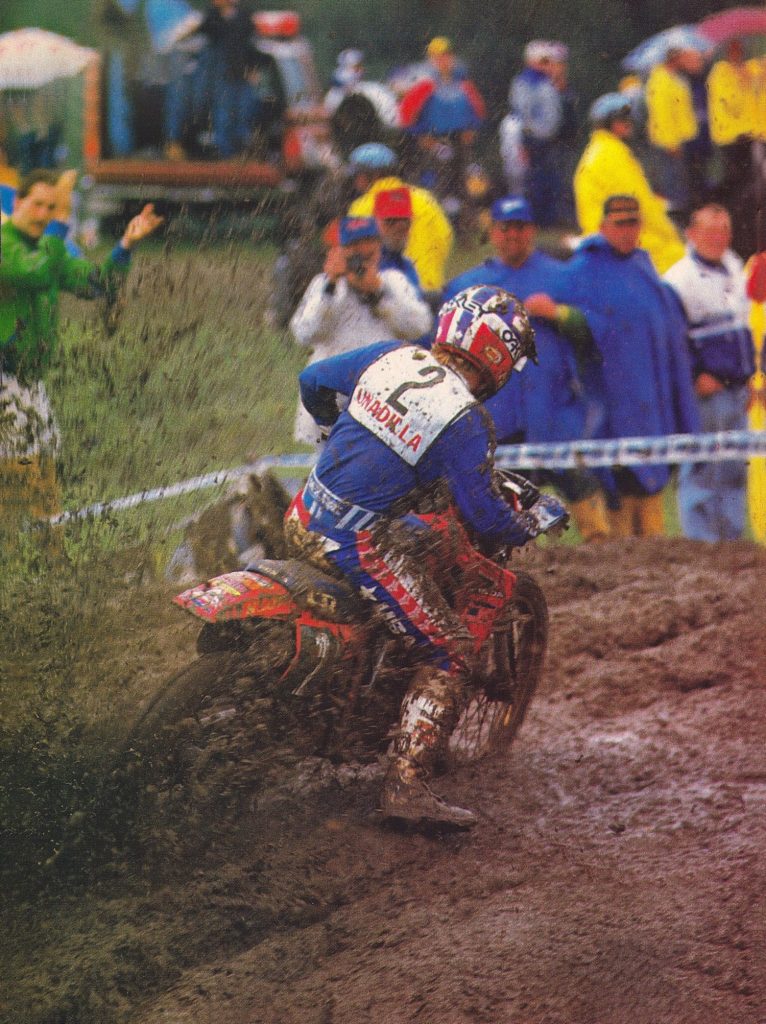 After his near-disaster with Ward, Johnson put the hammer down and set about chasing down Holland's Kees Van der Ven at the front. By the six-minute mark, Johnson had the lead, and with it, a lock on America's seventh straight Motocross des Nations victory. Photo Credit: Tom Webb
With Belgium struggling, all the USA had to do was stay ahead of Germany and Holland to claim victory. By the six-minute mark in the moto, Johnson had moved by Van der Ven and was cruising out front. Behind him Ward was charging and had moved past Nicoll and Van Der Berk to take third. For the next 25 minutes, Ward chased the Dutchmen, but was never able to get close enough to make any serious pass attempts. At the finish, it was Johnson, followed by Van der Ven and Ward. This gave Johnson a 1-1 moto sweep in the 250s and Team USA its seventh consecutive Motocross des Nations victory.
On the podium, the whole team was wet and tired, but ecstatic. Reflecting on his unlikely selection Hannah quipped, "You know, Micky Dymond, you owe me dinner for you not being here, because, man, you wouldn't like this out here. I was getting mud thrown in my face all day."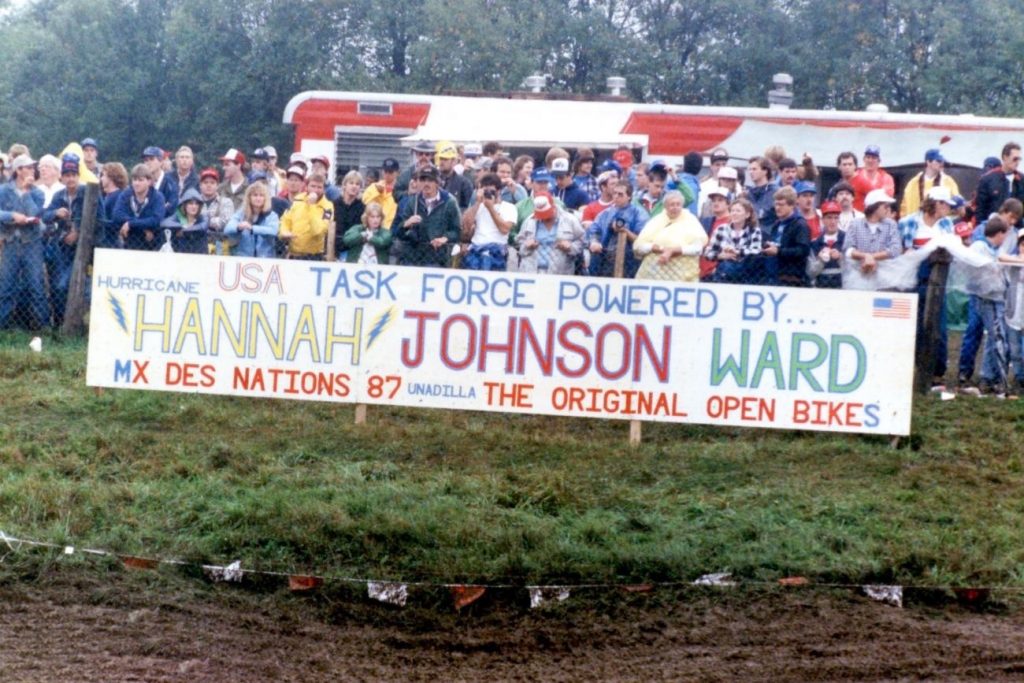 In spite of the miserable conditions, The Hill People were out in force at Unadilla. Photo Credit: Tom Veety
With an air of reflection Johnson added, "This win has to peak right up there with winning my first National (moto) at Carlsbad (in 1981) and winning my first National Championship in 1984. This is something I can tell stories about when I'm an old man."
After their victory at Unadilla, Team USA would go on to capture six more consecutive MXdN titles, before finally being upset in 1994 by the British team of Rob Herring, Paul Malin and Kurt Nicoll. This shocking outcome would put an end to America's unprecedented 13-year win streak at the event, a record that still stands to this day.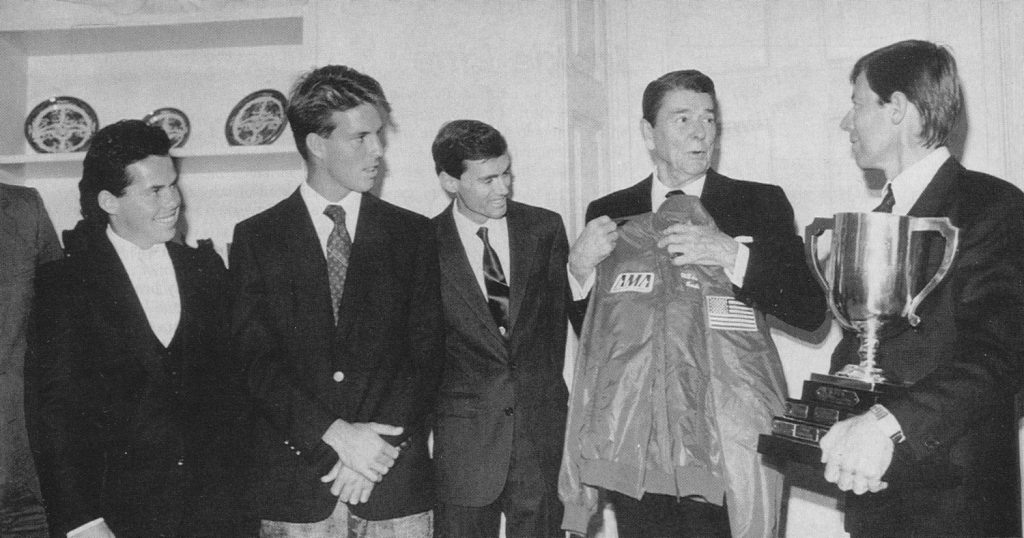 After capturing America's first Chamberlain Trophy on home soil, the entire team got to attend a reception at the White House. Photo Credit: Tom Riles
Today, we are once again at a crossroads in regards to the Motocross of (there, I said it) Nations. Much like 1981, a string of losses has drained the enthusiasm for the event out of many inside in the industry. Yes, it is costly, and yes it is inconvenient, but very few of us ever get to represent our country on the world's stage in any discipline. In America, we don't do losing well, and we probably put way too much emphasis on winning over everything else. This leads to apathy in the riders and bitterness in the fans. Unfortunately, neither one of these traits are particularly conducive to bringing our best riders back to the event.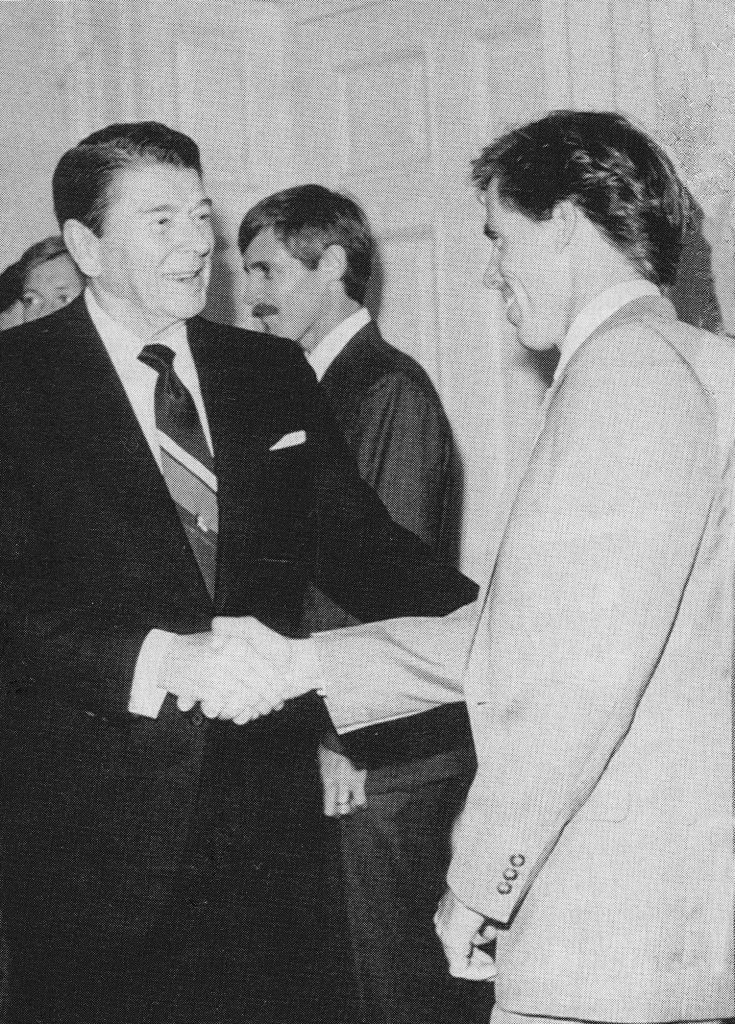 Does the winner of Anaheim One get to shake the hand of the President? I don't think so! Team USA matters people. Photo Credit: Tom Riles
Long race seasons, sponsorship pressure and an asinine scheduling of the event all make getting our best to participate an uphill battle, but it can be done. Hopefully the powers that be on both sides of the pond will come to the conclusion that the MXoN does matter. It is the only race I will get up at 4AM in the morning to watch live and the only event in which I truly care who wins. Most of the time, a great race is all I ask, but this one time a year, I really have a dog in this fight. Here's hoping in 2018 that dog will be back with a bark, and not a whimper.
For your daily dose of old-school moto goodness, make sure to follow me on Twitter and Instagram -@TonyBlazier
For questions or comments, feel free to drop me a line anytime at TheMotocrossVault@Gmail.com