Round 12 already? Wow! Indianapolis was a cold one outside, but the action was hot inside Lucas Oil Stadium. The first 250 East/West Showdown had some surprises as both points leaders (on each coast) had some troubles on Saturday night. The 450 Main Event was dominated by Marvin Musquin as he lapped up to sixth place! With almost 30 seconds between Musquin and second place rider Dean Wilson you can say the 450 Main was a snoozefest. I raced over the weekend and managed to break a couple ribs and crack a sternum, so I am just going to talk about the East/West Showdown. Sorry it's so short this week, but we will come back with a deep dive on Seattle. Here are some of the things I noticed and wanted to talk about from Saturday night's race: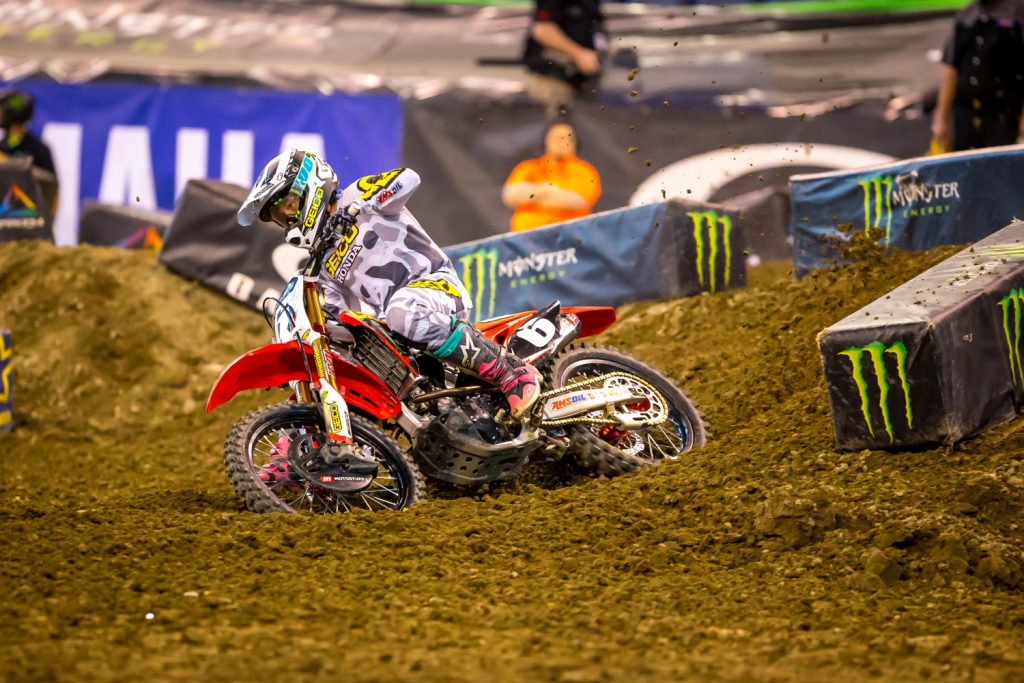 Jeremy Martin (East): What's up with this newfound supercross speed of J-Mart's? It's almost like he's a new guy right? Martin has been getting good starts and his whoop speed has been impressive. He stayed out of the early mess the first few laps and built a small, but comfortable gap over Cianciarulo and Renzland at the finish. Speaking of finish, the AMA docked Martin seven points for jumping on a red cross flag, but something tells me that Martin doesn't give a crap about that. He will take the win and the bonus that win comes with. He's not in the points chase anyway so it really is just a slap on the hand.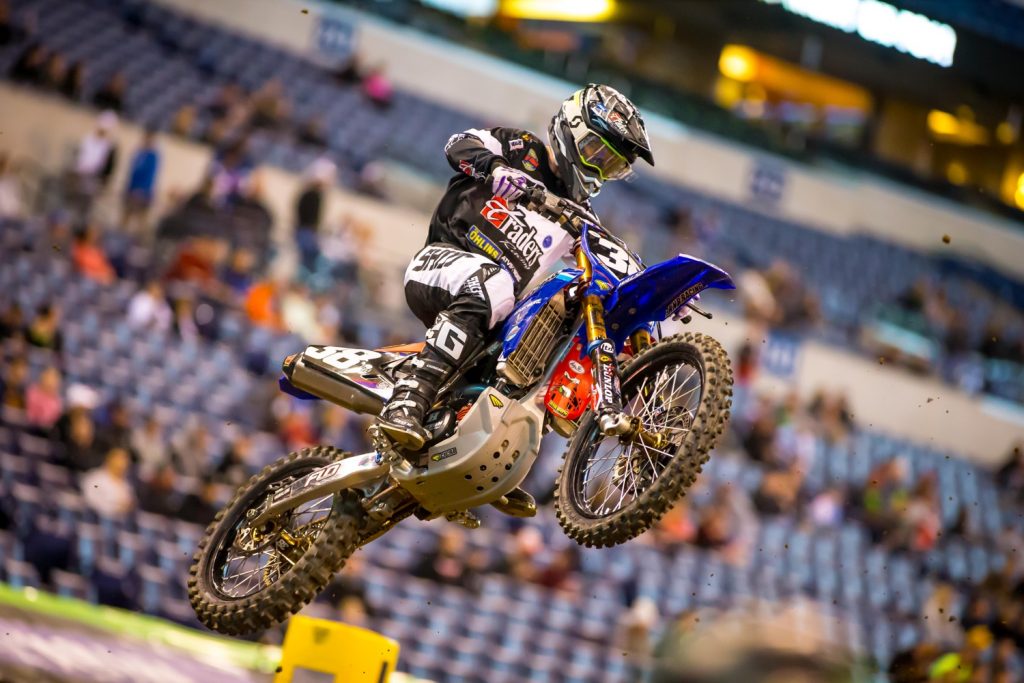 Luke Renzland (East): Yes, we skipped over AC, but come on! Luke Renzland got third place in the East/West showdown! WHAAAAAT! Not only did he get third place, but he had the fastest lap in the Main as well! (insert 722 sound drop, WHAAAAAAAT)! I like Luke because he is very chill and works really hard at trying to improve his speed. His Dreamland property is something to be scene, but you would think a kid that comes from a place that is heaven on earth for dirt bike people would be somewhat of a douche. Not Luke, he's a humble, approachable kid that just kicked a lot of fast riders asses on Saturday night! How about the Traders Yamaha team getting some love too! The Yamaha team that no one really talks about has a solid program and great bikes. If you go back and watch all of the east coast rounds Renzland always gets a good jump off the start, so you know that YZ250F is fast. Usually Luke gets bounced around the first couple laps and then starts to get going, but Saturday night he was up in the front and rode faster than most. The East/West Showdown was stacked with talent and Renzland just showed a lot of factory teams that he is capable of running up front and beating some of the best. Someone sign this kid and pay the man!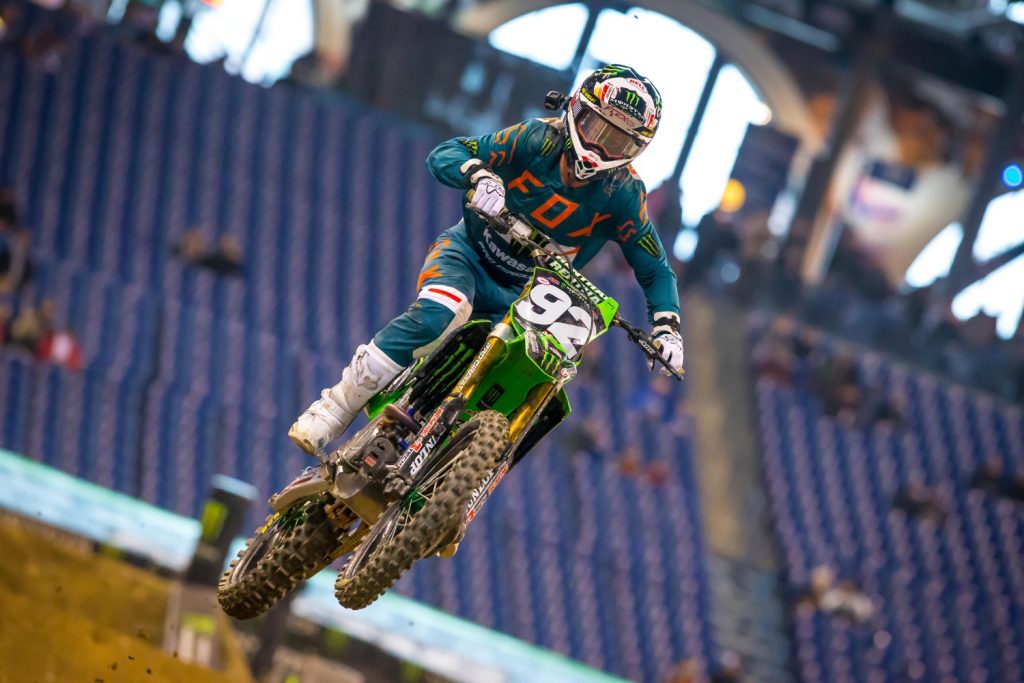 Adam Cianciarulo (West): AC crashed his brains out in day qualifying then proceeds to get a second place in the Main. Let me tell you how gnarly that is….. I crashed my brains out in practice when I was racing San Francisco in 2004 and it totally screwed my head up for the night show. I rode tight and every time I came to the whoop section (where I crashed in practice), I was a big pussy. The mental toughness it takes to have a couple big crashes and being able to shake it off is really hard to do. If you go back to when Andrew Short was on the Pulp MX Show a few weeks back, you will hear him speaking about "The Dakar Rally" and saying that some of the guys he's racing with told him that he "values his life too much". AC wadding in practice and shaking it off is kind of like that. Maybe AC gives ZERO F's as well! Sometimes when you're that fast and you are on the brink of being a champion, you have to put your safety aside and just block out the "what if's" and just send it! AC is so close to winning a Main this year and I think it's going to come before Vegas.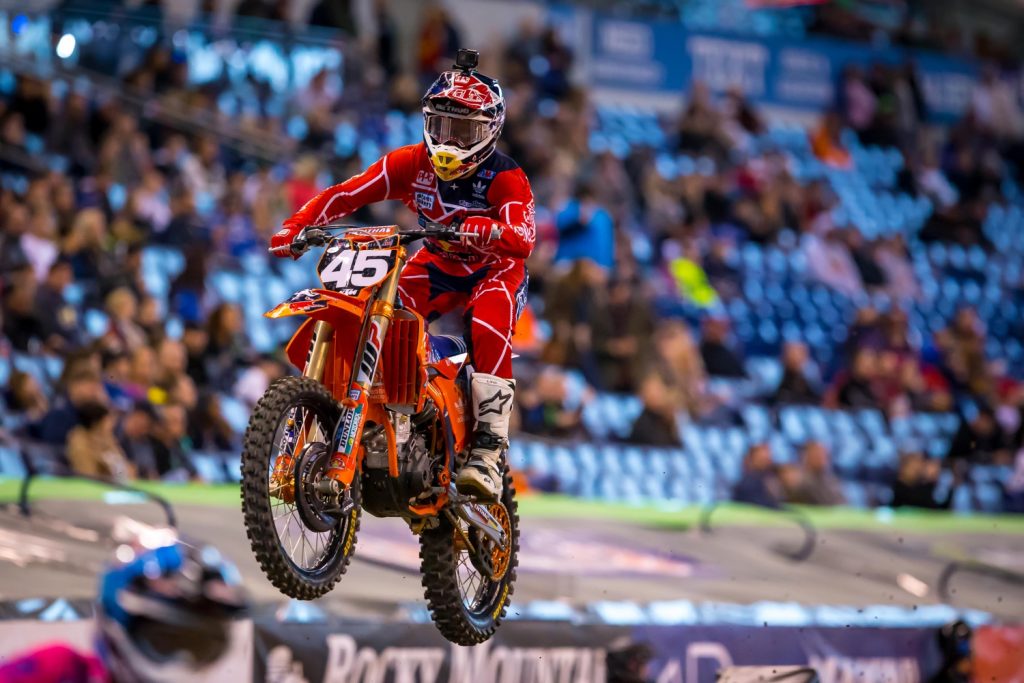 Jordan Smith (East): Case in point! Jordan crashed his brains out in practice (you can see the video of his crash on his Instagram) and he rides to a fourth! I am telling you people that this is the kind of thing these dudes do on a regular basis! If that was anyone of us, we would be packing up our stuff and calling it a night. Jordan is not out of this championship as he only sits 10 points back from Osborne. With a little luck Jordan could be in this sucker come Vegas!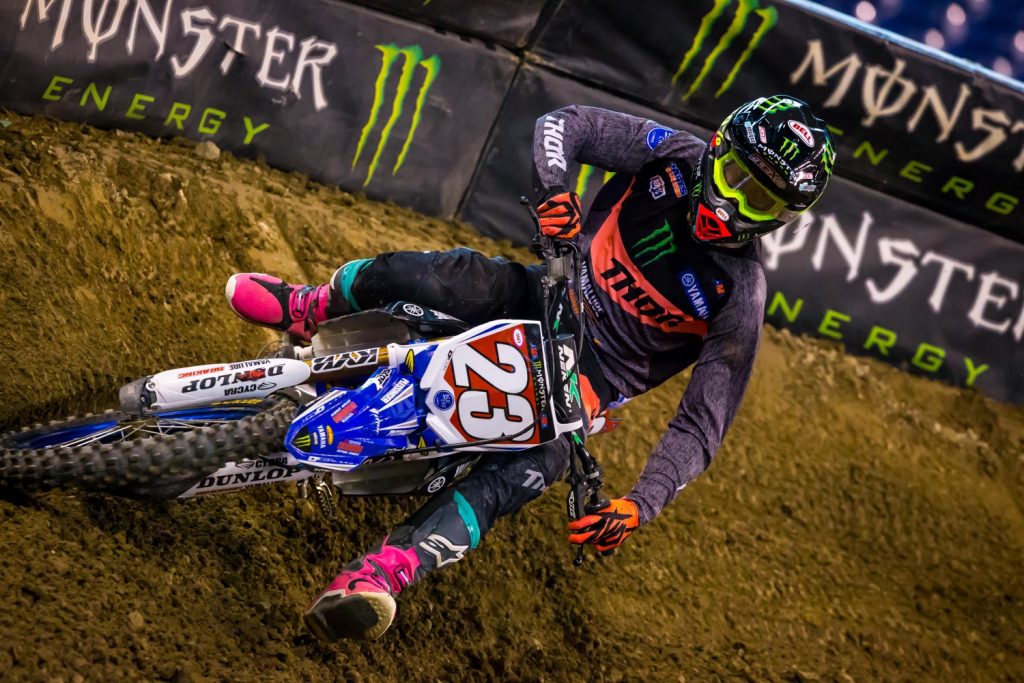 Aaron Plessinger (West): The west coast points leader salvaged some points in Indianapolis. What could of been a really crappy night turned into a good come from behind finish, similar to Jason Anderson's. 80% of the time Plessinger's starts kill him in the Main. Sometimes he will pull a rabbit out of his ass and get a holeshot, but those are few and far between. Plessinger will need to get better starts and stay out of trouble at the next round in Seattle if he wants this championship. If he gets a mediocre start in Seattle and Cianciarulo wins, it will be hard to beat AC. Now, if Plessinger wins Seattle, I am saying he goes all the way and becomes your West Coast Champ.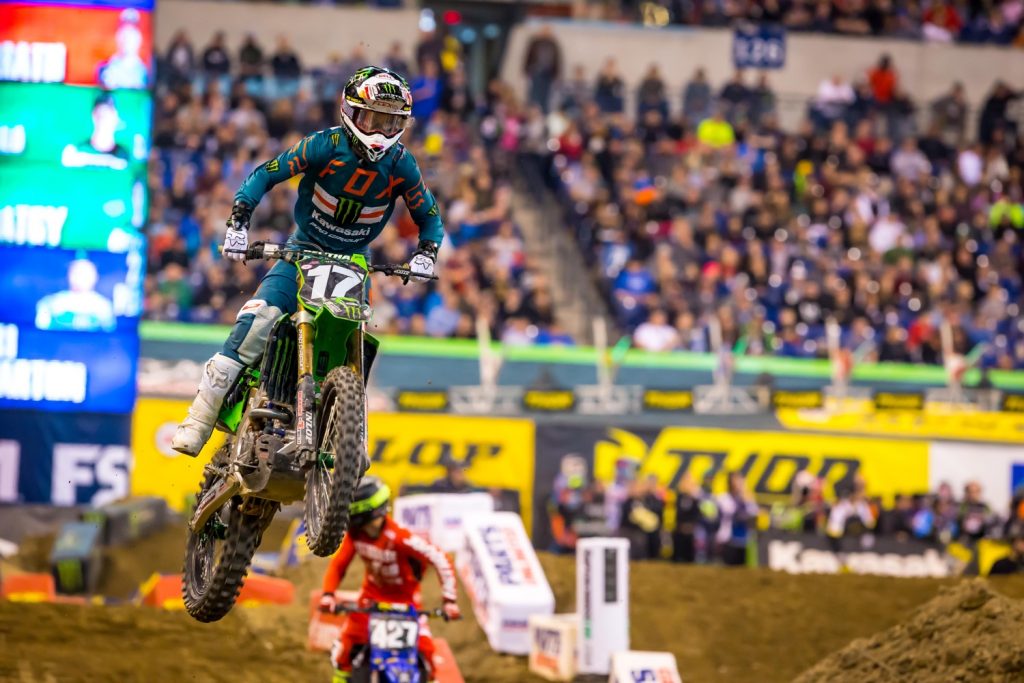 Joey Savatgy (West): Savatgy sits second in points (on the west) only nine points down from Plessinger so why am I claiming that AC would be the championship guy? Savatgy has one win to his name this year, AC has none, but to me Savatgy just doesn't look that great. He gets podiums, but has either made a mistake while leading or straight up gets passed and dropped. I don't know what's up with Joey, but for as bad as it has been going, he sits pretty good late in the series. Now when I say "bad" I don't mean the guy sucks. I am pretty sure Joey himself would say he hasn't been getting the results he or his team wants. In Indianapolis he just seemed tight and didn't have the flow. Savatgy needs to win this west title to prove he is worthy of a 450 contract that should be coming his way for 2019.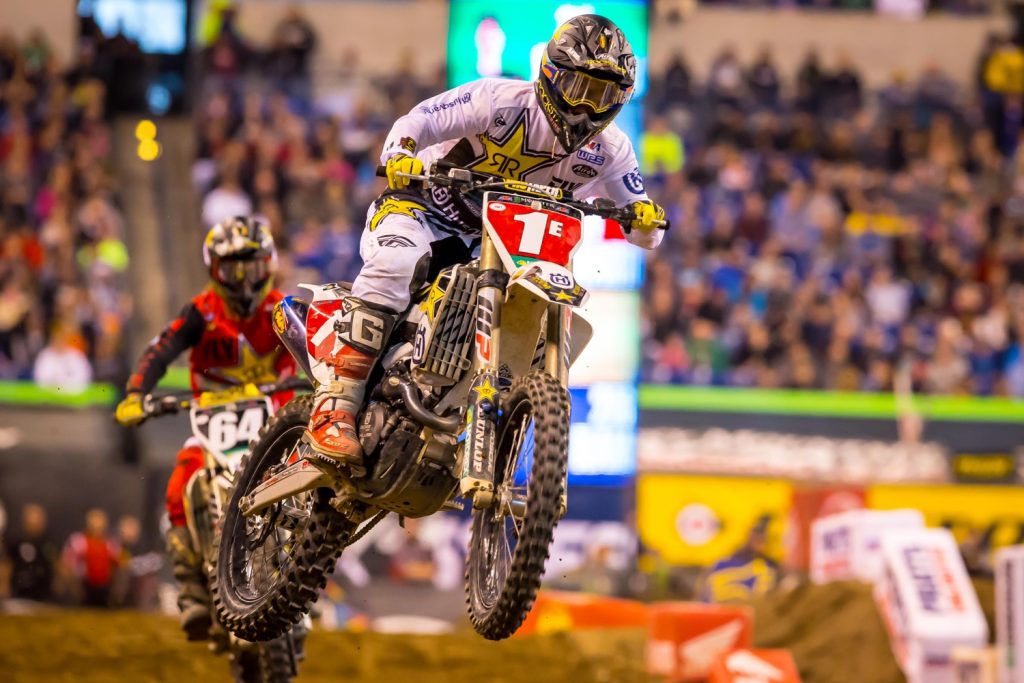 Zach Osborne (East): Zach-O's night was not good and he took longer to get around guys than normal. I think this had something to do with the soft dirt and the fact the field was deeper with both coasts combined. However, if you're a betting man it's hard not to bet on this guy for the championship because he is so mentally strong. I have known Zach since we both rode KTM's back in the day (circa 2003-2004) and the kid was relentless back then. I remember one day I was doing durability testing at Cahuilla Creek for KTM and Zach was out there on his own busting out as many motos as we were on his 85! He wasn't a part of the test, he just wanted to show us that he could ride as long as we were. He was an animal at a young age!