A boring 22 lap Main Event turned into one hell of a 23rd lap on Saturday night. Most of the race was a snoozer, but it came alive didn't it? I wanted to give my take on the Marvin/Tomac pass, because to me, a lot happened in that short time span. Let's break it down shall we…
It was a yo-yo all Main Event between the two factory riders of Tomac and Musquin as there wasn't a whole lot of things to separate the riders in Foxboro. I thought Tomac had some better lines and he used one of those outside slingshot lines to pass Marvin cleanly. At this point I thought it was done, but to my surprise Marvin got tough for once and made a last ditch slice on the Monster Energy Kawasaki rider. Marvin went wide, then cut in hard and fully "INTENDED" to cut across all of the right hand ruts (that had formed) to make damn sure Tomac wasn't going to pass him back. Do I think it was dirty? Hell, yes! Do I approve of the pass? Hell, yes! It's the last lap of a 450 Main Event! Who wouldn't do what Marvin did?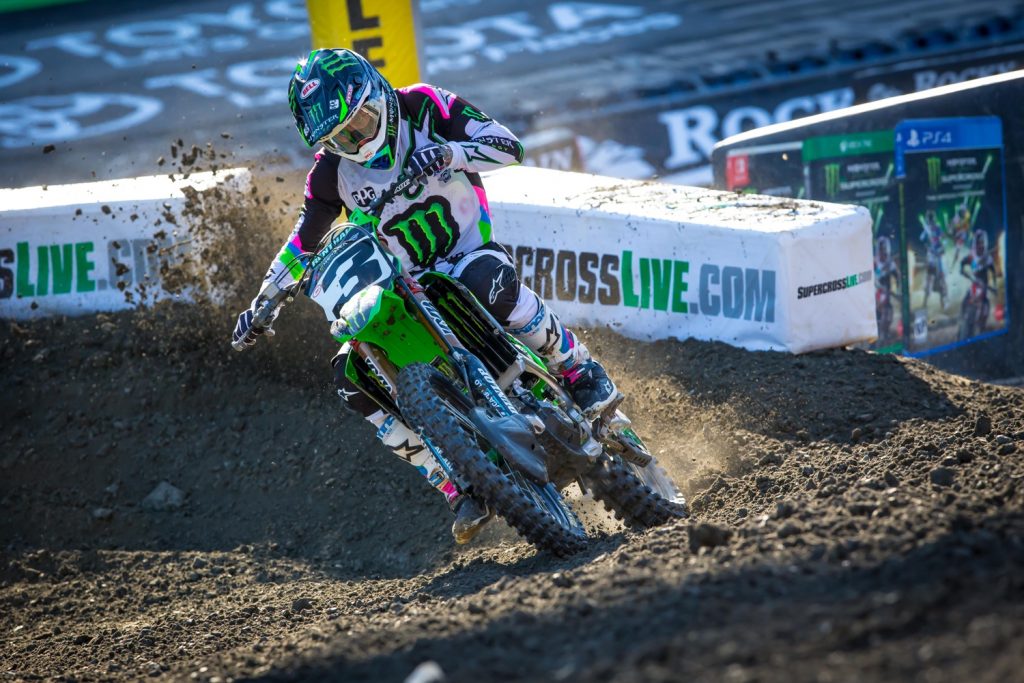 Now as Marv chopped Eli's front end off I immediately thought they were both going down, but miraculously Marvin's buff french frame of a body stayed on his KTM somehow. As his KTM sped away, Tomac was in disbelief and all he could muster up was a thumbs up!? Come on, that's it? I know there is another finger he wanted to use, but respect to Eli for holding it together. What I don't understand is why Tomac is never in a hurry to get back on his bike when he crashes? He has done the lallygag walk about a lot this year. I mean he sat there and gave the thumbs up and held it for a good 2-3 seconds. That is 2.5 seconds longer than he should. I couldn't believe that Anderson wasn't close enough to take over second place, but I guess in true Ricky Bobby fashion, if you ain't first, then you're last.
Now at the finish, Tomac graciously gave Musquin his Renthal half soft waffle grip as a memento of their friendship and great battle. Really nice gesture Eli, I love it! He could of went full blown Weston Peick on Musquin, but held it together and gave Marvin a present. If I was Marvin, I would keep that grip and hang it up in the shop in Florida.
Now to the part that drives me nuts about Marvin. Marvin is a great guy and is genuinely a nice person, but I think that also explains why he gets crap for not being "tough" on the track. That niceness might leak into your racing, because he is a just a nice dude in his normal day to day life. However, when Marvin says that Eli used a line he normally wasn't taking, that there wasn't a rut there, that he was trying to go inside of Eli for just a "normal" block pass, that it surprised him that Eli went that low, it makes fans in the sport (like myself) just baffled. Seriously, Marvin if you came off the track and just said "it was the last lap of the 450 Main Event, so I was going to do whatever I could to make the pass back for the win. Yes it was aggressive, but I saw an opening so I took it and it worked". Something a long the lines of just owning it would make Eli respect you more (no less pissed however) and I feel like Marvin wouldn't have been so frazzled on the podium. I mean did you listen to his podium speech? The dude was visibly shaken from the drama that ensued after the checkers. Marvin usually rambles on and on when on the podium, but he kept it mighty short for just winning the race!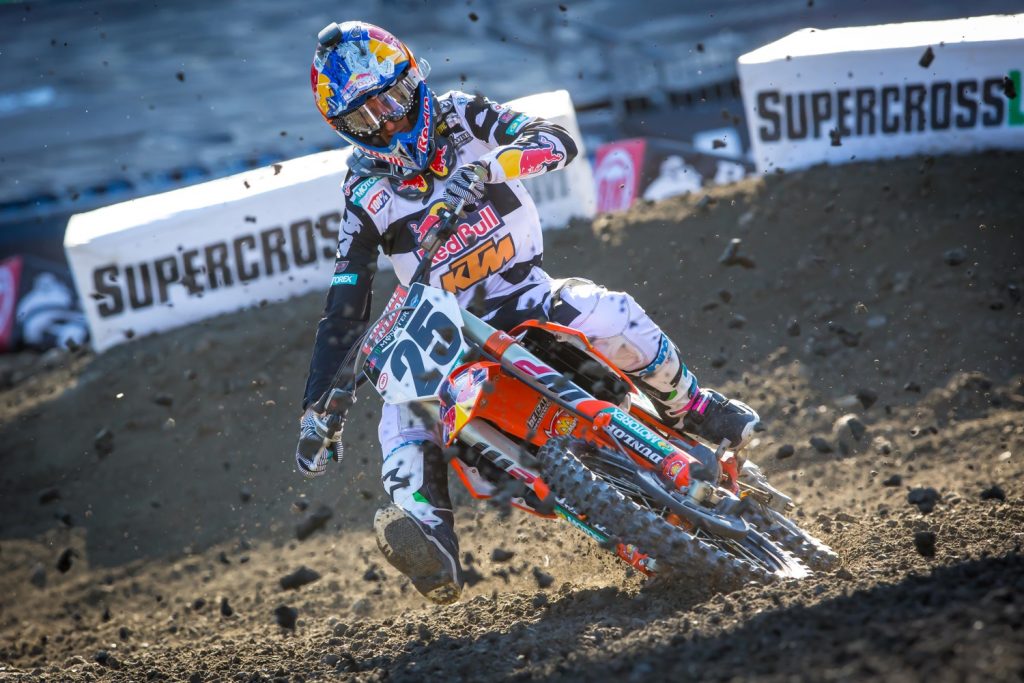 I like transparency and so do other fans. I know were are not ever going to get 100% of that in our sport, that's ok, but I feel like the riders can't even be themselves when they talk! Just let loose sometimes, humans are not perfect beings. Riders mess up sometimes, they are human. I would rather see a rider mess up and just come back apologetic and say I screwed up. Or…. In this case, just own what you did and say "I WANTED TO WIN THIS RACE SO I SENT IT"!  Either way this little feud is going to be the one to watch the last two races.