Photos by Rich Sheppard
Well, the less said about that track the better huh?
David Vuillemin- The tracks in SX are always subjects of discord. It's crazy in a season how many times I'm impressed by the Dirt Wurx crew and disappointed to. I'm super impressed when they work their butt off to provide a great track in extreme conditions. They do make miracles happen sometimes. But I'm also very disappointed in the creativity and the realization of certain tracks. I know it's a shitty job to built 17 tracks in 18 weeks. I wouldn't do it but it seems like they need something different. I don't know what but maybe new people, new ideas but mostly someone with better SX IQ and common sense. You know what drives me nuts? They've been building tracks since before some of today's riders were even born and still have no idea how to make a split lane work. Even worse, all day they see it's not working, everyone is taking the same side and they do absolutely nothing about it. All season in every split lanes they made the inside line faster by knocking jump down, removing jumps, adding inside knuckle berm which are the things you should NOT do. The insides are shorter in distance, why would you make them faster? How many times it happened this season we saw all the rider raced half of the width of the track all day because the inside line was way faster? Many!
It happened in Vegas in the rhythm section after the big triple. Everyone took the inside all day and all night. No one put a knobby in the outside line. Can't they see that and do something about it. Nope… Saturday, the track was one of the least interesting of the season. There was nothing to it. 10 whoops. One rhythm section where even guys who didn't make the night show in the 250 class jumped the same way as Tomac. A bunch of flat and fast sections. Can we please go back to slower, pickier, more technical tracks please? I don't think I'm the only guy who doesn't like where they're going with the tracks these days…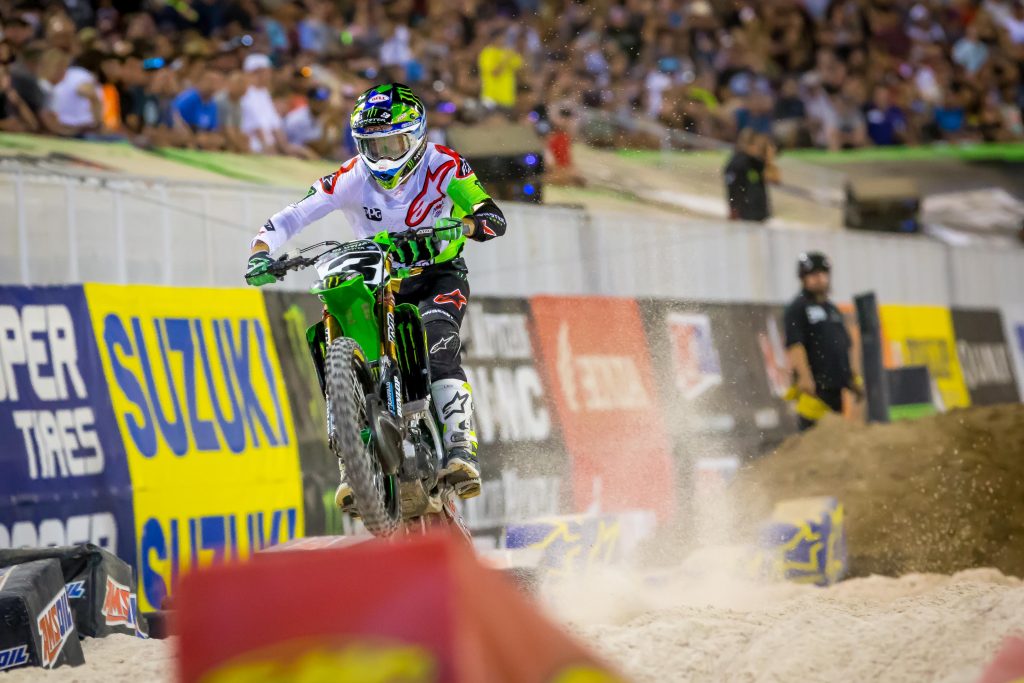 Eli Tomac won for the eighth time this season but I suppose that with no title, it doesn't really matter all that much to him huh?
Winning a SX race always matters because it's very difficult to do. Some great riders never won a single race in their career so we can't say it doesn't matter. Eli won as many races as Marvin and Jason combined this season. It's a great performance just like it was when he won 9 last season. He could've even won 10 last year if he didn't try to knock Dungey down in Vegas. Eli won 17 races out of the last 34… But, yes, no title yet. It still shows he dominating the subject but blow it/throw it away too many times. We've seen it with Dungey and even Anderson this season, consistency is very important in a 17-race series. Will Eli ever be consistent? That's a tough question to answer at this time. He won half of the race in the last 2 seasons and didn't win a title. I feel bad for Eli. He obviously more than deserves a SX title but he was 38 markers down at the end of the season that just ended. Like a smart man once said, you win a championship on your bad days…
But how sick was that pre-jump over the jump going out of the stadium?
Actually, I was surprised no one else was doing that. I watched the practices on the computer and I was waiting for someone to do that. I would've hated that big flat landing single jump out of the stadium! It was very technical to do and impressive to the eye but I don't think it was as fast as everyone thought. Setting up for it was a bit slow. Eli was jumping in the sand pretty much where everyone else was landing but had to slow down to double 2 sand rollers to be able to use the last sand roller to go over the single jump out of the sand. The other guys jumped in the sand, kept their momentum, wheel tapped 3 in the rollers and jumped out. Eli's way was a tad faster because he kept his wheels on the ground more and could accelerate but when he missed it he lost a lot of ground. Marvin was doing the regular way very well and more consistently.
Marv got frisky there and at times caught Eli, what was he doing better?
I don't think Marvin was doing anything better than Eli. Eli just made more mistakes. When he missed his pre-jump at the end of the sand section, he lost quite a bit of time. He was also a bit sketchy in the whoops a few times. So I guess, you could say Marvin was more consistent but i don't think he was faster. Tomac clocked the fastest time in the main. I was really impressed by Eli's corners. He railed the turns before the finish line and the big triple. His 90-degree turn after the triple was also amazing. I don't think he was touching the brakes at the landing of the triple. That was very cool to watch. I know the traction sucks in Vegas, I rode a few times there, and seeing his speed and the angle of his bike in this turn were very impressive.
I really thought, other than the mistakes I talked about, it was one of the races Eli rode the best Saturday. In the other end, I thought Marvin's turns could've been better. He struggled all night in the first turn I thought. Jumping in the whoops was safe and decent but railing the outside before and skimming fast were a faster line but not as consistent. Where I thought Marvin was good was in the sand and on that huge single flat jump. He wasn't doing Eli's pre-jump but he was the fastest doing the regular way.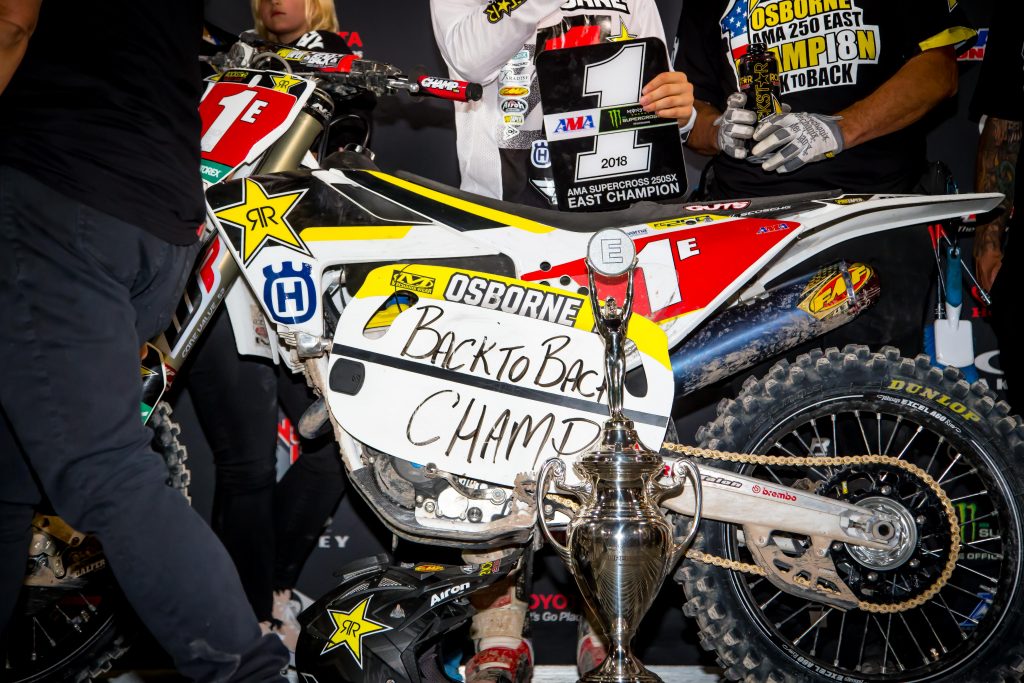 AC earned this shootout win by passing some big names…what did you see?
Before the race, I kinda knew Osborne and Plessinger wouldn't go for the win since they had to keep it on 2 wheels to win the titles. When you take the 2 champions out of the equation it's automatically easier but Adam rode very well. You could see he really wanted to win that race and had nothing to lose in the championship. Aaron could've almost lost it when he swapped big time and almost high sided in the rollers after the start straight. Adam rode very aggressive and was great in his turns. Kinda like Tomac. He got the corners figured out which was the key on that track since there was nothing else to do. As far as passing big names, let's not get carried away there… Big names are in the 450 class. Names in the 250 class are just names. They'll be big names when they'll deliver and perform in the big boy class…
Jason Anderson managed this title well, he led after the second round- played it pretty much perfect huh?
Winning a handful of races, being on the podium every round or close to it win championships. Jason proves it again. He was great at times, impressive in others but always giving his best. Only in the last few races it seems like the pressure and the fact he realized he had to ride safe got to him. But before that, I was really surprised he was still trying to win races with around a 40 point lead. Props to him doing that, it made things more interesting. Foxboro was a turning point. That's where he decided to ride it off and not take as many chances. Then Salt Lake happened which was great for us because it's been a while since the championship has been won before Vegas. But for Jason (and also his team and mechanic), Vegas had to be such a stressful race. I'm sure that main event felt like a GNCC race for him.
On paper, you could have a point saying he was the 3rd best guy of the last guys standing but he deserves his title. If you say, "yes but Eli and Marvin were better", you might have a point and we could debate about it but I would have to take Jason's defense and say that Eli and Marvin should've stayed on their wheels…
Most surprising 450SX race of the season?
I've got to go with Daytona and Brayton's win. That was a huge surprise. Justin rode great and it was nice to see a new winner especially in a privateer-type of effort. I am also happy for Genova, MCR's owner. He's spent a lot of money for his passion. A SX/MX team is a money fire pit with no return on investment whatsoever with only results as satisfaction.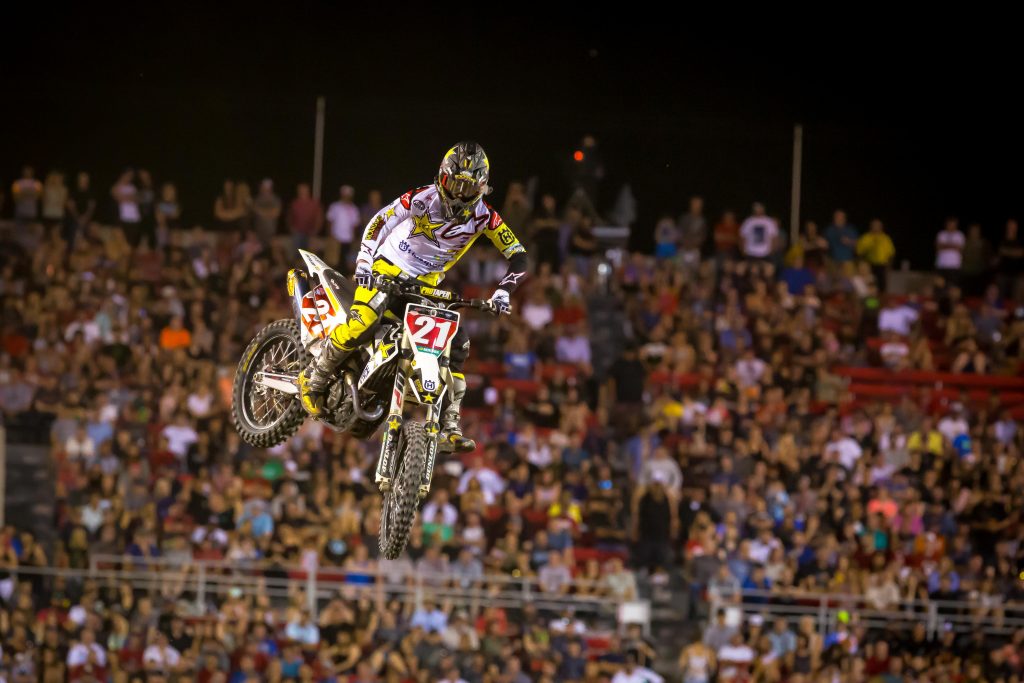 Most surprising 450SX racer of the season?
I've got to go wth Anderson. We all knew Jason was a great rider and could win races. He did in the past. But he had a new role this season having the red plate after the second race of the season. He showed he had the stature to deal with the pressure and challenging of being the points leader. It's a whole different ball game to go from top 3-4 guy trying to win races to championship leader and keeping the red plate for 15 more rounds…
Most disappointing 450SX racer of the season?
I've got to go with Tomac on this one. For a top guy like him or any other big manufacture number 1 rider, not being crowned SX champion has to be and should be a disappointing. Especially when you win 47% of the races. It's harsh and unfair to say Eli is a disappointment. He's an amazing rider, he's super fast and the best rider the last 2 SX seasons but sadly, anything other than a SX title in the near future would be disappointing…