Chad Reed is an all-timer in the sport of supercross and motocross. As the veteran racer winds down his career, it's important to note that at one time, Reed's future in the sport was heavily questioned.
In 2010, after one frustrating season on the Monster Energy Kawasaki squad, Reed had nothing in terms of a ride. The #22 couldn't find a spot on any factory team, and after his worst season as a professional, he wasn't money in the bank like we know him to be now.
Reed was about to embark on a rise from the ashes that hadn't been seen in the sport since—well, ever!
This is the history of that first year of Team TwoTwo from the people who lived it.
Chad Reed: Owner, racer
Ellie Reed: Chad's wife
Dave Osterman: Manager, Team TwoTwo
Lars Lindstrom: Mechanic, Team TwoTwo
Joel Buler: Motor home driver, Team TwoTwo
Katie Smith: Accountant, Team TwoTwo
Erik Kehoe: Manager, Factory Honda HRC
Mitch Payton: Owner, Pro Circuit
Scott Gilley: Owner, Factory Effex
Pete Fox: Owner, Fox Racing
Chris "Beeker" Onstott: Marketing manager, Fox Racing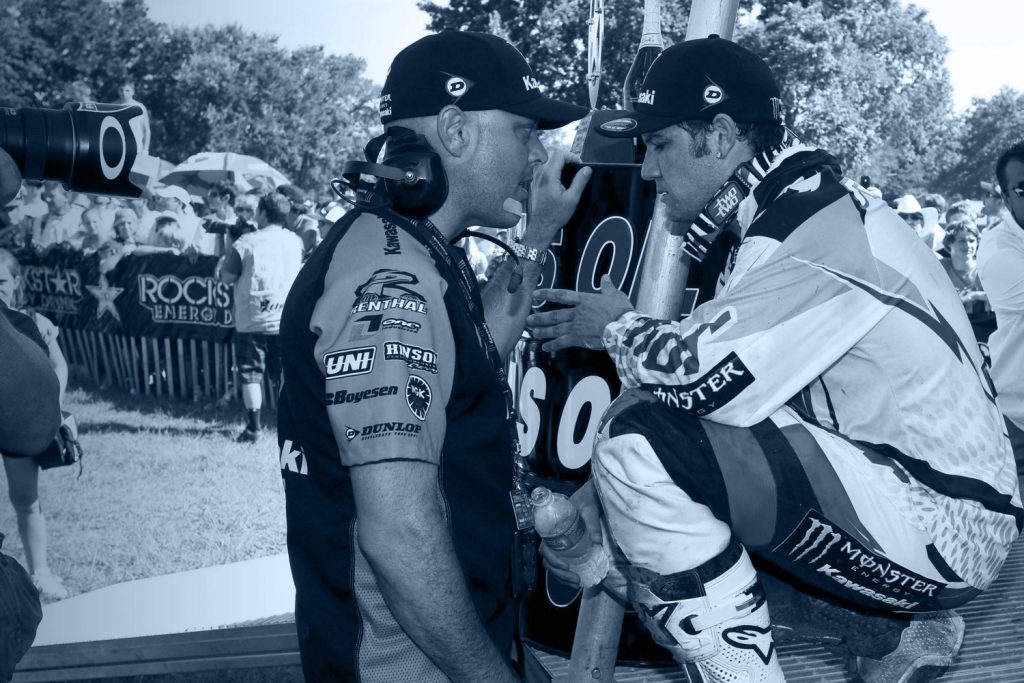 2010: GREEN DAYS
To know how Team TwoTwo started, you have to go back to 2010, when Reed was on Monster Energy Kawasaki, and remember how much of a disaster that season was.
Chad Reed: To go into it a little bit, it really started from the off-season before 2010. I was in a multi-year deal with helping promote supercross in Australia. Then when that happened, one of the things was Monster wanted to be involved in it, and obviously they were a big part of my program. I kind of put my hand up in the air and I said, "Look, guys, this is unsustainable for me to be able to just keep burning the candle at both ends and racing year-end. I need to step away a little bit. I need a break." So unfortunately, that didn't go to plan and I had to go to Australia.
It was a challenging time in Australia. It wasn't like I went down there and I could take it easy. Kaipo [Chung, Kawasaki suspension man] came down. He was the suspension guy at the time. So it was just an ongoing grind. It was a really tough off-season. Then the first American supercross race was a disaster. I came together with somebody on the first lap and took out my spokes. I DNF'd the first race. Second race, I don't even know what it was, maybe the first lap of the final. Me and James [Stewart] come together and I break my hand, then I'm out for most of supercross. It took a long time to heal. The rest is history.
Mitch Payton: The Kawi thing was unfortunate because it could have or should have…. It had the makings to be a powerhouse deal. You had Ryan Villopoto and you had Chad Reed. I don't feel as though it was managed correctly at that point. There was allowed to be animosity between the two riders. It wasn't a team; it was two individuals that just rode the same bike.
Reed: So right as I was getting back into supercross, the priority kind of changed a little bit. I wasn't invested emotionally in the supercross series because I wasn't in the championship hunt or anything like that. I had my first child coming. At that point I kind of was like, I'm not going to miss the birth of my first child for something that I'm not really invested in. So he was born basically the early hours of Friday morning before Salt Lake, so I sat out Salt Lake and then raced Vegas, which was cool because I got on the podium.
Then in between all that, I lost one of my best friends. Andrew McFarlane passed away, and I jumped on a plane right before the first National. There was just a lot of burning the candle at both ends. My preparation wasn't ideal in any scenario. I just think emotionally, more than anything, I've always kind of proven that I have what it takes to be a little bit undertrained, but I just think emotionally and mentally I just wasn't in the game. Things happen, and things went wrong. It was a really tough struggle. Basically, I got real sick towards the end of outdoors, and I put my hand up and I told the Kawasaki guys, "I can't continue. I can't do the job that I'm paid to do." We tried to go back, and then it kind of just made a turn for the worst.
Ellie Reed: He was really sick that summer. So sick, injury, whatever—he was just like, I am not doing good. He just knew himself it wasn't right. He's like, I can't do this. I can't be my best version of myself. So he just had to stop. The one thing just in general about motorcycle racing is that there's never any time to get okay, to be okay, to catch up and to get healthy. Everyone is carrying something, which is unfortunate, but it just is the way it is. He's never really taken time off. He went season after season after season with injury, straight after surgery, all these kinds of things, but it just eventually took its toll. He was really just sick that year. So at that time, it was an "oh shit" moment because we always just handled it. He got hurt and I picked him up and put him back out there. This was a new, weird thing. You couldn't just fix this.
Reed: [Kawasaki] wanted to push, and they wanted me to see their doctors and do these things, and I just really wasn't willing to do any of that. So I put my hand up and said, "Hey, I don't think this is a healthy relationship. Take my $2 million deal and keep it. I don't need it." Then at that point, of course, a lot of people—and maybe even myself at this point, if I'm honest—all I wanted was time away.

Payton: So Chad kind of got sick. RV got hurt. Chad got sick and then they didn't believe he was sick. They just thought he didn't want to ride outdoors and he was over it. They said, fine, you can leave. So they let him out of his contract, and at that point, Chad was seriously battling his deal.
Joel Buler: I was pretty close with Chad, but I also don't know everything he was dealing with at that time, whether he had Epstein-Barr and he had just gone too hard too long or what he was dealing with. He just obviously couldn't perform part of that year. I thought he was a bit crazy. He basically pulled out of the outdoor season and canceled all of his contracts. I thought he was crazy. I was more concerned about him than my job, because I'll probably continue to work for another 30 years until I'm not on this planet anymore, but his major money-making years were at that point. I thought he was crazy for pulling off and making those decisions.
Reed: In the meantime, my Parts Unlimited relationship pretty much kind of went away. A big part of my relationship and my long, long run there was Jeff Fox. Jeff and his dad were having major issues within the company. Then I just kind of felt like my go-to person was no longer there. As soon as that happened and everything started going through his dad and going through dealing with a lawyer over the phone or by email, I feel like it really got out of control quite fast. So my deal went away there. I kind of left without a ride and without a gear deal.
Ellie Reed: It was scary as heck. We just had our first child. Now all of a sudden you're jobless and all these kinds of things. You're just in a situation. So it was definitely scary.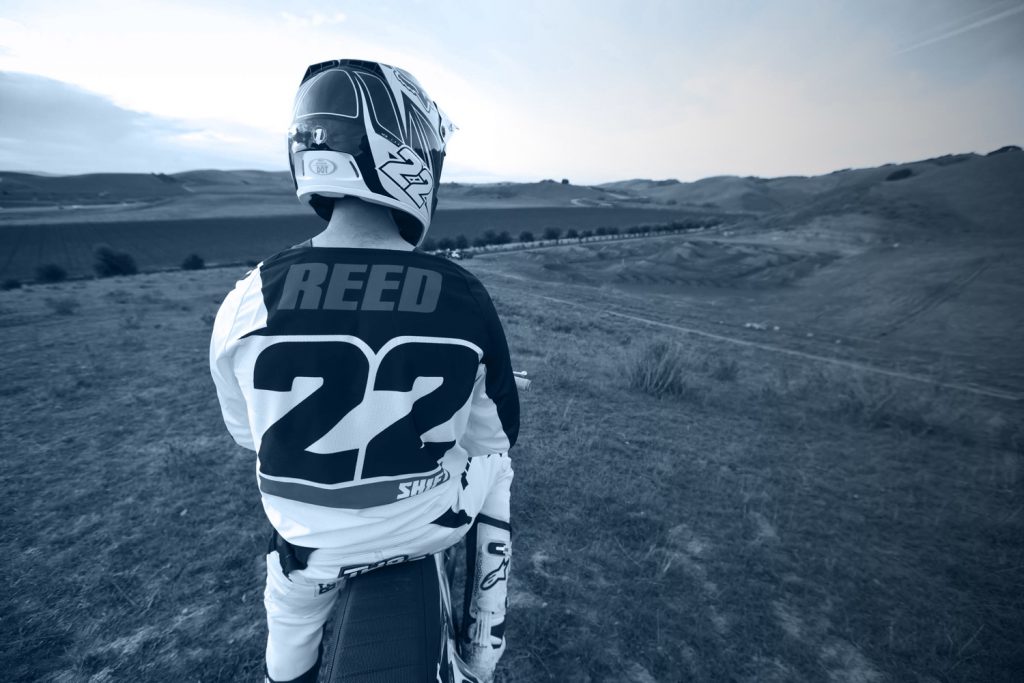 RIDING RED AND FOX
Reed: I didn't want to race dirt bikes at that point. I really didn't. I was so exhausted and mentally drained that I needed time away. I want to say I was away for three or four months before the feeling of "I want to race dirt bikes again." It took my body to kind of recover and to come back to a position where I felt that I was wanting to do it. Not even having to do it—just wanting to do it. Then it all escalated really fast. It was like, I want to ride, so I went and bought a Honda, as I wasn't in any contract obligations.
Lars Lindstrom: I was working for American Honda. I was driving the test truck and kind of working on anything related with testing and kind of special project stuff, being an extra guy at the races and things like that. I kind of do the same thing now, but at a different level.
Reed: I had bought a couple of bikes and rode a few of them, as I normally do. Any time a contract is up or I'm out of contract, my go-to is to go and see what all the production bikes are and how they turn and handle and see if they fit my needs. So basically, I enjoyed riding the Honda, and Mitch [Payton] was able to help me out with some pipes, some pistons, and things like that. Bones [Jim Bacon] was able to help me out with suspension, so I was able to get real comfortable. Riding was fun again. That's kind of where everything fueled.
Lindstrom: I think [Erik] Kehoe was the one that told me, "Can you go out to the supercross track and kind of support Chad?" So I went out there and supported him for one day with Bones. I knew him a little bit, but I got to know him a lot more that day. Then I kind of gave him a few things that he needed. I guess we kind of hit it off in a sort of weird way.
Erik Kehoe: Let's face it: Chad's a great champion, and when he chose to ride a Honda at the time, we were interested in helping him out any way we could. It started off with just some parts.
Reed: I loved my PC bike. Basically, Mitch had built me a bike that I really liked. At the time, Troy Lee Designs, along with Honda and PC, they were really interested in putting me on a 450 for supercross, and I was interested in it as well. At the time, they had Lucas Oils, and they're a big part of the outdoors. I think for the years prior to that they had always a 450 outdoor guy, and they were considering putting a supercross guy on a 450. So then I went and tested the bike, and of course I liked the bike. It was identical to my settings. It was my suspension. It would've been really easy.
Chris "Beeker" Onstott: When I was at Thor, Chad and I were really close. There was a time when I knew we were going to lose [James] Stewart. I started hitting Chad up like, "Hey, what do you got going on for 2009? Maybe you could come join Fox." So when the Thor thing did end for him at the end of 2010, I want to say that Chad hit me up first to ask about Shift.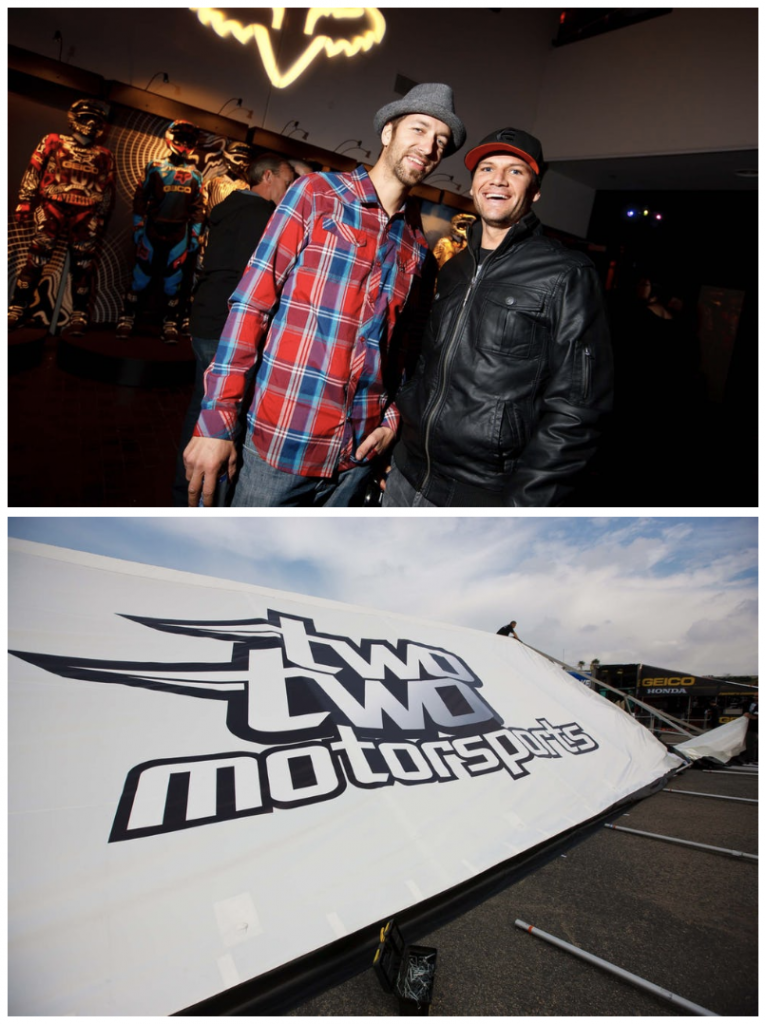 Reed: But I didn't like the [TLD] gear, and I didn't like the helmet. I literally created my own team because I wanted to wear Fox. It's that dumb and stupid and simple. I wanted to be Fox, and I wanted to be PC, and I wanted to ride a Honda. So I said, "I'm going to run my own team then." Easier said than done, but that was it. I was on the backside of making a lot of money, and I was in a good place. I only had one kid and didn't have a whole lot of risk involved. I thought, why not run my own team?
Payton: He was calling around. He was trying to find a ride. It wasn't looking good, like he was going to find a ride. He came down to the shop one day and he goes, "Hey, I think I'm going to do my own thing." I'm like, "I don't think that's a good idea." He's like, "Well, you did it." I'm like, "I know, but it's a lot of money. You're going to spend a lot of money." I said, "I think you'd be better off to go to a team, take less money, have them do the work, and then just at the end of the day you turn the lights off in the shop and you go home. You don't think about anything. It's just less pressure."
Reed: I needed gear, so I called up an old friend—Beeker—and he sent me out some Fox stuff. First, I couldn't believe how comfortable it was. This is from somebody that wasn't getting paid to wear it or anything like that. Just I was blown away by how good the product was and how good it fit. Then, obviously, one thing led to another.
Onstott: At that point, I don't think Chad knew what bike he was going to ride, but he just had a vision of what he wanted to do. That was really intriguing to us. It was exciting to see an athlete kind of put his money where his mouth is. Like, "Hey, I'm going to do it, and I'm going to do it my way." That kind of started the conversation with us.
Payton: We continued to talk about the team, and I continued to say "Don't do it." He's like, "No, I want to do it. I really think it'd be fun." I think he was to the point in his career, the challenge of it was half the fun to him. "I'm going to do my own thing. I'm going to make it look the way I want to have it look. I'm going to make the call of what we put on the bike" and all this kind of stuff.
Reed: From the first conversation with Mitch, he just kept looking at me and says in his Mitch voice—you know when he gets that little head twitch—and he's like, "Really? You really want to do this?" Yes, Mitch, I want to do this. I want to wear Fox gear and [ride] your bike. Yup, I want to do this. "No, but let's lay it out there." Like, Mitch, it's all good. I just want to do it. He wanted to break it down for me, and I was just like … I respected his opinion, and I'm just like, "Look, I just need your support. You build me the best bike in the industry and the best engine and we'll go racing." I wouldn't say he was negative towards it, but he was very thorough in telling me "don't do it." Then I said, "Hey, give me a ride. I'll ride for you." Then the conversation turned to "Well, let's build you some Hondas [laughs]!"
Payton: I think in this instance for Chad, he was extremely bitter towards some of the management of teams and stuff like that. He was bitter towards a lot of people. I don't think he trusted a bunch of them. He felt like he had got slighted a couple places.
Ellie Reed: I had a baby that never slept much then, so it was kind of like, "Yeah, okay, let's start a team [laughs]!" That's what we're going to do. I was a slightly delirious new mom anyway. We're traveling all of the time and whatever. At the same point, if he sets his mind to something and he's going to work his ass off to do it, how can I not support that? As a wife, as a person. If you are prepared to pour your heart and soul into something and go start something, who am I to stand there and say no, you're not going to do that, you're going to go out and do this, whatever?
Katie Smith: Basically, I think what happened was, I got an email November 1 from Ellie saying here's what's going on: We're thinking about putting a race team together. We're not sure how this is all going to work, but just kind of giving you a heads–up. We're going to need your help. She was like, That's all we know at the moment. It's not set in stone, but hopefully we're going to pull the trigger this week. That's basically how I found out.
Buler: I think I was one of the first to know it. Obviously, it was him and Ellie that made that decision. I was probably the second or third person to know. His agent back then, [Steve] Astephen, and then Katie, his accountant, and then pretty much me. He asked me to help and do a lot of legwork. He handed over kind of an assignment of shopping for a race trailer and a semi truck.
Pete Fox: I didn't really know [Reed] at all. I knew that we had some connection in the past. He was wearing Fox in Australia way back in the day, but during his time racing in the U.S., he was the nemesis of our guys. With that, we kind of do really back our guys. We didn't befriend the enemy too much. Ricky [Carmichael] especially, he's very competitive, and when he's racing somebody, he doesn't want to be their friend. That's not how Ricky is. As a person, he's a super friendly guy, but he's also a very competitive guy. So I didn't know Chad hardly at all before our first meeting.
Reed: My first encounter with Pete [Fox] was 2002, just after I had signed my factory Yamaha deal from [Yamaha of Troy] to go to the factory team for 2003. Obviously, I was a young kid, and I was winning a lot of races. I was kind of the hot new thing that everybody wanted a piece of. They flew me out to Morgan Hill up there in NorCal. I was blown away, and I was sold right then and there that I wanted to be a Fox guy. Basically, they had two big sells for me. One was head–to–toe, and it was Fox. One was Shift, and then I could basically do my own boot deal. So my first–ever sponsor was Alpinestars, and they're always close to my heart. I always wanted to somehow maintain that relationship. Fox had all the gear with Reed #1 on it. It was just right after I had won the supercross East Coast Championship. So it was pretty cool. I hadn't been exposed to anything like that before, so I was just like, dude, Fox is rad! I'm a Thor guy at that point, but they take you out back…. I'm a young kid at 19 years old. They give you a backpack and let you fill it with a bunch of clothes. Not that I could wear them really, anyway. But I didn't go with Fox. I stayed with Thor.
Fox: I was definitely skeptical going into our first meeting with Chad. Chad had set it up through Steve, his manager. They came to our office. In the course of us having a conversation that probably lasted an hour or two, I got to know Chad, and I could see the fire in his eyes. Just hearing the vision that he had for his own team and, obviously, his confidence in it. The big thing for me was the willingness that he had to put it all on the line, his belief in himself, and his love of the sport and his love of racing. He was willing to put his money and reputation and kind of career legacy on the line to go for it with his own private team.
Onstott: I just remember Chad and Steve [Astephen, agent] coming up to Fox at the end of 2010, and they leave and Pete was like, "What do you think?" I'm like, "He's really out of shape!" It was just kind of funny to see where he was at and definitely where he ended up that season.
Reed: It's funny because—let's be honest—I think every kid in my era, and even the modern era, everybody looks at Fox as the pinnacle of our sport. I think they always have the coolest, greatest product out there and typically got all the best athletes. While athletes are winning, everything looks good, right? So I was always a huge fan of Fox.

Fox: During that meeting, I kind of fell for the guy, fell for his vision. Fell in love with that passion. I just love that. Being a lifelong core motocrosser, I think anybody that was sitting there in my seat, I would hope most people would have the same feeling that I did. This was the kind of person and this was the kind of vision that you got to back if you love the sport and you believe in racers. When somebody's going to step up like that, you have to step up with them. That's how I felt by the time that meeting was done.
Onstott: Definitely that was a period where we were a little bit lost [with Shift]. We didn't have a marquee rider for Shift at the time. I think we had MDK KTM the year before, but we didn't really have a plan. At that time on the Fox side we had [Ryan] Dungey and the GEICO team. Honestly, it just made more sense to have him in Shift rather than having Chad come off Thor, who was a really big competitor of ours in the gear sales and business, to Fox. It would make more sense to put him on Shift so it didn't look like we stole him or they lost him and picked him up. It just seemed like it made more sense to put him on Shift, and the brand really needed it. They really needed that spark that Chad gave the brand
Fox: I'd have to go back and check my notes, but around that time, I was starting to play with the idea of relaunching Shift. From the beginning of Shift to that meeting with Chad, the brand had gone some different directions and, in some ways, I think, lost its way a little bit. So I was starting to play with some ideas around relaunching the brand. Then with the opportunity with Chad, that's what did it for me. It became very clear to me we can relaunch the brand. Chad can be the guy.
Onstott: Honestly, for me, I really wanted to work with him again. I really missed him. We weren't really that close those few years that I was working with James [Stewart] and with his big racing rivalry. I really missed him as a friend. I was super excited when him and Steve showed up that first day at Fox and pitched. I was like, For sure—I'm all in. I love these dudes. But I do think Pete had to do a little selling to his brother, Greg, to make the deal happen. I don't know if Greg was totally on board from the get-go. I really feel that Pete was really impressed that first time we met with Chad. I know they tried to sign him earlier in his career. I think Pete really wanted to make it happen from the get-go.
Fox: We can reimagine the look and the style of the brand. So we redid the logo and brought in some new design direction, which was exactly what Chad wanted. It was one of those moments in time where I felt like—I guess the metaphor I would use is, I would look down on the table and there were a lot of pieces of the puzzle that were placed in front of me, and I put them together.
Onstott: Chad and our designer, David Durham, they worked really closely on all his product. Chad would come in here in October and sit with David for a half a day and come up with like ten sets of gear. Then David would tweak on them and send them to Chad. Chad would comment back on them. It got to a point where I didn't even know you could do this—Chad would be in Florida and Durham would be here in our office, and they would be sharing the screen and working together on designs. That's how into it both sides were, from our side and Chad's, on his look.
Reed: Gear was done and we were really fortunate that we got Bel-Ray on. Bel-Ray was our first sponsor. They signed on for a big deal. It was for a lot of money. It allowed me to be like, "That's it. I'm going to go do this thing." That was when we started recruiting guys.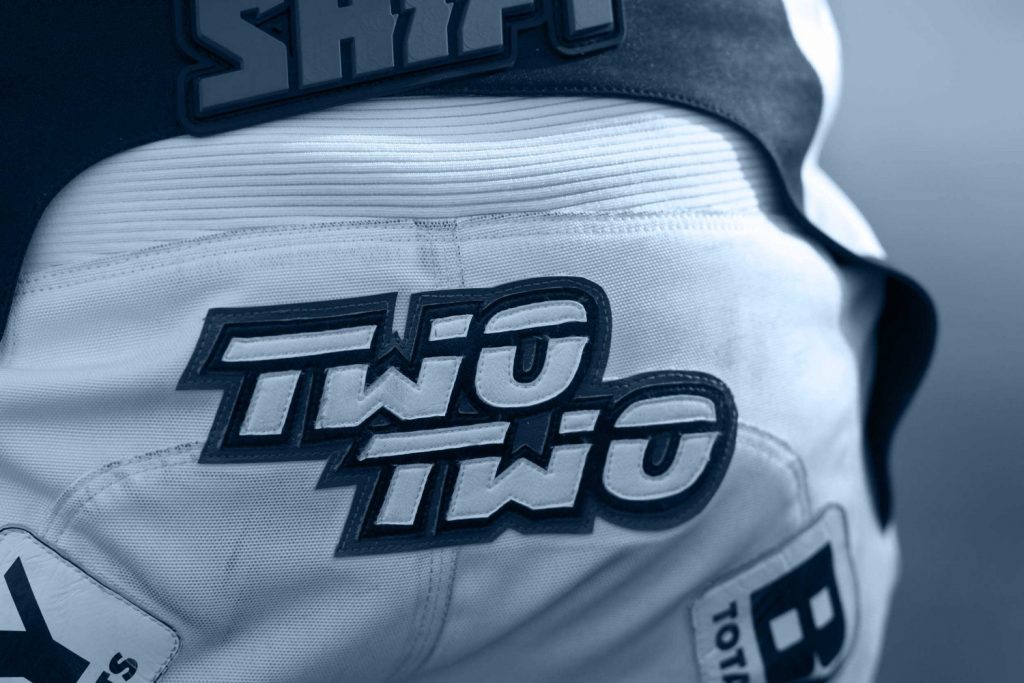 TEAM TWOTWO … ASSEMBLE!
Ellie Reed: I picked Dave-O [Dave Osterman]. I had actually quite a big influence over all the people we picked. I love Dave-O because he is an absolute workhorse. He will do anything. I'm not there just hanging around. I take notice of people and how they treat people and what they do and whatever else. But I loved everything that he brought to the table. He was prepared to do whatever. He just works. He will do everything. I just love that. That's the people that you need.
Lindstrom: Ellie was the boss, for sure. We knew that Ellie was the boss, and we treated her with complete respect. But in the beginning, she was around, and I'm sure she did a lot, especially with getting things with Fox and whatnot, but she wasn't as hands-on as she was later on maybe like in '14, '15. She was cool. We just knew that when she said something, we definitely listened. When she told us to jump, we said how high—that kind of deal. She definitely made the whole thing feel like a family atmosphere because we had her, and Tate riding his bicycle through the pits and giving everybody high–fives and going up to the fans. It was a different vibe, for sure.
Reed: In those early stages, Ellie played a huge role in staffing. She's always played a role in the racing. Every idea, everything that I was considering doing, always I bounced it off of her. I think she may have even been a big part of bringing up why Dave was the guy that would be right for us. I felt that he was the go–get–it–done, no–bullshit kind of guy. I felt like in my opinion, I was going to have to put his brakes on rather than kick his ass to get things done. So I felt like he was the guy that I needed him. This is like early to middle of November when all these conversations are happening.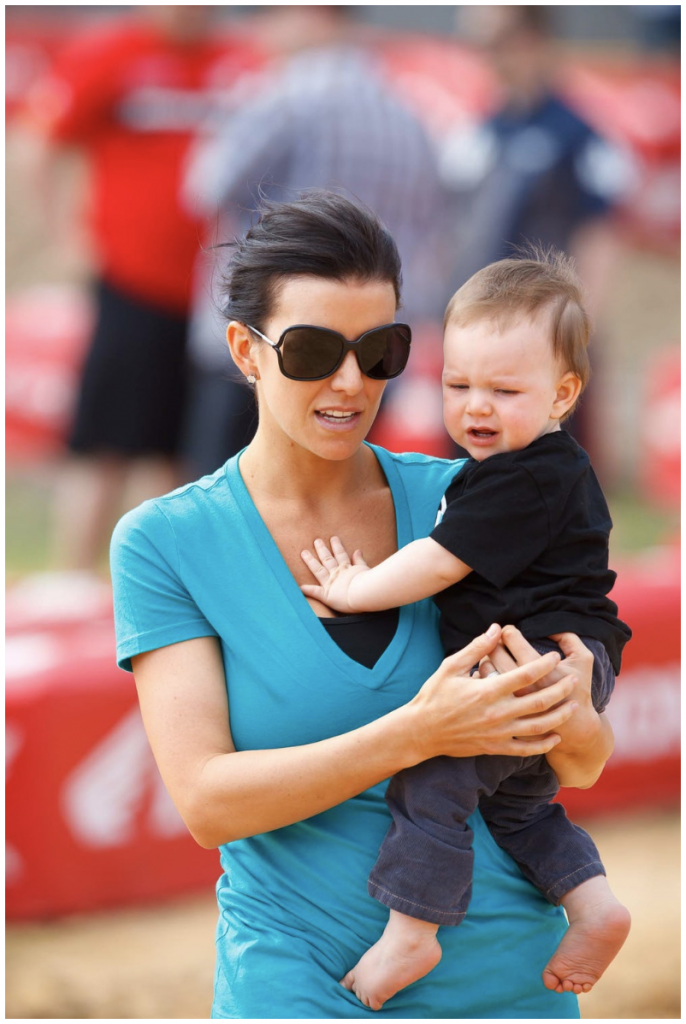 Dave Osterman: [Reed and I] were acquaintances, just from the past at the test track when I was at Yamaha of Troy and whatnot. I actually think I probably said hi and goodbye to Ellie more than him, usually at the test track or something, he was pretty much in the zone. The 250, or Lites team in those days, there was just a pecking order. so we kind of stayed to ourselves. I would wave or something, but it's not like we interacted much.
Payton: Dave's a great guy. He worked for me. I give him credit. Everybody says Dave talks so much and stuff like that, but he's a guy that you put in charge of something, and he's always loved racing, so this was a chance to come back and be involved in a team that I think he realized had the potential of winning races. So for any of us, it makes it easier to do. He was committed to it. He took the battles that Chad didn't want to do, or some of the things, and wouldn't back off on people. He would pester you to death to get what he needed for Chad. For me, it was okay because I knew Dave. He was pivotal for that team at that point because you're starting this brand-new program, so you need somebody that knows a wide bunch of people, from the graphics to the gas to this guy or that guy. Dave-O had been around forever and had worked for different teams, so he had a good notebook of people. He could call somebody and it wasn't a cold call. You knew who it was. He's calling for Chad Reed, and that makes it easier to pick the phone up. So it worked out really good.
Osterman: The next thing I know, I got a call from Chad. He really wanted to meet. He said he was going to be in California. He used to stay at this hotel in Newport. It's like a seven-star hotel. That's where I met him. I pull up to the hotel and I'm in my Nissan truck and there's all these quadruple-zero cars out front. I wandered inside. Pretty impressive hotel, to say the least. We all stay in hotels, but this place was pretty gnarly. I met him out by the pool and he was just in shorts and flip–flops, which didn't kind of really fit the hotel, but then it did because he was at the pool. It was just a real high-class kind of place. He was really cool, down-to-earth, laid it all out. I wasn't my normal pushy self. I did a lot of listening.
Lindstrom: I didn't know [Osterman] barely at all before. I didn't know what to think of him because the times that I'd seen him [managing Yamaha of Troy], he was kind of aggro, yelling and whatever. Even the first time I really saw him at the Honda track before I got hired and I was talking to Chad but nobody knew yet, he came and he was like looking in our box van and all wide–open. I was like, "Oh man, I don't know if I'm ready for that." I'm the complete opposite. I'm pretty laid–back and real mellow
Buler: I only knew of Dave-O from the YOT days. Dave-O had a reputation of being a little bit just all over the place. You're never going to outwork the guy. He's a hell of a hard worker.
Osterman: Then when it was time for me to talk, it was kind of funny. I shook his hand. I said, "Who's our energy drink sponsor?" He just kind of ran down his philosophy, him and Ellie, of what he was hoping to do based on because he rode for just about all the energy drinks then. Chad's just got this thing about him. Other guys can be gnarly, but I kind of use an analogy of the blank stare of a shark. But he looks at you like it's going to happen.
Reed: I felt like I had to shoot high and pay my guys more than industry standard, because I was going to ask a lot from them and I needed them to trust me. I needed to offer something that was going to say, This is a good deal. I have to take this deal. That was just kind of the position I was in. In all honesty, I felt like what I paid them was fair industry standard, what the rest of the industry should pay their employees.
Osterman: I literally, on that day, hit the ground running. I didn't really know if I was in or out yet. That came a few days later. On the way home, I talked to Mitch [Payton]. I was already making some preliminary calls just based on kind of what Steve told me initially. Steve told me they had spoken to Factory Effex and they had done a few things. They kind of got the ball rolling on certain things. I found out days later that when I did get that job, that I was already kind of hitting the ground running. Chad just said, "My longtime guy Joel and my driver." That was all he said—they're working on a semi. I'm like, "Bitchin'. Do they need any help?" No, they got it. So that was a big relief because Chad made it pretty clear he was trying to get people he didn't have to babysit and this and that.
Scott Gilley: I knew Dave back when I was the sales manager for Answer Products. He had MXA seat covers from Europe. If you went over to buy something from him, even as a consumer he didn't know, more than likely you were going to have a pretty gnarly experience, because the guy was just so passionate. He was so hell-bent on "I understand it better than anybody." He's carried that attitude with him throughout his entire life, throughout his entire career. I think he would tell you that. I would say that just like us all, sometimes it gets in the way and other times it doesn't. He would rip his left arm off if that's what it would take to make Chad happy and to keep the team moving in a positive direction.
Reed: At some point, I made a deal with Honda that was better than their contingency program but not quite as good as their factory bonus program. So my goals were set.
Osterman: I found out later I think Mitch gave me a nod, and I think Erik certainly did, and I thank them for that. You know how it is. Once you're out, it's hard to get back in.
Reed: Before I went to race the last round of the supercross series in Australia, Honda was kind enough to basically loan me a bike in California and allowed me to put my PC stuff on it. Lars basically just came and opened the gate to the Honda track. Honda was cool enough to allow me to ride the track for a day. Bones came and did some supercross testing and got me up to speed so that I could basically just unbolt the suspension and clamps and take it to Australia. I got to hang out with Lars for the day and felt like … man, I like Lars. He seems like a good guy and seems like somebody who I could work with. He seemed like a guy that was pretty chill.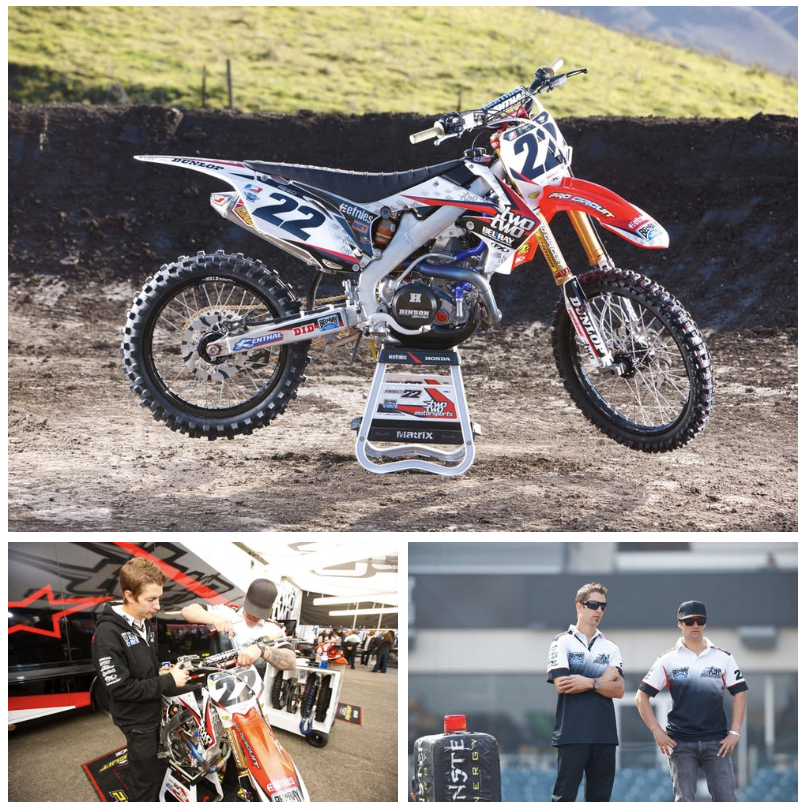 Lindstrom: I was out testing at Perris [Raceway] the first day that Josh Grant rode a Honda for us, and I got a call from Chad. That's when Chad asked me if I would be interested in working for him. I was super excited to have the opportunity, because as a mechanic, you always want to work for one of the top riders.
Reed: I felt like he was somewhat the diamond in the rough. Like here he is, he's this test guy, and he drives a box truck around and things like that. I felt like Lars was a guy who was a good mechanic and was more suitable for bringing something to the table. Then I had a conversation with him. He thought about it. His dad had been at Honda for a long time. He had been at Honda for a long time. So [leaving a job at Honda] was a big change for him. I had to come to the table, I felt like, on a money standpoint. I didn't know what he was getting paid, but I knew a guestimate of what was industry standard. So I kind of had to go on the high side and offer those guys really good money, and money better than what they were getting paid to somewhat entice them over.
Lindstrom: I was super excited, but I was super scared because I had no idea if the team that he was going to be developing was going to be legit. I didn't know anything about Chad personally, if I was going to have a contract, if I was going to get paid monthly. I had no idea if we were going to have a semi or a straight truck or a sprinter. So there were all these questions, and I was nervous. I definitely didn't say yes right away. I had to think about it for a while.
Ellie Reed: Lars did take a risk, but I love that about him. They just had a really good working relationship. He always felt like Lars knew what he needed, when he needed it. He didn't need his hand held. He didn't need Chad to babysit him. He didn't need to say "I love you" to Lars all the time, where some other people do. He just got it done. They just had a really good bond. The bike was always exactly where he needed it, right when he jumped on.
Lindstrom: I was kind of at a crossroads at Honda right then anyway because I kind of wanted to be a mechanic, but it was really hard to just get a guy. We already had really qualified mechanics on the team like Gothic [Jay Haines]. [Trey] Canard had his guy. So it's kind of hard to get your own guy when you're in that situation. I wanted to learn more and do some things. That was probably the thing that made me go and work for Chad. I talked to my dad, and I talked to [Jeremy] McGrath, and those two guys were the ones that I went to for the advice that I needed. Then I took the chance and went with Chad and started off on our own.
Buler: All I knew about Lars was that he had worked for Honda, and his dad as well was a Honda guy. His dad was a legend, basically. Then he worked for Jeremy McGrath, and Jeremy spoke very highly of him. Jeremy's word goes pretty far in the industry, obviously. Right away, Lars is a super likable guy. Definitely one of the smarter mechanics I've ever met too. He's sharp.
Payton: Lars' father is extremely famous in our sport. He's been around the sport since he was a kid too. I looked at this as Lars' breakout point. He's like, "I've got to walk away in order to get my chance." Chad took a chance; well, so did Lars. It was a great, great fit. Lars was single. Lars is young, energetic. He wasn't afraid of the hours. He was into it.
Reed: So Dave and Lars were in, and I want to say the third person I took on was maybe either my truck driver, Shane Westlotorn, or Dougie [Bourbon], who was our engine guy at Suzuki. Basically, Dougie and Lars started building engines and bikes out of Lars' shop. Then Dave-O was making everything from the ground up come to reality. Joel was basically in the early stages of going and looking at trucks and taking photos. We got really lucky.
Lindstrom: I think I was number three. He hired Shane Westlotorn to be the truck driver. Shane may have been number one. Dave-O may have been number two. He always had Mike McQuillen and Joel Buler. One guy drove the bus and did a few extra things, and one guy was a practice–bike mechanic and did a few extra things.
Reed: To back up a little bit, when I started feeling good and the body started being like, "Hey, I'm good. I got my rest. I'm healed up. I'm emotionally stable. Let's get on a dirt bike and start riding." From those early stages, I started looking for a trainer, but a trainer that wasn't your average moto trainer that we see typically on a weekend basis. I needed a trainer. I didn't need a man-friend. That was challenging to find in this industry, so I was looking outside of the industry and at different people. I had found a person who I liked a lot and who I wanted to work with. So basically, I got a lot of the things in place. Everything then got palmed off onto other people. I signed off on everything 100 percent, and I influenced everything 100 percent, but for the most part, I kind of stepped away, and then I did what my job was, which was to start preparing for Anaheim.
I went to work. I rented a house in Santa Barbara and just started training my ass off at Castillo Ranch. It actually kind of helped because Lars lives up by Santa Barbara. He's only maybe an hour south. So my practice bikes and having access to Lars, and then Lars working out of his shop at home and stuff like that. It kind of just all added up to be all things that just made sense.
Osterman: Our bike was 150 percent Pro Circuit. Chad has a great relationship with Mitch. He believed in Mitch. Chad kind of had it up to here as far as the Japanese companies. He knows that if you're a Ricky or a [Kevin] Windham or a guy like him, a story guy, as much as they appreciate a guy like that, they almost don't appreciate a guy like that. They'd rather get a young guy that's not so particular and maybe doesn't notice every little quirky thing and doesn't chase a lot of avenues that are just dead ends.
Reed: The amount of times that [Osterman] would jump in his car at 4:00 a.m., drive to PC, meet Bones with new settings and whatever, and then haul ass—and at that time in the morning in L.A., it's a three-hour trip at least to Castillo Ranch. Then I would test it, and if it was good, we would spend the rest of the week on it. If it wasn't, then you'd hand it back to him and off he'd drive back to PC that night. I didn't take it for granted. I was always appreciative, but you never really understood the gnarliness of what he was really accomplishing because of the fact that he never complained. He just did it. Of all these teams out there, I don't know why they wouldn't want a guy like that there and involved. If I had a team, he would be one of my first phone calls.
Osterman: Mitch was just awesome. Mitch told me straight up, "Look, I spent a lot of time trying to talk your boss out of it, but he was hell–bent on doing this." He was so determined, it's like, okay, this is how we should do it. So him and Mitch kind of made a plan. It's not like I worked that deal. I was the figurehead for that because everything to Mitch came through me at first. Everything Lars wanted, I got. Everything Doug wanted, I got. I was at Pro Circuit so much I was almost working there.
Payton: I'll be honest with you, and Chad will tell you, I didn't give him all that stuff. If it was two-strokes, like back in the day when I rode, we could help a guy out. You could grind him a cylinder and a head, give him a pipe and silencer and some jetting, and if the guy wasn't happy, he would regrind the cylinder or maybe shorten or lengthen the pipe. That's your tuning. Bore the carburetor or run a standard carburetor. Try a reed cage, don't run a reed cage. But everything with [four-strokes], it's so expensive that I told Chad, "I can't afford to give it to you. You're going to have to pay for it, just like my race team."
Reed: Anything that he kind of controls, like his pipes and things like that, are easy. That's advertisement for him. But anything that costs him money, I've always paid for it. I don't pay what the public pays, but it still adds up.
Smith: [Chad] started getting bills from Pro Circuit. Then you have to start looking into the semis and all that kind of stuff. It just was a whirlwind.
Osterman: My garage was like a warehouse, so to speak, because we didn't have a shop.
Lindstrom: Team TwoTwo didn't have a place to work out of, really. It was Dave Osterman's garage with a box van that was bare. There was nothing in it. It was Pro Circuit. It quickly became my garage too. The first thing I remember is talking to Dave-O. He was in a panic—"We've got to do this, got to do that," going a million miles a minute, just like he does.
Smith: Obviously, I knew the [bills] he had in previous years. He's got his track, and he had Joel driving. I can do that, but there was no way I could put a budget together in the beginning for these kinds of [team] things. I had no idea how much it cost to put a semi. So then you're getting these Pro Circuit bills and I'm like, "Oh my gosh, when is this going to end?" You just had no clue how long it was going to go and how much it was going to be.
Lindstrom: Right away, it was get the bike and go up to Castillo Ranch and start practicing with Chad. His practice–bike guy, Mike, had to leave for a two-week vacation right then. It was kind of bad timing. So then it was just me and Dave. I remember driving up every day to Castillo Ranch. From my house it's like two hours, so I would go meet Chad in Santa Barbara. Him and Ellie would be there. Tate was like a little guy. He was tiny. Go up there. Go to Castillo's. Do that, come back. Drive all the way home. Wash the bike. Get her prepped and ready and go back the next day. It was a lot of driving. I probably put 50,000 miles in my truck in two years there.
Payton: So you're trying to build a production bike into a works beater in eight weeks or ten weeks. When you think you're there and he's like, "It's not there," we just kept working on it and working on it. It was like everything. Originally, he wasn't going to get any bikes or parts, and then he could maybe get a few parts from Honda. But it sort of just trickles out.
Buler: So finding the race trailer, I scoured—I looked all over the country, on the internet mainly. Chad wasn't afraid of spending money. He wanted to run a top-rate program with very good, if not top, equipment and the best guys in the industry. He wasn't really afraid of spending money. So looking for a trailer, I looked all around. To build a trailer was going to take too long, so we kind of needed something that was already built. Luckily, the old MDK team had two trailers sitting aside. So I flew up to San Jose to go look at that trailer. The trailer was already built for motorcycles. Then, at that point in time, Chad had already chose Shane to hire him as the driver. So I had requested that Shane fly up with me because he was going to be the driver. Two eyes on a new transporter truck was better than just my set of eyes. So me and Shane flew up there, and that was by far the best equipment at the time for what he wanted. Then, as far as the tractor went, I think I went to Peterbilt, and then for the first year we did a lease contract. After that, I think Shane for the next year went shopping for a brand–new truck and they actually purchased the tractor.

Osterman: I built a bunch of box vans in my career, and we needed one. We went down to Bill's Pipes to look at an old FMF box van. It just needed a new engine. Chad walked in with me and Joel in the parking lot, and Joel kind of was looking at the ground because I think he knew what was coming. This was my first real run-in with the boss, so to speak. He kind of looked at me and he goes, "Dave-O, I'm not getting [a] used [box van]. I appreciate what you're trying to do, but just let me do it my way. I just want you to do what you know how to do, but I'm not doing used." He goes, "Do you get me on this?" Sure! In other words, he just wanted new. At some point, I told the bookkeeper, I could have got a box van for less than half of what we ended up spending, but he didn't want to do it that way. It probably would have been just as nice.
Onstott: Dave was great. He liked to talk. He would call me a lot. We used to do Chad's fitwear too. There was always questions. There was always needs. It was great. As his gear and boot and helmet and goggle sponsor, for us to have a part in the look of his team really connected us to the team—the brand and the team. It was great. There was ownership. We weren't just a sponsorship. We felt like we were literally part of his team.
Gilley: Out of left field, I got a call from Steve Astephen. At that point, Steve and I hadn't really worked on any projects together. I always kind of went directly to the team management of the teams we were working with, but we were sponsoring a lot of teams back then. But I remember he gave me a call. He said, "Hey, Gilly, I know you guys do a good job in the graphics world. We've had some people advise Factory Effex to look after new opportunities. The new opportunity is Chad Reed, and he's going to try to build his own team."
Reed: Previously, I always had quite a good relationship with N-Style and with Rob Healey, so I talked to Healey a little bit about my graphics, and he was challenging. Somehow the Gilley thing came about, and I started talking, and immediately Scott was just super accommodating and just really appreciative to have me on board. Honestly, it made me feel like I was a part of their brand and their company. That was the beginning of it. To this day, that's what it still is and what it means to me. It was cool.
Gilley: Back in the Yamaha days, I didn't have a working relationship with him or the team. We sponsored the factory Kawasaki race team sort of at the birth of our brand, back in '95. That was really where we put all of our money and efforts into, for building a graphics company. I knew who Chad was. Actually, my first introduction to Chad—I can't remember the year, but he was racing in Australia. Roger DeCoster, while he was at Suzuki, flew Chad in to ride a 125 at the L.A. Coliseum in Chad's first supercross event. At the time, I was the sales manager for Answer Products. We sponsored the Suzuki team with Pro Taper handlebars. So I was asked to bring a pair of handlebars out to the event for Chad to try, a couple of different bends. He was a lanky, quiet, skinny little kid. I don't remember how well he did. I think he did pretty good and turned a lot of heads.
Reed: So like, from Santa Barbara, where I was living, to Factory Effex, it was like an hour drive. So then I would get all my motos done, my training done, and then six or seven o'clock at night I would drive. The Factory Effex crew would stay late and work with me on designing the team semi and bikes. So I was putting in my time in all different areas, but it came together where there were a lot of people in the Santa Barbara area within an hour that could really bring to the table, and it just made sense that that was the route I took.
Gilly: I remember when Chad first came out. We have an art department. I think back then we had five guys. I got my art director and lead designer debriefed on the project, let them know what was happening. So I go, "Let's get some ideas out." I'd been through this so many times; I know when you sit and stare at a computer, it really takes a long time to get some traction on what people like. I had never worked with Chad. I didn't know what his palate was at that time. So I think we put about six or seven full design packages together. It included a truck and a pit shirt and a team shirt and a bike. So the hope was to ask Chad, "What do you like and don't like of some of these designs?" I remember at that time, we were still in our honeymoon. He was really polite and didn't want to say "Hey, I want to delete and go in a different direction," but over the course of a five– or six-hour period of time, we completely moved into a totally different direction. It was just really a collaboration. I wouldn't give Chad credit or us credit. I think we had a couple of good minds. Sometimes art guys have good days and bad days. I know I certainly have my good days and bad days where I'm more creative than I am from the next. But we all hit it that day. He walked away that night with 90 percent of what that entire team was going to ultimately look like that year in that first day.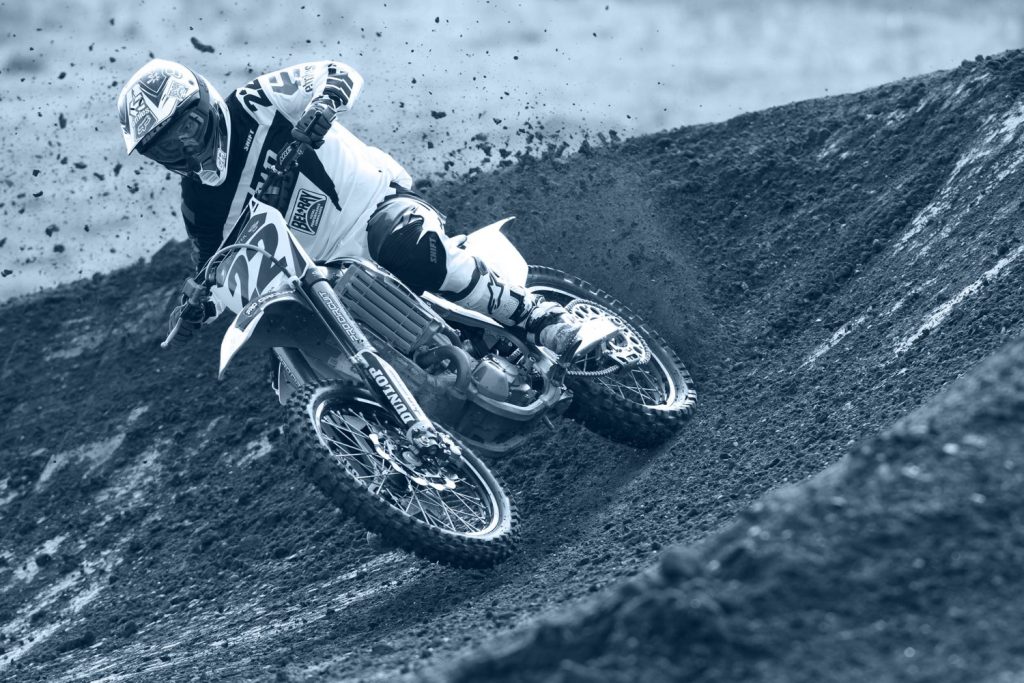 TRAINING CAMP PREP
Reed: From my first feelings of riding the bike, I was just like, "Man, this is how I'm supposed to feel on a motorcycle. This is how I am the best on a motorcycle, is when I have this feeling." I didn't have that feeling all through 2010, so to get that feeling back again and feel mentally good and strong and physically back where I needed to be, there wasn't a part of me that didn't feel that I could win. It was just a matter of when I would win. That was the big thing.
Lindstrom: I definitely had my doubts too. When he left the Kawi deal, I remember him riding off at Millville there, and he had like a neck injury or something and everybody was doubting him, including myself. I didn't know him personally at the time. So after watching him ride at the supercross track, it kind of reaffirmed how good he actually is. When you go testing with a guy at that caliber, it's just different. It's just another level that you're not used to. So I quickly got confidence and believed that he would be able to for sure be a top–three guy and win races. That's where I was at.
Buler: Chad had a spring in his step and a spark back at that camp. He was very strong-minded and strong-willed. He was not putting this all together to be unsuccessful. Two thousand ten was a funky year, man. I don't understand all that was up with him, either. He'd had some Epstein-Barr virus or something.
Osterman: I was down at Pro Circuit talking to Bones every other day getting stuff altered. [Reed] would weigh X pounds. He'd burn some laps, so of course he'd get fitter. His hands would get more work in. But not only was he getting faster as he was shedding pounds, the suspension was changing, so it was changing in terms of speed. We were lining up suspension due to his speed increasing, but then his weight was shedding. I was running up and back to Pro Circuit like a yo-yo and chasing Bones around, which is sometimes a timely process. They would drop what they were doing to get us handled.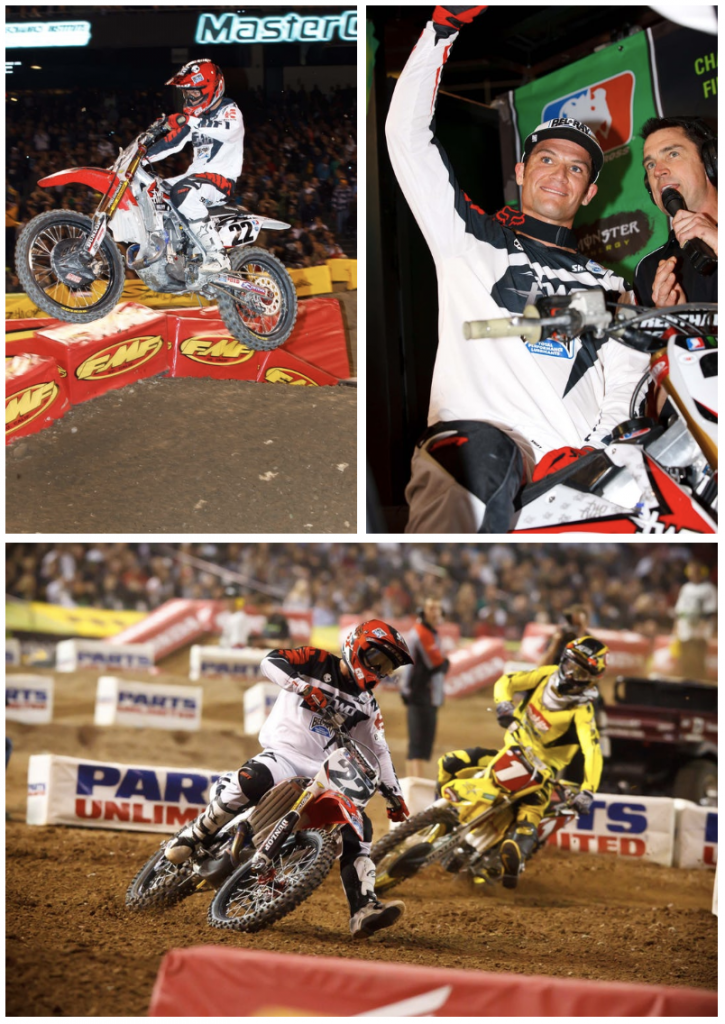 Lindstrom: Chad bought five or six sets of Showa A kit spring forks and shock. I remember it was really hard to get the parts in the beginning. We had just a couple sets. We'd have to drive. Dave-O was a madman. He was gnarly. He didn't mind. He would just jump in his little Nissan Frontier and just start pinning it. Those guys, Mitch and Bones and Damon [Conkright] that was working down at Pro Circuit were helping a lot with the dynoing and getting us a good engine setting. I had never worked with Mitch. I knew him a little bit—he's friends with my dad. I was obviously intimidated by him, but he ended up being awesome. He was really helpful with me. I think he saw that I was working hard, that I was doing what he thought was a pretty good job.
Osterman: Honda was cool. We had a couple things we were allowed to get, and one of them was transmissions. So we had a few works transmissions that we had in race bikes only. We had production trannies in the practice bike that we would rotate every 15 hours or something. We never had a problem with that, actually.
Lindstrom: We would have Bones do a couple different settings here and there. You know how Chad is with testing. He was like that then, too, but we just didn't have that many options. The bike was coming along. He was coming along. Speed was coming up. The only thing I really remember about that time is that it was probably the most stressful time of my life because I had so much going on. I wasn't just building engines and building the bike. I was doing everything. Everything that they usually help you with, I was doing all that. Calling the sponsors, lining up parts. Obviously I had help with Dave-O, but I would be sharing the responsibility with him and doing all the same things. It was super stressful. I did all the ordering parts from Honda and trying to organize it. I learned so much during that time. I remember my brain wanted to explode.
Ellie Reed: We knew it was going to be crazy, especially in those opening rounds, because we put together a team in two months. Everyone worked their tails off. It was such a combined effort. Eventually he settled in and he finally got the pieces and parts and things that he actually needed to get comfortable, like he probably should have been months before that. Those are the facts.
Anaheim 1 came with the debut of Bel-Ray Team TwoTwo Honda looking to show everyone that Chad Reed was back. Fifth at round one, fourth in Phoenix, and seventh in L.A. was a decent start but nothing that made Reed happy. His look was dramatically different from being on red to now wearing Shift; it was a shock to the system for Reed's fans.
Onstott: I think that was really him and Pete, and they really wanted a new, clean look. With the help of David, our designer here, I think they kind of really changed the look of moto. That was when everything was really crazy print. Chad shows up in A1 of that year on his own team with a whole different look. It was super clean. It was just solid colors. We were matching his helmets. Honestly, I think Chad really was instrumental in this unified look from boots, gear, helmets.
Fox: Our feeling at Fox definitely was, we're not sure he can win or what he can do, but this whole thing is beautiful, and we got so excited about it.
Lindstrom: We came to Anaheim and we looked professional. We looked like we had our shit together. And we did, but it was up until the last minute of time to get ready for Anaheim.

Osterman: After the first Anaheim, I was happy and he was pissed. That's kind of, like, been his deal. He expects to win. He was not happy with his results, but we were making progress and doing all right.
Round four of the series saw Reed collect his first podium as a team owner, with a second in Oakland.
Reed: We had an electronic issue that night in Oakland. It had been a wet race. I don't know if it was muddy, but it was pretty wet. I think that everybody was thinking, It's muddy. He lucked out. He rode good in the mud.... Just all these things. But I felt like I was really restricted by the bike that night. We had some real issues through the main event, and I had to limp it home. I just felt that I could have done better than that. I think, right from the beginning, Lars knew how committed I was and how hard I was working. I think everybody was generally stoked to get on the podium, as I was. Don't get me wrong—I was totally stoked to be on the podium. But there's a racer side of you that there's raw emotion, and your instincts are to be pissed.
Lindstrom: When we got that podium at Oakland, we had a little bit of an issue with the bike cutting out, and it was part of the wire harness. He came off the track and I was like, "Yeah, dude!" He passed [Ryan] Dungey in the last turn and he got second. He came off the track, and instead of being happy, he was pissed because the bike was cutting out. It wasn't something that I had done. It was just a problem that we had with the motorcycle. I was at a ten, and then he cut me down to a two real quick, even though we finished the second. But it was a big step for us. We were definitely coming on stronger.
Reed: Looking back at it, I wish I wasn't pissed, because it was a big moment. It was my team's first podium, and probably everybody's so pumped, and then I come off and I'm pissed off. But that's just me—I wanted to be better, always. It's got its plusses and minuses.
Payton: I remember we were at Oakland and the bike cut out. The bad part about that, it was a problem that was known to American Honda. It was just one of those things. We're not offering that up. They said, "Oh yeah, we've seen that before. You should do this." And this is true—in order to be an expert at one brand of motorcycle, it takes some time. You have to learn every delicate thing. So those were the things that kind of bit him. They were like, "You should route this wire like that. That wire kind of can do that." It's like, why didn't we know that before?
Lindstrom: Somewhere early on, Chad wanted to try different offsets, and the only thing we had to try was to borrow some clamps for Honda. He tried works clamps only because he wanted a different offset that Pro Circuit didn't have. He really, really liked the works clamps. He said it felt really plush and it had a good feeling that he had to have. So then I went and talked to Honda. I had a really good relationship with one of the engineers, and he was kind of wondering why we weren't helping Chad more.
Reed: It was an offset. The production clamp was 22mm, and that's obviously what Mitch sold. It was going to take Mitch the typical four to six weeks to machine up 20mm clamps. So then we reached out to Honda. I had started doing okay. I was running top–five. I don't remember if I was top Honda at the time. Maybe Trey [Canard] was. They were really kind. It's your typical thing. It's not like they just give me a set of clamps and it's that easy. What the public doesn't know is, a factory part normally is the easy thing that you see. It's the three other parts that it needs to run that part. So it's like running a factory clamp, then you had to run the races, then you had to get the bearings. So it wasn't an easy process. At first they were like, "We'll let you test them."
Lindstrom: Honda couldn't afford to just hand out clamps to everybody, so we were able to work out a deal to where we could get works clamps. That's what started getting our relationship better with the factory guys. There were some guys maybe upstairs that didn't really get along with Chad too much. It was kind of hard to get that. I think I did my best to smooth everything out and create a better relationship that we could work with.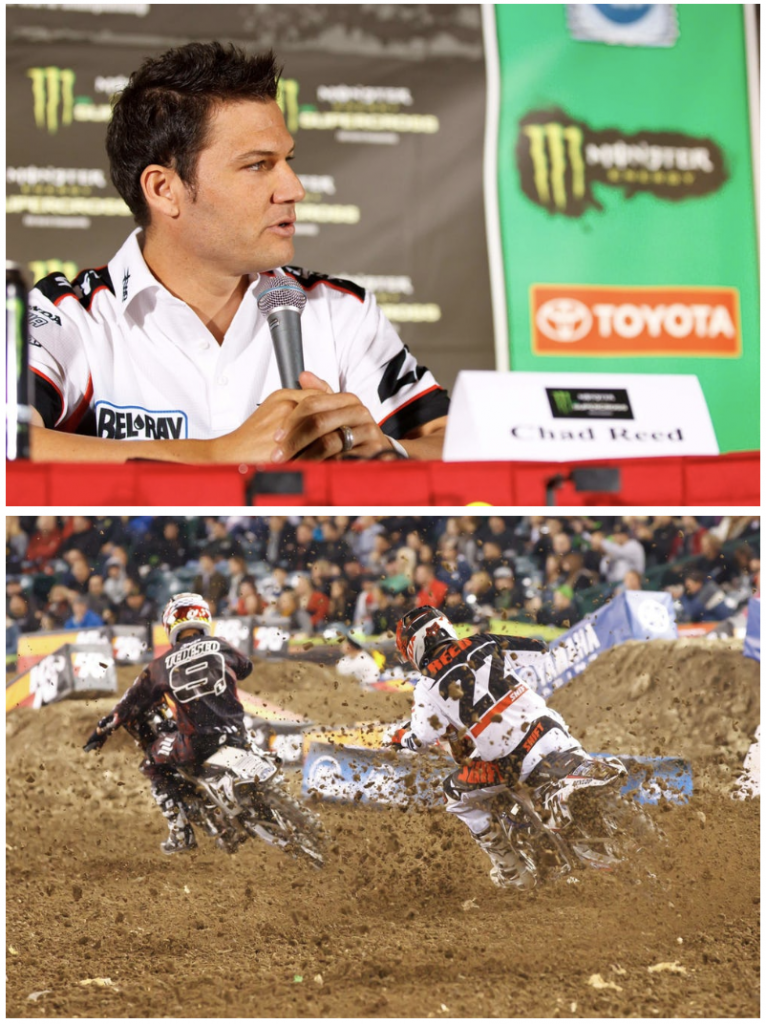 Reed: They were letting me try 20mm clamps to see if I liked that offset so that I could be like, "Hey, Mitch, I like 20 offset. Let's build this." What we weren't expecting is for the clamps to be so insanely awesome and just so much better than what I had. Mitch's clamp is pretty much designed off of those anyway now. So with me testing that, and immediately I was like, "Wow, these things are amazing," I couldn't even tell the difference with the offset because the actual clamp was so much better that it was going to be better anyway. So then we had to back up. I had to go and put the factory 22mm offset clamp on and then back-to-back it with 22mm versus mine to try to understand it. It was oranges and apples. So anyway, I think that they saw my excitement. We pulled some strings behind closed doors, and I won't mention it because they probably don't want it out there, but certain people pulled strings to make them available to me and make them free and things like that. Long story short, I ended up with the clamps. Pretty much from then on, I was on the podium most every weekend. It was a huge advantage to us as a team and a big step in the right direction.
Osterman: I do think one slice of the pie for Chad was, he was getting to that point where he was becoming successful, when Honda was starting to show some interest and want to maybe slide some things his way. The triple clamps are like a big ring on a girl's finger. He was pumped on that even before we bolted them on. He's been with so many factories, he just knows what some of those things do. It's not entirely psychological—he knows what they do. So it was very important for him to have that. Mitch appreciated it. I think Bones did, too, because everybody was honest and upfront. Nothing was sneaky or shady. Bones and Mitch knew that as the results came…. But sometimes I'd go in to Pro Circuit and they'd corner me, which made me a little uncomfortable. But again, I just looked at it like, "I'm just a messenger."
Reed: I think the industry thought I was done. I just remember when I got my first podium in Oakland. It was like the general consensus of the whole industry was happy for me. That's so cool, you got your last podium of your career. I'm like, f—k you guys. This is just the beginning, and luckily it was. Two weekends later, I won.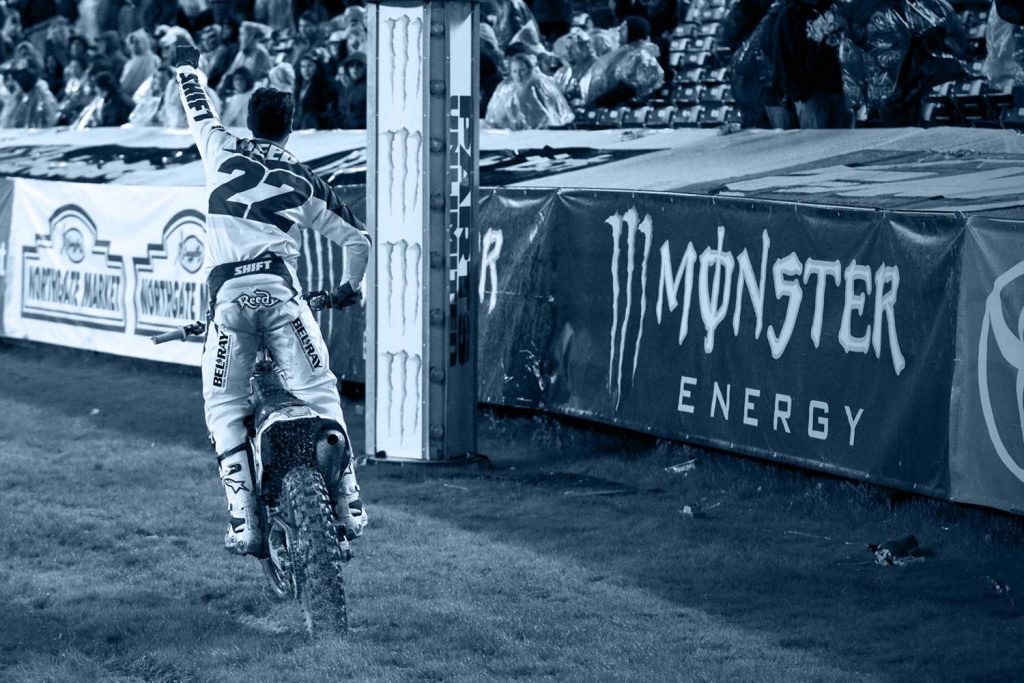 THE COMEBACK COMPLETE
San Diego 2011 saw Reed achieve perhaps his unlikeliest win yet. With the factory clamps on and confidence high, he grabbed the holeshot on a rainy night, lurked behind Honda's Trey Canard for a while, and grabbed the lead when Canard fell. He led the rest of the way to take the win. Chad Reed was back.
Reed: That was one of the highest wins. There was such a different feeling of success, when you personally put it together and you had such a big involvement and you had people that took a chance on you and they all kind of supported you when the times were tough. It was a win that I definitely won't ever forget. I remember it was another mud race. It was really challenging. Just grinding away. I want to say that Trey was really fast that weekend and was typical Trey, in that he was taking a lot of risk. I didn't feel that I was willing to take those risks. I kind of felt like I was going to be second place, but Trey threw it away and then I was able to capitalize on that. Trey was really the only guy outstandingly fast that weekend in the main event. Dunge [Ryan Dungey] is always going to be Dunge. Dunge is like me in the fact that he's looking big–picture.
Ellie Reed: The only way I can describe it for somebody is when you watch a movie and you get the feels of that magic moment for whatever it is, especially sporting or overcoming triumph. That is the feeling you get, and as a wife watching that, that's what you get. Somebody said, "Hey, I'm going to do something," and they actually went and did it. That's the game right there.

Lindstrom: It was unbelievable. I had never been a mechanic for anybody that won a supercross. I worked for [Kevin] Windham in '07, but we never won any supercrosses. It was one of those deals that the race just felt like it was an hour long. He was in second or third and he made some passes. It was muddy, I remember. It had rained, so it was really slippery, really tough to even jump the finish line. He got into second, Canard fell, and he got into the lead. He led, and he kept leading. You're like, "I can't believe that this is going to happen!" When it did, it was so cool for the whole team. We were such a small effort. We were just a couple guys at the time. I built a bike out of my garage. We didn't even have a race shop. It was truly badass. It was awesome.
Reed: Any time that you can be on the podium in second or third, you're kind of protecting that. That's how I was thinking as well. But then, of course, I'm in San Diego. I've done very, very well over the years in San Diego. So the downside to the win—and this is the negative side of being me—is you think, I won a race, but it's a stadium that I've always won at. I've always had success. It's raining again. Maybe I got lucky. Trey was doing better. So you barely enjoy the moment before all that other shit kicks in. So looking back, I wish I had enjoyed it for maybe a day or two rather than an hour or something like that.
Onstott: I felt like I won the race! When Chad lets you in, you become really close to him. We were part of his program. We were part of his team. We were doing so much work together for him, designing gear to designing the bike to the pitwear to the lifestyle. That's your guy. Even though we still had other athletes on other teams, at that point, we were working closer with Chad just because of all the things that we were doing with him.

Payton: What was really cool [about the win] is the atmosphere of the team and the way it came together. He's got Osterman, who's been around as a factory mechanic from the late eighties, then kind of went out of the business into different positions and came back into racing and been to a couple teams. So you've got this kind of what I consider to be an older veteran guy. Then he had Lars, who wanted to be a factory mechanic and kind of hadn't got his shot at it yet.
Smith: He always amazes me. I'm an accountant, so I'm not a dreamer. He's a dreamer, and you have to give some respect to that. Maybe some people say I'm more pessimistic, however you want to look at it. I feel like I'm realistic. I've been working with him for 15 and a half years. He always amazes me when he pulls stuff off. There's many times when I don't think it's going to happen. It just was a whirlwind, and he started doing real well and got some good sponsorships and stuff and it was running.
Lindstrom: We had a place to store some stuff for the race team—it was just a holding spot, but it wasn't anything, really. I had just bought my parents' house. I took the garage and gutted the whole thing. Me and my brother rebuilt it. I used my own money and made my garage really sweet, so it basically looked like a race shop. That's where I built my race bikes, my race engines, everything. The bike that we won San Diego Supercross in 2011 was built out of my garage and rolled into a truck.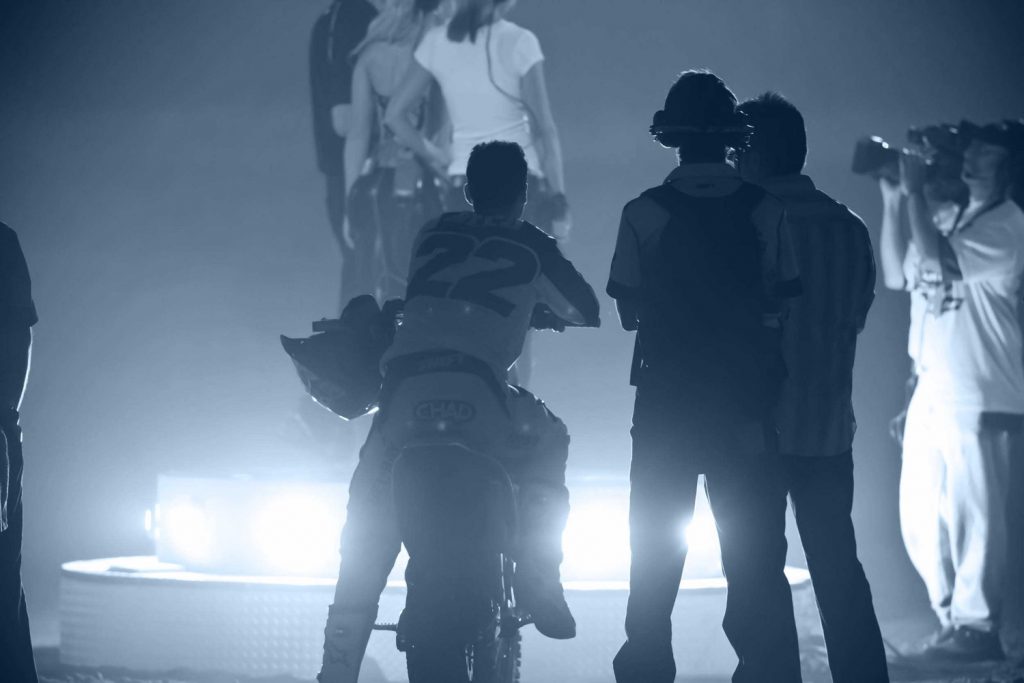 NEW BEGINNING
Reed was on a roll with 3-2-3-2-2 finishes in his last five races and was just outside the points lead. He was definitely back when it came to his on-track performance, but off the track, things were going to a whole new level. With Ricky Carmichael gone, the sport needed a new hero, and Chad's speed, his age, and his courage in starting a new team were relatable to the fans. Reed was now the most popular rider in the sport and a boon to the companies that supported him.
Onstott: We internally say there was two really big moments, and the first one was with Fro [Jeff Emig], and then the next one where we saw a big spike in sales is when we signed Chad Reed.
Fox: I thought that him pushing for and being open to doing something new from a style standpoint was exactly what we wanted and needed as well. The two things just fit really well together. I think that if you look back at that first Shift gear that we did with Chad, I think over the last seven years it changed kind of the direction of motocross style. You see it still today—a seven-year effect. We did asymmetry of the jersey, which was a big thing that I loved back in the nineties. I did that with Jeremy [McGrath] and I always loved it. So we did the asymmetry again on the jersey with Chad. The simple, bold styling and some fresh colors. We still see that effect today.

Gilly: I remember the first year, we were only doing the graphics contribution for Chad. The first year, we wound up selling over 3,000 graphic kits! In fact, I think it was in the mid–threes. That, without a doubt, in my entire career—which, I've been doing this for 30 years—up to this day as I'm talking to you, the most financially beneficial venture we've ever had, tenfold. There was a couple of real key pieces to that puzzle. He was on the most popular motorcycle, the most identifiable brand. He had a great story. He won races in 2011. The recipe was perfect. I remember I put the bulk of my advertising dollars into promoting the team and promoting Chad. Chad saw the effort that we were putting in to promoting his team. I think we promoted and marketed the team more so than any of his other sponsors. Chad was the kind of guy that I could get on a call with him or I'd see him at the races, and after the race, we'd bullshit about some ideas of what can we do to keep the brand moving forward. He'd fly out here from Florida and sit in a studio and do photoshoots with Factory Effex apparel and hats and T-shirts. It was way beyond my expectation.
Onstott: I heard a lot of how good he looked from inside the pits. It was the other riders saying how much they liked it. I actually had guys that would hit me up that worked for other brands. I even had the GEICO kids like, "Hey, can you send me some of Chad's gear to wear during the week?" That was how impactful Chad's look was. I remember even being overseas one year and a couple of guys—even [Antonio] Cairoli was like, "I love the way Chad Reed looks."
Payton: Chad can move product. That's what's crazy about certain guys. This goes back to Jim Hale from AXO, who always told me there's guys that sell product and there's guys that don't. You could have a guy that was a multi-time national champion or a supercross champion, and he might not move the needle selling product. And then you might have a guy—and basically the guy at that time that Jim Hale had was Damon Bradshaw—he sold product. Didn't matter. He came out with a brand-new set of gear, Bradshaw wore it, it sold. There's guys that are still like that. I think it's tough. There's a lot that goes into a manufacturer spending money on a rider or a clothing manufacturer or helmet or goggle buying a guy because they got to be able to move product. And Chad can move product.
Fox: It turned Shift around. In six months, Shift was back to being a very strong brand with a strong following. We were also doing some of the fan merch stuff for him. It was good. It sold very well. He had a fan base, I think, going into that year, and then from that point forward, I really think he added more fans to his fan base. I think arguably for the last four or five years, he's probably been the most popular guy on the track.
Onstott: Internally here at Fox, I mean, Chad was Ricky Carmichael and James Stewart's biggest rival. He didn't have any fans in here. Then, over those first couple years, people in this place loved Chad Reed. I remember one sales manager at one point said, "I can't believe we're signing Chad Reed." And in those early times, we used to do these little dealer visits on Saturdays after practice was over. Chad always gave us the time. He was always there. He always had a smile. He was always stoked to bring our dealers in and say hello and take a photo…. I just remember at this one race, he had all the dealers there, and this sales manager wanted to take a photo with Chad. He goes, "I love this guy." He won everyone over internally.
Fox: Beeker had a huge effect on the whole deal. He was somebody that I could look to and get advice from and just reassurance from. He knew Chad so well from the years before Fox for both of them. I'm not sure that any of that would have happened without Beeker. When I said the pieces of the puzzle [were] in place, Beeker was a big part of that puzzle.
Payton: I've been around when Chad Reed was introduced to the crowd, and there were times when I heard people booing. When he started TwoTwo Motorsports, the people stood up out of their seats and they loved him. I think it was the guy against the establishment, the family guy, the guy that wouldn't quit. You're not going to kick me in the teeth, or the balls. He said, "I'm going to do it." I think people appreciated it that he put his money where his mouth was. Yeah, he got paid for a lot of years, and he complained about some stuff, but now you're the owner. If you don't like it, you've got to fix it. He was doing that.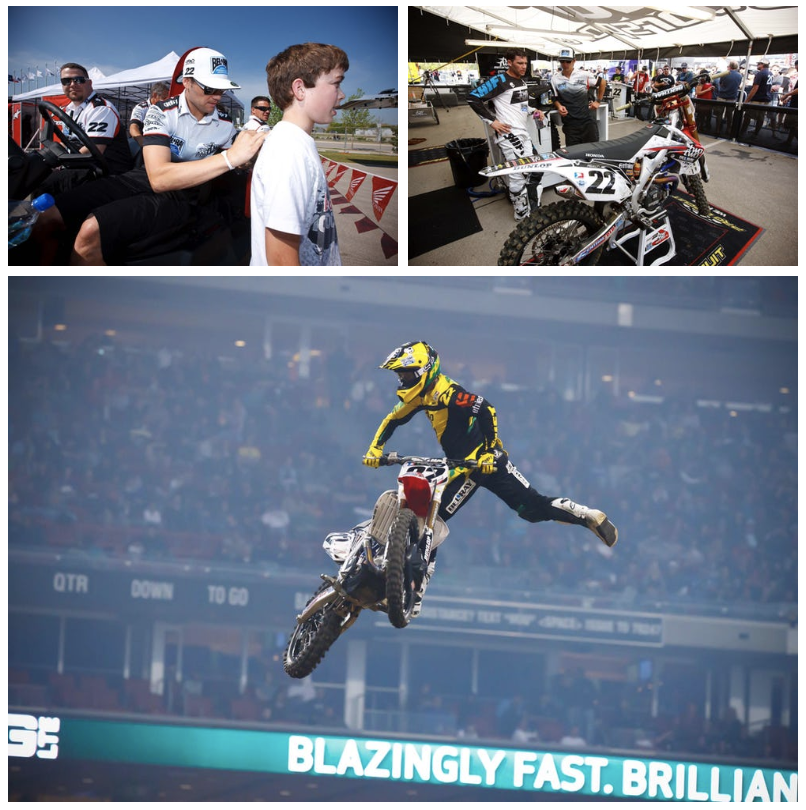 Reed: I just felt like a businessperson and that I was doing my job. I was moving product. I always felt that I could. I was always somewhat told that I could. But this was proof that Chad Reed moves product. I think that was the upside. I want to say Wil Hahn sent me a text message—I remember him sending me a text of him ripping motos on a private track in my Shift gear. They just loved it. It was just funny how that all worked. Gilly, Shift and Fox, and Mitch all saw the upside to the program and how we were doing it. That's all still relevant, too, to this day. I just think that no one had really gone and done it to the level of what I was doing it. I was one of two OG guys—me and James [Stewart] being the two guys. [Ryan] Villopoto and Dungey were kind of newer to the class and things like that. So it was a big deal. My approval rating and my fan base just grew.
Fox: Sometimes you'd be like, of course, it's Chad Reed. He's one of the best. He should be there. Then other times you're like, I can't believe this guy is still doing this and he's pulling it off with his own program. Especially I think that team and running the team, he probably underestimated how much time and focus and energy that that really required. I think that probably took a lot out of him, but it also fired him up. I think he felt like he had a lot to prove.
Reed: People thought I changed, and that's probably one thing that I felt like drove me nuts. I personally didn't go put an effort in to change. I just think that I got to be a person that I always wanted to be. I was able to be creative. I was happy. You just saw a happier, more creative, happy–in–his–environment Chad Reed. That was really the reality of it. It wasn't that I went and sat down with somebody and tried to change my image or my actions or anything like that.
Buler: He went to being kind of the new, hot young punk and as many people liking him as not liking him, to all of a sudden 99 percent of the people loved him, it seemed like. Coming from the other side where you had so many people not liking you, it would even confuse Chad. I remember having a conversation with him about it. He's like, "I've always been the same guy."
Lindstrom: I think that the main thing that helped him win all that support was social media. It was Instagram and Twitter. He was posting videos of stuff that nobody else was showing. Personal stuff and him with Tate, riding his little Strider around and stuff like that and showing his family life. I think people really fell in love with the whole family thing. We had so many fans at the races that would come up and they knew Tate because they see him on Instagram and they wanted to see the kid. It was a huge part of how he got his fans back with just letting them see a little bit of his life that people normally never saw. I think that had a lot to do with it.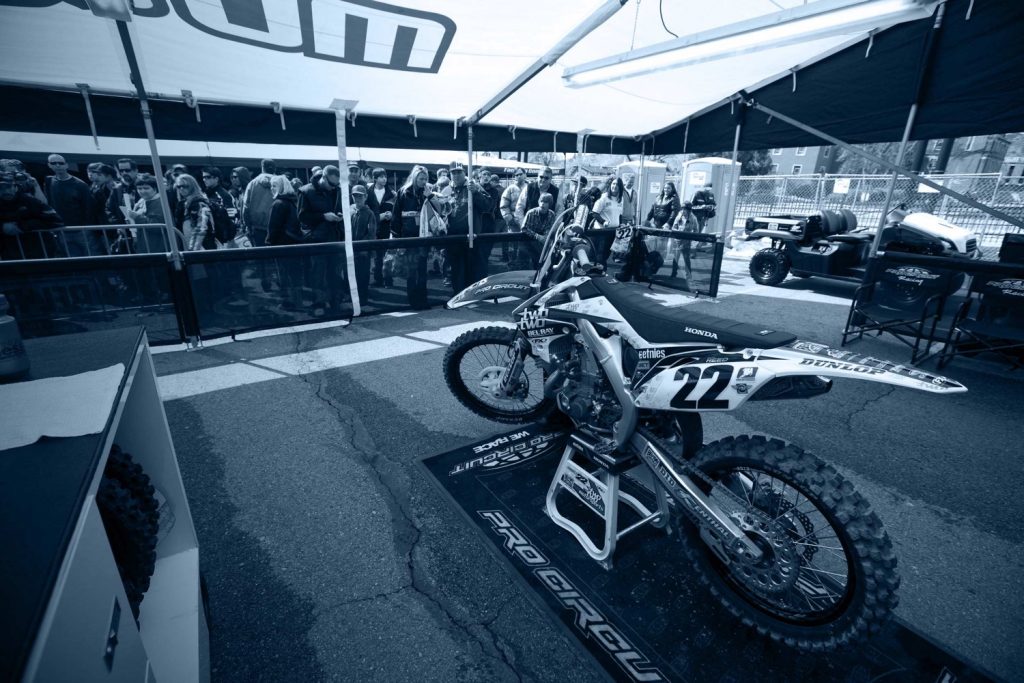 THE CALL
Near the end of supercross, Reed was the top points–getter on red. Factory Honda had a couple of open bikes, so a phone call was made.
Lindstrom: Honda's Josh Grant had already gotten hurt at Phoenix, but Trey was there. We were having good races with Trey, especially at Jacksonville—we had an awesome battle. Chad actually was nice and didn't take him out because we had a good relationship now. So then Trey got hurt at St. Louis, I think. Honda had nobody. So right before [the] Salt Lake City Supercross, they asked us if we wanted to ride the factory bike. If we wanted to, we could; if we didn't, that was fine too, but they were going to help us out. They ended up giving us a little bit more of a parts budget halfway through the year. Then we thought about it. It was a tough decision. I remember I called Cliff White, one of my old mentors, and asked him what he thought, if we should even do it. We were kind of on a roll, and both me and Chad weren't sure if we wanted to screw with it. So then we decided, yeah, let's go check it out and we can ride it. If it's anything good….
Kehoe: It's hard because, as you know, works parts and bikes are expensive. We're always planning ahead, so sometimes we don't have it planned in the budget to do things on the fly like that, just decide in the middle of the season or at certain times. So we had to kind of look at the budget, look at everything where we were at. Sometimes with a guy like Chad, you can stretch those things because he's definitely a very talented guy, a great champion.
Osterman: At the time when that Honda deal came up, he was pretty successful with the bike we had, but I really believed he's just like, Man, as good as I'm doing now, can you imagine if I'm on a similar bike that's 15 pounds lighter? Some of these issues are just going to be so much better and the cornering and just overall handling…. It took a period of time, and then he actually rode it and still didn't say hands-down what he wanted to do.
Reed: Once Trey got hurt, then I became their big red hope, so then one discussion went to another. But I was concerned. I was winning races, and I was competitive on my bike. I didn't know if I wanted to open the can of worms or is it better? That's good, but if it's not better, then what do I do? So my conversation was pretty clear. It was kind of like it happened over a couple of weeks. It wasn't like I just immediately jumped at it. I was happy with my suspension, so I'm like, "Hey, can I run my suspension on the factory bike?" And then immediately, no. Okay, let's talk about it. Then it's like, "Okay, you can do that." So everything was "no, no, no," and then it was like a conversation, and then it was like "okay, maybe."
Payton: Chad called me and asked me what I thought of it. I said, "I'd tell them no, unless…." I said, "Of course, I want you to take it, but you need to hold your ground a little bit. The only way I would do it is if they're going to allow you to ride that motorcycle, and they want to let you 'race' it. If you're going to do it, then you get it the rest of the season, including motocross." I said, "It's like seeing that picture of that hot chick and saying, "That's just the picture. What do you think?" Once you tried that thing, you've got to give it to him. So I was really excited about it. I was absolutely 110 percent behind it, because it would take the pressure off of us—which, that's not the main reason. But the pressure off of Chad financially to buy more parts and the stress of keeping everything going and all that where Honda, they have a big parts budget. They have multiples of everything so you don't have to worry about "back up this, back up that."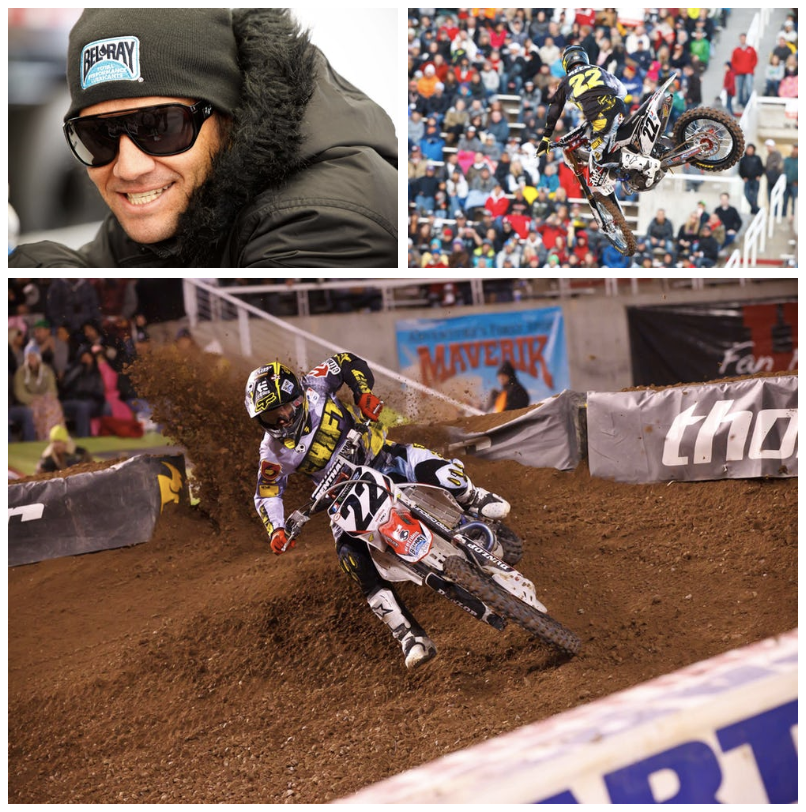 Reed: Mitch was there at the test. I said to Mitch and Bones, "I want you guys to come to this test, and I don't want it to be one of those things where you feel like I'm just wanting a factory bike. I want you to be there and see that I'm going to take it really serious and give my real opinion."
Payton: So when we went to the Honda track and he rode it, I really thought just watching it that their bike was better. I asked Bones, what do you think? He goes, "Their bike's better." It wasn't one thing. I can't say it was the suspension. To tell you the truth, in the beginning, there was things that he liked about his bike better, but there were little things that I thought … honestly, I felt like there was a couple things. I felt, one, that the weight, the chassis, how it turned and stuff like that was better. The suspension we could have worked on his to get it equal, but you could actually hear it going through the whoops, just freight-training through there, where the other one kind of stayed a little higher and everything. I thought their bike, listening to it, sounded lighter. Either they worked on taking mass out of things to make it lighter to respond or it had a lighter crankshaft in it. There was something different that I liked the way it sounded.
Reed: I rode the bike and immediately felt positives in the bike. I liked it. I want to say it was like 10 pounds lighter than my bike or something like that. I liked the bike, but I couldn't ride it in that form. It needed a little work. So immediately we went to work and we put a new swingarm on it. Then as soon as we put the swingarm on it, the bike immediately was already better than my bike. So I was like, "Shit, I'm happy with this bike. I feel like I can go race it." Now the challenging thing is, I like it—now what do we do? I came off the track, and I just remember Mitch looking at me, and he goes, "You love it, don't you?" I said, "It's good, Mitch." He said to me right then and there, "You have to choose that bike. You have to go with that bike. That's the bike that gives you the best chance of winning…. I can see it. I watch you ride. You look better. You're riding better. Your confidence is higher. You've got to ride that bike."

Payton: I think everybody was surprised that we weren't trying to con him into riding our bike. We were like, "No, you need to do this. I think it's a great idea." I think it was good that Honda did it, because in the beginning, everybody stood back. Flipside is, they needed him, so they did it. It was a genuine thing that American Honda came in and now is going to help this struggling privateer out, now that they look good for doing it. I was pumped that it happened, really.
Buler: I remember one of the first times he rode it, because I went out to the practice track. I was out there with them, and I was doing some filming again. He was riding the bikes back–to–back. The TwoTwo bike was really good. The factory Honda bike, in my opinion, was equally as good, but the one thing that was better, it seemed like it was a little more forgiving. The TwoTwo bike, it was like a scalpel. You had to put it right where you wanted it. The factory bike, you could kind of not be so precise and it could be a little more forgiving, I thought. That was my opinion videoing him right away and kind of at the end of the day. A lot of times I won't voice my opinion unless it's asked for. I remember him, and they were talking about at the end of the day. They were getting that out and I was like, Cool, that's exactly what I saw on the video too.
Reed: So from there, the challenging thing was I didn't live in California—I live in Florida. So then, suddenly your turnkey operation of they have to get me a bike to Florida in two days. So basically, they broke a bike down and put it in boxes so that they could FedEx it. Two days later, I was pounding motos on a factory Honda in Florida. I had about a week riding it before Salt Lake City. The whole time I rode it, not one time did I think about adjusting the clutch, because it had a hydraulic clutch. Not once did I reach for it accidentally or anything like that. Then, the first lap of the first heat race over the finish line, I go to reach for the adjuster like an idiot. I just think to myself, You idiot. It's so funny that you can practice things a million times, and then you put yourself in a race scenario and how different it becomes. But honestly, that was the only hiccup I ever had with that bike.
Lindstrom: I had been at Honda for ten years at that point. I had worked there longer than most of the guys that were on the team. I was just really comfortable with most of the upper management, so I kind of didn't feel any hesitation to go and talk to them about things. Chad kind of knew when he hired me that I would be able to be a good liaison between us, because we kind of needed that. You don't want to hurt anybody's feelings. Instead of saying that this is a piece of shit, I would say "Chad doesn't like this as much."
Osterman: He knew as he got closer to signing on the line for that, a percentage of the freedom he enjoyed to even make that decision was gone. He would go in to Mitch or he would talk to us to get it handled, whether it was engine or suspension, and it would just get done. But the Honda machine, any factory situation is just a slower process to make things happen. But then again, they put a good offer on the table for him as far as the future. Even Mitch was like, "It just sounds too good to pass up." It was good for Mitch's bottom line during those years, but I think Mitch was just down for whatever Chad wanted to do.
Lindstrom: We made a few changes—some changes that they probably didn't agree with at the time. But Chad wanted it, and he really liked the engine. He really liked the mapping and a few other little things.
Reed: That bike was unbelievable. My favorite bike. Actually, one of my all-time favorite bikes still to this day. That [2011] bike had such little testing. The 2012 bike was my favorite bike possibly ever in supercross.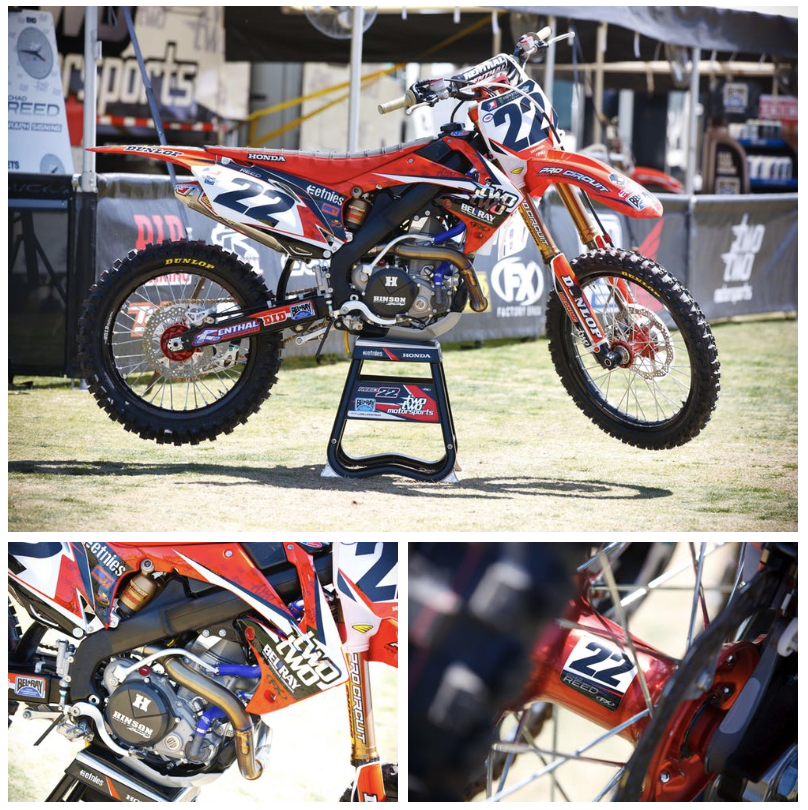 Lindstrom: We raced it at Salt Lake City for the first time. That race decided the championship, because I think we were in third or second in the championship and RV was ahead. Stewart was there too. Stewart did, like, a front–flip in the whoops. If Stewart would have won that race, he would have been leading the championship, I think, but instead he crashed out, or at least was far enough back. RV and Chad had a great battle, and Chad almost got him at the end. If he would have passed him at the end, we could have won the championship. But instead, RV had a five-point lead, and all he had to do was finish third or better if we won Vegas, which is exactly what happened. We only lost the championship by four points.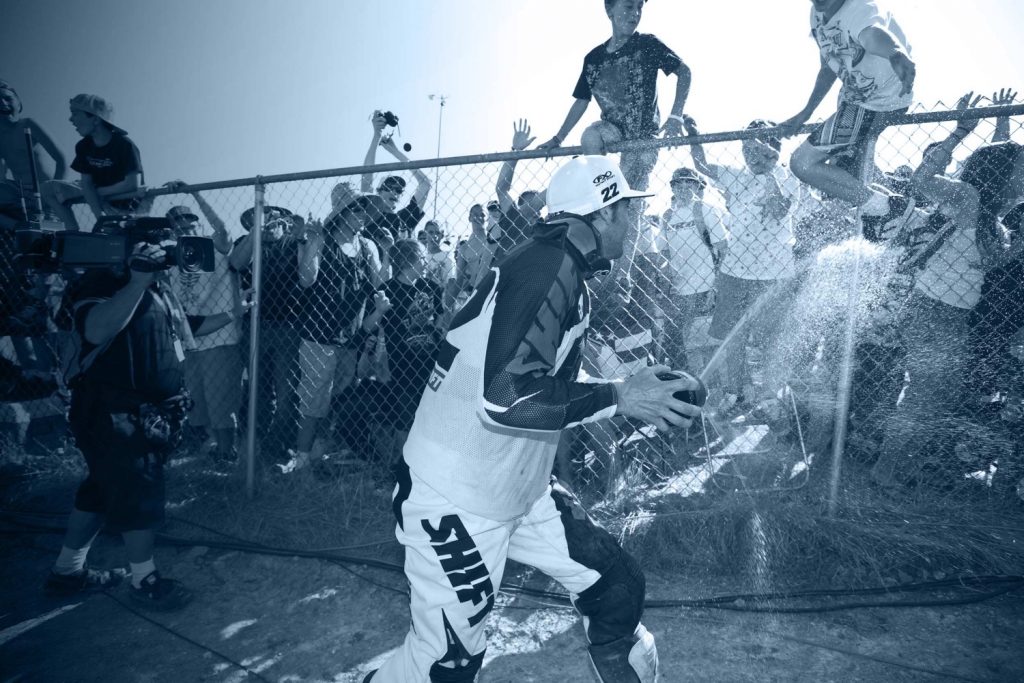 THE GREAT OUTDOORS
Reed's team, now equipped with a factory Honda CRF450R, headed outdoors. First stop: Hangtown. Reed captured the overall there with 2-1 finishes in two great battles with Monster Energy Kawasaki's Ryan Villopoto.
Reed: I think the backside of that Hangtown story is more important in the fact that I can't believe I won the first race. I went 2-1 for the overall. I hadn't done a 30-minute moto prior to that. I wasn't sure I was racing. I was in debate with Honda on going racing on the factory bike. Trey was still out hurt. We were kind of on the fence. I was like, "I feel like I'm doing [Honda] a favor by going and riding your bike outdoors and representing the brand, but what I want in return is, I want you guys to commit to me in 2012. If we're going to do this, let's do it. Let's start building this relationship now during the outdoors and then continue it into 2012." That took a long time. I really didn't think that I was going to make the first race or go race outdoors. The way it all came together is they ended up kind of agreeing to it all.
Lindstrom: We had lost the supercross championship, and as we rode back to the pits in Vegas, he said, "We're going to win outdoors." I was thinking, Okay, sure. He got second in the first moto at Hangtown, but then the second moto, he passed RV and Dungey in one lap. I couldn't believe it. I wrote that on the pit board—you're a bad dude. Dave-O loved it. Then we won four out of the first six Nationals. Things were going great.
Reed's team wasn't a standard first–year squad. Every team member remarks about how well they were treated, how no expense was spared, and how it was as good as any team they had ever been on.
Reed: The one thing that I feel like has negatively been put out there on me over my career is how gnarly I am on teams and how much I demand of them. You can't have that image or that desire and then go run your own team and cut a bunch of corners and don't do it in a way that you feel is right. I've been on two teams that I actually think did it the correct way. All the other teams, they just were willing to cut corners and to do it at the bare minimum. To me, that's not how you do it.
Lindstrom: Luckily, we had Chad's accountant, Katie Smith, and she was a professional CPA. She probably gave us a more thorough contract, or at least just as thorough as the one I had at Honda. We had per diems, same as Honda. Our expenses were paid back. We would just pay for the flights on our own card and whatnot and get reimbursed for that, which I liked because then I got the mileage. We were allowed to fly whatever airline we wanted, which is important to us mechanics that fly every weekend. It was killer. There was nothing that we didn't have. We always got paid on time—never missed a payment. So as far as that goes, it was great.
Smith: I've been working with him for a long time, so it's a tough place to be, I think. It's hard to step in and say don't do it because I'm not seeing it financially. That's the only perspective that I have. So it is a really precarious position to be, because you don't want to be a downer. You don't want to bring him down. He's in the middle of the season. That's not the time to be a Debbie Downer on "I don't know about this, the bills are piling up," that kind of thing. So it's a really tough place, I feel like, for me to be in, because I don't want to be that person.
Reed: The amount of phone calls I would get from Katie and Steve just basically saying "Why is our budget so high?" For instance, Steve was coming off of it thinking that he knew what was going on because he had overseen and played a role in the Hart & Huntington team for so many years. So he has all these numbers in his head of what it's going to take, and I'm quadrupling these numbers. He's just thinking, What is going on here? I'm just like, "We're going to win races, and we're going to compete against the factory, and we're going to do it right. This is a race team. This is not a media outlet." That's no disrespect to Hart and other teams, but that was how I looked at it. Katie is my person. She writes checks directly from my bank account. This wasn't coming from sponsorship or anything like that. This was me going racing at the highest level against what should be the highest level of our industry. I was willing to do that. I wasn't willing to cut any corners. I felt like I paid my team personnel better than anybody else was willing to pay them. I built my bike in a way that I always complained and wished that other teams were willing to build them for me. So that's the true reality of it. People are so brutal to jump to conclusions on how gnarly you are, but I don't understand lazy people and people that are just willing to do it for the fun reason of doing it. If you're going to do it, do it right.
Payton: One example I have—he's looking for more front–end traction, and he immediately goes, "It's the fork lugs." We're like, "What?" He's like, "Yeah, I'm confident it's the lugs." I want to say we built two different sets. Then he immediately said, "The lugs are too narrow; we've got to go wider." So we had to make axle lugs that were wider, because he had tried those at Suzuki, and those worked better. Then he was pretty happy, but I don't think he liked the offset. So now we needed to make wide lugs, different offset. Truthfully, making an axle lug is a sophisticated part. You've got to redraw it, then you've got to reprogram it. It unfortunately isn't one of those parts that you can say, "Hey, tell your machinist I need this next week." It's like a four–, five-week deal. That's at a rush, and a cost to be a rush, a premium. He was swinging for the fences and going for it, and I don't blame him. He gave it his all. I appreciate that.

Reed: I want to say it took, like, nine weeks or something like that. So when we got the lugs, I was already on the factory bike when the parts showed up. Bones had all these parts that he was just like, "Well, what are we going to do with them?" I felt like I was always honest. I knew that I ordered it and things changed and I got an opportunity to go ride a factory bike. I want to say that was, like, a $17,000 project to get those lugs made. It was like, "Here you are, you're writing $17,000 to the budget that didn't even contribute to the performance of the race team." I'm like, "Well, I ordered them, so I paid for them." I still to this day don't even know where they are. Somebody's getting around at Mitch's with some badass fork lugs.
Payton: You've got to realize that when Chad looks at something, it's easy to maybe think of where you're at now. You're making all this money and then you're saying, "This is the way it should be." When I started our program, I didn't have the money. I was just a shop. People don't do that no more. Everything is "cool" or more fancy. Some of the manufacturers are spending a lot of money to make it look all correct and pretty, and then that becomes maybe what is the norm. Now all the other teams have to try to emulate that. I think we spend a lot of money on stupid stuff. But then again, we try to make it better. We're not trying to be like we were in the seventies or the eighties. We've got to make another step [forward and make the sport look good], but it's a double-edged sword. If you have a hospitality truck, and then you have all the flooring and then you've got a driver for that, and you're cooking … you're not charging anybody for any food in hospitality, so you're paying for all that. That comes at a cost. But has that brought anything to the table for any of these teams? So far, it hasn't.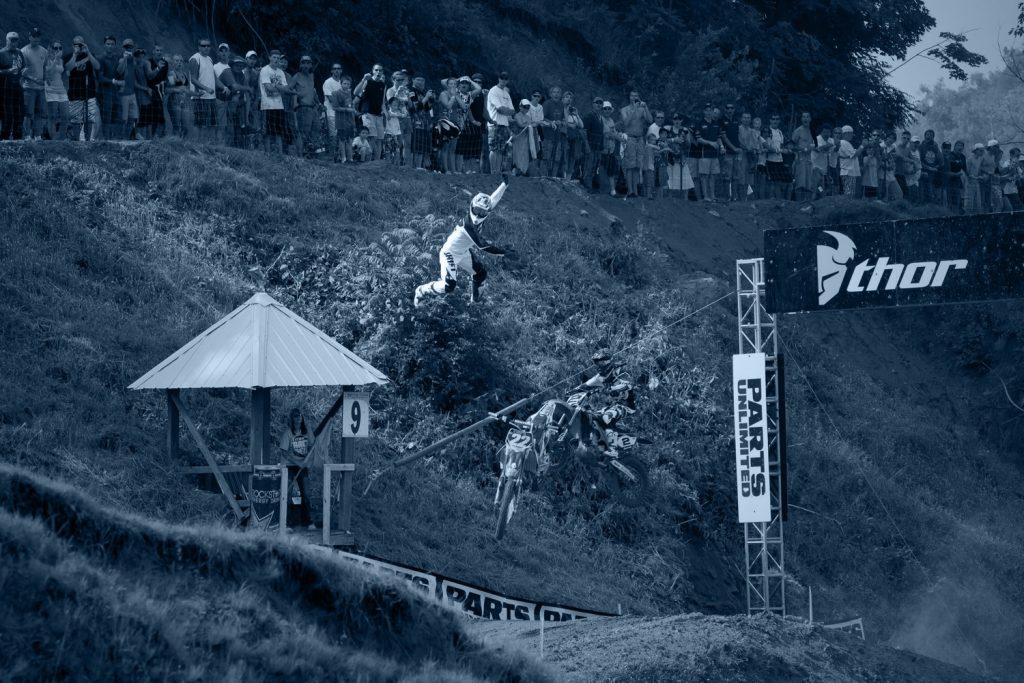 TURNING POINT
After the halfway point of the 2011 Lucas Oil 450 Pro Motocross Championship, and coming off a win at RedBud, Reed had a 16-point lead on Monster Energy Kawasaki's Ryan Villopoto and 22 on Makita Suzuki's Ryan Dungey. At Millville, Minnesota's round seven, Reed dominated moto one and stretched his lead to 21 over Villopoto with just 11 motos left in the season. Then it happened.
Reed: To come that far and to win that many races, we were pretty dominant. I won four out of the first six races. So then going into Millville and winning the first moto pretty easy….
Lindstrom: He passed Villopoto in the sand whoops after he had won the first moto, and I was thinking we were looking great. We had a good lead, and he's passing the best outdoor rider in the world at the time and pulling away. So of course, I thought we were winning too. It was one of those surreal moments that you're not really sure how this is happening. But I just know that he loved his bike and he was in such a good place with his head. He was getting so many fans. We had gotten the factory bike full-time at that point. I think he was making good money because he had good sponsors and not that much overhead.
Reed: I'm leading the moto. I just passed Ryan. I'm feeling pretty good about myself, until I'm going backwards through the air and thinking, What the hell happened? I feel like it was my title to lose. But I learned a lot. I learned a lot about the impact of an injury. I really wasn't hurt. It was more mental.
Lindstrom: Everything was just going perfect, and then after that Chadapult, it really was like somebody punched you in the stomach. It was definitely a huge bummer.
Ellie Reed: I was not in Millville. I saw it later, but all I knew is that he'd gone and he got back up. The funny thing about it is my son Pace, who's three, he watches that Great Outdoors series on the daily. Six-thirty this morning, he was like, "Mom, put my race movie on." So I have to rewatch that year. Chad's like, "After that one, can we just turn it off?" That was rough. He never quite got himself back together after that, for the rest of that year. That hurt for sure.
Reed: The worst thing is, I didn't understand why I crashed. I didn't feel like I got to put my hand up and go, "You know what? I really just fucked that up, and it was my fault." I still even today don't really know what went wrong and how that crash…. I've hit that section for 35 minutes in the first moto the same pretty much the whole moto. That was a real hard thing to come back from. I did tweak my groin, and I was a little beat up, but for the most part, it was just mental.
Osterman: Even when he did that, that was another Chad Reed moment. I don't think anybody else could have pulled that off. That was kind of surreal. I ran up on the hill and was talking to him, or wanted to talk to him. I gotta tell you, it was pretty gnarly. I'm just like, "Are you okay?" Adrenaline and everything. It was surreal. It was almost like the Titanic movie. When he rode off and I was standing up there, the Hill People there [cheering], it was overwhelming. That was just an insane moment.
Ellie Reed: You watch it, and I watch him get back on the motorcycle, and that's who he is. He never walks away. I love watching that part of it, but then obviously [it reminds you] of what could have been, what has somewhat been happening his whole career where we've missed out by just that much or an injury or something. It is just painful. It's a turning point. What could have transpired after that? But you don't get to do that. There's no other word for it. That sucked. It sucks the life out of you, literally, because that's what you want. You want to get back to that stage, and it takes a long time to be able to rebuild yourself to be in a spot to be winning. When people have never gone through that, they don't realize how taxing it is on you, physically, emotionally, mentally. And to work himself back each time, it is hard. It's hard to watch. But the minute he doesn't get back up and want to come back out again, that's when I'm more concerned.
Buler: How can you not remember that? That was scary. My heart stopped and sunk and everything all at once. I was on the very, very far end of the track. They were kind of way on the very, very far back side. I was way out there kind of being a spotter with my headset on and stuff. I actually saw him go up in the air without a bike, and then I heard commotion on the radio, then nothing else. I ran all the way over there. By the time I get over there, he's already gone! And there was so much back–and–forth chatter, everyone stepping on each other on the radio, and then I finally find out he's back out there. I'm like, "How is that possible?" All I saw him was about 20 feet in the air from my position and then come down. When he was coming back down, I couldn't see how he came down, where the bike was, anything. It just kind of went out of my vision. So I was like, "How the hell is he back out there?"
Onstott: I think I was actually still by the start. I just remember out of the corner of my eye seeing him fly through the air. I couldn't believe what was happening. I remember running over there and seeing him get back on his bike. Then I ran over to the mechanics' area and watched him come by every lap. I couldn't believe he was still there racing.
Buler: I was really concerned. I'm pretty protective of Chad. The people that he's put around him, and I've been around him so long he's literally like my little brother. He and Ellie, the people they put around them, they make them their family. So I was very protective of him when he first came off the track because he immediately handed his bike off and then basically sat or collapsed to the ground. I knew he was hurting. I think he was going through a checklist in his mind. My concern is that the shock and the adrenaline, that you're not feeling internal bleeding or damage. I remember Erin Bates trying to get to him right away. I literally kind of separated and got in between them. I was like, "Hang on." I'm like, "If he needs to go to the medical unit, your fucking interview can wait." Finally talked him into getting over to the medical unit. I think he did give just a little short snippet of interview to Erin real quick, and I got him over to the Asterisk Unit to kind of get checked out. I was just really concerned about internal injuries that you just don't know.
Onstott: He's going to win that title if that doesn't happen. He is winning that championship. I remember when he got back to the truck and he was just sitting on the steps inside the semi. He was just like, "This one's going to hurt for a while." He was in so much pain. You were kind of heartbroken for the dude because you know how much he's putting into it. He's funding a lot of that program to be there at the races. You're just like, Man, I can't believe this just happened. For him to get back on his bike and finish the moto…. I remember coming back to work on Monday and talking to everyone. They were like, the legend of Chad Reed just continued to grow, because the dude shoots himself 20-something feet in the air and he gets back on the bike and finishes the moto. It's unreal stuff.
Reed: I didn't really have what it took to be a champ. I didn't deserve to be champ because I didn't ride like a champ after that. I learned a lot from that accident, actually.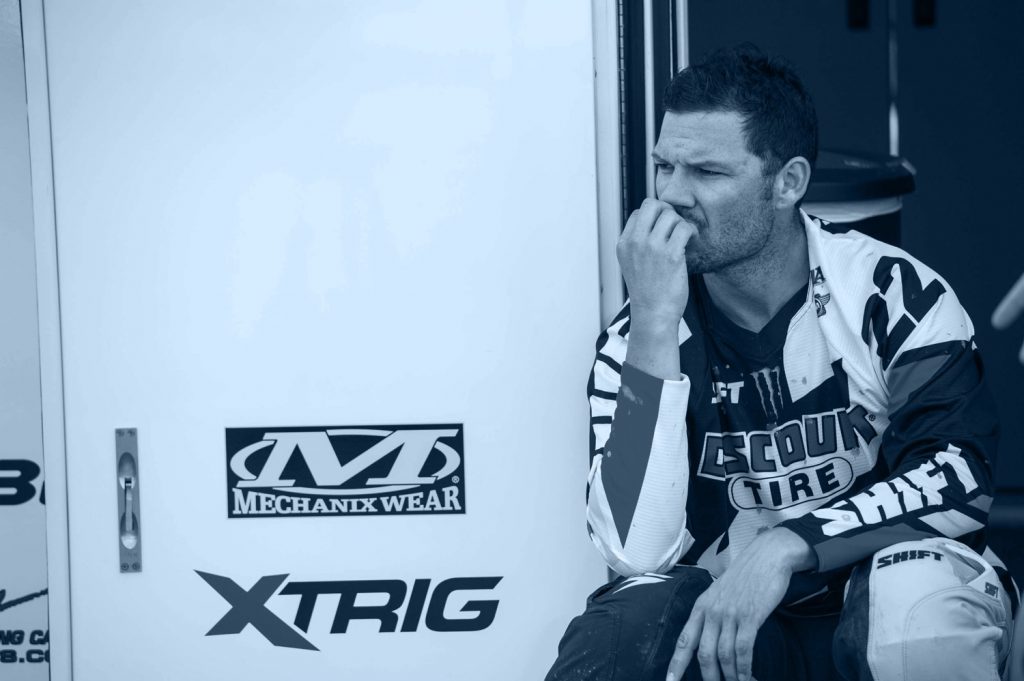 Reed somehow salvaged a 14th in that moto and still had the points lead by six going into Washougal, but the crash sucked all his momentum away. Reed went 4-4 at the next two races, had two DNFs at Southwick, and limped to the finish at the next round, ending the series in third.
The season was not quite over. At the end of 2011, Reed ventured to France to race the Motocross of Nations for Australia. In one last improbable moment in an amazing season, Reed grabbed the first-moto lead early and took off, beating Ken Roczen and the rest of the world's best. While he would fall in his second moto, he still helped Australia to an all-time best result of third overall—the nation's first podium finish at the event.
Reed opened up 2012 with a new sponsor, Discount Tire, and was now on a factory Honda full-time. He scored podiums in five of the first six races, including a win at Dodger Stadium. He appeared to be riding better than ever, but disaster struck at round seven in Arlington when he went over the bars and injured his knee. The ensuing surgery kept him out for the rest of the season.
In the 2013 450SX series, for the first time in his career, he would go winless in a season he completed. He finished fifth in points. Outdoors, he missed some races and struggles when he did race.
Things were changing with Reed once again, and he would end up back on a Kawasaki in 2014.
Reed: The simple reason why I switched to Kawasaki was I didn't see a short-term fix at Honda to help me be competitive. The Honda was new in '13. I just couldn't adapt to it. I couldn't come to grips with it. The hard thing was, it wasn't, like, one thing. It wasn't like we struggled in the turns. I literally sat on it and was like, "I hate this thing." Everything about it, I didn't like. It was just one of those things. I didn't feel that there was enough going on, that at least I had seen, that indicated that I could be back to being competitive the next year. At that point, I did have an offer on the table to stay at Honda.
Payton: I'm not even positive on why he switched. There was a point for a while that I thought he was trying to stay at Honda, and then I think they came out with a new chassis and I don't think he liked it. Maybe he was vocal about that. You gotta find something that you like. There was probably some support there. I think at that point, he was a Monster guy. I don't know. I can't remember why, but to be honest with you, because we ride a Kawi, it was more fun when Chad was on a Honda.
Reed: I had to make a decision on what to do. So basically, I went and I rode all the bikes again. Mitch helped me out with that. He had a KTM. He obviously had a Kawi. I didn't ride a Yamaha at that point. I rode at the Suzuki track with RCH. I liked the bike. I think the bike had a lot of potential, but the way the test went.… When I jumped back on the bike, I had all those same thoughts in my head, like what it could be based on when I rode Suzukis before. I didn't see or feel that that was the same environment that I could be successful in. I didn't feel that the RCH team or the factory Suzuki team at that point were…. I basically just felt like I was going to spend months undoing all the shit that was ruined since I had been there. I felt like all I was going to do is help one individual only, and that was James [Stewart] at that point. So I just kind of felt that that wasn't the best route for me.
Lindstrom: At Honda, we had a killer shop. We had motorcycles taken care of, full factory deals. We had a place to park the truck. We had everything. No overhead. When we did the Kawi thing, we went and got the old L&M shop, which by then we had picked up Oscar [Wirdeman], and he had worked there before. I think he kind of was instrumental in getting that lined up. That was a cool shop, but Chad had to pay for it. So we had that, and we had to settle into there. I live in Thousand Oaks, which is about 140 miles away from the L&M shop. I had to kind of relocate.
Reed: I rode the Kawi, I rode the KTM. I was kind of going back and forth between those two bikes. Then, basically kind of similar to '11, I just felt that I was probably in a better position. Kawasaki was willing to sell me all the works parts that I needed—or should I say lease them. I think at that point we had good sponsorship, and it just made sense to kind of go that route.
Payton: The Kawi is a really good platform for a 450 because it's got that neutral handling characteristic. I call it like the Kawi and the Suzuki are, in my eyes, similar layouts. You find one that kind of turns and handles the way you want, and then the engine, you can sort of make any of them whatever you want.
Reed: If you had that crystal ball, I could probably say that had I gone the KTM route, if you look at it, potentially we could have become the factory Husqvarna team maybe. You say shoulda, woulda, coulda. But at that point, there was no Husky. Who knows? Our results, our riders, our program, maybe we could have been that team. But that wasn't clear at that point. There was a lot of talk about Husky coming back, but the vision wasn't clear. Then KTM had a lot of rules. We couldn't build our engines in-house. So basically at TwoTwo, we were already pregnant with all the staffing. I felt that at that point we were a team that was good enough and very willing enough to be able to build our own engines. Even if it's to their spec, I didn't feel that I was at a point where I wanted to ship and receive engines. So that was kind of really why we ended up at Kawi.

Gilley: Once he moved to Kawasaki in 2015, things started to change. The economy started to change. People were having a little bit harder time, taking second and third mortgages out on their houses to go buy motorcycles and gear. So we were starting to see sort of the beginning of the end right there. Kawasaki, for whatever reason, has won how many championships but never seemed to gain the fan appeal of merchandise sales. To this day, it's probably number three of our world of merchandise we sell. We still do quite well with it, but Honda and Yamaha continue to really hold on to that strength and branding.
Reed: I had the freedom that I'd always wanted. Kawi was willing to give me the parts and access to works ECUs [engine control units]. I know that people laugh about it and it's kind of like a joke that James' dad made a comment one time that James won't race if he can't get works ECUs, but it's so important. The general public just doesn't understand how advanced these bikes are and how much capabilities there [are] with works ECUs. When I was at Kawi, and still to this day, I believe that the best electronic engineer in the pits is Kawasaki's Theo [Lockwood]. I think that he's the smartest guy. He's by far the best guy that I've worked with in the industry. So I think all those things, and then Mitch's help, I just felt that that was our best route. Then, funny enough, we kind of didn't really use a whole lot of Mitch's products that year. Mitch kind of got us started, and he loaned a bike and things like that, but we kind of did a deal direct with Showa. So we were getting works stuff from Showa. All the ECU stuff came directly from KHI [Kawasaki] and out of the USA. Then heads and cams we did separately from Mitch because we kind of had a little bit differing opinions on where we needed to be. So it was interesting.
Lindstrom: We had to develop that bike all on our own, kind of like the first year but maybe even more. We did have help from Kawi, but not a ton. Chad wanted to do it all on our own. So we hired Dean Gibson and Shane Drew from Honda. By that time, we had Goose [Mike Gosselaar], we had Oscar. Really, that was the best crew that I've ever been involved with. We all jelled really, really well and got a lot done at a high quality, but it came at a cost. I know that wasn't cheap. We had lost some sponsors. I know it must have been impossible to keep up with.
Smith: It was expensive to hire the extra guys. I would hear about it later on, like, "Hey, I'm adding so-and-so." He's got the dream. It's hard. You're putting your life—really, truly—and your security and all that kind of stuff in somebody's else's hands. So what do you want? You want the best people out there. So I get that side of it.
Gilley: So the merchandise sales slowed down on graphics when we moved into the Kawasaki world with Chad, but he moved us over into the apparel. So we took over all of his team wear. We had the full range of official TwoTwo Motorsports team wear. That sold way beyond any expectations I could have ever had. Chad continued to be a marquee brand. People wanted to be associated with TwoTwo Motorsports. I think it worked out good for us both.
Reed: Then, as it worked out, my level of competitiveness was right there. I was on the podium at the first race. I won two races. I think I was two points out of the championship and crashed in San Diego. The big picture was to get back to being competitive, because I felt that I could.
Payton: When you look at his career, he's kind of one of those guys that's a gamer. I've heard Ricky [Carmichael] say it. If he's on you and he thinks he can get by, he's a pain in the ass. He'll throw down. I think that's kind of the way he is in a series.
Reed: My results were back on track at the beginning of '14, and then I got hurt. Then it's the typical industry thing. When you're winning, you're there and everybody talks about you. Everybody believes in you. Then when it goes away, it goes away really fast, especially when you're a 33-year-old supercross rider.
Ellie Reed: It was hard for me when we left Honda. I understand the relationship. It would be like somebody who is creative not being able to be creative. There were too many things that weren't able to happen to move forward, or where he felt needed to move forward. There's always two sides to the story. It's very hard to work with brands that have their way and someone else that wants to do something different.
Reed: It kind of sucked, because as a straight-up business decision, leaving Honda was the dumbest thing I ever did. Me being the rider and needing to be competitive was really the sole reason of all the changes and the reasons why we did things, which was all well and good, but unfortunately I got hurt and it was all for nothing.
Ellie Reed: So I hate that we left [Honda], because it did put us on a struggle bus. I wish that we hadn't done it. Yes, I understand the reasons on both sides and all those kinds of things, but that did put us in a hard situation. Let's be honest, bikes and parts are a massive deal. When you have to buy those yourself, it will eat away at everything.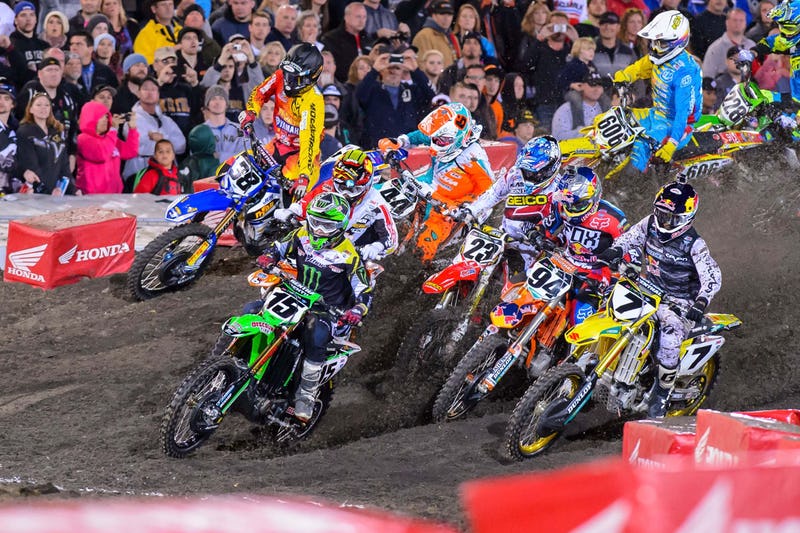 Reed grabbed Monster Energy/Pro Circuit Kawasaki's Dean Wilson to fill in for four races, then came back to the outdoors, where he finished 11th overall in the 450 Class. The next year, he pulled out another win in Atlanta that currently stands as his last.
In the middle of June, 2015, Reed pulled the plug on the whole team.
Reed: In '15, it was just a struggle. I don't know the answer to why it was such a struggle. I think just the signs started showing. I started feeling the pressure of the team. What I mean by that is not the pressure of running it or anything like that. Everyone is like, "I bet you're happy you're not running the team." I miss the team. I would run the team in a heartbeat, but I just want somebody else to pay for it. That's the thing I struggle with. You lay awake at night trying to think. You're not thinking, How can I find 50 grand? You're literally laying there, How can I find a million bucks here? How can I find a million bucks there? They're big, big numbers that you're looking for. So at the end of the day, that was really getting to me, the overhead. The sponsorship had kind of stalled out. Discount was badass, and they weren't wavering at all, but there was no one else coming in. I really needed a solid associate sponsor. When we lost Bel-Ray, it put a lot of pressure on the team, or the budget. So then basically through '15, I really, really struggled through supercross. I won one race, maybe on the podium a couple times. Then motocross, it was really the beginning of the end of motocross for me. I think that I left off supercross already smoked. I really probably should have put somebody on the bike or figured something out. Went to Discount and explained to them what the situation was. But you always have that hope that you can turn it around and make it better, and I couldn't.
Smith: It started getting tougher. Again, if I recall correctly, it just seemed like it was getting harder and harder to get the big sponsors to come in. I don't think it had anything to do with Chad even particularly, just those are tough to come by, I think. Again, I don't sit in Steve's shoes or Chad's shoes, but I think if anybody got injured, then you got a question of, are you going to get paid with each individual contract? Going from the Honda to the Kawasaki, where we had to pay for more parts and even shipping and different things and stuff like that too.
Reed: The team had evolved into a $4.2 million team. Discount covered a majority of that, but obviously, times were tough too. So I think that just things were changing. My Monster deal had dropped a little bit. My Fox deal had dropped a little bit. So things that I was relying on, basically the overall payment coming in, was just getting less. And yet our team was evolving, our team was growing. That was just what you needed to do.
Buler: I wish that I had done more. Every single one of us on the team really wanted to see that succeed. We wanted to see it be successful, I think, probably more for Chad than we even did for ourselves.
Reed: So basically, the inevitable was just coming. It was High Point weekend, and I was having a miserable time. Everything just felt wrong. Honestly, nothing was wrong other than the rider. Mentally, I was smoked. I felt like I had burnt the candle at both ends and just didn't have anything to give. The bike felt wrong. The track felt wrong. I just wasn't there. I wasn't able to find any comfort. I think it was just a mental thing. At High Point, I had full realization that it wasn't fun for me. I wasn't enjoying it. I didn't want my last years to be like that. Right then and there I made the decision on my own, at that point. I don't even know that I raced. I think I pulled out of the first moto, and I came off the track and I said to the guys, "I'm done. This is it." They were like, "What do you mean?" I said, "I'm done. I don't know if that's my last race, but I'm done with the team. I'm done racing motocross. I'm done for the year." I told them that they needed to pack up. They needed to put everything on the truck, and then the truck needs to head back to California. I'll get in touch with them ASAP.
Lindstrom: That was a bummer. I'm sure it's like that for a lot of people. You don't really know if it's coming or not. You hear rumors and you suspect it, but when they finally say "pull the plug" or whatever, it was a bummer. The immediate thing that you kind of get is, "What am I going to do?" I've got a family. You've got to look out for yourself on that one. Some people right away got let go that maybe were a little bit better taken care of for themselves.
Reed: On Monday morning, I jumped on a plane. I flew to Phoenix, sat in front of the Discount Tire guys, and told them my situation and where I was at. That was one of the hardest conversations I've ever had, for a company that had my back and a company that was so awesome and I loved working with. You had to go in there and make the tough call. So that was difficult. Then, obviously, the most difficult of all was then flying to California and sitting in front of those guys. Not much of a crier, but definitely shed some tears while explaining to those guys my situation.
Lindstrom: The last year, you could tell it had definitely worn on him as far as trying to find sponsors and the frustration of not having that. You could tell it was hard. They changed up a few things. We probably spent some money on things that most of us didn't think we needed to spend it on, like secretaries and extra guys and things like that, but that was their deal. They had two more kids while we had the team going, so they had a lot going on.
Ellie Reed: It was a heartbreak to close up the team. The thing that was hardest is sitting there on the couch having these horrible conversations. He was sad to let the team go. He was sad to have to call each person individually and say, "Hey, this is what's happening, and I'm sorry, and I want to give you time for you and your family to be able to figure out what your next step is." They were the highest priorities, because as a father and a provider for our family, and being in a financial situation, he didn't want that for anybody else. So foremost you're going through your own thing because he's like, "I'm sending myself bankrupt, and I'm also possibly going to have to retire. So here's a double–whammy of shit that I've got to face. Yet I don't want to put all these other people in a situation for their own families." So it was horrible, which is why we paid everybody and we let people know. Anything he could have done with all the team guys, he did, as a reference or something.
Lindstrom: We made Chad back some money that he had spent on the whole deal. We built bikes and sold bikes. The whole thing was a trip. We dismantled that whole place and got rid of everything. Then we all went one by one, trying to go different directions. It was kind of cool because—save for Dave-O, which sucks—but every one of us landed a factory job, which was pretty cool.
Ellie Reed: I don't want it to seem sad. There was a lot of shitty things that happened, but it was really good.
And with that, possibly the most successful rider-owned team in the sport's history was done. The story of Team TwoTwo is written, but Reed himself keeps on going.
Payton: At the moment where we're at, even right now, Chad's one of the biggest drawing cards supercross or outdoors has. If he decides to ride outdoors, he still has one of the largest calling cards. We need some heroes out here, and he's one of them.
Smith: I'm amazed at the team. It almost gave me anxiety looking at that email when he was starting the team and I was like, "How did we do that? How did that all come together?" It was such a short time period. It really was truly amazing how that came together. At the time when you're going through it, it was probably a lot of stress. All those guys are awesome. My family enjoyed it. My husband and I go to a lot of the races. It was just fun. It was so much more of a family and so much different than how it is now. The teams like Yamaha and everybody, they've always been very nice to us, but this was different. I get to go in the truck and I get to be part of it. My husband's out there helping out and setting things up and stuff like that, and I knew all the guys. We still go around when we go to races and make our pit stops to every different [person] wherever they are and say hi. It was a great family.
Osterman: He would be very hard on himself in the meetings after the race day if it didn't go well, maybe in the same light that I think of a Ricky Carmichael. I've seen guys bummed, but not like him. There were times you'd take a bullet for the guy because he made you feel that way. When he got hurt, he always took care of all of us. Everything still kept rolling.
Lindstrom: A giant learning experience for me. A lot of growing up, to be honest. I kind of feel like I was a kid and became somewhat of an adult during this whole time. Lots of work, but lots of rewards. We almost won that championship the first year. I won a bunch of supercross races with Chad, a bunch of outdoor races with Chad that I would have never had before. Some people never win any races. It was a lot of work. That was the most work that I've had to do. It was no weekends off. It was just a lot of stress. We didn't have a race shop. It was all of these things at once coming together and trying to get ready. That was the hardest and the worst part. At the same time, I say the worst part, it was probably the part that made it the most rewarding at the end of the year was how much we had put into that.
Kehoe: I think people almost perceived him as kind of back as an underdog again, and they seem to like that. Let's face it—Chad's got a lot of energy and a lot of passion. People like that, too. I think he's always been really vocal, and they like to hear the real story of what's going on. He's always delivered that.
Onstott: Sitting here talking to you right now and thinking about that time of TwoTwo Motorsports and what a special team that was and the group of guys that he had put together and the things they accomplished as a private team … I know they didn't win a championship, but they were super successful. In my mind, they did it the right way. They looked great. They enjoyed it. They had fun doing it. For me personally, I had a really good time working with him and his team.
Fox: I was surprised at how much I got to be his friend and respect and understand him and appreciate him. I'm really thankful for that, because if I hadn't, I would have missed out on that. So I was definitely surprised that I became such a big fan of his, as a person and as a racer. At the end of that season, he gave me one of his race bikes. I was stoked on it. I've still got it. It's one of my favorite keepsakes. It's at Fox on display. It's such a cool bike.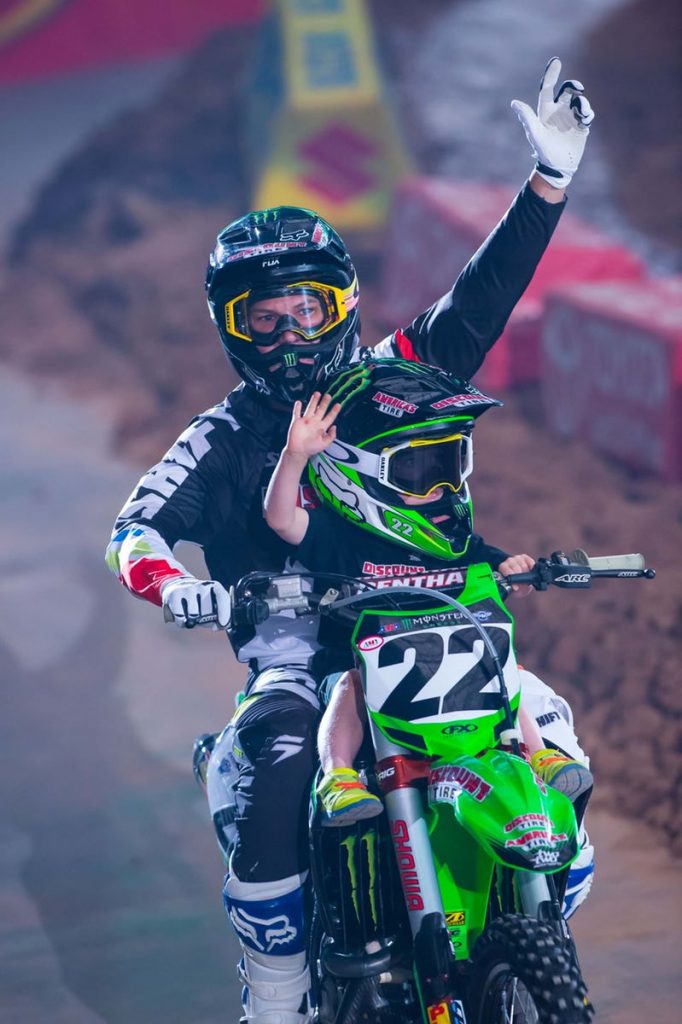 Ellie Reed: The hardest thing about opening yourself is you open yourself for everything. We're both pretty guarded in that regard because it's hard to let people into your lives. He doesn't proof all his stuff, and he probably should. He's not a politician. He's honest and he's raw and he just loves what he does, and he just wants to go do it. I think that people like being able to see him in a different light as a family man. I think more than anything, it's like when you have a kid, you have to become a man. You don't get to be the kid anymore. There's like a changing and an evolution of him actually going from being a kid to a man, and then [people actually] being able to see that. It is hard in a fishbowl to find out who you are. I did like the fact that we were able to share our family. I do actually miss that. I think it was a really special time. I wish that we were able in another opportunity to do it again and have learned what we've learned and be able to just be a better version of that.
Reed: Everybody on the team was getting paychecks every month and everybody was having fun. At the end of the day, I wasn't getting paychecks and I wasn't having fun. I never wanted to do it anything less than how I did it. I feel like I was all in, until I was out. So I had to make the toughest call in my life, for sure.