Photos by Rich Sheppard
Glen Helen is usually always good for a rough and hot race, but this year we saw mild temperatures and some light rain on the menu. The Glen Helen circuit wasn't smooth by any means, but it wasn't as nearly as gnarly as in year's past. The two huge jumps that were pointed into the REM side of the track were tamed down during the week and I feel like that was a smart move. I tweeted out earlier in the week that I thought having those huge jumps were dangerous to the riders. The finish line jump was pretty big, but looked fairly easy to hit when coming off of the little wall jump before it. I am not looking forward to testing at the Helen this week, especially because they WILL NOT prep it for this test. Ehhhhhhhh boy….I didn't make it down to the GH because I had a test scheduled for Saturday morning, but here are some things I witnessed while watching on my NBC Sports Gold App.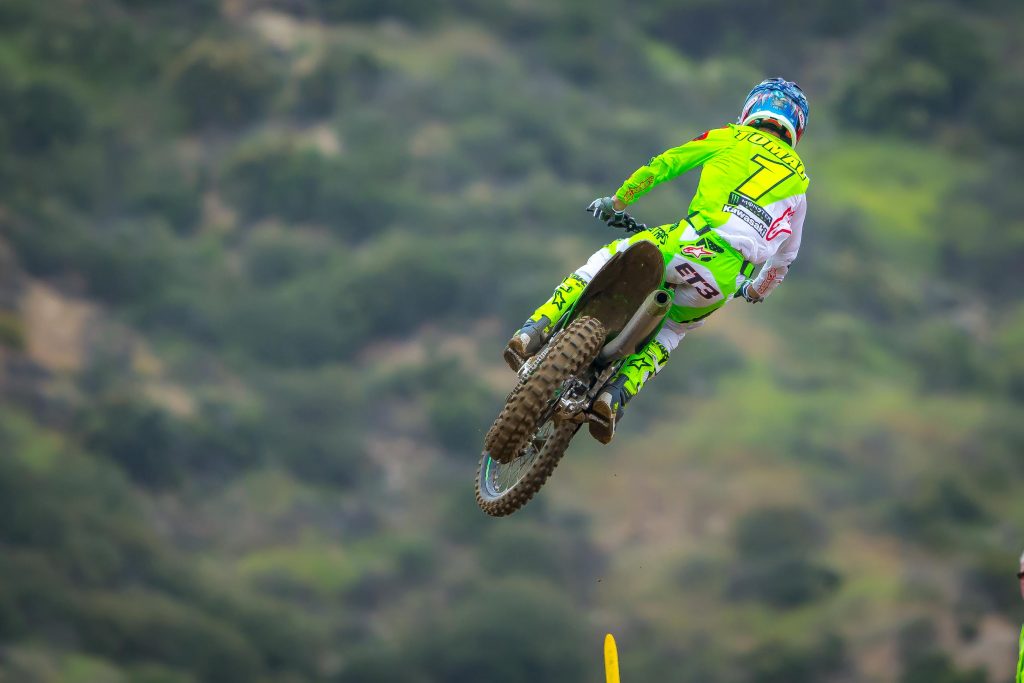 Eli Tomac: Did anyone else notice how much Eli's feet are always off the footpegs when he went balls out in the second moto to catch Anderson? It's like he scrubs, sits and takes his inside foot off for leverage. I am hell bent to find out what he is doing and am going to get to the bottom of this. It's kind of hard sometimes because when I ask rider these technique questions sometimes, they often answer by saying "I don't really know what I do, I just do it". Eli charged his ass off the second moto and forced Anderson into some mistakes, which ultimately lead to Tomac's 1-1 moto scores. Tomac isn't the flashiest rider on the circuit, but it sure is fun to watch him rip corners. His corner speed is ridiculous outdoors and he is not scared to come into corners way hotter than his competition. 24-0? Chill down DV! it will NOT happen.
Marvin Musquin: MM25 is his smooth normal self, but needed to hang it out a little more on these west coast tracks to run with Tomac. Musquin is really good at the beginning of the motos, but loses his luster around 25 minutes in. Look for Marv to get better on east coast dirt that is more technical and rutty where being precise really matters. West coast tracks usually cater to the "hang it out" kind of rider. Musquin isn't one of those riders.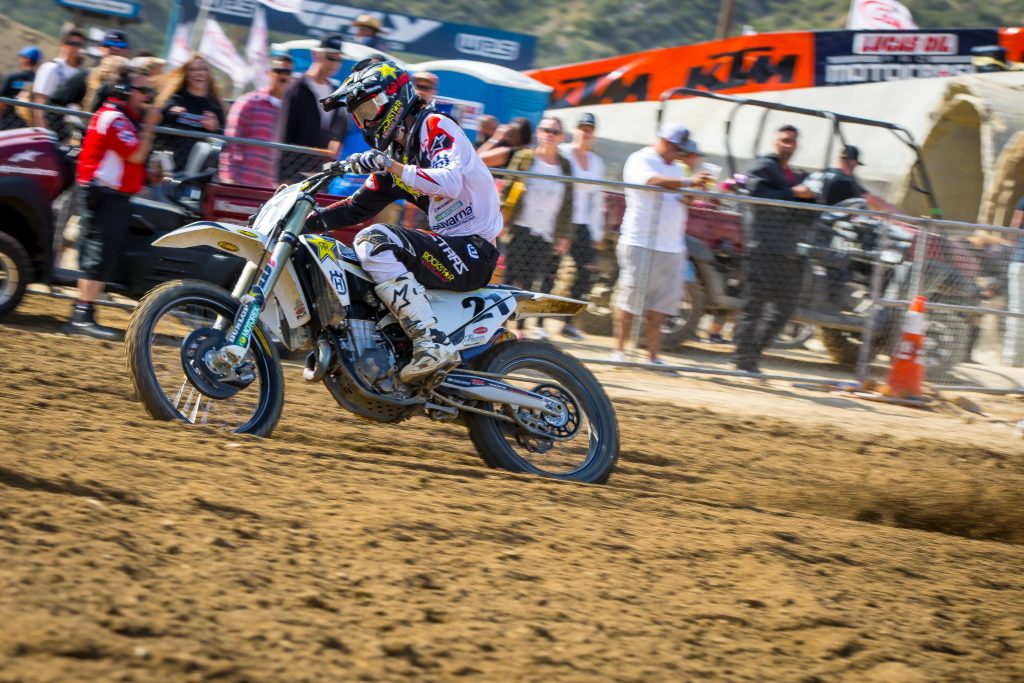 Jason Anderson: Anderson is coming around and looking like his spring speed is pretty damn good. I still he has to work on his fitness for the last ten minutes of the moto, but we can't fault the guy after a long, stressful season of supercross. I have been riding a Husqvarna Rockstar Edition a lot lately and can tell you the new chassis is much better for outdoors and I feel you will see Anderson get more comfortable on it and start to string some wins together very soon. Maybe after Colorado though.
Ken Roczen: I could watch Ken ride all day! Wow, his first moto looked like he was barely riding because he was so damn smooth! The way Roczen is light on the bike, hops over square edge and rolls his corners is down right impressive! He held off Tomac for over 20 minutes and then it looked like he tuckered out a little, which is understandable. Kenny is building and the building process is getting better with each passing race. His Honda CRF450R is fast as well! Watch any factory Honda on the starts at GH and they are all near the front of the pack. Honda has their engine package dialed in, so don't count out Roczen for a moto win this year!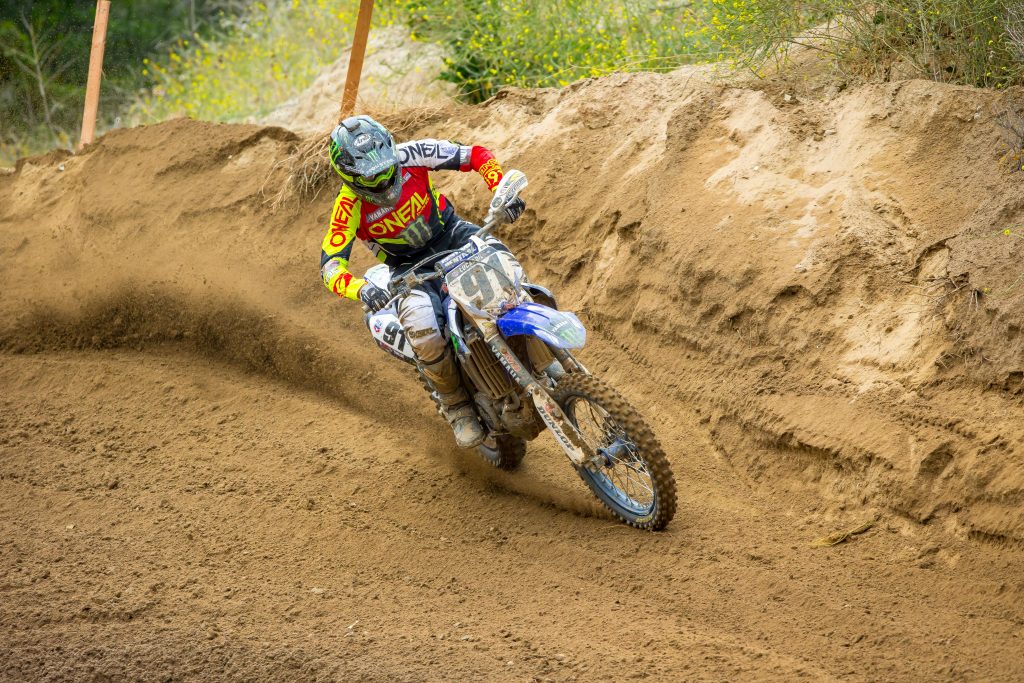 Alex Ray: Pretty cool to see Alex get a full factory ride for a few races this year. I know first hand how hard he has been working off the bike to get himself into shape. A-Ray almost bought the farm a few times at Glen Helen, in fact he had a huge get off in the sand that I thought was really going to hurt his confidence for the motos. I feel like Alex just needs to calm down a bit and maybe not try so hard while he's racing. Maybe he can smooth out just a little bit and that would actually help him during the course of the 30 plus 2's. A-Ray if you're reading this, please use third gear more because it is your friend! Second gear is begging you to give him a couple days off from work. He needs a vacation.
Dylan Merriam: Dylan is ripping and showing what he can do on a 450. I have raced against Dylan at some local races and can attest he is more of a big bike rider than a 250 guy. He is built like a shit brick house and fits the 450 better. He unlike A-Ray is more of a smoother, controlled rider that uses third gear more around the track. A little birdie told me that he might be getting a fill in ride for a team this summer maybe after Colorado. Stay tuned!
Aaron Plessinger: Aaron was just plain un-stoppable at GH. Plessinger uses his legs so much around the track that it almost looks like he's riding a bicycle. He soaks up more bumps with his legs than anyone else in the 250 class. GH had these mud rolling sweepers that Plessinger would just jump through gracefully. There is something to be said about taller riders that look good on a bike. Usually taller riders aren't that great looking while riding, but AP's technique is a thing of beauty. Plessinger worked his way through some fast dudes in the second moto and pulled a gap! That should send some fear to other 39 riders on the gate, especially on the east coast.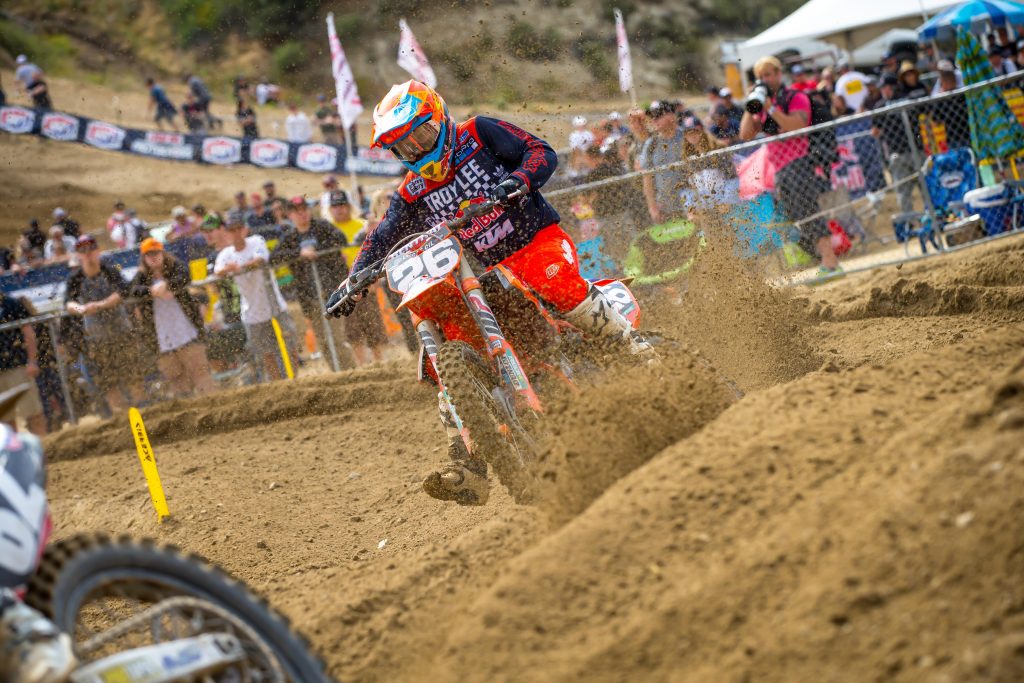 Alex Martin: Alex was my pick to win GH and damn near did it. The Red Bull KTM's are fast machines and they almost always get every holeshot on the long start straight of "The Helen". The older Martin is one of those riders that quietly goes to work and chips away at the track. He rode excellent that second moto and for how small of a rider "Troll" is he is a tough SOB on the track. He is difficult to get around and was a thorn in his younger brother's side for most of that second moto. If I had to choose to on which Martin I would rather watch ride it would be Alex because he is more of a finesse rider than J-Mart.
Jeremy Martin: J-Mart's first moto score really screwed him over in the overall. His Honda set up looked off on the GH square edge to me. It looked as if the rear of the Honda CRF250R was a little stiff and the fork looked low on de-cel. You could especially see this coming down the steep hills like Mt. Saint Helens. Look for J-mart to really let loose at Thunder Valley since this is his "home" away from home race.
Ryan Surratt: This kid is riding a 2016 KTM 250SX-F and is a rookie in the series. Ryan is the son of Wild Willie Surratt and can ride a dirt bike amazing well. I get to practice a lot with Surratt and I admire his "I don't care how roached out my bike is" attitude. Ryan doesn't look at how bald his tires are, he just wants to go race and do well for himself. Ryan might be switching it up to the 450 for the east coast to see how he can do in the big boy class and I think he will be even better than his 20-20 moto scores that he showed at GH.