Photos by Rich Sheppard
High Point Fantasy Wrap – The Chalk Delivers
Last week in this column, we talked about basic game theory, chalk, contrarian plays, and how lineup construction drives decisions made regarding the projected outcome. Should we pick chalk with everyone else? Or should we go against the grain, avoid the popular picks and hope they don't deliver? Going into this weekend at High Point we certainly had some glaringly obvious chalk options. Justin Hill, who had just moved up to the 450 class and Brandon Hartranft who has been running strong on the opening three rounds, and promised to show even more speed as the series finally landed on the east coast.
Unfortunately for me, they both paid off big time. This takes us to this week's fantasy game theory lesson.
Don't get fancy.
I tend to be more of a contrarian player. Knowing that I can take huge leaps up the leaderboard if one of these chalky players fails is just too tempting for me, and this week it bit me in the ass, hard. We'll get more into that in a second, first let's take a look at the trends coming out of High Point.
Most picked with good scores AKA "the chalk".
Aaron Plessinger (3) 58% picked, 50 points. (All Star)
Brandon Hartranft (10) 37% picked, 100 points.
Justin Hill (3) 52% picked, 90 points.
We already discussed Plessinger and Hill had mega ownership, as expected and delivered. Brandon Hartranft at 37% was also very chalky, and with good reason, he paid off huge with 100 points.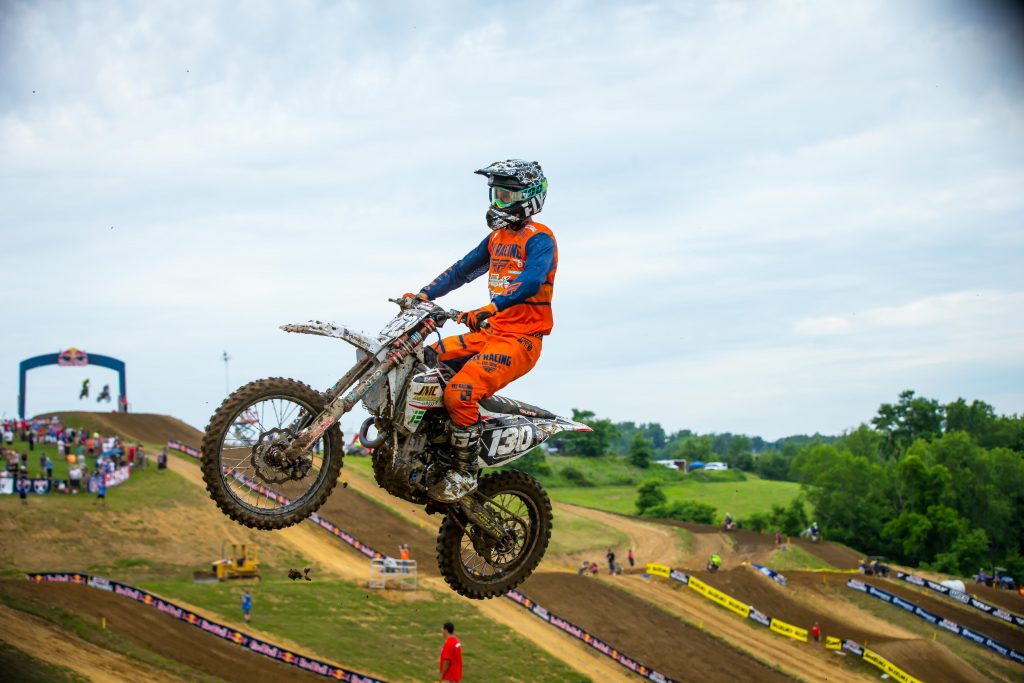 Low owned players who delivered – AKA great contrarian plays.
Kevin Moranz (18) 0% owned (yes, zero), 72 points.
Vann Martin (18) 2% owned, 80 points.
Ramyller Alves (15) 5% owned, 86 points.
Austin Root (16) 13% owned, 94 points.
Dare Demartile (15) 1% ownerd, 90 points.
I am surprised at how low owned Austin Root was, especially with Steve having talked him up on the High Point fantasy podcast. If you read last week's column you might recognize Ramyller Alves, as he appeared in this very same section having scored 90 points at only 2% ownership. Dare Demartile also delivered a great score for those lucky few that picked him with a near perfect 90. Great job if you picked more than two of these guys!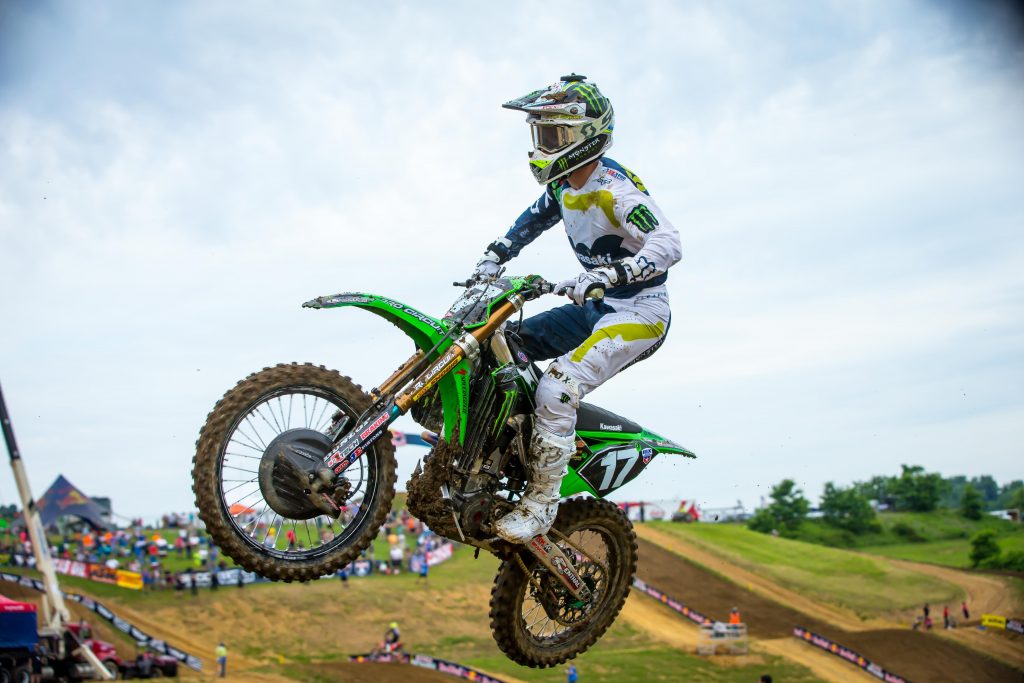 The "fantasy duds"
Garrett Marchbanks (1) 20% owned, 0 points.
Enzo Lopes (6) 25% owned, 7 points.
Joey Savatgy (-2) 29% owned, 26 points.
Jeremy Smith (18) 21% owned, 30 points.
Lorenzo Locurcio (7) 25% owned, 36 points.
Joey, Joey, Joey…. Two weeks in a row on the fantasy wrecker squad. In last week's column I warned everyone to wait for him to shake the run of bad luck he's had and it looks like not enough of you did. As a non-All Star he was very juicy, even at a -2 handicap, so I can see why people chose to hope the unlucky run was over, regardless, almost 30% of you took a hit. Marchbanks has been very steady all season, crashed in the first moto, reportedly hurting his knee and scored a zero, as he did not return after the late moto one crash. Enzo Lopes had a bad day all around. I'm surprised his ownership was 25% as I thought his handicap had lost its juice dropping down to a 6. Same deal with Lorenzo who dropped to a 7. Finally it looks like the practice times (Q14 OA) and 18 handicap were hard to stay away from for people who picked Jeremy Smith. His 37-25 for 33rd OA was nowhere near what his owners were hoping for.
Scoring. Last week we saw the majority of high scores in the 450 class. This week things were more even as each class had eight non-all star riders scoring 60 or more points. It should be noted however that the 250 class had four riders over 80 points, while the 450 class had only two. The 250 class also had three All-Stars with a perfect score (Plessinger, Forkner, Cooper), while the 450 class only had two (Barcia, Musquin)
Finally, my team, as I said earlier, I tend to pick the contrarian plays, and basically outsmarted myself this week. In the 250 class I had Jeremy Martin, Marchbanks, Austin Root, and RJ Hampshire. I got unlucky with Jeremy having a bike related DNF, Marchbanks crashing out, and RJ just couldn't get it going, (some of you may remember that I warned everyone last week about RJ having bad results at High Point). I should have listened to myself. Luckily Root had a great day, scoring 94 points, somewhat saving me.
In the 450 class I had Bloss, Barcia, Cody Williams and Heath Harrison. This is where I made the biggest mistakes. Williams and Harrison only scored 36 and 24 points respectively. They were low owned for a reason. I got fancy, I knew who the good plays were, and went the other way, it bit me big time. Live and learn, come back stronger next week.
The next round is the Muddy Creek National in Blountville TN.
Last year the 450 podium was Tomac, Anderson, Baggett. Musquin had an uncharacteristic bad day with 7-34 moto scores. Also of note, six of last year's top ten will not line up next week.
The 250 podium was Plessinger, Osborne, Forkner. It should be noted that Adam Cianciarulo who placed 4th, and Colt Nichols who placed 6th will be out, as will Osborne, giving everyone a bump up.
Muddy Creek predictions.
Early tip, watch for Gustavo Souza, he was just out of the top 20 in both motos last year and could be a strong pick if he comes in at an 18 handicap. Justin Hill will be available to 48% of the field and I expect him to be owned by a large percentage of that 48%. ARay has continued to hover around the top ten mark and will be heading to his home race next week. We are also expecting Cooper Webb to return, so keep an eye on his handicap, as he could be very similar to Justin Hill this past week.
Once again we will enter next week pondering Savatgy. He's still not an All Star and still very capable of a top three finish in each moto. Over the last three seasons he has gone 11, 7, 1, 7, 4, 11 at Muddy Creek, not great. I would need him to be at least a +4 to consider him, and that would be with one eye open, cringing.
As to the rest, keep an eye out for handicaps this week; Enzo Lopes (if he races- he crashed out in the second moto) could see his go back up, as should Lorenzo Locurcio. If Marchbanks is able to practice this week and qualifies well, he should be a good pick. Finally another long shot, keep an eye on Heath Harrison, he has had good finishes at Muddy Creek over the last three years, going 17, 17, 12, 15 over the last two years.
That's it for this week, good luck next week everyone, don't get fancy, and we'll see you on the leaderboard!