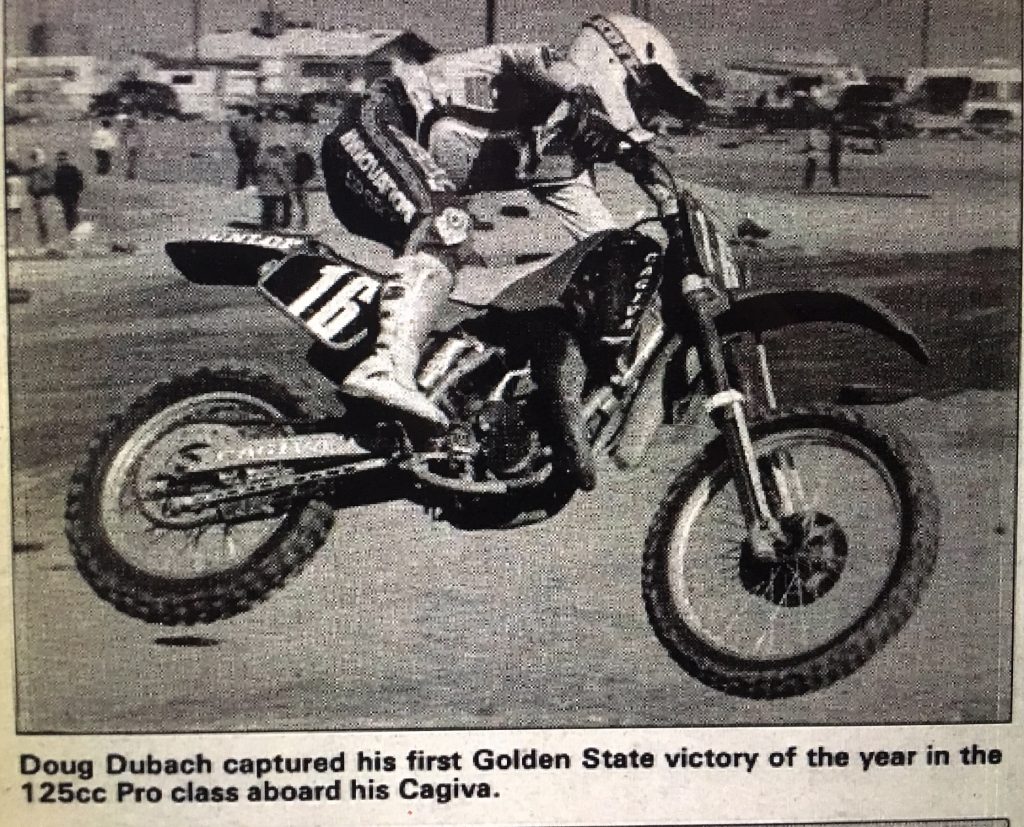 My whole life I thought Doug Dubach rode Suzuki's for a couple of years and then switched to Yamaha's which he proceeded to ride for the next thirty years or so. Dubach, Yamaha's and O'Neal gear- just like the sun coming up. Well I was perusing some Cycle News from 1987 and saw this photo that shocked me. Doug Dubach on Cagiva's?????? What in the hell? So I had to call him up and get the story…
Doug Dubach- "I rode the old Suzukis in '82, '83 I rode both of those years on the same bike. It was a used bike that I bought from Anaheim Suzuki for $550. Still to this day, that single bike put more money in my pocket than anything else racing three or four local pro classes each week. You can rack a few bucks up in Southern California back then. So '84 I got an old magazine bike but it was still in good shape. So that's what I raced all of '84 when I was battling with Guy Cooper for the Rookie of the Year thing. Had a couple DNF's. Millville in third place with two laps to go and cooked myself. That's a whole funny story. Guy Cooper saw it. Just rolled under a shade tree and laid my bike down and sat on the ground next to it. I don't remember any of that. A couple little things like that took me out, but I still ended up tenth. I think he got seventh.
In '85 I thought there would be some opportunity but there really wasn't. So I went to Gainesville on just a borrowed dirt bike, somebody's Suzuki. Did Hangtown on that. Then Jim Castillo gave me some Kawi's. It was another three-month stint because Flyin Mike Brown, he was fully supporting him but things were falling apart. So he said, "Here." He had bought one of Kawi's old box vans, so I looked well-supported even though it was just all out of Jim's pocket. But then Yamaha's Mike Guerra came to me at one of the races. So I ended up right towards the end of that '85 year on Yamaha's.
My time at Cagiva…it was a short stint, but it was a stint nonetheless. It all kind of unfolded – and I don't remember a lot of details of how I actually landed there, but I was effectively approached to do the 1987 Golden State series with some promise to make a salary and have a full ride for all the nationals. At Yamaha I was a B-level guy. It kind of runs a little deeper with the whole 125 points system and all this kind of hogwash. I pointed out of 125's by getting one 17th place at the Rose Bowl on the 125. I pointed out because I was too good for the class (laughs)! So just the way it all kind of unfolded, I'm going, "Wow, these people are willing to pay me a salary and supply me with oodles of bikes and parts and things. This could turn into something where I'm going to get paid and not have to struggle to get to the races, and so on." I said okay, and off we went.
One thing led to another. It was AJ Whiting, Mike Healey and myself with the promise that whoever did the best of the three of us would get the full factory ride. There was some room for a second guy with just some expenses or whatever. So, I won Golden State. I think AJ was third or fourth and Healey was fifth I believe. So they fired AJ and I and hired Mike Healey. I was like, "Oh, okay. That's interesting." I didn't play by the rules, because we had some challenges with the bike and I was very tight with Paul Thede at Race Tech who could reinvent the wheel. So we started kind of doing a lot of it ourselves. The bikes were just not as dependable as one would hope. So Paul got involved. We didn't do anything unethical. It's not like we put blatant Japanese parts on it that people could see. But we did kind of put some Japanese parts in there. Brake pads, clutches. I think he even got maybe a Honda piston or something to work. So my bike was great. I never DNF'd a moto. I won several motos. We did what we were asked to do, but I think we didn't fit in with the direction, is why we kind of let go. The whole thing lasted three months. I made a nice pocket full of money for that three months, but in the end I went crawling back on my hands and knees and begged Mike Guerra for some bikes. He was very helpful and nice to let me back in.
Calling Yamaha back for bikes and parts was fine because in my defense, the original conversation was not that lofty. I didn't have a whole lot of confidence that I was going to be, me and whoever their next world champ was were going to be buddies on display in the Cagiva factory in Italy. I kind of left with that, "Hey, I might be calling you." So it wasn't quite so hard as it could have been."