For this installment of our Moto Gear History series, Matthes and I are going to look back at AXO Sport in the decade of the nineties. If you missed part VII, where we chronicled AXO Sport in the 1980s, you can read it HERE. If you like this sort of thing and want to read more, make sure you check out Moto Gear History parts I-VI, where we examined the origins of JT, Fox and Answer Racing.
As we have done in the other installments, this one will consist of a look back at the brand through the ads and products they produced. While we have strived to be comprehensive with our selections, we are not going to cover every product produced during the decade. Instead, Matthes and I are going to stick with the ones we felt were the most significant in making AXO Sport the icon of 90s moto that it became.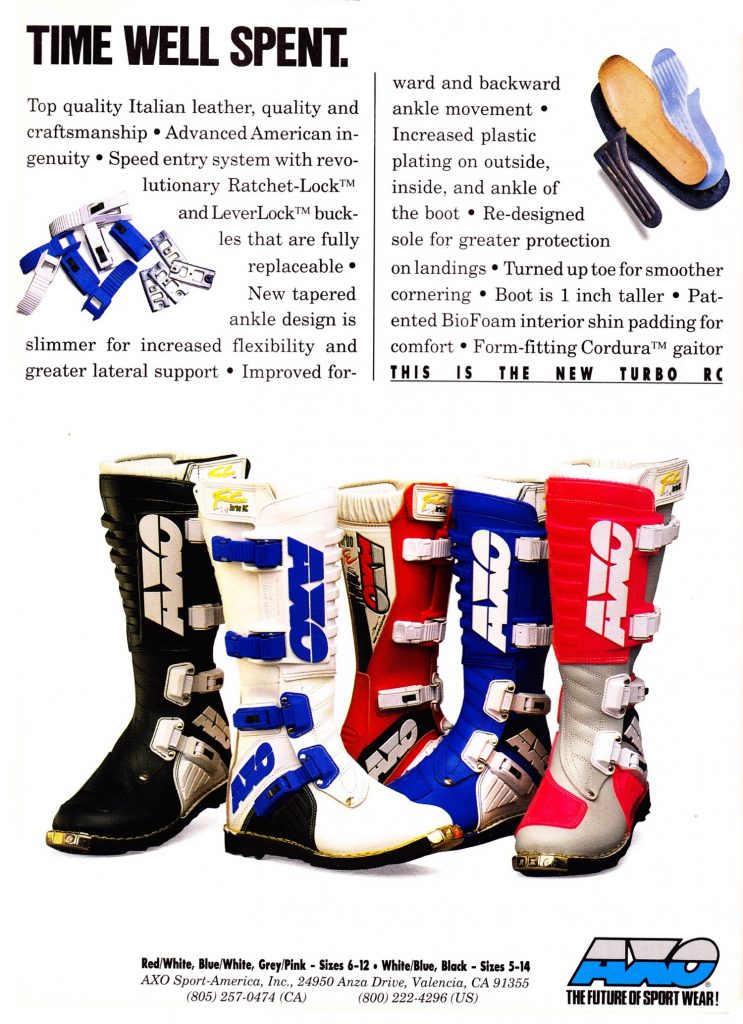 Blaze: Long before they became known for their pants and jerseys, AXO was a boot company. Boots were the core of their identity and the cornerstone of their business. In 1990, AXO introduced the replacement for the wildly successful Turbo Plus to much fanfare. The all-new Turbo RC offered top-quality Italian construction (top-grain leather), better protection (improved ankle support and a 1-inch taller profile) and cleaned-up looks (so good).
Matthes: I had the white ones and loved these. I think I went and bought another pair when the first ones wore out. They looked good, they were cool with the plastic buckles as well. Yeah, they got a bit floppish after a while (not nearly as bad as my Sidi's with the little round plastic dots on them) but man they were sweet. I was a JT guy for a couple of years, Sinisalo/AXO after that. Great boots!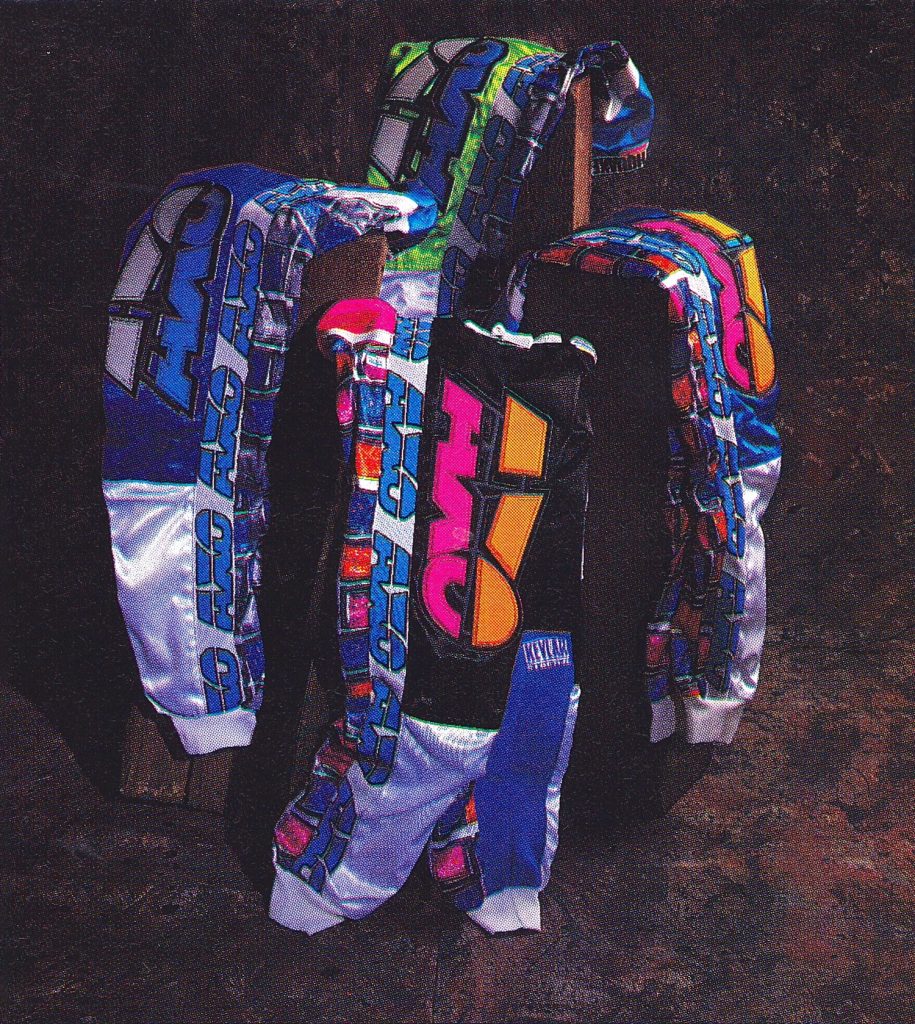 Blaze: In 1990, AXO's biggest name rider was Honda privateer Erik "Earthquake" Kehoe. In honor of Kehoe (who happens to be the current Factory Honda motocross team manager), AXO offered a limited run of Earthquake-themed jerseys and pants with the logo "shook" loose, as if by a quake. Personally, I never liked this gear very much and I never saw anyone besides Kehoe actually wearing it.
Matthes: I thought these were cool and it was always funny how AXO had its "guys" like Kehoe or Button and they stood by them. Like O'Neal did with Holley or, well, Kehoe for those years. Pretty bold for AXO to change the AXO logo for these also as I think it was the only time they did that.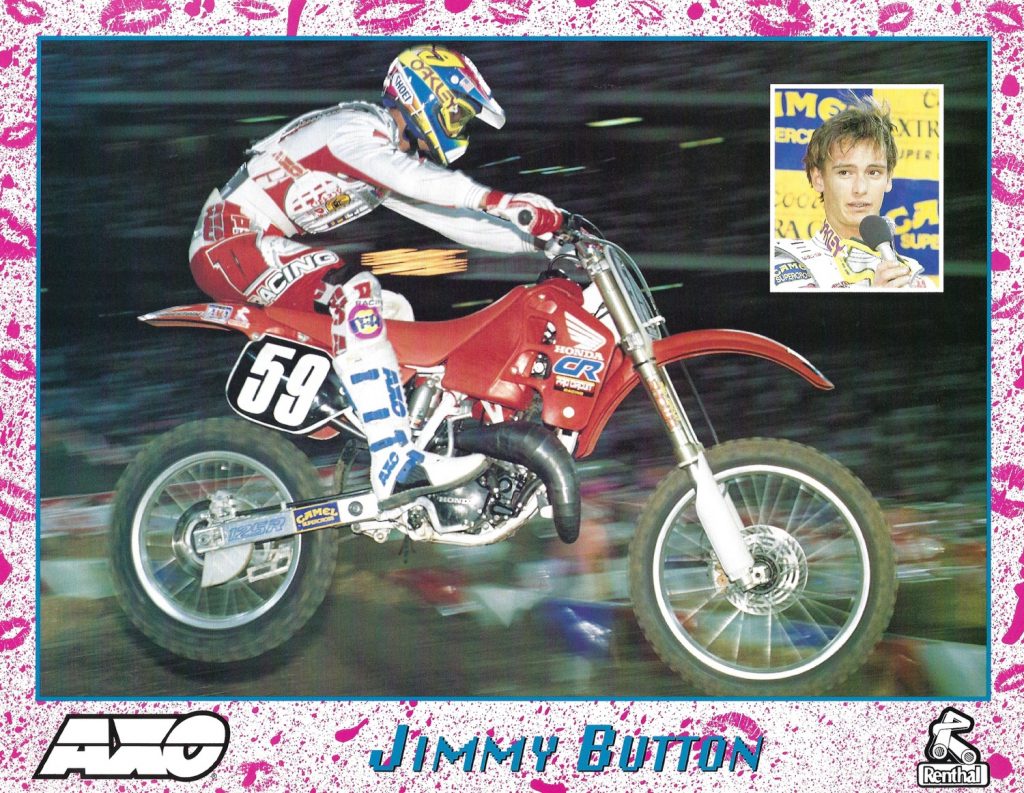 Blaze: In 1990, Jimmy Button was set to be one of Honda's 125 Factory riders, but a tanking Japanese economy, combined with budget constraints brought on by the signing of Jean-Michel Bayle, led Jimmy and teammates Larry Ward and Denny Stephenson to be cut by Honda at the last minute. As a result, Denny and Larry went to Suzuki and Jimmy was left without a ride for 1990.
Hearing of his plight, AXO's Jim Hale offered Button his personal CR125R to race for the season. Hale sent his brand-new CR to Mitch Payton and Jimmy ended up using this one Pro Circuit-tuned Honda as a practice and race bike for the entire year. According to Jimmy, his career might have ended right there, if not for the generosity of Jim Hale.
Matthes: Nothing should tell you more about how our sport has changed than Button, who I believe came out of Loretta Lynn's as the all-time amateur title holder (surpassing a guy named Tim Ferry) and couldn't get jack-shit for a ride. Button would have a five-year deal worth 800K if he were born in 2000, instead of 1975. Also, I don't remember Button as a full Honda privateer in '90…who knew? In '91 he was DGY Yamaha right?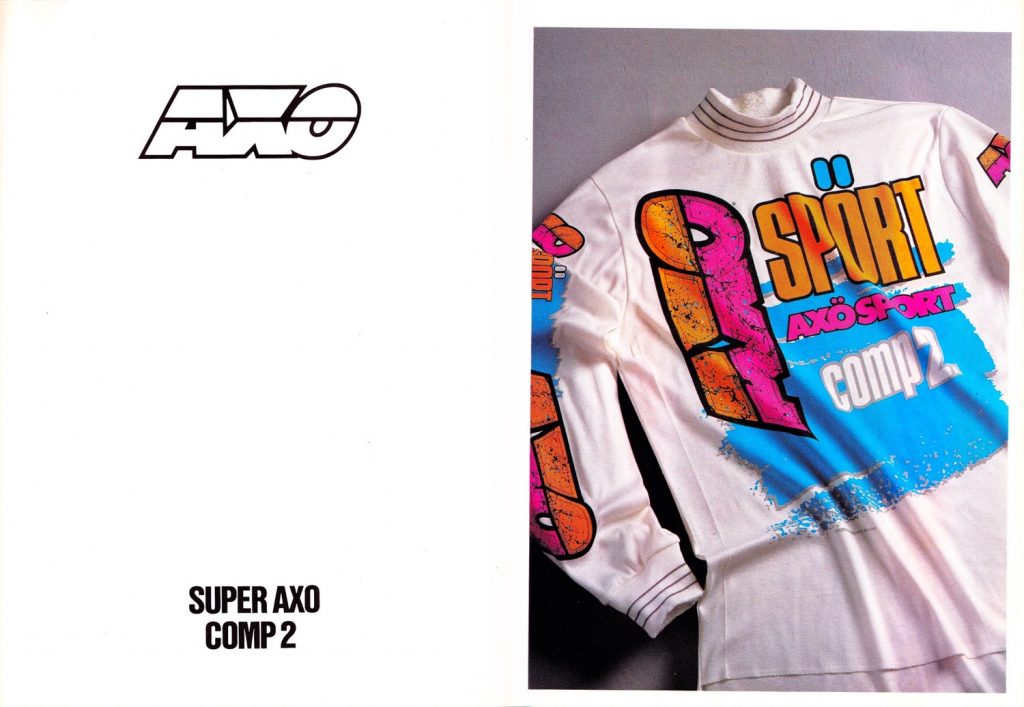 Blaze: One addition for 1990 that I really loved was the new Super AXO Comp 2 jersey. With 100% cotton construction and some sweet graphics and colors available, this was one of my favorite jerseys of the year.
Matthes: Yep, had this jersey. And like I said in part one, holy smokes were the collars and cuffs tight!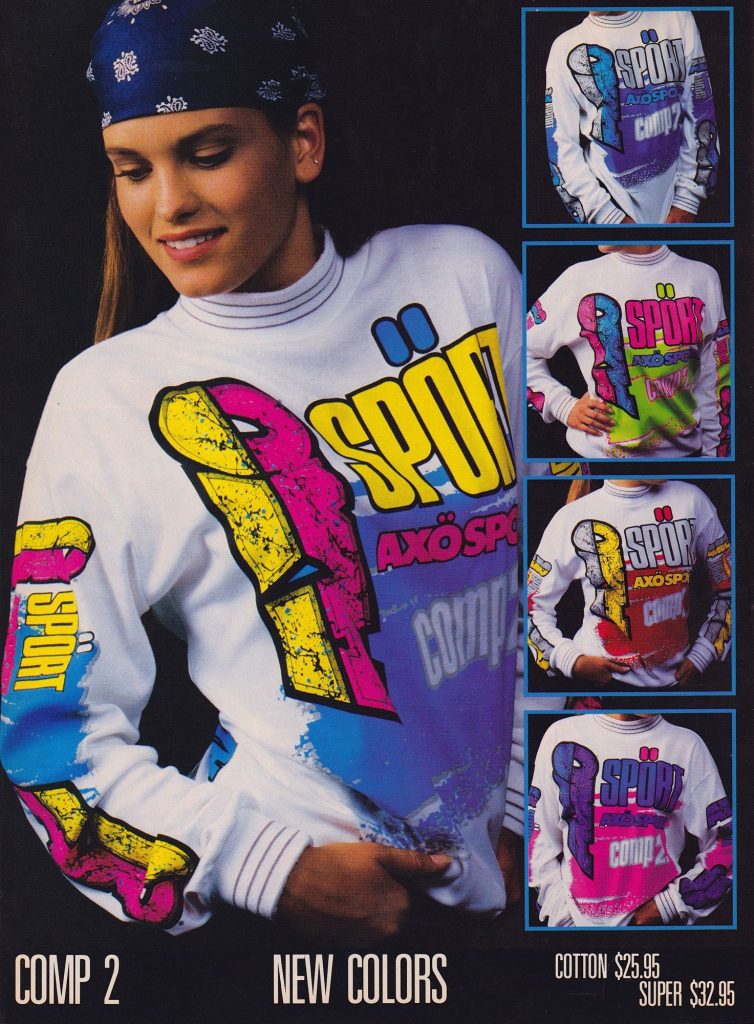 Blaze: Man, colors were just better in the nineties. Check out these rad combos. Stick one of these on a t-shirt and I would SO buy it today.
One question I do have, though: What the heck is with the use of the umlaut on the logos? Since when was AXO Sport spelled with that wacky little double-dotted O German thing? I'm sure someone thought it made it look exotic, but AXO is an Italian company, not German. Oh well, it must have dawned on someone, because after '90 they never used it again.
Matthes: From the do-rag on the chick to the umlaut (admit it Blaze, you Googled that one) I don't get much of what is going on here. But yes, cool colors.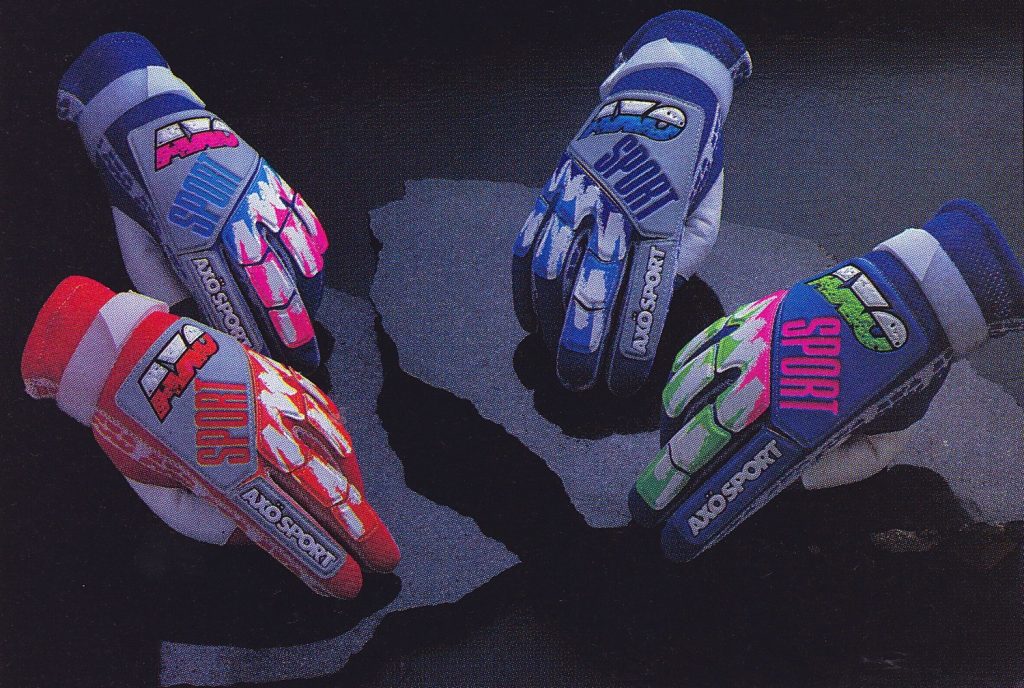 Blaze: As the plastic-backed glove began to fade in popularity, AXO was forced to change to keep up with the tastes of the times. The new Series 21 glove was lighter and more flexible than the Series 36, with sweet graphics that were a perfect match to their many colorways. I had that Pink/Aqua set at the upper left and I really loved them. Good stuff.
Matthes: Plastic ones were better. That is all.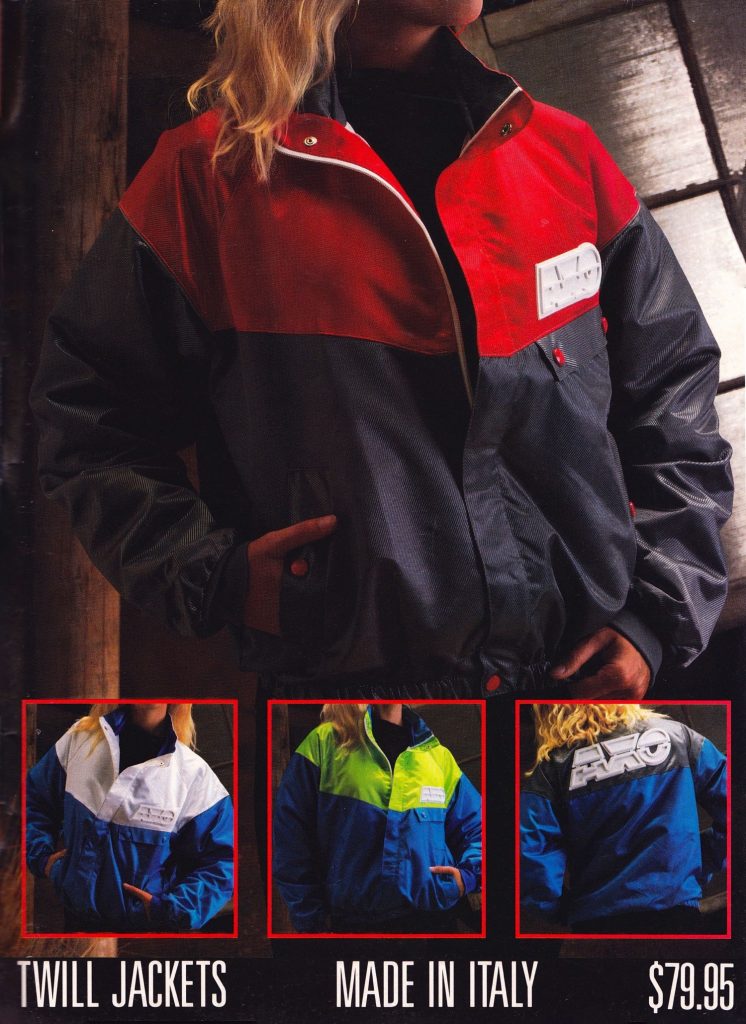 Blaze: These twill AXO Sport jackets were pretty badass at the time. I always wanted one, but never scrounged together the $79.95 to make it happen.
Matthes: Oh no Blaze, I DID scrounge the cash together to buy one of these jackets and they were SO EFFING SWEET! I was a Kawasaki guy so I had the blue with green up top and I think my brother had one as well. Here's the thing though, I remember that I was hot shit at the MX track with this jacket but when I wore it around my non-moto buddies, they all laughed at me. I mean, it was really shiny.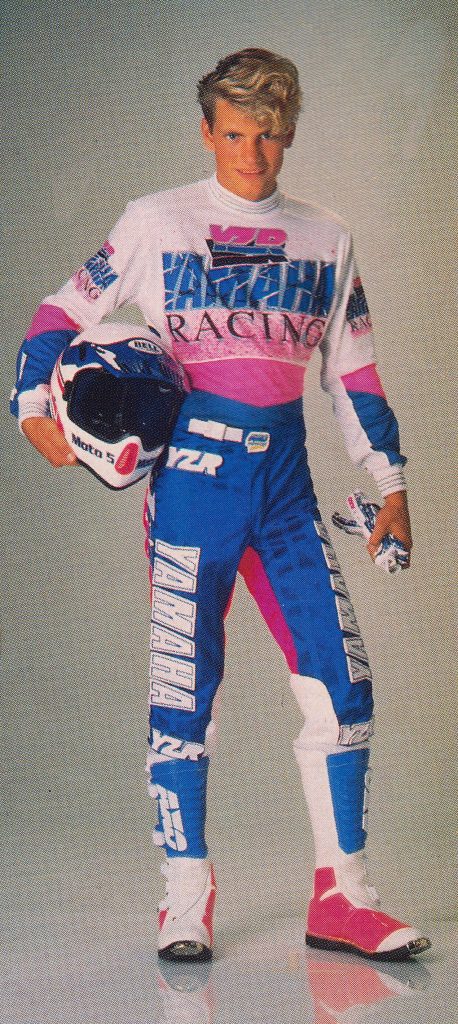 Blaze: AXO's Yamaha-branded YZR gear was back for 1990 and just as unappealing as the year before. Nice hair, bro…
Matthes: That's either a "I'm gonna look in your window while you're banging" look or a "I'm going to make love to you, then chop you into little pieces" look. Either way, I'm out on that guy and that smile. And therefore, the gear as well.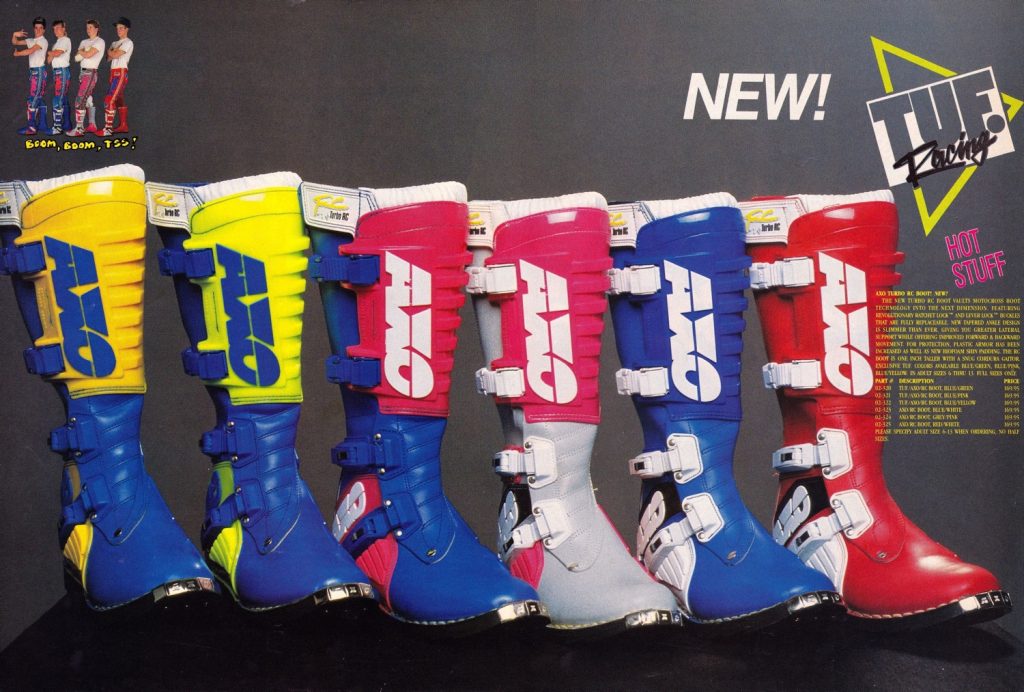 Blaze: If color was your thing, Tuf Racing was back for 1990 with some really bold versions of the new Turbo RC boot. I had the Grey/Pink combo in the middle.
Matthes: As I asked in Part one, what did TUF and AXO have going on in the early 90's? Were they just absolutely killing it with AXO sales so they were able to get custom colors and stuff? Weird.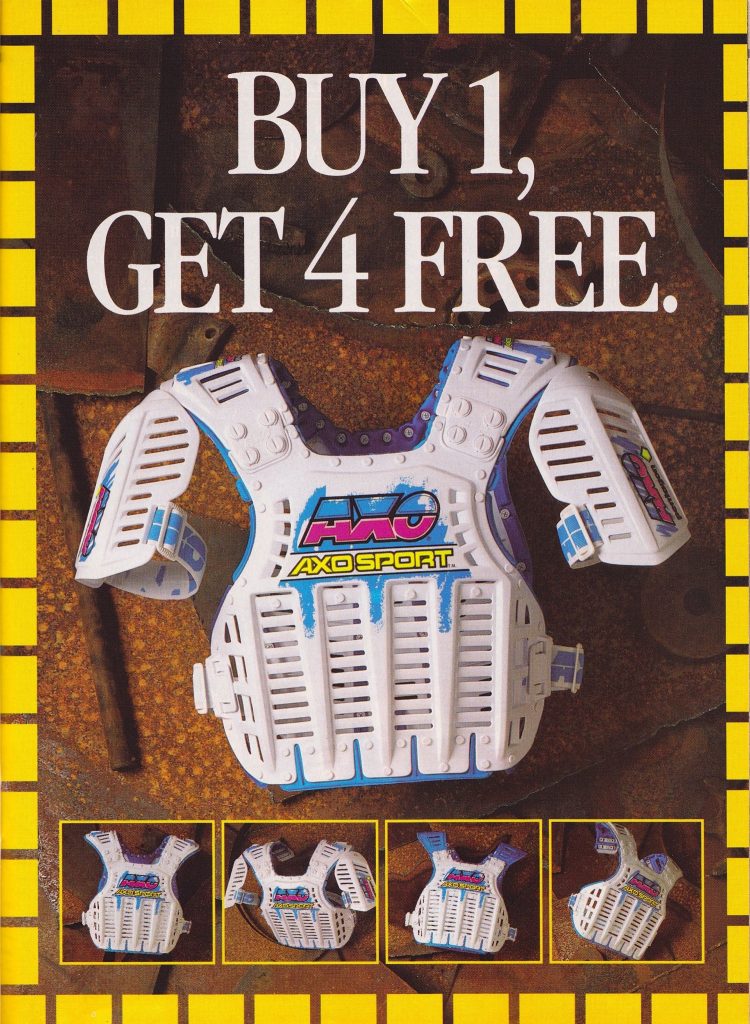 Blaze: One of the significant additions to the AXO lineup for 1990 was the all-new Pentagon chest protector. The Pentagon was the brainchild of AXO of Italy founder Remo Berlese and took its name from the five possible configurations its interchangeable sections allowed.
While this chest protector turned out to be a huge hit for AXO, I was not particularly fond of it initially. In 1990, I much preferred the Fox Roost-2, but once they added some color variety a year later, it really started to grow on me.
Matthes: No, no Blaze. The Fox Roost-2 WAS cool, but by the time this came out, it had been out for four years and everyone had one. Therefore, the Pentagon was WAY cooler than the Roost-2 and yes I had one. And yes, I never, ever wore the arm guards. You know who else rocked one of these? Jeremy McGrath, that's who. He was AXO guy in '90 on the Kawi!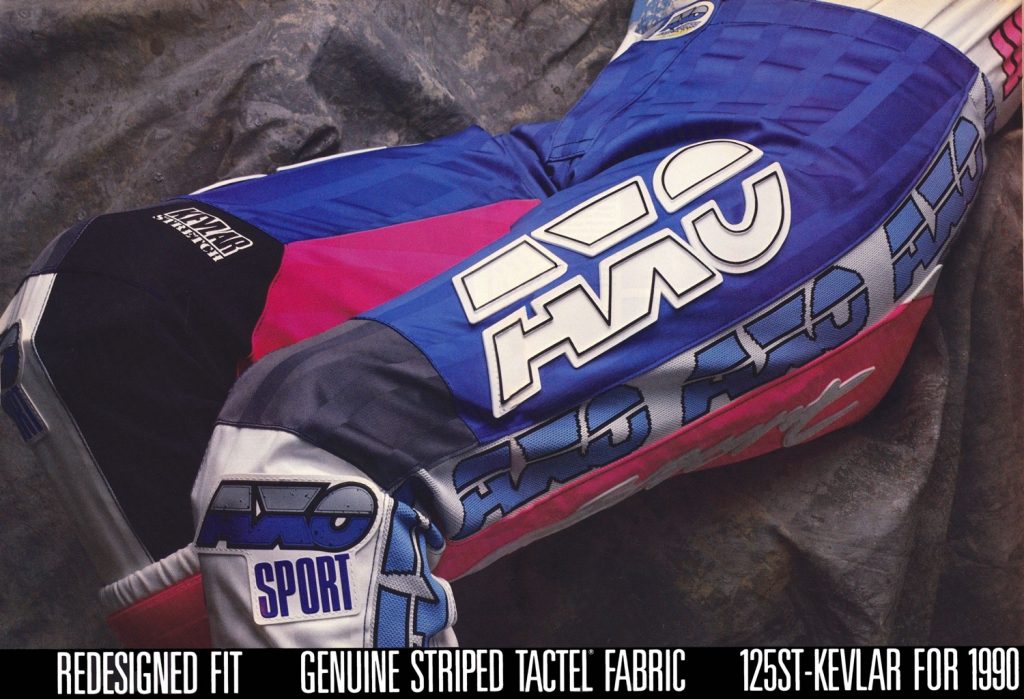 Blaze: For 1990, the lovely 125ST pants were back, with one important addition – Kevlar. In the seventies and eighties, all of us had to live with leather, or simulated leather inner knee sections that were tough, but allowed the exhaust pipe to burn the crap out of your calf and lower thigh. By adding Kevlar to the inner knee panels, AXO was able to keep knee braces from chewing through the pants and protect your leg from being roasted.
Matthes: I had these pants and they ruled. I had a few pairs of these in different colors at that and yeah, they did last a long time. I remember that they fit really good, it seemed like every panel on them stretched to fit the way your body was built. You know who else rocked these pants? Jeremy McGrath, that's who.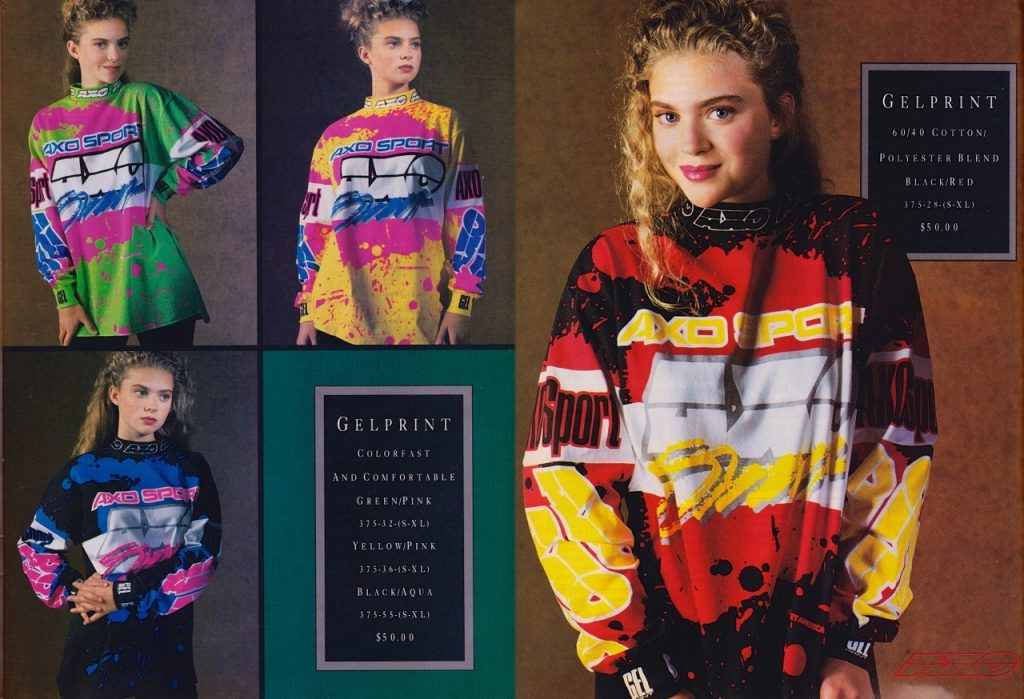 Blaze: Here is where AXO really started to fire on all cylinders. The 1991 season would see AXO hire Damon Bradshaw away from Fox Racing and introduce a groundbreaking and innovative line of products that would have a huge impact on the industry.
The first of these game-changers was an incredibly colorful new jersey design call the "Gelprint." Using a process developed in Asia, AXO was the first gear manufacturer to bring this new all-over printing method to motocross. At $50, the new Gelprint was not cheap (think about that, 30 years later and it would still be expensive today!), but they were so colorful and unique the buying public could not get enough of them. Within a year, every gear company would have a version of the Gelprint in their line.
Other than cost, the only problem with these jerseys was their absolute lack of ventilation. Something about the gel-printing process made them hotter than a sweatbox, but damn they looked cool. I had the pink/yellow one above and thought I totally looked like Damon Bradshaw.
Matthes: I never had one of these but a few of my buddies did and they always said how hot they were. Bradshaw made these things look so fucking cool though.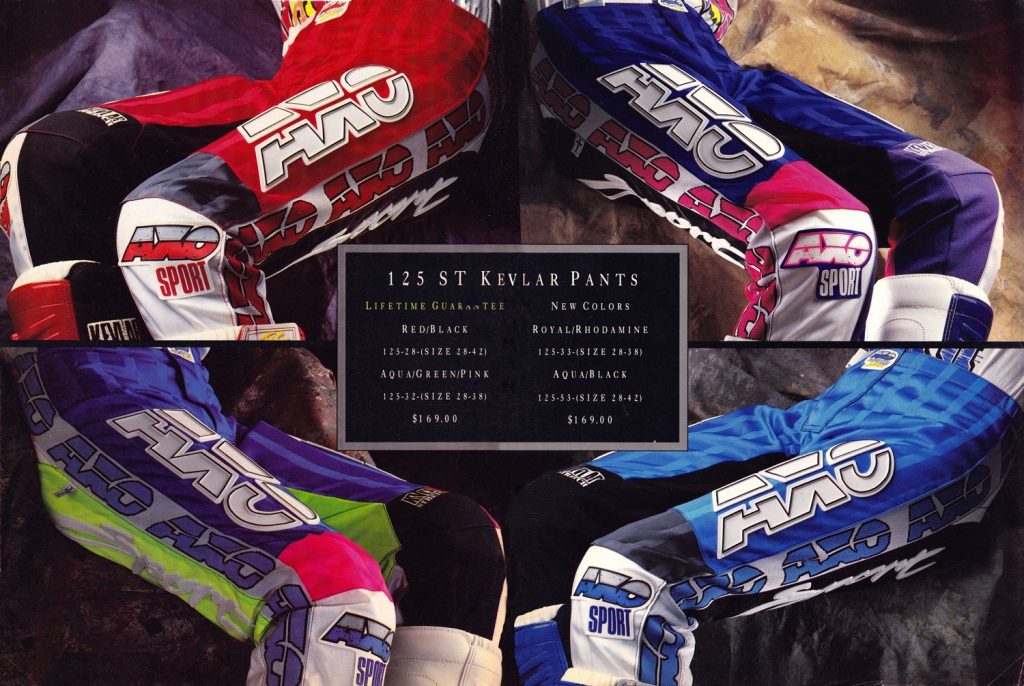 Blaze: The 125ST-Kevlar pant was back for 1991 with some sweet new colors and an eye-popping $169 price tag. It is just crazy to me how much money that is in 1991 dollars. Adjusted for inflation, these pants would cost $314 today. When you combine that with the $93 a Gelprint would cost you in today's dollars, that is $407 for a jersey and set of pants! I still love them, but holy heck that is a lot of cheddar.
Matthes: Who knew they were that expensive? I don't remember anyone saying that back in the day and living in Canada and with the shitty exchange rate, they probably would've been amazingly high in cost. I had the blue/grey ones here and always wanted the crazy green ones but I was on Honda's at this point and that would've been dumb.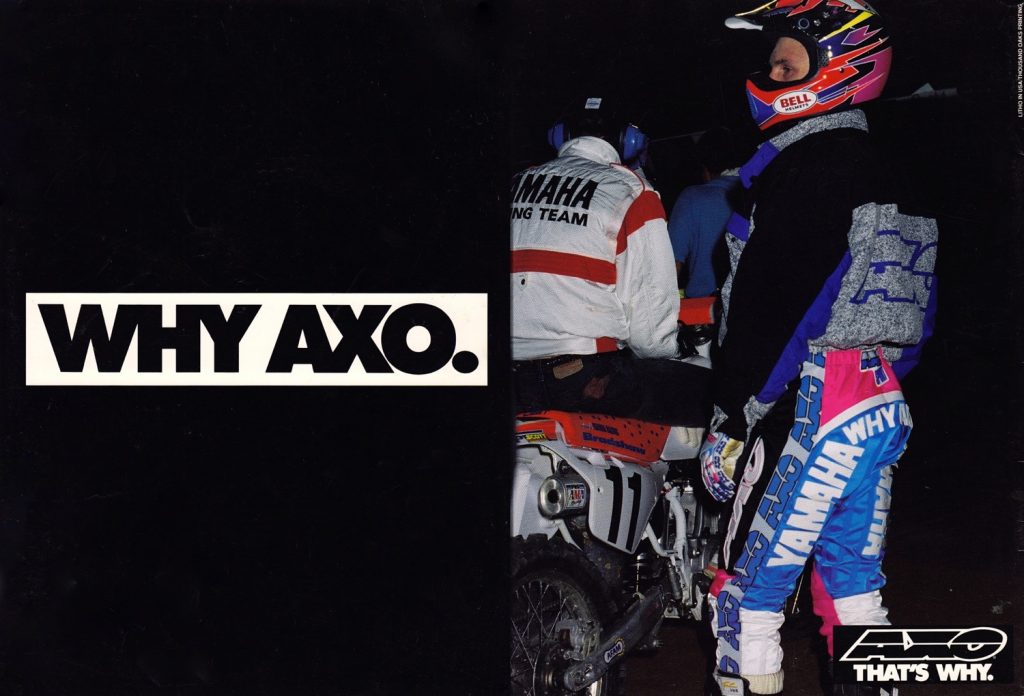 Blaze: The defection of Bradshaw to AXO for 1991 was the shot heard 'round the moto world. A high-dollar contract with a "no-injury" clause was the incentive to get The Beast to switch. Overnight, AXO's stake in the overall moto-mindshare went through the roof.
Matthes: Blaze, Blaze, Blaze…maybe you're right on the no-injury clause part but in talking to Damon on my podcast, I remember him saying that Fox was kind of stingy with the gear and one of the things he loved about AXO was he put on new pants, jersey and boots every time he rode and he got so much more gear. Ok, maybe the new boots every time is a stretch but you get my drift. And oh yeah, it was big dollars. We can agree on that.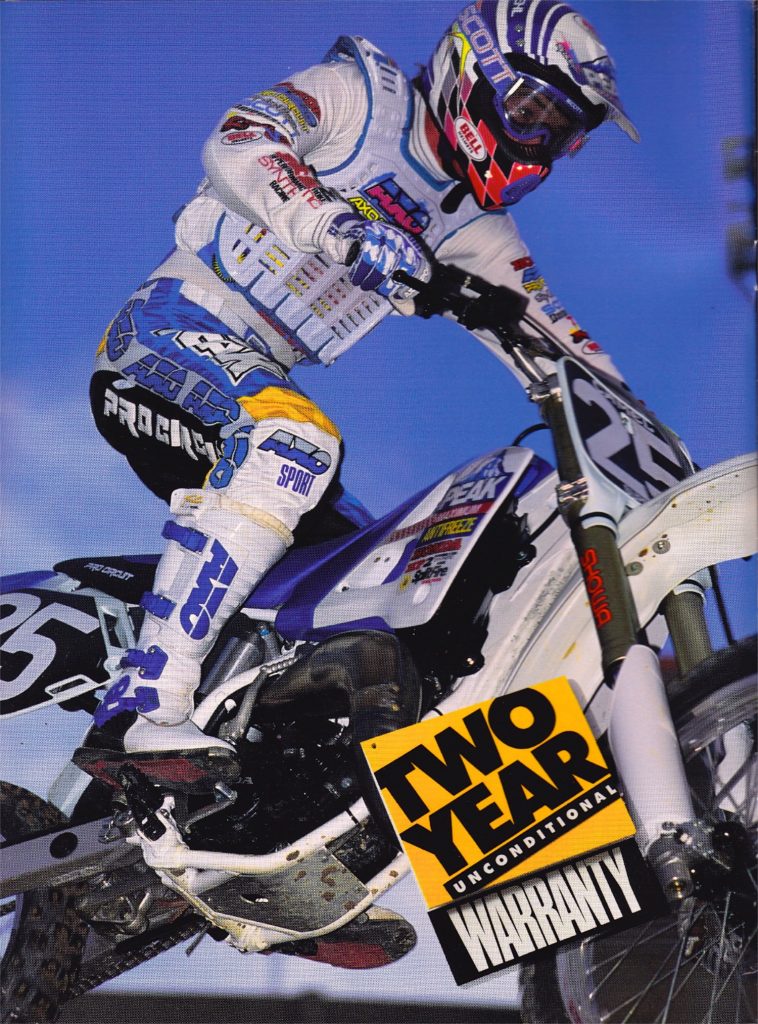 Blaze: While probably not as impactful as the Bradshaw signing, AXO's contract to provide clothing for Mitch Payton's new Peak Honda team certainly helped to raise the profile of the brand.
Matthes: Agree with that, one of the coolest things I have in the Pulpmx studios are the AXO "Splitfire" pants from Antunez back in '92. So sweet.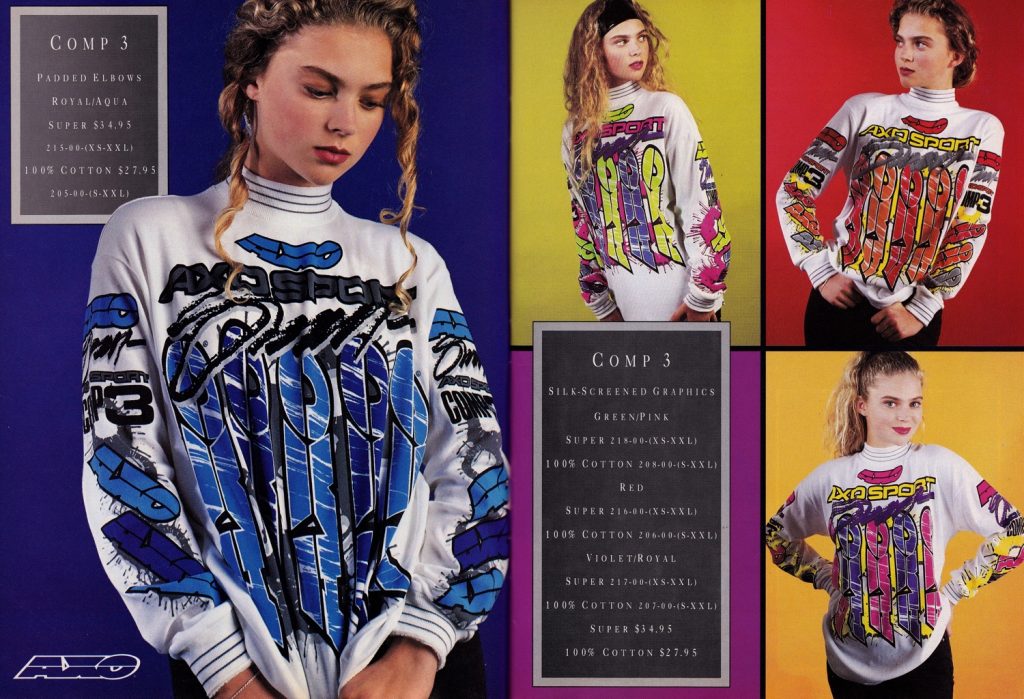 Blaze: If you were not into sweating your balls off in 1991, you could always opt for AXO's less bold, but better-breathing Comp 3 cotton jersey.
Matthes: Nah, I'll pass.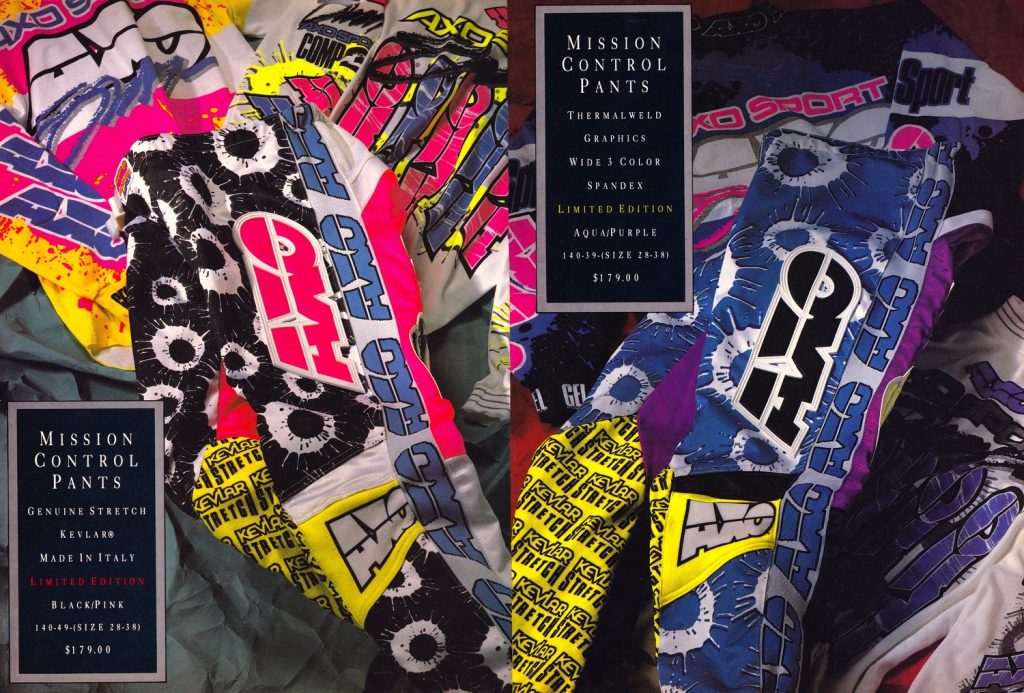 Blaze: While they were not really my cup of tea, AXO's Limited Edition Mission Control pants certainly made quite a stir in 1991. While I did love all the color combos they came in, I never really understood the appeal of that paintball "splat" graphic. Weird visuals aside, they did have a cool new version of the AXO logo with colored biofoam inserts that were super trick.
Matthes: Blaze, Bradshaw wore these and that made them super sick ok? Bottom line.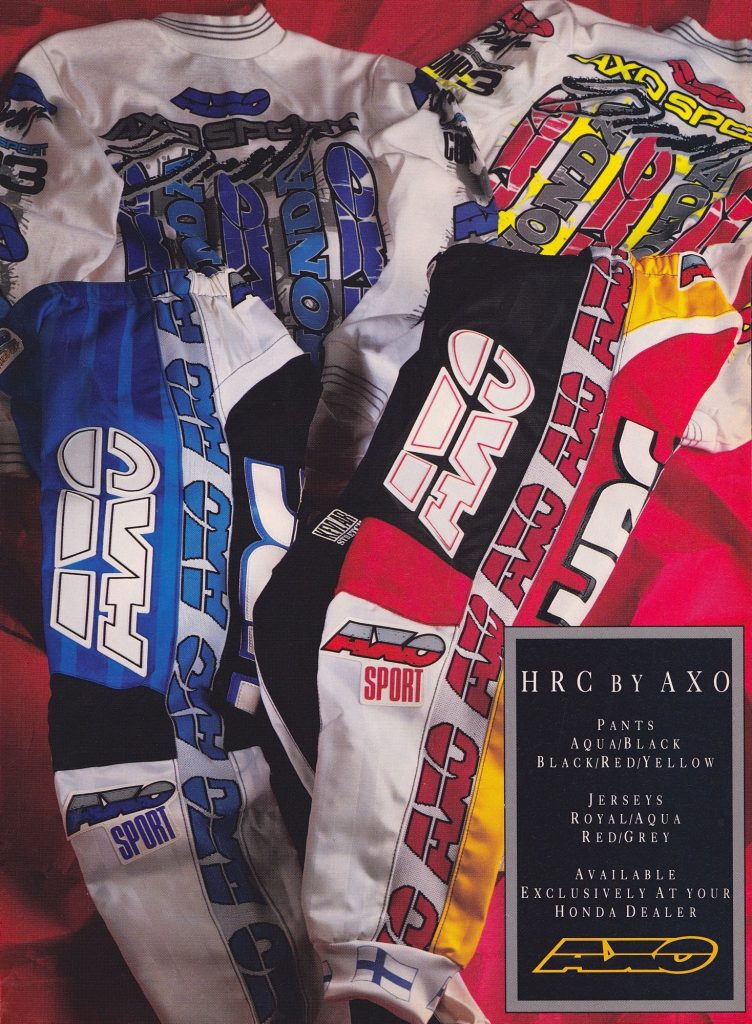 Blaze: For my money, the new HRC line by AXO was far better looking than Answer's far busier version of Hondaline gear in 1991.
Matthes: Agreed on that and the whole Hondaline/Sinasalo/AXO/Answer thing was so weird. Imagine factory riders switching brands mid-season to promote the Honda gear?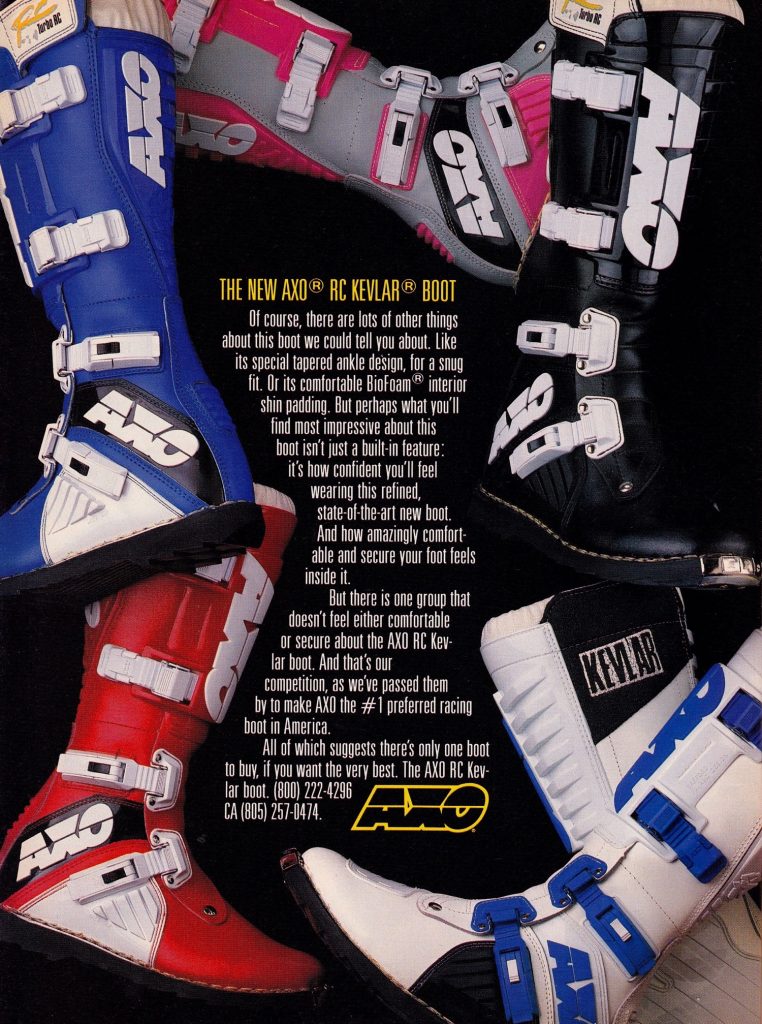 Blaze: For 1991, the Turbo RC got the Kevlar treatment, along with a new plastic insert for the calf to improve protection.
Matthes: I think I had moved on from AXO boots by the time these came out, I'm not sure really. I don't remember having all these color choices but up on Canada, we didn't get all the sweet things the USA did.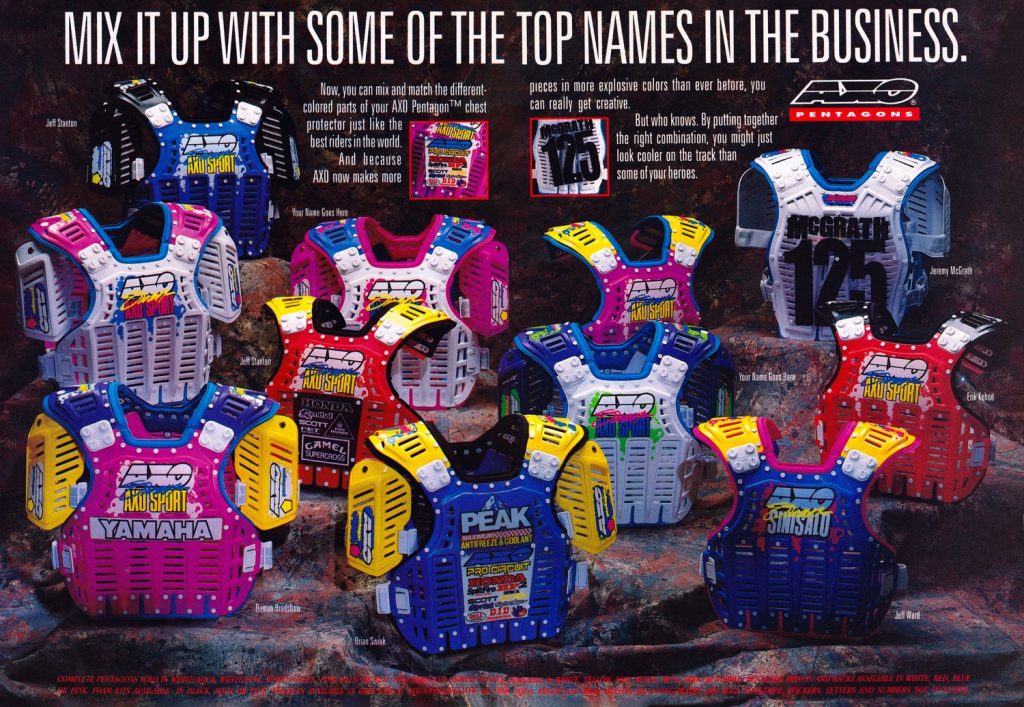 Blaze: OK, this is where the Pentagon gets interesting for me. A huge increase in color choices for '91 really improved the looks of this unique design. That pink/purple/yellow Bradshaw replica and the red/yellow combo ran by Stanton were two of my favorites.
Matthes: I would pay just about anything to get my hands on an AXO Pentagon with the Peak graphics and logos on the front. That is all.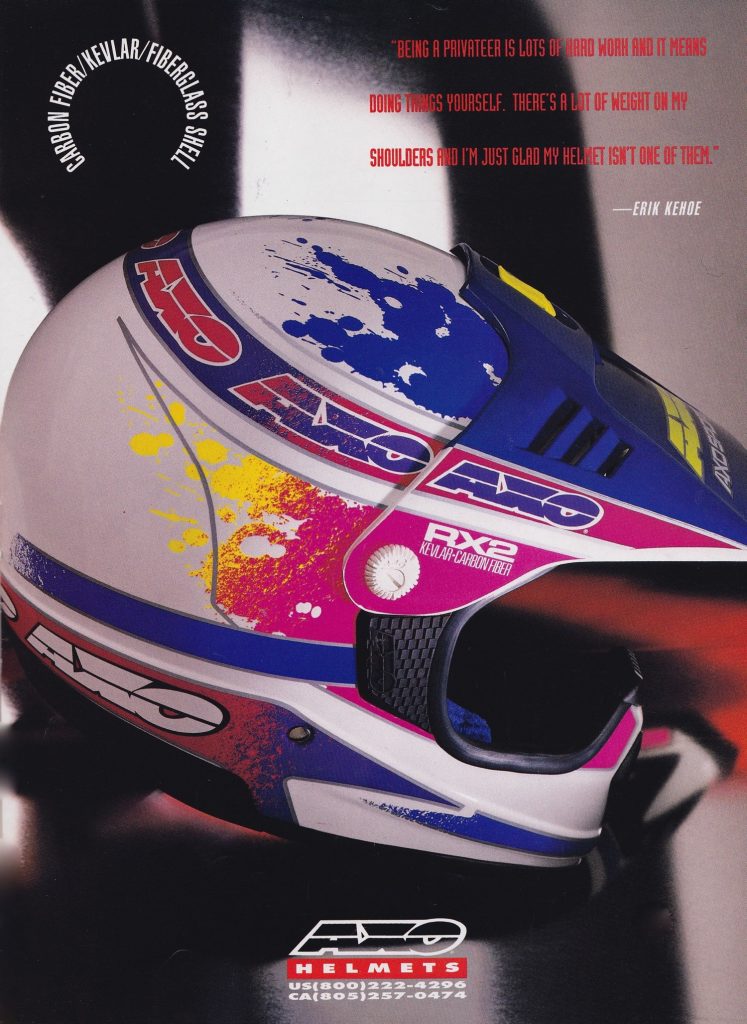 Blaze: The '92 season was a big one for AXO, with the release of several new products and the two highest-profile riders in the sport under their tent. The new RX2 Kevlar (What the heck was it with AXO and all the Kevlar stuff in the early 90s? Did they get a deal on leftover Iran-Contra equipment from Ollie North or something?) helmet marked AXO's first endeavor into producing a helmet.
Matthes: I was out on this helmet and don't believe I even ever saw it anywhere.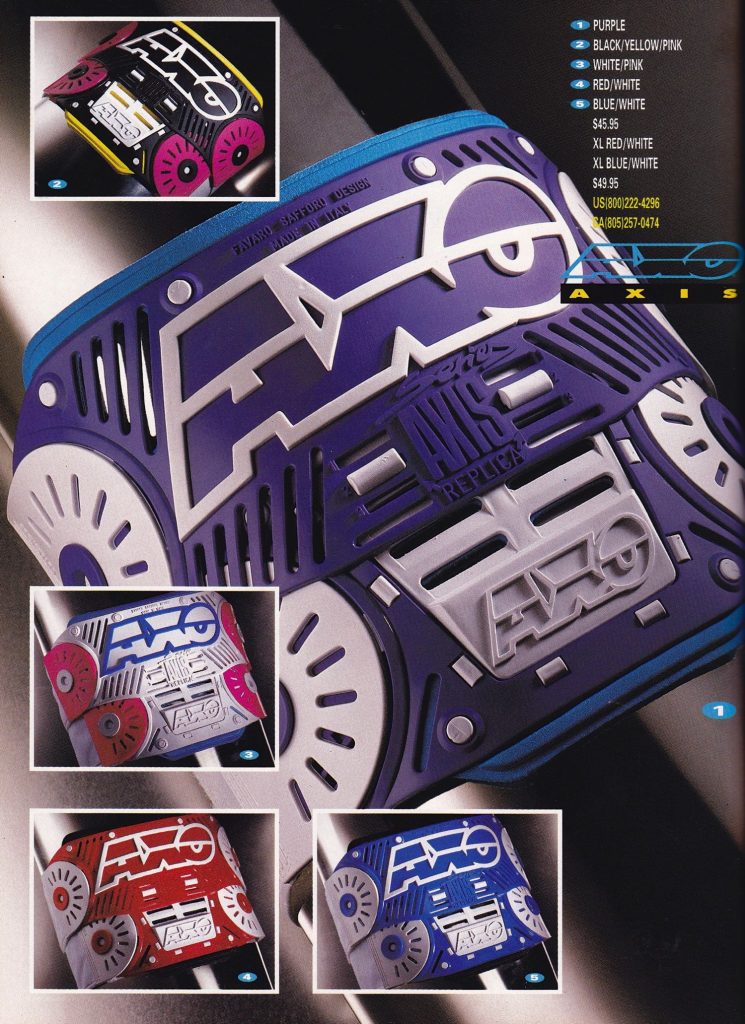 Blaze: A new AXIS kidney belt for '92 kept the plastic and added four hinges for increased comfort and better articulation. One question I do have is with the name "replica" on the back: What exactly is this a replica of?
Matthes: Maybe it's a replica of a replicant from Blade Runner? I don't know, all I know is I rocked the plastic AXO belt from Part one (the green one) forever.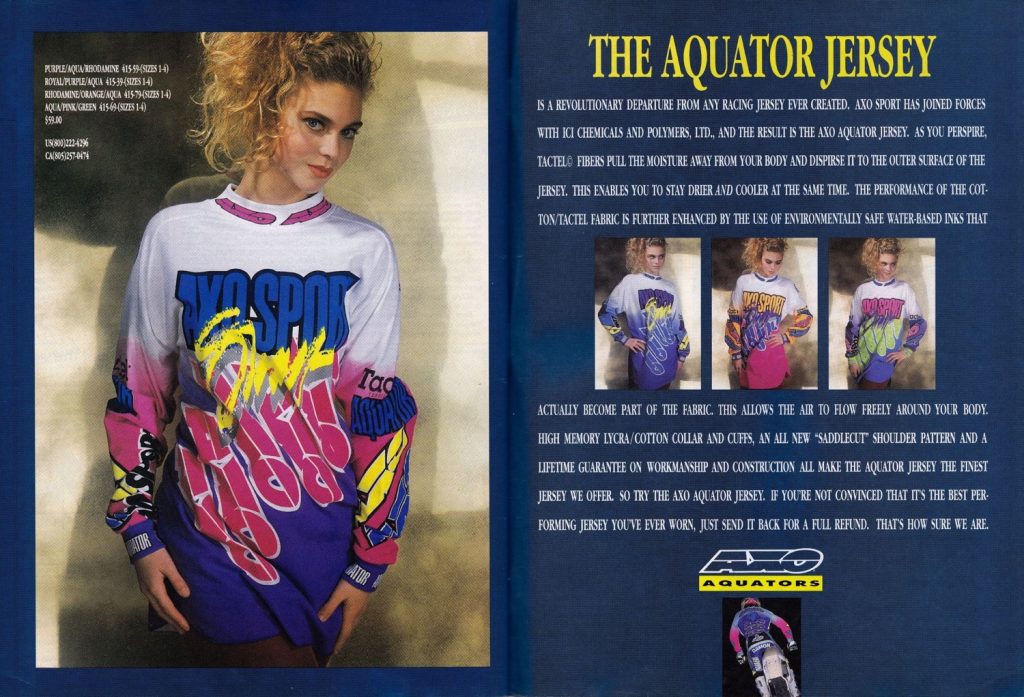 Blaze: In 1992, AXO introduced an all-new jersey to fight the heat-stroke issues caused by their Gelprints. The new Aquator jersey featured a soft cotton/Tactel construction that wicked away perspiration and actually let airflow in. I still have one of these jerseys and while it is hotter than a modern synthetic, it is about 300% cooler than a Gelprint of the era.
Matthes: All I think of when I see this stuff is Damon effing Bradshaw and how cool he made all of it look.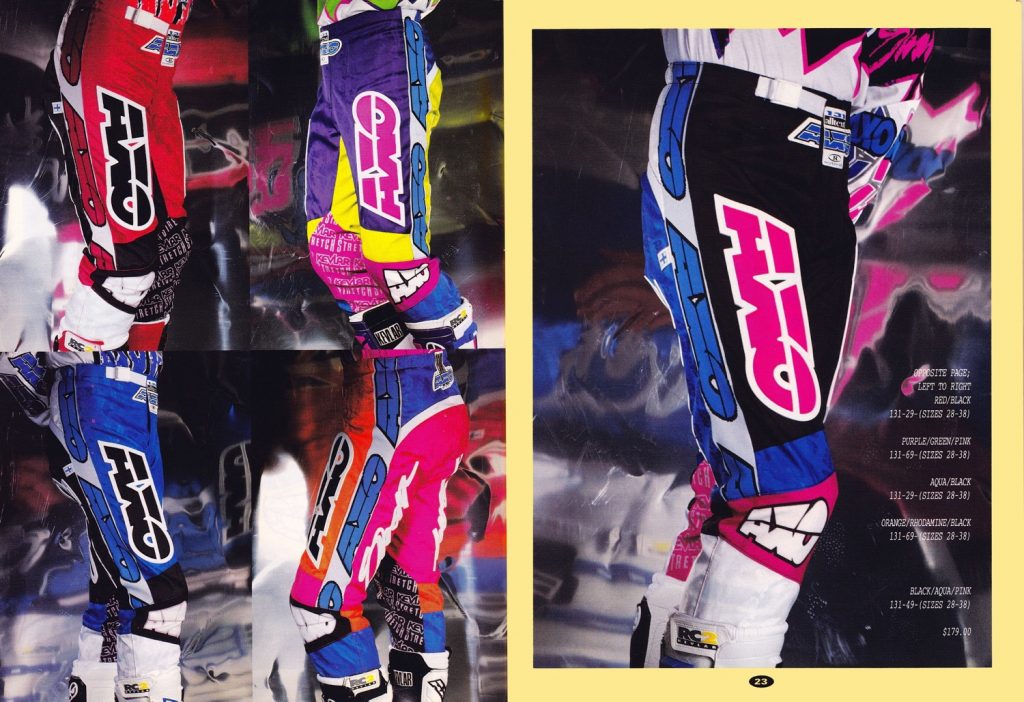 Blaze: I absolutely loved these new Series 131 pants for 1992. They combined the cool Biofoam logos of the Mission Control pants and the sweet looks of the Series 125s. These pants cost a ton, but they looked so good and felt so great they were worth it.
Matthes: I think it was a slightly different "AXO" logo also introduced with these pants. I never had them, I think at this point I had switched to FOX because I got a deal from the distributor in Canada.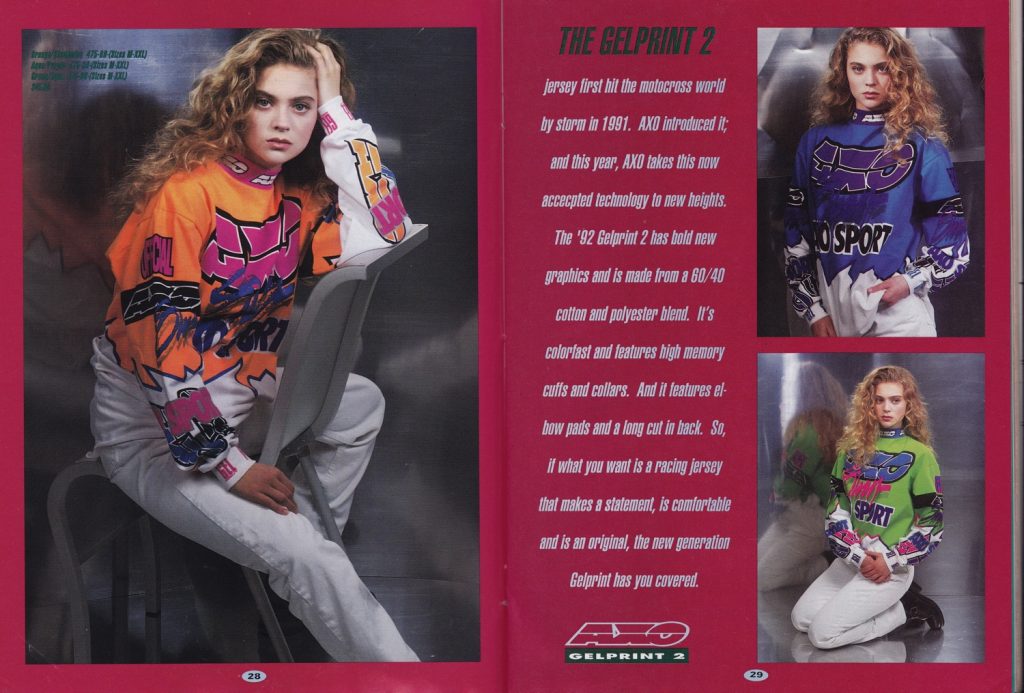 Blaze: The Gelprint was back for '92, with lots of color and slightly less-busy graphics.
Matthes: So. Much. Hair.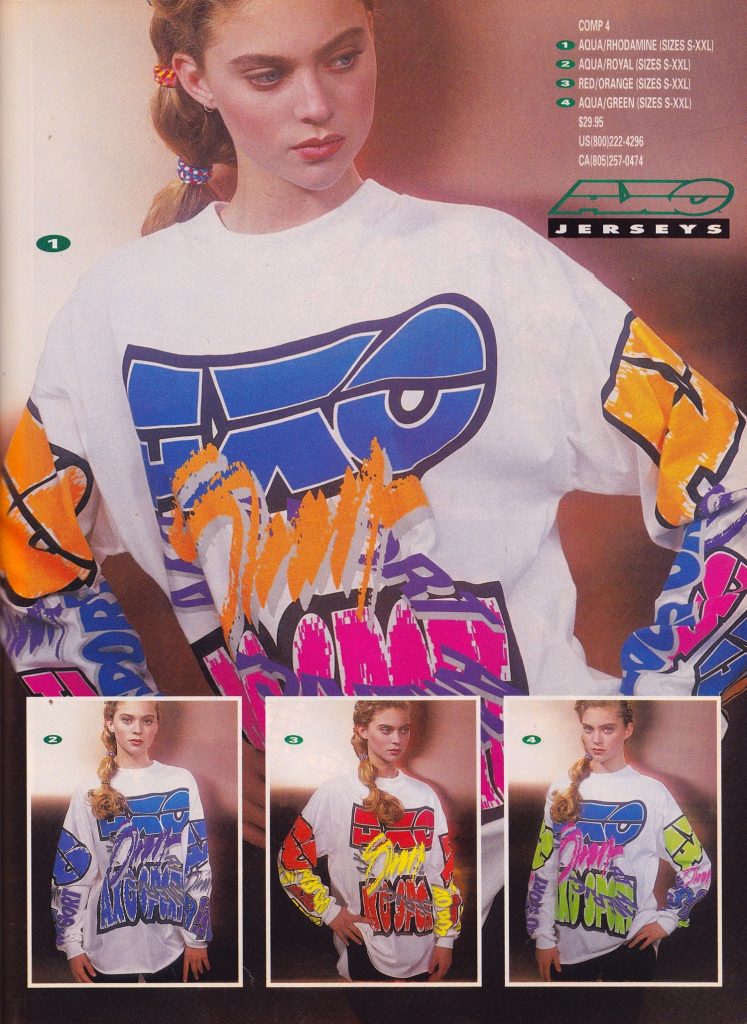 Blaze: The new Comp 4 for '92 is far and away my favorite of all the Comp-series jerseys during the decade. I had the Orange/Blue combo in the main photo and I wore it until it was literally falling apart.
Matthes: Nah, not for me. The words on the bottom look too much like cartoon bubbles.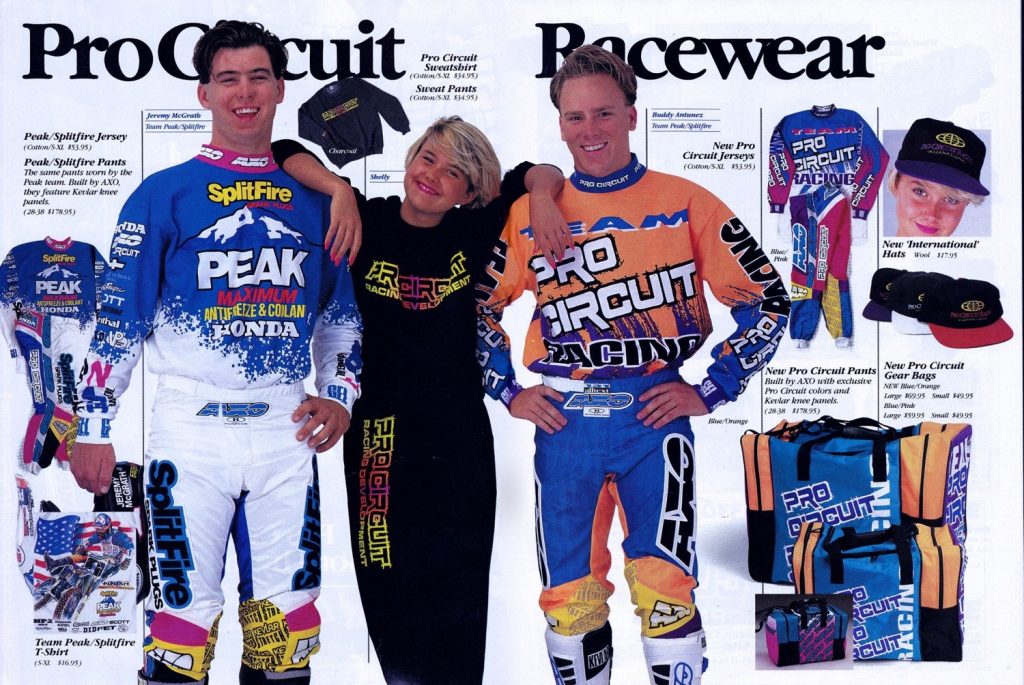 Blaze: AXO was back with the Peak Honda team for '92 with new versions of their replica gear. Personally, I never really cared for the Peak stuff Jeremy is wearing here, but I really dug (and bought) the Blue/Orange combo Buddy Antunez is rocking.
Matthes: There's my pants! Screw you Blaze, those were sweet and mine even say "Antunez" on the back. I even have the jersey to match, although it's not Budman's, it's the one here that customers could buy. That's Buddy's girlfriend/now wife by the way in the middle.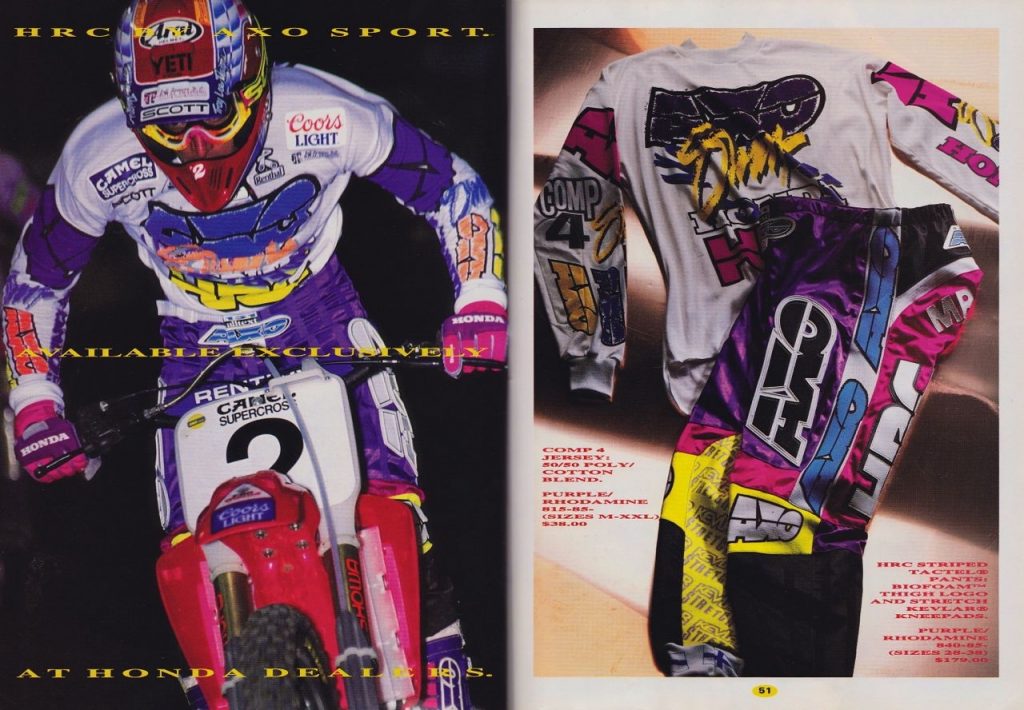 Blaze: While I really loved what Fox did with Honda in '95-'96, it is really hard to top what AXO had going on with Stanton and HRC in '92. AXO also sold this Stanton Jersey in a t-shirt form and I wore that until it had holes in it, too. Man, AXO ruled…
Matthes: Yep, good look here, but those bi-foam gloves were bad. I can't believe Six-time actually raced with those. I can guarantee that although Stanton has Damon covered in titles, Bradshaw's AXO gear way out-sold Jeff's.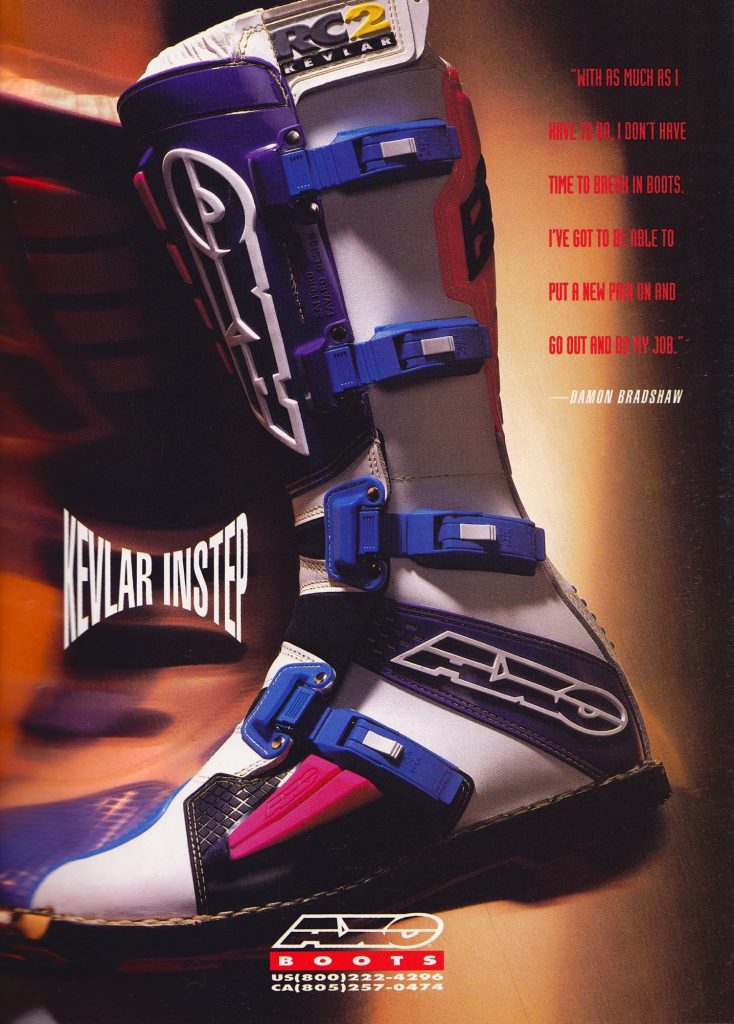 Blaze: AXO was back for 1992 with their third new boot in as many years. The redesigned RC2 offered more of…you guessed it, Kevlar! This time, it was in the instep to help the boot break-in faster (and protect you if your competitor tried to shoot you in the foot). Lever-lock buckles also replaced the ratchet-type closures at the top and new colors spruced up the looks. Other than the occasional broken buckle, these boots were bulletproof and really held up over the long haul. I still have this exact pair in my garage.
Matthes: Great boots, as I said above. I'm too lazy to scroll up, but those look like the same buckles to me Blaze that they always had. I wonder if AXO knew that they'd have an "RC" in their gear soon so therefore the boot matches his initials.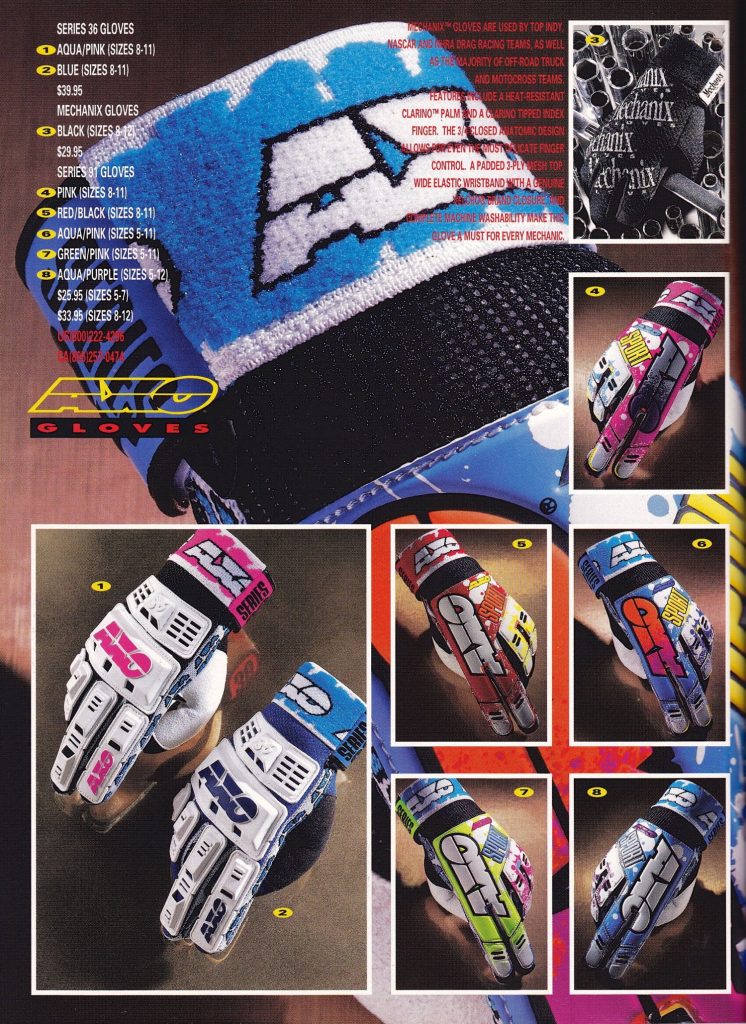 Blaze: The Series 36 was still in the lineup in 1992 and joined by a new Series 91 glove. Probably more significant than that, however, was the new mechanic-focused "Mechanix" glove in the upper right corner. Much like JT Racing and their endeavors into paintball, the success of this product would eventually lead to the demise of AXO Sport America.
Matthes: CRAZY to think of the success of that Mechanix Wear company just began as a throw-in product right?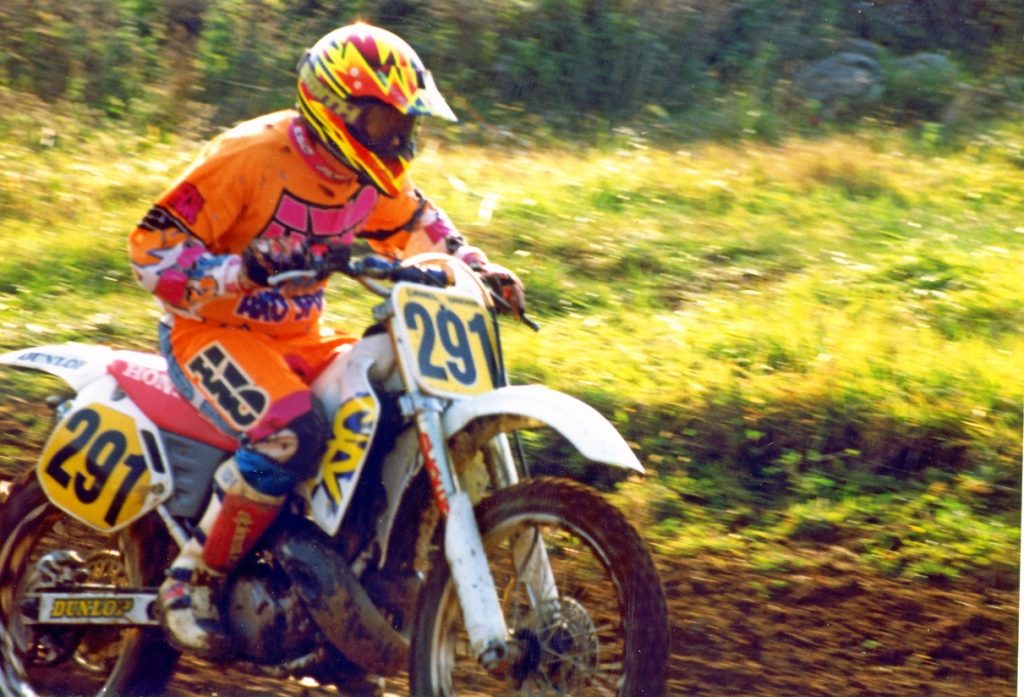 Blaze: Here I am rocking my Orange/Rhodamine Gelprint jersey and Series 131 pants in 1994. Man I loved this stuff. I raced in this gear for three full seasons, before my Technosel non-slip Cobra seat finally chewed through the seat of the pants. I still have it today and it is as bright and vibrant as it was in 1992. When you look at all the little "AXO" logos embossed into the Tactel and marvel at the quality and feel of the materials, you can start to see why they cost what they did at the time.
Matthes: Blaze went with the all-white plastic so there went any hope for Honda contingency! Also, the Bradshaw Shoei is a nice touch as you went with the construction worker orange stuff. I thought only Canada went with black numbers on yellow, which signified "B" rider status up there.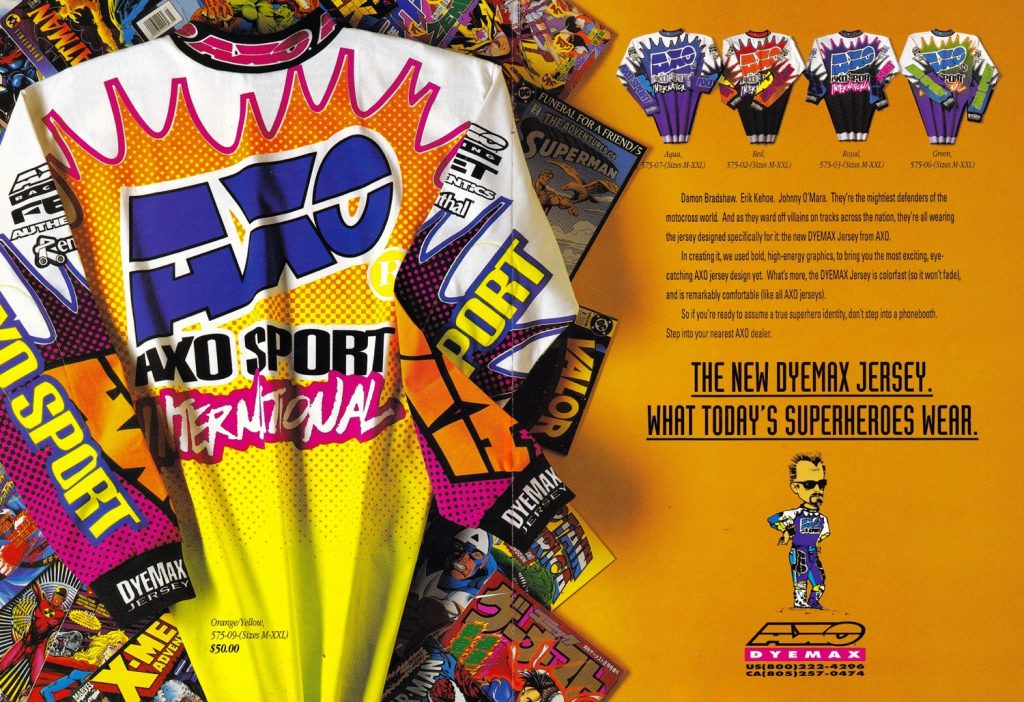 Blaze: For 1993, AXO ditched the Gelprint and went with a new process they called "Dyemax." This new style of jersey was just as colorful as the Gelprint, but offered much better airflow and a softer feel.
Matthes: Cartoon Bradshaw alert!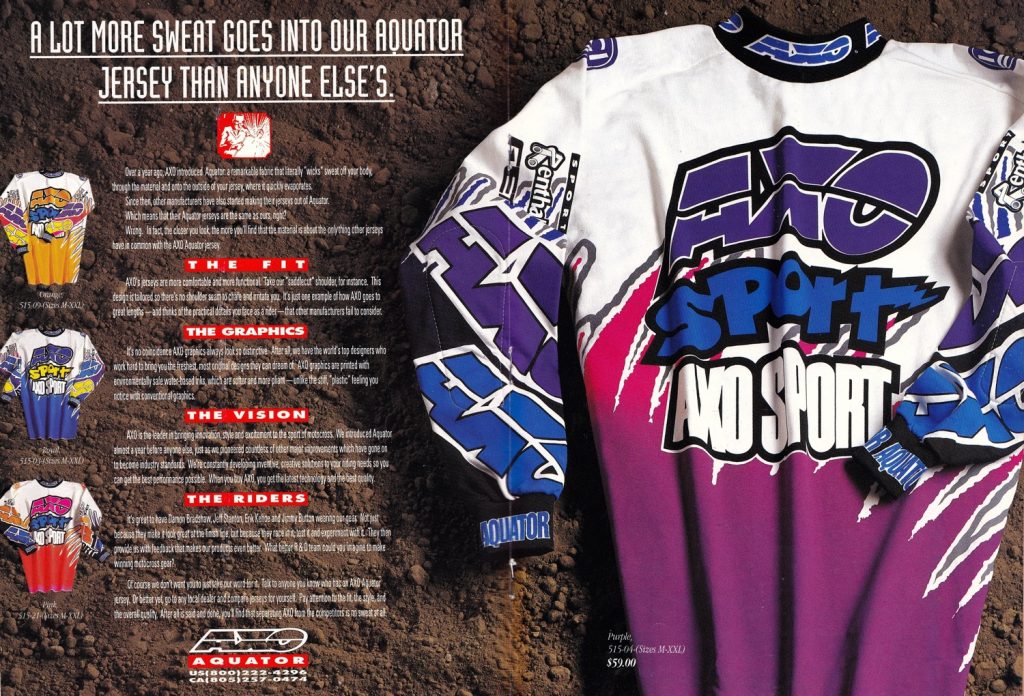 Blaze: The Aquator jersey was back for 1993 with new colors and freshened-up graphics.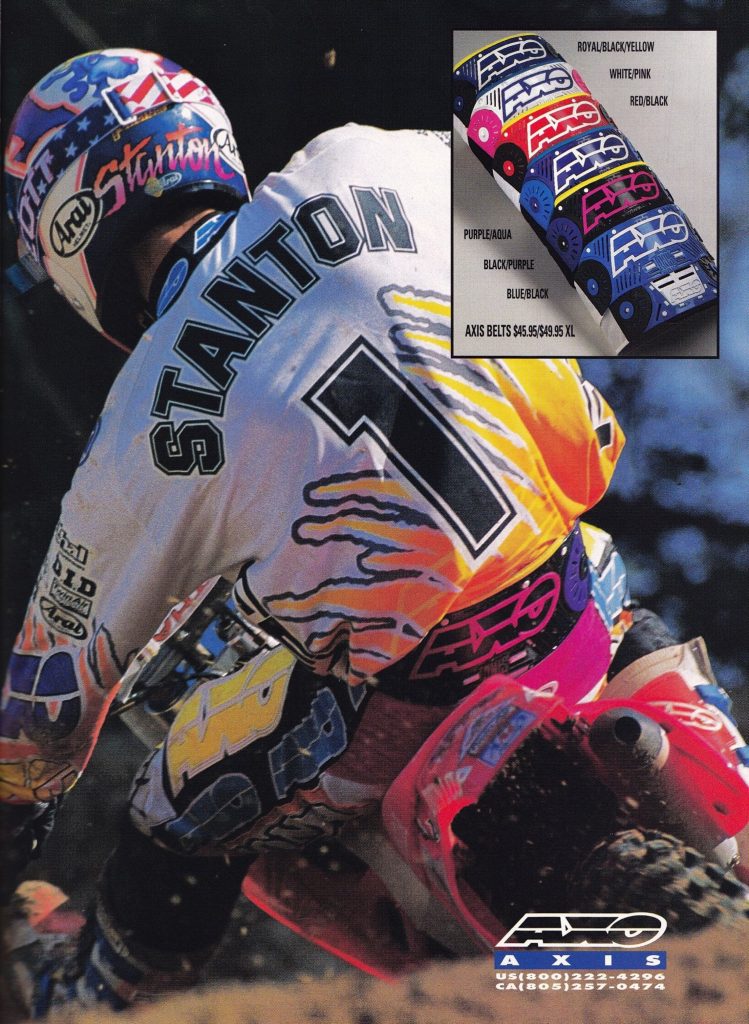 Blaze: The Axis belt was back for 1993 with some new colors, but the era of the kidney belt's popularity was quickly drawing to a close.
Matthes: Way cool ad, great shot of Stanton with perfect riding form. The big ass #1, factory Honda…yeah, this was rad.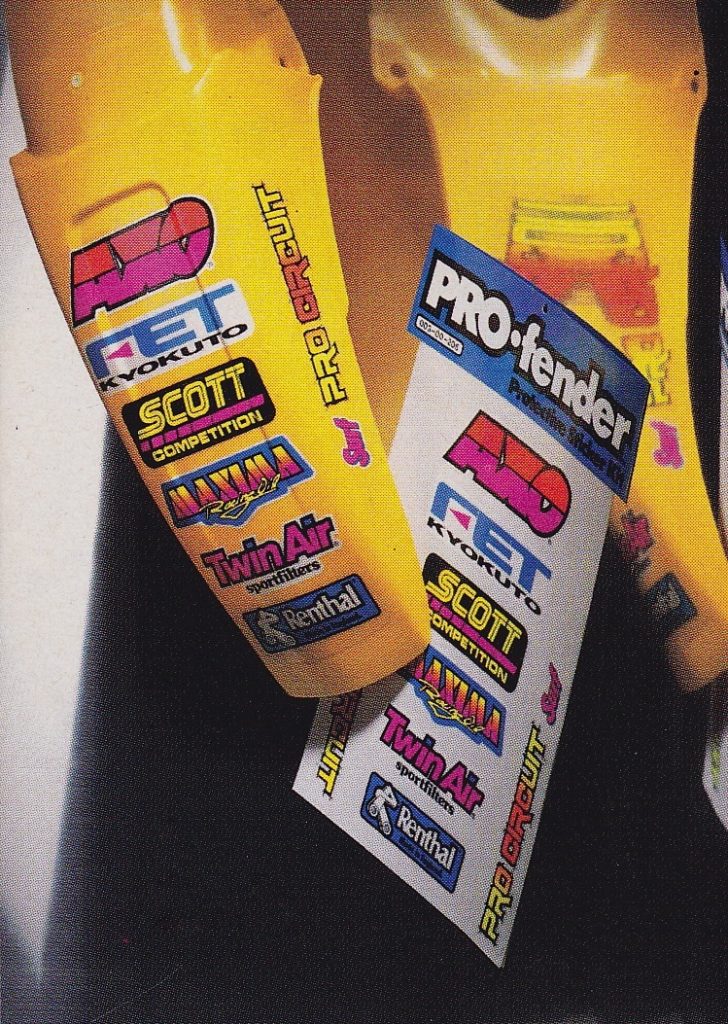 Blaze: While not gear, AXO's new Pro-Fender decal pack was a game changer at the time. Prior to this, we had to piece together a tapestry of individual decals on the rear fender to give our bikes that "Factory" look. Most of them would not make it past the first pressure washing session and ones like the trick, but inscrutably mysterious FET decal were all but impossible to get. With the introduction of the Pro-Fender, AXO made it easy to make your bike look mega sweet and best of all, because the decals were sublimated below clear vinyl, they were all but impervious to pressure washing mishaps.
Matthes: My brother was always an artsy-type of guy, so over in the Matthes household we were covering our rear fenders with clear mac-tac for a long time to keep our sponsors looking good, so this was not needed. I always thought it was super weird to buy a rear fender sticker that didn't have all the sponsors that you used. Like, why would anyone do that? However around this time I had a small MX shop and sold the shit out of these so…who knew?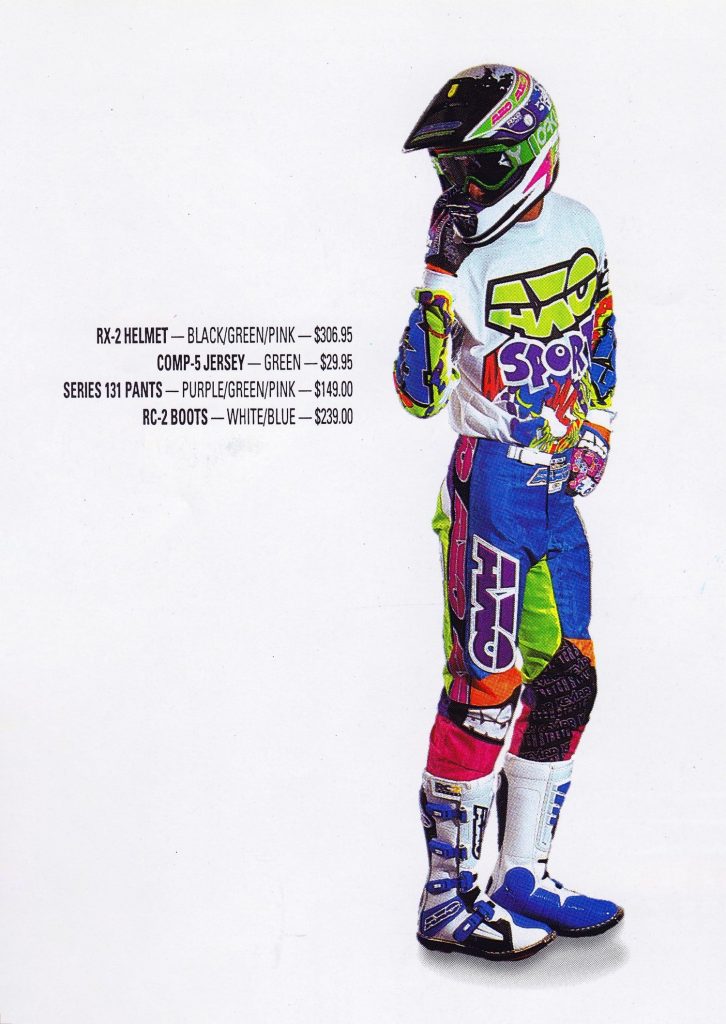 Blaze: A new Comp 5 jersey for 1993 offered more cartoony graphics and the same all-cotton construction. Those Purple/Green/Pink Series 131 pants were a great look if you had a Kawasaki.
Matthes: Yeah, I didn't like the cartoon-ish look of the AXO stuff around this era.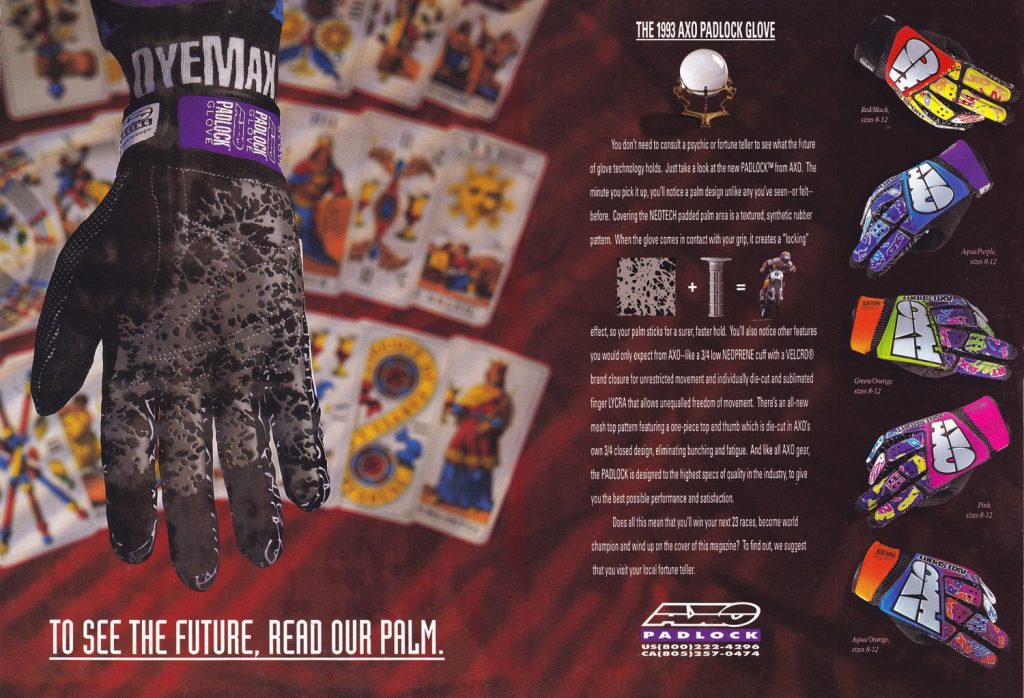 Blaze: For 1993, AXO introduced a new glove they coined the "Padlock." These new gloves offered a unique rubberized material in the palm to "lock" your hand to the grip. While this never really took off in a big way, you do still see modern gloves use something similar in strategic areas like fingertips.
Matthes: I have nothing, I don't remember these. I also have my doubts they "locked you in" with your grips either.

Blaze: Even though AXO was on quite a roll in '93, not all of their products were big hits. These Limited Edition Series 151 pants featured a weird wrap-around look that I never really cared for. Other than this ad, I have never actually seen a pair of these pants. I don't think Bradshaw ever raced in them and I certainly never saw a pair in the wild. Thor, O'Neal and JT all tried a similar look at the time, but I don't think any of them actually caught on with the buying public.
Matthes: Yeah I remember the O'Neal ones that had the logos wrap around your leg, they were actually kind of cool right? Mike Craig rocked them that one year. I'm with Blaze, I never saw these in the wild either.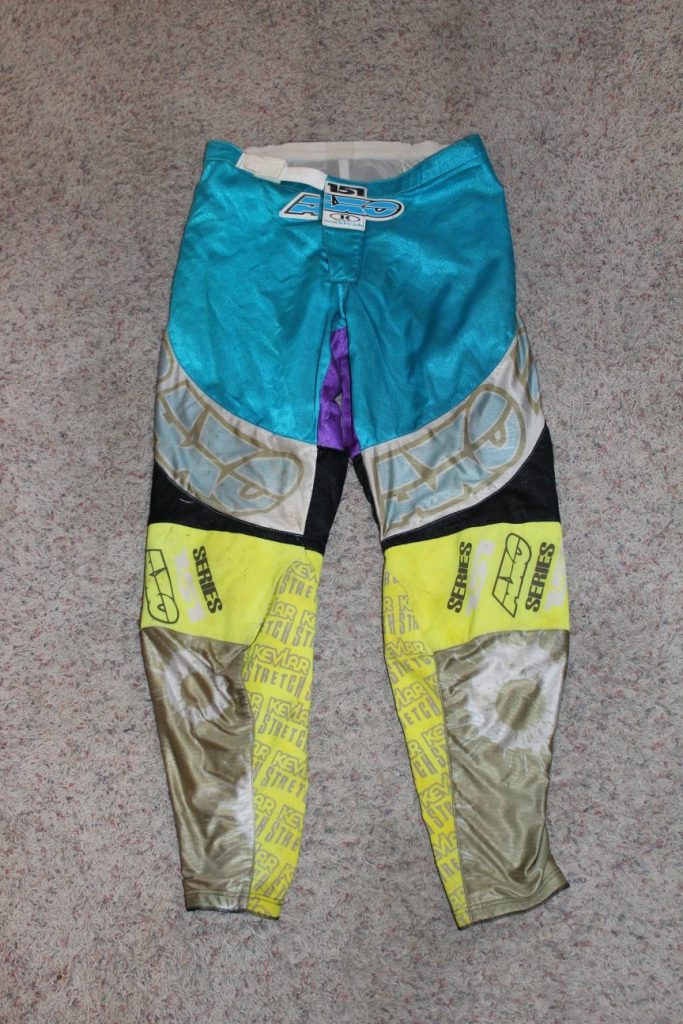 Blaze: My buddy Eric Golden, who helps me with proofing these, informed me he actually bought a pair of Series 151 pants back in 1993 and sent me the pic to prove it. Check out the Mission Control splats on the bottom. Maybe they had some left over material from 1991? Either way, I am glad to see AXO got at least one brave soul to lay down their $169.
Matthes: Too many washes.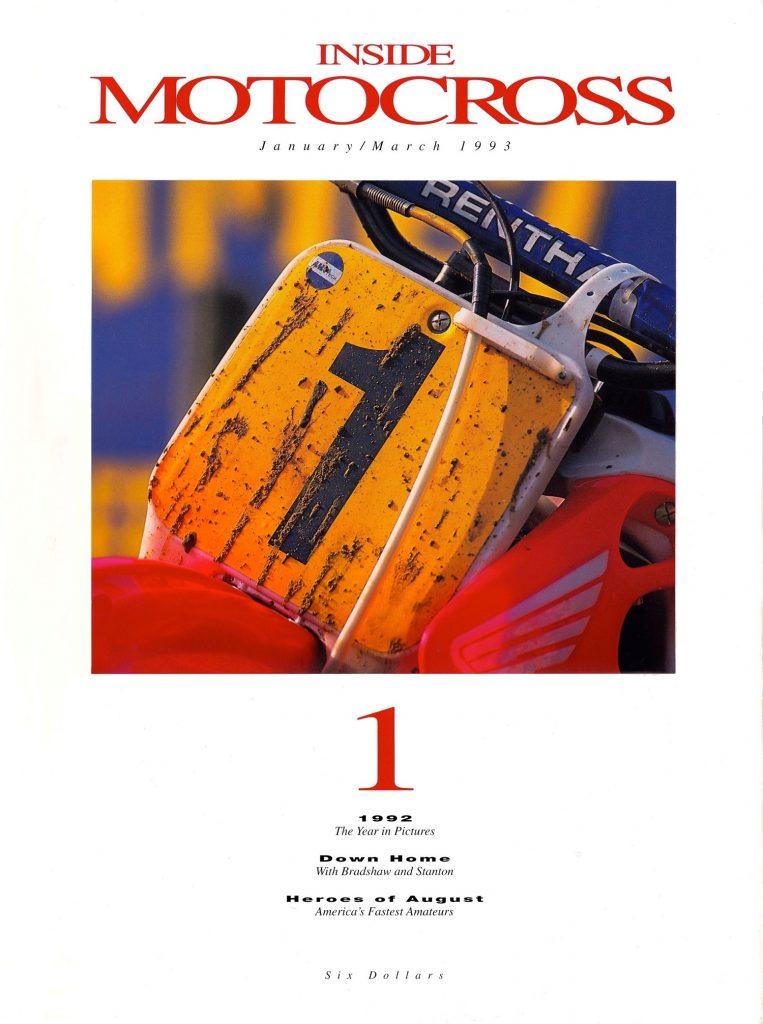 Blaze: It is impossible to talk about AXO in the nineties without mentioning Jim Hale's most ambitious project of all – Inside Motocross. Even today, this magazine is a legend in the industry. Glossy, oversized and helmed by renowned photographer Fran Kuhn, Inside Motocross was groundbreaking in terms of style and production quality. Unfortunately, however, pressure from other publications (mainly MXA) would lead Hale to shut the magazine down after only four issues. Even to this day, if you look at the back page of every issue of Racer X Illustrated, you will see a tribute to this legendary publication in the form of a hypothetical cover to an issue five that never made it to print.
Matthes: Yep, these were great to read and I loved them. I think everyone really did right? They were SO different from what was available back then.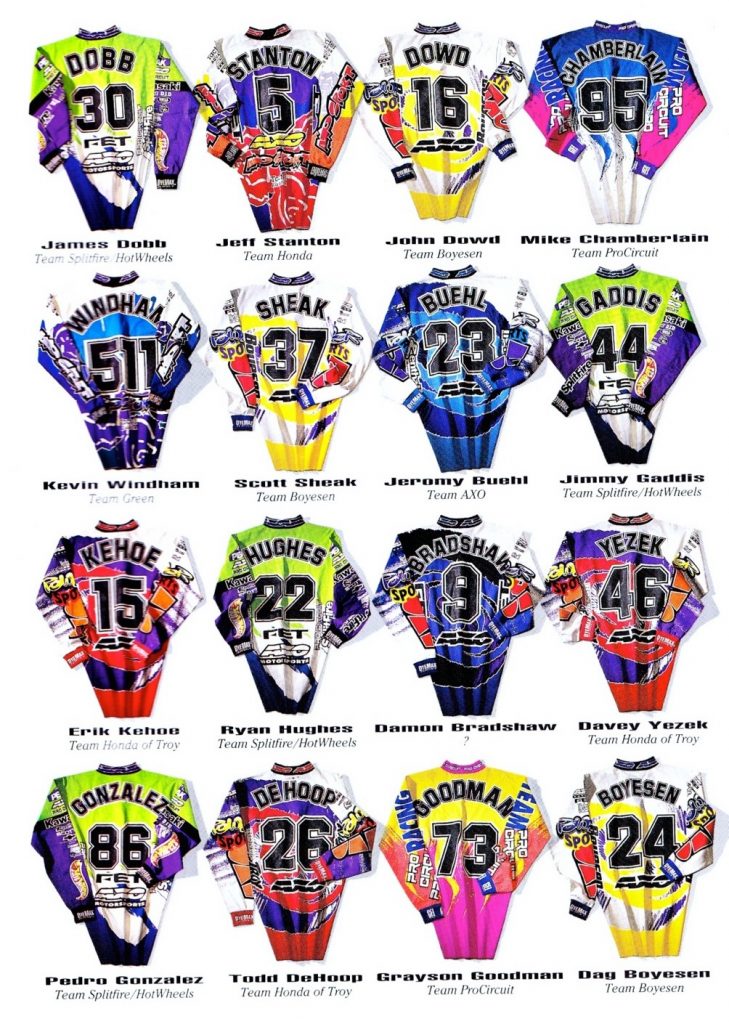 Blaze: The 1994 season was set to be a great one for Jim Hale's company, with a number of big-name riders and teams under the AXO umbrella. This ad is cool both for the great assortment of colors and styles available, and also for the presence of one Damon Bradshaw. Set to be national number 9 in '94, Bradshaw's status was still very much up in the air when this ad went to print in the winter of 1993. Few people outside of his inner circle thought Damon would actually walk away from a multi-million dollar contract at the ripe old age of 21. While he did come back two years later, the Beast would never again be the threat he was before his early retirement.
Matthes: Yeah this was a way cool ad. I like when the companies do this sort of thing, I've been telling the Scott USA guys they need to bring back the photos of the riders and the colorways they use. Shout out to Dag Boyesen for getting into an AXO ad also!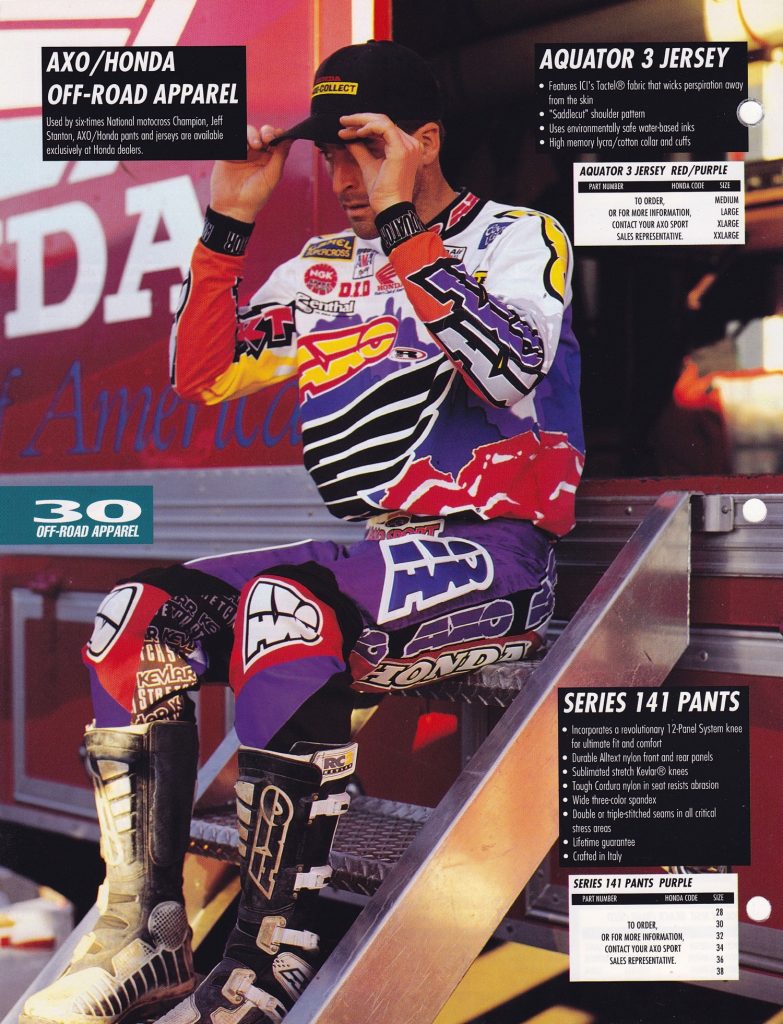 Blaze: Jeff Stanton was back with AXO for '94 in what would turn out to be his last professional season. While '92 is still my favorite year for AXO, this 1994 Hondaline Aquator 3 jersey and new Series 141 pants are some of my favorite designs of the era.
Matthes: This stuff was only available in Honda dealers right? Man I shake my head at some of the strategies of these companies back then.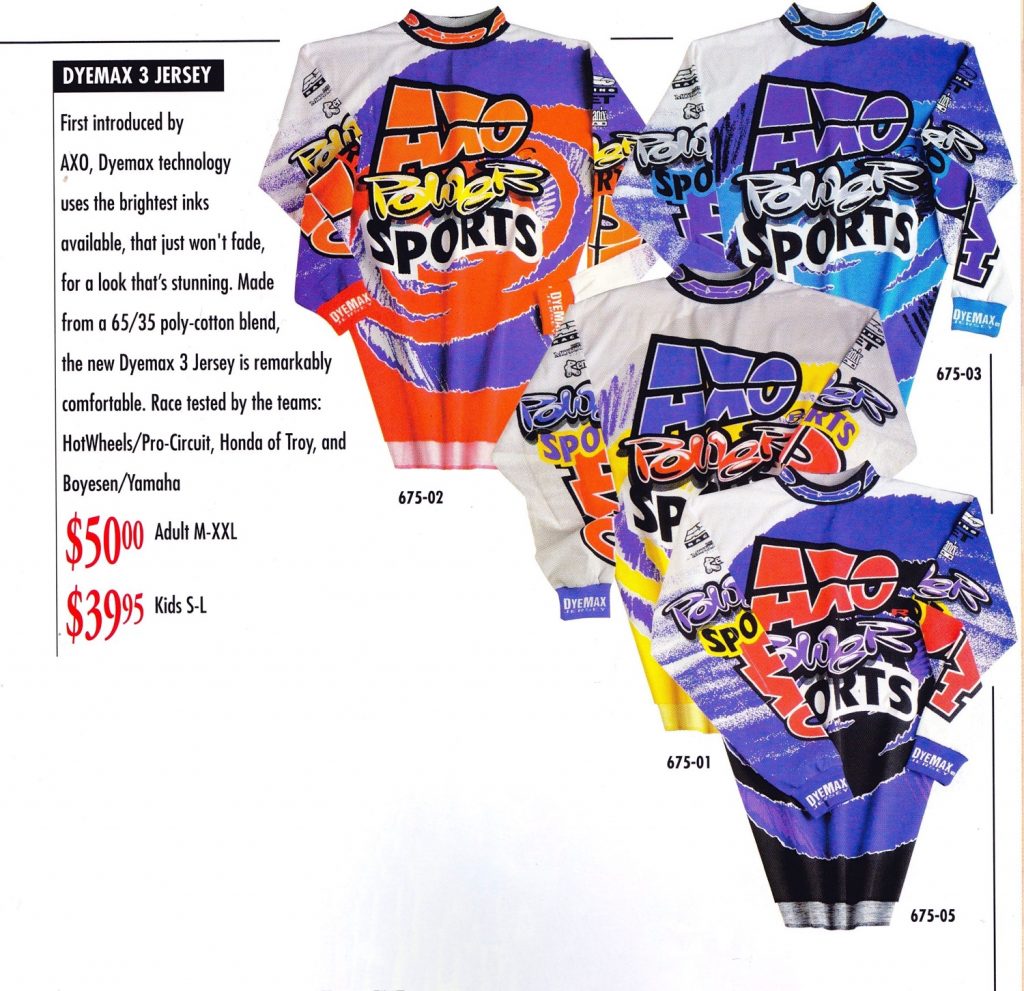 Blaze: Dymax was back for 1994 and featured some bright new colors and very bold graphics.
Matthes: Again, too cartoon-ish for my tastes. I was out on AXO at this point going with the FOX stuff with those green and gold earth tone colors.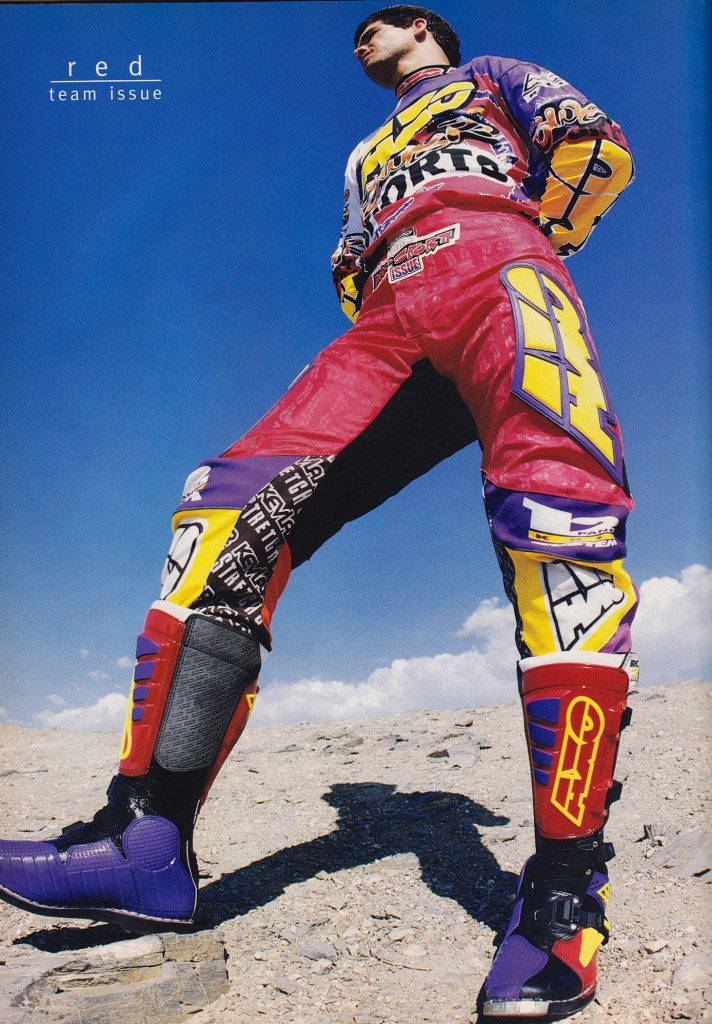 Blaze: The new "Team Issue" gear was some of my favorite AXO stuff for 1994. This Red/Purple Team Issue combo Ryan Hughes is sporting was particularly great looking.
Matthes: Ehhh, ok I guess. Not enough change for AXO in these years from what they used to sell.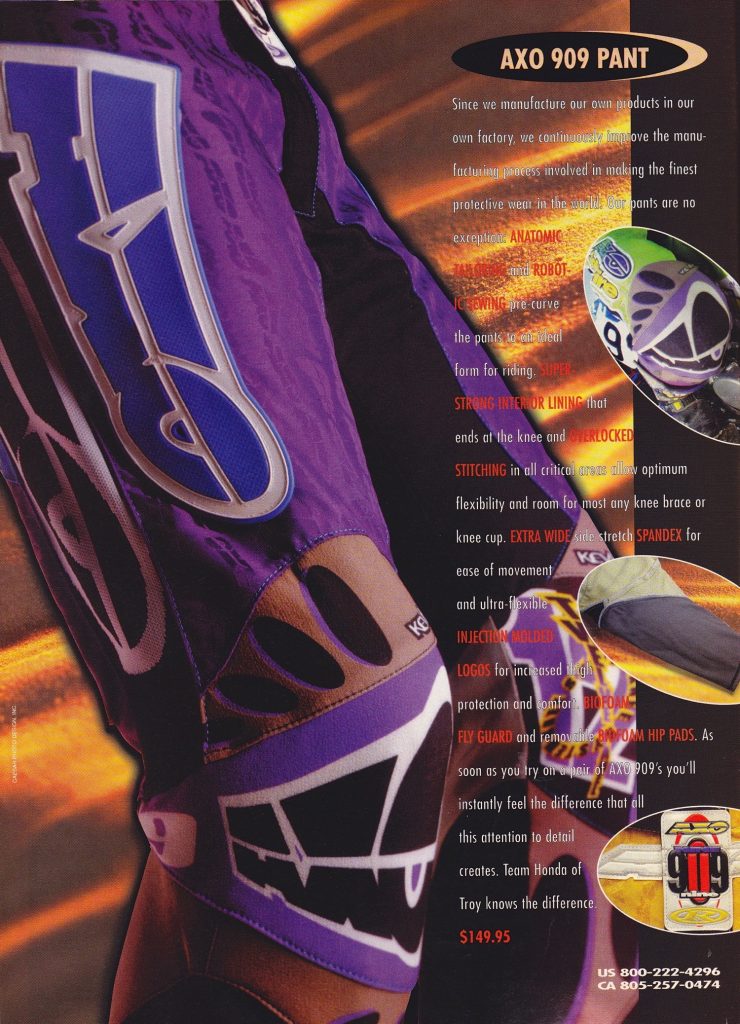 Blaze: I really liked AXO's new 909 Pant for 1995. The new logo was a bit stylized for my taste, but the overall design was clean and offered some really bright and vibrant colors. Check out all the cool little AXO logos embossed into the pants. Even those are done to match the new logo design.
Matthes: Damon Huffman wore the stuff back around this time and I started to like it with the greys and blacks.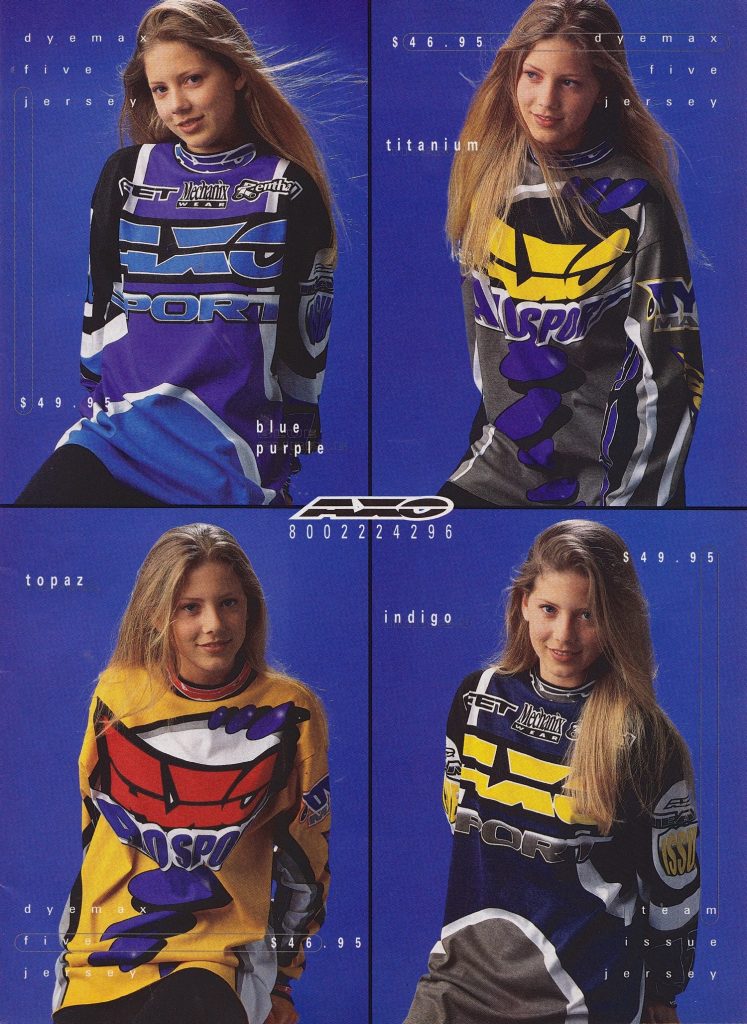 Blaze: The new Team Issue jerseys were much cleaner and by far my favorite of AXO's offerings for '95. The new Dyemax 5 was available in some great colors as well, but that crazy new logo was a bit much for my taste.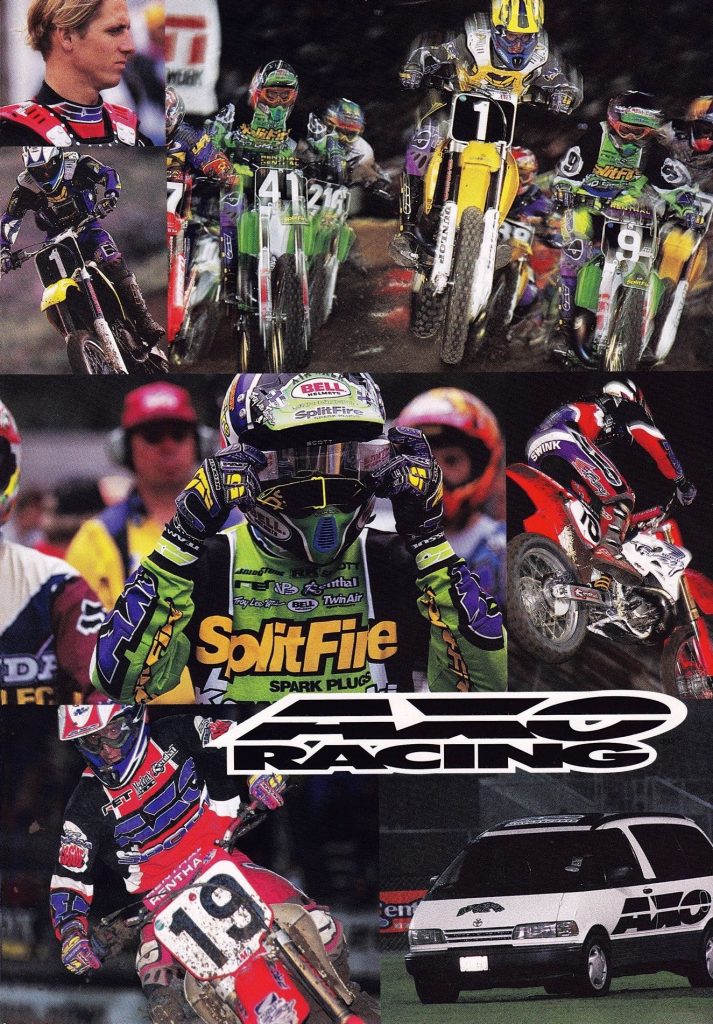 Blaze: Both the Pro Circuit and Honda of Troy team sported the Team Issue AXO gear in 1995. Both the Red/Blue and Green/Black combos were some great looking kits.
Matthes: Yeah the HOT guys looked really good in their team stuff back then if I remember right.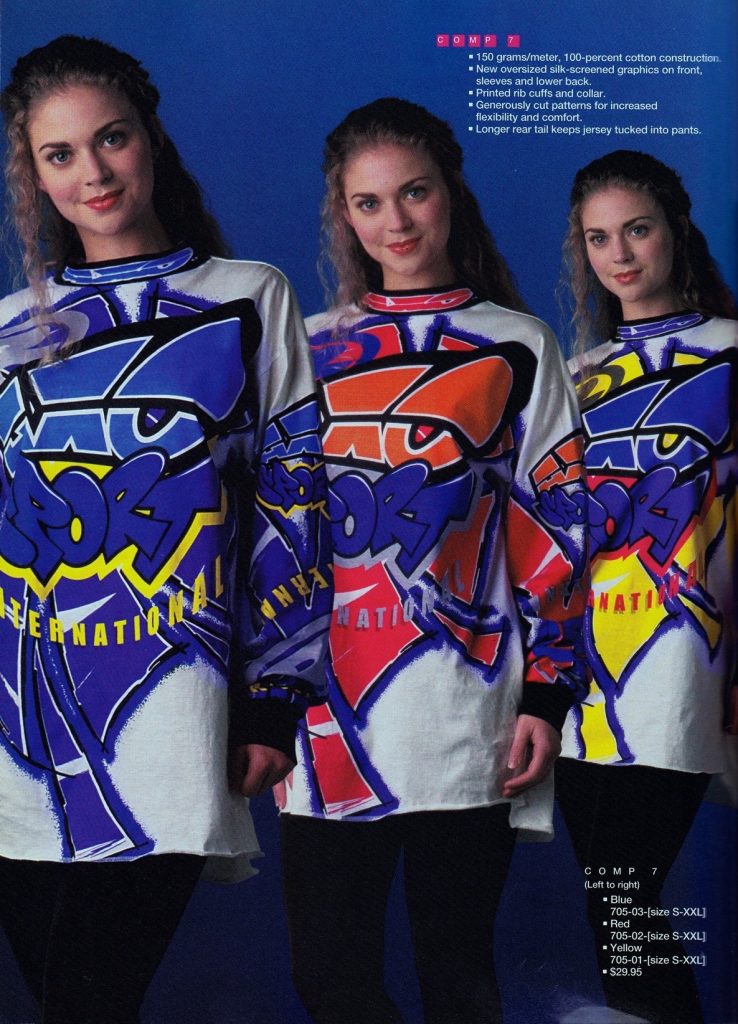 Blaze: The all-cotton Comp series was back for 1995 with its seventh installment. While certainly colorful, I never really cared for this design.
Matthes: Someone tell the model that stare she's using is really creepy. Almost robot-like.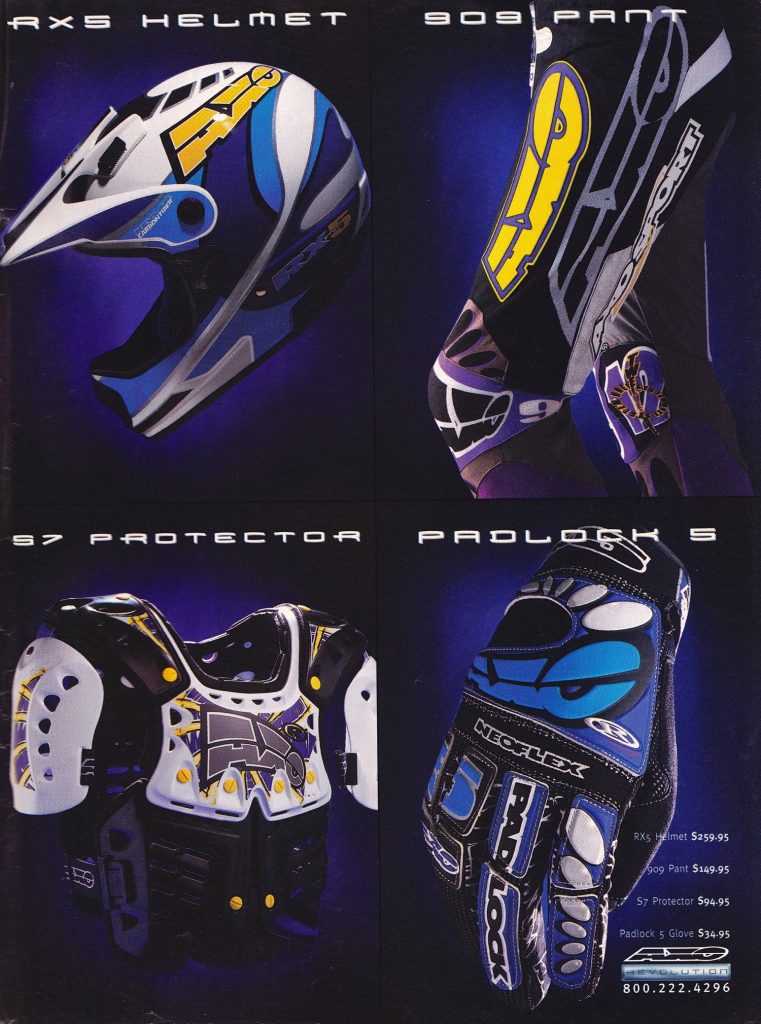 Blaze: The new S7 chest protector was probably an upgrade in protection, but not in style in my opinion. The weird bubbles thing AXO had going on was also not really to my liking.
Matthes: I don't know what they were thinking with that chest protector back then. Wow. Really? But I will say that around this time their helmet line was starting to make a dent in sales.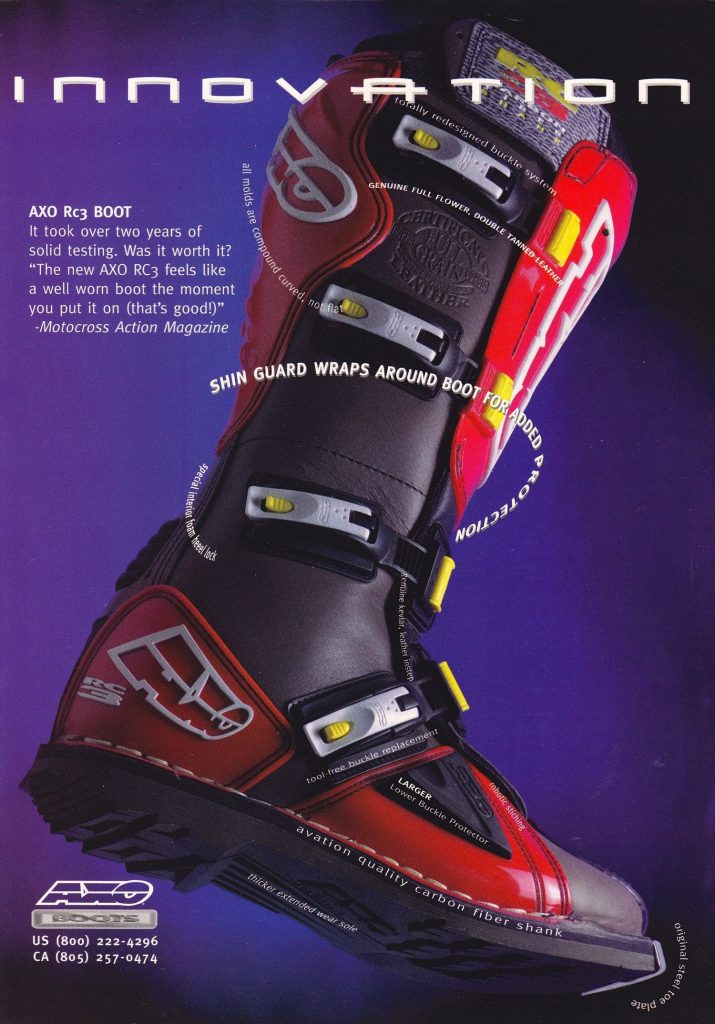 Blaze: By the time the RC3 made its debut in 1995, I had switched over to Alpinestars as my boot of choice. While I am sure the RC3 was a great boot, once I tried A-Star, I was smitten with the softer leather and less restrictive feel they provided.
Matthes: Yeah, RC3 boot…I mean I'm sure it was good but it was over for AXO and me at this point.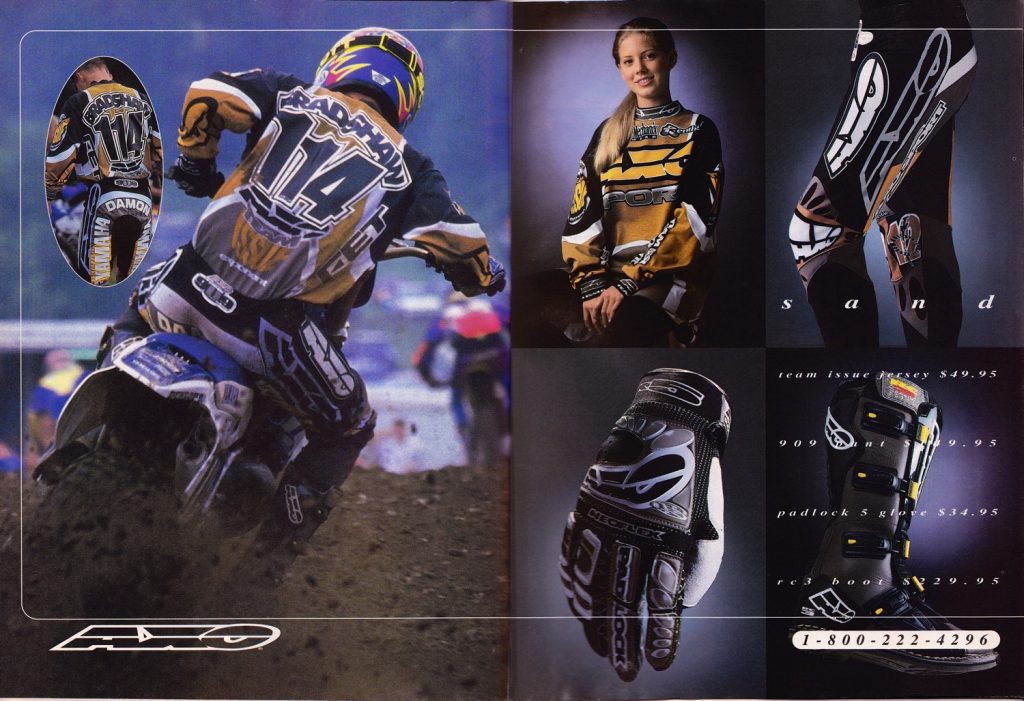 Blaze: By far the biggest news of '95 for AXO (and probably moto overall) was the re-emergence of Damon Bradshaw from his self-imposed exile. After a year and a half on the sidelines, he made his triumphant return at High Point riding a #114 Factory Yamaha. This Team Issue Sand colorway might be my favorite AXO gear of '95.
Matthes: BRADSHAW'S BACK???? Yeah, Give me whatever he's wearing. I'm in.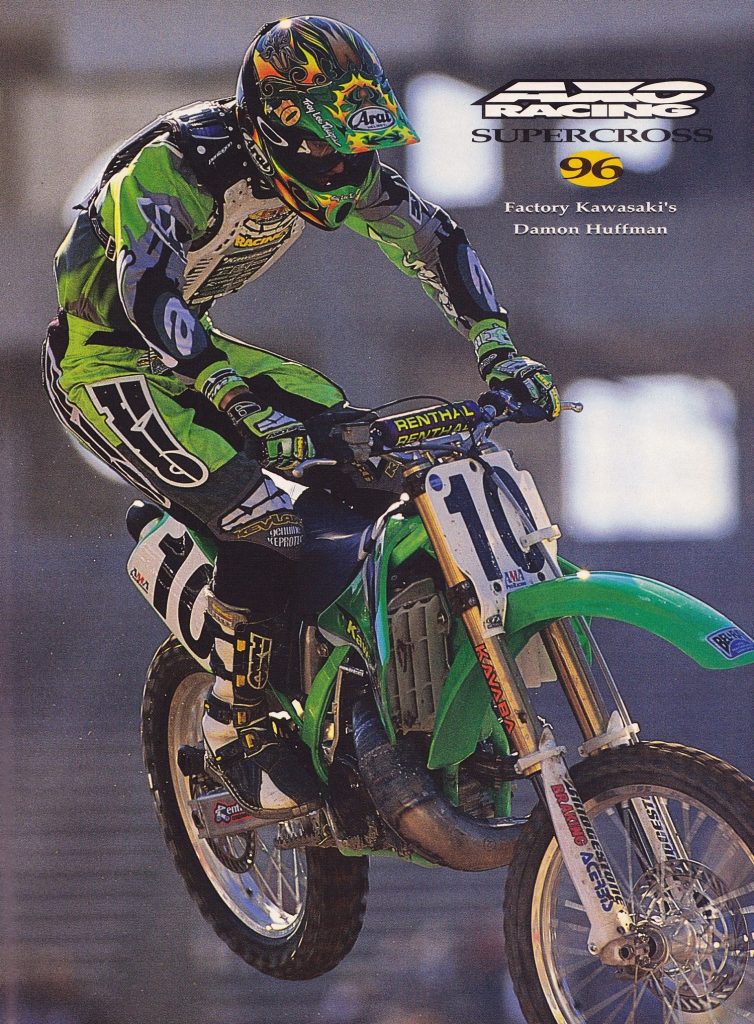 Blaze: After the exciting return of Bradshaw in 1995, AXO was dealt a major blow by Yamaha's decision to employ Fox Racing as its official gear sponsor for 1996. This meant The Beast was unable to run AXO for the first time since his switch in 1991. Damon Huffman (pictured) and Ezra Lusk would be AXO's big-name riders in '96.
Matthes: And then Damon Huffman explained that he was all set to go to Honda for this year but they had a FOX clothing deal also and he couldn't get out of AXO contract. Weird but true…team gear deals were here and FOX was determined to lock up some big teams.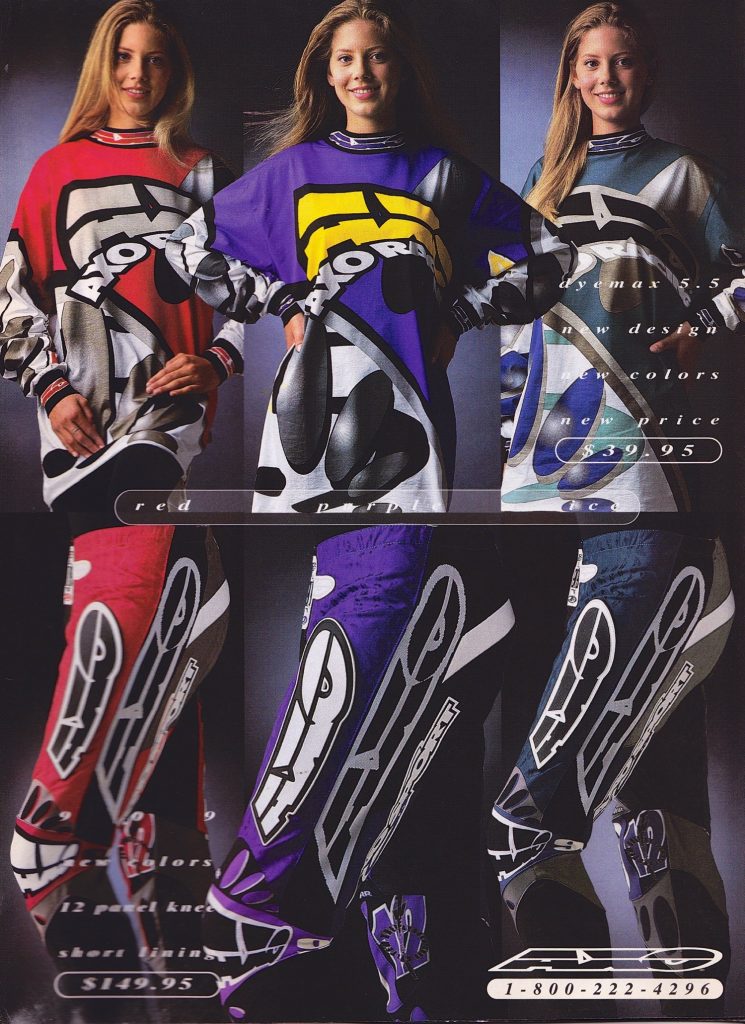 Blaze: The bubbles were back for '96 and bigger than ever. It was at this point that I started to lose some of my interest in AXO.
Matthes: Is it bad to say that to me, I'd rather see action shots of factory riders in gear for an ad than a chick in a jersey?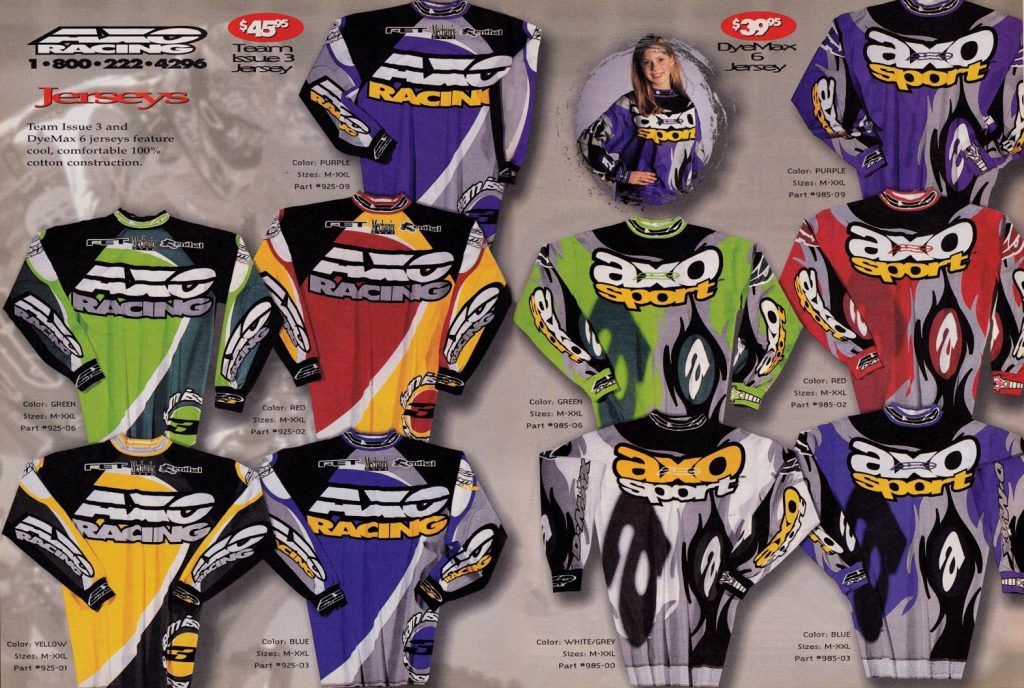 Blaze: The Team Issue 3 jerseys were OK, but honestly, I did not really care for any of this stuff. This is the point where Jim Hale began to lose interest and sell off portions of the business to current AXO owner Bruno Zago. Quite frankly, I believe that lack of interest was beginning to show in the quality of the designs.
Matthes: Is that what Jim said in our podcast? I don't remember that.
Blaze: Yes, Jim spoke about it and I also talked to the current owners of AXO about the sale as well.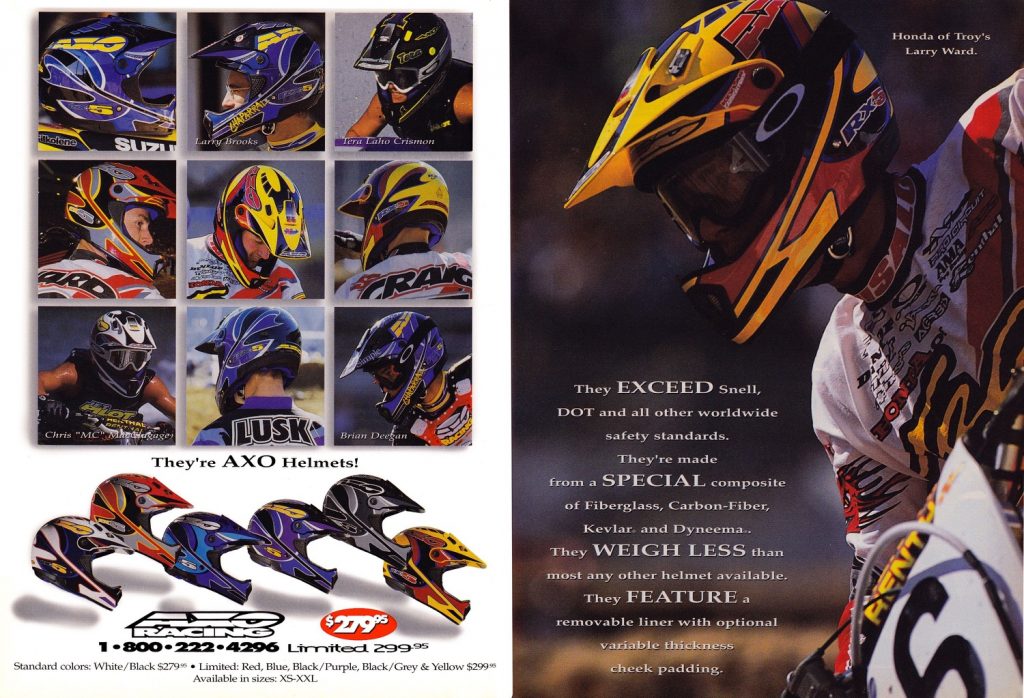 Blaze: While I never owned one, I always dug the look of these RX5 helmets. Their use of Carbon Fiber was a big deal at the time and made them ultra-light. That Red/Yellow Limited combo was a really good-looking lid.
Matthes: These helmets were big this year, my buddy Jason Frenette wore AXO and would give me his helmets that he crashed in so I had a few of them. Then again, typing that sentence out didn't make much sense…why would I take them? I was a mechanic on the circuit by then and not riding much.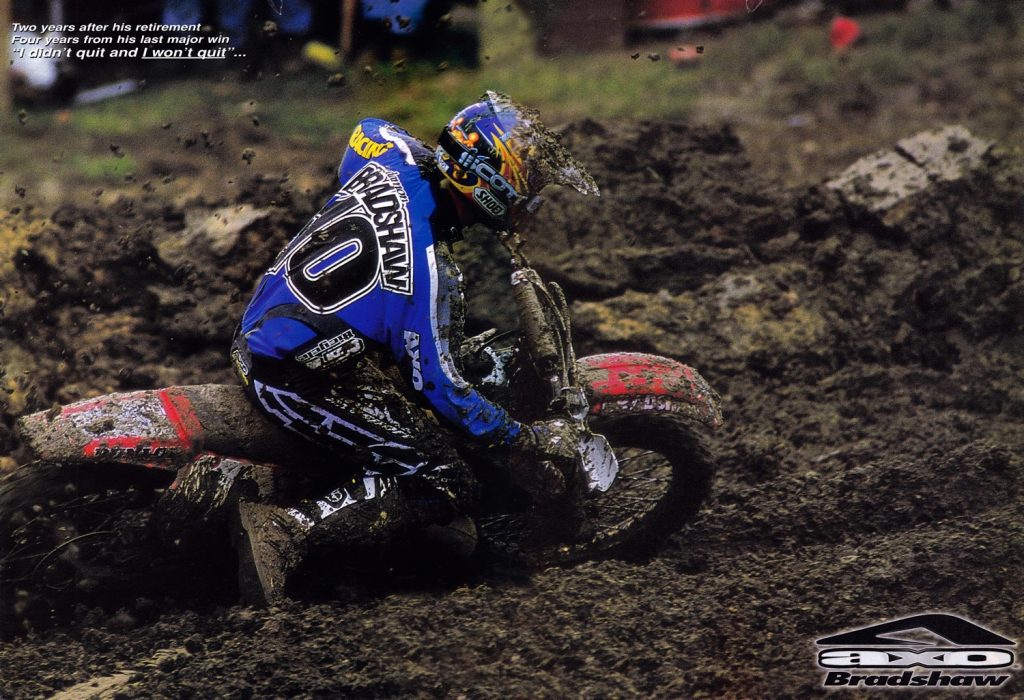 Blaze: After a brief stint in Fox, The Beast was off the Factory Yamaha team and back in AXO for 1997. Quite frankly, if not for AXO and Jim Hale, Bradshaw might not of even been racing this year. His deal with Manchester Honda was largely funded by Hale, with AXO providing the team's hauler and most of the money for support. Damon would pay Hale back in May with a hugely popular win in the High Point mud.
Matthes: Yep, Damon was very thankful to Jim for helping with the team this year. I worked out of Bradshaw's truck in '99 at the Mini O's with Ryan Morais and I remember thinking "there's the bed Damon would sleep in". I know, super creepy bro.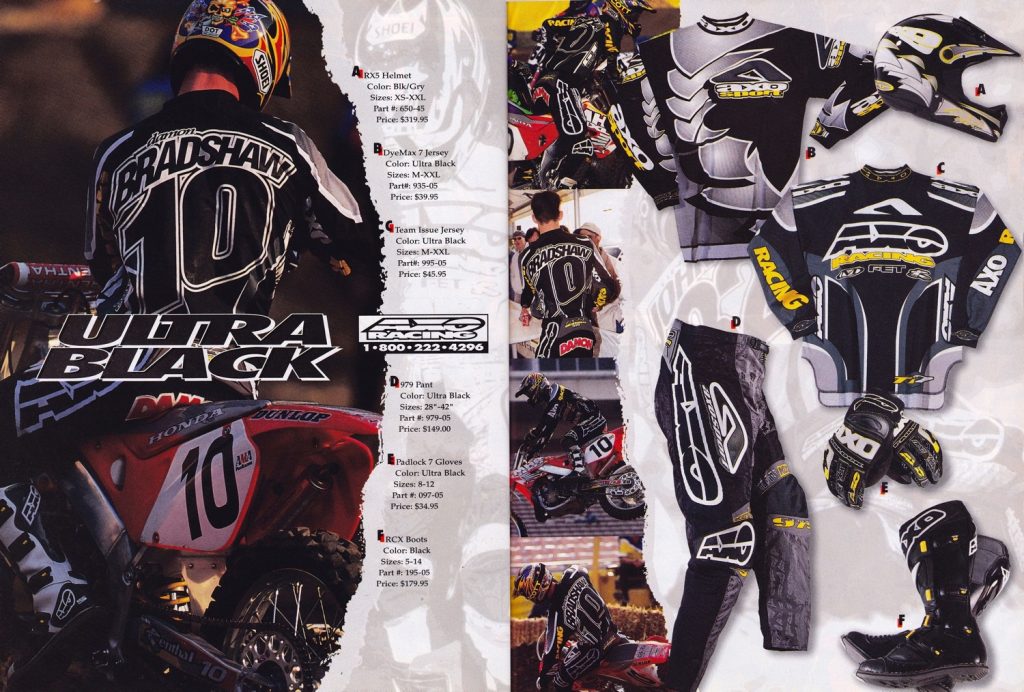 Blaze: For 1997, AXO introduced an all-new logo design that simplified things down to a single stylized "A." None of this stuff was bad, but during this era I much preferred the look of Fox, Shift and Thor.
Matthes: That bike looked SO cool (although it was garbage) and Damon was SO cool that I just went with it.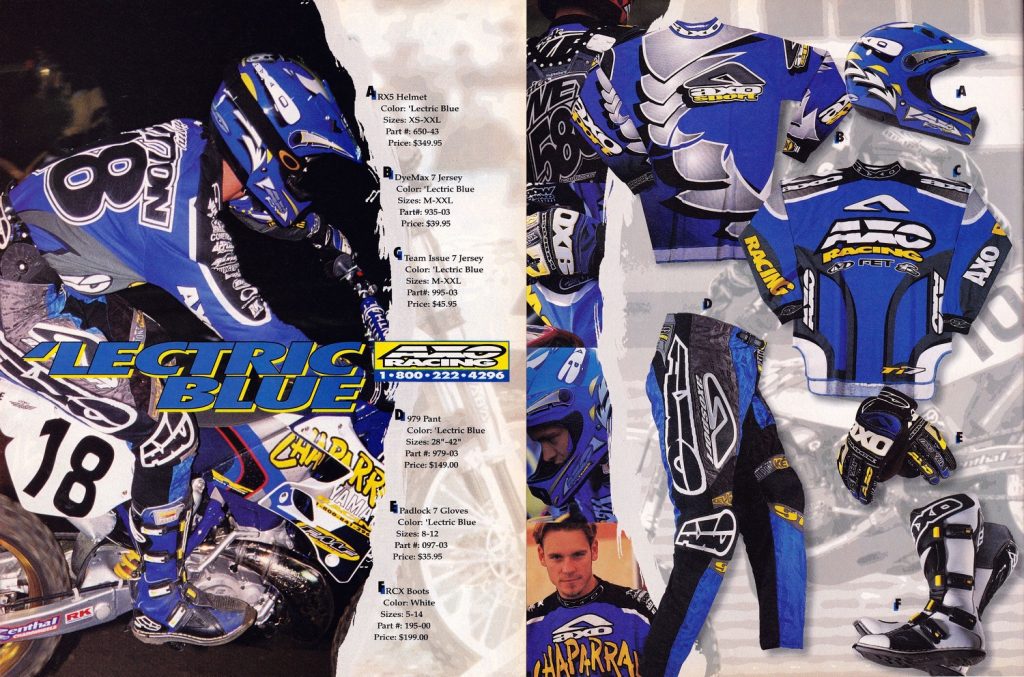 Blaze: In addition to Bradshaw, AXO sponsored Phil Lawrence, Michael Brandes, Jimmy Button, Travis Preston and Chad Pederson on the Chaparral team.
Matthes: AXO also had a limited edition all carbon helmet that was pretty amazingly light. Not too many of the riders got them and I don't think they sold well but man were they cool looking.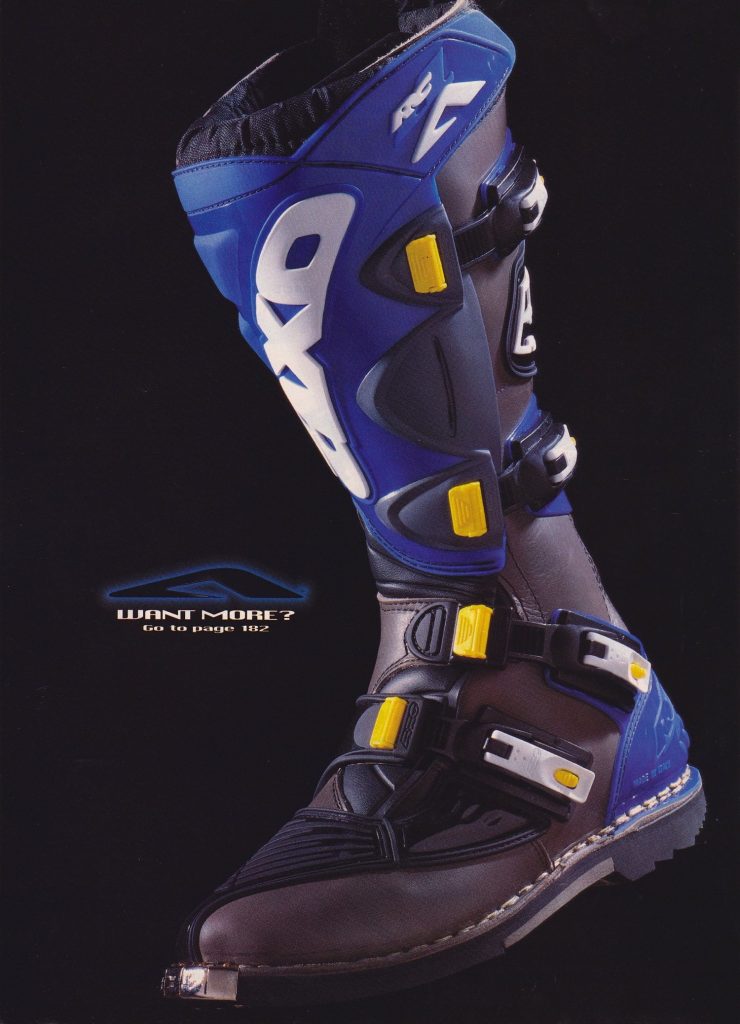 Blaze: Another year and another new AXO boot design. Yeah, I never had this one either.
Matthes: I mean, I'm sure they were good and all but AXO was losing steam at this point.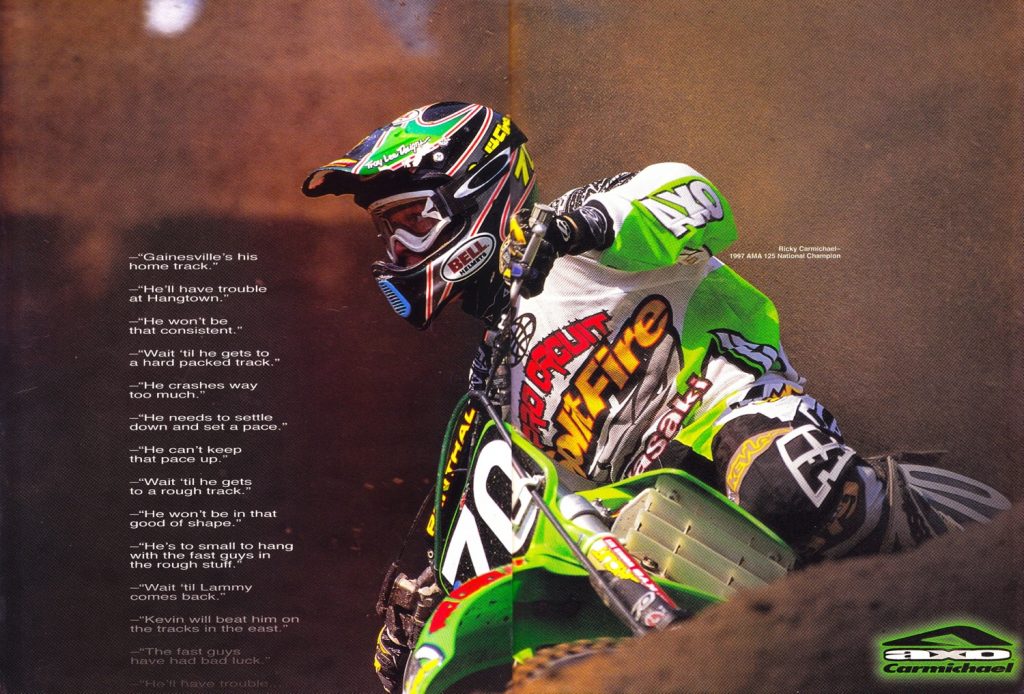 Blaze: AXO's other major partnership in 1997 was with Pro Circuit Racing. One of Mitch's original sponsors, AXO had been with PC since the Peak Honda days. Due to this partnership, AXO was able to snatch rookie Ricky Carmichael away from long-time sponsor Fox.
Matthes: SUCH a cool ad.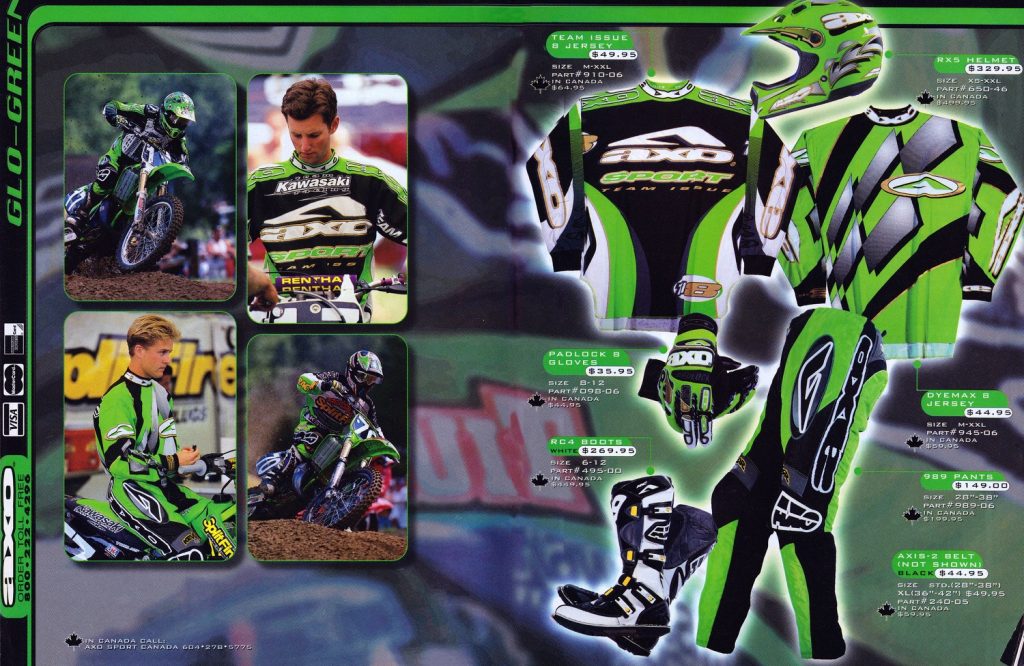 Blaze: If 1996 was the beginning of the end, then 1998 was the end of the end for the original AXO Sport America. After the initial sale of 50% of the company in '96, Hale was not happy with the direction Bruno Zago wanted to take with AXO. As a result, he began to make plans to get out of AXO and focus solely on his successful Mechanix wear and Renthal lines. In 1998, that plan came to completion with the sale of his final 50% ownership to Zago.
Matthes: Yeah, there was this little thing called Mechanix Wear that was gaining more steam with the NASCAR series and then Pep Boys shops everywhere. Soon, Hale selling AXO and getting into Mechanix would be the best thing he ever did for himself and his family. I didn't know him well but he seemed like an amazing guy and his friends in the pits are all going to miss him. RIP Jim Hale.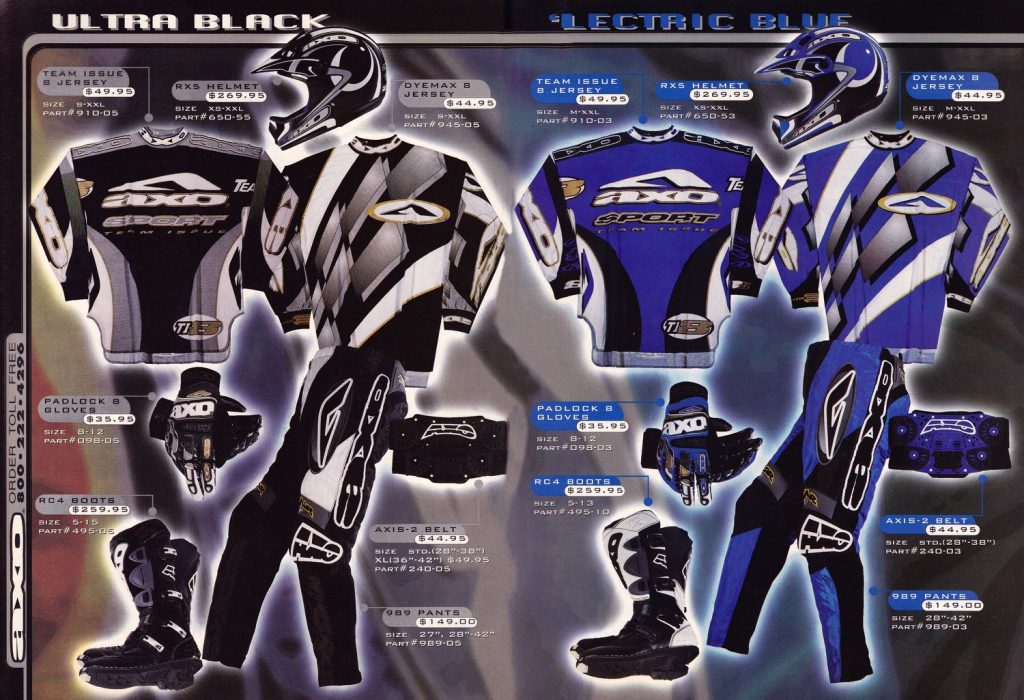 Blaze: For 1998, you can see that AXO was all-in on the new logo. Interestingly, the Axis-2 belt is still in the lineup, but I have no idea if anyone was still buying it. I was never a fan of AXO's new logo, but the simple colorways were clean and good-looking.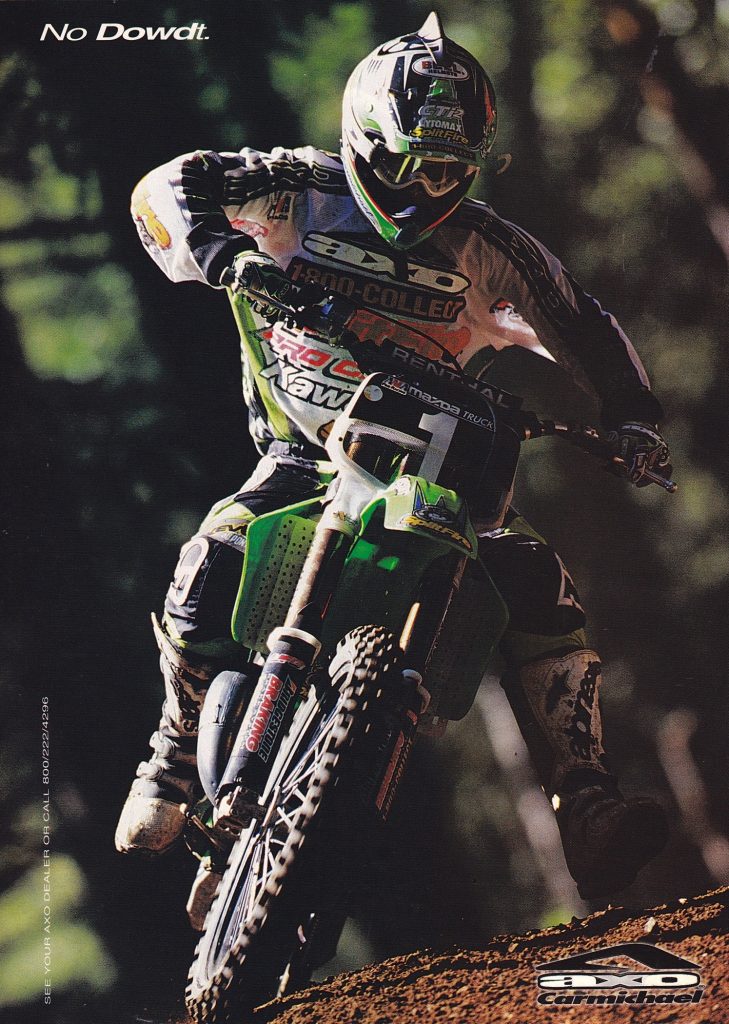 Blaze: With Bradshaw's second retirement in 1998, 125 National Motocross champ Ricky Carmichael became AXO's highest-profile rider. As a side note, I am not a fan of the dig at one of my favorite riders, John Dowd in the ad's copy. The " No Dowdt" tag line is clever, but not particularly classy in my opinion.
Matthes: Oh calm down Blaze, it's fine.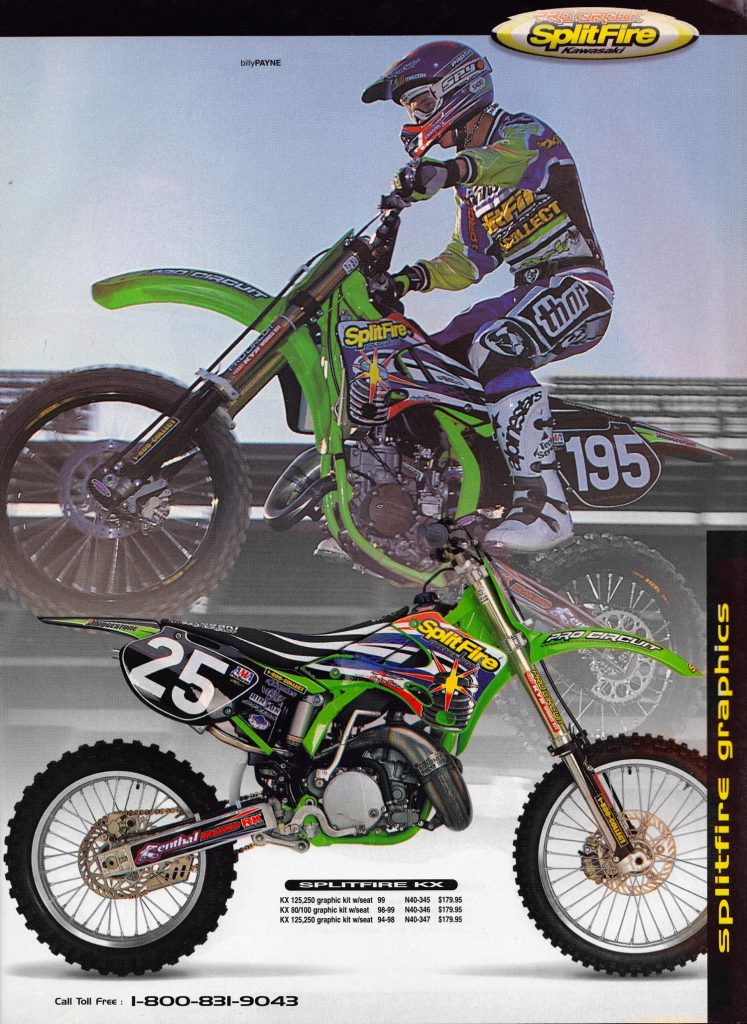 Blaze: The 1999 season marked a major turn for AXO. With the exit of Hale, several long-term partnerships came to an end. After eight years together, AXO was out at Team Pro Circuit and both them and Kawasaki's Damon Huffman moved to Thor. Once the hottest brand in the sport, AXO entered the '99 season without a single big-name rider or team in the stable.
Matthes: Yeah, weird to think right? Just one year before they had some huge names and then…nothing?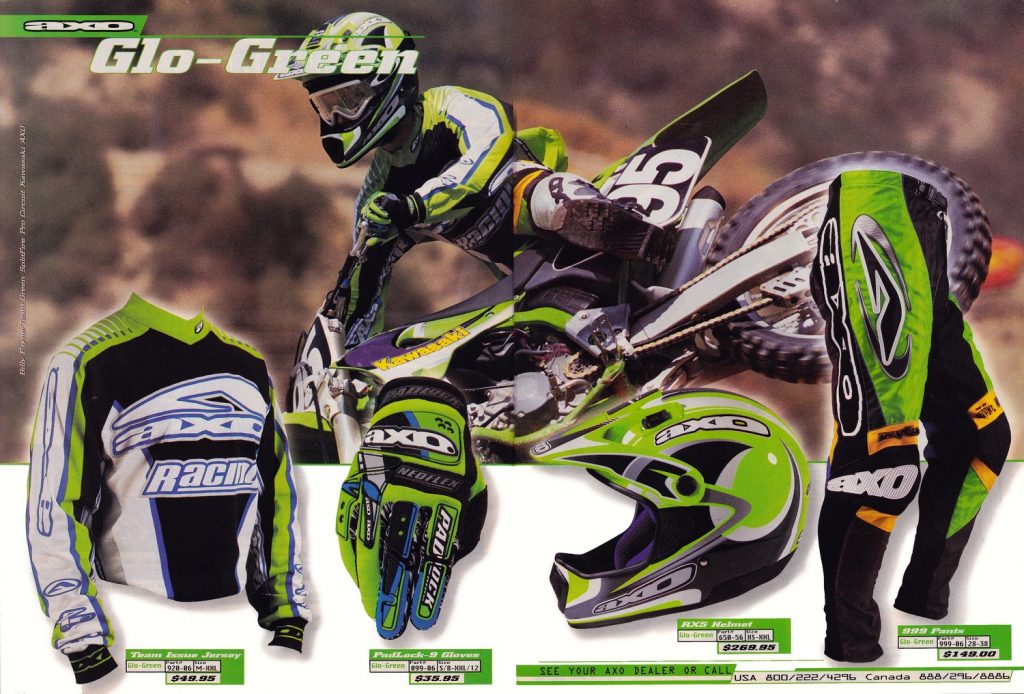 Blaze: This is where the "new" AXO jumped the shark for me. I didn't really like any of this stuff for '99.
Matthes: If you don't have a factory rider to put in your ad then use a chick. Using generic photo of dude on a bike ripping isn't ideal to me in order to sell gear.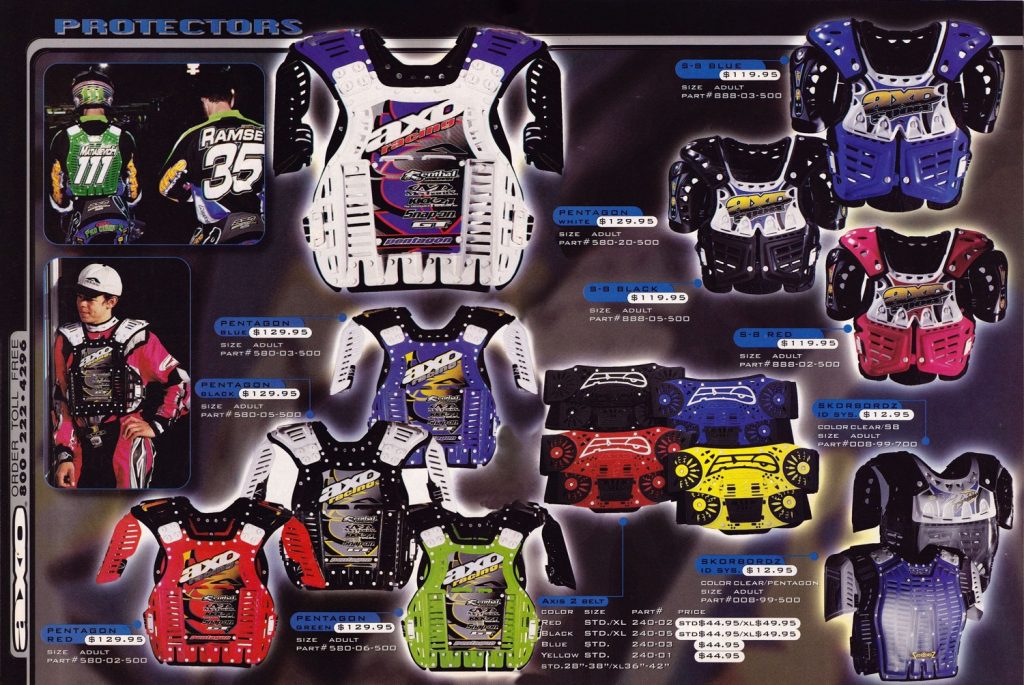 Blaze: Believe it or not, the classic Pentagon chest protector was still in the AXO lineup for '99. In spite of its advancing age, it still looked better than the newer S-8 in my opinion. The Axis belt was still around too and was now known as the "Axis-2." Other than color, I have no idea what set this belt apart from the original.
Matthes: LONG LIVE THE PENTAGON!!!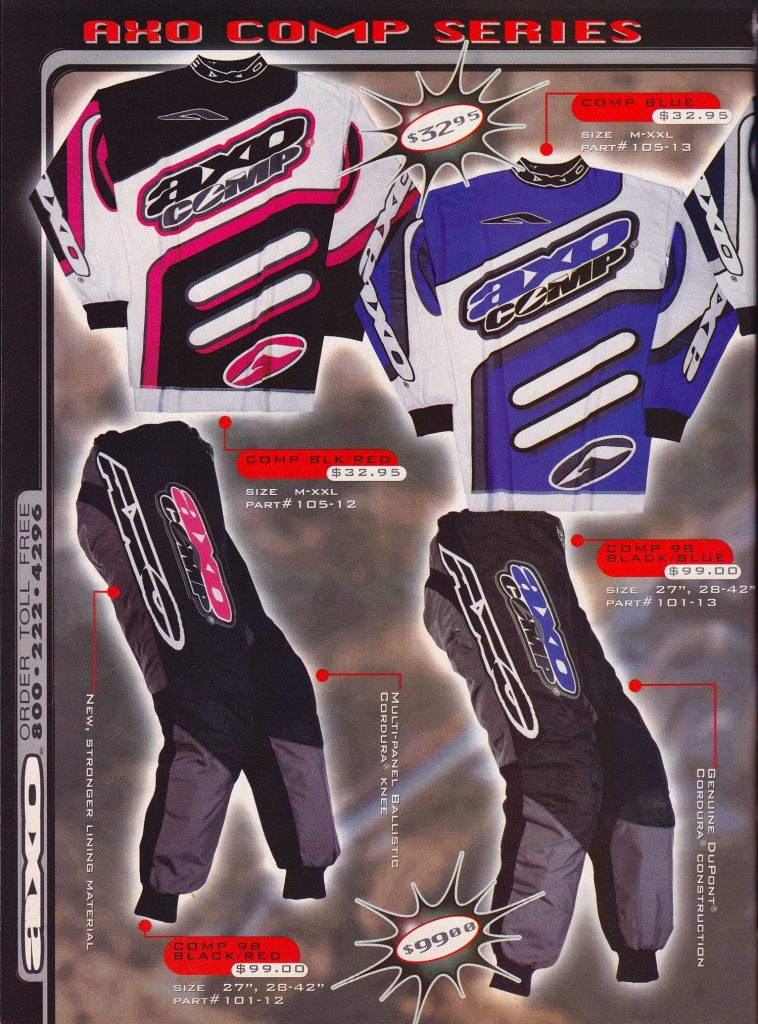 Blaze: Remember when the Comp line looked bitchin'? Well those days were over my friends. This Comp stuff for '99 was just awful and should have been refused at the port and sent back to Italy.
Matthes: Wow, this made it past the designers and owners and was decided it was good to go?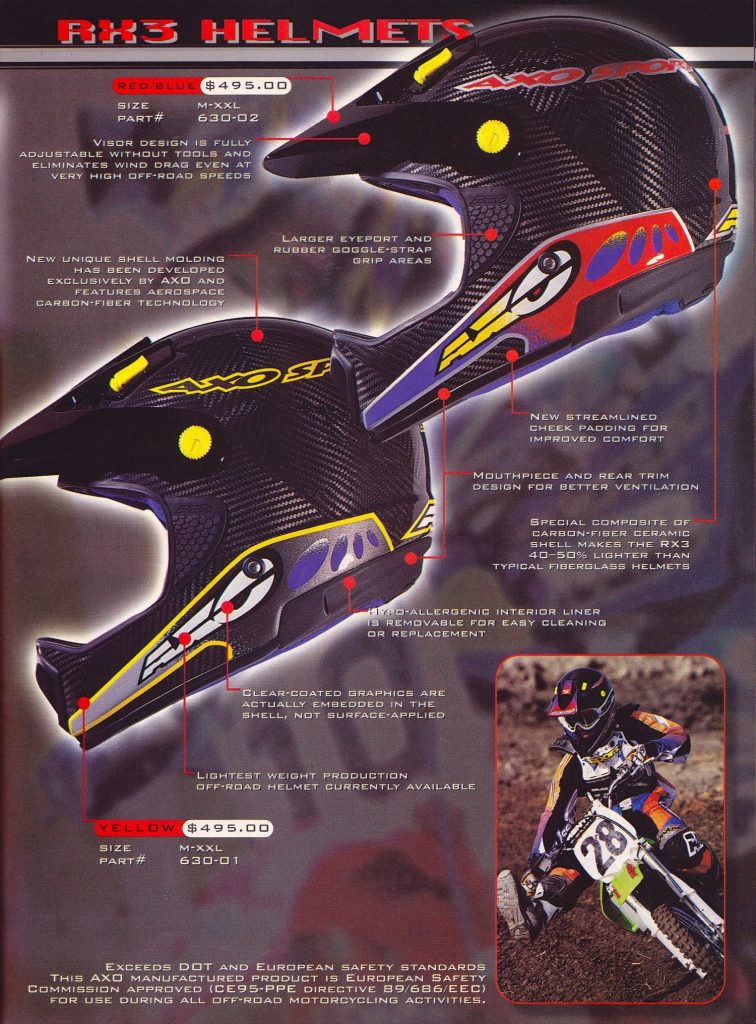 Blaze: The sole product in the AXO lineup for '99 that still interested me was the badass RX-3 Carbon helmet. The graphics weren't great, but man that exposed carbon fiber was sexy.
Matthes: "Oh hey look dad, #28 on a KX wears AXO, maybe we should buy it also?"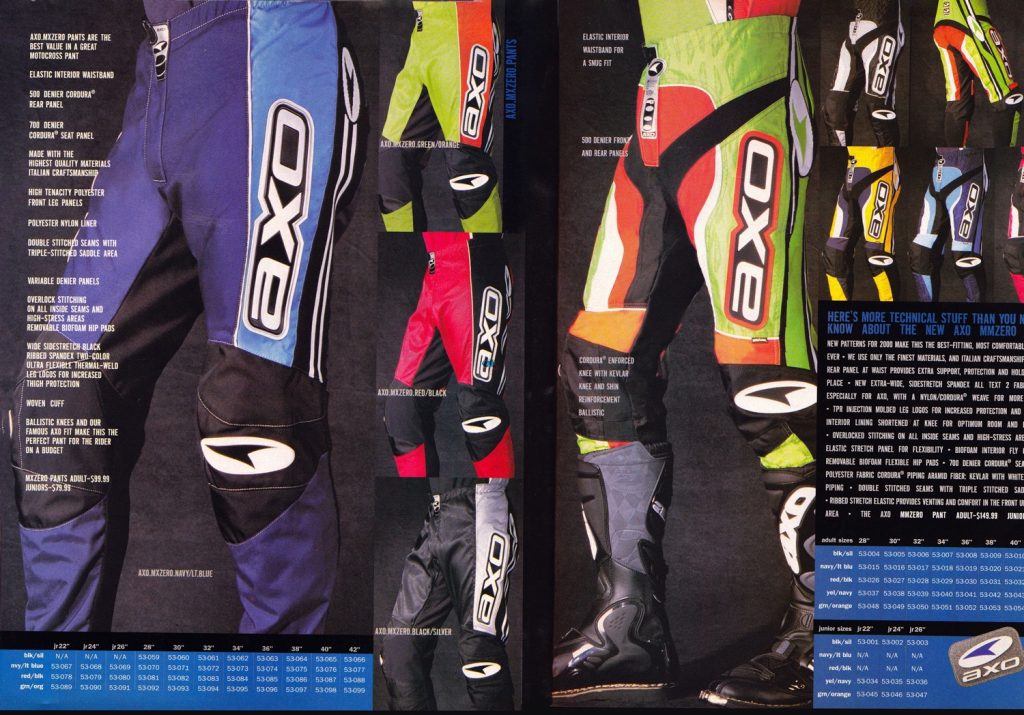 Blaze: A complete redesign of the AXO lineup for 2000 brought with it some interesting colors and an infusion of Italian design. The new names were also a bit odd. What exactly is an MMZero? Perhaps the name was an allusion to my interest in this gear…
Matthes: I think Motoworld wore this stuff?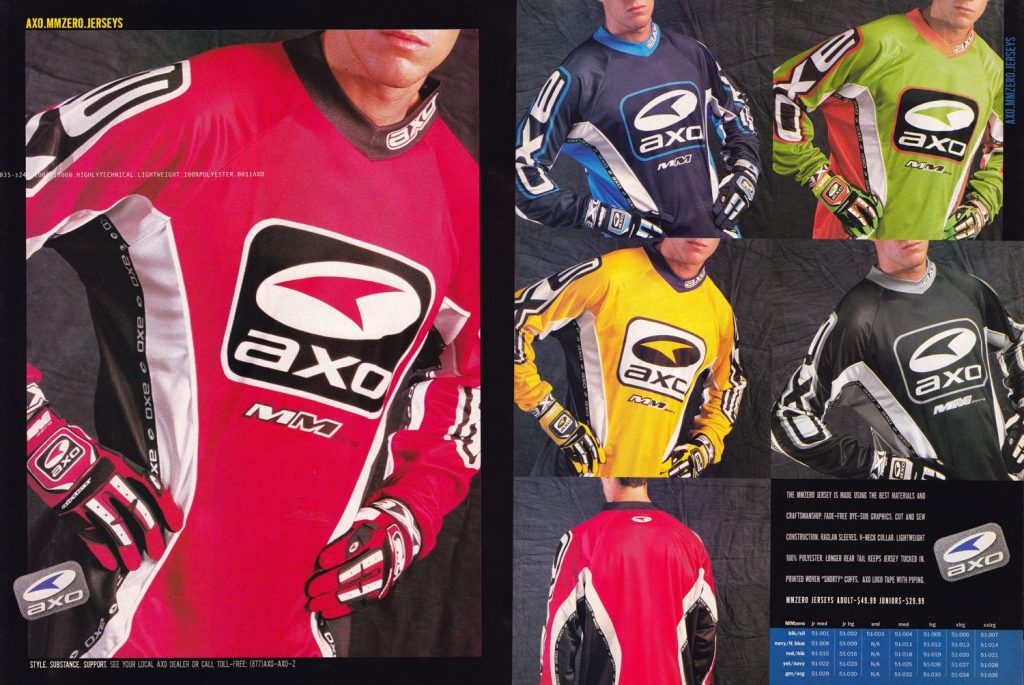 Blaze: I still did not love the new logo, but the MMZero jersey was better looking than the pants. That odd green and orange combo always makes me think of Kermit the frog. It's not easy being green…
Matthes: Like, didn't Shorty win Vegas SX Shootout in this AXO stuff or close to it anyways?
For your daily dose of old-school moto goodness, make sure to follow me on Twitter and Instagram -@TonyBlazier
For questions or comments, feel free to drop me a line anytime at TheMotocrossVault@Gmail.com
.