Muddy Creek Trends & Picks
Photos by Rich Sheppard
Take 60
This week was a great example of why we should choose to play it safe at times. The handicappers did a great job making the odds of a rider netting a perfect, or even high score very low. This was proven in the overall scores. As I scroll through the results following the day's action, there are not many riders who scored above eighty points. In the 250 class, Cameron McAdoo was the only rider above 80, with an 82. In the 450 class, Jacob Hayes was the only rider above, with a solid 90.
There were a lot of riders at or above 50 points though; the 250 class had twelve riders above that mark, while the 450 class had fourteen. Of the 50+ crowd, five had scores of 60 or above in the 250's, while four riders met that mark in the 450's. Of interest to me, the handicap of the riders who scored 60+ varied from -1 to 18.
This leads us into the lesson of the week, sometimes you just have to shoot for scoring sixty points per rider, and wait for next week. This was the strategy I took for the most part, but I was bit by some bad luck for the third straight week, more on that in a minute, let's take a look at the picks and trends.
Most picked riders AKA "the chalk"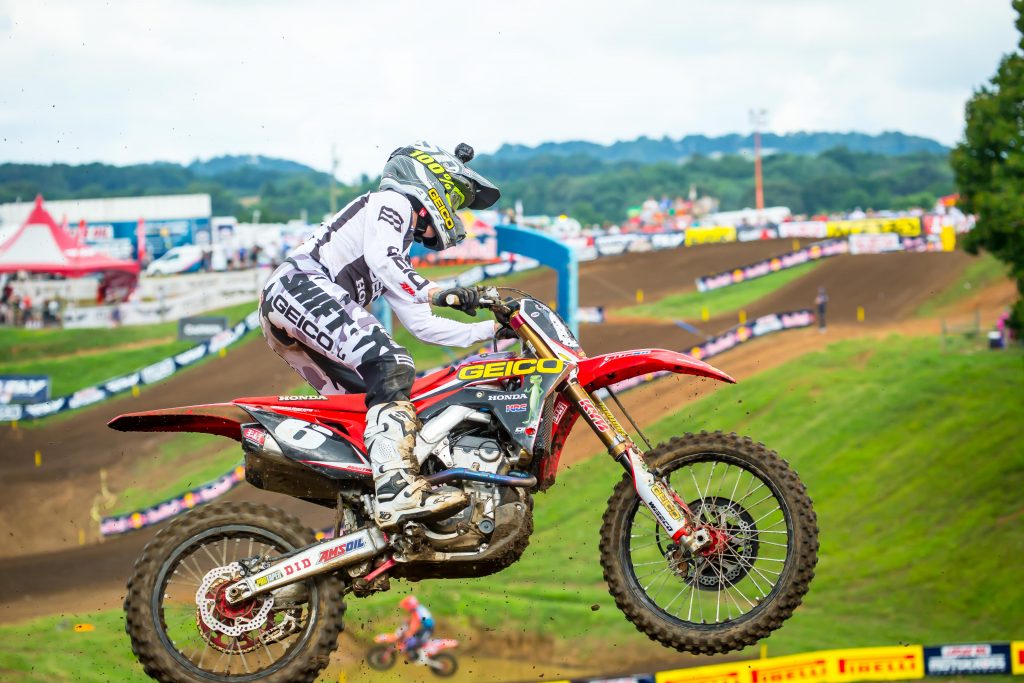 250's
Jeremy Martin (3 all star) 55% picked, 25 points
Joey Savatgy (0) 35% picked, 58 points
Brandon Hartranft (6) 31% picked, 35 points
Shane McElrath (-1) 30% picked 76 points
Jeremy Martin was looking to put an easy 50 up, if not for his unfortunate crash I'm sure he would have. Here's hoping for a speedy and full recovery for JMart. Joey Savatgy once again didn't fulfill his scoring expectations, but it was much better than it has been, and a step in the right direction. The last two on this list are a surprise for different reasons. I thought that Hartranft had lost his value at a 6 handicap, so I stayed away, he is a great example of a rider who has a good week, then fails to deliver the next. McElrath falls on the opposite side of this; I am surprised by how low his ownership is, given that this is a home track for him. He definitely had a great week for his owners.
Shane teaches us a good fantasy game theory lesson with his performance. He has been under delivering through the opening rounds, causing people to stay off of him with their picks. If we look at his results long term though, we can see that he was due for a correction, this came at his home track. Watch his handicap next week, if you are one of the 70% that can pick him, he might prove to be a valuable asset to your team.
Finally Brandon Hartranft made the full pendulum swing from last week to this, going from fantasy stud, to fantasy dud. It will be interesting to see where his handicap lands for Southwick, he could once again be a good addition for your team.
450 chalk
Brandon Scharer (7) 36% picked, 52 points
Alex Ray (6) 33% picked, 37 points
Blake Baggett (5 all star) 31% picked, 50 points
Not much chalk in the 450's and not many points from the non-all stars either. Brandon Scharer wasn't a team killer with a 52, but he surely didn't meet expectations. ARay with a 37 definitely landed a prime spot on team fantasy dud, and Baggett was an easy pick at a 5 handicap all star, delivering a perfect 50.
Kind of a weird week all together, the chalk failed to pay off for the most part, as did most of the high handicaps.
 Low owned players who delivered – AKA great contrarian plays
250's
Jimmy Decotis (8) 5% picked, 60 points
James Weeks (17) 7% picked, 72 points
Cameron McAdoo (8) 10% picked 82 points
Jordan Bailey (10) 10% picked 66 points
As the overall scores were down this week we lowered the bar for making this list to 60 points. I'm guessing that lots of people took a wait and see approach on Jimmy D, or saved him for Southwick (maybe all of the above). He also didn't qualify great, further suppressing his ownership. James Weeks was a long shot, if you picked him congratulations, you got lucky. McAdoo and Bailey were both solid picks who were overlooked, and both great examples of this weeks theme, "take sixty". If you took these guys instead of swinging for the fences with much higher handicap picks, your team was most likely in good shape.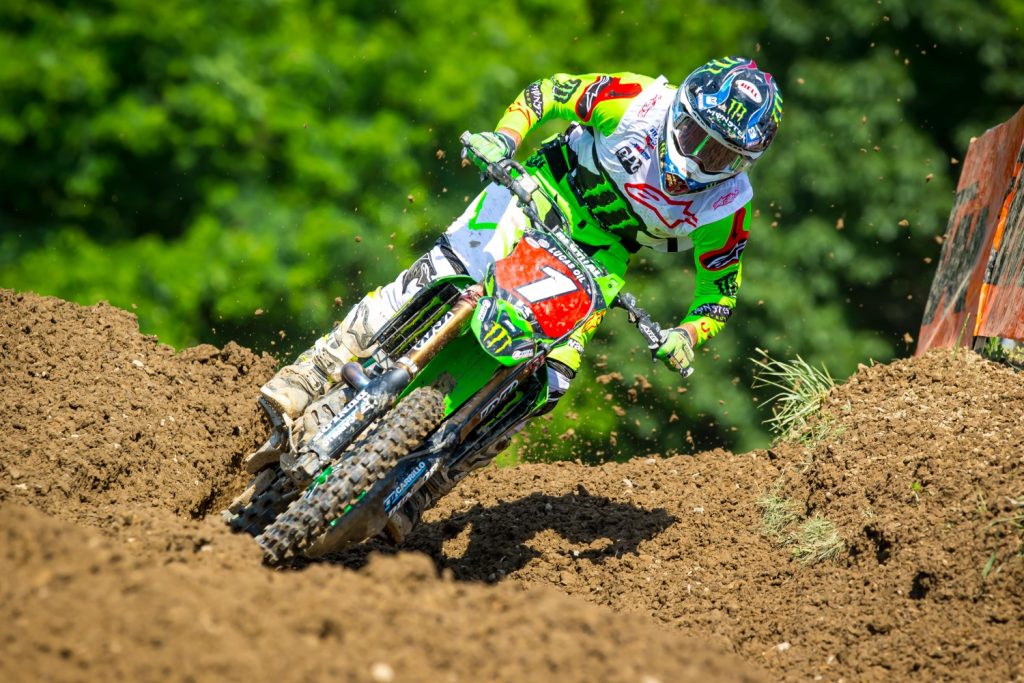 450's
None.
The lowest owned rider who scored sixty or more points was Jacob Hayes at 19% and 90 points. All of the other "long shot" riders busted. I'm a bit surprised that Hayes wound up being as low owned as he was. He was talked up quite a bit on this weeks PulpMX Fantasy podcast, had a 13 handicap and still came in under owned.
The 450 class guys also drive us right back to the play it safe theory, remember, if you can average 60 or more points every week out of your six non-all stars and get 100 out of your all stars, you will score 460 points.
This week, the overall high score was 502; a 460 would have put you well up the leader board. Consistent scores like that are the bedrock of a championship run and the key to capturing the league crown, not to mention a brand new Kawasaki KX.
Scoring
As noted, overall scores were much lower this week. The all stars were a toss up. The 450 class had five perfect scores, Baggett, Roczen, Barcia, Peick, and Nicoletti, up from two last week. The 250 class had just one, Jordon Smith, down from three. This week the bulk of the high scores were once again with the 250 class. They had eleven riders who scored more than 50 points, while the 450's had eight.
Getting back to my team, I correctly noted that it was a "play it safe" week and wound up getting unlucky, scoring a 366, (132 points above the average score). For the third straight week I lost a rider to injury as I had JMart. Not much to do about that one but move on. As to the rest, I had McElrath, Ferrandis and Savatgy in the 250's. Ferrandis underperformed big time in the first moto, but bounced back nicely with a win in moto two, while Savatgy was just OK, and McElrath was great.
In the 450's took a little more risk, picking Baggett, Hill, Scharer, and ARay. Of the four, only Baggett delivered, the three non-all stars combined for 139 points on the day, definitely not optimal.
I also broke my own rule of not picking first lap leaders, neither Tomac nor Justin Cooper pulled a start, and that cost me thirty valuable points.
Going into next week, keep an eye out for the high handicap local "rippas". Southwick has always had a great home track advantage for the locals. I know for a fact that the owners have been hard at work restoring the deep, soft sand and that could also play in.
I will be keeping a close eye on Jimmy D, Hartranft, and Plessinger in the 250's. Chalk alert! I'm guessing that both Jimmy D and Hartranft will be very chalky as well, keep that in mind when selecting your team.
I'm guessing that Eli will be unpickable at a negative handicap. If he's not, lock him in, he rips at Southwick. I will also give Barcia consideration with my all star pick, as he's very comfortable in the sand. As to the non-all stars in the 450 class, I am interested to see where Justin Hill lands as he underperformed this week. Finally Robbie Marshal, who knows where he will come in, or how he will do? He's a total dart throw that could net you 100, or zero.
That's it for this week, I hope everyone has a great week next week, we will see you on the leaderboard!