Photos by Rich Sheppard
The Lucas Oil Pro Motocross Series stopped at one of my favorite tracks on the circuit Saturday. The Spring Creek Millville, Minnesota track provides riders with excellent traction (most of the time) and has steep hills to make it a great track to spectate from. I have been to a couple press introductions there and have always came away with a smile on my face. I watched (actually studied) the race from my working vacation residence in Colorado over the weekend and this is what I wanted to share with you all.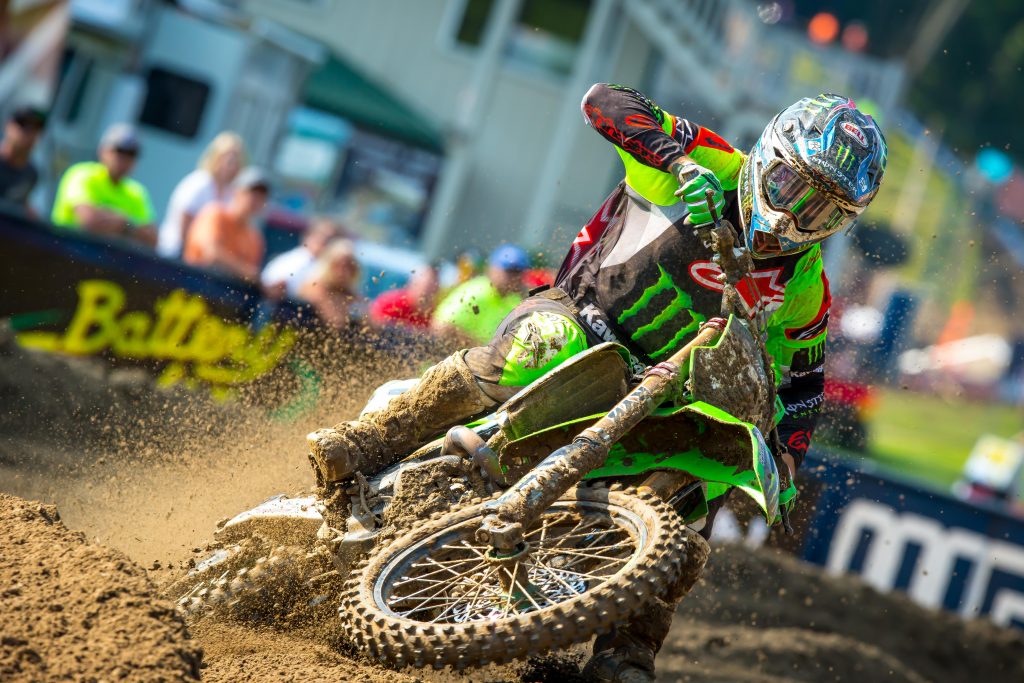 Eli Tomac: That was fun to watch, especially the second moto right? As a rider I DO NOT KNOW how Eli clicks off these "sprint" laps late into these motos. For one, it takes so much strength to dig in and rip off some of the fastest laps of the day when the clock reads 27:34. Secondly, for Eli to experiment with lines and still make up ground on Musquin takes huge balls. Going somewhere on the track that you're not familiar with and actually making up time on your competitor is almost un-heard of in motocross (not so much in Supercross). The jumps are almost never the same all the way across and venturing to your left or right five feet can mean huge differences in the way your bike reacts. Especially when you're not expecting it because you haven't been over that way before. This is what pisses me off when I watch guys like Eli ride. He rides so aggressively and makes tiny mistakes, but still makes up time. When I make a mistake I get dropped by dudes. INSANE!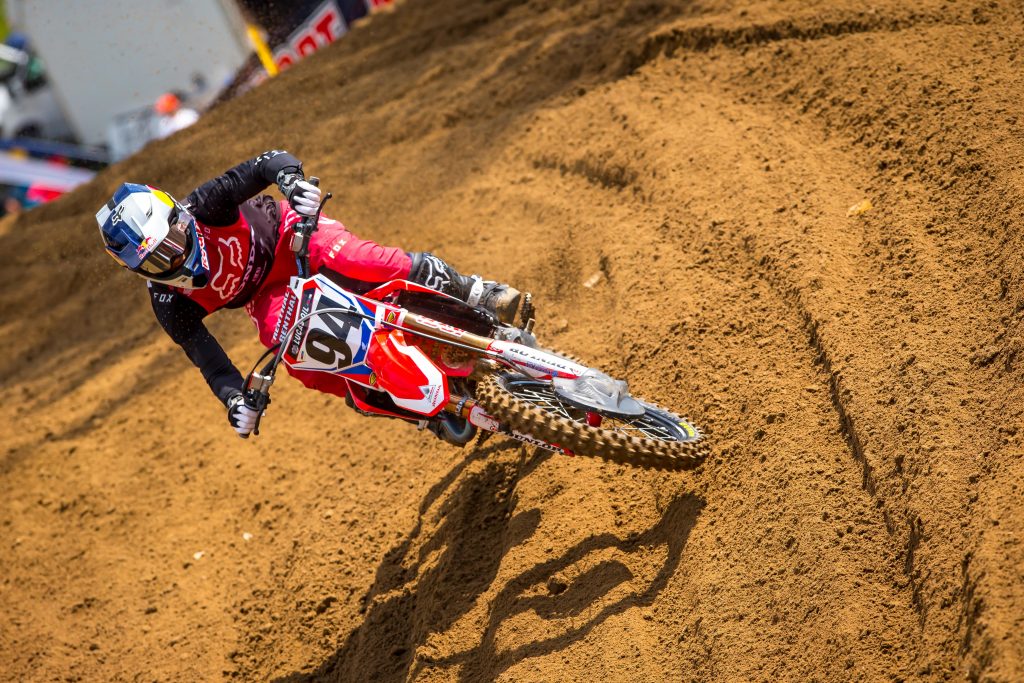 Ken Roczen: I have probably said this about other riders at some point, but watching Roczen ride makes me want to go buy a Honda and wear FOX gear. He looks so pretty on a bike (yes, I said pretty). He hops bumps and still has that aggressive style and it almost looks effortless. This is something Kenny didn't have when he was on a 250 though. He was more on the aggressive side and not on the smooth side, but since moving up to the 450 he has adapted to the way a 450 should be ridden. If you want to emulate a style, emulate Kenny's because it's almost perfect. For Roczen to lead over 20 minutes of a moto this early in his comeback is mind boggling and makes me excited for the 2019 season. Not to mention that his 2019 Honda will be much better than his current bike he is riding right now. I have heard he likes the new 2019 CRF450R frame much more than his 2018 because it has more compliance. If there is one thing Kenny likes in his machine it's "comfort". Some top riders that I have spoken with can't wrap their heads around how soft Kenny runs his suspension, but he likes to have lots of tire feeling. Hey, it seems to work right?
Weston Peick: For a guy that is not 100% I think Peick is riding really good! Peick wasn't scared to pin it down the hills of Spring Creek and held on for a 6-6 finish. Yes, he is off the pace of the top three riders, but he definitely is in that 4-8th place type speed. JGR will re-sign Weston and I think having a year on the RMaRMy will make his 2019 season a make or break year for the tough, yet fairly gentle natured WP34. Oh and Weston has a smoking hot chic! That is all..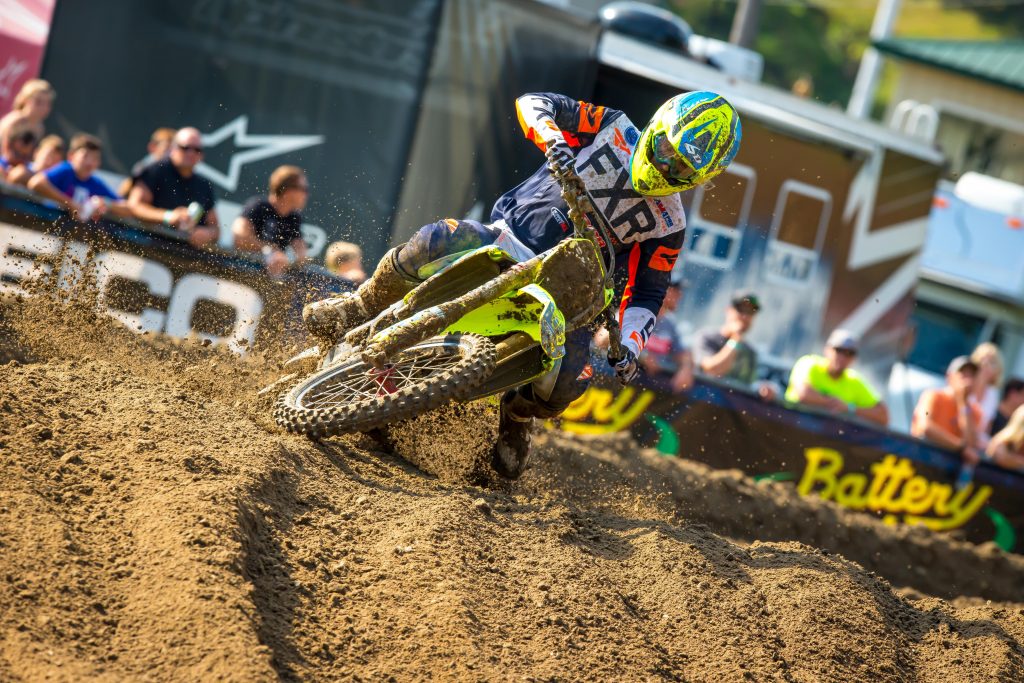 Henry Miller: Henry should be good at Millville right? He is from Minnesota and has spun some laps on this track a time or two. Miller went 9-11 for 11th which to me is kind of weird, but he still rode his ass off. Henry has a cool group of people helping him this summer as Triggr Racing, Rutted Racing, Blud Lubricants and FXR are floating the bill for his outdoor season. I thought it was cool that the team used Flo Yellow plastic on his YZ450F, so not one fan could miss the local kid ripping around the track. At one point in time the local kid was beating the factory Yamaha of Cooper Webb for almost half of the race. Not bad for a small effort funded by a bunch of die hard moto enthusiasts. If you're at an upcoming round make sure to cheer on the number 48 Yamaha of Miller. He's a good dude! I am still TEAM RUNKLES THOUGH!!!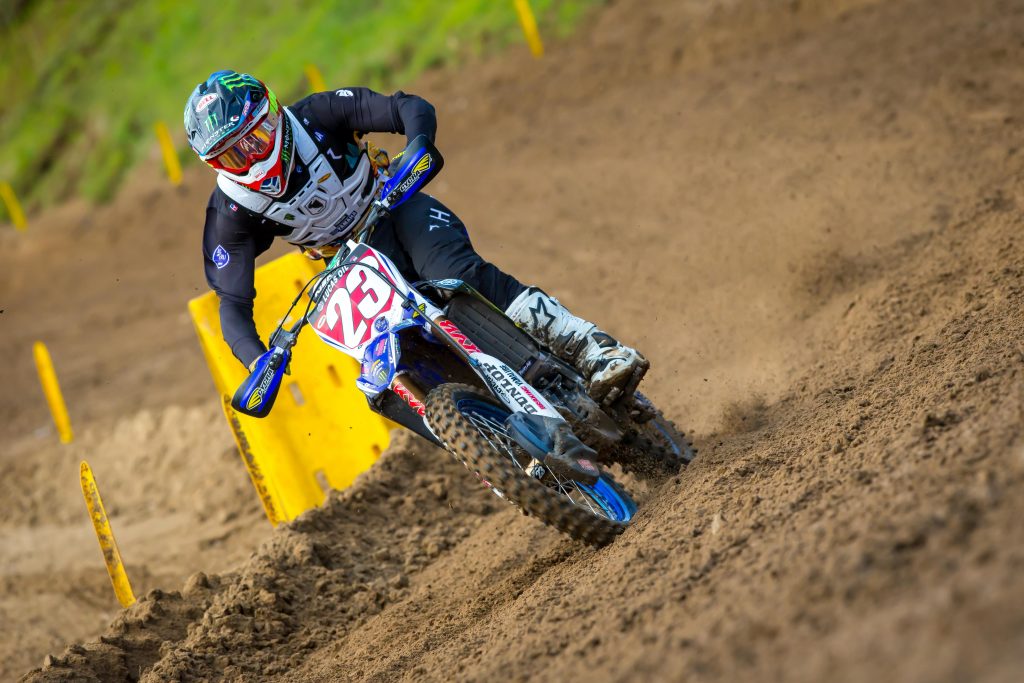 Aaron Plessinger: Another great weekend by AP. His first moto start wasn't the best, but he Miyagi'd the crap out of the first lap (that means bonsai'd for you younger kids out there) and got into the lead fairly quickly. AP's second moto start was better and he overtook Martin down the hill that was named after him! Plessinger's downhill speed was impeccable on Saturday and he made up a ton of time holding the throttle on longer and braking later than his competition. Another thing that should be mentioned is that his Yamaha YZ250F has some ponies inside her! AP is big and not light by any means, but he was able to clear the uphill triple fairly easy compared to the KTM and Husqvarna riders! WOW!
Justin Cooper: This kid is a rookie? Stop it! Justin went 4-3 for second and rode solid all day. Watching Cooper ride and seeing how his bike reacts to the track makes me jealous. His body positioning is very neutral and his YZ250F looks very balanced when entering corners. Coming down the hills of Spring Creek the front end never looked too low and Justin was able to get in and out of deep ruts in a hurry which almost lead him to catch Martin late in the second moto. Cooper is building steam in 2018 and is going to be a gnarly dude come 2019, you watch!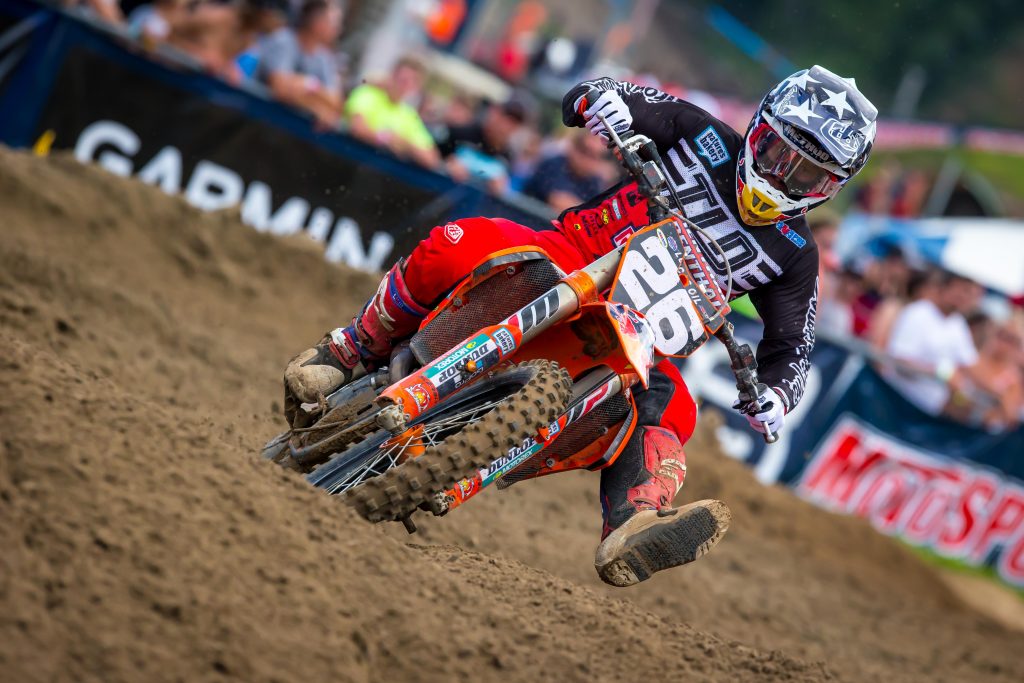 Alex Martin: I don't gamble, but if I was a gambling man I would of picked Martin to get his first overall of the year Saturday. I heard he was struggling with set up the first moto and changed a couple things for the second moto and that helped. However, Martin just couldn't keep up with the hard charging Plessinger and had to settle for second that second moto and third overall on the day. It's not looking good for the championship for the "Troll Train" is it? He will need some luck on his side if he wants to catch up to Plessinger in the points. I really, really, really, really hope he gets a good bike next year because I would hate to see Alex struggle because of the machine. He's a great guy and we need guys like him in our sport. In fact, we need guys like him to succeed in our sport.
Michael Mosiman: I used to to ride a little bit with Mosiman before he turned professional and I alway thought he had "it". He never revs his bike and he's very efficient when it comes to his movements on the machine. For how young he is, he doesn't ride over his head for the most part and he is not scrubbing the shit out of every little thing on the track (like others his age). His Rockstar Husqvarna contract is up at the end of the year and he is riding for a new contract right now. His second moto performance (6th place) shows he is capable of getting up there and running the leaders pace. Keep this going Mosi-man! Keep the ball rolling!
2019 Gear Roll Out: Gear companies are rolling out their new 2019 gear the next couple weeks which makes me extremely happy! Fox and Thor had their riders in some 2019 gear and I liked what I saw for the most part. That being said, I didn't really care for the Monster Energy Star Racing Yamaha guys Thor get up as much as I liked Marvin Musquin's. I am not into palm trees or beach looking gear. I am dirt bike guy, I am not a surfer. FOX had some sick 2019 stuff on Roczen that I thoroughly enjoyed! I like the clean look and I love the fact it has a very solid colorway to it. I also like that FOX is implementing some of SHIFT's Blue label material into their new Flex Air line up (check out the perforated sleeves). I am headed to the 2019 FLY gear introduction Wednesday to ride in their new stuff, but you will get to see the new gear on the FLY riders in Washougal. IT'S BEST DRESSED TIME!!!!! Suck it Matthes…