Maxxis Maxxcross MX ST Tire Review
I am not going to sit here and blow smoke up your asses and tell you I was a big fan of the previous generation Maxxis Maxxcross tires. They didn't provide consistent lean angle grip and had problems with side knob chunking way too soon in my opinion. Fast forward to the summer of 2019 and Maxxis has introduced a brand new performance tire that was developed with "The King" Jeremy McGrath exclusively for us die hard moto guys called the Maxxcross MX ST. The ST features an all new tread pattern designed to optimize traction while giving the rider more confidence and predictability in intermediate to soft soil, an all new compound and a lighter pliable carcass.
At first glance it almost looks like a Pirelli Scorpion MX32 tread pattern design with a slightly different side wall. I ran a set of 80/100-21 and 110/90-19's MX ST's for almost ten engine hours and wanted to compare these new MX ST's with the older Maxxis Maxxcross design as well as sprinkle in some comparisons with other big name brands. We tested the Maxxis tire on our 2018 Honda CRF450R test bike and came away these findings: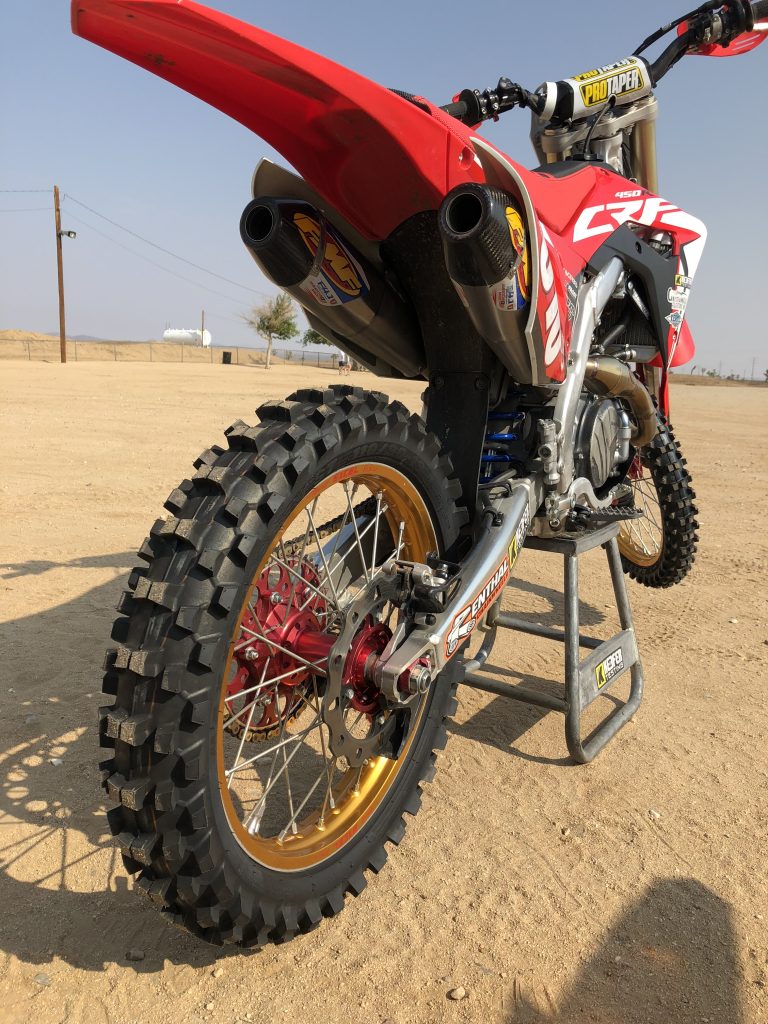 I found that the first thing that impressed me was that the Maxxis Maxxcross MX ST rear tire offers great forward bite (traction) under acceleration in intermediate/soft terrain through ruts and coming out of corners. The Maxxis side knob design works well under lean angle and traction is one of the MX ST's (rear tire) strong suits, as the rider is able to get on the throttle sooner (while leaning) without washing out. You are also able to start your lean sooner (than any other Maxxis tire I have tried in the past) while coming into a corner and the MX ST remains planted to the ground. Braking predictability is also increased as it gives the rider confidence to pivot and throttle out of flat corners without much hesitation. Previous Maxxis tire compounds would step out (or wash out) on you once you completed your braking and were back on the throttle, but the MX ST lets you pivot/lean under throttle through flat corners adequately.
One complaint I had is that when the track surface was freshly watered/slightly hard, I couldn't get as much predicability from the rear tire as I wanted. It gave me a pushing or loose feeling rear end until the track tacked up somewhat. Running the correct air pressure in the MX ST tires is crucial as I found the happy setting at 13 psi for most conditions. The softer nature of the MX ST carcass flexes and absorbs bigger bumps/square edges much better than the previous generation tire, which is great news for us older riders out there. MORE COMFORT! When you get a hard carcass feeling tire like the previous generation Maxxis Maxxcross you will notice your machine will deflect and feel harsh on braking bumps and acceleration chop, but the new design doesn't feel anything like this. I did notice around the 8 hour mark that the Maxxis rear tire performance gets less predictable and feels much like a worn Dunlop MX3s tire, which to me is to be expected, but nonetheless needs to be noted. The Maxxis MX ST rear tire loses most of that "predictability" (when 8 hours old) on lean angle (coming into corners), which causes the rear end to wash out easier. Kudos to Maxxis for making a rear tire that doesn't chunk before the 10 hour mark. I have chunked some Dunlop MX3S tires before the ten hour mark (under normal intermediate terrain), but as of right now the Maxxis rubber hasn't broken apart . If you are using the MX ST rear tire on pure sand, the lifespan of the tire goes up exponentially, so just know this. Also note that if you're using this tire in hard pack conditions the compound/knob will wear much sooner. This is by far the best rear tire Maxxis has put out to date and I assume we can thank Jeremy McGrath for some of that right?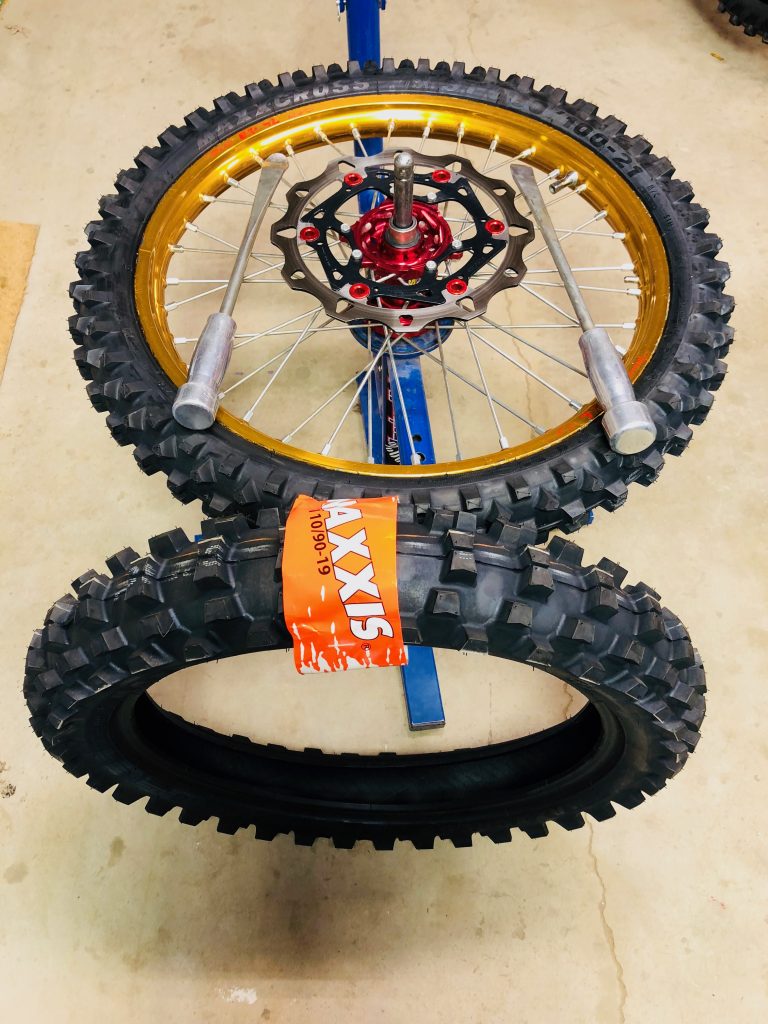 I am a picky SOB when it comes to front tires! The Maxxis MX ST directional front tire is so much better for front-end feel and lean angle traction, especially over the older Maxxcross versions in EVERY condition. The MX ST front tire actually can now bite not only in soft soil, but also in looser hard pack soil as well. The MX ST is not as grabby on lean angle as a Pirelli MX32 or Dunlop MX3S, but it can be somewhat grabby if you're not used to it and can cause some oversteer, in softer conditions (on de-cel). The MX ST front tire will accommodate the moderate front end steering rider and is able to be leaned into corners fairly aggressively. The contact patch feel on lean angle is much wider on the MX ST than a Bridgestone 403 and has enough lean angle performance to be compared to a Dunlop MX33. Did I ride them back to back? No, I didn't, but I have spent enough time on all kinds of tires to know that the MX ST is in the ballpark now at least. Previous generation Maxxis front tires were NOT even in the conversation, but now we can at least put them in the mix with the other "big four" (Dunlop, Pirelli, Bridgestone, Michelin). Acceleration on lean angle traction (on the MX ST) is not quite as predictable as it is on de-cel however. If accelerating on a fast sweeper, the front tire does want to "hunt and peck" somewhat. What is "hunt and peck"? Hunt and peck is a testing term we use when the tire feels like it is moving underneath you and doesn't feel planted. Off-throttle planted sensation is great, but on-throttle sensation, I notice the front tire moves around and deflects a little more than I would like.
When the track had just been freshly watered (similar to the rear tire) and was slick on top (think of the second moto in late afternoon at a Southern California type of track) the MX ST also loses a little predictability. This kind of condition would give the front end a vague feel (pushing sensation) as the bike would have a tendency to slide the front-end through flat corners more. I found that going up slightly in air pressure helps this out tremendously and gives the front end less push. The best recommend air pressure is 13.5 psi as you can feel the tire roll if you get into the 12-13 psi range. Yes, going up 0.5 psi does help! The wear of the MX ST front tire is also much better and hasn't shown signs of chunking yet, which is also another improvement for the Maxxis brand.
Maxxis has improved their premiere motocross tire exponentially! This is the most improved motocross tire for 2018 and can be a serious option for the motocross consumer. The MSRP on the front is $120.00 and the rear goes for $140.00 and comes in an 12,14,16,17,18,19,21 inch sizes. I will be continuing to put more time on these and will be doing a side by comparison on the Maxxis MX ST to the other "big four" in the coming weeks.