Photos by Rich Sheppard
Unadilla Picks & Trends
Kailub Russell sets new pick trend record at 78% – meanwhile two Japanese riders and Jeremy Hand steal the fantasy scoring show.
Last week I wrote that it would have been a great time to make a contrarian play as we saw a lot of ownership trending towards a small group of riders, especially Justin Hill. This week, ownership was even more focused in the 450 class, with a record setting 78% pick trend for Russell, who sure looked like a lock for eighty-plus points. It didn't happen though, and once again, we all missed a great opportunity to separate ourselves from the field by picking someone besides the super high-owned guy!
I was one of the 78%, despite the voice in my head (no I'm not crazy) telling me to pick the Japanese guys "because mud". Sadly, I didn't listen, but I still had a good day, more on that in a bit.
Most picked riders AKA "the chalk
250 Class
Colt Nichols (2) 35% picked, 58 points
Justin Cooper (5 All Star) 33% picked, 39 points
Joey Savatgy (-2) 32% picked, 54 points
Aaron Plessinger, (1 All Star) 31% picked, 50 points
Dylan Ferrandis (-3) 30% picked, 72 points
450 Class
Kailub Russell (18) 78% picked, 59 points
Justin Barcia (3 All Star) 39% picked, 41 points
Ben Lamay (11) 31% picked, 74 points
The 250 class chalk was focused primarily on All Star and factory riders, which makes me wonder if people were picking more than one All Star per team because of the mud. Not a bad strategy if so. I'm surprised that Plessinger and Ferrandis didn't have higher pick trends as they are so good in the mud. Then we had Joey, who once again delivered more than 50 points, but still left his owners wanting more. What a weird year for the Pro Circuit team.
In the 450 class the talk of the day was Kailub Russell. The GNCC rider looked great in practice, qualified 12th OA and looked to be a lock for 80 plus points on a mud track. No surprise on Barcia's pick trend either, as I'm sure people are recalling his marvelous mud rides of years past. Finally Ben Lamay came into the weekend with a season of mid to high teen finishes, qualified eleventh and was very tempting with an 11 handicap. Ownership percentages dropped off quickly after Ben, only six riders were more than 10% owned.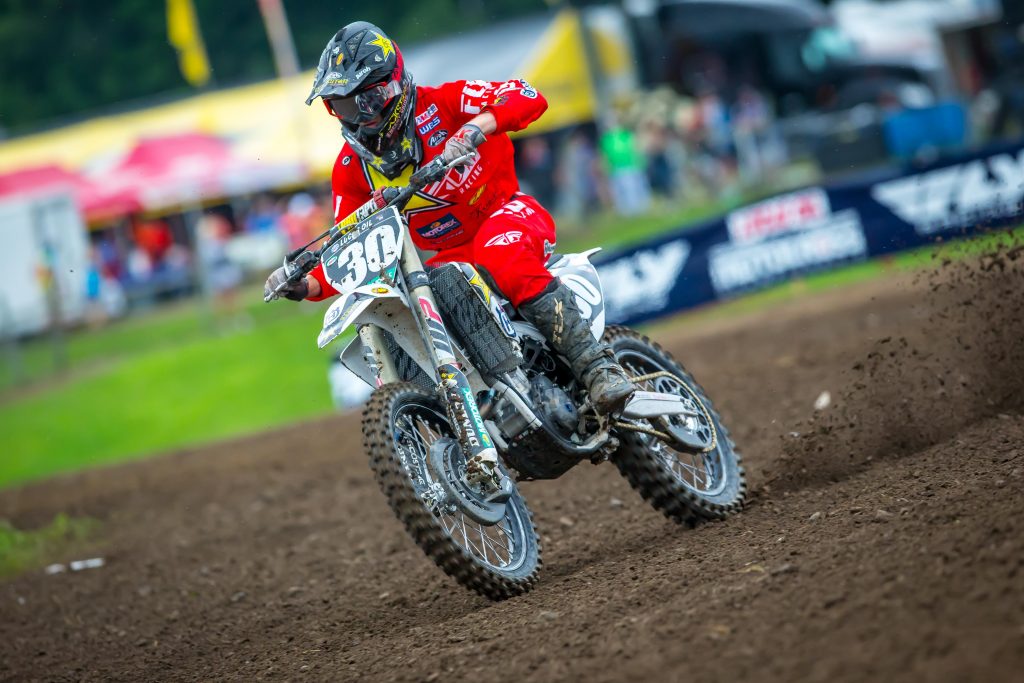 Low owned players who delivered – AKA great contrarian plays
 250 Class
Yusuke Watanabe (18) 1% picked, 72 points
Hayden Mellross (11) 6% owned, 60 points
Mitchell Harrison (1) 7% owned, 80 points

450 Class
Toshika Tomita (8) 2% owned, 94 points
Jeremy Hand (18) 35% owned, 100 points
Wow, did we miss out on the Japanese guys or what? With the exception of Jeremy Hand, all of the low owned players had a challenging handicap, if you subtracted it from their qualifying position; most of them were just outside the top ten. This is a great example of why we need to look at other factors and not rely on qualifying times alone when making our picks.
Fantasy Duds
250 Class
Austin Forkner (7 All Star) 10% owned, 27 points
Enzo Lopes (7) 20% owned, 28 points
Sean Cantrell (7) 14% owned, 17 points
450 Class
Justin Hill (2) 14% owned, zero points
Kyle Cunningham (3) 10% owned, 26 points
Ken Roczen (1 All Star) 10% owned, 30 points
Forkner lands with the duds again. I'm a bit surprised that his ownership was as high as it was. He is having a rotten season for fantasy players, we warned you about him just last week! Also, if you watched practice, his body language was speaking volumes, he was over it before the end of session two, and it didn't get much better from there. Enzo had a bike problem in moto two, not much you can do about that, and Cantrell was stuck outside the top ten all day, not a good place to be on a one lined muddy racetrack.
Not many 450 duds. Justin Hill qualified 8th in both practices, suffered a bad start in moto one and pretty much called it a day. Kyle Cunningham, who has been consistently good for his fantasy owners this season suffered from the same mid-pack woes as Cantrell, and KROC was off all day, bad starts and not much speed or aggression. Watch out for him at Budds Creek, you know he's going to be looking to make a statement.
 Scoring
Scores were definitely suppressed by the mud; the amount of DNS's and DNF's was very high. If you had eight riders finish both motos you probably had a good day.
The 250 class had three riders score seventy or more points, (Harrison 80, Ferrandis 72, Watanabe 72), two riders score sixty or more points, (McAdoo 60, Mellross 60), and three riders score fifty or more points (Nichols 58, Savatgy 54, Weeks 52). This was up considerably from Washougal.
For the second consecutive week we had a perfect 100 in the 450 class! This week Jeremy Hand managed eleventh place OA after qualifying 25th. The Mantua Ohio resident put in 11-13 moto scores, easily surpassing his 18 handicap. Following him were Tomita with 94 points and Lamay with 74 points. They were the only riders who scored above seventy points. TJ Albright was the only rider above sixty with a 64, and then a bunch of rider scored more than fifty; (Kailub Russell 59, Tyler Stepek 58, Nick Fratz-Orr 56, Steinke-Dog 56, Cody Cooper 52, and Jacob Runkles 52.
We saw an improvement in All Star scoring, as we had one perfect 50 from Aaron Plessinger. I have to wonder what the 69% of the people who didn't pick him were thinking? In the 450 class, Phil Nicoletti and Marvin each scored a perfect 50, Peick and Baggett followed close behind with 47's. After that we had Bloss 43, Tomac 42, Barcia 41, and Roczen at 30, a surprisingly bad day for Kenny who has put in some great mud rides in the past.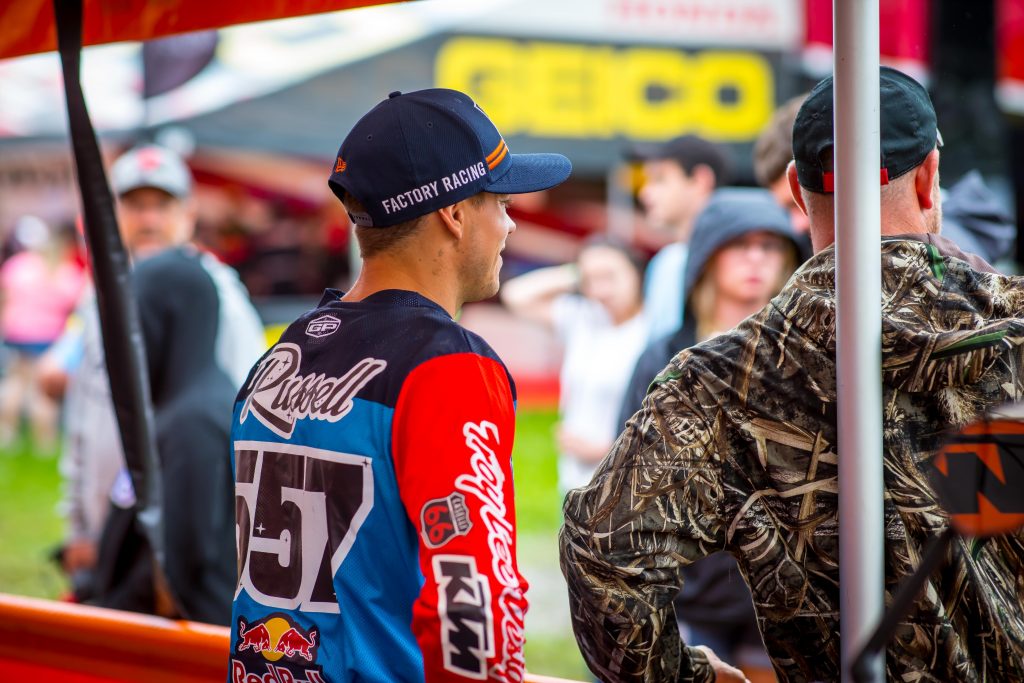 Budds Creek Picks & Predictions
Weather on the east coast will continue to be humid and rainy throughout the week so keep an eye on the weather reports and check practice before making your picks. It might be another good week to play it safe and pick riders with factory support. Also, there's a chance that Ryan Sipes will be back under the Rockstar Husky tent on Zach Osborne's bike, if so he will be a very chalky option. Speaking of Rockstar, there is also a chance that El Hombre makes a return to racing. I'm very interested in both riders!
As to my team, I was also a charter member of the Kailub-club. I figured he was basically a free square and that no matter what happened we would all be affected. My 450 team did OK despite a pretty egregious click error on my part. I somehow picked Ryan Surratt who didn't qualify. Still not sure how I did that, but it worked out as he wound up running moto 2 as an alternate after a bunch of riders were not able to start their second moto, he scored 32 points.
My 450 team also included Barcia with 41 points and New England local Chris Canning with 50 points. My 250 team was very good; I had four of the top nine scoring riders, Ferrandis, McAdoo, Nichols, and Plessinger. I wound up scoring 422 points for 191st overall, leaving me ranked at 369 overall and 245th in the 2018 Championship Rankings.
Well that's it for this week, I hope you all enjoy your week; remember to support the sponsors who support PulpMX and we'll see you on the leaderboard at Budds!