The 2019 Yamaha YZ250 "RAM IT" Edition
Photos by LeBig USA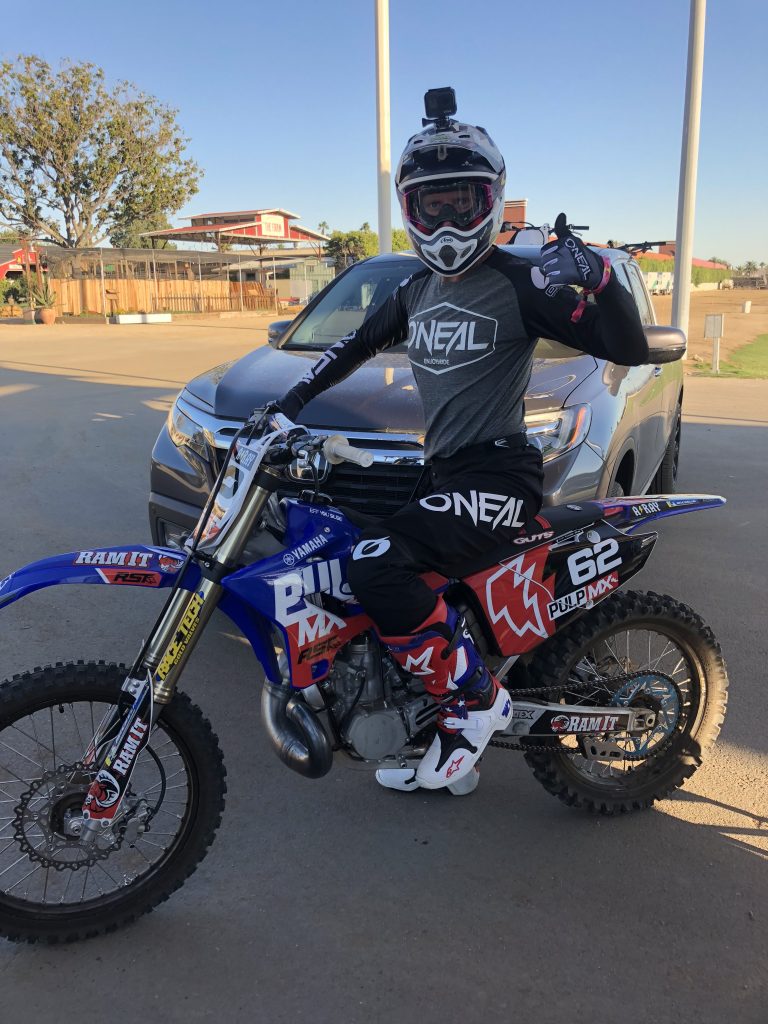 "Hey Keefer you're going to ride A-Ray's YZ250 "Ram It" Edition at The Red Bull Straight Rhythm on Thursday's practice session. Take a few runs and write a test on it will ya"? That was Steve's text to me a few weeks before the event. Now let me let you in on few things here ok? I am 41 years old, I haven't ridden a two-stroke in a few years, I haven't ridden a two-stroke on a Supercross track in over ten years, and now Matthes wants me to test this sucker cold turkey? The answer to him was "ok, no problem", but in reality, Houston we have a problem!
When I rolled up to Pomona, California the Thursday evening before Straight Rhythm I immediately started to regret my decision. The whoops were legit AMA Supercross spec and the jumps were steeper than gas prices in California. Now I do test on a Supercross track a few times a year, but all of this testing that happens is on a 450cc four-stroke, that I able to seat bounce three in, on any rhythm lane from a dead stop (I apologize to DV in advance). I DO NOT have to rev it, clutch it, or worry about what gear I am in because the bike simply does A LOT of the work for you. I have enough confidence at my age to ride a Supercross track on a 450, but a 250cc two-stroke was something foreign to me. It's basically the equivalent to eating my favorite Capriotti's sandwich for ten years and then someone suddenly giving me a Subway sandwich. Sure it can be done, but how much risk was I willing to take you know?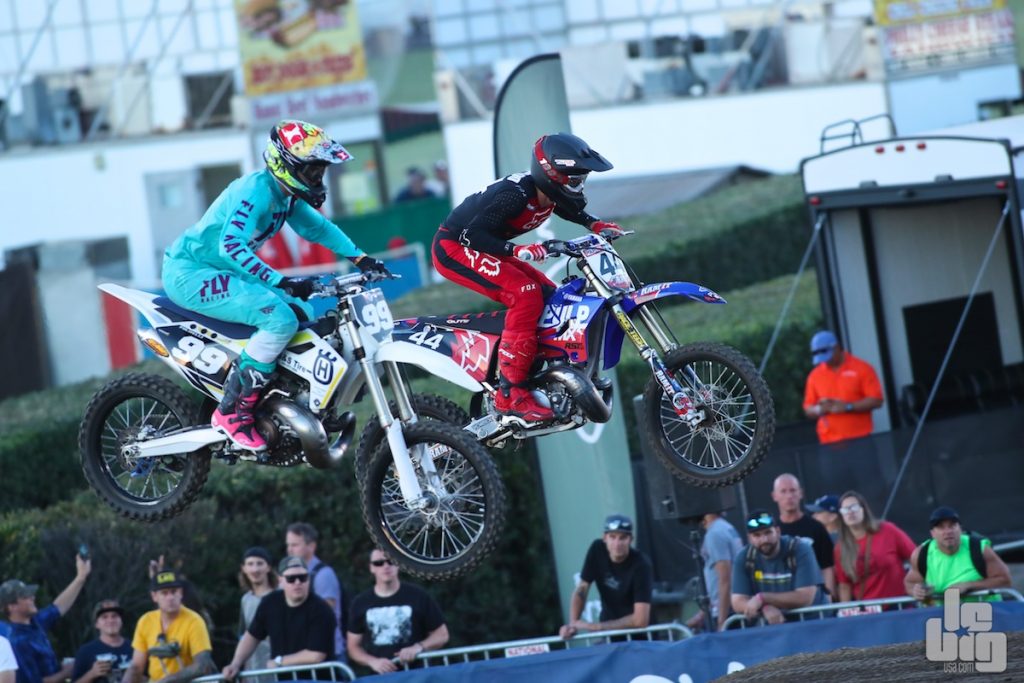 Since Alex Ray wadded himself in Vegas the week before, McAdoo took control of the Pulp MX Ramming duties over the weekend. Cameron McAdoo is a current professional and I could see him struggling in the early Thursday practice sessions! I knew I was S.O.L. once this was happening. Immediately when McAdoo handed off the mighty Pro Circuit/FMF tuned YZ250 (yes, both performance giants collaborated on this project, but more on that later) to me I thought to myself "oh shit, this is all the warming up I get"? I basically got an 1/8 of a mile water truck road to figure how this thing reacts before I had to start jumping shit. Not to mention that I had to ride up a 50 foot Red Bull scaffolding and drop off of that son of a bitch to start. TV really doesn't do an of these minuscule things justice. I am so thankful that you all didn't see the Go-Pro footage of me wandering back and forth (below the scaffolding), on pit row, before going up, trying to figure out the two-stroke's power delivery. It was comical because the workers up on the scaffolding are looking at me like "what in the hell is this guy doing"? Who is this idiot and why is did someone invite this geezer?
After screwing around and doing a few practice braaaaaps I climbed my way up to the starting grate. I knew once I was up, there was only one way off! Did I mention that the grate had a built in kicker at the edge of the drop off? Yeah I found that out once I was up there. Awesome (insert sarcasm here)! However dropping off the start after all wasn't a big issue, but figuring out where I was on the track and what was on the other side of the next obstacle took me a while to figure out. Was it that one double? Oh wait no it was the scrub jump! Oh crap! Too late! I only did about three passes until I pulled the plug because it simply wasn't going to be a fair evaluation of this bike. I mean think about it…. I went out on the course after an hour or so of these fast dudes practicing and then all of a sudden there is this strange old dude in O'Neal gear boner airing the shit out of this place. If I was dressed up like Ronnie Mac, I might of gotten away with acting like such a goon. I'm ALL GOOD BRO, don't mind me, I am here to test this bad ass bike and roll everything! Check out the test at pulpmx.com wont ya? EHHHHHHHHHH. No…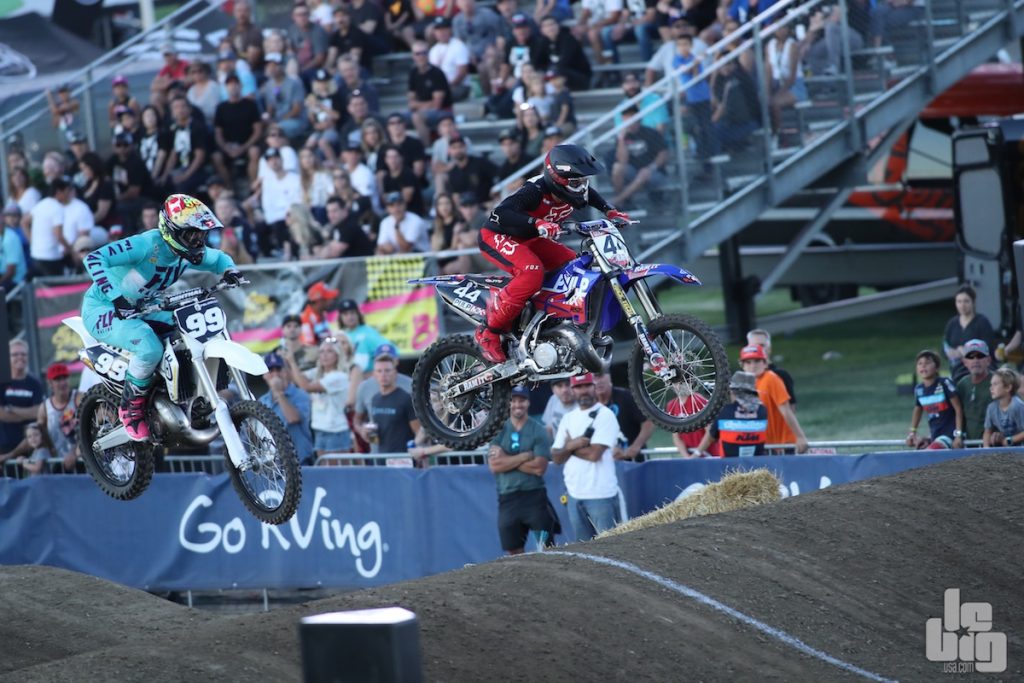 The Red Bull Straight Rhythm course is harder than it looks and trying to gauge on how fast you need to go when you don't have any corners is a tough thing to master. I was impressed on how well the top professional athletes adapted to the speeds and longer than normal straightaway. Most riders got the combos down within 30 minutes or so, which blew my mind. On Thursday the whoops were so big that the promoters decided to shave them down a bit so the 125 class could jump the finish line, because they couldn't on Thursday! So as you can see I had to call an audible on this test and schedule it for a more normal riding condition for my old ass! I headed to a local Southern California track to see how this 2019 Pulp MX Yamaha YZ250 really performed and these were my thoughts about the bLU cRU ride:
Mitch Payton (Pro Circuit) worked some of his porting magic on the YZ250's cylinder head to get some more grunt out the Yamaha. FMF hooked Steve up with a Factory Fatty pipe and Shorty silencer and Jericho (Derek Rankin) jetted the YZ250 to perfection. Other tidbits to the Yamaha "Ram It" build was Race Tech valved suspension, Vortex handlebars/sprockets, Dubya USA wheels, V-Force reed cage, Michelin StarCross 5 tires, special Roost MX graphics, and a GUTS Racing seat cover. Compared to a stock YZ250 this special "Ram It" Edition had more bottom end pulling power with a wider mid-range that carried second and third gear longer. What was most impressive to me was how smooth the delivery of the engine actually was.
A stock YZ250 two-stroke can be a handful off the bottom at times (because it comes on like a light switch) along with loss of traction to the rear wheel. Although that brings excitement and fun when riding, racing an engine like that is tough to do.The "Ram IT" Edisssssssh was more connected at the rear wheel, but also delivered more meat when rolling on the throttle. The rear tire didn't lose traction as much as a stock YZ250 and allowed me to corner better. Too bad there weren't any turns because McAdoo would of appreciated this aspect. Top end to me was a little short though, but that could be due to the gearing choice (13/51) the boys decided on for the event. If you short shifted the "RIE" (Ram It Edition) it actually worked better than if you try to ring its neck.
The Race Tech suspension was stiffer than a two dollar steak (Larry Huffman quote)! With that being said though when racing an event like the Red Bull Straight Rhythm you must have a fork that can hit stuff at speed right? When I did manage to hit a rhythm at old man speed (on the Straight Rhythm track) the fork had enough hold up that I wasn't worried about the front end diving on me. The rear of the bike actually had a proper amount of comfort even on a beat up outdoor track. For those of you who haven't experienced Supercross suspension, just imagine being able to take your bike to your local track and being able to send it off every jump to flat and not have to worry about your wrists or knees buckling. What you do have to worry about with Supercross suspension is; small bumps/chop/square edge. When you hit those little suckers it feels like you hit a three foot ledge. Race Tech did a good job on nailing a setting for A-Ray, but the setting also was comfortable enough for McAdoo throughout the weekend. Jerciho simply backed out the compression a few clicks on the fork and McAdoo was happy.
Going back and riding this 2019 Yamaha "RIE" YZ250 was actually more fun than I thought it would be. I will be completely honest with you and tell you I am NOT a huge two-stroke guy as I just love the power delivery of a four-stroke more. However, with the small mods that Pro Circuit, FMF, and Moto Tassinari (V-Force 3) made to the Yamaha's power delivery, it actually made me want to ride it more. I wish I could of tested it more at the actual event it was developed around, but sometimes you just have to know when to say " I suck" and move on to a vet track. Such is life.