Photos By: Thee James Lissimore
Happy New Year everyone! We are finally here for round one of the Monster Energy AMA Supercross series! We are back for another year of some Daytime fun about Saturday night's racing action. It's nice to be back at the races and watch the best riders in the world race their dirt bikes. It felt like forever since we have seen some Supercross racing action, but now we have it back every weekend for a few months. By no means am I a professional journalist, but I have been around long enough to be able to notice some things and hopefully give you some insight on a few things I saw at Anaheim. A lot went down over the weekend, so let's break it down shall we? 
Pulp MX Live Show: If you weren't at the Pulp MX live show Friday night in Costa Mesa you really missed out on some great bench racing. Ryan Villopoto and Davey Coombs were our guests and brought the heat. Davey answered questions about Tickle's unknown suspension ruling and even spoke about why Glen Helen is not on the AMA National schedule in 2019. Villo talked about why he is the best retired racer of all time and why he thinks riders should take a lesson from Roczen on how to dress for a press conference. Just when you think it was finished we even had a meet and greet after the show, which let fans interact with Villopoto who was feeling it by that time. At one point I could see fans buying Villo some drinks, taking selfies, and just bro'ing down with the four time Supercross champion. We hopefully will be doing a few more of these shows at certain stops on the Supercross schedule so be on the lookout for a live show near you soon!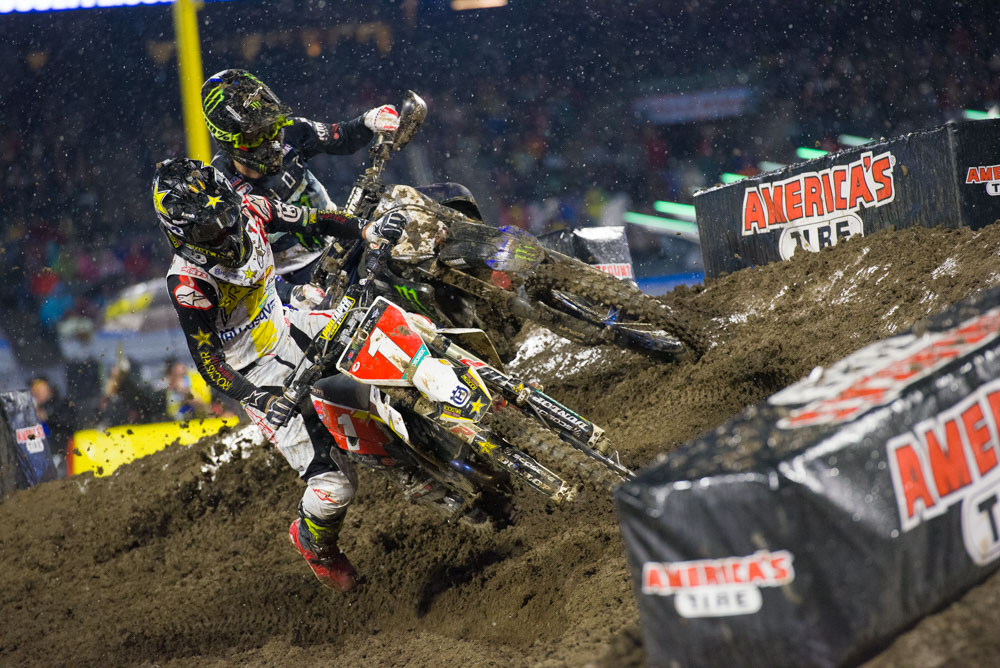 Jason Anderson/Husqvarna FC450: The 2018 series champ didn't look himself all day and you could tell it was going to be a rough night. We have heard that he had an an off-season crash and might be nursing it through the first couple rounds/weeks. Anderson's starts were good all day/night, but he just wasn't able to finish off the heat and main event races. I also noticed that Anderson's Rockstar Energy Husqvarna FC450 is using the older 2018 cylinder head design and not the 2019 version. I have heard from a couple close sources that Anderson had a chance to ride a certain MXGP racer's engine package (last year) and demanded to use that older engine design for 2019. If you look closely to the engine/mounts there is some fab work to disguise the engine to look more 2019'ish.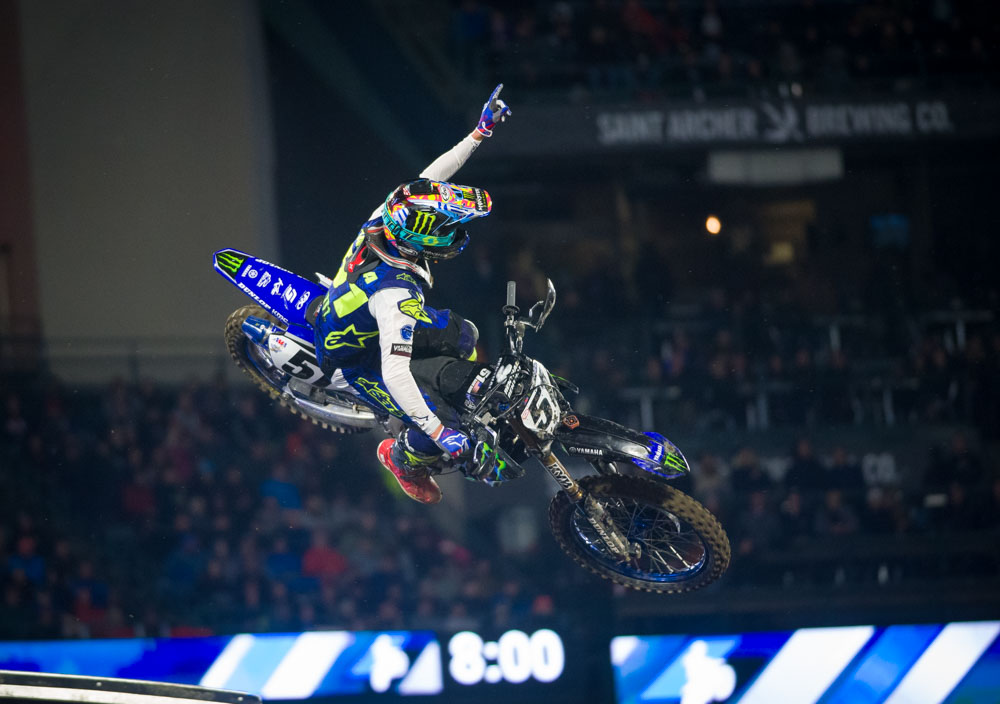 Justin Barcia: Home life + Yamaha = Winning! If you're not ALL IN on my home life theory by now, I don't know what to tell you! I called Barcia for the win once I saw him ride press day. He charged the track from the beginning and actually put in a long moto. From there on I knew his bike was good because he wasn't screwing with it and he was just attacking the track to get comfortable. JT and Matthes said I was crazy and here we are now, hmmmmmm. Barcia's starts were great and he has a full year under his belt on the Yamaha, which means he is going to be a threat every weekend. Don't think for a second just because it was a mud race that Barcia's win was a fluke. He will be good all year as long as he stays healthy. The 2019 Justin Barcia looks more patient, less revvy, and in even better shape than the 2018 Bam Bam. Oh and let me tell you guys that the Yamaha YZ450F is the best sounding bike on the track! Throaty and meaty. You already know that this bike is good.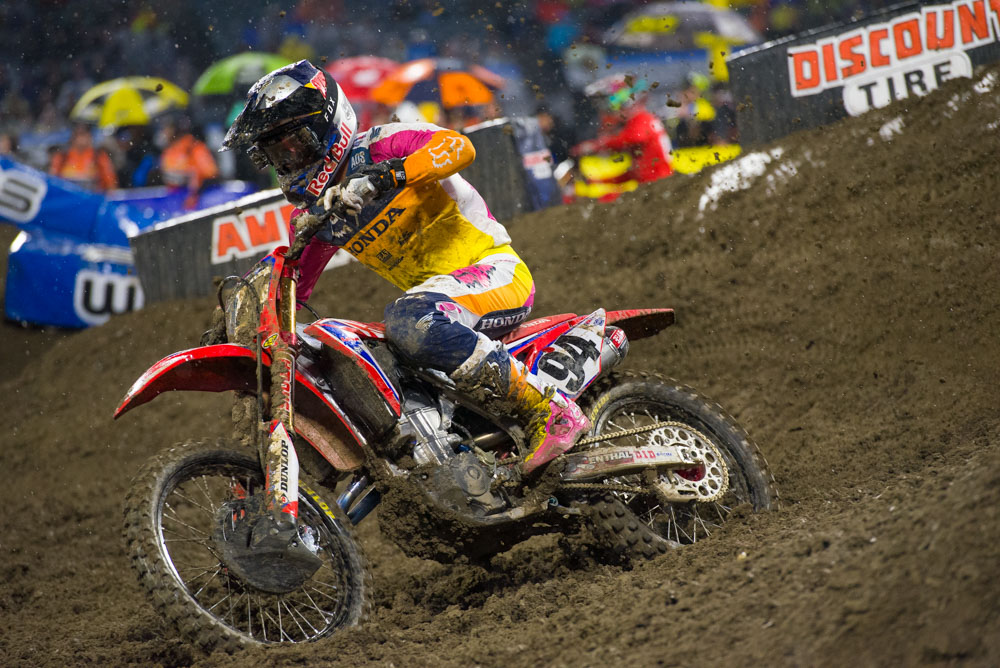 Ken Roczen: I can't tell when Ken is riding hard or even trying because he is just so damn smooth. I noticed that Ken was one of only about three guys that would stand up around the whole under over bridge corner, which allowed him to not have to brake as much through that slippery crap of a corner. His technique is so advanced, yet not too "Americanized", that you can't tell he comes from a GP background. Ken also was consistently jumping the big double double in the main event that went across the start straight. It was a muddy mess, but the slick conditions didn't stop him from sending it each lap. Roczen wins by round four. Mark it down.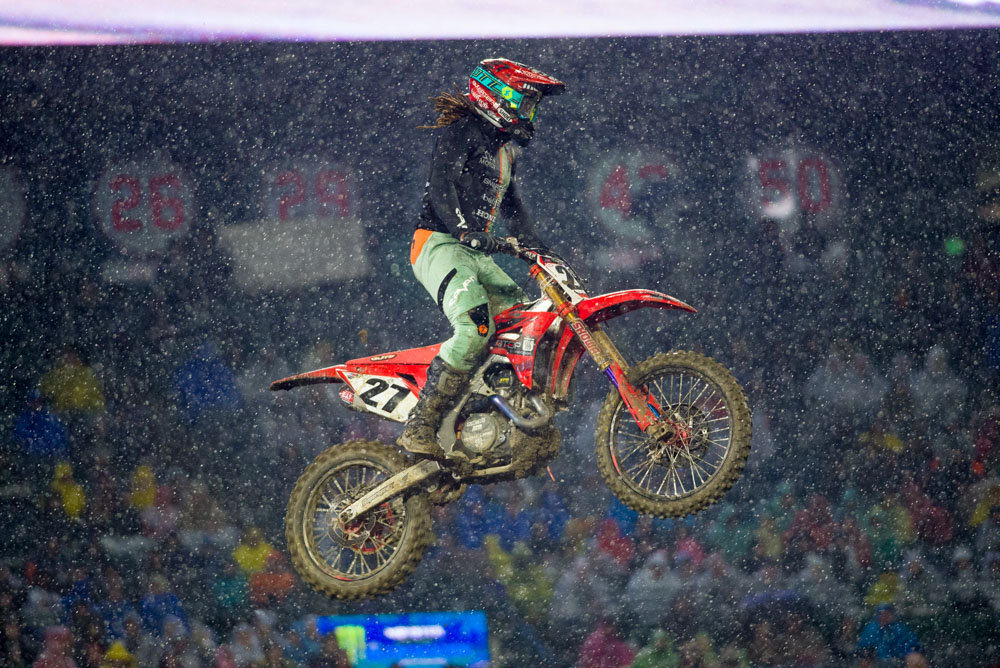 Mookie: I apologize to Christian Craig for not believing in "Mookie Fever" earlier in the day. Malcolm was good in practice, but I thought starts would hurt him in the main, but it looks like doing starts with Tony has helped. Maybe Tony has let Mookie in on some of Mike's starting procedure secrets? It was no surprise that Malcolm was fast in the whoops all day, but he also looked like he improved on his riding fitness. It seemed like he got better as the main event wore on and didn't fade back until the wash out. The Smartop MotoConcepts Honda looks balanced on the track and to me seems to have one of the best engine packages in the paddock. Chad at XPR does a great job with the engines and from what he has told me has found even more power in 2019 and the riders all love the way it's delivered on the track!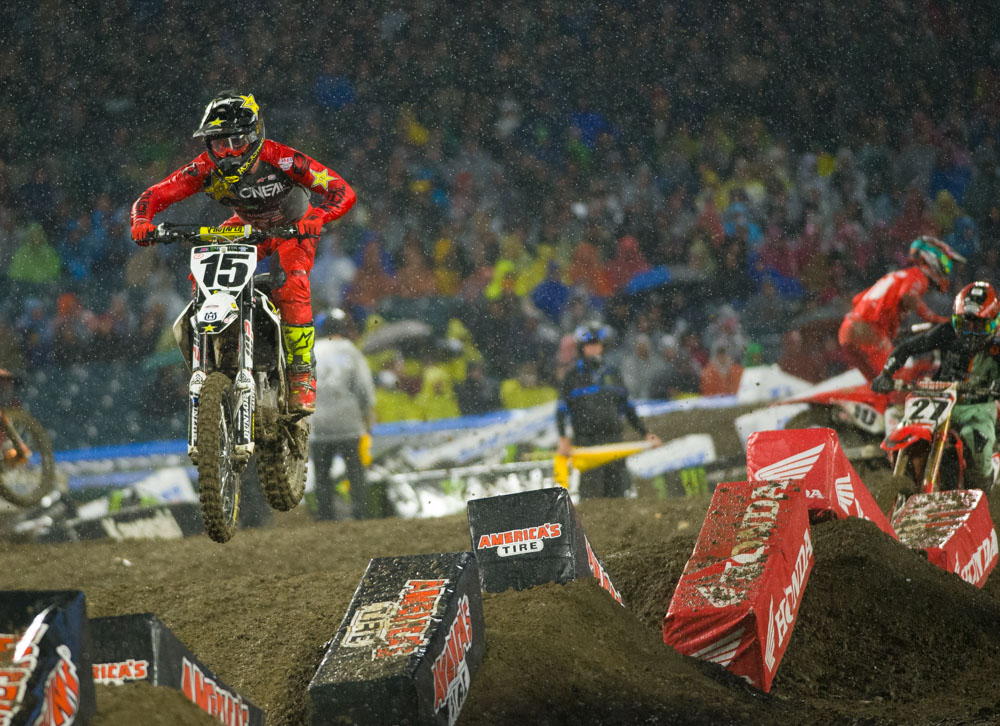 Dean Wilson: Sorry to break it to you all, but Dean-O is NOT a privateer, so everyone chill down. He's making money, he has a factory engine, and his suspension may not be the same as Anderson's, but he had the choice to run the exact same stuff. So let's not all freak out and say he's selling hoodies to fund his racing in 2019 ok Ralph? Again….The dude is making money people! Getting back together with his old mechanic Paul Perebijnos also was cool to see and maybe could be the recipe for success again? I like that Wilson interacts more with the fans than your average factory rider and is taking the Enticknap approach to marketing himself. Wilson was impressive and smooth for over half of the main event, but maybe needs a little more time under his O'Neal pants to get more comfortable running up front. Oh and to me Wilson has the hottest chic in the pro paddock! Good work Dean!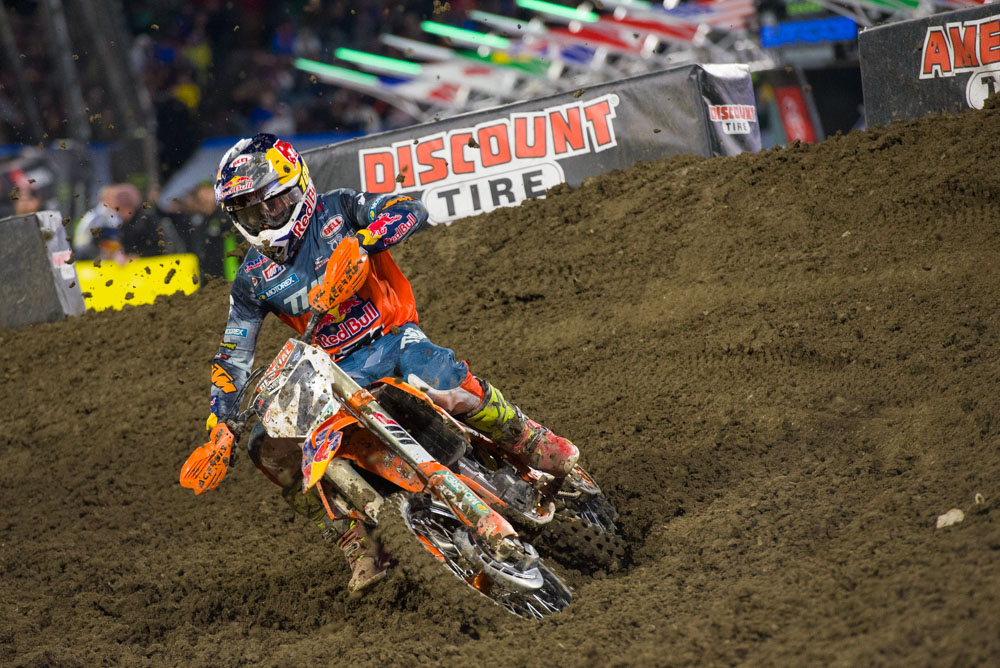 Cooper Webb: Webb didn't start out the day that great in free practice and eased his way into the first round. A first turn crash hurt his chances at a podium, but coming from 20th to 5th shows us that he is capable of getting through a lot of quality riders in a hurry. Also, if you look at Webb's KTM 450 SX-F on the track, it looks like it sits or rides lower to the ground compared to Musquin's bike. Maybe the team lowered the bike to accommodate his short stature? I am going to get to the bottom of this.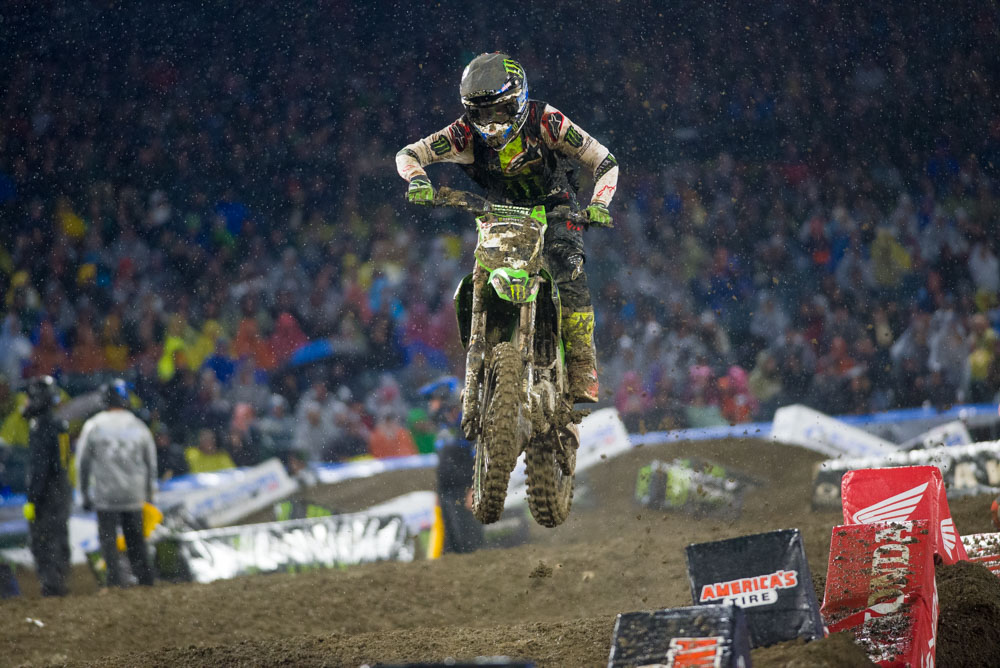 Eli Tomac: Tomac gets third! Nothing really hard hitting to report here. He was one of only two riders to triple in on the south side rhythm section earlier in the day (before it got muddy).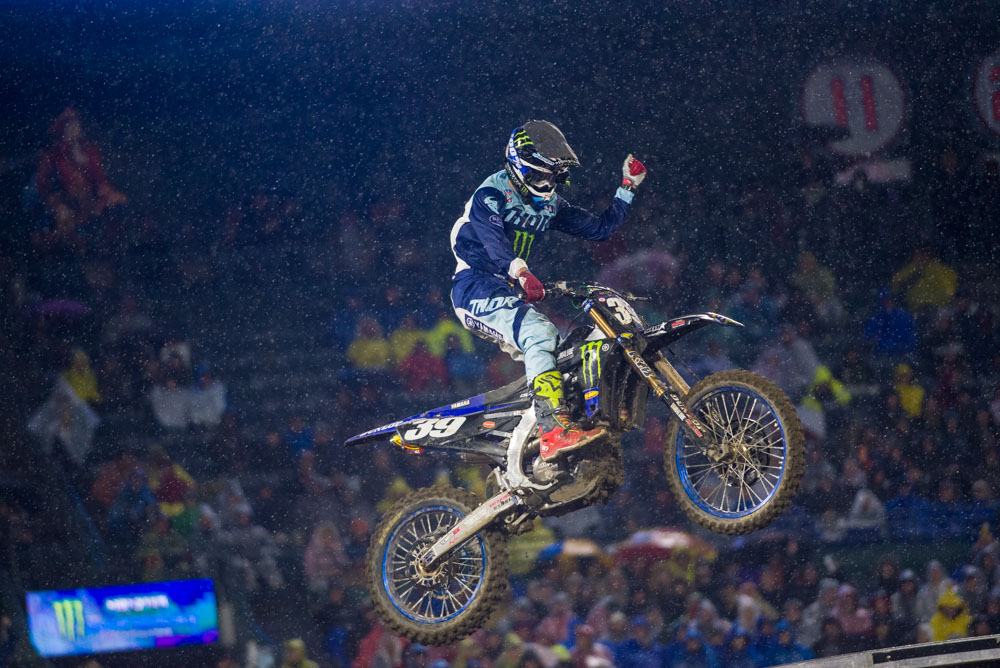 Colt Nichols: Did anyone pick Colt to win this sucker? It's amazing what a healthy off-season can do for a person right? Colt has been plagued with injuries in his career, but has shown flashes of speed when he was at the races. With the combination of a potent Star Racing Yamaha YZ250F and the fact that Nichols probably doesn't have all the pressure on him to win a championship, maybe we could actually see more of these nights in the coming weeks!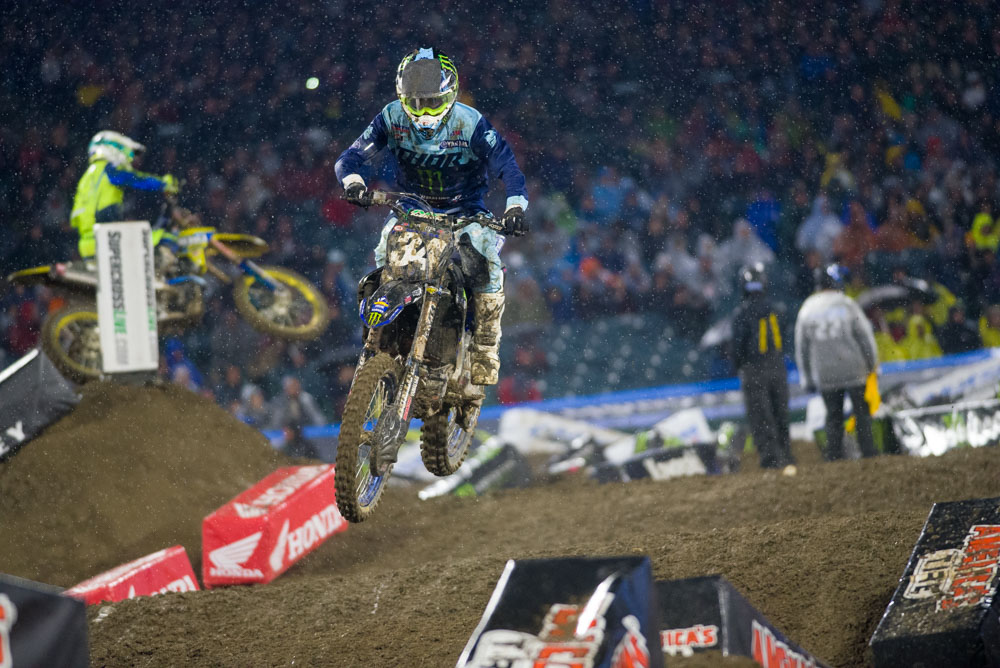 Dylan Ferrandis: Dylan to me is still the man to beat in the west. He got in behind Cianciarulo in practice and wanted to set the tone to everyone that he is the guy to beat. With the help of DV12 I feel like his whole race craft will be better for a series championship run in 2019. A second place in the first round is a great way to start that hunt for a title. If you look closely you can see a lot of DV in Ferrandis in the whoops, most noticeably entering the whoops where you have to lift the bike up and raise the front wheel. Go back and watch some races of DV and then fast forward over a decade and watch Ferrandis. It's scary similar! It also looks like Dylan's YZ250F cockpit has changed yet again for 2019.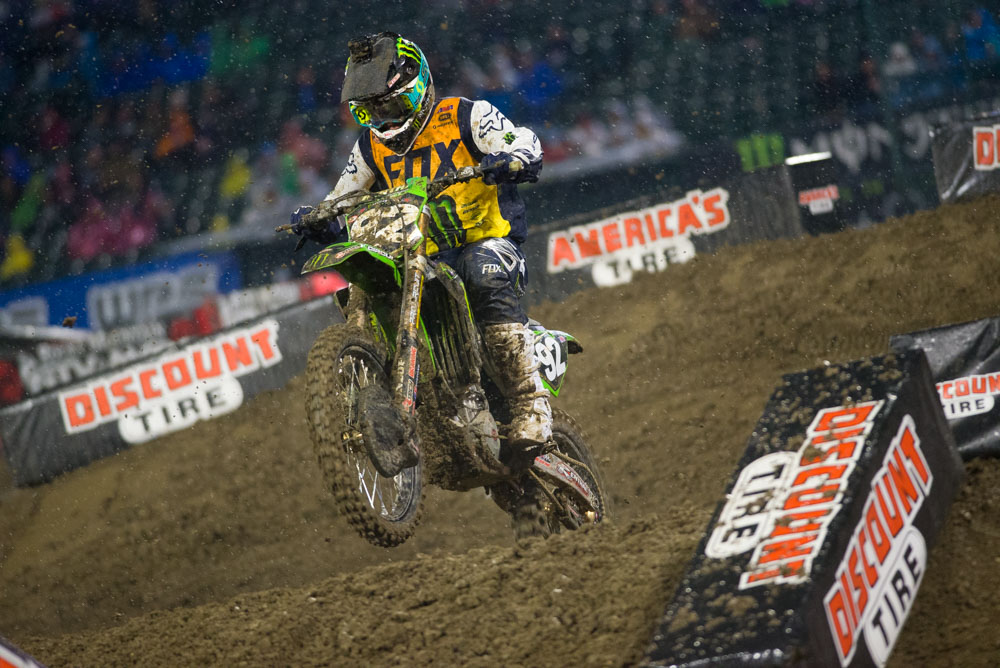 Adam Cianciarulo: Adam's technique and style has evolved a lot since last year. Last year it looked like he hung off the back off the bike more and this year it looks like he's more forward on the bike than he ever has been. He's very neutral on the bike through corners and his whoop entrance speed has also increased in 2019. When I spoke with Nick Wey earlier in the day he stated that Adam is relaxed and more ready for this year than he has been in the past. Without the amount of mishaps that Adam had in the main it is actually kind of shocking that he finished 5th.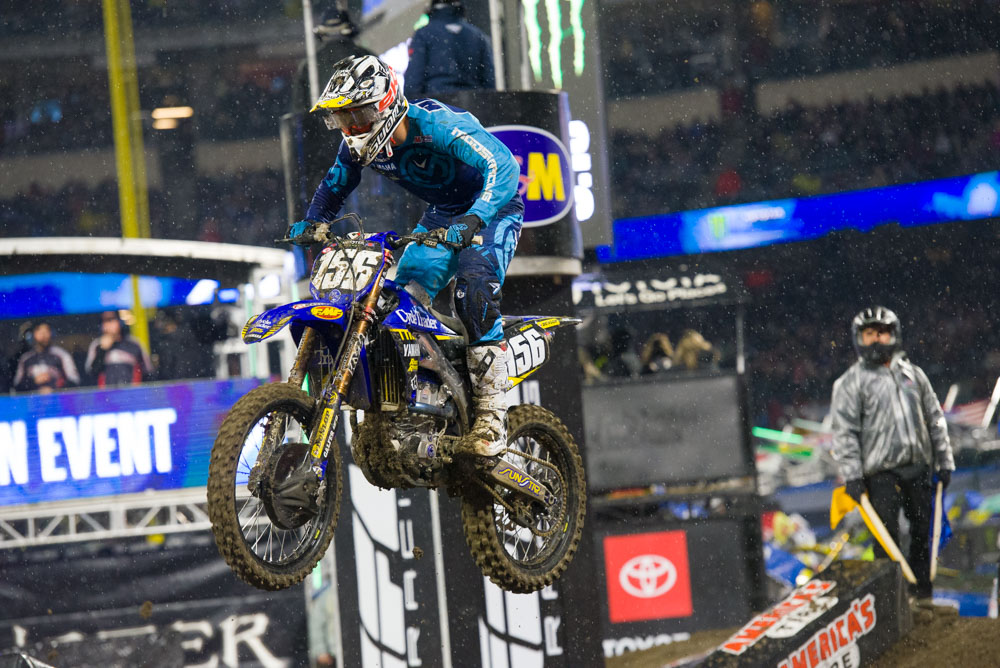 Jacob Hayes: Jacob is your defending AMA Arenacross champion and should of been at Supercross several years ago, but sometimes the career of a dirt bike racer takes you on a path that you might not have envisioned. Hayes is good like Colt Nichols was good when he was on the Cycle Trader team a few short years ago. I think if it didn't rain we could of seen an even better finish for Hayes so look for him to improve on his eighth place in Phoenix.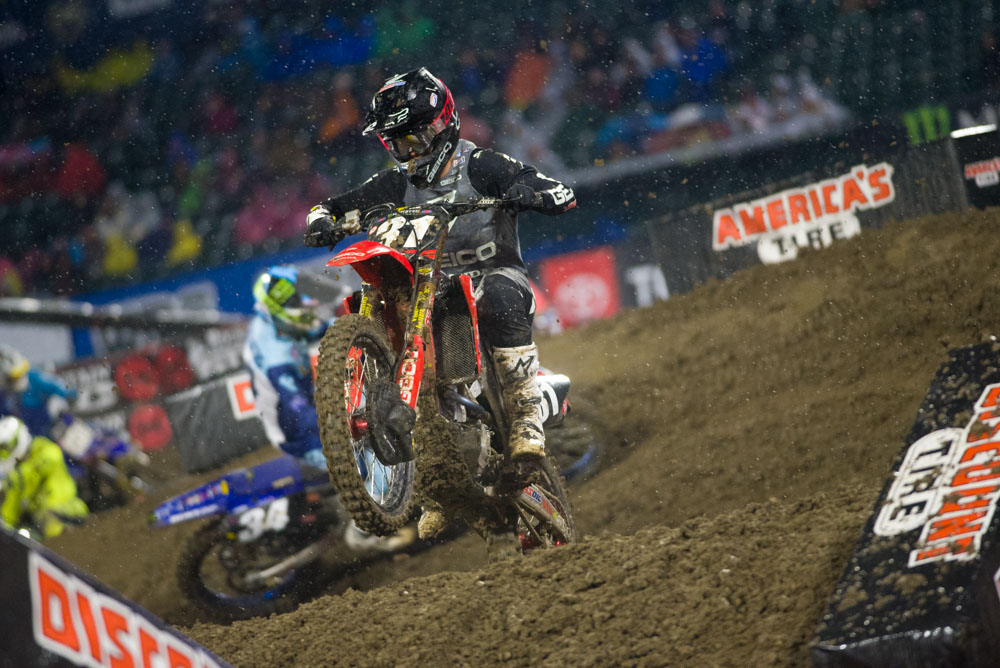 RJ Hampshire: RJ was the best guy in the whoops in the 250 class. The dude didn't shut the throttle off from the time he landed from the over/under until the triple. Check tape!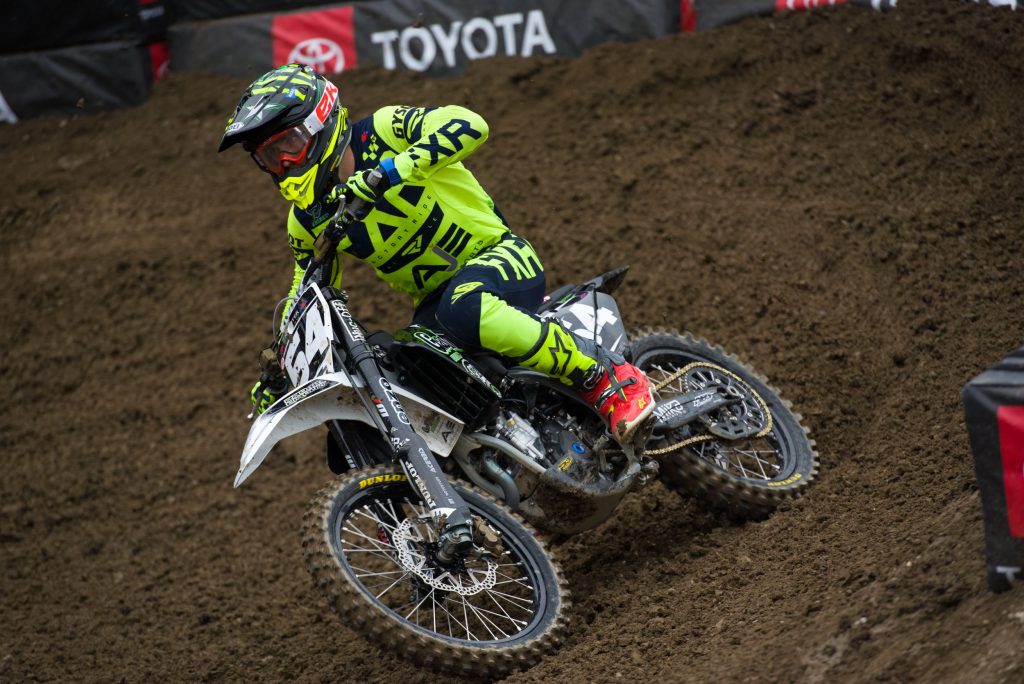 Best Dressed: The most prestigious award in AMA Supercross is here once again! Honestly this week was tough to give out an award because there really wasn't one set of gear that I was just like "THIS IS AWESOME"! The Fox LE stuff just doesn't do it for me and doesn't look like the old 90's AXO stuff enough for me to get excited. After doing some digging though I found the FXR LE gear, Shoei Helmets, Alpinestars boots of Dylan Merriam. He tied together everything so well that I had to give the Gas Monkey Energy Husqvarna rider the first Best Dressed award of the year. It doesn't matter if you make a main or not, if you're looking good, I will notice. Suck it 722!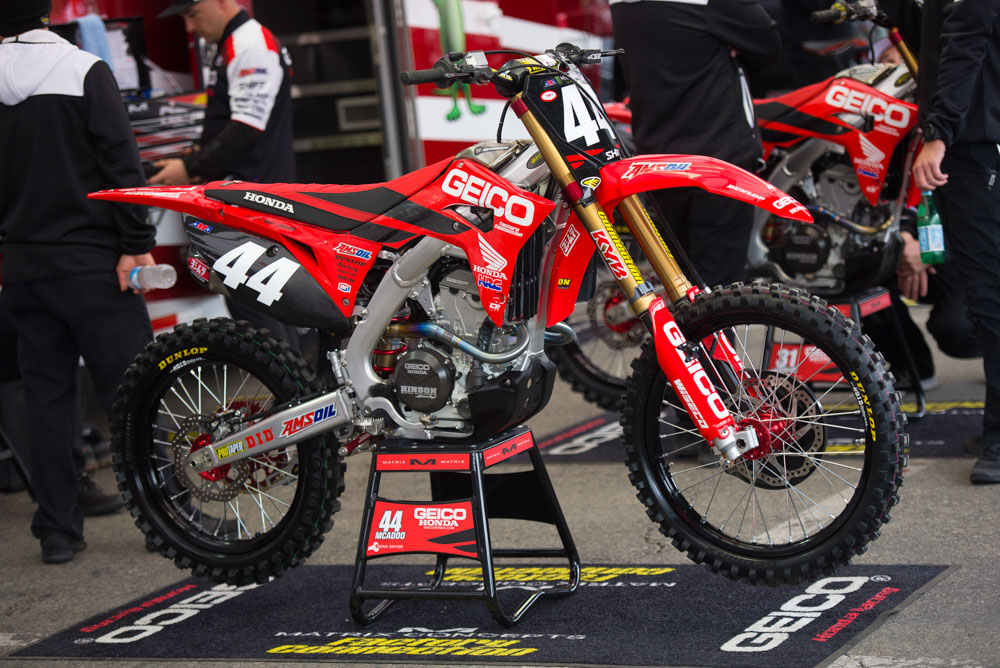 Best Looking Bike(s) At A1: This award has to go to the GEICO Honda boys right? The bright, mostly all red color way is so eye catching up close and the bikes stand out on the track. Great job to Danny Dobey and D'Cor Visuals for giving GEICO Honda the best looking bikes they have ever had.