Hi Kris I just logged into your podcast. Drove 12 hours and listened 10hours straight. I think your doing an amazing job overall. Love the no BS. Love how you seem approachable and most of all love the fact I feel confident that your opinion and/or facts are well guided by someone that just loves MX like most of your listeners.
I apologized for that long rant I know your busy.
My question is… I'm 37. I've been riding since I was 29. So not that long. Got into the sport late. But love it to death. Can't stop thinking about it. I rode a 450 for years. But because of age and injury I went to a 250. Was this a good idea? I'm scared that I've made a bad choice. I'm also 5″8 190lbs. Well built.
When you read any article online. People will all say something different and I understand everyone is different. I traded my 2013 ktm450 to a 2013 rmz250.
If trading was a good idea what mods can I put into this bike to make it fun and/or competitive and still respecting the dollar bill.
Sorry for the novel. Love your show. If you don't answer I get it.
-Kevin
Kevin, 
 Welcome aboard, we are happy to have you..
 As far as going to a 250 I don't think you made the wrong choice, I just think you made the wrong color choice for your size. The 2013 Suzuki is down on power and it might take a lot of work to get it to where you feel like you made the right choice. The Suzuki is a great cornering machine, but you will have to dump some money into the engine. 
 A couple things that are possible is a 280 kit with a Vortex ignition. This will give you some bottom end, but also let it rev out a little more as well. A 250 is a great machine to get confident on and have fun without some of the risk of a 450. I agree, but the KEY thing is to get a 250F that has some bottom end to carry your 190 pound frame around without having to get too hyperactive/work on the bike. Chances are if you're going down to a 250F your skill level needs work before going to a 450. I get it! 
 Those two mods above would be my first go to on your RM-Z. If you can find a 2016 or up YZ250F you will be getting a bike with a great engine character, suspension, and reliability.  
 Thanks and have fun! 
-KK 
Kris, love the no BS pod cast. After about 5 years out of the game, I'm going to buy a bike this spring. I have my sights set on the CRF250RX. I'm still probably considered a beginner rider and will be on trails 90% of the time. I'm 5' 11" and 200 lbs. and I want to make sure this will be a good bike for me. I'm thinking the fun to ride chassis and suspension will be the ticket for my skill level. I also agree the Honda's look sweet. I'm a little worried about maybe the motor and suspension being a little soft but maybe I wouldn't notice with my skill level. Any advice would be appreciated.
Thanks,
Tom
Tom, 
 The Honda's engine is soft off the bottom, but still super fun to ride because the chassis is simply so good! You will have to "spring up" with your weight, but most likely will have to do that with any bike. 
It's an agile machine with a confidence inspiring chassis that will make you smile. When you do need some more power it is easy to achieve that with a couple of mods like a muffler and an ignition! 
 Let me know how it goes.  
-KK
Hey Kris,
I just had a question for you. I am a desert rider who currently has a 2006 KTM 450 XC. Over the past few years I have been swamped with work and school and this bike has gotten pretty roached out. To be honest very little maintenance has been done at all. My question is, do you think it is worth going through Race Tech or some other company and having the bike redone, top end, valves, suspension, etc. which will probably run me multiple thousand, or do you think I should take that money I would be spending and invest it into a new bike, and start my maintenance from there. Obviously money is a concern but I just don't want to be throwing money into a endless pit, but also don't know if I should take on a payment on a bike. I would love to start riding more but am concerned with the current status of my bike. Thanks and any advice would be appreciated.
Cheers,
Caleb
Caleb, 
 Save your money and invest in a updated machine. Your bike is old and it sounds like you know deep down that you may want a fresh unit sometime soon so don't dump a lot of money into this sucker! Plus it is not that motivating to go ride when you have a roached out bike in the garage. You'll walk past that thing and say "Ummmmm, aaaah, I am good, I don't need to go ride"! With a newer-ish bike the "want" will be there more. That is my .02. 
 -KK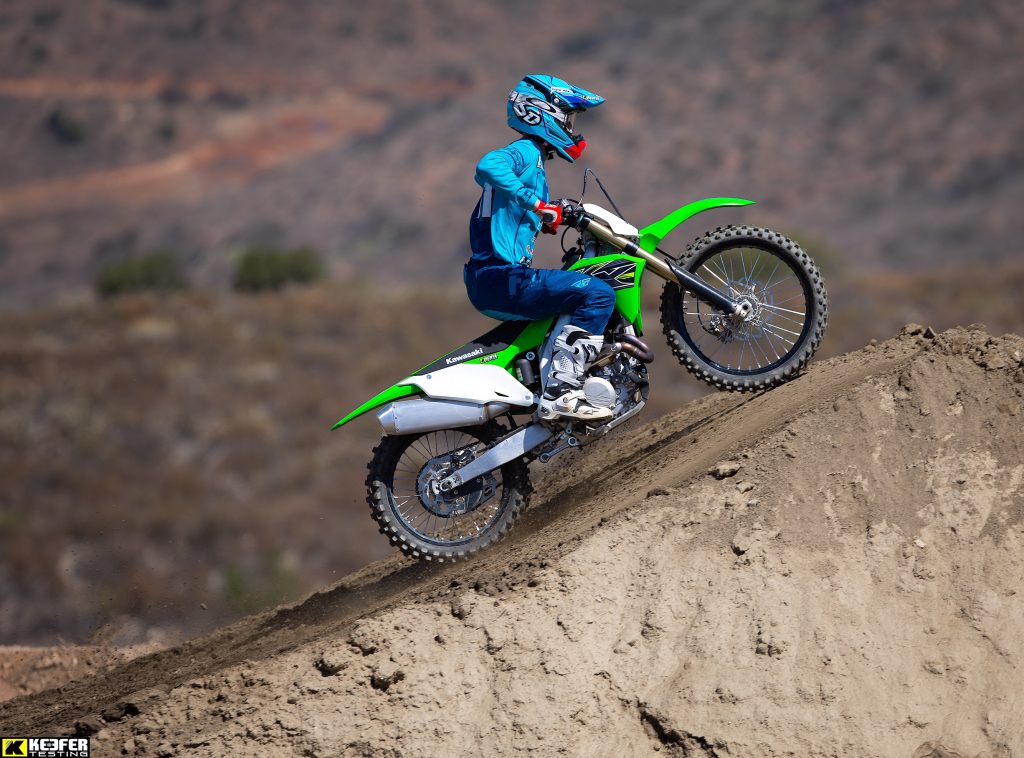 I am in the middle of deciding between a 2018.5 KTM 450 SXF Factory Edition or a 2019 KX 450.
Based on your exposure, riding and testing of both bikes, which bike would you prefer and why. Currently on a 2014 KX450F. Only modification is the stock suspension stung for my weight. 48 year old vet novice.
Thanks, Todd
Todd, 
 My pick would be the KTM. Why? Because I like the engine delivery better, Chassis corners better, it feels light, and is easy to ride. Yo can basically put the KTM where you want it slightly better than the KX.
 That being said the new KX is a great machine because it has good suspension, and a fun low end feel. To me it still feels long and I like a bike that likes to corner and the KTM does that really good while remaining pretty stable. Kawasaki did an amazing job on the 2019 and is vastly improved over the 2018.
 -KK
Good Morning Kris,
Hope you had a great Christmas and the new year has been treating you well.  I had to treat myself with a new bike a few weeks back like your wife did with your new Rockstar edish! I had a hard time deciding between the new 19 YZ250F or the 19 CRF250R but after your podcast on the 19 CRF250R I knew I had to go with the Honda with always being a Honda guy as well.  I absolutely love the bike on how the thing handles and can't believe how well this thing corners! I came off of a 2012 CRF250R with slight motor work (port, polish, Cam, nothing crazy and always run T4 in my bikes) that I have had since new and absolutely loved that bike that's why I kept it for so many years.  But like everyone knows/ like you said with the new 19 CRF250R that low-end and 3rd gear defiantly lacks.  I live In Wisconsin and in the heart of winter right now so I have only been riding at our indoor track so it is tight and I put a 50T rear sprocket on like you recommend for indoor and defiantly helped some but still really have to use the clutch in 3rd or drop down to 2nd. I read your great review on the full Yosh and defiantly sounds like that helped that bike out with this issue I was curious if you have done any testing with the full FMF exhaust? Since they are basically the same price and those blue FMF pipes look so sexay but I am more interested in the best performance over looks.  Or is there anything else you would recommend that will livening up this bike? I am a smaller rider at 5'5" and 140ibs and a higher up 250B and 25+ B racer and race at Millville and a lot of are other district D23 races are sandier/ softer dirt up here so some more good reliable power would be nice now that I am faster these days and thought I would ask the expert!
P.S. I ran Factory Connection suspension for years on my other bike and this race tech suspension that I got done on this 19 is hands down the best suspension I have ever rode thank you for pushing to try race tech!
Sorry for the longer email, I know you are a busy man and I really appreciate everything you put out greatly appreciated. -Erik
Eric, 
 Caught me at a good time before I head to Anaheim.. 
 The FMF mufflers are a little better for bottom end power, but do not offer mid-top like the Yosh. For indoors I would like the FMF, but once spring time hits and you go outdoors I feel like you will like the Yosh better. The FMF mufflers are loud!!!!! Yosh is not as loud. 
 The only other option to get more out of this bike would be a VORTEX ignition mapped from Chad at XPR Engines. Chad is simply awesome when it comes to mapping a bike for Honda's and really takes his time. The ignition helps with bottom, mid, top, over-rev. It really wakes this bike up and makes it pull much stronger. This bolt on is pricey, but is probably the best "one thing" you can do to this model! Ignition and muffler would make this sucker F.U.N. This also helps 3rd gear cornering ability a lot! 
 Race Tech does an excellent job and have come a long way in a few years. Glad you picked them. 
 -KK
Kris,
With things like the Yamaha Powertuner app coming to market on new bikes, I would like to better understand the benefits of a Vortex/GET compared to an ECU that you can already control.  Perhaps there are additional parameters?  Not looking for a response here but maybe you'll touch on it in a pod.  I think I heard you mention one coming up around that technology, maybe not. -Grant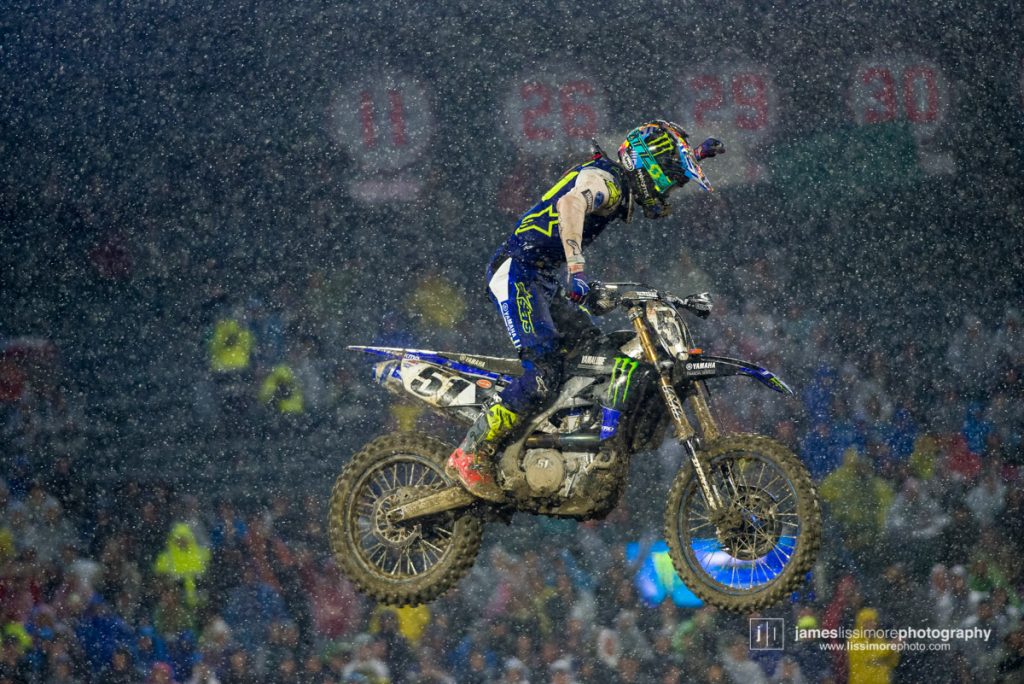 Hey Grant,
 Simply put, the stock ECU's don't allow the parameters that a Vortex can give. The durability guidelines that a manufacturer has to abide by are much stricter than a Vortex or GET ignition. However, an aftermarket ECU can get you in trouble if you try to map to aggressively, that's why I have guys like Jamie at Twisted to map on the dyno for me. Then I go try on track to see if it's worth a crap. The mapping we come up with is reliable enough to last a long while on stock engines. I have had a vortex on a Yamaha YZ450F for 50 hours with no problems. 
 Hope this helps. 
 Thanks,
 KK
Hi Kris! I'm looking to get some insight on your thoughts. So I bought a 2012 KX450F mid summer after getting suggestions with your podcast when I was looking for a new used bike. New to air forks I had no idea the previous owner swapped 2013 suspension on the bike until I tore the forks down to fix the seals and bump up the spring rate to my weight. The bike handled decent, but I hadnt begun to dial in the settings for myself yet as I was way off on conditioning. What are your thoughts on air suspension over springs? I've heard bits and pieces over a few podcasts but nothing specific on this (might be a good podcast?!?). Should I try to find a set of 2012 to put back on the bike and sell these? I haven't raced in 10 years. Was a mid to upper C rider. I'd like to race again and focus more on proper suspension this time around.
I also was looking into the dynojet powercommander for my bike. Have you had any experience with these? Or any other tuning capabilities for the KX?
Thanks for your time sir! I love the podcasts. Keep 'em coming!
Brad
Brad,
 Yes, try to find a pair of 2012 used forks as they were really good. The had a plush feel, but also had great hold up when starting to push a little as well. Weird that the guy put air forks on a good chassis dirt bike. Doh!!! The air fork is harsher on small bump absorption and can get more of a firm feel over time during longer motos. The spring fork has the same feel the whole time without mid-stroke harshness. 
 Don't waste your money on a power commander it's not worth the money. Every time I tested one it didn't do anything to the engine character where I noticed a major difference. Save your money for suspension. 
 KK