Full Disclosure: I am a gear snob/freak/connoisseur/lover. To me if you look good, you're going to feel good and if you feel good, you're going to ride good. As you might also know FLY Racing advertises on my podcast and I wear their gear A LOT! This doesn't mean they are paying me the most money and that is why I am wearing their gear. I actually liked their gear so much I asked them if they were interested in advertising with Keefer INC/PULP MX. I am a very transparent person (unlike what some may say on Vital Forums) and I am fine with letting the consumer know why I like a product and why I would take money from said company to advertise for them. Unlike other media outlets I am happy to only take advertising dollars from companies that offer products that I would buy myself (with or without their help). This may seem like a less profitable way to make a living running a motocross media testing based website, but I am not looking to get rich by sneaking around and hiding behind advertisers. I have had many offers from other companies to promote their products that I didn't like, but declined to take their dollars. So with all this being said, I wanted you all to learn some more about a product that I do like a lot: The FLY Lite Hydrogen Pant And Jersey…..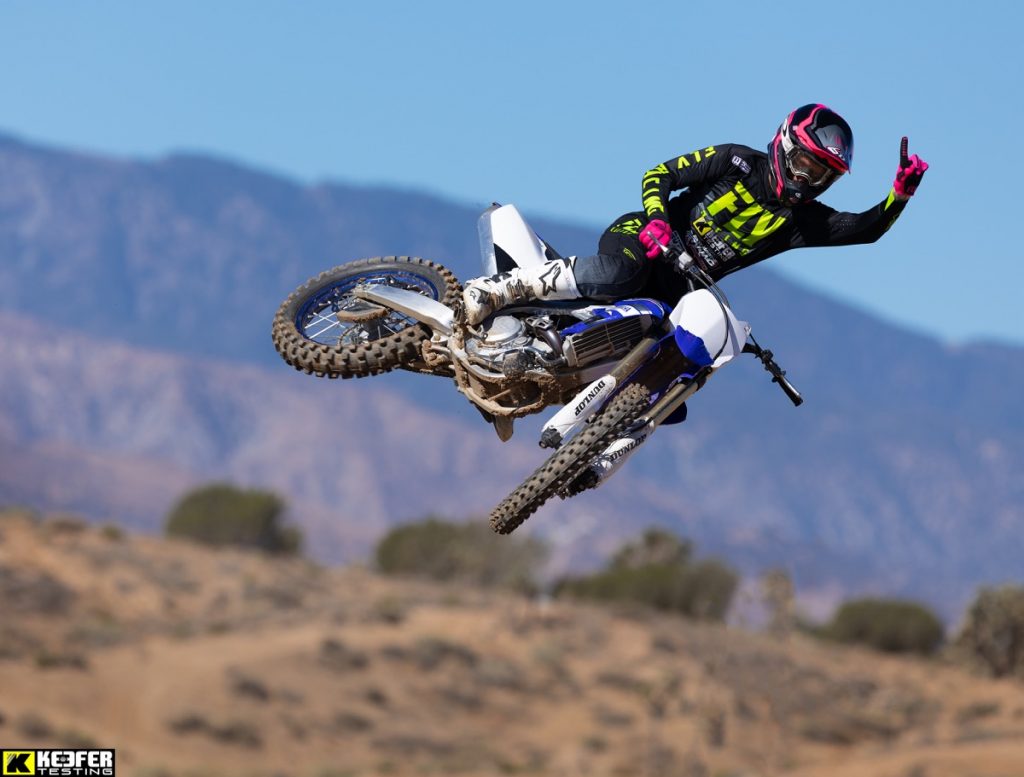 The 2019 Lite Hydrogen features the revolutionary BOA closure system that is on the Evolution 2.0 pant as well. The BOA system offers fast, on-the-fly micro adjustability that provides a truly dialed in fit with the simple turn of a dial, creating a customized fit around your waist. The Lite Hydrogen pant is an athletic, minimalist, stretchy fit that ventilates extremely well on long, hot desert testing days, but also isn't so breathable that you can't wear it on cooler fall days. The Lite hydrogen pant also has a 90% stretch panel construction, leather heat shields (on the knees) and sublimated graphics.
The Lite Hydrogen jersey also has an athletic fit to it with laser cut perforations to help dissipate heat, a tales printed collar, an open zero cuff with mesh gussets, a low profile collar, an extended tail and sublimated graphics that are claimed to be fade resistant. I have been wearing the stuff a lot (as you can tell on my social media pages) and more importantly have been testing the durability of the gear to see if it's money well spent.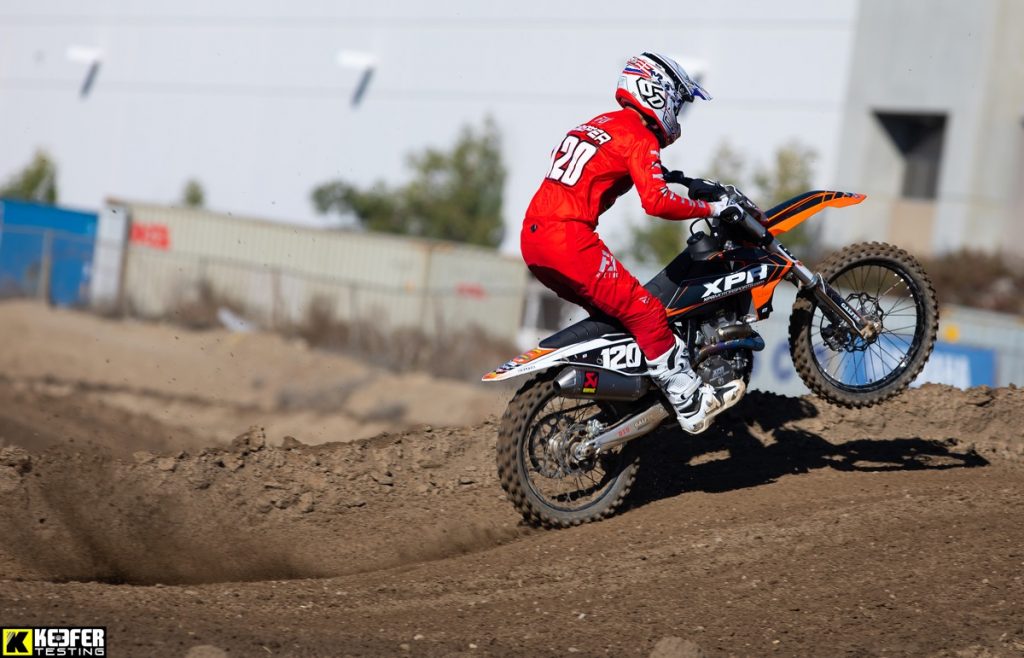 I am extremely happy with the new BOA system on the Lite Hydrogen pant as I have yet to break a BOA. I have cranked my way around many track days and haven't seen one take a crap on me. If there was one thing I didn't like about the older Lite Hydrogen pant is that it was so stretchy that it pulled down (in the rear panel) while accelerating out of corners that left me with an untucked jersey by lap three. With the BOA system all I have to do is turn in the reel and tighten, so that my pant is securely locked to my waist. Let's face it, most motocross riders have no ass (even if you do have a belly) and usually the jersey will come untucked immediately, but not with this BOA system. The pant has held up great against my knee braces and although this is a very lightweight pant it has really held up in the durability department.
The Lite Hydrogen pant isn't the lightest of the minimalist pants out there, but has held together like a heavier type of pant over time. All of my desert tracks have a lot of trees/sticks near the corners and the pants repel the occasional branch or tree snag. If you are a bigger guy then don't fear because FLY sells the Lite Hydrogen pant in sizes 28-38. I have seen a pair of 38's on my buddy and it doesn't look abnormal at all so don't stress or say that you're too big to wear these pants. You'll look fine! The Lite Hydrogen pant isn't such an athletic fit that you'll be thinking that you're wearing skinny jeans, it does have some room. There is enough room for an array of knee braces that I tried over the duration of the test and bunching also isn't an issue like it was on older Lite Hydrogen pants. The colors that Fly came out with in 2019 are so much better than the colors they had a couple years ago so I am sure that you can find a color way that fits your style in 2019.
Bright yet clean colorways are what I prefer and that is exactly what the Lite Hydrogen colorways deliver. Although I am not sure FLY recommends putting your pant and jersey in the dryer, but I have done so on many occasions and the BOA reel still works flawlessly.
The Lite Hydrogen jersey ventilates very well and the open cuff design is one of my favorite aspects of this jersey. Sometimes when you get an open cuff design the jersey will ride up your arms during a moto, but the Lite Hydrogen jersey's cuff will stay in place and not go all Mike Alessi on you. The athletic cut of the jersey is on the snug side, but again not as tight as other competitors athletic jerseys. It's important to note that the Lite Hydrogen is not as tight as let's say a FlexAir jersey, but it does all for larger sized dudes with some extra weight in the belly region. Don't fear your spare tire because FLY offers a 2X and I promise you will not look all EMO with a snug fitting jersey.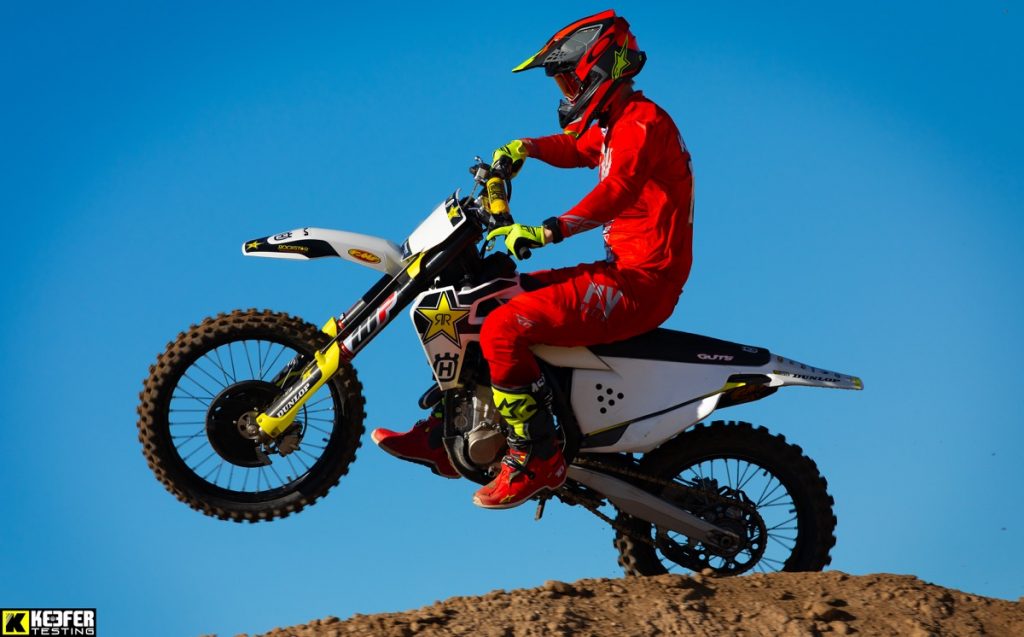 Once you slip the jersey on you can feel how soft it is and the material not irritate your skin. You will also still have enough stretch for an under protector if you choose to wear one (which I do on most occasions). Mrs. Keefer has washed the pant and jersey several times and the colors have not yet faded or dulled out. One downside to the jersey is that the collar is somewhat tight around my neck, so I stretch mine out a little. However, be forewarned if you are like me and stretch your collar out, there is a chance for mud/dirt to get inside your jersey. I am willing to take that risk for a more roomier neck area fit, so the juice is worth the stretch for me to do that. The jersey is very durable against trees and branches, but don't expect to just plow through them without getting some kind of damage. I have ripped one of my jerseys on a burned up manzanita branch that was sticking out, so just know that the Lite Hydrogen jersey isn't made to withstand impaling wood. The ventilation of the jersey to me is as good as the Kinetic Mesh, but with a softer feel to the material. I am not a huge sweating type of person, but when I do sweat, the jersey doesn't stick to my skin like an O'Neal Mayhem-Lite jersey can. 
Fly Racing has come a long way with their gear fitment, designs, and durability over the years. I don't think I could sit here and talk the same about this gear six to seven years ago. The 2019 Lite Hydrogen pant and jersey is light, takes abuse well, and looks Best Dressed! The Lite Hydrogen pant costs $169.95 and the jersey is $49.95. You can check the complete line of 2019 Fly Racing gear at flyracing.com and make sure to tag me @kkeefer120 on your Instagram photos when you get some new gear! I want to see all of you winning your local track's "Best Dressed" award!
If you have questions about any set of gear please feel free to contact me at kris@keeferinctesting.com. I am hear to try and steer you in the right direction.