PulpMX.com Fantasy Pick & Trends
Massive score recorded in Seattle thanks to 250 class point scoring bonanza.
Raise your hand if you were expecting a hard pack, near blue groove Seattle Supercross! Anyone? Yah, not me either, the track featured some big old whoops this week that only the strongest riders could skim for the entire main event, and even then, most resorted to jumping through.
The night's racing also featured a spectacular and costly main event crash that took out beloved veterans Chad Reed and Justin Brayton for the foreseeable future. This caused a twofold ripple effect in the scoring. First, it bumped the 10P – 22P guys up a couple of notches. Second, it left approximately 10% of fantasy owners with a single digit score.
This week also saw the return to racing of the 33, Josh Grant. Josh, filling in for Aaron Plessinger did not look anywhere near top form in practice, or in his heat race, and did not qualify for the main event. This left 37% of team owners with a big fat zero.
The big fantasy story of the week though was the crazy high scores put on the board in the 250 class. Ten riders scored 42 or more points, and six put up a perfect 52, unbelievable!
We also saw a very high 338 point score take down the overall this week. Congratulations to "Keepitpinned" for taking down the overall. KIP crushed it in the 250 class with an absolutely perfect score of 182 points. Not only did he get perfect scores out of all of them he also had three non-all stars who were very low owned. Logan Karnow (14) – 8%, Bradley Lionnet (16) – 4%, and Chris Howell (14) – 2% all maxed out, as did his all star Dylan Ferrandis (1AS) – 30%.
KIP's 450 team was also very strong, he achieved the highest score possible based on the nights results. Carlen Gardner (13) – 5% and Austin Politelli (16) – 8% scored 46 points each. KIP also had the next highest scorer, Alex Ray (12) – 26% for 38 points. His all star was Eli Tomac (2AS) – 29%, ET3 had a perfect 26 via his 3P finish.
Probably the most amazing result for a team owner I've seen since PulpMX Fantasy began. KIP had the 6 highest scoring riders of the evening, all with single digit handicaps. Fantastic work and congratulations on the win!
Now, let's take a look at this week's results.
 Most picked riders AKA "the chalk"
Not a ton of riders with more than 30% ownership this week. Jimmy Decotis (0) topped the 250 field with a 40% pick trend. The Rippa looked great in qualifying, especially in the whoops. As he was a non-all star fully capable of a top ten finish, his pick trend is not surprising. He delivered a great 42 point score via a 3P finish. Nice bounce back from Atlanta Jimmy!
JGR had themselves a night in this 250 class, we also saw Enzo Lopes (8) put up a perfect 52 for 39% of team owners via a 9P finish.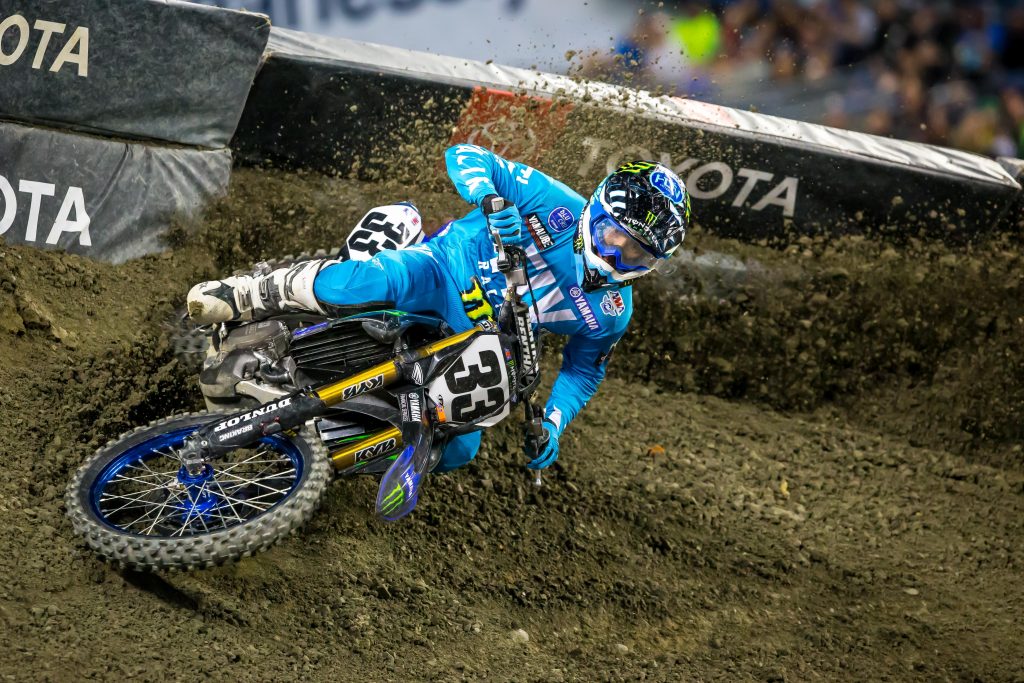 The 450 class was topped by Josh Grant (6) – 37%. Unfortunately for his owners this was the only thing he topped, as he scored zero points via a DNQ. Ben Lamay (9) – 33% was the only other 450 rider above 30%, he put up 36 points via his 14P finish. Watch out for Ben in the weeks to come, as he will now be on the Moto Concepts Smart Top Honda, filling in for Justin Brayton.
 Low owned players who delivered – AKA great contrarian plays
 As we mentioned in the rundown of Keepitpinned's winning team, there were some SERIOUS scores put up by low owned riders this week.
The 250 class had two riders with less than 5% ownership put up a perfect 52 point score. Bradley Lionnet was only 4% after his 20P qualifying and Chris Howell was 2% after qualifying 22P.
Not to be outdone by the ¼ liter crew, the 450 guys also had some serious stealth bomber scores. Carlen Gardner (13) – 5% and Austin Politelli (16) – 8% each put up high for class scores of 46 points. Both riders qualified right on the bubble, Gardner in 24P and Politelli in 22P. Qualifying was closer here as well; they were within a second of Mike Alessi who qualified 17P.
 Fantasy Duds
We already mentioned JG33's miserable real and fantasy day; we did see a few others have not so great evenings as well. The 250 class had more than a few team wreckers, first Colt Nichols who crashed out of the main event early, leaving his owners with only 5 points. We also had 23% of owners on the "Jurin Juice". Collin aka "Juice" qualified in 16P and was apparently selected by more than one fantasy expert. He couldn't get it together in the night show though and failed to qualify for the main, leaving his owners with a zero.
Fantasy Studs
 The big scores returned to the small bores in a big way this week! As we mentioned above, the 250 class had ten riders score more than 42 points and six riders achieve perfect 52's. The 52's included, Enzo Lopes (8), Mitchell Harrison (6) and Robbie Wageman (15). They each had more than 20% ownership. Jimmy Decotis (0) had a nice night as well, delivering 42 points for 40% of PulpMX Fantasy teams. It's easy to see why scores were so high this week.
The 100% "Lead Pipe Locks"
We had the usual crew of fantasy experts on the pod last week. Paul chose Killian Auberson (42 points) and A-Ray (38 points), Dan chose Enzo Lopes (52 points) and A-Ray (38 points), JT chose Auberson and Justin Bogle (34 points), and Steve chose Carson Brown (0 points) and JG33 (0 points), ouch and ouch!
Probably the highest point totals for the 100% Lead Pipe Locks we've seen all season, Dan took it home with a combined score of 90 points thanks to Enzo and A-Ray. Congrats Dan on the great picks!
First Lap Leaders
It's amazing that it's news when a Pro Circuit rider isn't the first lap leader in the 250 class, but here we are. This week 24.8 of team owners chose a 250 FLL and only .4% correctly chose the Rippa, Jimmy Decotis. The 450 class owners who chose fared a bit better, 17.7% chose an FLL and 24.8% correctly chose Marv.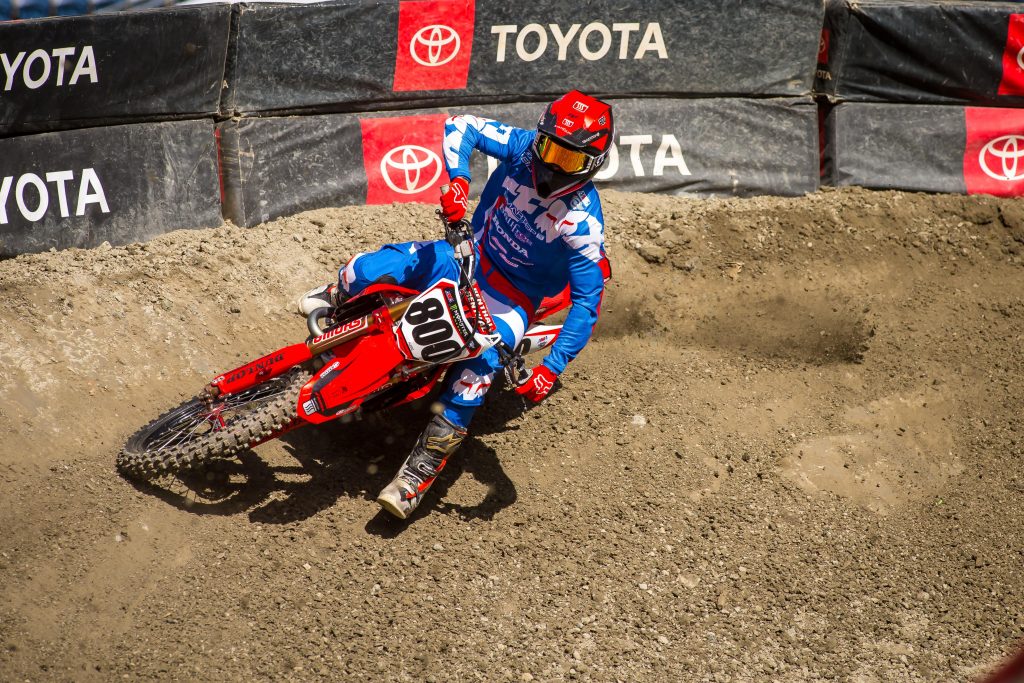 Final Thoughts – Houston Picks
The Triple Crown format returns to Supercross this weekend as the series returns to Houston for round 13. As always, this is a great format for picking first lap leaders as your rider of choice will get three chances to add 15 valuable points to your score.
Also remember, with the injuries to JB10 and CR22 we will see more high handicap riders like the 722 likely to land a spot in the big show, keep an eye on handicaps and qualifying!
In the 250 class, Enzo Lopes is an interesting pick. He delivered a nice 9th place finish in Seattle on the hard dry track and enters Houston with a chance to compete on similar dirt at a 6 handicap.
Keep an eye on the 800 this week. He has shown steady improvement and enters round 13 with a 6 handicap. I also like Justin Bogle at a 3. Like Mike, he has been showing steady improvement as well and could be in for a solid fantasy night.
Well that's it for this week. Thanks everyone for reading and playing. Please remember to support the PulpMX Fantasy sponsors when you shop for all of your off road, motorcycle and MTB needs.
Hope I see you on the leaderboard!