Daytime Program
Las Vegas
Can you believe Supercross is already over? Where did the time go? Wow. It seems like we were just at A1 talking about who was going to take the title and we are now at the end of the season with an unforeseen champion. Since Hangtown is around the corner, I decided to spend a couple days in Utah with Mike Alessi and train before Vegas. Since I am busy with all this outdoor prep, I decided to leave after the Pulp MX Live Show Friday night and get a couple days of training in at home. So with that being said this week's "Daytime Program" is a sprinkling of the week leading to the finale in Vegas and some talk about the race itself. Enjoy!
Mountain Biking With Steve: On Wednesday morning I decided to stop by Vegas on my way to Utah and bicycle with my electric bicycle riding buddy Steve Matthes. Now when you decide to ride with Steve on his home turf expect to only see glimpses of his jersey in the Nevada desert. Steve pins it from the get go and if you're on a non-electric bike expect your heart rate to be at around 170 bpm the whole ride. Nonetheless the ride is beautiful and if you were allowed to take it all in, the ride would be awesome. However, Steve doesn't like when people try to enjoy the scenery as he wants to hammer and get his Strava times down. If someone purchases an Intense Tazer with Steve's code make sure you get your free "Ride With Steve" voucher and experience all that Nevada has to offer for mountain bikers.
St.George Utah: Tony Alessi suggested that I come up for a couple days and ride at SGMX with Mike to pound out some motos. It is now Sunday afternoon and I am officially whipped. I am actually laying in my bed tying this as we speak. Over the course of two days I put almost 6 engine hours on my Smartop/Bullfrog Spas/MotoConcepts Honda so my 42 year old ass needs a day off. Riding with faster riders is one of the best things you can do to improve your riding, so if you have a chance to do that, make it happen. Riding with Mike those two days in Utah helped my speed and will ultimately help my fitness once I take a nap. Zzzzzzzzzzzzzzzzzzzzz.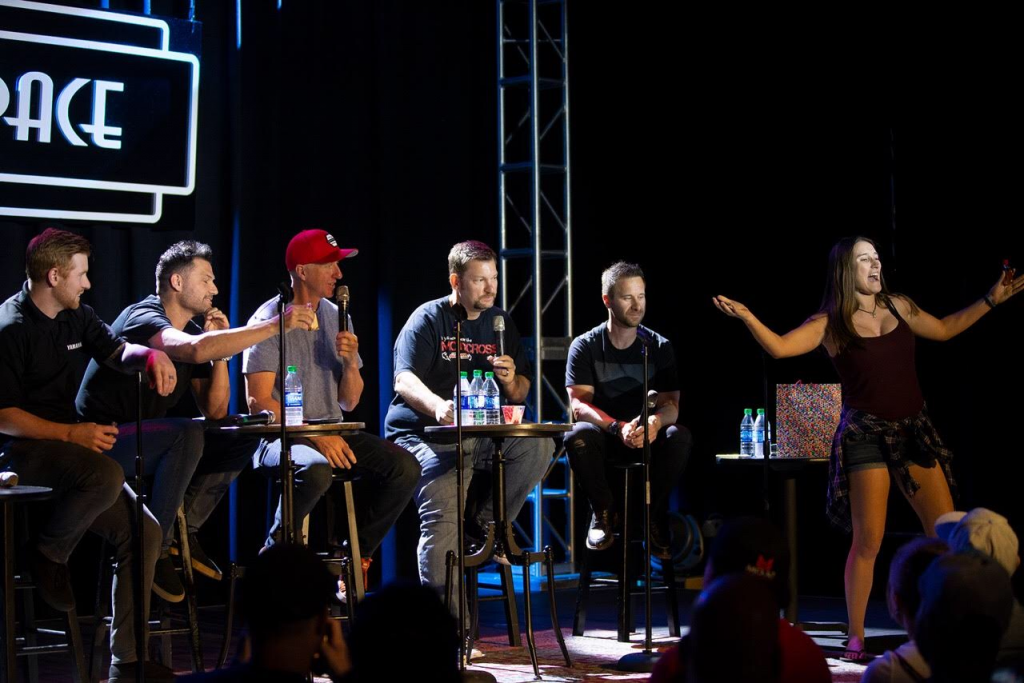 Pulp MX Live Show: We had a sold out show at "The Space" in downtown Vegas! Special guests Ryan Villopoto and Chad Reed were a big hit with the crowd with their no bullshit way of speaking. They talked shit to each other, took a shot of Fireball Whiskey with a listener, and even spoke about how they got James Stewart to throw a race away. It was overwhelming to see how much you all enjoy these live shows so we hope to continue these things in 2020. Oh wait! We will be doing one at Works Connection the Friday night before Hangtown so come on out!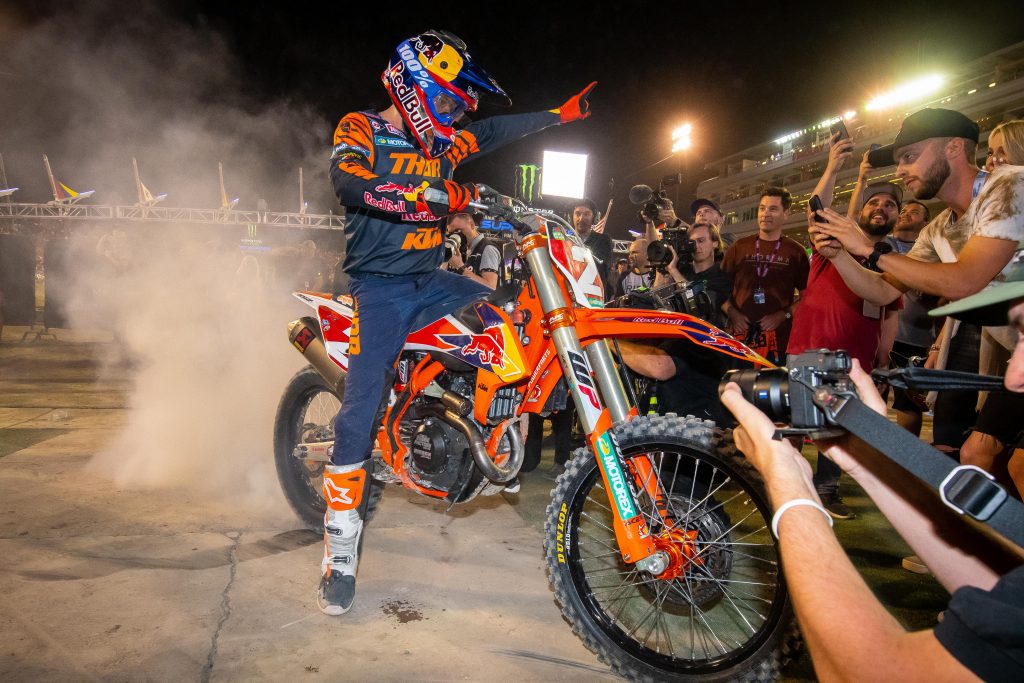 Cooper Webb: Cooper is your 2019 450 Supercross Champion! I knew he would be good, but I didn't think he would be the champion. What's also odd is that he didn't seem overly excited after he won. No huge burnouts, he didn't ghost ride his bike, and he didn't really scream with joy as much as I thought he would. Cooper will send it with his buddies on his own time, but he rarely shows too much emotion to the public. I went back and watched some of his 250 championship podium speeches and they weren't overly dramatic either. With the confidence of the Supercross championship you can guarantee that he will challenge Eli Tomac for the outdoor title as well.
Eli Tomac: Fastest man in the series, but mistakes hurt Eli again this year. The only guy who can beat Eli in outdoors is Eli. No one has the raw speed he does, but there are guys who are close enough that can pester him and his precious points.
Adam Cianciarulo: Did anyone feel sick after seeing what went down with AC? I couldn't even believe what just happened? How does that happen? Why? These are the questions that he only knows and it must be heart wrenching for the kid. It looked like there was an edge in the transition of that rhythm (where he crashed) and his bike hooked him to the left. His bike was so mangled up that he almost crashed again and got landed on in the Main Event. What does this do to his mental state going into outdoors? I feel like this failure will make him an animal as he will have so much focus and desire that he might be tough to beat. This mishap in Vegas also most likely means he will most certainly be on a 250 again in 2020 so kiss the 450 hopes goodbye people. Props to Adam for having his shit together in his post race interview and on his social media posts. Most would just crawl into a dark abyss and not be heard from until Sacramento.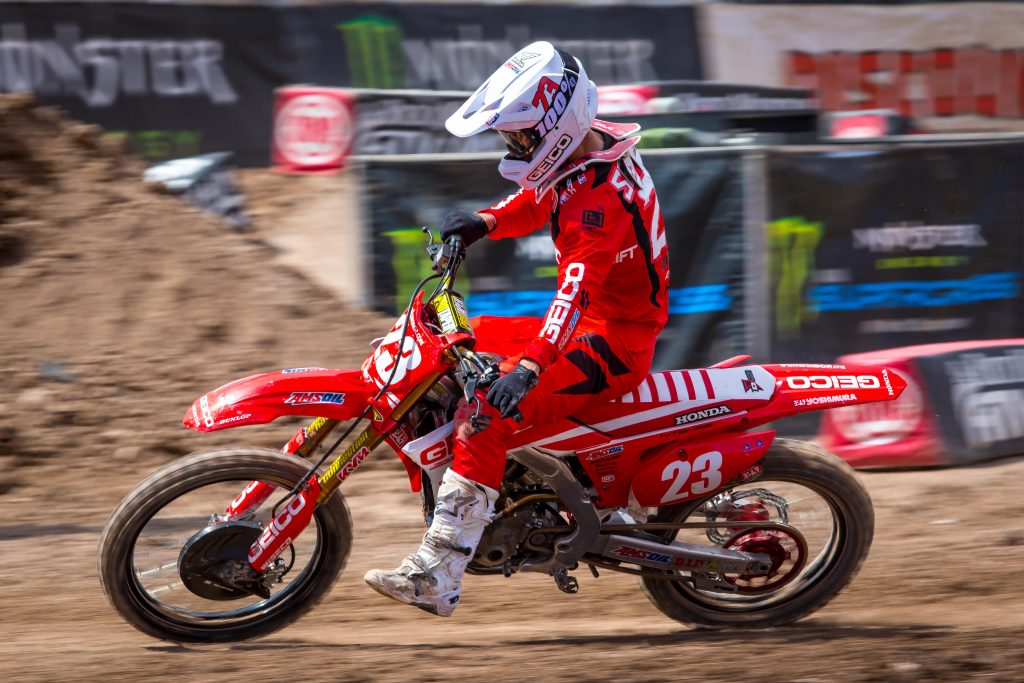 Chase Sexton: You have to be in it to win it right? Chase took advantage of Forkner's mishap and was there every weekend to win the east coast title. Sexton's style is unreal and his form is almost always perfect, so if you're a young kid looking to emulate a smooth riding style on a 250 just study Chase. Watch how he pushes down on his Honda off the finish in Vegas and that will tell you how fluid this dude is.
Dylan Ferrandis: Dylan was probably as shocked as anyone to read his pit board saying "AC 20th"! The frenchy was fast all year, but more importantly had DV in his corner to help with his mental outlook. Knowing DV and what he did with Dylan this year, I honestly think that was the biggest difference for Dylan this year's championship. Dylan is a hard worker, never gave up and look where it got him! A west coast championship. They say you create your own luck and Dylan is a perfect example of that analogy.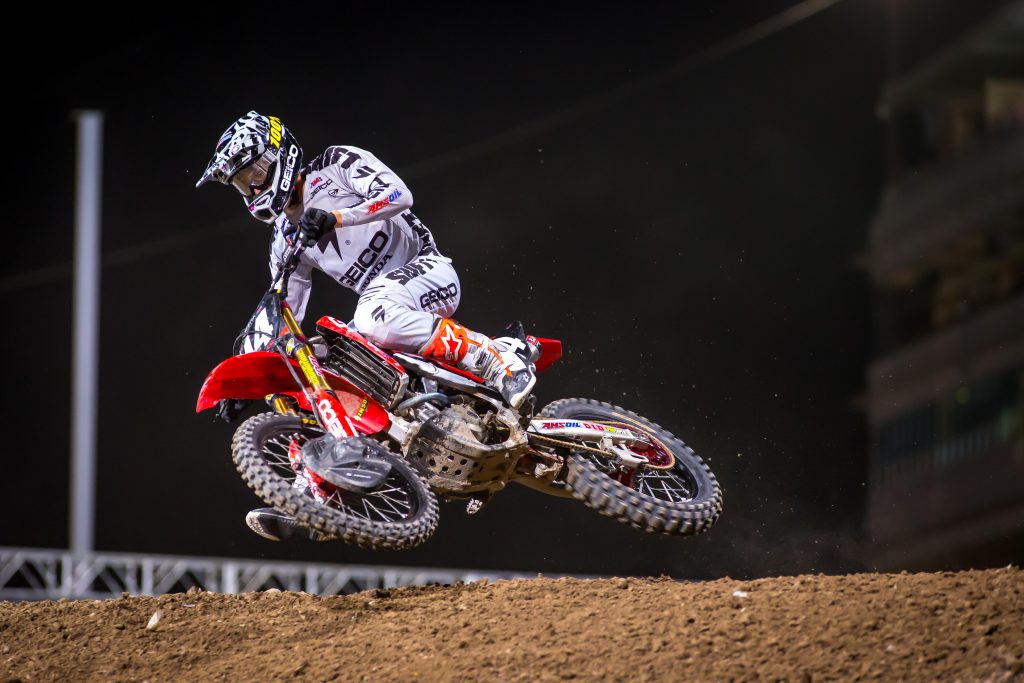 Cameron Mcadoo: Shout out to Cameron for killing the 250 East/West Main and almost winning the damn thing! The kid has no ride for outdoors, but will be riding a Geico Honda for the team during the week just in case the team needs a fill in guy. That Geico Honda has really helped some riders transform themselves into better racers and Cameron is a bi-product of this really good Geico Honda machine.