PulpMX.com Fantasy Pick & Trends
Photos by Rich Sheppard
Hey nerds! Thanks for checking in again this week. Before we get going I need to clean up an error on my part. While writing last week's column I had a slight brain fart and wrote that 90 points was a perfect score. This is not the case of course, 100 points is a perfect score outdoors.
Speaking of outdoors, we just finished round 2 at Pala – Fox Raceway and witnessed some crazy good racing.
As to overall fantasy scoring this week, we had some nice scores, but nothing outrageous, it seems as if the handicappers are going to make us work for it this season, at least for the time being.
This didn't faze DFC532, they took down the overall championship this week with a very nice 599 point score, winning by a strong 29 point margin. DFC532 picked the highest possible scoring team in the 450 class. Erki Kahro was the main difference maker here; he put up 94 points at only 4% ownership. Justin Hill and his 100 point score was also a big factor, as he had a fairly low 20% pick trend. DFC rounded out their 450 squad with Fast Freddy Noren 72 points – 21% pick trend and Marvin Musquin in the all star slot for 50 perfect points, also at 21% pick trend.
DFC's 250 squad wasn't as strong as they had two costly mistakes, choosing Hunter Lawrence, who once again had a first moto issue and only scored 50 points, and Colt Nichols in the all star slot, who only scored 43 points. Luckily for DFC, they also selected the two highest scoring riders in the class, Jacob Hayes, 80 points – 31% pick trend, and the biggest difference maker, Challen Tenant who also put up 80 points at only 5% pick trend.
DFC also correctly chose first lap leaders in each class for an extra 30 points. This is what gave them separation from the field, being correct here, and also being on the money on two very low owned riders who had a top score in their respective class.
Congratulations DFC532 on the great overall win!
Now, let's take a look at the rest of the scores.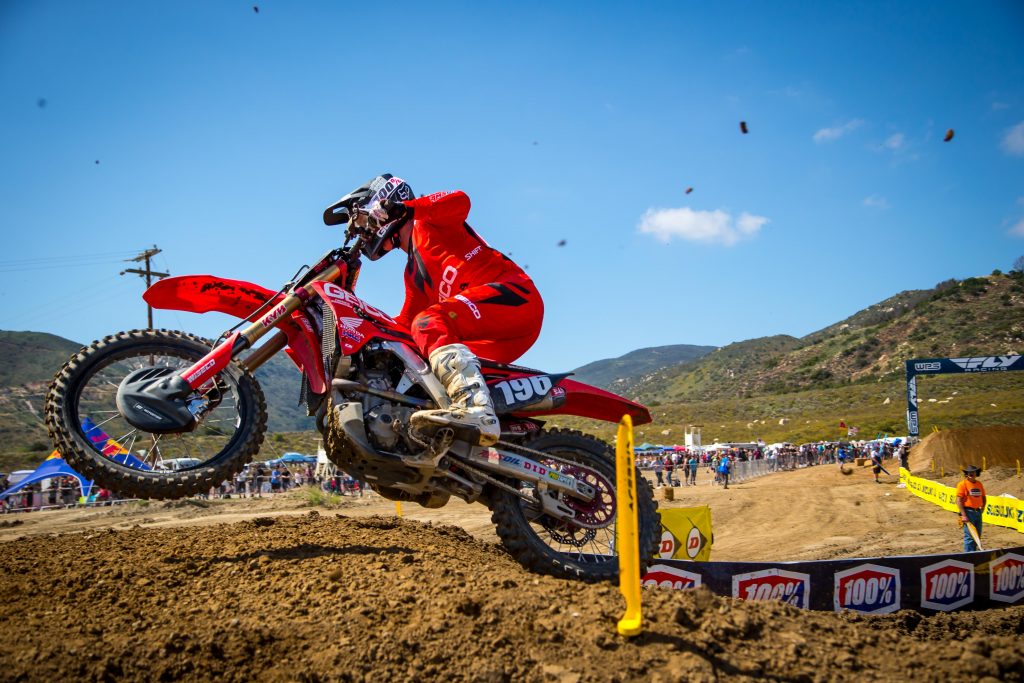 Most picked riders AKA "the chalk"
Pick trend percentages were fairly spread out this weekend. The 250 class only saw three riders with >30% pick trends. Hunter Lawrence (1) led the way with a 37% pick trend. This is no surprise as we saw last week at Hangtown, and again this week, that he has great speed. Jordon Smith (5) – 34% followed, (more on him below). Finally Jacob Hayes (12) rounded out the top three, and was the only rider of these three to deliver a great score in each moto.
Cole Seeley was the only 450 class rider selected by more than 30% of team owners, and just barely at that. Cole arrived at Pala with a 3 handicap, had a 31% pick trend and delivered 58 points.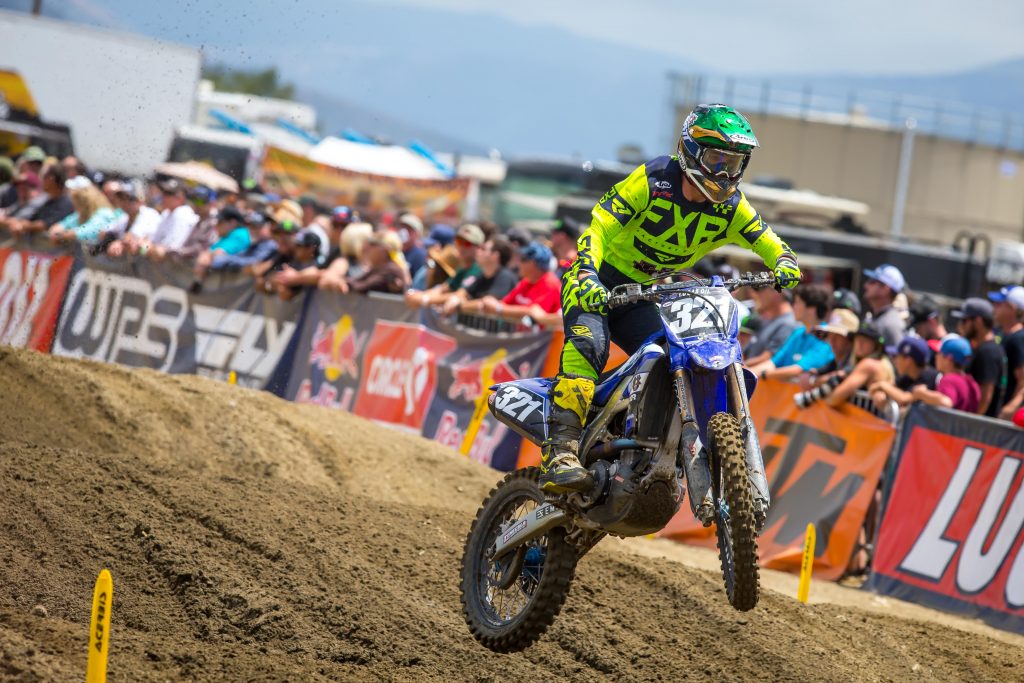 Low owned players who delivered – AKA great contrarian plays
The difference makers! We had some significant difference makers this week that had very low ownership. Two of the top three scores in the 250 class were taken down by riders who had pick trends that were under 5%.
Challen Tennant (17) qualified in 23P and went on to put up 19-21 moto scores, scoring 80 fantasy points for only 5% of team owners. Bradley Lionnet (18) also had a good fantasy day, scoring the second highest in class score – 66 points, for only 1% of team owners.
In the 450 class we saw Erki Kahro (18), who also qualified in 23P put up a near perfect 94 points score, for only 4% of team owners.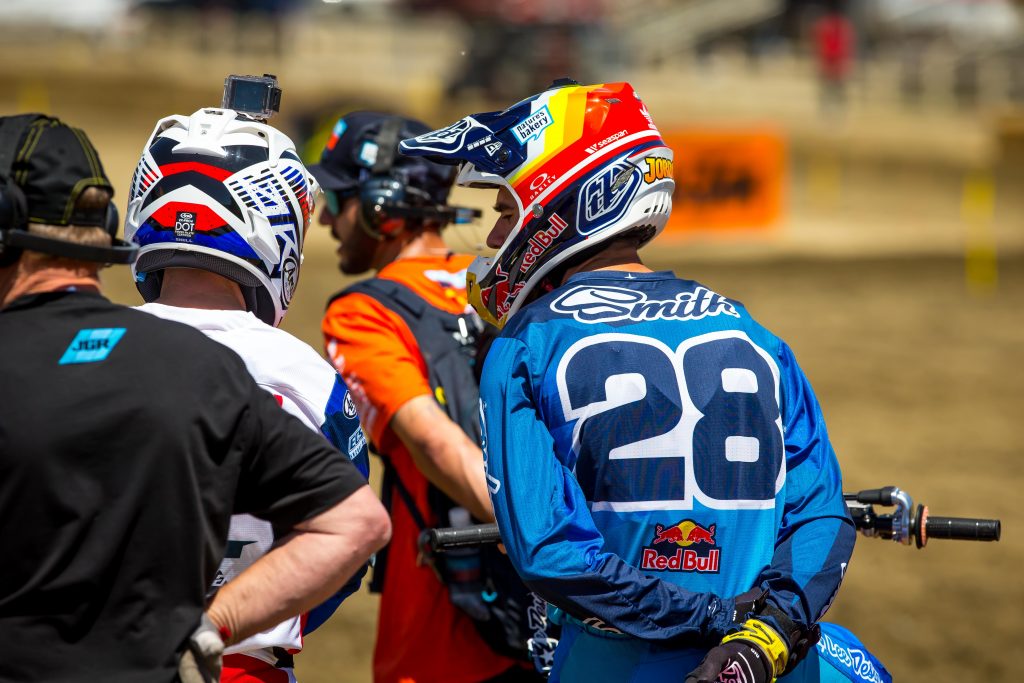 Fantasy Duds
Have you ever played that minesweeper game, where you try not to pick the wrong square? Playing fantasy motocross is a lot like that, if you want to do well, you have to avoid landing on a mine that will ruin your game.
This week, there were a few riders in each class who really exploded their teams, starting off with Jordon Smith (5) whose MX season woes continued at Pala. Jordon qualified in 7P and looked like a great pick at a 5 handicap, 34% of team owners selected him. Sadly for those owners, that's where the great day ended, as Jordon was only able to deliver 10 fantasy points. Hunter Lawrence (1) had the highest pick trend of the day at 37% and looked great on the bike, but could only put it together for one moto as a Pala rock took his bike out in moto one. Luckily he put in a great ride in moto 2, salvaging 50 points, but it could have been so much better! Finally for the 250 class, Ty Masterpool (6) was not able to put it together for a second week, scoring only 40 points for 28% of team owners.
Not as many 450 duds this week. Tyler Bowers (9) did not have a good weekend at Pala. He qualified in 22P, and went 18P – 29P (fist turn crash) in his motos. This left 20% of team owners with only 25 points.
Fantasy Studs
 The big scores came from the big bores this week! We actually didn't see a lot of high scores this week, but we did have a perfect score in the 450 class! JGR Suzuki's Justin Hill (9) had himself a day at Pala, scoring 100 perfect points via 8-7 moto scores. He made 20% of PulpMX Fantasy team owners very happy.
Jacob Hayes knocked it out of the park at Pala for his owners. He entered the weekend at a 12 handicap, qualified 12th and proceeded to put together a 14 – 16 day for 16th overall. This resulted in an 80 fantasy point score (highest in class) for 31% of team owners.
The 100% "Lead Pipe Locks"
This week we had Steve, Dan, and JT make 100% Lead Pipe Lock picks on the podcast. Steve chose Brandon Hartranft (12) and Henry Miller (14) for 106 points. Dan went with Ty Masterpool (6) and Dare Demartile (13) for 69 points, and finally JT went with Hunter Lawrence (1) and Cole Seely (3) for 108 points.
Congratulations to JT for taking down this week's 100% Lead Pipe Lock expert pick with his 108 point score!
First Lap Leaders
This week the amount of team owners who chose a first lap leader nearly doubled, from 25% last week, to just over 49% this week. We saw an extraordinarily high percentage of them choose correctly.
In the 250 class, 49% of owners chose a FLL, with 51.6% correctly choosing Justin Cooper or Shane McElrath (guessing most of them chose Cooper). The 450 class was even higher, 47.1% chose, with 64.1% correctly choosing Marvin Musquin or Ken Roczen.
 Final Thoughts – Thunder Valley Picks
Round three will take place just outside of Denver, at Thunder Valley MX.
As it is still early in the season, handicaps continue to shake out so to speak. I am one of 37% of team owners not eligible to pick Hunter Lawrence this week. Hunter will once again be double points eligible at a zero handicap. Lock him in if you can! I also like Alex Martin as an all star with a 6 handicap. His last two overalls at Thunder Valley have been podiums, second last year, and third the year before.
Want a deep sleeper for the 450 class? Take a look at Cade Autenrieth. He had a great race at this track last year, finishing 13th overall and will be an 18 handicap this week. We will also see Joey Savatgy return to racing at Thunder Valley. He will be double points eligible at a 2 handicap. Joey has always ridden well at this track, making him an intriguing pick. Finally, I like Cooper Webb as a 4 handicap all star.
Well that's it for this week, please remember to support the PulpMX Fantasy sponsors when you shop for all of your off road, motorcycle and MTB needs.
Hope I see you on the leaderboard!