EVS
TUG CTR (Core Temperature Regulator) VEST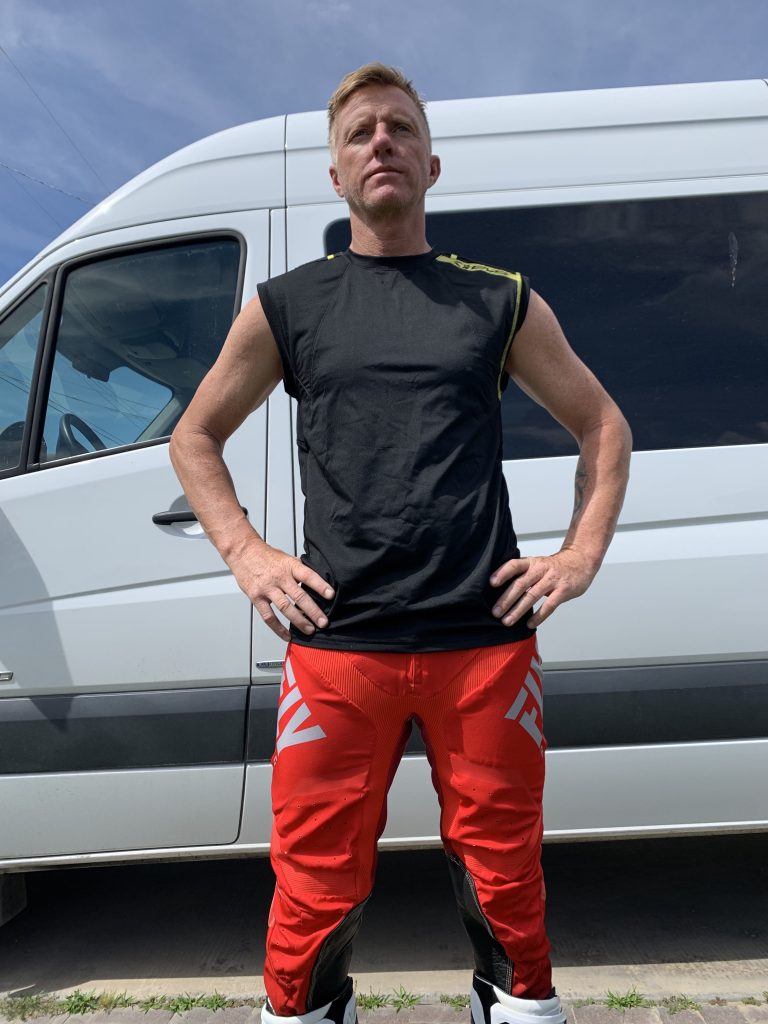 It's already hot here in Southern California so I wanted to get the jump on some product reviews of some hot weather riding gear. EVS has their TUG line that stands for "Technical Under Gear" and in that line up are some cold and hot weather products that could be of some use for you riders out there. Technical Under Gear (TUG) products are built to enhance overall rider experience. EVS says that "TUG products features technical details that are designed to integrate seamlessly with protective riding gear for enhanced mobility and all day comfort". Soft touch KWIK-DRI® fabrics are put in place to wick sweat from skin and help regulate core temperatures". I will say that I normally DO NOT wear under gear and just go with the ol' under protector and jersey lifestyle, but I thought, hell, why not try something that may keep me cooler when testing here in the desert, these summer months.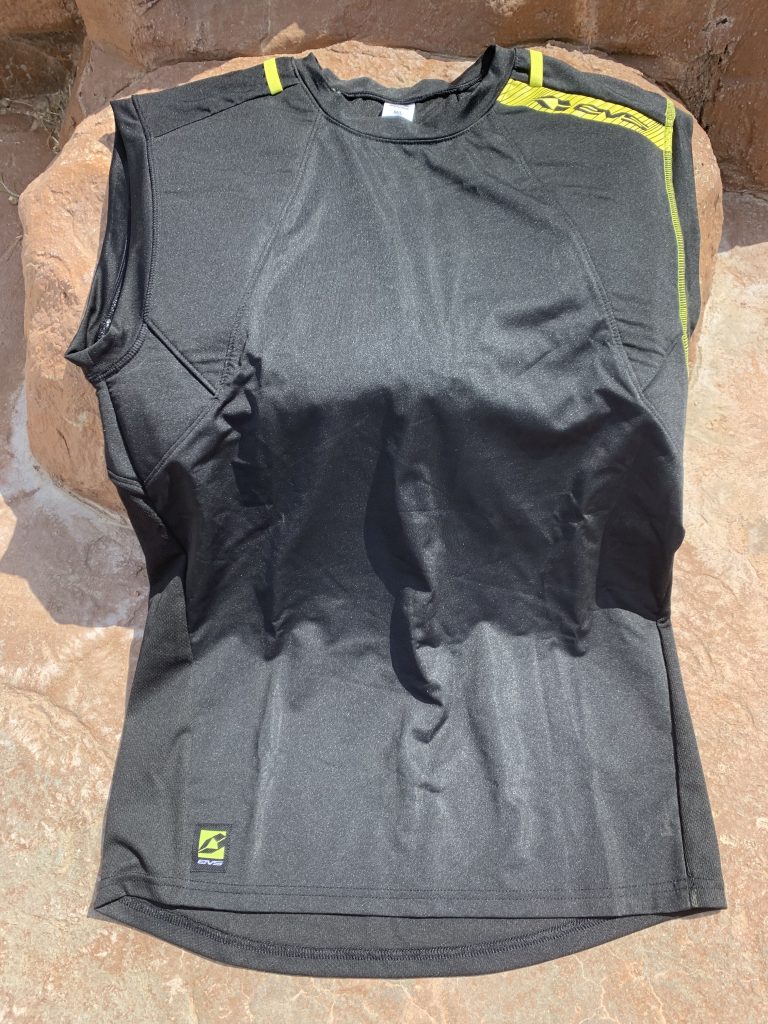 The EVS Core Temperature Regulator Vest is constructed of thin, strategically placed layers of super absorbent polymer that aid in the cooling of your body's core temperature. Once saturated with water, the polymer is supposed to retain the cold temperature and slowly disperses around your core to keep you cool.         There are elastic shoulder attachment loops for race collar compatibility, along with a four way stretch KWIK-DRI-Fabric that is supposed to wick sweat from skin and helps regulate core temperature. Finally there is another four way stretch airflow mesh fabric on the back panels of the vest to aid movement on the bike.
Test Criteria:
I wanted to really check the longevity of the cooling benefits with EVS CTR Vest so I chose a couple specific hot weather days to test it in. The first day was a long durability motocross test I had to be at, in which temperatures peaked around 92 degrees with 32% humidity (I rode a couple hours "AKA four motos" without the vest on while testing and then rode another couple hours without the vest "four motos"). The second day was a long trail ride with some friends that had me in some canyons and situations that I would rather not discuss. That day the temps peaked around 96 degrees with 18% humidity.
Now before I put on the EVS CTR Vest I let it soak in my cooler for a few minutes (like EVS recommends) and then put it over my body. This is something I will never get used to! HOLY COLD SHOCK! Once you get over the initial shock (around 20-30 seconds) you will really start to feel the benefits of the vest.
I will say that I dislike the light shoulder padding built into the vest as I am looking for a minimalist design to hug my shoulders more. With the light padding EVS has sewn into the vest it will ride up over your shoulder rather than hug your body like the rest of the vest does. If you're putting an under protector on over the CTR vest than you can disregard that comment, but if you're a "no protector" kind of rider, your jersey will look a little bulky around the shoulder neck area. Once you start riding and air starts going through your chest area you will immediately begin to see the cooling benefits. I noticed increased cooling around my body and although the EVS CTR dried a little over the course of two hours (still damp to the touch), my body was still cool against the vest itself.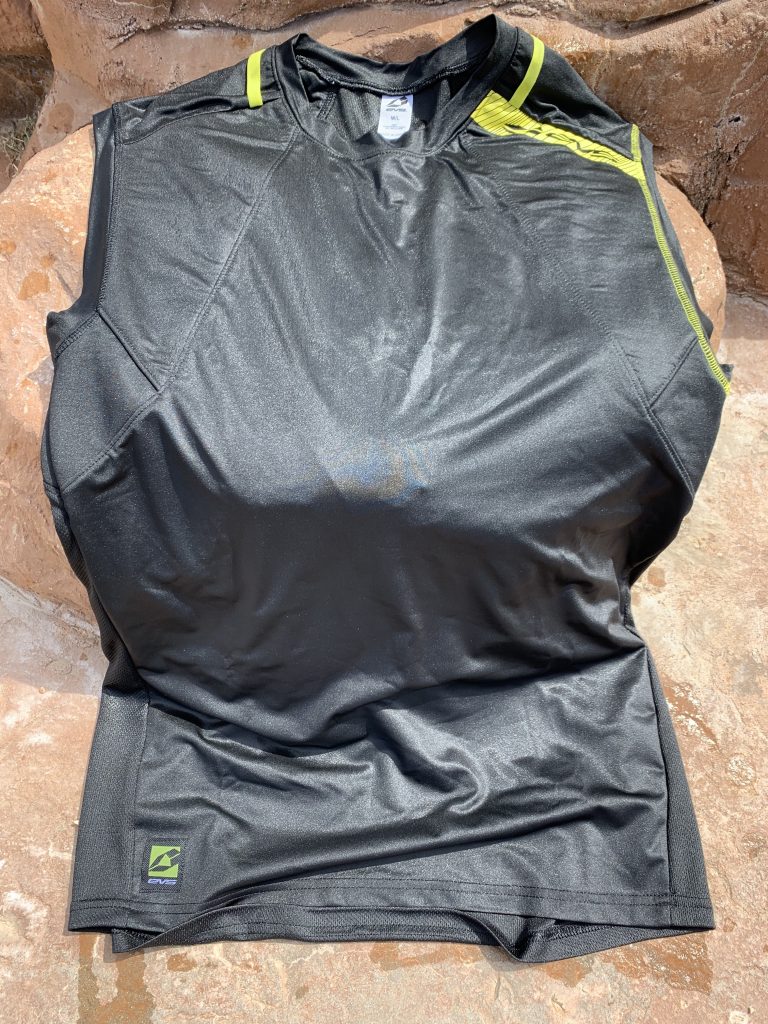 Under longer trail riding conditions, the CTR Vest proved to be better than I thought it would be. While we were gone riding over four hours the vest "almost" cooled me down the entire ride. I say "almost" because the last 45 minutes of the 96 degree ride I could feel less cooling benefits from the vest. As I got closer to our camp I could feel myself start to warm up slightly, but I wasn't over-heating by any means. As I got to the van I peeled off the EVS CTR Vest and noticed it was completely dry, but also still fairly cool to my skin. I managed to do the same trail ride, without the vest, the following week (with temperatures a little cooler), but immediately noticed that I was warm around two hours into the ride. I could actually pinpoint the differences on the trail where I was warmer than the previous week. You will have to be careful when peeling off the vest if still wet as the seams will stretch out and lose its elastic integrity. You may need some help to pull it off so you will not have to stretch out the neck/arm area openings. If they do lose elasticity the vest becomes baggy and uncomfortable to wear.
For the rider that likes to ride in the hot months of the year and possibly ride longer durations, this EVS CTR Vest could come in handy. For $50.00 it could be a good investment to ensure that you're not the guy getting over heated in your motos or on long trail rides. I know I have personally left one in my gear bag at all times, just in case I decide to get all gnarly during the summer months.