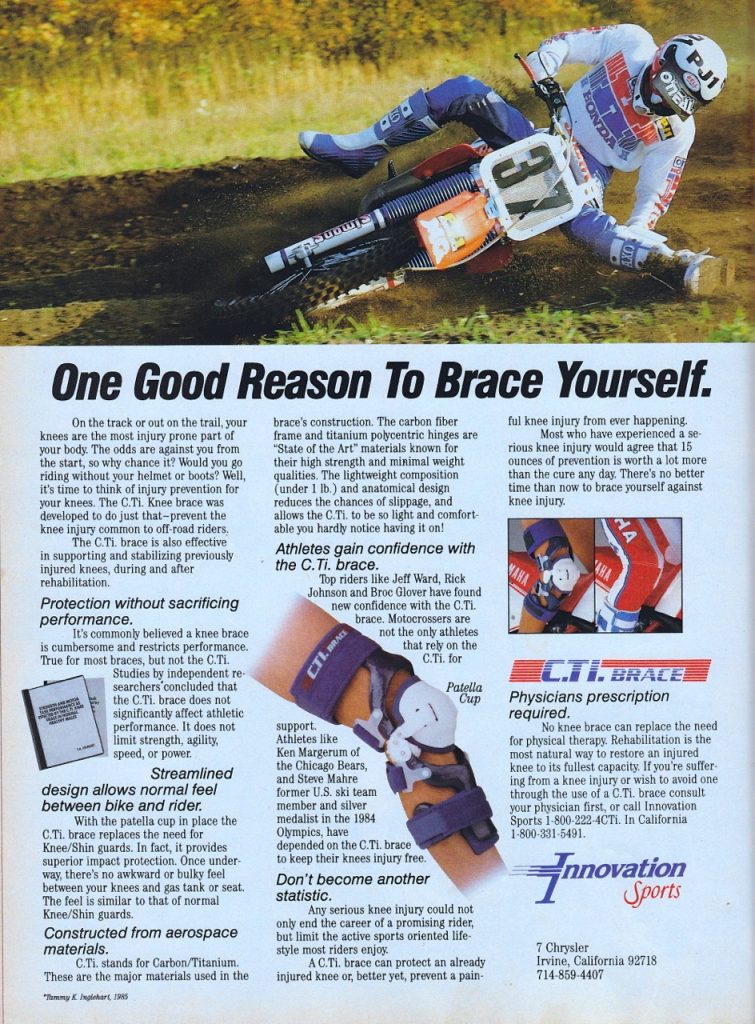 As a person who has blown out both of my knees in exactly this sort of manner, this ad is still tough to look at. Interestingly, when I interviewed Jim Castillo for this article, he informed me that the crash used in the ad was far worse looking than it actually was. Apparently, Michael  Gemballa (the German rider in the ad) survived this ugly situation unscathed. Miracles aside, this ad certainly got its point across in graphic fashion.  
If you were reading motocross magazines in the mid-eighties, then chances are you remember the image shown above. Gruesome, spine-chilling, and for many of us entirely too close to home, this ad from 1985 for Innovation Sports' new CTi knee brace was the ultimate attention-grabber. Regardless of whether you recoiled in horror or stared in disbelief, it was sure to make a lasting impression. 
At the time of this ad, Innovations Sports was just starting to make inroads into motocross. Prior to this, the brand was primarily known for its skiing braces. Through its connection to the US Ski team, Innovation Sports had gone from totally unknown, to one of the most influential brands in the protection industry in only a few short years. Light, comfortable, and incredibly trick, the CTi brace was the Ferrari of knee braces in 1985. 
Founded by brothers Jim and Ed Castillo, Innovations Sports had arisen out of Jim's desire to continue skiing after an accident nearly took his life in the summer of 1980. While trying to cross a street outside the crosswalk, Jim had been struck by a car traveling at an estimated 45 miles an hour. The impact left Castillo with a broken shoulder, smashed ribs, broken lumbar vertebra, and a gruesomely dislocated left knee. The knee injury was so bad, in fact, that doctors initially feared they would need to amputate the limb. Thankfully, the doctors were able to save the leg, but it appeared Jim's skiing days were over. 
An entrepreneur and concrete contractor by trade, Jim was not the sort of man to take this kind of setback laying down, however. A year after the accident, Jim was mostly recovered, but his knee was still too unstable to allow him to ski safely. After looking at the problem, Jim came up with a crude steel brace that would allow him to ski with his friends. 
After some additional experimentation, Jim pitched his older brother Ed on going in together with him on making a brace that they could sell to consumers. At the time, knee braces came in two varieties – flimsy neoprene compression braces, or heavy and cumbersome metal-hinged ones. At the time, no one had yet figured out a way to make a brace light enough to be comfortable, while also making it strong enough to be effective.  
Intrigued by his brother's plans, Ed wrote a check for $20,000 and Innovations Sports was born. Knowing that the materials and design would be key to making the brace a reality, the two brothers sought inspiration and support from a myriad of intellectual sources. After reaching out to the NASA scientists at Moffett Field in Northern California, Jim settled on carbon fiber for the construction. Because of its light weight and incredible strength, carbon fiber seemed like the perfect replacement for the heavy steel used in his earlier designs. For the hinges, the brothers settled on another lightweight material, titanium. Drawing from the periodic table of elements ("C" for carbon and "Ti" for titanium) the brothers also had a name for their new brace: CTi. 

From Frankenstein to Buck Rogers in four short years. Photo Credit: Össur
By 1982, Jim had a working carbon prototype and began looking for some additional input to assist with fine-tuning the brace. At the suggestion of one of his skiing buddies, Jim reached out to well-known knee surgeon Dr. J.R. Steadman. At the time, Steadman was the orthopedic surgeon for the U.S. Ski Team, and his input and endorsement would be crucial to the new endeavor's success. After meeting with the brothers, Steadman was so impressed with the prototype that he offered to help fund the venture and wrote them a check for $10,000. 
This fateful meeting would turn out to be the real linchpin to the success of the CTi. With Steadman on board, Innovations Sports now had a direct line to the U.S. Ski Team. In 1983, Jim used this connection to get his braces in front of 14 of the world's best skiing athletes at a World Cup Ski event in Aspen, Colorado. Initially, Steadman just wanted the skiers to try the braces on, but once they felt how light and comfortable they were, they were sold. Within three years of banging out a prototype in his brother's machine shop, Jim had taken the CTi to the very top of the sport. 
In 1984, the CTi made its first real inroads into the motocross industry through the endorsement of Factory Kawasaki's Kent Howerton. In '83, Howerton had suffered a knee injury and was looking to skip the surgery and compete the following year. Through word of mouth, Kent and Kawasaki team manager Roy Turner heard about Innovation Sports and their revolutionary new knee brace. The two approached Jim and Ed about building Kent a brace and they were more than happy to accommodate the multi-time national champ. 
Prior to his accident, Jim had been a racer himself and he was eager to expand their success into the motocross industry. Once Kent was on board, his teammate Jeff Ward was soon to follow. Within a year, Innovation Sports had Howerton, Ward, Rick Johnson, Danny Chandler and Johnny O'Mara strapping on the CTi braces. Perhaps even more importantly, they also had Motocross Action's Lance Morewood. At the time MXA was the magazine for motocross enthusiasts and Morewood and editor Jody Wiesel may have actually held more sway than even a factory rider's endorsement. Once MXA wrote an article praising the CTi and its virtues, it was off to the races for the Castillo brothers and Innovation Sports. 
Today, the market has shifted away from custom braces and toward off-the-shelf alternatives, but CTi remains the gold standard for professionals who want the best.  Now owned by Icelandic orthotics giant Össur, the CTi continues Jim's legacy of protecting and providing piece of mind to athletes all over the world. 
For your daily dose of old-school moto goodness, make sure to follow me on Twitter and Instagram -@TonyBlazier
For questions or comments, feel free to drop me a line anytime at TheMotocrossVault@Gmail.com