PulpMX.com Fantasy Pick & Trends
If you listened to any of the PulpMX – RacerX podcasts this week, you likely heard JT repeatedly warn listeners about the Florida heat and how it was going to cause trouble for many riders. They don't call him JT Money for nothing; the heat took a toll on the field that seemed to choose riders at random, with no rhyme, reason, or mercy.
We saw riders from Florida and Texas fade in the face of that high heat, many teams were completely devastated by it, while others managed to not only go unscathed, but flourish.
As always one team had to rise to the top of the PulpMX Fantasy overall scoreboard, this week it was Sombke397 who took down the overall with a fantastic 556 point score.
Sombke397's 250 team included Jordan Bailey – 100 points at 27% pick trend, Jacob Hayes – 86 points at 12% pick trend, Alex Martin – 62 points at 40%, and Justin Cooper in the all star slot with 50 perfect points at 16%
Sombke397's 450 lineup was topped by Frederick Noren – 76 points at 46% pick trend, Lorenzo Locurcio – 68 points at 12%, Tyler Bowers – 52 points at 10% pick trend, and Zach Osborne in the all star slot with 47 points at 30% pick trend.
Sombke397 also chose Justin Cooper as first lap leader for an additional 15 points. This was an interesting build as they had some nice scores from riders with pick trends that were just barely in the double digits, but more importantly, they dodged a lot of high pick trend busts, who we will discuss below.
Congratulations Sombke397 on taking down the overall this week!
Now, let's take a look at the rest of the scores.
Most picked riders AKA "the chalk"
Three riders in each class with >30% pick trend this week. The 250 class was topped by Alex Martin (1) at 40%. No surprise here as Alex became double points eligible this week and is known to perform well in hot weather. Ty Masterpool (6) – 36%, and Nick Gaines (13) – 33% rounded out the top three.
Top picked 450 riders included Fast Freddie Noren (5) with the highest pick trend of the week at 46%. Fast Freddie had a fantastic day in the FL heat, riding to a strong 9th place overall via 9-8 moto scores. Joey Savatgy (2) – 43%, and Kyle Chisholm (11) – 37% completed the top picks.
Low owned players who delivered – AKA great contrarian plays
As we saw in the breakdown of Sombke397's team, there were some real difference makers this week as we had so many high pick trend riders deliver low scores. There were also a bunch of riders who had no ownership at all and delivered huge scores. Let's take a look.
The 250 class was topped by Kevin Moranz (17) who qualified 30th overall and wound up with a 0% pick trend for 86 points. Over the last two races Kevin has finished 27th and 19th. He will enter Southwick with a 14 handicap; he might be a rider worth keeping an eye on if he makes the trip to MA.
We also saw TLD Racing super rookie Pierce Brown (12) have himself a day. Brown rode to a 94 point total for only 12% of team owners. Speaking of 12% ownership, Jacob Hayes (9) had an equally strong day at the same pick trend, delivering 86 points, finally appeasing life coach Daniel Blair.
Just like the 250's, we had a zero percent pick trend rider put up the biggest low owned score in the 450 class. Matthew Hubert (18) qualified in 34th place, then went out and put up 82 points via 23-16 moto scores, good for 20th overall. We also saw James Week (14) have a nice day, scoring 76 points at 12%; local Tristan Lane (18) scored 70 for only 3%, and Lorenzo Locurcio (7) with 68 points at 12%.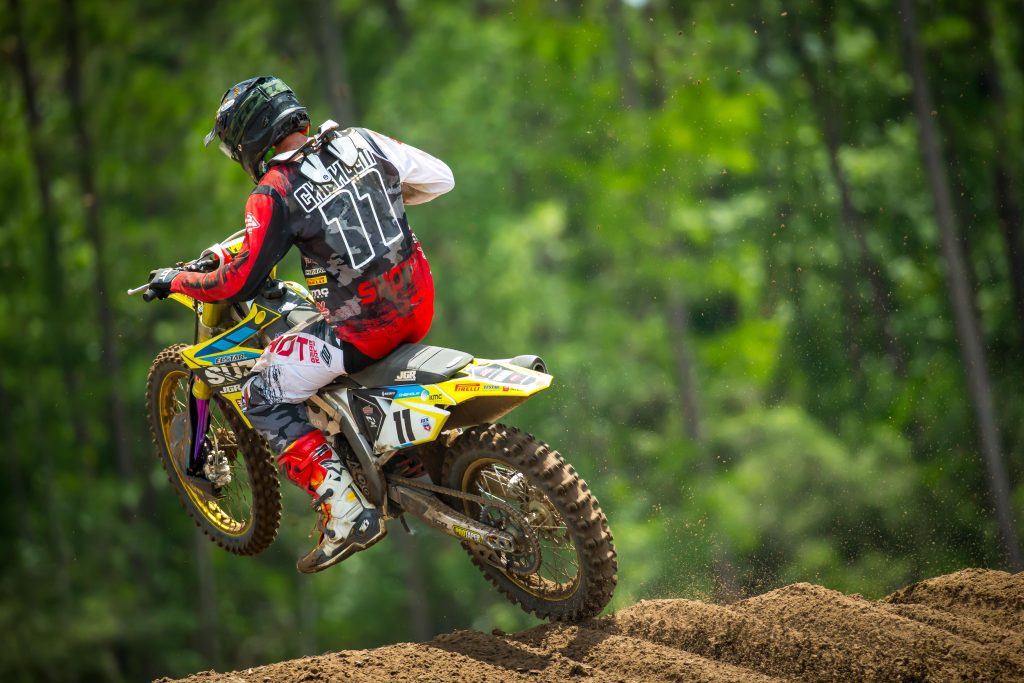 Fantasy Duds
I don't know about you guys, but at one point in the second set of motos this weekend, I had only one rider on the track, as everyone else had wilted from the relentless heat. The tropical climate definitely crushed the souls of many a fantasy team owners, let's take a look.
Nick Gaines (13) had put in some impressive rides over the last few weeks and looked good in the first moto finishing 17th. He couldn't back it up in moto 2 however and wound up 34th, scoring only 36 fantasy points for 33% of owners. Ty Masterpool (6) qualified 11th, then finished 15OA via 16-16 moto scores, leaving team owners with only 44 fantasy points. I'm surprised his ownership was as high as it was; given his average OA finish is 15.2. There's not a lot of scoring potential there with a 6 handicap.
Last week in this column I mentioned giving Joey Savatgy (2) a week off, as he seemed to be repeating his dud-stud-dud start from the Supercross season. Turns out, I was correct. Joey was apparently suffering from torn up hands, and did not have a good day. Despite qualifying 6th, he could only put together a 13P OA finish via 11-18 moto scores. This left 43% of teams with only 29 fantasy points. Finally, our man Chizz, the FL local could not get it done in his home state. His 11 handicap was only good for 46 points at a 37% pick trend.
Of the top five double points eligible 450 riders selected, only one (Freddie Noren) had a good fantasy day.
Fantasy Studs
 Speaking of Fast Freddie, he leads off the stud section! Fred had an awesome day; finishing 9th overall via 9-8 moto finishes. His 5 handicap scoring 76 points for a whopping 46% of team owners, nice job Fast Freddie!
The 1/4 liter guys had a couple of notables as well, Jordan Bailey (11), who was recommended in this column last week had a monster 100 point day thanks to 10-12 moto finishes for 11OA. Looks like you guys were not listening though, as his pick trend percentage was 27%. We also saw Alex Martin (1) score 62 points at a 40% pick trend. This was good for a top 6 score in class.
The 100% "Lead Pipe Locks"
This week we had JT, Dan, Paul, and Steve make 100% Lead Pipe Lock picks on the podcast.
JT: Ty Masterpool and Freddie Noren – 120 points
Dan: Alex Martin and Freddie Noren – 138 points
Paul: Jordan Bailey and John Short – 126 points
Steve: Yusuke Watanabe and Joey Savatgy – 68 points
Congratulations to Dan for taking down this week's 100% Lead Pipe Lock expert pick with a 138 point score!
First Lap Leaders
The secret is out with the 250 first lap leader, pick Justin Cooper. He secured a first lap lead once again this week, scoring 15 points for team owners. This is reflected in ownership percentages as well. The percentage of owners who chose a FLL continued to hover around 50%, but we saw a huge 71% choose correctly.
Trends were low – average for the 450's. We saw 49% of owners choose, with only 20% correctly choosing Cooper Webb or Eli Tomac. If you haven't noticed lately, Coop's starts are beginning to resemble his Supercross starts. He will be a solid choice for the remainder of the season.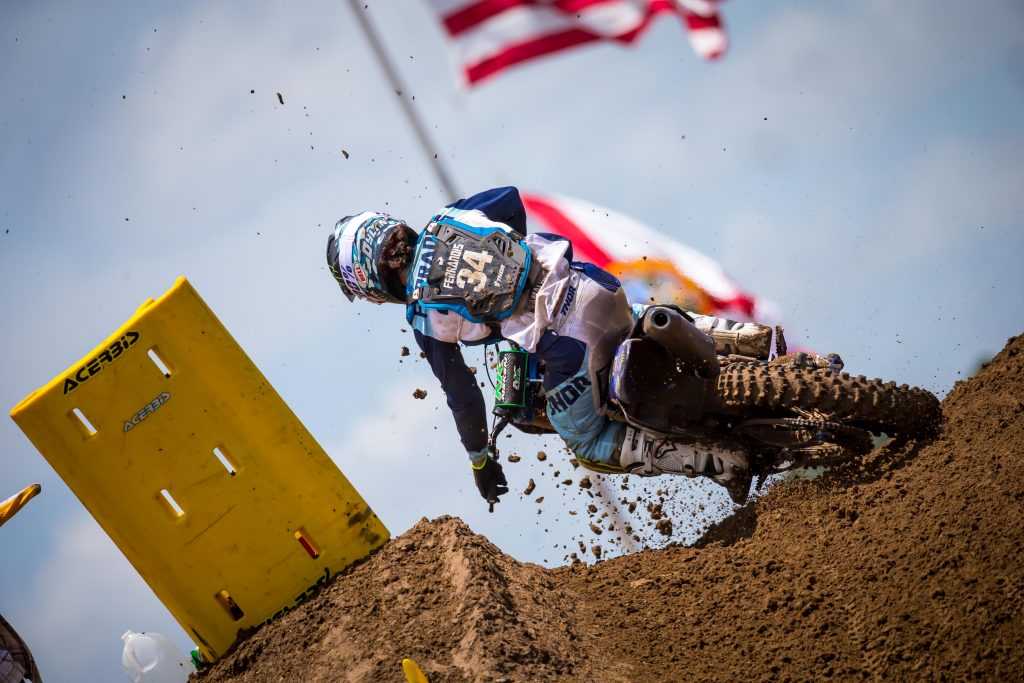 All Stars
This week we saw three of eight 250 all stars, Mosiman, Cooper, & Ferrandis, achieve a perfect 50 point score, with low score of 25 points going to Chase Sexton due to a second moto DNS.
The 450 class also saw three of eight achieve 50 point perfection, Webb, Barcia, Musquin, with a low score of 37 points going to Eli Tomac.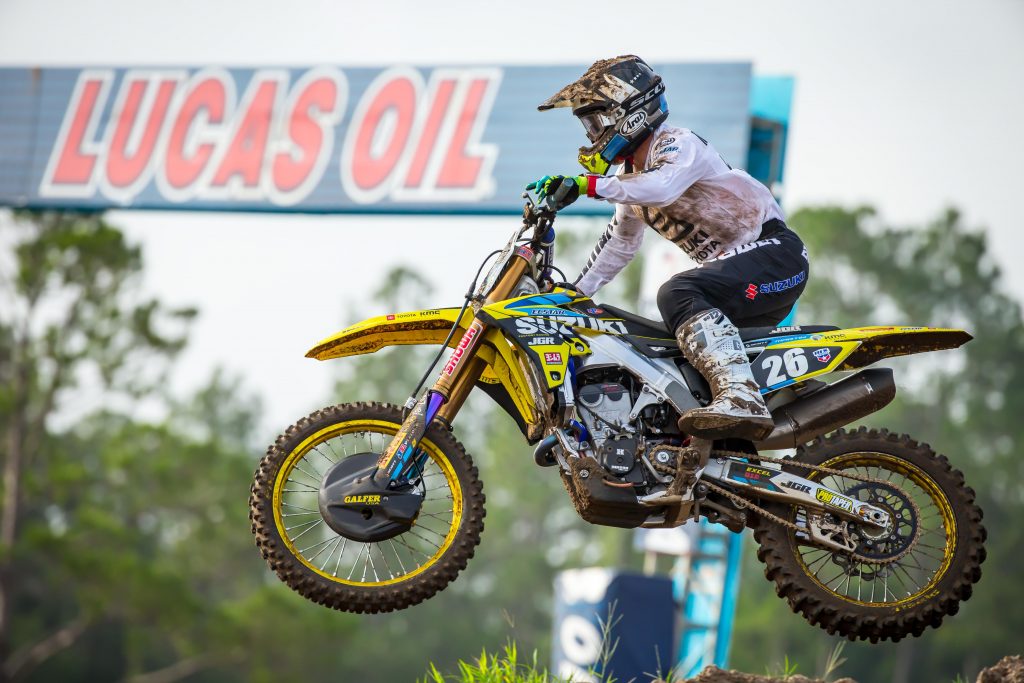 Final Thoughts – Southwick!
The series move north to Southwick this week. From what I am seeing on social media there has been a lot of new sand brought in and a ton of prep work done to bring it back to being a true "sand track". I will be at press day on Friday, so keep an eye on my twitter @msweeneyphoto for updates.
Remember, Southwick always has a bunch of locals that enter, do well, and score a ton of fantasy points. Look for names like Chris Canning, Ryan Dowd, and Robbie Marshall, just to name a few.
For non-locals, Lorenzo Locurcio put in a great 7-7 moto score here last year in the 450 class. He will be a 6 handicap at Southwick. Marvin Musquin should be a solid all star pick here, last year he went 2-1 for the overall win and will be a 2 handicap.
If you can select Alex Martin this week, I would lock him in. He rides well at Southwick and is once again double points eligible at a zero handicap. Jordan Bailey looks to have a good amount of value as well. Last year he scored 13-10 moto finishes for 12th OA. This year he will have a 7 handicap and is also double points eligible. Finally, I like Dylan Ferrandis at a 2 all-star; he has great form right now and rides well at Southwick.
Well that's it for this week, please remember to support the PulpMX Fantasy sponsors when you shop for all of your off road, motorcycle and MTB needs.
Hope I see you on the leaderboard!