PulpMX.com Fantasy Pick & Trends
Here's my question. When the Pro Motocross series resumes this weekend at Millville, 58% of you geeks will be eligible to select Joey Savatgy at a five handicap. Given his unfathomably bad run during this outdoor series, will you choose him, or do you consider him fantasy kryptonite at this point? Please take a moment to comment below, it will be interesting to see what everyone thinks!
The motocross world celebrates America's birthday every year at Red Bud, it typically guarantees great racing and lots of fun for the fans, it also seems to cause more mechanical DNF's than any other track, anyone else notice that?
We also had a lot of fantasy team DNF's, I mean, some of the scores… ouch! This was certainly not helped by Joey's continued troubles at 42% team selection; Mitchell Oldenburg and a few others, who we will get into below, also nurtured the low overall score. Nonetheless, someone had to rise to the top. This week it was MWilcox349 who took the overall with a 525 point score; let's take a look at how they got there.
First off, their 250 team was team Texas! MWilcox349 chose three, double point eligible Texans and they all paid off. Parker Mashburn (18) was the leading point scorer with a perfect 100 at 7% pick trend. He was followed by Ty Masterpool (4) – 78 points at 7%, and Curren Thurman (18) – 56 points at 1%. His all star was Justin Cooper (2) with 43 points at 30%.
The winning 450 squad consisted of Isaac Teasdale (18) – 94 points at 20%, Dustin Winter (18) – 82 points at 5%, Kyle Cunningham (9) – 36 points at 24%, and Eli Tomac (2) in the all star slot with a perfect 50 point score at 40%.
MWilcox349 also incorrectly chose Justin Cooper and Cooper Webb as first lap leaders, for -14 points.
Despite a couple of significant misses in this lineup, it was good enough to take down the overall because they successfully navigated around the high pick trend busts. All it took was a grip of Texans with low pick trend percentages delivering big scores.
Congratulations MWilcox349 on the win!
Now, let's take a look at the rest of the scores.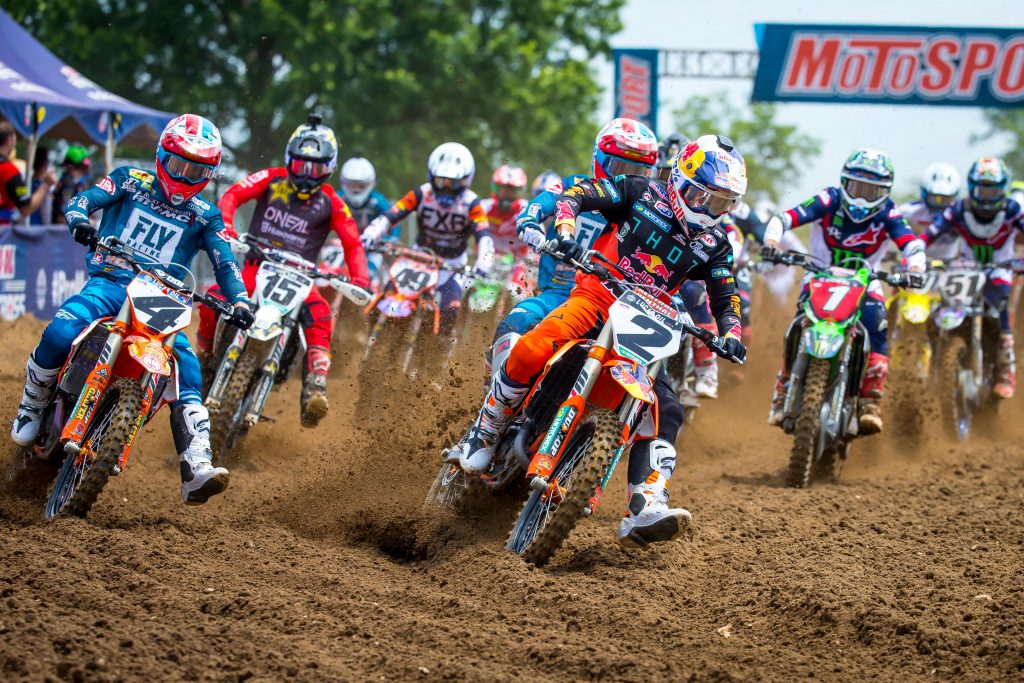 Most picked riders AKA "the chalk"
It was kind of a weird week for pick trends, we had some fairly concentrated selections, with a below average amount of riders who were chosen by more than 30% of teams. Where we typically see three riders in each class with a pick trend greater than 30%, this week we only had two in 450 and one in 250's.
The 250 class was topped by Mitchell Oldenburg at 36%, he had a mediocre day going 15-13 in the motos, good for 52 fantasy points. While this wasn't a disaster, team owners were certainly expecting a better result.
In the 450 class Joey Savatgy took top pick trend honors and had yet another terrible day. We also saw Eli Tomac at 40%, which I find really interesting given his last appearance on this very same Kawasaki at Red Bud. I'm wondering if Eli somehow transferred the bike breaking power to his teammate. Transfer of power bros!
Low owned players who delivered – AKA great contrarian plays
Want a good indication of how crazy the scoring was this week? Take a look at the 250 results and sort it by high score. The top three scores in the 250 class were posted by Parker Mashburn – 100 points at 7%, Ty Masterpool – 78 points at 7%, and Kyle Peters – 72 points at 2%. Of the top five, only one rider, Nick Gaines had significant ownership, at 26%. We also saw Zach Williams (17) put up 66 points, good for fourth highest score, at only 1%.
The 450 class had three out of the top five riders with single digit ownership. Coty Schock, who had a mention here last week with a perfect 100 point score at only 1%, was the top scoring low owned rider again this week. His 13 handicap was good for 84 points at only 4%. We also saw Dustin Winter (18) – 82 points at 5%, and mister leg swag himself, Justin Bogle put up an amazing 72 point score from a 1 handicap, for only 4% of ownership.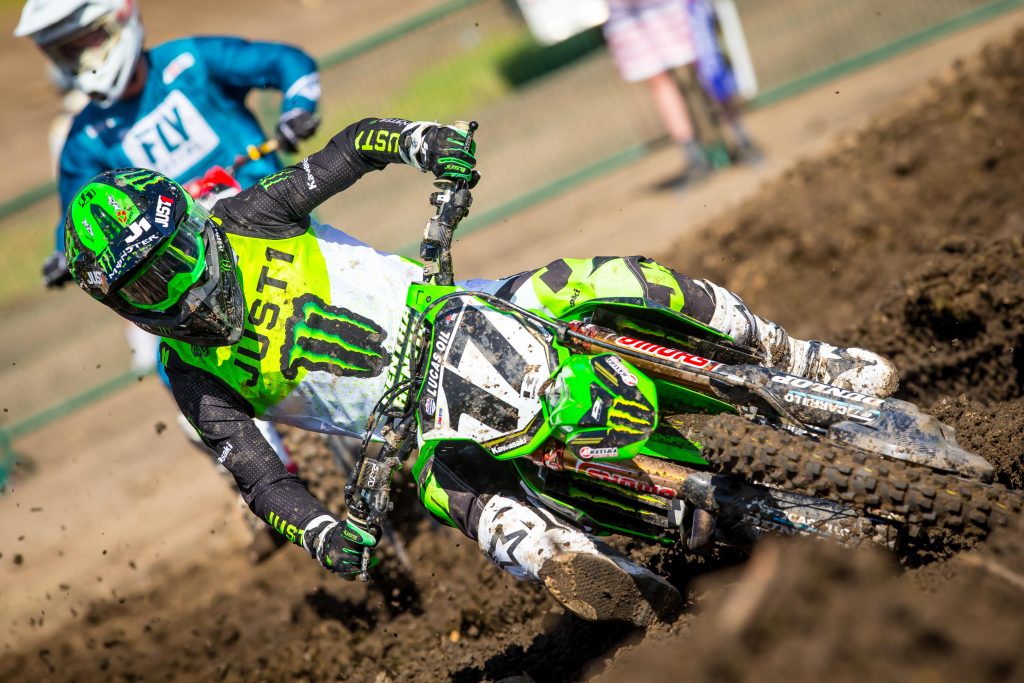 Fantasy Duds
I hate to sound like I'm picking on Joey, because I'm not, I think he's a good dude, who seems to be going through a rough bit of luck right now. Regardless, numbers are numbers, and the big fat zero fantasy point score at 42% ownership has to be mentioned. As I said in the leadoff, I think it will be really interesting to see his ownership percentage, and point total for Millville.
We also saw some other less than stellar numbers from Taiki Koga (17) – 53 points at 25%, and Kyle Cunningham (9) – 36 points at 24%
The 250 class didn't really have anyone with high pick trends who put up a single digit score, but we did have Mitchell Oldenburg with the highest pick trend only able to account for 52 points, well less than expectation. Also, another bad week for Jordan Bailey (8) who put up a paltry 30 point score for 21% of team owners.
Fantasy Studs
 Nick Gaines (10) continued a nice run of high scoring fantasy outings this week with a 66-point effort at 26%. We also saw Brandon Hartranft (3) put up a top five score with 64 points at 23%.
The 450 class was topped by Isaac Teasdale at 100 points. Isaac fits the high scoring profile we've been discussing over the last few weeks. He had an 18 handicap, and qualified 18th OA, making 20% of team owners very happy. We also saw Henry Miller (8) with a quality outing. He accounted for the fourth highest score, 74 points at 21% ownership.
The 100% "Lead Pipe Locks"
This week we had JT, Dan, Paul, and Steve make 100% Lead Pipe Lock picks on the podcast.
JT: Mitchell Oldenburg and Joey Savatgy – 52 points
Dan: Mitchell Oldenburg and Lorenzo Locurcio – 108 points
Paul: Derek Drake and Taiki Koga – 84 points
Steve: Yusuke Watanabe and Benny Bloss – 116 points
Congratulations to Steve for taking down this week's 100% Lead Pipe Lock expert pick with a solid 116 point score!
First Lap Leaders
Another turbulent week for the first lap leader selection. Once again I'm guessing that a majority of owners chose Justin Cooper and Cooper Webb, and once again, they were wrong!
This week we saw a typical 56% of owners choose a FLL in the 250 class, with only 2% correctly guessing Dylan Ferrandis or Alex Martin. The 450 class had slightly lower pick percentage at 51.3% and an astoundingly low .8% correctly guessing Justin Bogle or Blake Baggett.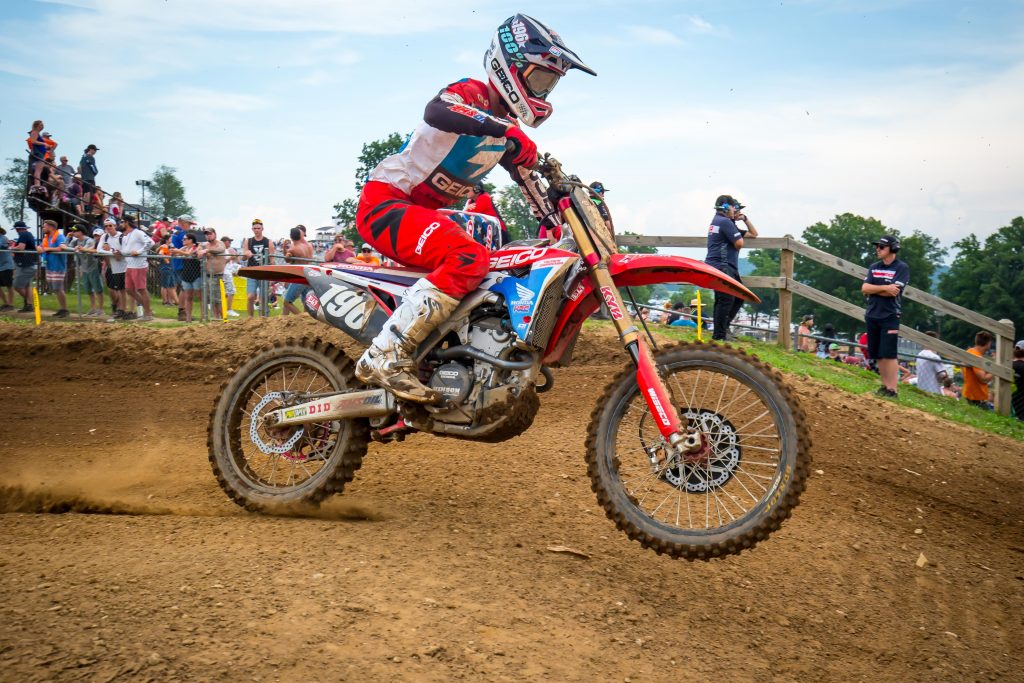 All Stars
A below average week for 250 all stars as only two riders, Dylan Ferrandis (2) and Hunter Lawrence (7) achieved perfect 50 point scores. Low score was Michael Mosiman (5) with 38 points. Note, Chase Sexton was ruled out before the race and scored zero points as an all star, and was selected by 4% of team owners.
The 450 class had the typical three out of eight perfect scores with Eli Tomac (2), Ken Roczen (5), and Jason Anderson (4) getting it done. Low point scorer was Justin Barcia (6) with 18 points.
Final Thoughts – Millville!
There's something about the sand that gives locals an advantage. We see it at Southwick and we see it at Millville. This week there are a number of locals in the 250 class that I will be keeping an eye on.
Over his last three nationals, Zach Williams has had overall finishes of 20th, 17th, and 19th place. This gives him an average finish of 18.6, with a 16 handicap he should provide a solid points foundation for your team. I also like AMart with a zero handicap. He is still 2x points eligible and has finished 3rd, 2nd, 3rd, over his last three races. One thing to note, he will also make a great leverage play in that his pick trend will be through the roof. If you fade him and he has a bad day, you will have a good day. Decisions, decisions!
Dean Wilson has put in some nice rides at Millville over the years, his last appearance there in 2017 saw him land on the podium with a second place overall finish. We have seen steady improvement with him over the last two races and I think he will be a solid pick at a zero handicap.
Finally, Joey Savatgy is going to be the key decision this week at a five handicap. 58% of you can select him, what are you going to do?
Well that's it for this week, please remember to support the PulpMX Fantasy sponsors when you shop for all of your off road, motorcycle and MTB needs.
Hope I see you on the leaderboard!