For 2020, Yamaha is the only manufacturer to have any significant changes done to their 450cc motocross machine. With over 15 updated engine components, over 10 chassis components, and a suspension valving makeover Yamaha wasn't resting on their 2019 450 Shootout success. If there was one 2020 450 motocross bike that I was anxious to ride, this bike right here takes the cake. I was anxious to feel the changes Yamaha made out on the track, but also nervous because quite frankly I didn't want them to screw up an already great machine. In this "11 Things" I will break down all of the "feels" that I experienced while riding the 2020 Yamaha YZ450F. If you want to know more about the exact changes Yamaha made to the YZ450F, click here: https://www.keeferinctesting.com/latest-news-1/2019/6/4/yamaha-announces-full-lineup-of-2020nbspmotocross-bikes.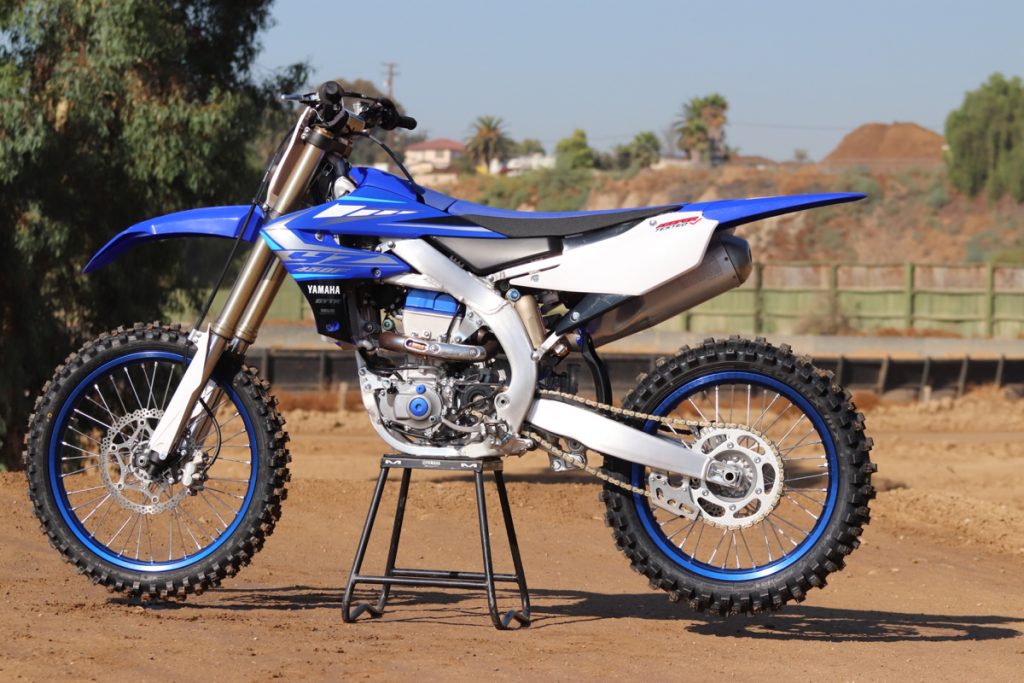 By the way, Matthes wanted to chime in here with my test so read his comments after mine. 
Engine: So what exactly are you getting with the 2020 Yamaha YZ450F engine? Compared to the 2019 you're getting a more connected rear wheel feel out of corners and more RPM response. I don't feel like you're necessarily getting more bottom end pulling power, but the initial crack of the throttle is improved (almost too much, but more on that in the ECU portion) right when you get ready to stab that throttle (anywhere in the RPM range). Where I felt most of the improvements were through mid range-top end pulling power. The difference in "meat" through the mid-range once out of corners is impressive. We talk about third gear a lot in these tests and how important that gear is to the rider. If third gear is not useable in corners, it's tough to ride smooth and forces the rider to be more active on the bike, which could result in getting more tired more quickly. The Yamaha has more mid-range pulling power, which allows you to use third gear through corners even easier in 2020. Usually you will have to fan the clutch a little to get the engine to recover and get back into the upper RPM range, but with the 2020 YZ450F you can just roll on the throttle and it will start pulling you down the track immediately. Top end pulls farther in second and third gears for 2020 and will not sign off as much as the 2019 YZ450F does. Even though a 450 shouldn't be revved out, let's be real, sometimes we are lazy and DO NOT have perfect riding technique, so it's nice to leave it in second gear and use that gear all the way to the next corner. It happens right? This new engine character helps you do that better without sounding like Justin Barcia at Southwick. In a nutshell the 2020 engine in fact has more power with most of it being more controlled to the rear wheel.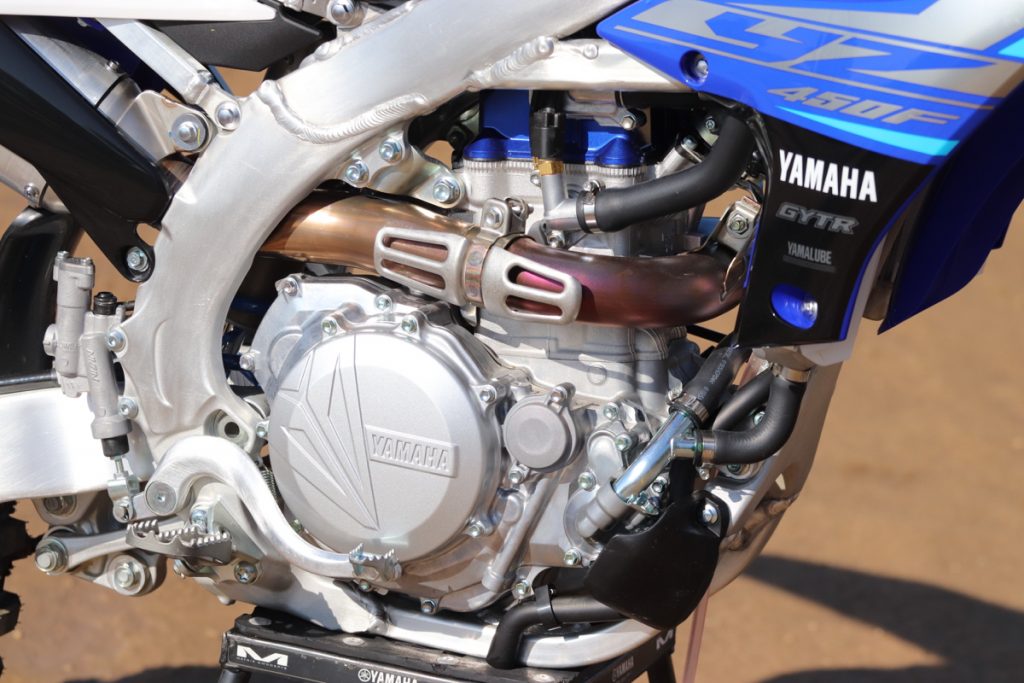 Matthes- Look, the Yamaha motor is amazing. Seriously, RV's slogan to Yamaha was "Don't f**k it up" and he's right. The motor can be lugged around, it can be revved to the moon and it can also be ridden as hard as you want to. There's plenty of power everywhere and the BluCru have somehow unlocked the fact it can be delivered smoothly AND aggressively. It's amazing. The motor is the number one thing that I can't stop raving about. So when I saw the changes Yamaha made for 2020 and it's a LOT more than I initially thought, I just hoped they didn't "f**k it up". And they didn't! I think the big thing I noticed is more initial bottom and a big stronger pull through to the mid range. I tried both the stock map and the "TP3" map and thought the TP map was slightly better but not by much. Last year, the TP2 map was SO much better than stock mapping so I suspect Yamaha put the TP2 map (or something like that) as standard in 2020.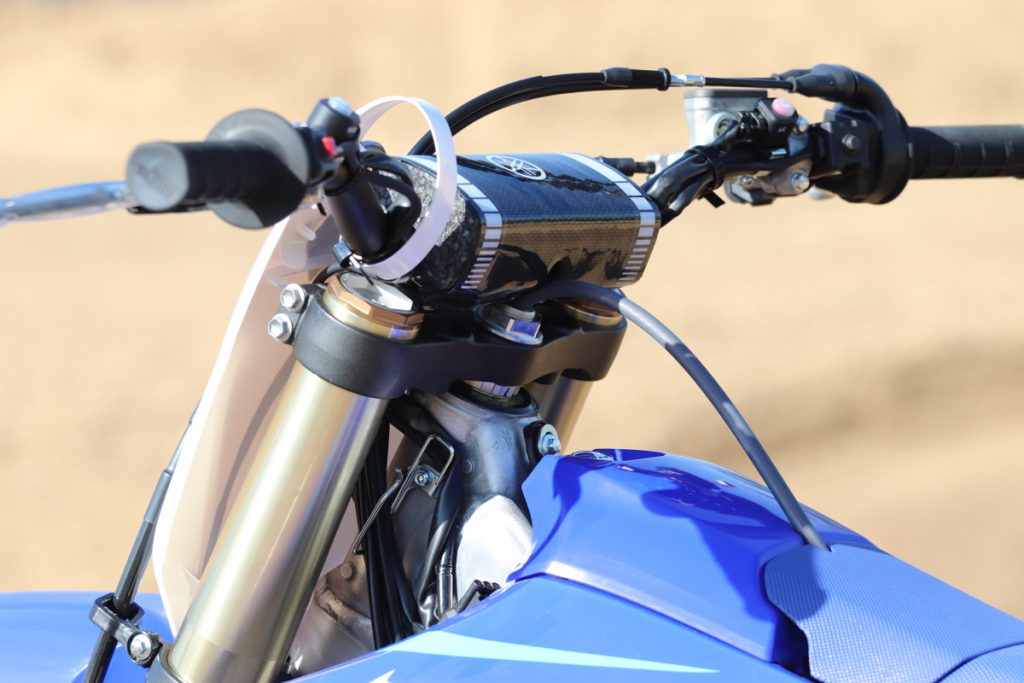 Engine Free Feeling: The improvements that the Yamaha made in this category warranted its own category. I mentioned to the R&D guys at Yamaha how much free-er second gear felt as the 2020 YZ450F didn't have near as much engine braking as the 2019 did. With the previous 2019 engine, the engine braking was apparent on grabby/heavy dirt, but with the 2020 engine refinements, second gear feels less tight and puts less force on the front wheel off-throttle. This helps the suspension settle coming into corners and that improvement alone helps the 2020 YZ450F corner better/more efficiently. 
Matthes- I didn't really notice this at all. Keefer's better at this stuff than me.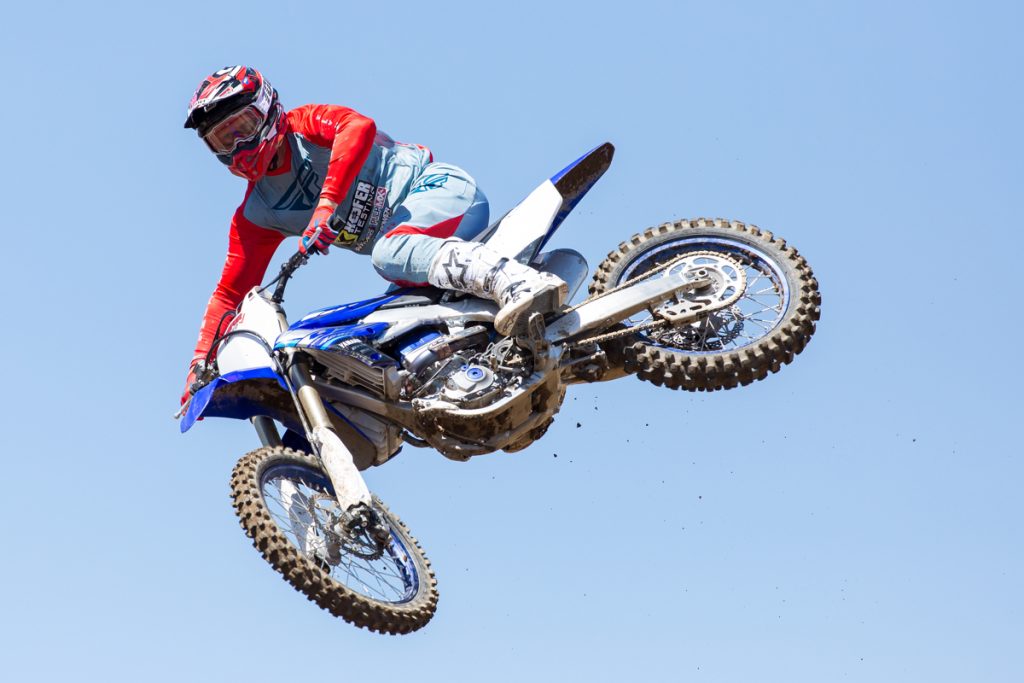 Chassis: The 2020 YZ450F feels stiffer around the track. However don't get scared off by the word "stiff". It's not rigid by any means, but just has a stiffer feel and not a wallowy sensation. Let's go over this a little…The chassis is softer near the front of the machine and on the downtubes. The engine cradle tube thickness has been beefed up for increased rigidity as well as an engine mount material/shape change to help get this year's YZ450F more planted. Now I am not going to sit here and tell you that this bike is a cornering dream and the changes that Yamaha made make this bike a class leading carver, but what it did gain is cornering stability as well as predictability through those corners. Gone is the hinged feeling near the rear of the bike when leaning under throttle through sweepers. The new Yamaha feels more planted under throttle while leaning through fast rougher corners (AKA sweepers). Straight line stability is still intact from 2019, but now has a slightly lighter initial lean in coming into tight corners. I didn't experience any added mid corner front end traction with the 2020 (maybe because of the MX33 front tire), but corner exits are improved as the 2020 YZ450F stayed leaned over easier at the end of corners. I do feel when the track gets rough the 2020 Yamaha is easier to push your limits, but just like with any performance gains you will lose a little comfort if riding around at 80% of your ability compared to the 2019. This new chassis will reward a rider that pushes harder and wants to go faster when the track gets rougher. Think GH @ 4:30.   
Matthes- Didn't notice much, the stock suspension is not set-up for weight AND speed so I had issues getting settled into a rut because the rear end wouldn't set into it, the bike was too far down to absorb getting into the rut. So, yeah I don't know.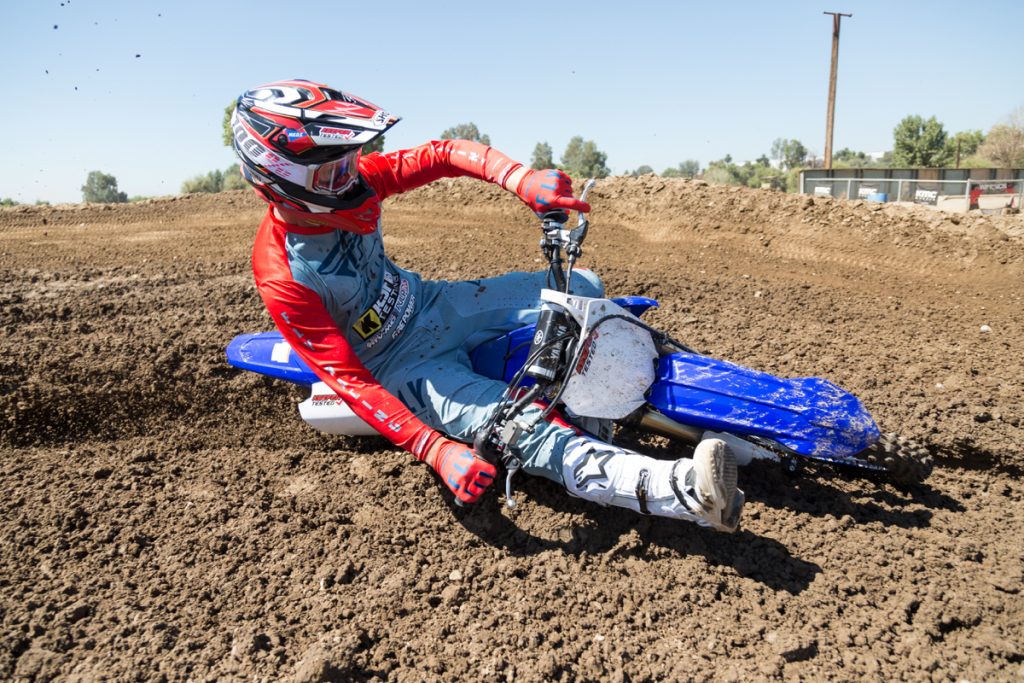 Suspension: The stiffer setting that Yamaha went to amazingly still has more comfort than any other suspension out there for 2020. I mean I guess it shouldn't be a shock, but I am wired to think if I go stiffer, my comfort sensation on the track might go down. For 2020, the comfort that you've grown accustomed to with the KYB SSS/Yamaha suspension is still there! Even though both ends have more hold up and less pitching I still ended up going stiffer on my settings. I felt like under throttle out of corners the rear of the bike (shock) was too low and I was getting a harsh mid stroke feel. Going in one click stiffer on the low speed compression as well as in (stiffer) on the high speed compression a quarter turn will help with hold up. I also wanted to calm the rear of the bike down on braking bumps so I made a huge change to the rebound just to see how the YZ450F took it and to my surprise it really liked a slower shock setting, so don't be scared to go as much as three clicks in (slower) on the rebound. Again, for 2020, Yamaha's goal was to increase performance as well as comfort and they somehow weaved both seamlessly together for a no fuss suspension spec that I think will please a wide range of riders.  
Matthes- See above for my thoughts on suspension. My 2020 stuff will be sent off to Race Tech ASAP and I can review it then. Kudos to Yamaha for sticking with the KYB SSS stuff through all the fads the other OEM's have had. I love my RT 2019 stuff, when I had the RMZ, I wasn't totally satisfied with the suspension there- mostly the shock but then again I've lost a bunch of weight since then so maybe that's it. My Yamaha stuff now is great, it's plush, it's stiff enough for me and the bike does want I want it to do.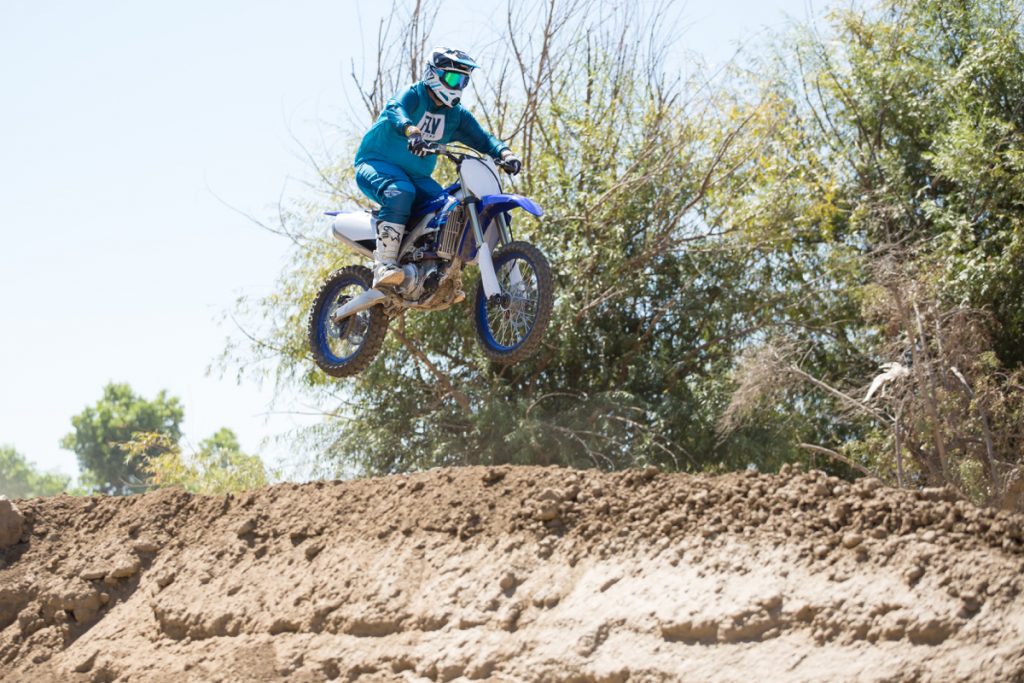 Brakes: Remember the top 5 mods to the 2019 YZ450F article? One of those mods was installing a Brembo front brake system on the Yamaha. Just FYI, for 2020, I don't think I will be going that direction. Yamaha went with a new caliper with an increased piston size, a more rigid caliper body, a larger surface area on the brake pads with a higher friction material, as well as a front disc that also has 16% more surface area. The new Nissin front brake is not as strong as a Brembo, but it's much more powerful than the 2019 system by far. The somewhat mushy front brake lever feel is now gone and now you will be getting more power at the lever. I didn't have to pull the front brake lever in nearly as far as the 2019 lever, so make sure to prepare yourself before grabbing a finger full. On more than one occasion I grabbed too much lever and almost washed the front end out because it can be a little touchier than last year's front brake. If you feel like it may be too touchy simply adjust it in towards the throttle and this helps tremendously. It's nice to have a strong front brake to the Yamaha as it makes charging into corners that much easier. I also approve of the new 240mm rear disc size (from 245mm in 2019) for 2020. Kawasaki has a 250mm rear disc, but it's so grabby that your braking points coming into corners gets all screwed up. No one needs 250mm of rear disc. Bigger is not ALWAYS better and in this case the smaller diameter rear disc is easier to modulate your braking. 
Matthes- The front brake is stronger, there's no doubt about that. I didn't have an issue with the 2019 front brake outside of the big downhills at GH where I did want a bit stronger power from it. I'm not going the types of speed where I need some factory brake but once I did notice the better 2020 brake, I enjoyed it. Good change.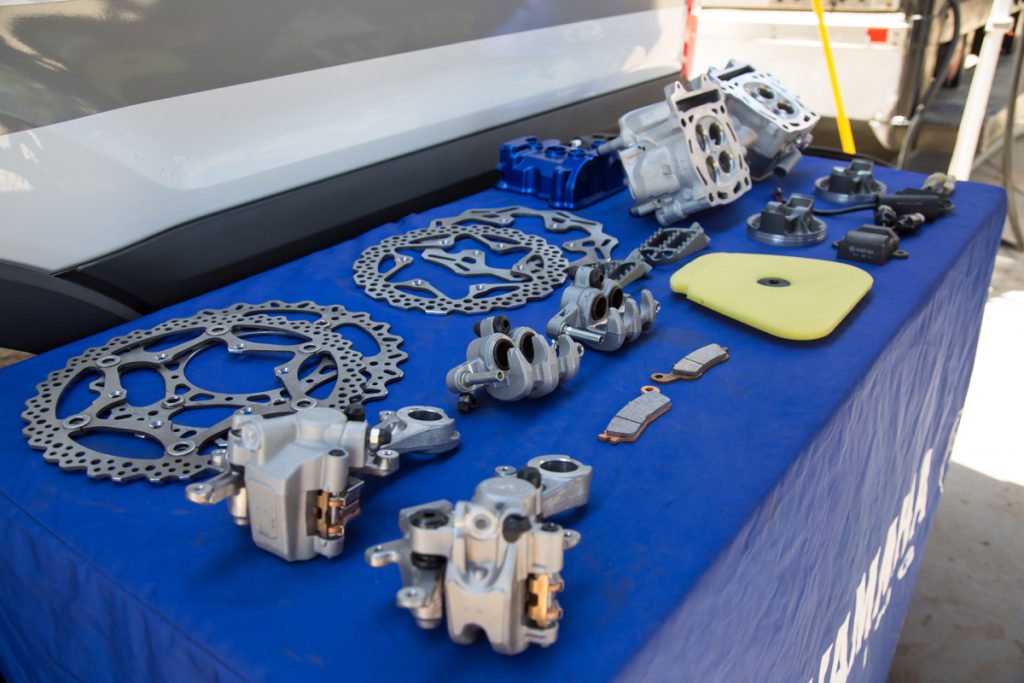 Rider Triangle: Simply put, I don't like the changes Yamaha made to the 2020 handlebar position. I do like the 5mm lower mounts (2017 mount height), but the 16.5mm forward position in 2020 is just too much for my 6'0 frame. Yamaha wanted to get the rider to more forward on the bike for 2020 and although they achieved that, my riding position/technique suffered. I had more leverage on the bike when I was in the 2019 position and could feel the front tire more when leaning. With the 2020 position I couldn't get enough leverage down on the front end to push the front end down when I needed to. The 2020 position bent my elbows too much when sitting and caused my arms to be less relaxed, which forced me to have the wrong grip with my hands on the bars. Putting the mounts back to the original rear hole/forward mount position let me corner better and gain more control over the Yamaha. I will say when standing the 2020 setting of the forward hole/rear facing mount was more comfortable because it put my upper body in more relaxed position. Find out what works best for you and what area of the track is most important to your technique (for you to be the most comfortable and stick with that setting). 
Matthes- Yeah, the mounts being in the front hole for 2020 and being slightly different was the first thing I noticed when I idled away from the pits. I'm not Keefer so I'm not as picky as him about a bike and the "rider triangle". I quickly got used to it and it was fine although I shared a bike later in the day with my buddy Newf and he put the bars forward and that I didn't like. I'm old school and like my bars back a bit and my levers down (Keefer rags on me for this) so when Newf put the bars up, that move combined with the new bar mount positions was too much forward for me. I think to ride a bike properly and aggressively you need to have your body forward and weight over the front but I'm old, fat and a vet guy so I don't like that unless I'm very fresh. Which doesn't happen much. So when Yamaha explained to me why they changed the mounts and moved them forward, that was good enough for me. I'll probably leave them there but put my bars a bit back.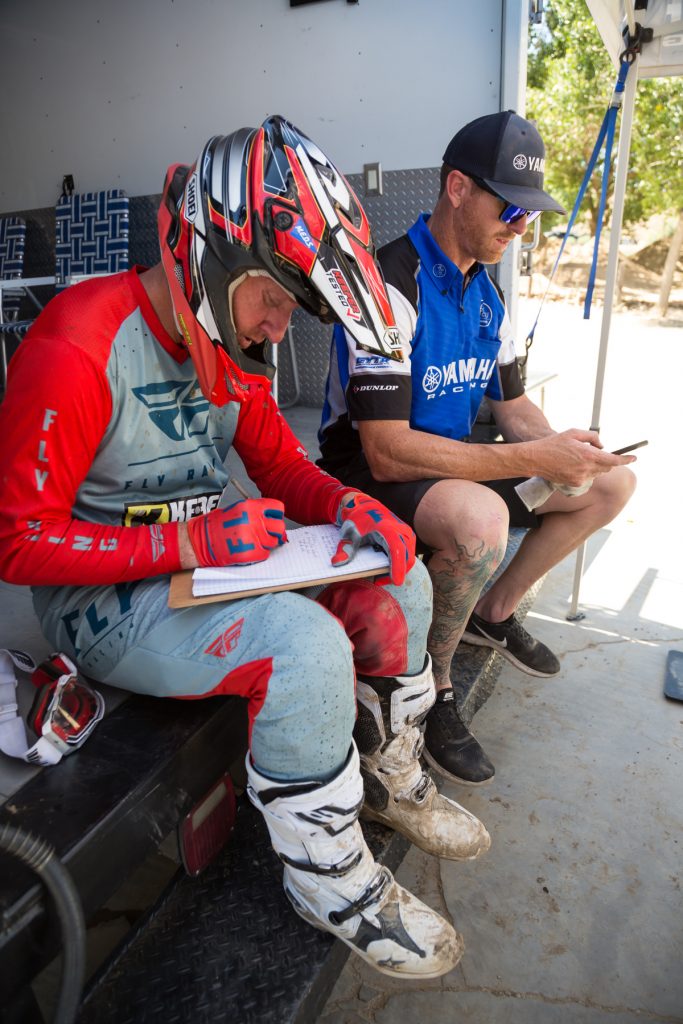 20mm Taller Seat: Matthes and I tried an optional 20mm taller seat and I actually liked it. I am usually not a taller seat kind of guy, but I liked that there wasn't as much of a pocket as the stock foam shape. With the 20mm taller seat you obviously sit more on top of the YZ450F instead of inside it and to me that helped with the transition from sitting to standing. I think of David Vuillemin every time I seat bounce a jump and it pisses me off. In that case I might invest in one of these suckers to try out, so he stops yelling at me inside of my head while riding. Yamaha Accessories Division will be offering this optional seat to purchase. 
Matthes- Yeah, Travis Preston wanted me to try the taller seat and it was no bueno for me. I just felt like it was right there hitting my ass too much. I'm 6' feet tall but my inseam is only a 30-31 so my legs are short so I think that's part of the issue I was having also. There's no doubt that the 2019 YZ450 seat needed stiffer foam so I'm stoked they did that. This is a case of an OEM listening to the consumers and making a change.
ECU Settings/Engine Maps: The new on-the-fly handlebar mounted map button on the 2020 YZ450F is a welcome addition. I thought the added RPM response down low of the stock/standard map was too touchy for me through corners. I liked the "stock" map for longer/faster/softer tracks, but for everything else I used the TP 3.0 map, Keefer 1, and Exciting Power Character (all attached) maps the most. The TP 3.0 builds more RPM's a little smoother/slower, but is super connected and the most easiest to ride. The "Keefer 1" map has a little more RPM hit initially, but still uses that smoothness of the TP 3.0 pulling out of corners. Finally, the "Exciting Power Character" uses that smooth roll on of the TP 3.0 down low, but has more RPM excitement through the mid range power. I thought the 2020 YZ450F's chassis performed the best with the TP 3.0 as it didn't upset the YZ450F chassis as much rolling through mid corner. Try these and let us know what you think! 
Matthes- Yeah, as I said TP3 was better but only marginally for me. What's cool is that Yamaha put the ignition map selector on the 450 this year so you can have a selection of two maps. I'm gonna get Preston to give me a map for really dry slick track and try that out at my local place when the water goes away.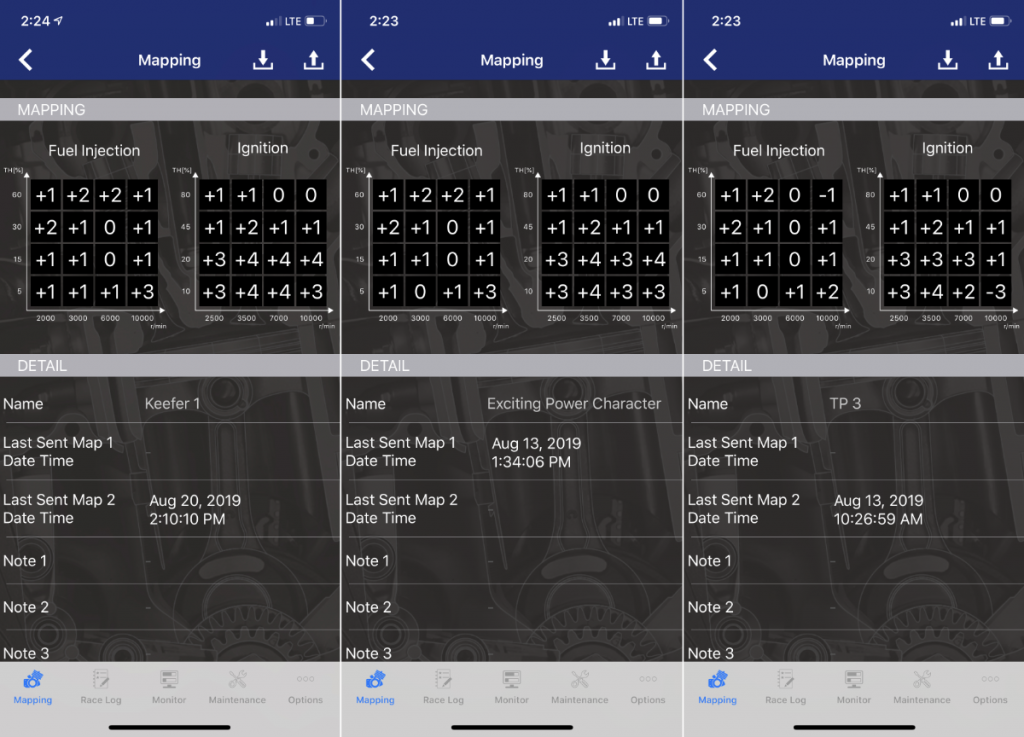 Dunlop MX33 Tires: I immediately went home and put one of my trusty Dunlop MX3S front tires on this bike to see if it improves cornering! WOW! Even thought Dunlop doesn't make this front tire now, I still feel like the 3S helps the Yamaha's initial lean and turn in. The 3S makes the Yamaha easier to cut underneath a blown out rut and has a more comfortable carcass feel on bumps. The 33 front tire is better than the 3S later in the corner, but to me I really need that initial lean in feel to help predict my corner. If you're a front end steering rider you may not like this front tire feel as it may feel vague/pushy, but don't blame it on the YZ450F yet. Scour the earth for a Dunlop MX3S (there still out there somewhere) or try a Pirelli MX32 if you want some better lean in angle traction. 
Matthes- The tires were good, I don't know what else to say. When the track was freshly watered and all that it didn't matter what we had on, they would've worked well.
Setting Up In The Air While Starting A Lean Angle: I found that one area that the YZ450F is weak is when you're setting up in the air, to get on the throttle to start a lean, the YZ450F feels heavy/vague once the suspension loads/unloads. Unlike a KTM or Husqvarna where they feel planted when landing off a jump while leaning, under that lean angle the Yamaha takes longer to regain a full traction/planted feel. I am able to continue my lean angle that I started in the air, land that way, and get on the gas immediately with the KTM/Husqvarna. This is something that may not be felt by most of you without riding other bikes back to back, but it's something that I noticed almost immediately when riding the same track with a few different bikes. 
Matthes- Yeah who knows, I'm a vet guy. 
2019 VS. 2020: I feel that going from a 2019 to a 2020 YZ450F is a more noticeable difference for the better than going from a 2017-2018 YZ450F. Most of the changes that Yamaha made to the 2020 YZ450F are for the better and will help a wide range of riders become faster as well as give the rider a more predictable feel around the track. I always get the question "Is it worth it for me to get a 2020 over a 2019"? My answer to you is "yes, it's worth it this year". If the difference is a couple grand and you're able to get the wife to sign off on it, then go with the 2020 because there is a lot of noticeable positive differences that will increase your fun factor when moto'ing. 
Matthes- I think Yamaha might not like this but all the changes added up to me as a slightly better bike. They didn't f**k it up at all and added that better bottom end. This is my initial thought. Let me get my suspension done and riding more once it stops being the same temperature as the face of the sun out here and I'll get back to you. One thing I know is that I'm glad I'm right to turn Keefer down when he asks me to do his 450 shootout. As I said to him the bikes are so soft for my weight that it makes everything else not work as well as the OEM intended it to. So please people, get your bike set-up for your weight AND/OR speed to really enjoy it ok?
To get more settings info and more in depth talk about the 2020 Yamaha YZ450F listen to the Rocky Mountain ATV/MC Keefer Tested Podcast and/or Pulp MX's podcast with Ryan Lockhart and Ryan Gauld HERE