Matthes: How's this Justin Hill MCR Honda thing going to go?
Keefer: I don't think you're going to see anything spectacular come MEC, but I do think he will be good on this bike if the team keeps him for the season. I was told that the MEC is a tryout and if he does "good" they will keep him on. I honestly don't know who else the team would take if the Hill thing doesn't work, so I am sure he will stay where he is at for 2020. From what I heard Hill likes a lot of engine and I do know that the MotoConcepts/Bullfrog Spas Honda has a ton of motor. Chad, the engine builder, knows how to build very potent engines and Hill will be able to take advantage of that and quad god himself around the track much easier than he did last year. I also think he knows this may be his last chance to do something or may be out of a job. The paid rides are thin and if you DO NOT have raw speed along with consistency then you're pretty much SOL these days. It's sad, but true. Look at Savatgy. He barely got a damn ride! Crazy!
I would've hired Marty over Justin for 450SX …what about you?
 No, I think Tony did the right thing here. Justin has more raw speed and could (dare I say it) win a race if the stars align. Marty would not win a race in the 450 class even if the stars did align. That is not a knock on Marty, I just think Hill has more technique and balls in Supercross and sometimes that is what it takes to get the "W" in the 450 class.
Is RJ Hampshire going to do better, the same or worse on the new Husqvarna 250?
Yes, RJ is going to do better. I don't think he was happy with some of Factory Connection's choices this season, so a change of scenery as well as a bike that has more torque should do him so good. It's no secret that the Honda lacks some bottom end and it's tough for racers to be "confident" when they think they don't have the best bike on the gate. Mentally it could mess with you.
What's wrong with the CRF250 that made RJ, Sexton and Hunter so mad last summer?
 The Honda needs more bottom end. Plain and simple. It lacks grunt out of corners and when you have a Star Racing Yamaha that runs like a miniature 450, lining up on the gate with you, it could piss you off at times. I get it. However I do want to say that it's not as easy as people might think to find a ton of horsepower. From what I am told the Honda head design is tough to get more torque/horsepower out of, without making it a time bomb. The difference has to be made up in the chassis somewhere and the Honda CRF250R chassis has always been really good in Supercross, but in Motocross it's tough to keep up with those blue and green engines. You need the HP's in outdoors! You can hide it indoors a little, but there is no running from a slower engine when you have to hold the throttle wide open in some deep soil.  
AC 450SX season…give me your thoughts and how many podiums he gets…any wins?
 AC will be a fluid 450 rider and will pick it up quicker than people may think. He will start off in the top 5-7 and slowly get better and get two podiums by Salt Lake next year! His bigger stature will help him in the whoops and riding with Kenny as well as Eli will only help him get up to speed in a quicker manner!
The MEC this weekend…my excitement level is probably at about a 2, what's yours?
 My excitement level is about a 7. I love racing. I love watching the techniques of each rider. I love seeing the LE gear. Fly Racing has a sick set of MEC LE gear this weekend that I'm in love with so that gets me excited as well. I am excited to see what Tim Gasjer does as well as see if he can keep it on two wheels for three main events? Is there odds in Vegas on this? If not, there should be! My pick to win this year is Justin Barcia.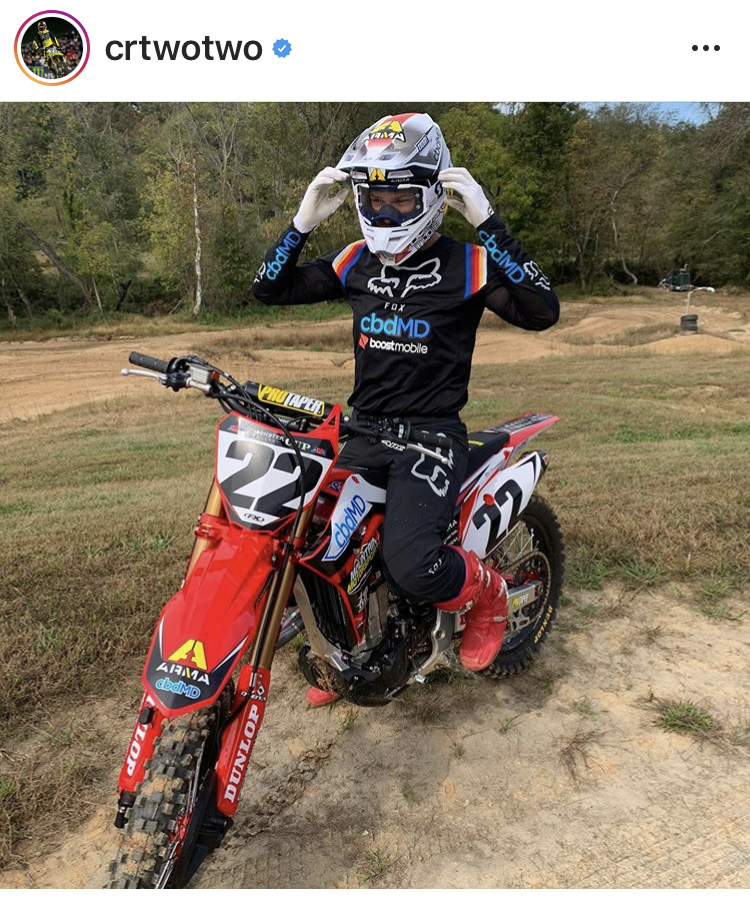 Chad Reed…ok, go!
Everyone needs to chill down on the "Chad should retire shit"! Who the hell are we to tell a racer when it's time to give it up. I think it's bad ass he still likes dirt bikes and likes them enough to keep racing! We all should be thankful we can watch the dude race a dirt bike still. If Chad goes out and gets 16th. Who cares. He's out racing and doing what he loves to do. The fans need to stop acting like they know more than the riders. What if I asked you to stop riding because youre 52 years old. "Hey bro, you're too old to ride, you better sell your bike". You would tell me to kick rocks, so let's not worry about Chad's retirement. Let's just give him a round of applause because he still loves to swing his leg over a dirt bike. Go watch the movie "For The Love Of The Game" with Kevin Costner and thank me later.
 Now what I want to know about Chad is why he chose the Honda CRF450R for his weapon of choice? Chad is a picky SOB when it comes to bikes and bike set up so I am curious is to why he chose red. So maybe Steve can find that out for us as well. Also, If you can Steve, please get a photo of Mrs.Reed in Vegas! She always dresses super hot when she's in Sin City. Thank you. Love, KK…  
 Vet National thoughts for you?
 I am ready! I am especially excited that you might race Steve! To see you get a World Vet title would make my year and to celebrate with you over a Seven Oaks sandwich would be amazing. I however am looking to get the monkey off my back this year and win the 40 Pro class. I won the first Moto last year, but had a bike malfunction in the second Moto that left me with a third overall. I wasn't happy! Poor Heather had to live with my BS for a week after that one. I heard Mike Brown will be there this year so it's going to take some luck and all I have to beat that old bastard, but I am up for the challenge. I will be racing both days (40 and 30 Pro classes) again this year and look forward to not riding on the weekends after this event is done. Maybe I will even go to a few Supercross rounds and stay the whole time next year? Nah… Who am I kidding…