Asterisk has been in the knee brace game a long time and they recently introduced their latest Carbon Cell 1 knee brace. The CC1 is manufactured from Military Spec and Aerospace grade carbon fiber prepreg that is made in America, which of course is the finest in the world. Asterisk's focus during the design and development of the CC1 was try to make the slimmest, lightest, most comfortable knee brace available today. The CC1 weighs in at 1 pound or 454g (+/- depending on size) per brace, costs $799.95 a pair, and the CC1 is backed up by a 3-year frame warranty. When I first witnessed a photo of the CC1, they intrigued me enough to get out of my CTi's for a while and log some serious hours with them on my legs. Here are my findings: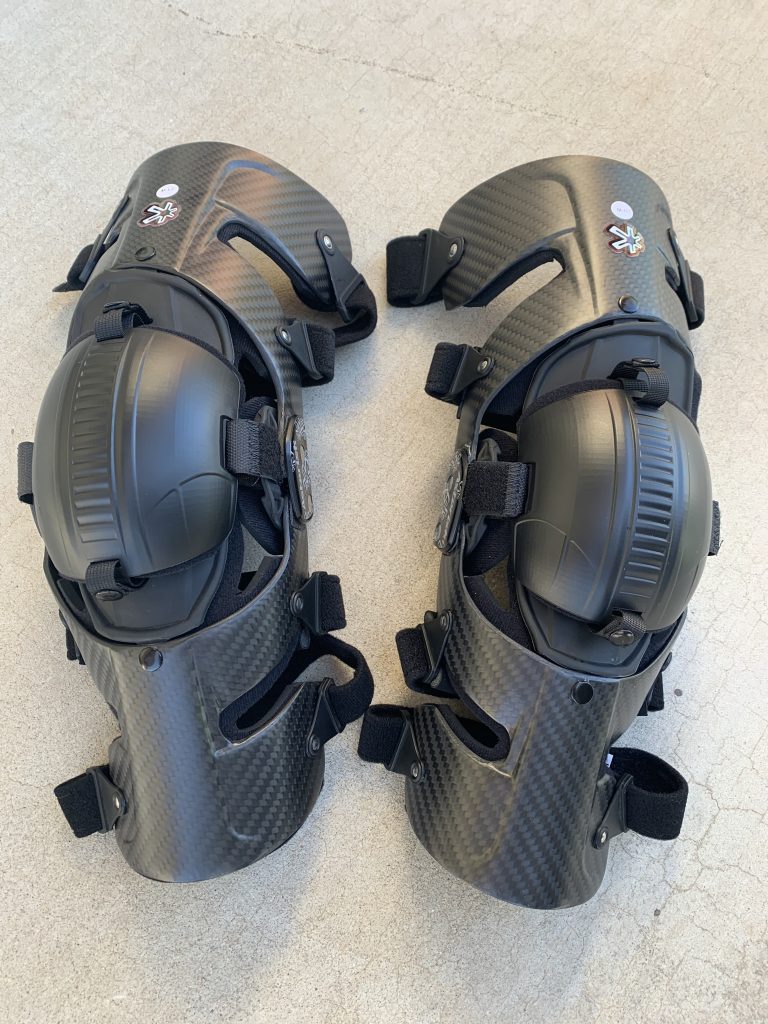 I like that the floating knee hinge on the CC1 automatically aligns itself with your knee joint thus allowing it to fit on a wide range of leg and knee shapes. I let one of my test riders (that has the same size legs as me) wear the CC1' for a few days and he even commented how well they fit. The Carbon Cell brace is the lowest profile non prescription braces I have tried to date and they don't get snagged or caught on your riding pant liner (if you have a liner in your pants). The knee joint hinges are rounded enough at the edges that you will not tear your pants all to hell after heavy usage. Note: If you want to be more careless when putting the braces on please go get yourself into a pair of Asterisk Zero G pants. Trust me! You'll thank me later. Going back and forth from the Ultra Cell brace, I can feel how much slimmer these CC1's are almost immediately.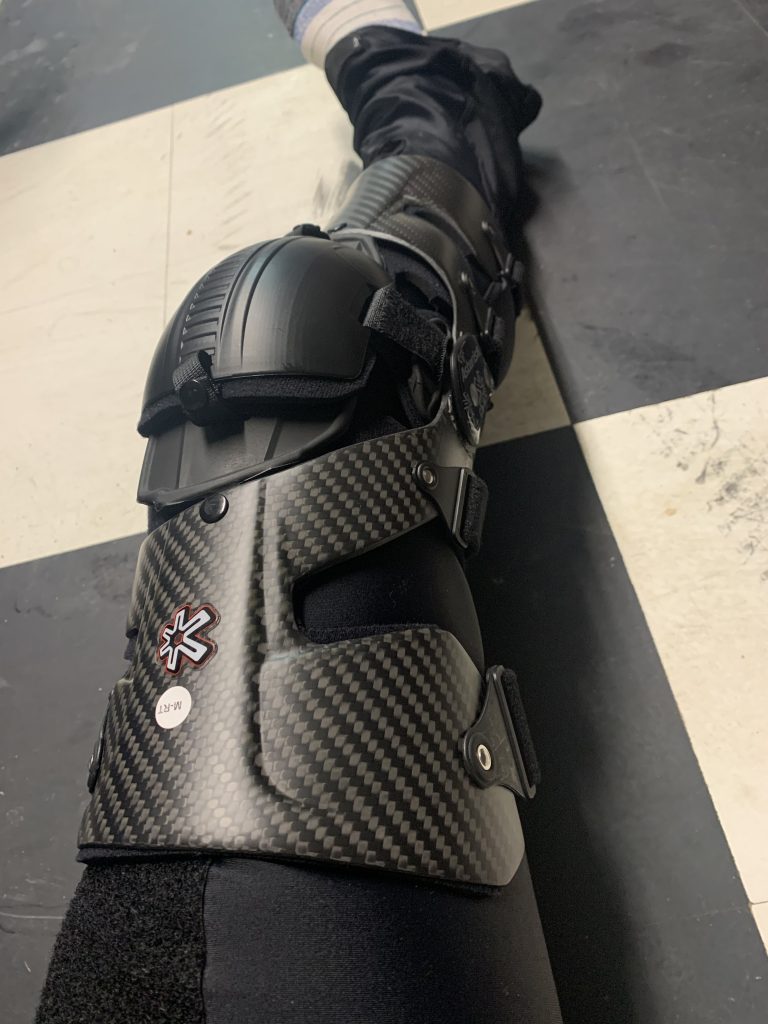 When wearing the CC1 and Ultra Cells braces back to back, (over the course of a full day of testing), I could feel less fatigue in my legs with the CC1's because of the lightweight feel I experienced with them on. I wouldn't say that the CC1's are that much lighter (maybe less than a pound total per brace), but I think it's because they are so much slimmer feeling than the Ultra Cells when on the bike. To me the only other brace that comes close to the slim feel of the CC1 braces are my custom fit CTi "Stealth" Carbon braces. I also like that you're also able to adjust the extension and flexion of the brace so that you can determine how much you want your leg to bend. My right knee doesn't like to bend (flexion) as much as my left, so it's nice to have that feature built in for me to adjust myself.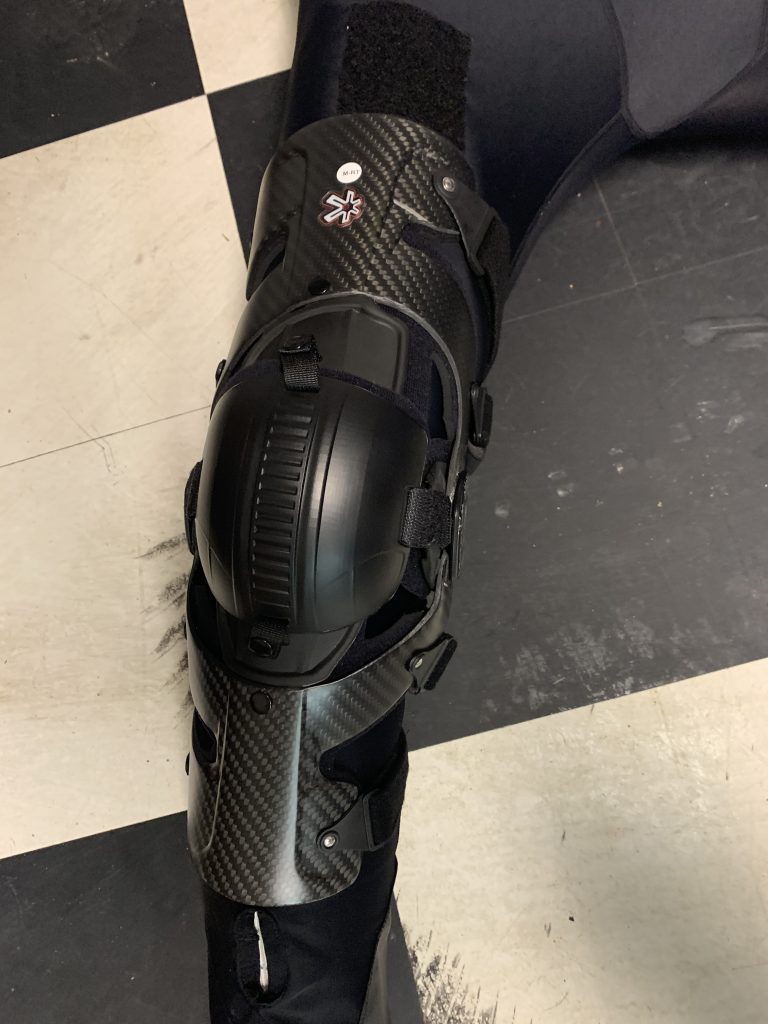 The CC1 braces will still come with a patented boot tether system that securely attaches at the bottom of the brace to your riding boot, effectively making the boot and brace as one piece of equipment. To do this you must drill a small hole and install the other half of the strap-attached clip to your boot, plus cut a small hole in your pant leg. Yes, it's kind of a pain, I don't do it, but I do know that some of you out there do, so it's worth mentioning. The comfort of the CC1 braces are second to none and although I have been on the custom knee brace bandwagon for a while, this slim, lightweight Asterisk option has me reaching for the CC1's in my gear bag first lately. If you're a rider that hates bulky feeling knee braces and would rather just wear knee guards, these Carbon Cell's could be just just the brace that you've been looking for. Most riders choose "guards" over "braces" because they can't come to terms with the width of most braces, but having a brace this slim and light could help get you over the hump so you can dress for the crash not the ride and still feel comfortable. The CC1 braces come in S-L and are available by calling 951-268-6790 or visit asterisk.com.