A2 came in with some great racing Saturday night, so let's break down some of that action right here. Let us start with some of the obvious focal points shall we?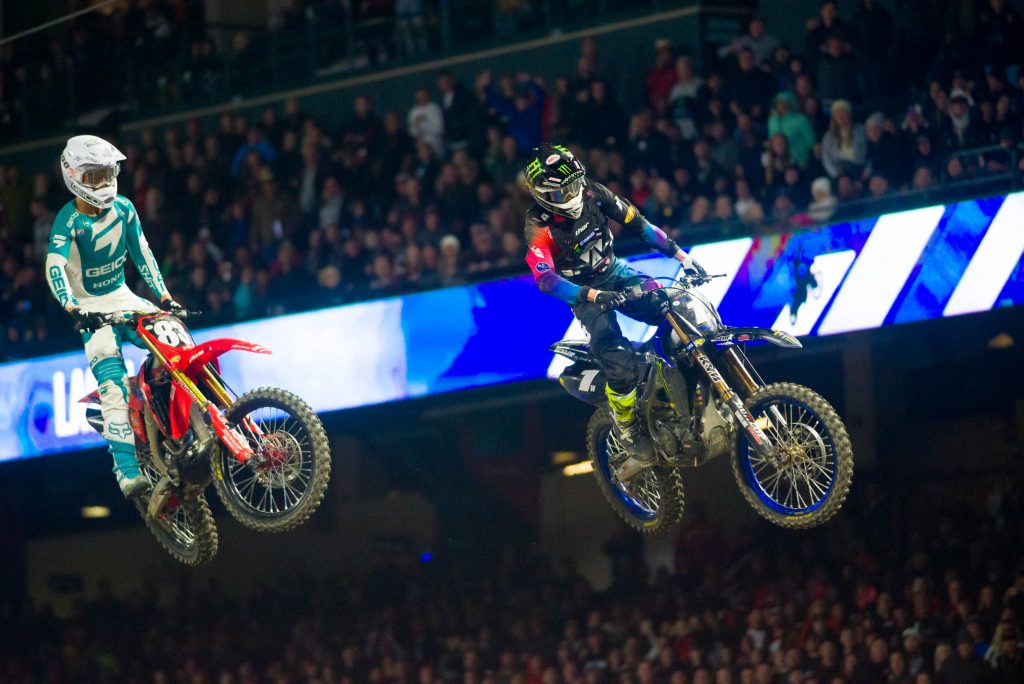 Dylan Ferrandis: I haven't heard a crowd that pissed off in a very long time. Last time a French rider got booed that loud was back in 2003 when Eric Sorby took out Travis Preston. Look, I am not going to sit here and say what Dylan did was right because it wasn't at all, but let me play devils advocate for just one second. There was more than a few passes made after the finish line at A2 and most of those were because  going outside in the berm to get a straight shot to the next corner. Craig went wide and maybe, just maybe, Ferrandis thought he was going to shut it down before the two collided. Craig didn't and boom! This kind of move wold have been accepted more if it was near the last couple laps, but at a stage in the race where you still had some time, it was kind of unnecessary right? In order to save Dylan's image somewhat he needs to make some sort of public statement about him possibly making the wrong decision on the pass. He should at least let Craig as well as the fans know that he got too anxious and made a move that shouldn't have happened, at least that early. He was clearly faster than everyone else and he would have caught the leaders anyway. At least that's the way I look at it. Dylan, a word of advice. DO NOT go out to dinner in Temecula for a few weeks. I would lay low around So. Cal for a bit.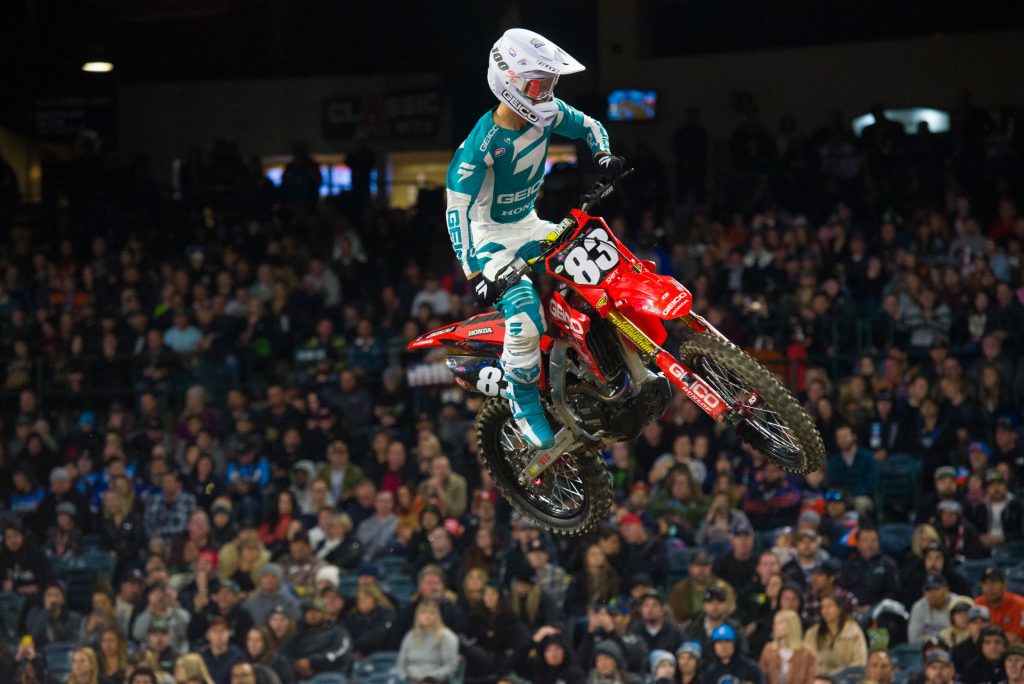 Jett Lawrence: Jett for president 2020! When I saw that his lead was up over 10 seconds, I thought the kid had it in the bag, but that crash in the rhythm really did him in! I mean the kid's heart rate had to of been at least 200bpm when getting back on the bike and then he had Dylan's crazy french ass behind him, so the nerves must of been crazy high! I try to put myself into these situations at times, in order to understand what these guys are going through, but this was such a monumental moment, that I was even nervous sitting at home! I can't imagine what Jett was feeling when he knew he blew a 10 second lead! Jett showed so much heart by regaining his composure, fighting for the win, and not letting Dylan push him around! When Dylan stuffed him into the corner before the 3-3, I couldn't believe that he still gave it the beans to try and do the 3-3! He was either going to crash or win this sucker! Well, Jett did crash, performed the longest nose wheelie in Supercross history, broke his collarbone, but is now one of the most popular riders in the series! I know I gained a new appreciation of the kid by just watching him ride on Saturday night. He's only 16, but he is going to be the new teenage Travis Pastrana with the fans! From all of us fans out there Jett, we salute you for putting your balls on the line and never giving up. Great ride!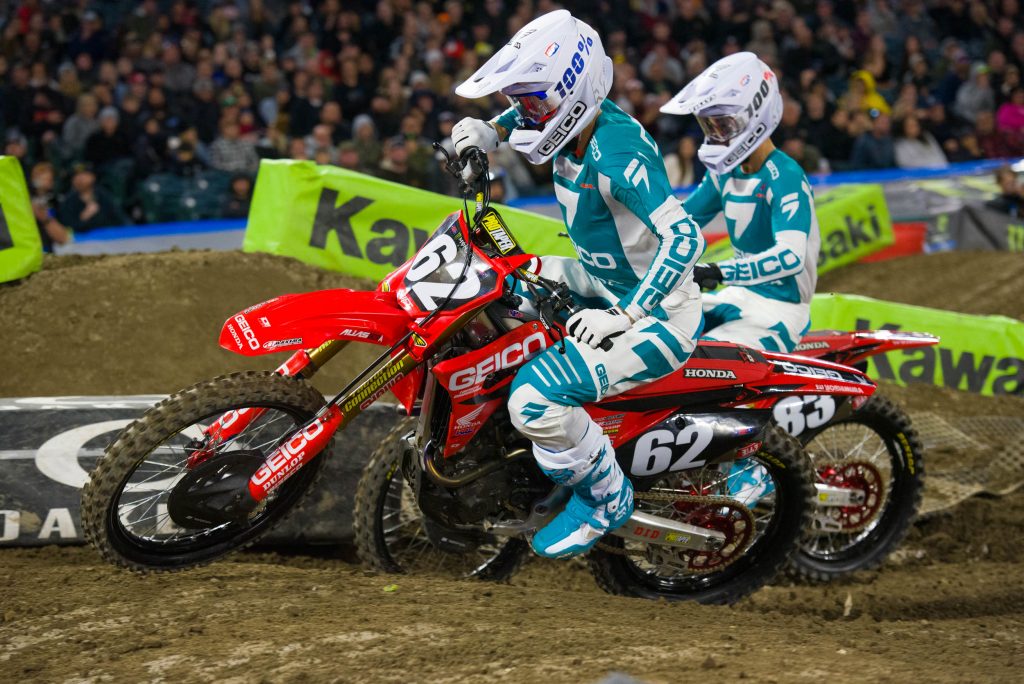 Christian Craig: Poor Christian! As bad as that take out was he actually got off pretty well. The violent swap could have slapped him down harder, but luckily he somewhat got his legs underneath him al little before he hit the ground. If you look closely after it happened you could see the Geico mechanics gesture something to the Star Yamaha boys and it wasn't a happy, how are you doing type of wave. Christian could have been on the podium easily if it wasn't for this take out by Dylan, but I believe we will see a "W" by Craig, by the end of west coast. If there is a tough whoop section you can guarantee CC will be up near the front. Can we mention how good the Geico Hondas are on the start too? WOW! Christian and Jett have been getting good starts all season. Well done on getting the Honda better! Christian is a direct result of that happening in 2020. He did most of the test riding for the team before the season started. 
Art In Crashing: If you're reading this and want to know if there is an art to crashing, I will stand here and tell you, yes there is! I tell my kid all the time to go to trampoline parks and do flips, twists, and whatever else he can do to practice body awareness. When you crash and you find yourself flying through the air, you need to have body awareness and the more you get to know that, the better chance you have to not breaking a limb.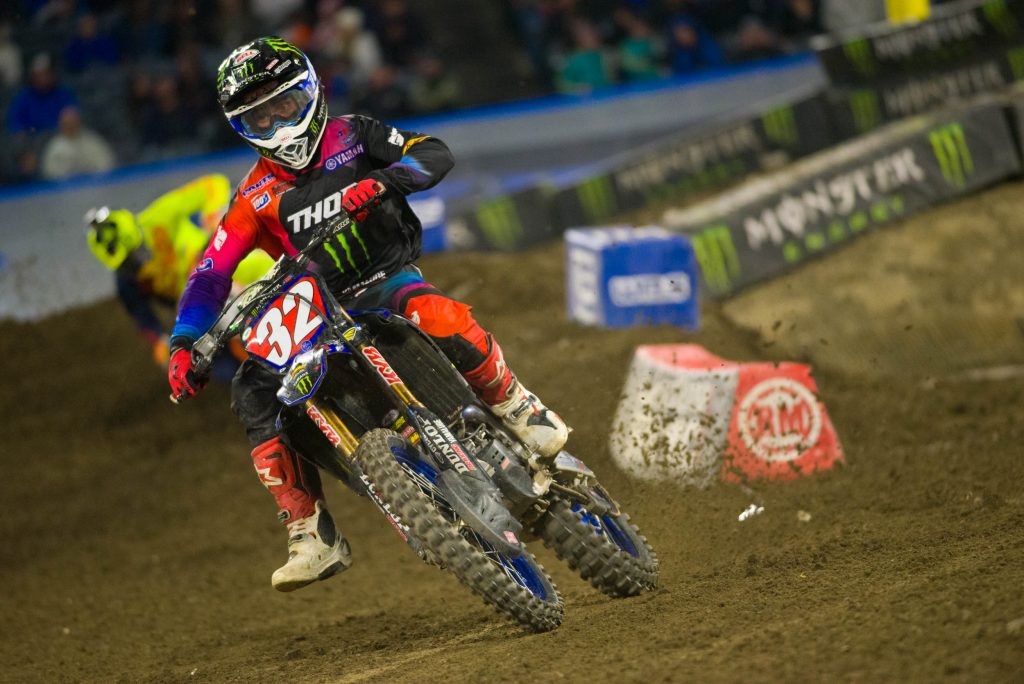 Justin Cooper: Cooper wasn't good in the whoops at all in A2. He never got a flow and that prevented him from getting up front early. He was gifted a second place on this night, but still enjoys that red plate life.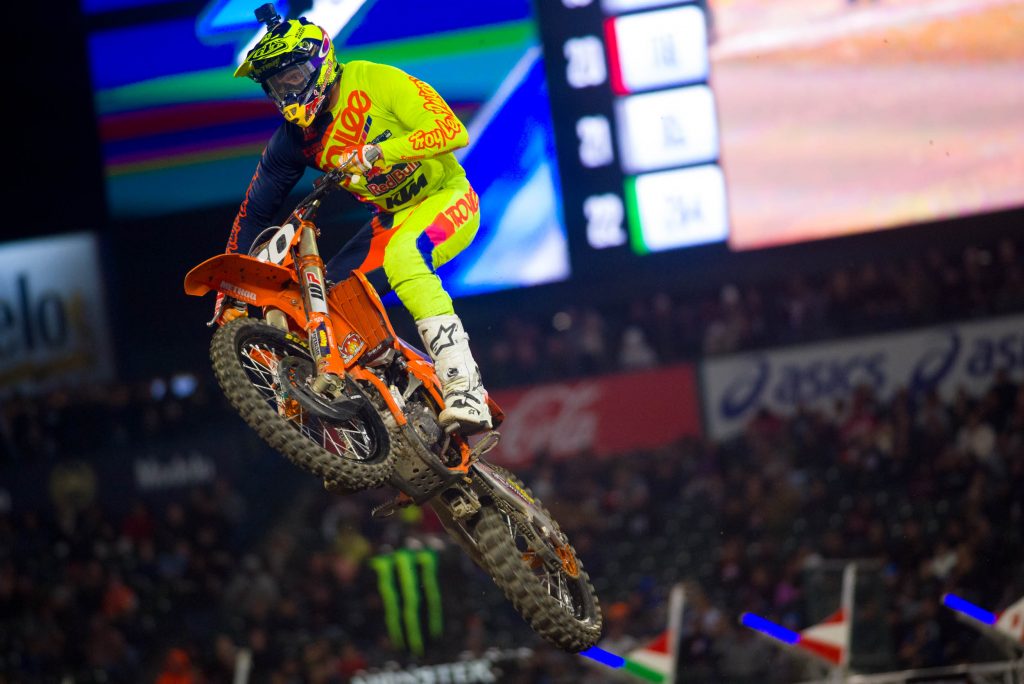 Brandon Hartnraft: Look whose steady Eddy over here! "Hart Throb" is riding exceptional and seems to be in the right place at the right time. He's strong in the whoops and by the look of his lap times, he only gets looser and stronger towards the end of the race. Two podiums in a row! The TLD/KTM team should be thankful they got this kid. He's holding up the team on the west.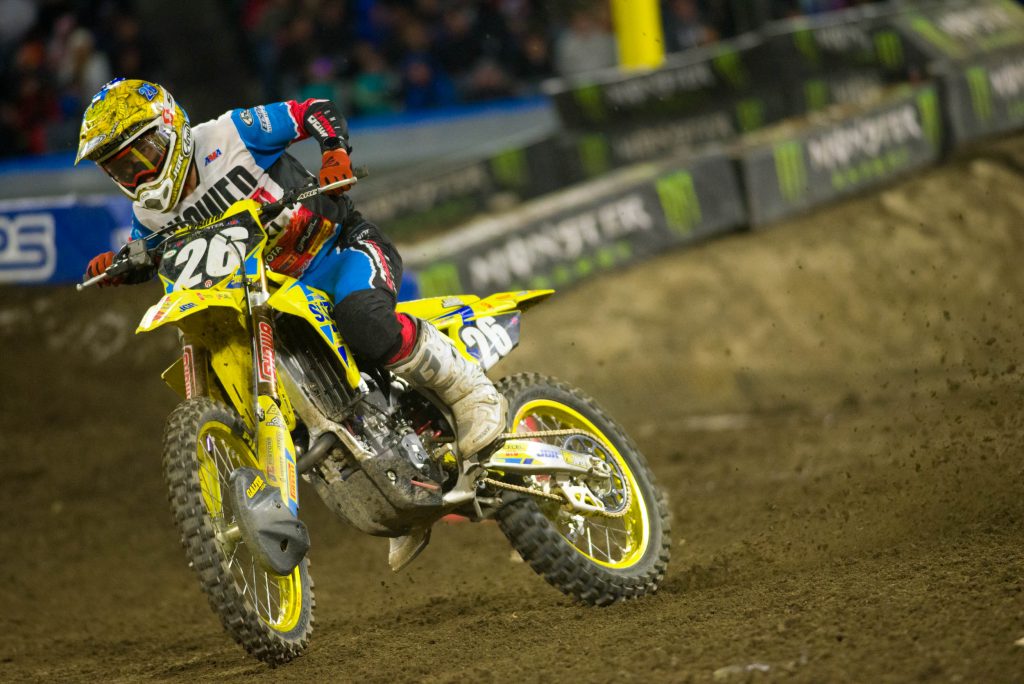 Alex Martin: OMG! A-Mart was having a time in the whoops! He is soooooooo lucky that the tuff block saved him on that ass over tea kettle somersault he performed! Between J-Mart's unbelievable acrobatics at San Diego in 2017 and A-Mart's 9.5 landing at A2, can we get these guys on the American men's olympic gymnastics team in Tokyo, Japan. They would kill the floor exercise portion of the all around program.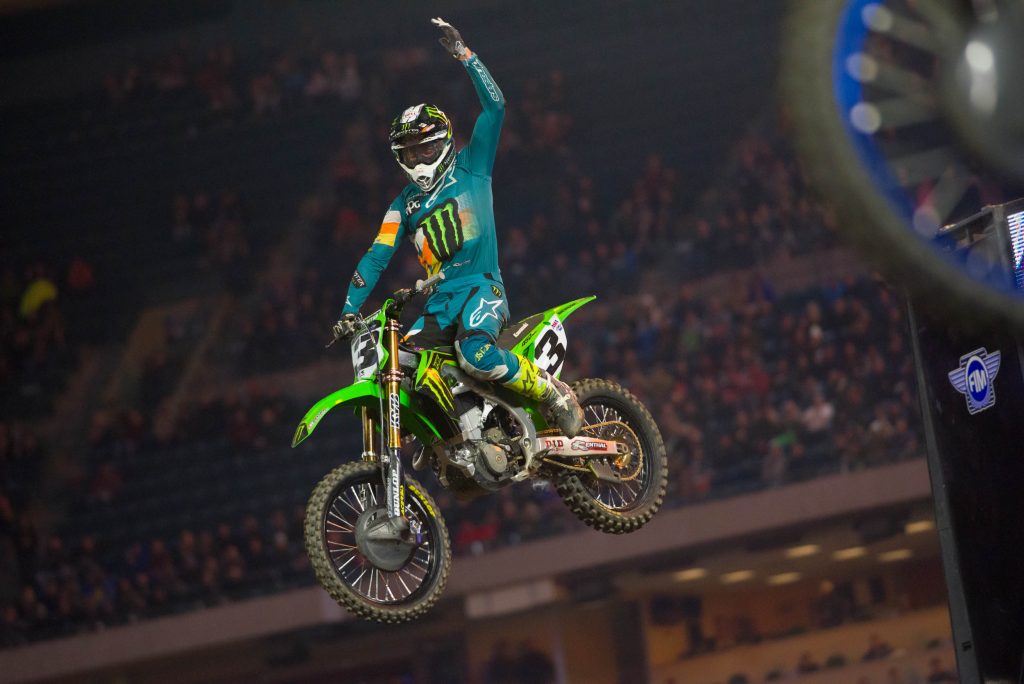 Eli Tomac: Go back and watch how much lower Eli stays on the jumps without even really scrubbing. It's crazy! He was making up time on Ken in three areas of the track: Jumps, whoops, and corners. Ok well, that is everywhere on the track, but you get my point. Old Eli was in effect and you could tell from practice that he was feeling it. I would jump on the bandwagon and say "here we go, Eli is going to rally now", but I can't because his starts are atrocious.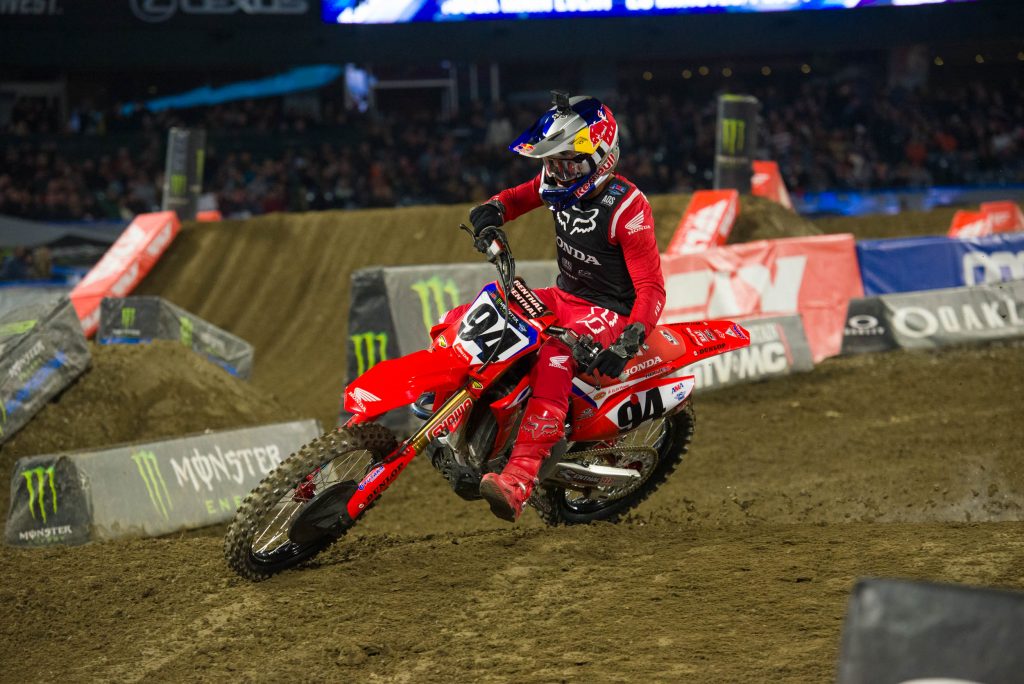 Ken Roczen: Kenny's set up isn't made for Anaheim. You can just see it in his bike and riding style. The HRC Honda is great on softer tracks, but the hard pack, greasy dirt of Anaheim is not its friend. I feel like Kenny knows this and just does what he has to do in order to get a podium at the Anaheim rounds. Does he understand his bike will not be as good as it will be once he goes back east? My guess is, he does! If you watch Kenny ride Anaheim, look at how he leans his Honda compared to other brands of bikes/riders. His contact patch (or the amount of traction underneath him) looks to be much less than the Kawasaki and steel frame bikes at Anaheim.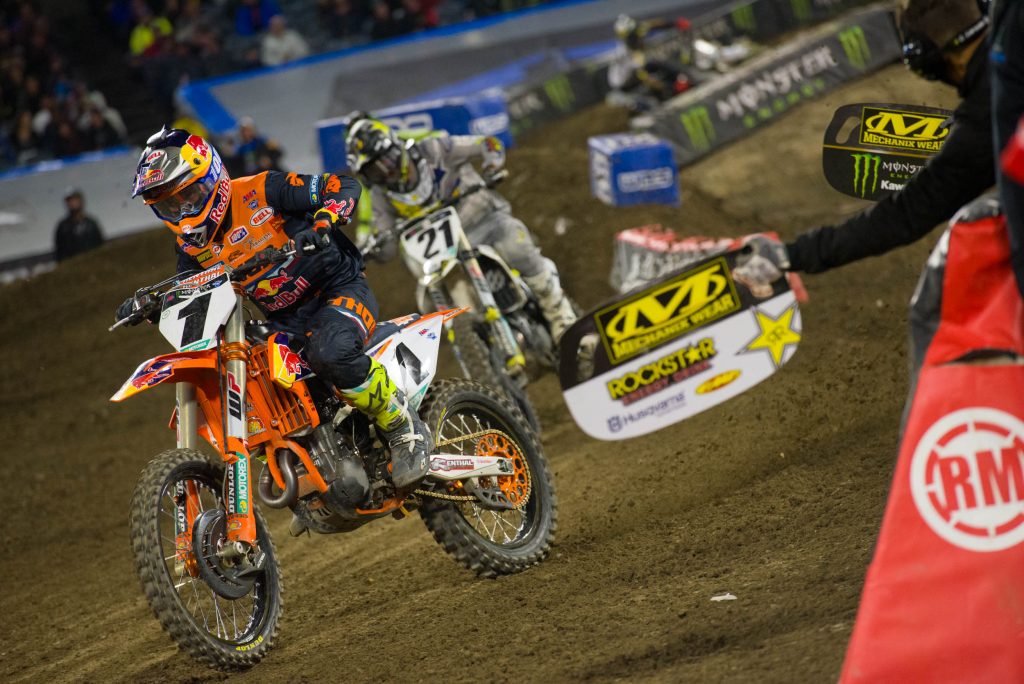 Cooper Webb: Coop is getting healthy and his usual stingy self is coming around! Just when you think you've got Cooper covered, he's back in your shit again! Just ask Osborne. Zach had Webb, but then Cooper pulled out on him only a few laps later. The most mentally strong rider in the series is this guy, but he needs some more speed in the whoops if he's going to contend with Eli.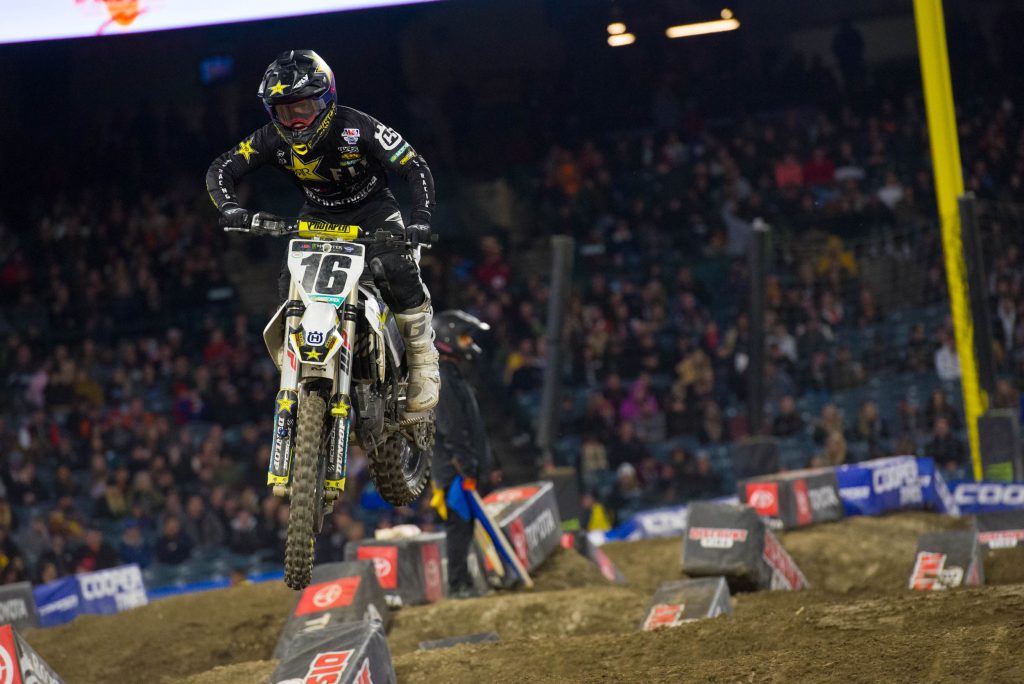 Zach Osborne: I put on Zach's FMF Drop t-shirt for the night show and he rode great! Coincidence? I think not! Zach was feisty all main event long and was really good through the second set of whoops which helped him pull away from Anderson. Zach was just off of the riders on the podium, but as long as he gets good starts he's a threat for podiums all year long. I think it's kind of a long shot for him to win one this year, but he will be sniffing around 3rd-4th place on any given Saturday night.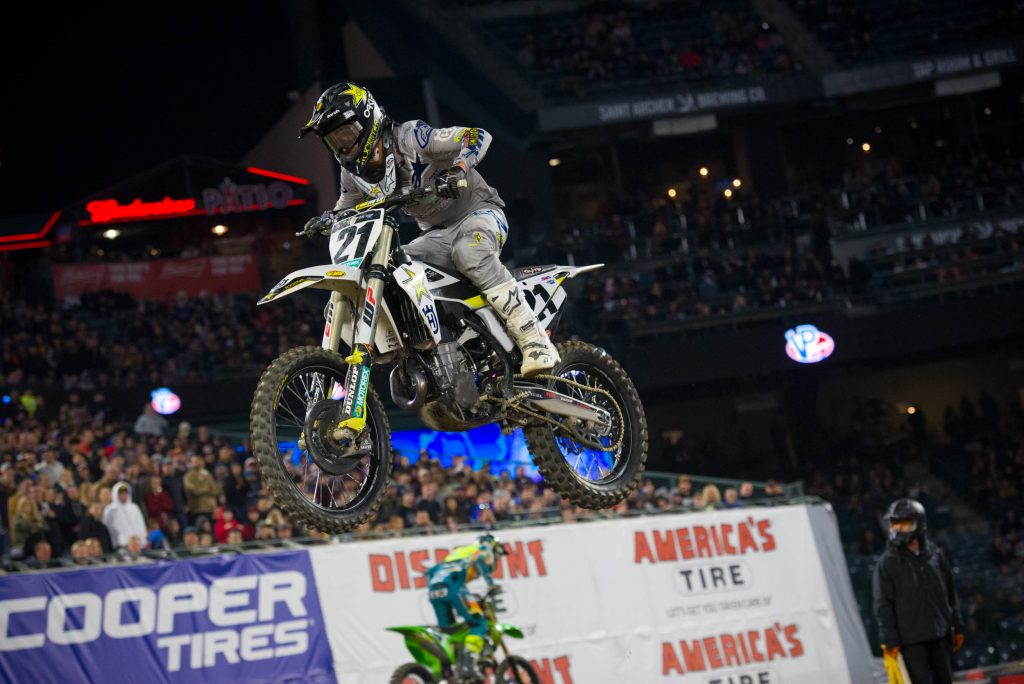 Jason Anderson: Don't sleep on JA! He's been super quiet, yet incredibly solid the past three races. He's sneaky good so far and I think he will only get better as we go back east. NTG is in full effect and looking to get a win very soon!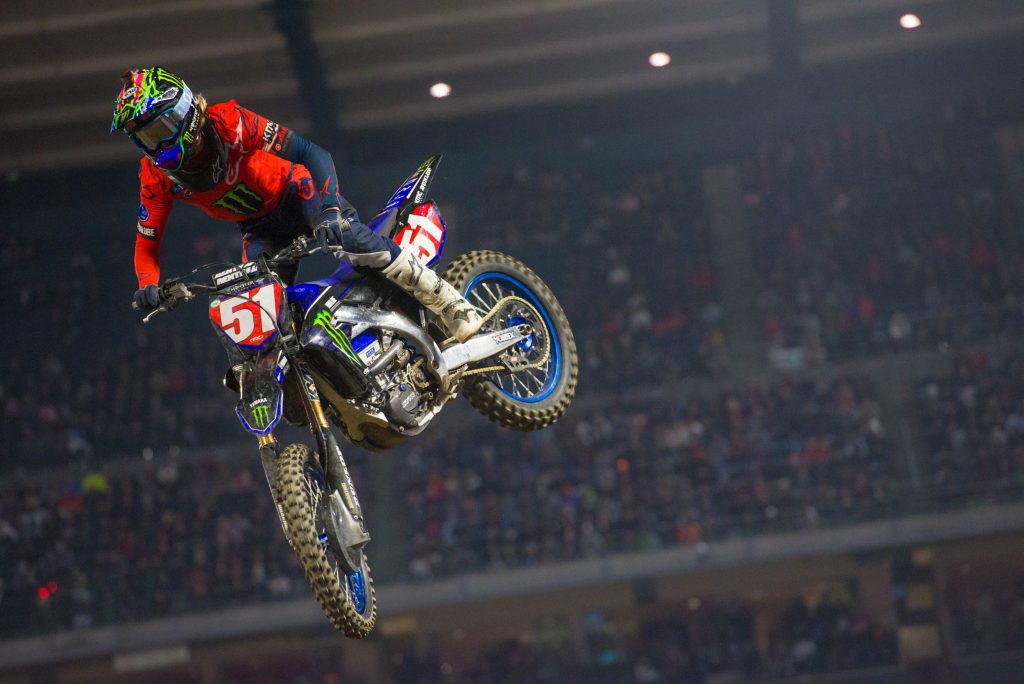 Best Dressed: Justin Barcia and Alpinestars did it well at A2. I am usually not one to like two different color ways between a jersey and pant, but the blue and red was a beautiful sight on the Factory Monster Energy Yamaha of Barcia! Too bad Barcia had a rough time at A2, but look for Bam Bam to be back in Phoenix. Great job Alpinestars!  
Rider Turnout: 45 250 riders and 54 450 riders. NOT GOOD!!!