The gear business can be a tough nut to crack. Over the years, there have been countless companies that have tried to make it the cutthroat world of casual apparel and kidney belts. For every Fox Racing, there are a dozen LBZs (which apparently are back now, who knew?), Feroces, and Rad-N-Bads on the ash heap of gear history. Sometimes (most times actually), even the cachet of a star athlete on is not enough to keep an apparel company from the financial abyss.
Over the years, several of motocross' top riders have lent their names to gear ventures. Currently, James Stewart is most notable of these brave souls, but plenty of others have gone before the once and former fastest man on the planet. Jeremy McGrath (No Fear), Chuck Sun (Chuck Sun Products), and Bob Hannah (HRP) have all taken turns in the motocross apparel barrel. Some of those ventures turned out to be pretty darn successful, but in the end, all of them went the way of the dodo.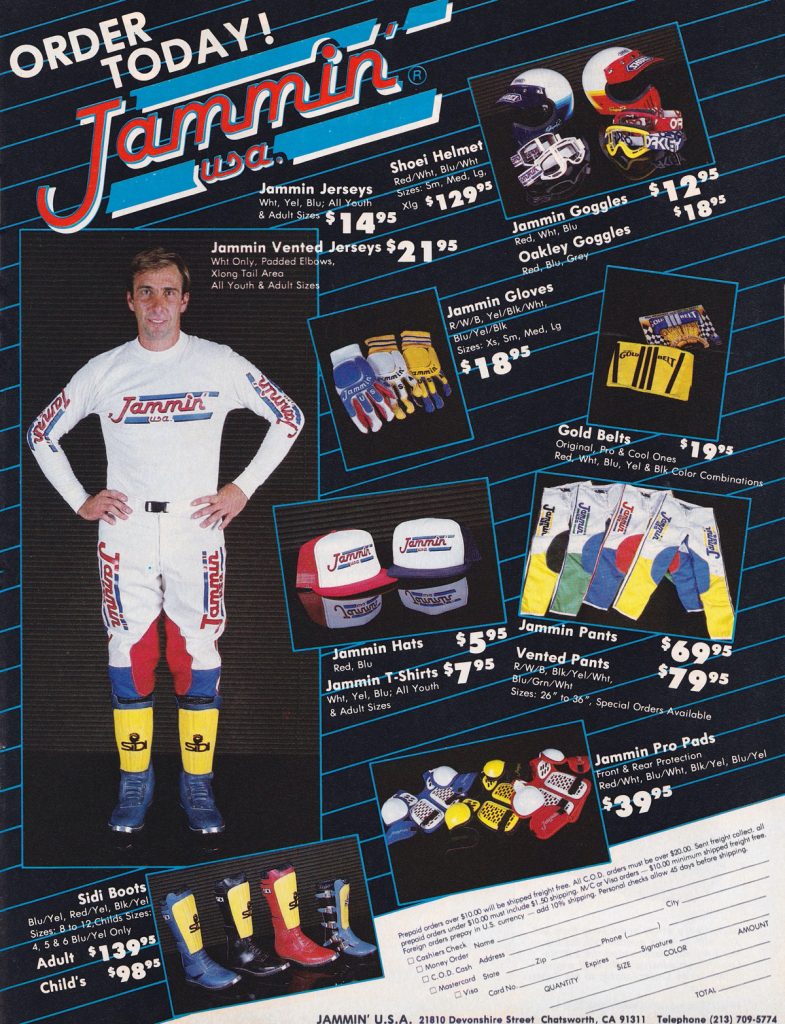 I would love to know what the hell the photographer who did this ad was going for with these looks. It may not be good, but at least it was memorable.
Back in 1981, it was three-time AMA champion Jimmy "The Jammer" Wienert's turn to make a go at leveraging his popularity on the track into success off of it. One of the most colorful riders of his era, the man they called "The Jammer" had made a name for himself as much for his antics off the track as his speed on it. Even in an era dominated by larger-than-life personalities, Jimmy's quick wit, skill with a guitar, and love of pranks made him stand out among his contemporaries.
Wienert's new venture was called "Jammin' USA" (a clear play in his Jammer nickname) and featured paints, jerseys, gloves, and various other casual apparel. Produced in Oregon, Jimmy's gear was actually rather understated and attractive for the time. I would certainly have not picked it over the Fox or JT gear of the era, but the price looked reasonable and the styling was not goofy in the way Feroce or Wulf Sport made infamous a few years later. It was reasonably attractive gear at an affordable price.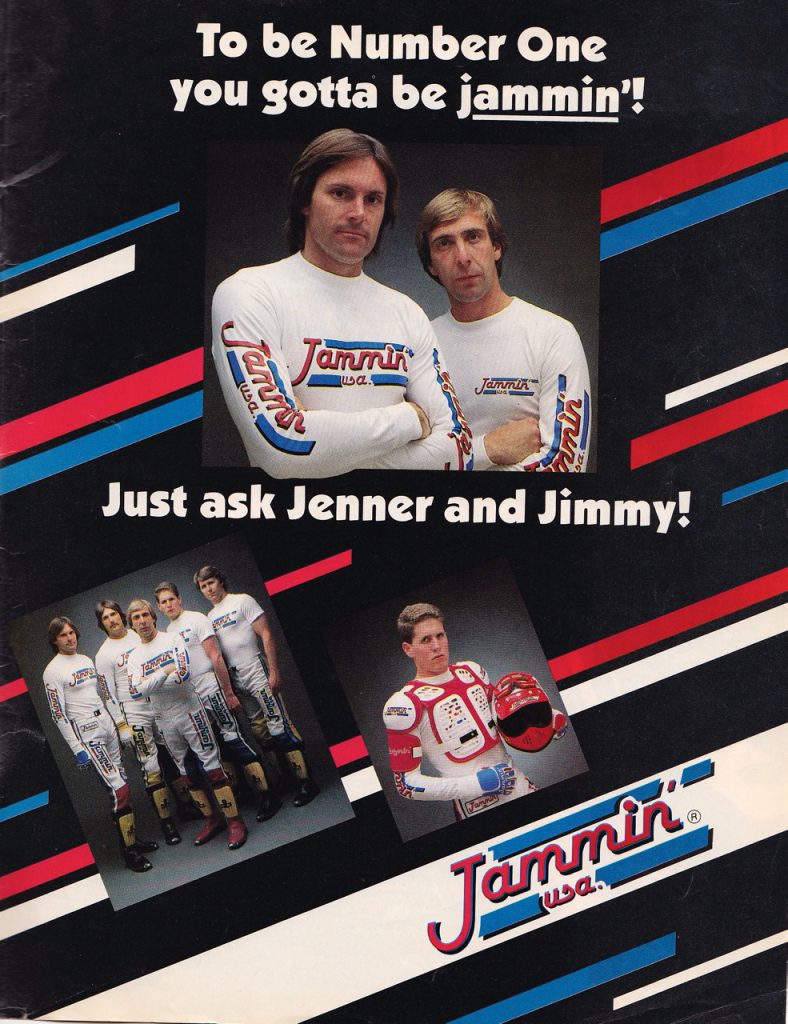 As weird as the first page of this ad is, the actual gear is not really that bad. Sure, it was plain and rather boring, but none of it is actually ugly. I can see why it might have not been a big seller, but it was no worse than most of the other gear not named JT in 1983.
While Jammer gear was rather unmemorable, the same could not be said of the ads that touted its arrival. For starters, it has Bruce Jenner front and center in it. Today, that would be notable for entirely different reasons, but in 1983, Jenner was still a major Olympic star. Apparently, Bruce was a personal friend of Jimmy's at the time and appeared in the ad purely as a favor. Considering Jenner was the kind is a guy you would have found on shows like CHIPS and on the cover of Wheaties boxes back then, this was a pretty big deal for the fledgling brand.
While Jenner's presence was certainly a coup, the rest of the first page of this add is just weird. Look at the expressions on everyone's faces here. What exactly are they trying to convey, constipation? I'm thinking they were going for toughness but ended up looking like a bunch of slightly confused doofuses who just had their lunch money stolen. Not a great first attempt in my book.
According to Jimmy, Jammin' USA actually sold pretty well (surprising I know) but ended up getting shut down a year later when things went sideways with his business partner. As is often the case, factors other than sales can derail a brand as fast as a crappy product can. Sometimes, even a decathlete, a motocross champ, and a scowling dude are not enough to keep things afloat.