Photos by James Lissimore
PulpMX.com Fantasy Pick & Trends
The Triple Crown format provides peril for PulpMX Fantasy players
Hey everyone, thanks for stopping by for my weekly recap of all the PulpMX Fantasy action from round 4 at State Farm Stadium in Glendale AZ.
For the first time this season, we had a single winner in the Championship League! Congratulations to 260Moto for taking down the overall this week with a 272-point score! The win came down to the wire. It turns out the difference in scoring, only two points over second place, came from 22% owned Mitchell Oldenburg. Mitchell was the highest-scoring rider in the 250 class, 34-points, achieved via his 6th place overall finish.
The rest of 260Moto's 250 team consisted of Derek Drake (1) – 32 points at 28%, Robbie Wageman (5) – 32 points at 15%, and chalky Austin Forkner (4AS) with 26 points at 53%.
260Moto's 450 team was led by Marty! Yes bro's, Martin Davalos (5) tied for top in class score of the evening with 34 points and only 19% pick trend! They also chose Chris Blose (9) – 30 points at 26%, Jerry Robin (13) – 28 points at 28%, and Cooper Webb (4AS) with 26 perfect all-star points at 37%.
260Moto also correctly chose Austin Forkner and Ken Roczen for FFL for an additional 30 points.
Keys to success: First, the mega leverage pick, choosing Oldenburg in the 250 class over Christian Craig. Second, choosing Marty over Blake Baggett and a host of other high pick trend busts in the 450 class (more on them below). Congratulations again on taking down this week's overall with one of the scariest fantasy teams of all time, Marty and Jerry for the win!
Let's take a look at everything else.
 Most picked riders AKA "the chalk"
Pick trends dipped a bit this week with a very even spread in the top ten. The highest pick trend overall was Austin Forkner at 53%. The highest pick trends in the 250 class also included Michael Leib (8) at 31% and Derek Drake (1) at 28%. Both delivered good scores, Leib with second highest in class at 32 points, and Drake with 3rd highest – 26 points.
450 pick trends topped out at only 37% with 4 handicap Cooper Webb. Top trends also included Blake Baggett (-1) at 33% and Jerry "what could go wrong" Robin at a 13 handicap – 28% pick trend.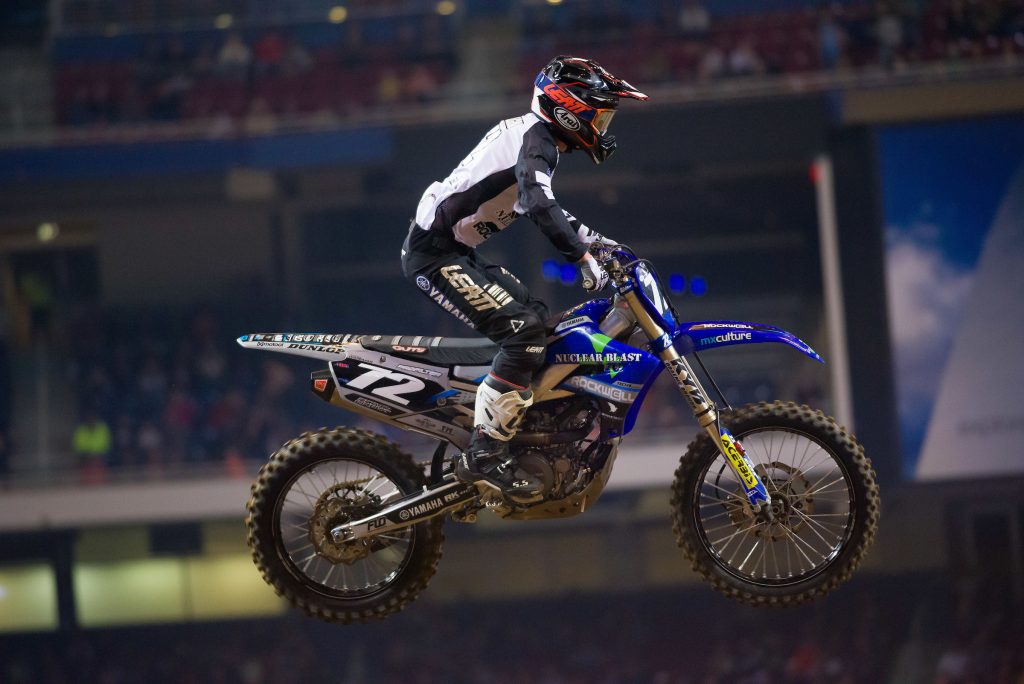 Low owned players who delivered – AKA great contrarian plays
Rider scoring included lots of low scores and ties this weekend. The highest score in either class was only 34 points, followed by four riders scoring 32 points and ten riders scoring 26 points in the 250 class. 450 class scoring was a little more spread out, with two riders topping the field at 34 points, one at 32 points, and three at 30.
This made for some interesting low pick trends. In the 250 class Robbie Wageman (5) and Carson Brown (4) each scored 32 points at 15%, with Killian Auberson (4) having another good weekend, 26 points at only 8%.
The 450 class featured two of the top-scoring riders at extremely low pick trends. Ryan Breece (10) had a great 34-point score at 8%, and Aaron Plessinger (2) with 32 points at 5%. Could this be a sign of things to come for AP?
Fantasy Duds
Who burned the field? Let's take a look.
The Triple Crown format definitely took its toll on the field in both real life and fantasy. Christian Craig crashed out on his own this week, scoring only 8 points at 25%. We also saw Justin Cooper have an uncharacteristic bad day, scoring only 15 all-star points at 23%.
450 class duds included Blake Baggett's 12 points at 33%, Adam Cianciarulo with 19 points – 26%, Justin Bogle 8 points at 23%, and Dean Wilson 12 points – 22%. If you avoided picking these guys this week, you were running hot!
Fantasy Studs
 These are the riders with high pick trends who delivered!
A few standouts to discuss in each class. The 250 class saw Michael Leib (8) put up 25 points at 31%. While 26 doesn't sound like a great score, this week it was good for 3rd highest in class. We also saw Derek Drake (1) have a nice night, scoring 32 points at 28%.
Jerry Robin topped the 450 class via his 13 handicap that was guaranteed to provide at least 28 points, and that's exactly what he scored via a 22P finish. This week 28 points were good for the fourth highest in-class score. We also saw Chris Blose (9) manage to put up a solid 30-point score at a 26% pick trend.
The 100% "Lead Pipe Locks"
 It's a much-needed bye week for the fantasy pod crew as they are in the midst of dealer show and race season. So, everything remains the same.
Paul and Dan are tied for the overall at 162 points, JT who only made one of two picks for week one is next with 142 points and Steve is in last place with 124 points.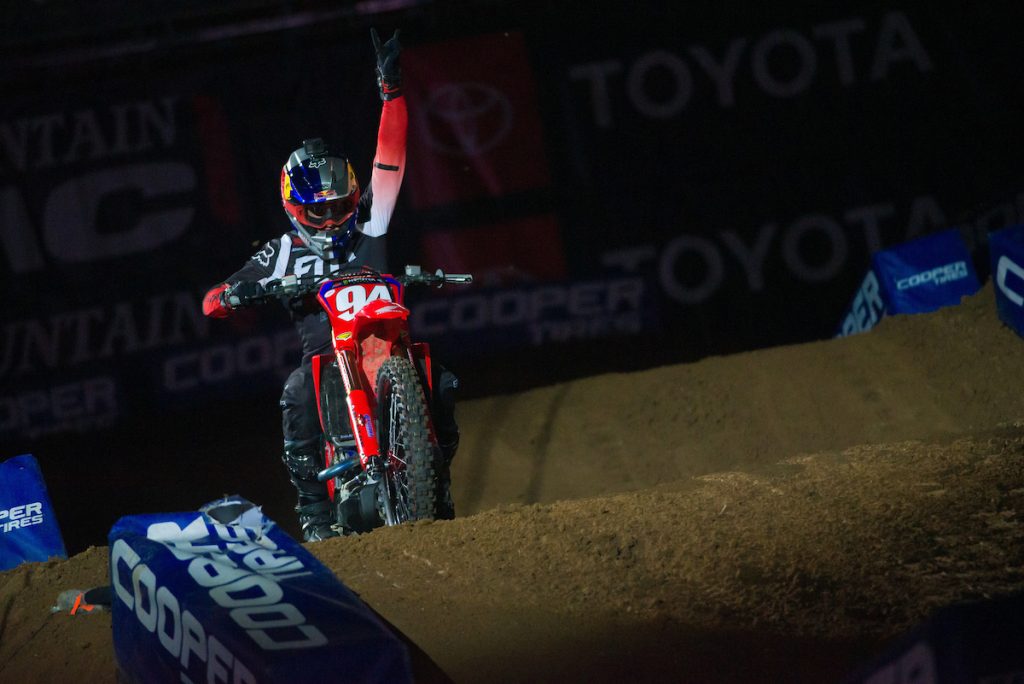 First to Finish Line (First Lap) Leaders
Pick trends were predictably high for Glendale. With three chances to get it right, 57.7% of you chose a 250 class FFL and a massive 83.8% of you were correct in choosing Austin Forkner or Justin Cooper. For the 450 class, 56.8% of you chose, with 56.1% correctly picking Ken Roczen or Zach Osborne.
A couple of things to note, with Glendale being a Triple Crown, if you didn't pick an FFL, and didn't pick Forkner and Roczen, you need to evaluate your process.
Fun Facts & Stats 2020 Supercross Season
Highest pick trend to date: 61% Adam Cianciarulo (Anaheim 1)
All Star perfect scoring: Ken Roczen is now the only rider to maintain a perfect score through all four rounds. Justin Cooper made it through the first three with a perfect score, but he was unable to stay golden in Glendale.
All Star perfect score percentage climbed to exactly 50% on the season for both classes at Glendale (16 out of 32). This is up a bit from average, which hovers around 37.5%.
Perfect scores by round:
A1: Roczen, Baggett, Barcia | Ferrandis, Mosiman, Cooper
STL: Roczen, Brayton, Anderson, Barcia, Tomac | Hartranft, Cooper, Forkner
A2: Webb, Tomac, Roczen | Ferrandis, AMart, Hartranft, Cooper, Hayes
Glendale: Webb, Stewart, Tomac, Roczen, Anderson | Hartranft, Forkner, Mosiman, Hayes, Ferrandis
 Final Thoughts – Oakland Round 5
We are getting deep enough into the season that we need to pay attention to the injury reports. The field isn't going to be as deep, meaning a possibility of some higher handicap riders making the mains. A possible notable comeback this week as well, Cameron McAdoo is slated to return this weekend from his collapsed lungs at St. Louis. Definitely keep an eye out for him as he could be a lock pick if he's back and healthy.
For the 250 class I also like Killian Auberson this week, especially if the track is rutted and/or muddy. Also, Carson Brown and Derek Drake have put in some nice rides of late, keep an eye on them!
Speaking of rutted-muddy tracks, how about Aaron Plessinger this weekend? He's been showing some signs of life lately and will still be 2x point eligible. Blake Baggett and Zach Osborne are also 2x eligible this week, as is Marty. If any of them have a handicap of 2 or more, I'd lock them in and break off the button.
That's it for this week. Thanks, everyone for reading and playing. Please remember to support the PulpMX Fantasy sponsors when you shop for all of your off-road, motorcycle and MTB needs.
Hope I see you on the leaderboard!