Triple Crown – three-way tie, and scores go sky high!
If you nerds have been wishing for more scoring, your wishes were granted at Dallas, and why not, I mean, everything is bigger in Texas, right? 
This week, it took a massive 368-point score to take down the PulpMX Fantasy Championship League, and that score was achieved by not one, not two, but three PulpMX Fantasy Teams!
Congratulations to Dgood427, Kurt108, and chancp786 on the 368-point score! By PulpMX Fantasy rules, Dgood427 wins the overall via his 297-point score at Tampa Last week, let's take a look at their team.
250's, Dgood hit the nuts with a perfect 182-point score. Dgood did this by playing the game in a way that is most likely to provide a high fantasy score during a Triple Crown. They went with the high handicap riders who made the main events, each of whom put up a 52. These riders included; Dustin Winter (16) at 32.6%, Richard Jackson (16) at 25.4%, and Curren Thurman (14) at 6.3%. They chose Shane McElrath (1) at 43% for their all-star.
450's, Dgood's 450 team was not perfect as that was not possible via the scoring, it was an optimal team though. The team was led by Chad Reed (11) 11! At 24.1% with 46 points. They also chose two 42-point scorers with James Weeks (16) – 38.2%, and Ryan Breece (11) – 8.3%. Their 450 all-star selection was Ken Roczen (2) at 24.9%. 
Dgood also correctly chose FFL's in each class, Shane McElrath, and Ken Roczen.
Keys to success: The margin of victory was very slim this week. The big difference maker was choosing Ryan Breece's 42-point score over higher owned Justin Hill who came in at 39.3% and scored 8 fewer points, and/or Marty Davalos who managed only 11 points at 39.2%. This gave Dgood an edge on a huge chunk of the field.
Let's take a look at everything else.
Most picked riders AKA "the chalk"
Given the Triple Crown format, there was not as much chalk as one would think this week. We had three riders in each class with a pick trend that was higher than 30%.
250 class chalk included Shane McElrath (1AS) at 43%, Wilson Fleming (16) at 37.6%, and Dustin Winter (16) at 32.6%.
The high pick trend riders in the 450 class included Justin Hill (0) at 39.3%, Martin Davalos (5) – 39.2%, and James Weeks (16) – 38.2%
Low owned players who delivered – AKA great contrarian plays
Once again, we saw that winning a Triple Crown on PulpMX Fantasy doesn't necessarily include clicking all of the 16 handicap riders that made the mains and calling it a night. The 250 class featured three riders who achieved perfect scores without being a 16 handicap. This included already mentioned Curren Thurman at a 14 – 6.3%, Jalek Swoll (9) – 20.2%, and Enzo Lopes (8) at 25.1%.
The 450 class low owned riders included already mentioned Ryan Breece (11) at 8.3% and Zach Osborne (2) at 15.6% – 42 points. They were the critical pieces to the highest-scoring teams this week.
Fantasy Duds
Who burned the field? Let's take a look.
Wilson Fleming (16) had a good qualifying session, giving him the 15th gate pick for the night show. That didn't translate to a high fantasy score though as he was only able to manage 36 points via a 21P score at 37.6%. While 36 points wouldn't normally be a bad score, it hurt many as there were so many perfect scores in the 250 class this week. 
Martin Davalos tops the 450 duds this week as he put up a clunker going 11-20-19 in the night show after qualifying 3rd. This left 39.2% of teams with only 11 points. 
Fantasy Studs
These are the riders with high pick trends who delivered!
We had three riders in the 250 class who put up a 52-point score at >25% ownership. This included Enzo Lopes (8) – 25.1%, Richard Jackson (16) – 25.4%, and Dustin Winter (16) – 32.6%.
Two studs to note in the 450 class included the legend, Chad Reed at a remarkable 11 handicap. He was high scoring rider in class with 46 points. We also saw James Weeks (16) put up second-highest score in the class, 42 points at 38.2%. James' high pick trend was not surprising as he qualified in 20th place.
The 100% "Lead Pipe Locks"
Steve – Lorenzo Locurcio – Zacho 74 points
Dan – Enzo Lopes – Martin Davalos – 63 points
Paul – Enzo Lopes – Martin Davalos – 63 points
JT – John Short – Martin Davalos – 45 points
The Tampa Fantasy Pod featured the usual crew of Steve, Dan, Paul, and JT. Steve chose Lorenzo Locurcio and Zacho for 74 points, Dan and Paul chose Enzo Lopes and Martin Davalos for 63 points, and JT chose John Short and Martin Davalos for 45 points. 
Once again, we saw the majority of experts going with the same picks, who failed to meet expectations. Only Steve went contrarian, giving him the easy win.
For the season, Paul retains the lead at 386 points, followed by Steve who edges closer to first at 381, Dan in third at 356, and JT in fourth at 298 points.
First to Finish Line (First Lap) Leaders
Is it any coincidence that 63.2% of 450 teams chose an FFL, with 94% correctly choosing Ken Roczen, Zach Osborne, or Eli Tomac? (guessing the majority chose Kenny here)
The 250 class saw a similar number of teams choose, with 61.4% venturing a guess and 77.8% correctly choosing Shane McElrath, Chase Sexton, or RJ Hampshire. I'm curious as to who the 22.2% of owners chose for a 250FFL if they didn't go with one of these three obvious choices?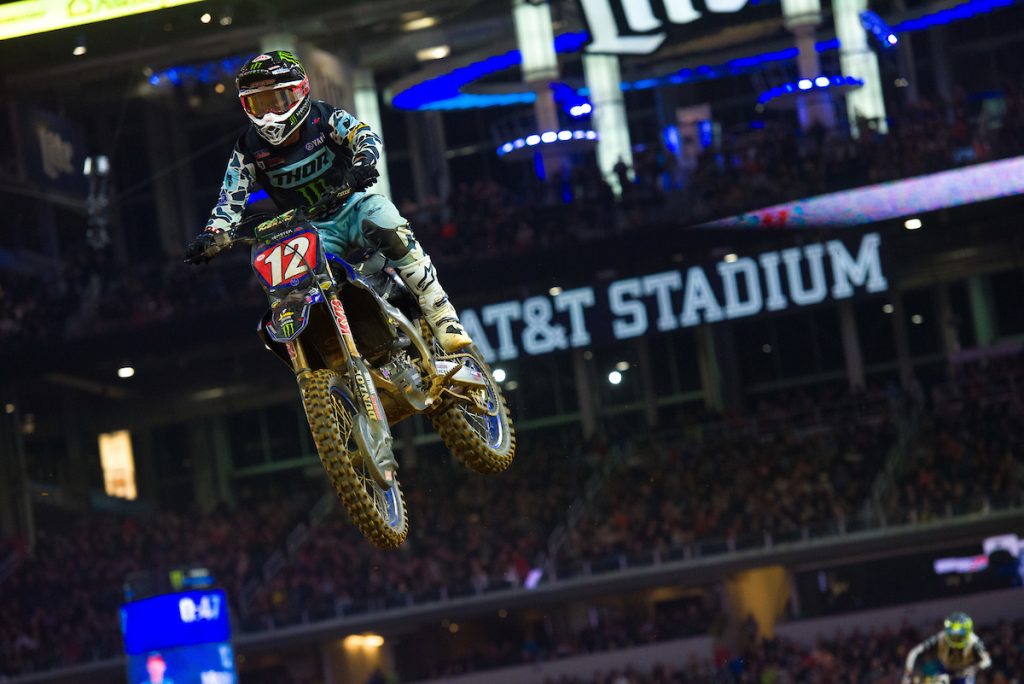 Not choosing an FFL for a Triple Crown is a brave move, possibly the ultimate contrarian play, but not one with enough upside to risk. Unless you want to start the day giving away 30 points to a majority of the field, make sure to pick FFL's at the Triple Crowns!
Fun Facts & Stats 2020 Supercross Season
Most perfect scores ever in one round! The Dallas Triple Crown provided a fantasy scoring bonanza as we saw five riders put up a 52 point score, all in the 250 class. The previous highest scoring week was Denver 2019 with three perfect scores.
New team-high (weekly score) for the PulpMX Championship League, 368 points this week at Dallas! For the record, the regular round high score remains at 317 points scored at Tampa by MXGlen108.
Highest pick trend to date: Still 61% Adam Cianciarulo (Anaheim 1) – will this be topped this season?
All-Star perfect scoring: Cooper Webb had his perfect scoring streak snapped at 5 rounds at Dallas after he had an ugly WWF style flop crash to the concrete at Dallas. The good news is that he is not seriously injured and will line up at Atlanta. For the season, Ken Roczen and Eli Tomac are tied at 6 each with the most perfect scores. 
Sneaky good: Mookie has now put up a perfect score at 4 out of the last 5 rounds. 
For the season, the 450 class has had 34 out of 64 all-stars achieve a perfect score (53.1%). The 250 East class is now at 10 out of 16 perfect scores (67.5%). 
Highest and lowest correct FFL pick % for the season (regular format). 55.9% correctly chose Austin Forkner at St. Louis. Lowest to date was set this week, with only 0.2% correctly choosing Michael Mosiman.
Speaking of the Championship League, we have a new overall leader! Chancp786 has taken the overall lead with a massive 260.4 point weekly average, good for 2083 total points. 
Final Thoughts – Atlanta Round 9
Atlanta already, on a leap year, and with a daytime program, what could go wrong? If you're on the west coast, make sure to get your picks in before lock.
Atlanta has been pretty good to Justin Brayton over the years. His last four finishes there have gone 7th, 8th, 4th, 5th. This week he will be 2x eligible and coming off a bad week. Same thing for Blake Baggett, he has gone 2nd, 7th, 3rd in his last three starts on the red dirt and is coming off a couple of bad weeks. This is a great time to start both and take advantage of recency bias.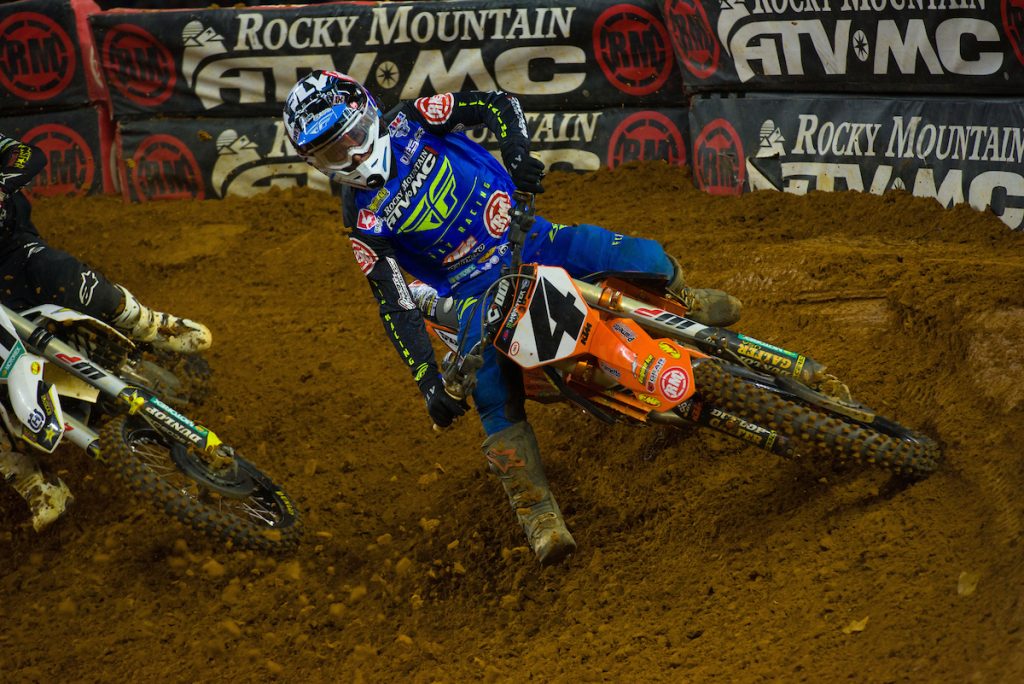 Enzo Lopes has shown improvement of late and should also be at home on the red dirt of Atlanta. He is 2x eligible and I would seriously consider him at a 2-3 handicap or higher.
That's it for this week, thank you for reading and please remember to support the sponsors who support PulpMX.
Hope I see you on the leaderboard!