Is there anything more beautiful than a brand new Honda CRF450R? Every time I walk out into the shop and I see that red machine sitting there, it just makes me want to go ride. However looks can be deceiving, because the Honda CRF450R can be a handful to ride on a fast, rough track that requires comfort. You see, the Honda chassis is on the stiffer side compared to other brands and with that stiffness comes a motorcycle that turns great, feels light when riding, but also gives the rider a harsh feel when hitting bumps. I'll be completely honest here and tell you if the Honda didn't have that stiff natured chassis feel in stock form, I would probably ride a CRF450R a hell of a lot more.
So in order to be able to call myself a "test rider" I better get off my ass and test some things that improve this machine right? These are five modifications that I have discovered while testing alongside Chad at XPR Motorsports. If you don't know Chad, go back and listen to show #168 of the Keefer Tested Podcast and listen. I have come to the conclusion that when I'm dealing with a 450cc motocross machine, I tend to flock to a bike with a smooth roll on power that is linear and long. Below are my "Top 5 Mods" that I would do to my Honda in no particular order. These modifications are geared towards calming the Honda down while getting more comfort out of the chassis. Once I did these modifications, it gave the Honda a feel that I really liked. It also made me want to load up this red machine first to go ride and leave the others in my shop. If you have any questions about these modifications please feel free to email me at kris@keeferinctesting.com.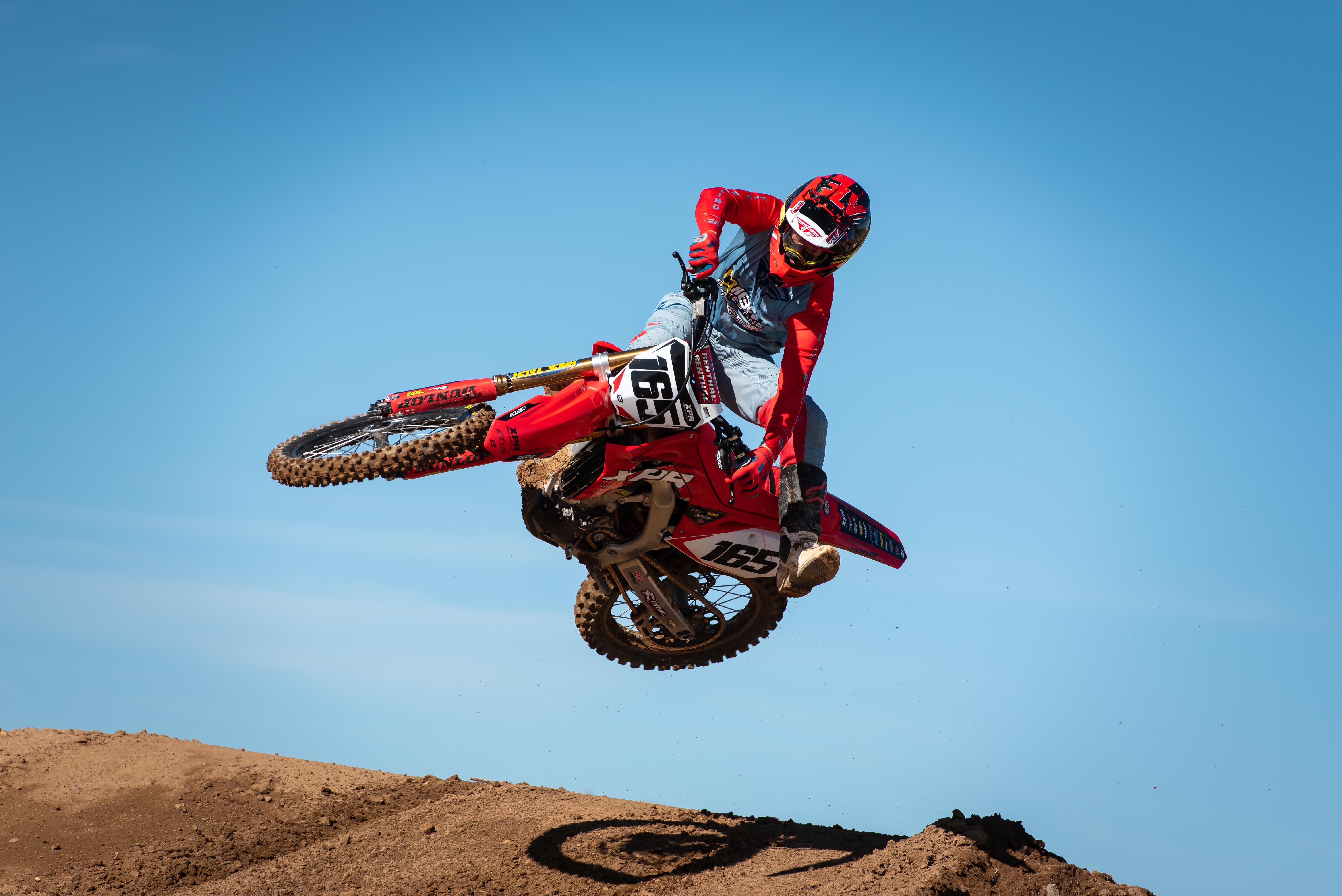 Vortex ECU Mapped By XPR Motorsports: The stock 2020 CRF450R mapping is an improvement over previous years, but it's still simply too much on anything less than a freshly tilled up loamy track. In order to get more connection to the rear wheel and control you will have to get a Vortex ECU. This is not cheap, but rest assured this ECU, along with some of Chad's maps have helped this chassis calm down. I usually am a "Map One/Two" kind of guy on the stock ECU, because it gives me more of a broad feel when trying to roll my corners correctly. I have tried a couple re-flashes of the stock ECU, but none have been as good as the Vortex system. The Vortex system gives you more parameters to work with and broadens the strong engine character, so that you are able to get on the throttle sooner, have more rear wheel connection, and most importantly doesn't bind the already stiff natured chassis feel. In fact, this Vortex ECU helps the Honda feel less rigid because there is simply less engine braking with the maps we created. I have worked many hours with Chad in creating some linear maps that work for all levels of riding.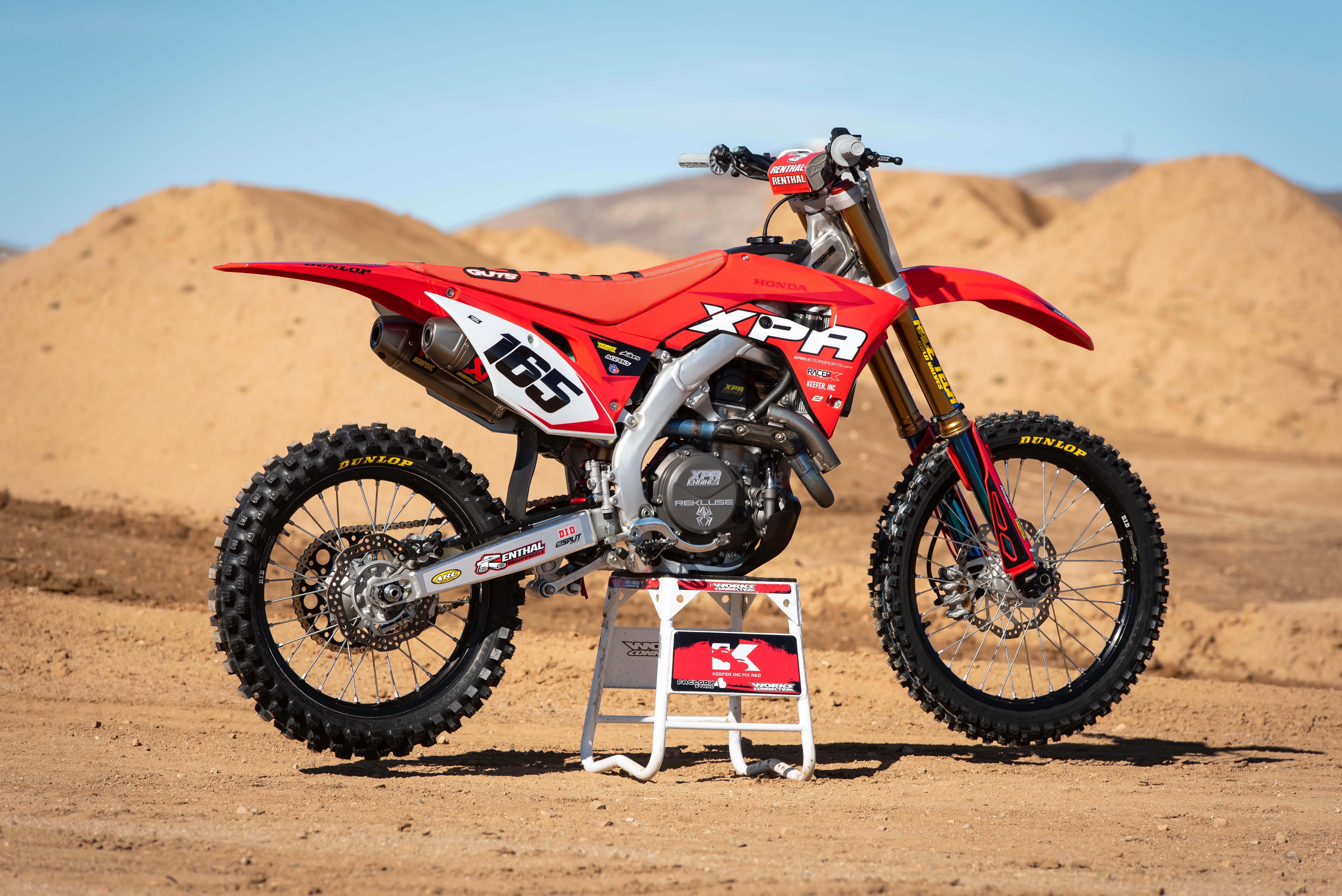 2. Akrapovic Evolution Muffler System: The Akrapovic muffler system shifts the Honda's power around like no other muffler system I have tried to date. Once out on the track is when I realized that this Akrapovic muffler system could actually help this Honda chassis calm down. The Evolution system lets the Honda's engine roll on smoother at low RPM's and that smoother feel helps the rear wheel connection as well as provides less pitching (off throttle) than the stock system. AKA MORE COMFORT!!! The Honda CRF450R now builds a smoother roll delivery and a pulling power that is longer through the mid range than the stock system. This type of character can allow you to use second gear in corners more because the second gear hit is not as abrupt or quick and that doesn't upset your technique or the chassis. The Akrapovic also allows the rider to shift later out of the corner with its increased over-rev capabilities. Pulling power up top is increased slightly as your shifting points can be altered now because of the longer pull in each gear. The mid range recovery of the Akrapovic is not as good as the stock system, but honestly that is not a bad thing. The Honda has so much power to work with that a little less "hit" as well as "recovery" actually helps me with cornering and allows me to be more aggressive on the Honda. I want to be able to ride this red bike and not let it ride me after 15 minutes into a moto. The Akrapovic system relaxes the engine as well off throttle. There is less  engine braking with the Evolution system and that also helps your fork from feeling harsh on small de-cel bumps.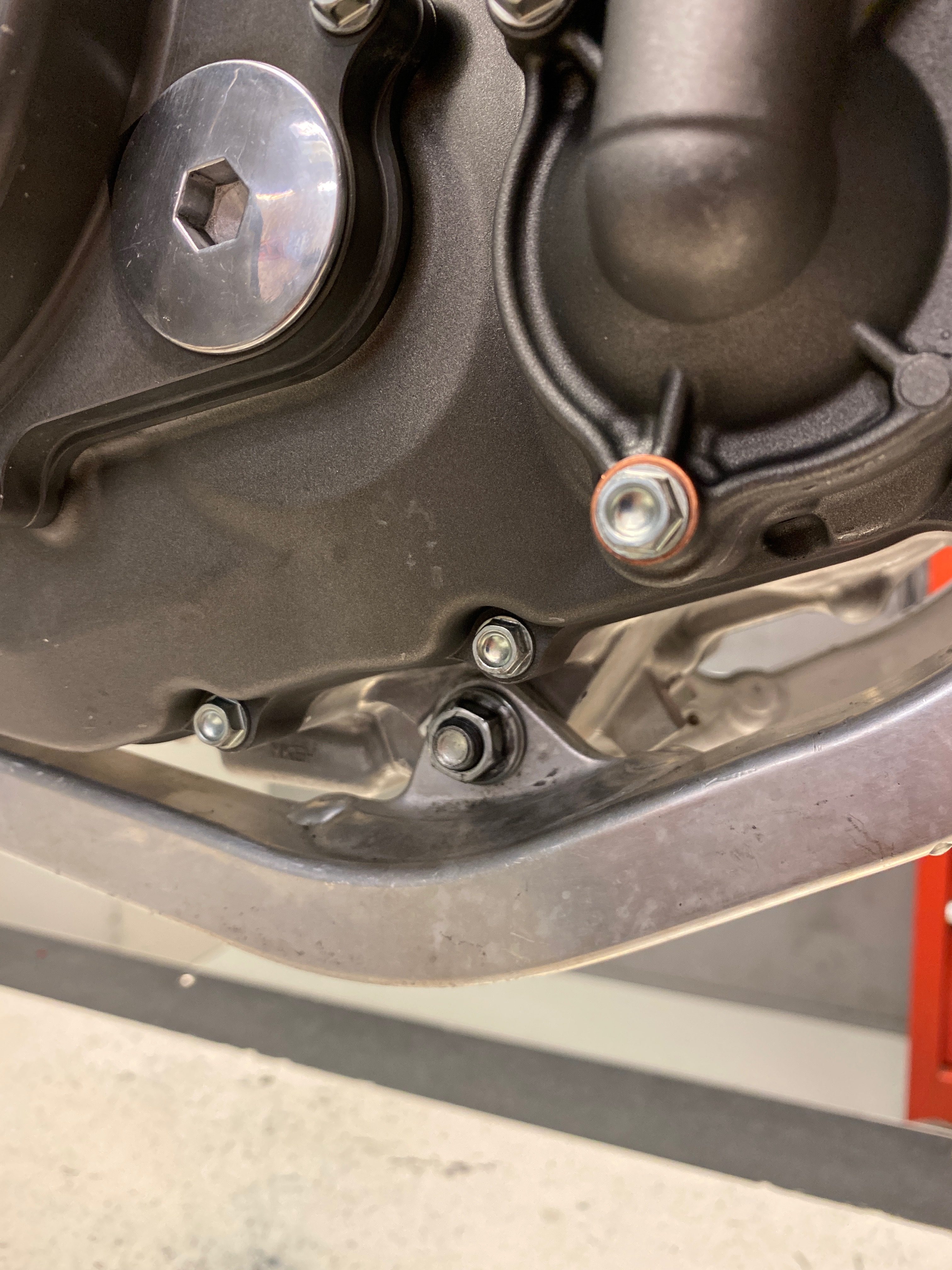 3. Tilt Engine: No this isn't a Yamaha, but I did stumble across this free modification while testing with Chad at XPR. When riding the Racer X Garage Build CRF450R I noticed that this particular Honda had less vibration through the bars as well as my feet and I told Chad this. After I notified him that I could be crazy but this engine seemed to give off less vibration he immediately smiled. He told me that he loosened all of the engine mount bolts, motor mounts and swingarm pivot. He then tilted the front of the engine upwards (as much as the slop between the engine bolts and holes would allow) and proceeded to tighten down the lower/middle engine bolt first (see photo). After he torqued that specific bolt to spec, he proceeded to tighten the rest of the engine bolts down and tightened the swingarm pivot last to 61 ft. lbs. What this does is tilt the engine upwards ever so slightly and for whatever reason; gave me a different harmonic feel when riding the bike at certain rpms. I complained about vibration on this bike before, but with this simple tilt and re-torque, the Honda gave me less feedback through my arms and legs.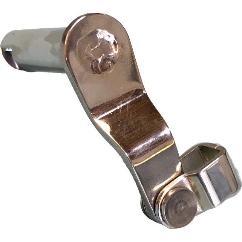 4. Custom Clutch Arm: The stock Honda's clutch engagement point is very narrow and although the Rekluse Torque Drive Clutch pack helps the life/pull, the engagement is still too on/off for me. Chad at XPR Motorsports makes a custom clutch arm that really helps get an increased linear feel out of your clutch engagement. Not only is my engagement point wider, but it also delivers the power to the ground smoother, which in turn gave me more throttle to rear wheel feel. What does this mean? More consistent starts and better mid-exit corner rear wheel connection."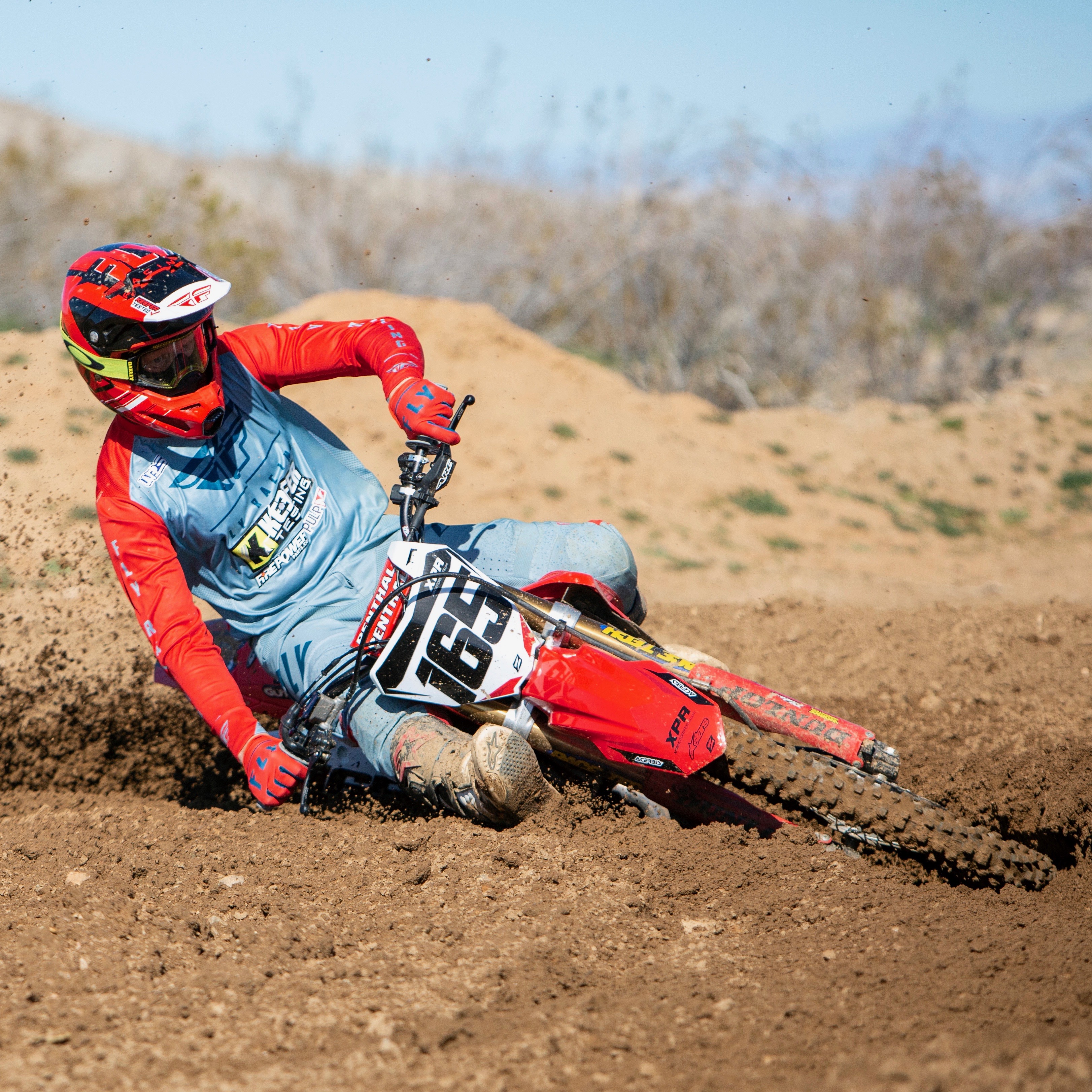 5. Rekluse Torque Drive Clutch Pack: Rekluse offers a clutch pack (fibers, steels, springs) that replaces your OEM clutch plates and adds additional discs to your existing OEM clutch basket. It's as easy as swapping your clutch plates into your OEM components. The TorqDrive thin friction disk technology allows more disks to fit in your OEM clutch's footprint, decreasing slip and unlocking the full power of that Honda CRF450R engine. Once I installed the Rekluse system the clutch life of the CRF450R went up as well as rear wheel control on hard pack surfaces. The combination of the XPR clutch arm as well as this Rekluse clutch pack allows the Honda hook up better and gives me added control where the Honda needed it most, accelerating out of rough/choppy corners.