Utah 2 sends us home with low scores, and almost nobody guessing the FFL correctly. (I bet a bunch of people facepalmed and said, "oh, yeah, why didn't I pick him?" after Nichols pulled the holeshot, but we'll save that for later in the column.
I have to say, damn, it's good to be back to racing. Yes, it's a bit weird, but I am not complaining we get to watch Supercross and play fantasy, so all is well.
Speaking of well, how about this week's champion, "giffey6700"? Giffey pulled the rare feat of winning the overall without choosing an FFL. Crazy, let's take a look at how they did it.
250's: Giffey chose an optimal team for the 250 class. Colt Nichols (0) anchored the squad with a very predictable 46 points. He also chose Darian Sanayei (16), who delivered a very unpredictable 38 points, Curren Thurman (11) with 36 points, and Garrett Marchbanks (2) as his all-star with 21 points.
Giffey's 450 squad was not optimal. He did pick three riders who all scored 34 points; Dean Wilson (0), Kyle Cunningham (9), and the 722 at a (13). Giffey chose Jason Anderson as his all-star for 26 perfect points.
Giffey's team is unusual for several reasons. First, as mentioned, no FFL's picked, second his 250 all-star came up 5 points short of perfect, and third, he didn't have the highest-scoring rider in the 450 class (Zacho). Regardless, Giffey did a great job finding the winning combination with consistent high scorers, and a very low owned Curran Thurman, who delivered big time. Sometimes that's all it takes.
Congrats, Giffey, on the win, now let's take a look at everything else.
Most picked riders, AKA "the chalk."
It was a weird week for chalk. The pick trends were suppressed by last week's picks, especially with Colt Nichols. Chase Sexton topped the 250's with a 46.2% pick trend as a one all-star. Colt Nichols was next at 44.5%, meaning that only 1.5% of eligible Pulp players did not choose him and his 46-points.
The 450 class had four riders with a pick trend greater than 30%. Blake Baggett (3) topped all riders at 58.6%, Ken Roczen (2AS) was next at 38.2%, then Marty (2) and Jason Anderson (4) just squeaked above 30%, at 30.8% and 30.6% respectively.
Low owned players who delivered – AKA great contrarian plays
As we saw with Giffey's lineup, Curren Thurman (11) had a great night, scoring 36 points via a 16th place finish for only 10.4% of owners. We also saw a solid result from Wilson Fleming (16), who qualified 29th and scored 36 points at 0.2% via a 21st place finish.
In the 450 Class, Zach Osborne (-2) had a great night, leading most of the main before ultimately fading to third place. It was good for a class high 36 points at 10.1%. We also saw Carlen Gardner (14) qualify in 28th place, and then night show it for 20th place, rewarding 0.4% of owners with 34 points.
Fantasy Duds
Who burned the field? Let's take a look.
For the second straight race, we had a few picks that were instant regrets. Enzo Lopes (7AS) and Nick Gaines both put up a goose egg after failing to qualify. Enzo at 11% and Nick at 8.7%. While that didn't hurt a massive chunk of the field, Pierce Brown's 11 point score certainly helped suppress overall scoring as he had a 22.8% pick trend.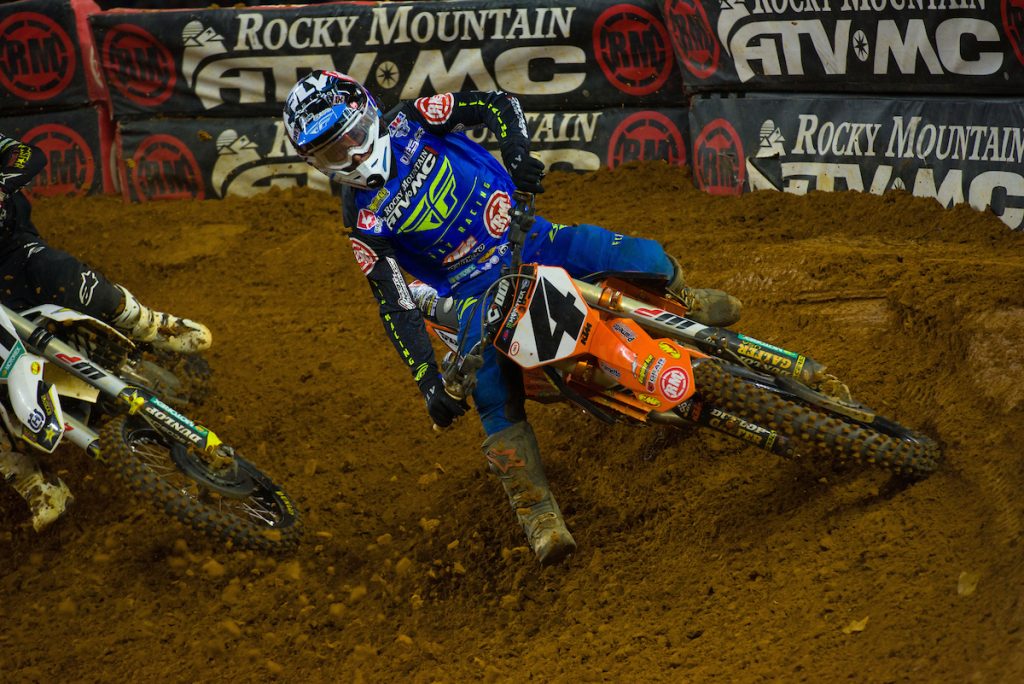 Blake Baggett (3) bottomed the 450 class. He had a bad night all around, scoring only 12 points for a massive 58.6% of teams. Chad Reed didn't have a terrible night, but considering the big whoops on the track and his 7 handicap, his performance felt underwhelming. He only managed to score 26 points via a 17th place finish for 28.6% of teams. It seems that a bigger night is in store for the AU legend.
Fantasy Studs
These are the riders with high pick trends who delivered!
As mentioned up top, Colt Nichols had a huge and predictable 46 points night for just about everyone who was able to pick him. Darian Sanayei had second-highest score of the night in class, 38 points at 22.6%. It seems as if a lot of people are listening to the fantasy pod!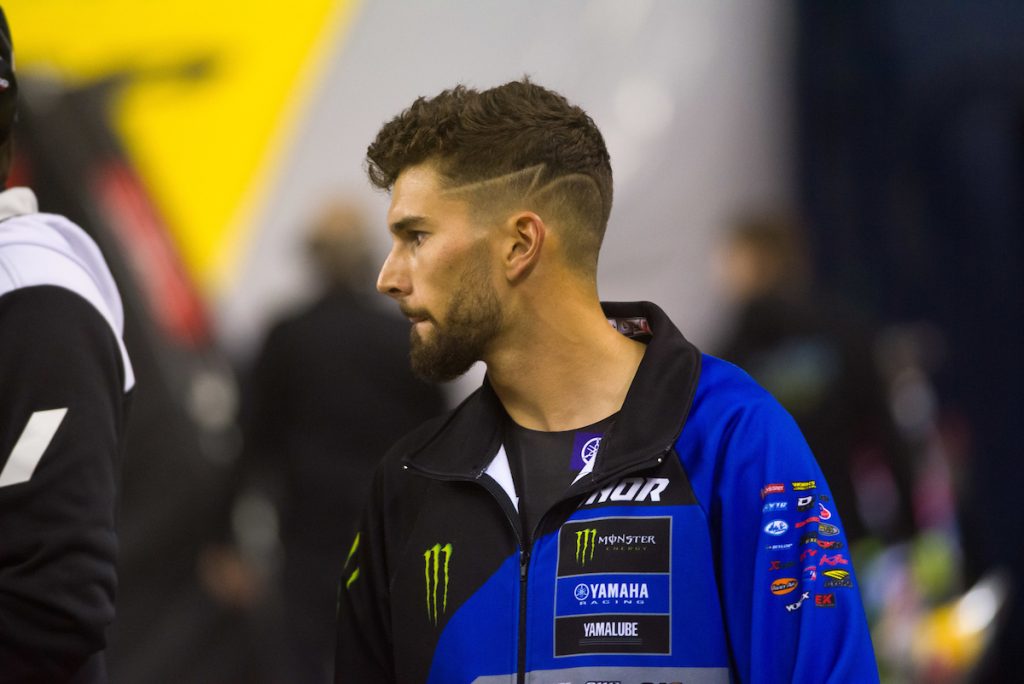 Dean Wilson (0) had a solid night all around, finishing 6th place on the night rewarded 26.3% of teams with second-highest score of the night, 34 points. We also saw Marty with another solid night. He put up 28 points at a 2 handicap via an 11th place finish for 30.8% of teams. While 28 might not sound great usually, on this night, it was good for the third-highest score.
First to Finish Line (First Lap) Leaders
FFL scoring, or lack of, was a big difference-maker in the overall results this week as almost nobody guessed correctly. The 250 class saw 36.5% of teams choose, with only 2% correctly guessing Colt Nichols. On this, did anyone else watch this and facepalm because they didn't pick him? It was such a GREAT contrarian pick!
The 450 class had a similar pick trend at 27.2%, with only 0.2% correctly guessing Zach Osborne. For the second straight week, we have seen a meager correct percentage in the 450 class.
Final Thoughts
Risers and fallers. This week I'm guessing that Marty will have used up all of his fantasy value and that we will see a very tough handicap for Dean Wilson. We might see a rise in value with Chad Reed and Blake Baggett, keep an eye on both!
I'm looking forward to seeing how Colt Nichols' handicap is adjusted, guessing he will go back to a -3, which has not been kind to fantasy owners in Utah. It will also be interesting to see where Kyle Peters falls after two solid weeks. For risers, I'm watching Pierce Brown and Justin Starling; they should have some good value for Utah part 3.
That's it for this week, thank you for reading and please remember to support the sponsors who support PulpMX. If you have any questions or comments, please hit me up on Twitter @msweeneyphoto.
Hope I see you on the leaderboard!