Seiji Ishii has been my go to guy for training for almost eight years. He has helped me with a lot and also has spent many of his days with Andrew Short on the pro Motocross/Supercross tour. Seiji has a lot of stories, so I thought why not try to harness a few of them and post them up right here on Pulpmx.com. Enjoy! -KK
By Seiji Ishii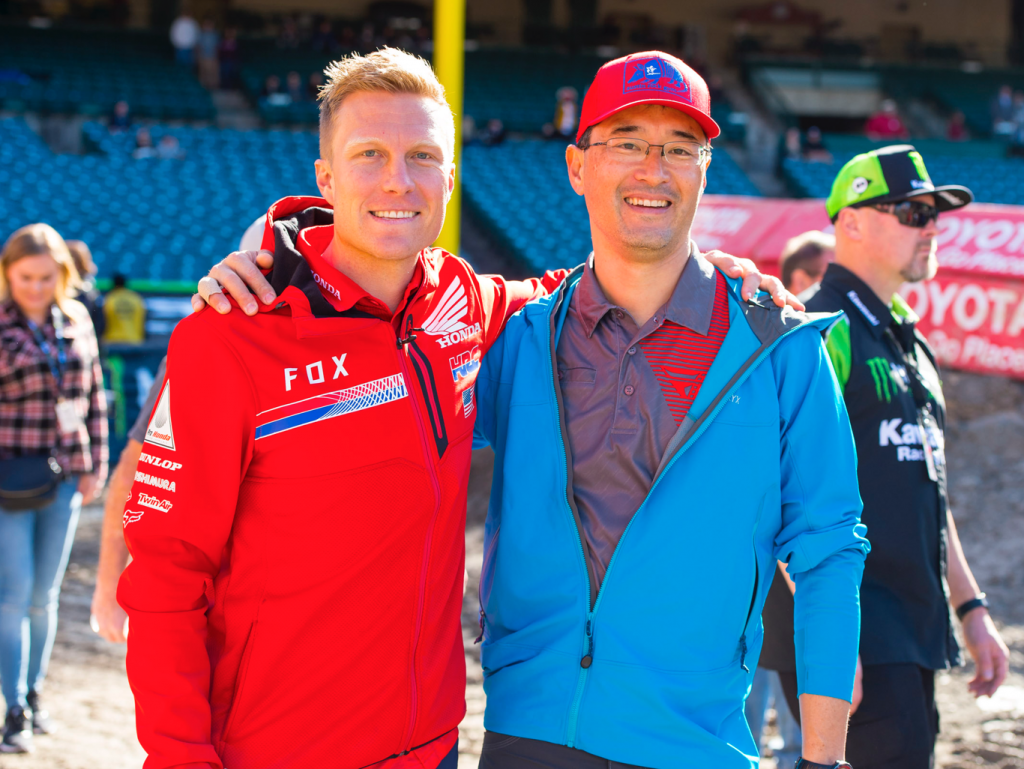 In a way, I grew up with Shorty's kids. I had never exposed myself to children for prolonged periods until I started living with Shorty in his California home during the Supercross seasons. First, there was only his daughter Emma, then came his son Hudson. Andrew seamlessly adapted to doubling his kid factor, the training and racing effort chugging along. 
I got to know both of his kids and saw how they added to his life. No, it wasn't all roses, but the positives outweighed the negatives by a considerable margin. I gained confidence in my ability to raise a child and continue with the only life I knew. If Shorty could manage to remain himself, well, so could I. 
A few months before my child was due, Shorty and I were the only two in the California home for some reason. One evening, I was at his buddy's house down the street, and he came to retrieve me for what I thought was dinner. I entered the Short residence, which was always clean, but this time it was immaculate. Shorty dimmed the lights and there was a bottle of red wine on the coffee table in the living room.
I then noticed that Shorty was wearing dressy clothes – a collared shirt, khaki pants, not at all the usual workout garb. He then instructed me to sit down on his massive sectional leather couch. I estimate the couch had almost 15 feet of total length. 
I sat at the right end of the right section, and Shorty sat down right next to me. Suddenly I felt like he was making a romantic move on me; the wine, the dim lights, and why the hell would he sit right next to me on a massive couch? I was confused, and I could feel my face twisting up and my heel nervously bouncing on the floor. 
He poured me a generous glass of wine, and he had a DVD case in his hand. The title was something like "The Miracle of Life." It had an image of a baby in the womb on the cover. Shorty explained to me that he feared my ignorance of all things children and parenting was a cause for concern for both he and his wife, Jacki. This educational DVD was their solution.
He cued up the DVD, and it was instant awkwardness combined with continued confusion. And there was Shorty, cradling his wine glass, sitting with his legs crossed, smiling at disturbing birth videos, and agreeing with head nods with the eerie voice of the narrator. 
I was squirming in my seat the entire time. I recollect that the DVD was over an hour long. I don't know; it could have been twenty minutes. But it felt like an extraordinarily and unnecessarily extended form of mild torture. I had to maintain my composure regardless of my nervous system's oppressive demand to grab the remote and switch the TV to last weekend's race.  
When the movie was finally over, Shorty stood right up and proclaimed, "let's eat." I made sure to sit as far away from him as I could at the table and was I super careful not to look at him in his eyes. Usually, he would excuse himself from the downstairs areas first, going to bed the earliest. But not this night. As soon as I finished dinner, I escaped his master plan and went right to my room. 
In retrospect, my uncomfortableness with any discussions revolving around family likely amplified any weird vibes. But no matter how I look at it, I still think it's odd for a grown-ass man to show another grown-ass man a video on how conception works and how babies are born. Yeah, that might be a little sexist, but not really because Shorty is metrosexual IMO. 
But I do know this. Shorty's gesture came out of love and concern for a friend and he engineered it in a way he felt was the most comfortable for me: drunk. His intentions were pure and correct because I didn't know some things on the DVD it turned out.
But it was the most awkward time I've spent with him and man, I've sat next to him while a doctor did an ultrasound on his bare nut sac. True story.