The battles aren't won and lost in the trenches; they're won and lost in the 250 class. 
Have you ever been checking your score as the races are unfolding, and looked at your score, then looked at what the leader has, and wondered, "how the hell did they get that score?" 
Well, Luigi figured it out, he won the whole damn thing for round 5, and he did it with a solid squad. Let's take a look.
250s – the fascinating thing about Luigi taking down the championship this week, he did it without Jett Lawrence and his 46 points. To make it more interesting, Luigi wasn't locked out on Jett as he did not play the two races before round 5-15. He did have Hunter and his 38 points at a 3. Luigi also had Cameron Mcadoo, who put up 42 points at a 1. He rounded out the squad with Christian Craig (1) – 30 points and Justin Cooper in the all-star slot for 21 points at a 3.
450s – All season long, we have seen low 450 scores, and this week was no exception. Luigi had some solid picks, Blake Baggett (1) and Chad Reed (5), each posted 34 points. He also had Tyler Bowers (8) for 32 points, and finally Eli Tomac as the all-star for 23 points at a 1 handicap.
A huge part of Luigi's success was correctly picking both FFL's. He nailed it, choosing Dylan Ferrandis and Cooper Webb for an additional 30 points.
Luigi's was an interesting team as he missed picking the highest scoring riders in both classes, and still managed to take down the overall. He did this by avoiding some top pick trend riders who did not have good nights, Derek Kelley in the 250s, and Martin Davalos and Benny Bloss in the 450s. The additional 15 points from correctly picking Ferrandis as FFL was also a huge factor. Congrats on the win, Luigi!
Now, let's see what else unfolded.
Most picked riders, AKA "the chalk."
Once again, we had some very high pick trends with the west guys. Hunter Lawrence topped everyone with a 51.7% trend at a 3 handicap. Next, we had Derek Kelley (7) at 32.5, and Michael Mosiman (5) at 30.2%.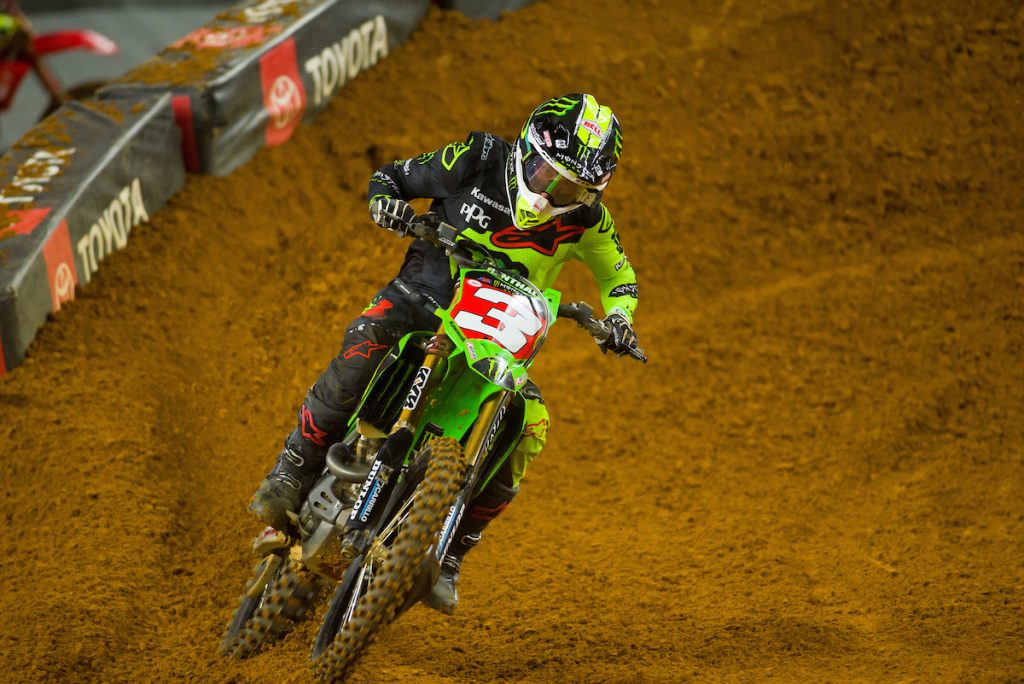 An all-star topped the 450 class, and it's no surprise considering he was a 1 handicap (insert it's a trap! Star Wars meme here). Eli Tomac had a 36.9% pick trend and put up an imperfect 23 points via his 3rd place finish. Picking him will be interesting for rounds 6 and 7 as he can now dial it back a bit and ride for a championship. Martin "I don't know what I'm doing" Davalos had the second-highest pick trend, 34.4% at a zero handicap. Guessing most everyone reading this knows how that worked out. Finally, Benny Bloss rounded the top three with a 28.3% pick trend at a 2 handicap. He also had a less than stellar evening. 
Low owned players who delivered – AKA great contrarian plays
Have you ever heard of Geran Stapleton? Me either, until now. Geran qualified in 27th place, then went out in the night show and put it in the main by winning the LCQ. His 20th place finish at a 16 handicap was good for 38 points, making the 0.2% who picked him very happy. Chris Howell (13) also had a nice night, putting up 36 points at a 15.2% pick trend.
If you thought Geran Stapleton making the main after qualifying 27th was crazy, Mason Kerr (16) has a "hold my beer" meme for you. Mason qualified in 32nd place and managed to snag the last qualifying spot in the LCQ. His 21st place finish in the main was good for 36 points at a 0% pick trend. Wow!
We also saw the 722 with some solid starts and a good night all around. He accounted for 36 points at a 13 handicap for only 6.7% of owners. Finally, Ryan Breece (12) put up 30 points for only 2.6%.
Fantasy Duds
Who burned the field? Let's take a look.
The leading culprits were Marty, who forgot how to ride, scoring only 4 points at a 34.4% pick trend. Benny Bloss was up there as well, scoring only 12 points at 28.3%. And then there was ARay, picked by 21.7% and failed to make the main for a big fat zero. 
The only clunker in the 250 class was Derek Kelley (7), scoring only 11 points at a 32.5% pick trend. 
Fantasy Studs
These are the riders with high pick trends who delivered!
The Lawrence brothers were the picks to have in the 250 class. They both had very high pick trends, Hunter at 51.7% for 38 points, and Jett at 25.3 for 46 points. Note, Jett's pick trend probably would have shattered records for round 5 had he not been picked by over 70% of the field in round 4.
450s – Blake Baggett had a decent night, scoring 32 points at a 22.8% pick trend. We also saw a better night than usual for the Bear, putting up 32 points at a 25.8% pick trend.
First to Finish Line (First Lap) Leaders
It seems like "Dylan Ferrandis can't buy a start" has been a podcast topic for at least two seasons. So what does he do? Holeshots the main and takes down the FFL, my question is, who are the 6.9% who chose him? We saw a higher than usual percentage of teams choose, 34.5% in the 250 class, and 29.9% in the 450s. Of the owners who ventured a 450 class guess, 50.9% correctly chose Cooper Webb, who led the pack across the stripe for the second straight week.
Final Thoughts
Risers and fallers. 
Back to the east for the 250 class this week, and we will have everyone available to choose. Remember when you make those picks, that whoever you choose will not be available for the following shootout – round 7. 
The last time Colt Nichols was a -3 non-all-star didn't work out very well. The good news, the chance of him failing at that handicap again are slim. The bad news, if you take him, you won't have him available for the shootout. This season we've seen Lorenzo Locurcio finish as high as 12th and as low as 20th. This week he has a 9 handicap, making him a pick with a solid floor. 
The 450s have been tight all season, and it's not getting any easier for round 6. Don't look now, but Blake Baggett is still 2x points eligible at a 1. Choose him and pray it's an "on week". ARay is living his best life in Utah and looks to bounce back from a DNQ in round 5. I like him at a 13 handicap.
Finally, want an excellent contrarian play? It's a two-parter. Either don't pick a 450 FFL, or pick someone other than Cooper Webb, like Zacho. If Coop fails to win the race to the strip and you don't select him, you gain 8 points on a big chunk of the field, if you choose someone besides Coop and you guess it correctly, it's a 23 point swing. As we saw with Luigi, that can make a big difference in the overall tally.
That's it for this week, thank you for reading and please remember to support the sponsors who support PulpMX. If you have any questions or comments, please hit me up on Twitter @msweeneyphoto.
Hope I see you on the leaderboard!