Want to hear something crazy? Through six rounds in SLC, a KTM or Husky has snagged the FFL in the 450 class, awarding those who picked correctly an extra 15 points. 
Why am I mentioning this right off the top? Because it was the deciding factor in taking down the overall for Round 6-16 of the PulpMX Fantasy Championship.
Congratulations to Mdeak976, they took down the overall for Round 16 with a pretty huge 312 point score, greatly assisted by an extra 30 points from correctly choosing both FFL's. Let's take a look.
250s – Mid-handicap riders dominated Round 16 scoring in the 250s, and Mdeak rostered two of them, Lorenzo Locurcio – 52 points at a 9 handicap, and Chase Marqier – 52 points at a 10. They also selected Justin Starling (7) – 36 points, and Enzo Lopes – 26 points as the all-star at an 8.
450s – Mdeak chose Justin Brayton to lead their 450 squad. Justin was good for the second-highest score in the class, 34 points at a zero handicap. They also chose Benny Bloss (3) – 30 points, Vince Friese (7) – 26 points, and Jason Anderson at a very high 6 all-star for 26 points.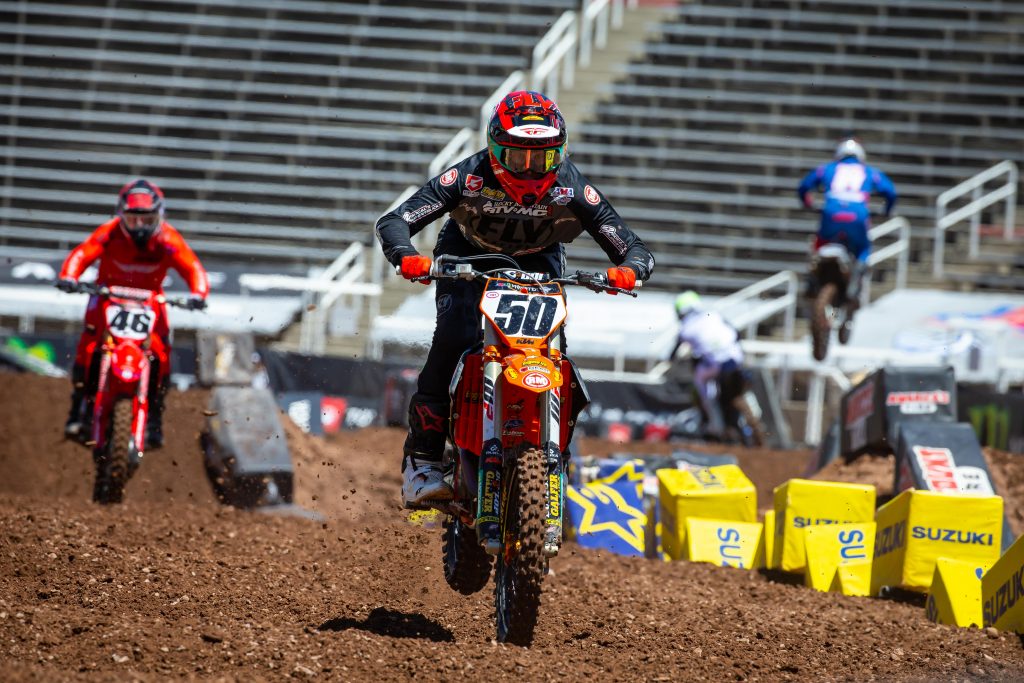 Keys to winning: Mdeak didn't have the optimal team in either class, but they did have a solid team and, as mentioned, correctly chose Zacho and Shane McElrath for the extra 30 points. These were great picks, which we will get into below. Theirs was simply a well-selected team that hit all the marks. Congrats again on taking down the round 16 overall!
Now, let's see what else unfolded.
Most picked riders, AKA "the chalk."
Back to the east for Round 16, the pick trends for the 250s were a bit lower than we saw with the west. Justin Starling (7) topped the 250 class at 46.2%. He was followed by Chase Sexton (1AS) at 43.6%, Shane McElrath (1) – 40%, and Jerry Robin – JERRY! He had a 37.7% pick trend at a 14. (you people are sick). 
Pick trends for the 450 class were a bit more concentrated than usual. Jason Anderson topped the filed as a 6 all-star at 45.3%. He was followed by Benny Bloss (3) – 37.1%, his teammate Blake Baggett (1) – 35.1%, and Broc Tickle (6) at 30.1%.
Low owned players who delivered – AKA great contrarian plays
We had a couple of classic "bubble picks" put up some big scores at round 16. Curren Thurman qualified 20th but was "only" an 11 handicap. He went out and put it in the main from his heat race, then rode to a career-best 11th place, good for 52 fantasy points at only 2.5% pick trend. We also saw Luke Neese, who qualified 21st, then came through the LCQ score 46 points at a 16.
Fast Freddie finally fell to a 16 handicap, and wouldn't you know it; he put it in the main, good for 38 points at only 6.4%. We also saw non-all-star Justin Brayton at a zero handicap go almost unpicked at 8.9%. He rewarded those who selected him with 34 points.
Fantasy Duds
Who burned the field? Let's take a look.
I'm not writing up Jerry here as he put up 30 points at a 14. Could he have had a better score? Yes, but… the 37.7% of you crazy bastards that picked him should be happy with the 30 and go from there. We did have a clunker from Josh Osby (5), who qualified in 11th place, but couldn't get out of his own way in the night show. He scored only 12 points at a 21.1% pick trend.
Tyler Bowers (8) looked to be on an uptrend during rounds 14 and 15, but couldn't put it together in the main for Round 16. The Bear limped home to a 21st place finish in the main, scoring only 10 points at 23.8%
Fantasy Studs
These are the riders with high pick trends who delivered!
Lorenzo Locurcio (9) was the man to have in the 250 class. He put up a perfect 52 point score at a 21% pick trend. We also saw another solid night from Darian Sanayei (13), who put up 46 points via a 15P finish. He had a 13 handicap.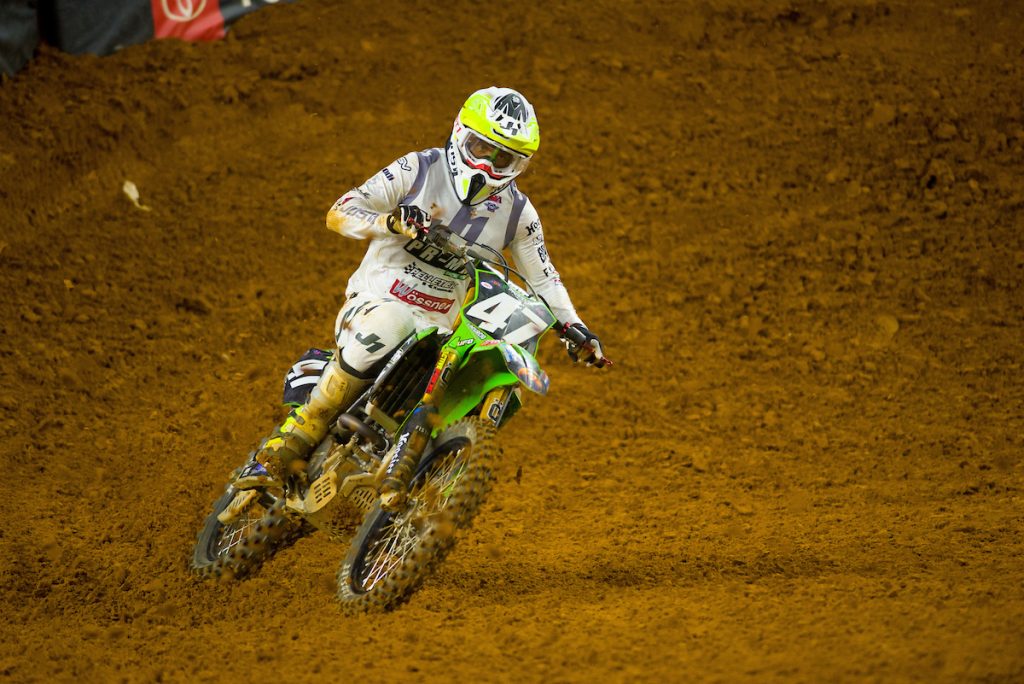 At Round 15 it appeared that Marty forgot how to ride. It was a much better showing for Round 16. Mr. Davalos managed a top ten finish at a 2 handicap, good for 34 points. He had a 25.7% pick trend. 
We also saw a solid 30 point score from Benny. He had a very high 37.1% pick trend at a 3 handicap.
First to Finish Line (First Lap) Leaders
Shane McElrath has been a solid FFL choice for all of the SLC rounds to the point that I wrote last week that picking against him was an excellent leverage play. If you took my advice, I apologize, Shane did it again, making the 75.9% of owners who took the chance very happy – 39.5% of teams made chose a 250FFL.
The 450 class saw 34.6% of teams venture a guess with only 9.2% correctly guessing Zach Osborne, who has now been first to the stripe in 50% of the SLC rounds. 
Final Thoughts
Risers and fallers. 
It's the final round for Supercross and two titles are on the line, we also have an east-west shootout. It's going to be an exciting night of racing! 
I will be very interested to see where the 250 west riders handicaps land, especially with Ralph's favorite Aussies. They have had a ton of value and barring significant shifts; this should remain so. Keep in mind, the Lawrence brothers are young and don't have a lot of SX experience; watching how this affects them will be fascinating. Picking against them is a great leverage play, especially if they have high-value handicaps. 
The 450s. Barring a significant rain event, or shift in handicap, I will not be picking a Factory Yamaha rider, not after what we have seen and heard over the last week. 
I do like KTM riders. Blake Baggett has had his ups and downs of late, he is still 2x eligible and should retain value for Round 17. Marty will also be 2x eligible again; he should be a solid floor play.
Finally, let's look at which brand(s) have grabbed the FFL in the 450 class for all 6 SLC rounds. KTM. Well, to be more precise, it's KTM and Husky, but you guys know what I mean. It's been Zach with 3, Coop with 2, and BB4 with 1. The odds are good that an orange or white bike will be first across the line at Round 17. Want a crazy balls contrarian pick here? Marty. His starts have been good lately, and he has the speed!
That's it for this week, thank you for reading and please remember to support the sponsors who support PulpMX. If you have any questions or comments, please hit me up on Twitter @msweeneyphoto.
Hope I see you on the leaderboard!