The Pro Motocross season-opening doubleheader continued Saturday at a very muddy Loretta Lynn's Ranch. "Muddy" is probably not a strong enough adjective for the track. Mother Nature gave it a tremendous soaking in the days leading up to the race, resulting in near quicksand mud pits that ate man, machine, and fantasy dreams with equal vigor.
Not everyone got stuck in the mud! Congratulations to "Chellek17" for taking down the PulpMX Fantasy Champion League with a magnificent 555 point score!
Let's take a look at how Chelle did it.
250: Chelle anchored their team with 100-point scoring Lance Kobush. Lance's pick trend was only 3.5% giving her a tremendous edge on the field. They also chose Maxwell Sanford for 80 points at an even lower 2.8%, the "Stank Dog" Gared Steinke for 60 points at 11.3%, and Cameron Mcadoo in the all-star slot with a perfect 50 points – 11.2% pick trend.
450: Justin Rodbell and his 100 point score anchored Chelle's 450 team. They rounded the big-bore squad out with AC's 72 points at 40.3%, Fast Freddie Noren with 50 points at 24.6%, and finally, Marvin Musquin in the all-star slot with 43 points at 35.1%.
Just as we saw last week with Chizz's team, a low owned 100 point scorer in the 250 class made all the difference in the world. Chelle's selection of Kobush at 3.5% and Sanford at 2.8% gave them a significant advantage over the rest of the field. They also avoided some major chalk busts that we will get into below.
Congrats, Chelle, on taking down the overall and enjoy that jersey!
Now, let's see how everyone else did.
Most picked riders, AKA "the chalk."
It seems that we can't quit those Lawrence brothers as this week, we saw Hunter rise to the top of the 250 trends with a 38.5% – zero-point effort. Hunter was joined at 38.5% by Mitchell Harrison, who had a much better 82 point effort. We also saw Jo Shimoda at 31.6%, and Stilez Robinson at 30.7%. 
Three riders with >30% pick trend in the 450s. Benny Bloss topped them all at 41.7%. Adam Cianciarulo was next at 40.3%, and Marvin Musquin at a 35.1% pick trend rounded out the +30% crew.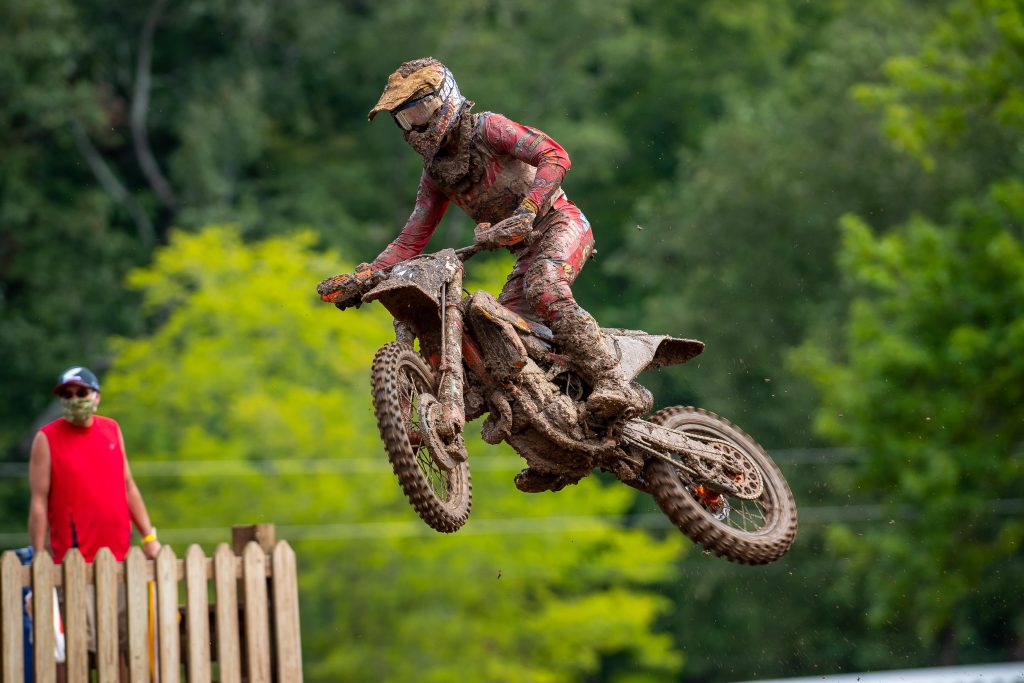 Low owned players who delivered – AKA great contrarian plays
For the second straight week, we had some very low owned difference makers. The 250 class standouts were topped by Ezra Hastings, who put up 100 perfect points at an 18 handicap at a very low 1.3% pick trend. We also saw 18-handicap Lance Kobush knock it out of the park with a perfect 100 at only 3.5%. It didn't end there though, Hardy Munoz (15) put up 94 points at a 6.4% trend, and finally, Maxwell Sanford (18) put up 80 points for only 2.8% of teams.
The 450 class saw New Jersey's own Cory Carsten (was it Weege who picked him?) score 86 points at an 18 handicap and a 0.6% pick trend. Justin Hoeft (18) was close behind, scoring 82 points at a 0.2% pick trend. Brock Tickle (4) bounced back from last week's fantasy disaster with an excellent 82 point effort for only 7.5%. Then we had Henry Miller (9) with 74 points at 4.1%, Matthew Hubert (14) with 72 points at 6.7%, and finally, Jared Lesher (18) with 72 at 0.1%.
Fantasy Duds
Who burned the field? Let's take a look.
The mud was a fantasy killer for LL2, as we had lots of DNF's accounting for low scores. 
A Lawrence brother tops the 250 class dud list for a second straight week, as we saw Hunter injure his shoulder, resulting in zero points for a massive 38.5% of teams. We also saw another horrible fantasy performance from Jo Shimoda. The Geico Honda rider was only able to score 9 fantasy points at a 6 handicap for 31.6% of teams, and finally, Joey Crown let 28.1% of teams down with his 36 point performance.
450 class duds were topped by Benny Bloss, who could only score 5 points at a 5 handicap for 41.7% of teams. It's not been a good fantasy start for Benny! Luke Renzland had a great fantasy week last week, not so much for LL2, as he was only able to score 22 points for 24.3% of teams, and finally, Justin Barcia only finished one race, scoring 25 points as an all-star for 22.1% of teams.
Fantasy Studs
These are the riders with high pick trends who delivered!
Mitchell Harrison (5) stepped to the top of the fantasy stud list this week in the 250 class, with a solid 82 point score for 38.5% of teams. No surprise with who followed, Stilez Robertson put up 94 points at a 30.7% trend.
The 450 studs were also no surprise as Adam Cianciarulo bounced back from last week to score 72 points at 40.3%. Justin Rodbell followed AC with his perfect 100 at a 24% pick trend. 
First to Finish Line (First Lap) Leaders
Is anyone surprised that a Star Yamaha grabbed yet another FFL? As I wrote last week, if you're choosing an FFL and you're not choosing a Star rider in the 250 class, you're doing it wrong. This week was no exception, 39% of owners chose an FFL with 42% correctly choosing Shane McElrath or Alex Martin.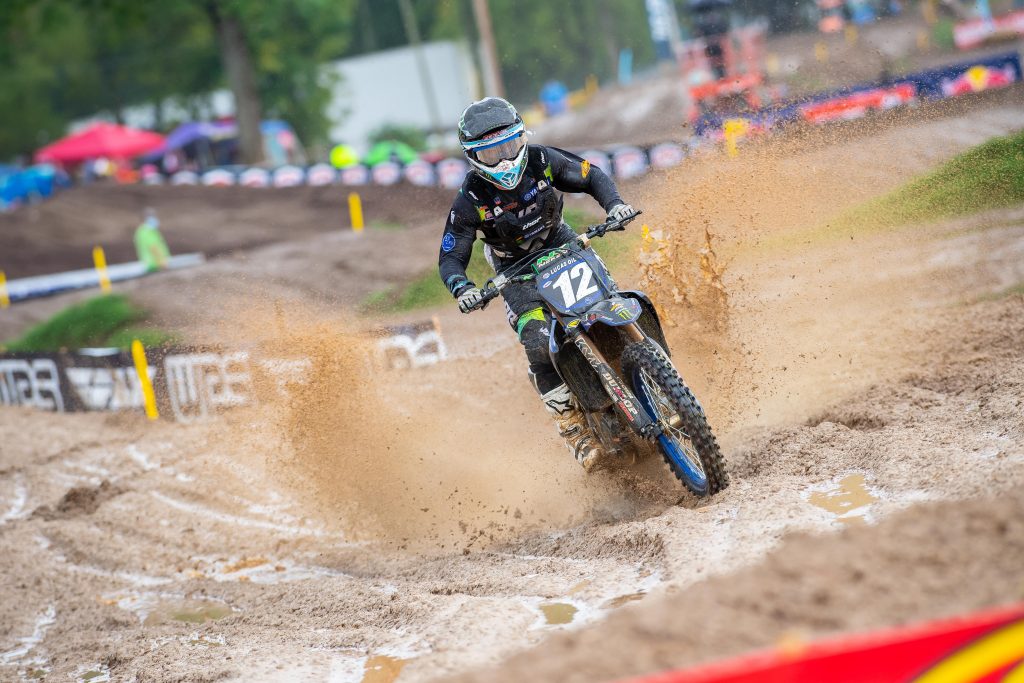 The 450 class has been much harder to pick, that continued at LL2. 34.2% of teams chose an FFL, with only 3.1% correctly guessing Justin Barcia or Max Anstie. 
Final thoughts
A bunch of guys who burned the field at LL2 will be great selections at Iron Man. A pair of Ben's top my list for Ironman. Benny Bloss is well past due for a solid fantasy effort. I would also keep an eye on Ben Lamay, who had a lackluster LL2 at a 13 handicap, if he approaches 15 or higher, he might be a lock. 
Want a strategy pick? Consider avoiding Chase Sexton. Yes, he will be near home, yes he's been fast, and yes he will be 2x points eligible, but… he will also have a high pick trend. If he fails to score big points, you will have a tremendous edge in the overall results.
For the 250s, Jett Lawrence is still 2x eligible and should come in at a 4 or 5 handicap. He will be available to 87% of teams, so he will have a very high pick trend. Jett's teammate Jo Shimoda is overdue for a good ride, and it's likely to happen at Ironman. Jo will be available to over 68% of teams, is 2x points eligible, and will most likely have a handicap of around 8, making him a near lock pick.
That's it for this week, thank you for reading and please remember to support the sponsors who support PulpMX. If you have any questions or comments, please hit me up on Twitter @msweeneyphoto.
Hope I see you on the leaderboard!