Eli Tomac won his 36th career overall win moving him into a tie with Jeff Ward at 5th on the all-time 250/450 overall wins list (check below for a few all-time wins lists). His 36th overall win was also a clear statement he's still in this 2020 championship. After a poor qualifying session that only netted him 13th (his worst qualifying position since at least 2013), he came out firing in both motos. While he only led a total of 6 laps, his 2-1 moto scores counted for 47 points which was enough to move him into 4th in the standings, jumping ahead of both Adam Cianciarulo and Blake Baggett. 
Current series leader Zach Osborne had a good day, but he's likely frustrated with the end result. After sitting 3rd after 12 of 17 laps in moto one, he ran into the back of a lapped rider and immediately lost 2 positions. That seemed to knock him out of his rhythm and by the end of the moto, he'd lost another 2 positions and he ultimately finished 7th. It was the first moto of the year that Osborne had lost positions and it didn't get better in the 2nd moto. Zach got the holeshot in the second moto and was positioned to lead the way, unfortunately, he ended up losing another 2 positions and finished 3rd. All told, the 6 lost positions cost Zach 11 points and he finished the day with a -2 Race +/-.
Race +/- happens to be one of the most correlated stats to winning championships. Race +/- measures whether riders move forward (+1) or backward (-1) from the first lap to the last lap of a race. It's a good measure of a riders race craft, their fitness, and mental fortitude. As riders like Mike Alessi and Vince Friese have proven, getting holeshots is not the key to race wins nor overall championships, regardless of how many times Ricky Carmichael or Grant Langston say it's a 'Key to the Race'. Look no further than Eli Tomac's 2020 championship supercross season where he had a perfect +17 Race +/- but had zero holeshots or Jason Anderson's 2018 Supercross Championship where he had a series leading +13 Race +/- but only 1 holeshot. Race +/- is key to winning championships. 
In Eli's last 3 Pro Motocross championships, he's averaged a +19 Race +/-. Over 3 years and a total of 72 motos, he's moved forward in 65 of them and only lost positions in 7 (1 of the 7 motos was due to a DNF). He won those championships by maintaining or improving his position in almost every moto! Many say that the championship is won on your bad days, while that's easy to remember, it's not entirely accurate. It's like predicting a championship outcome after round 2 or the track conditions on a Monday. It's about as good as flipping a coin in terms of accuracy. It's not just your bad days, but also maintaining the position when you're up front.
Today, Zach Osborne had a Race +/- of -2, the equivalent of Eli Tomac's season average for motos with positions lost over the last 3 seasons. If Zach is to win this championship, he needs to limit negative Race +/-. He must capitalize on those holeshots like he had in the second moto in addition to move through the pack when he's got a so-so start to avoid losing 11 points per weekend. 
You know who had a perfect +2 Race +/-? Dylan Ferrandis. In the first moto, Dylan got the holeshot and checked out for a +25 second win. In the second moto, he was down in the first turn and sat in 40th position. He remounted and fought his way back to 3rd place. It's not unlike last week at Loretta Lynn's in the second moto when he rounded the first lap in 20th and finished 4th. He capitalizes on his good starts by maintaining position and moves through the pack when he's got so-so starts.
Last but not least, Dylan's second moto ride was similar to that of Eli Tomac in 2016 at Budd's Creek where he rounded lap one in 39th position (compared to Dylan rounding lap one in 31st) and finished 6th or 2011 at Southwick where Ryan Dungey rounded lap one in 39th position and finished 7th. 
Thanks to Mike Sweeney for the Dungey knowledge. Remember any other heroic rides that top these? Hit me up on Twitter so I can add it to the list. 
Enjoy the 250 and 450 race stats below, but before you do, check out some of the All-Time Wins Lists and where Eli Tomac ranks. 
Time permitting over the remainder of the season, I'll continue to break these numbers down by venue and brand. If you've got a specific view you'd like to see, hit me up @3lapsdown on Twitter or Instagram and maybe I'll include it. Thanks for reading!
All-Time Win Lists and Eli Tomac
Eli Tomac is positioned to be one of the all-time greats of the sport and by his own admission, he's got a few years of racing left. With that in mind, it's possible for Eli to move into the Top 3 or 4 on the most prestigious lists in the sport. Rather than dive into an in-depth analysis, I'll let the numbers do the talking. Enjoy!
Eli Tomac sits 6th on the All-Time Combined MX/SX Wins List. He only needs 2 more wins to overtake Ryan Villopoto for 5th.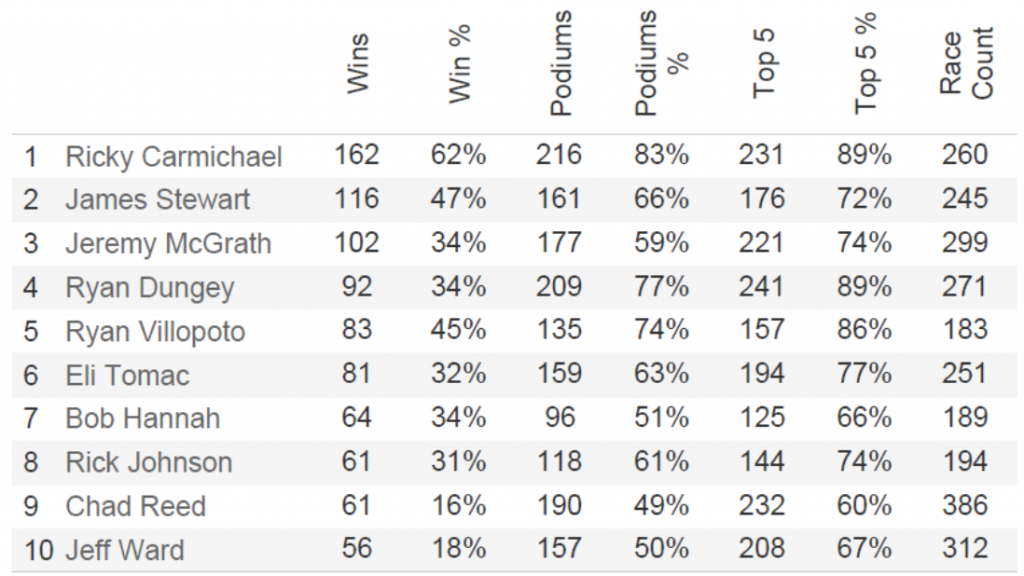 He sits tied for 5th on the All-Time MX Overall Wins List. He needs 1 more win to be tied with Bob Hannah. He also sits 4th on the 250/450 list and 12th on the 125/250 list.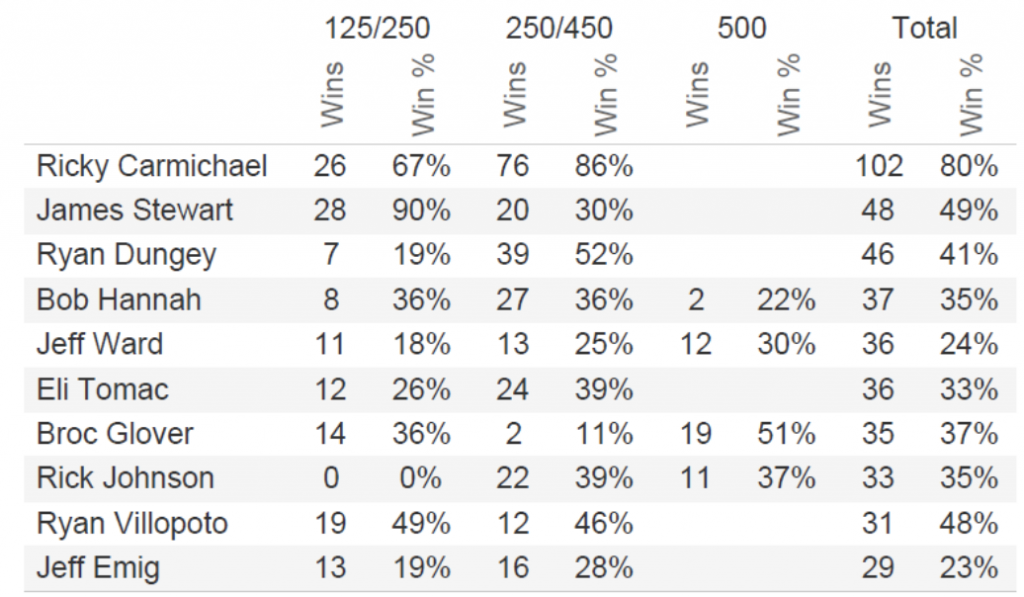 He sits tied for 7th on the All-Time Moto Wins List. He needs one more moto win to tie Bob Hannah for 6th. He also sits 4th on the 250/450 list and is tied with Christophe Pourcel for 11th on the 125/250 list.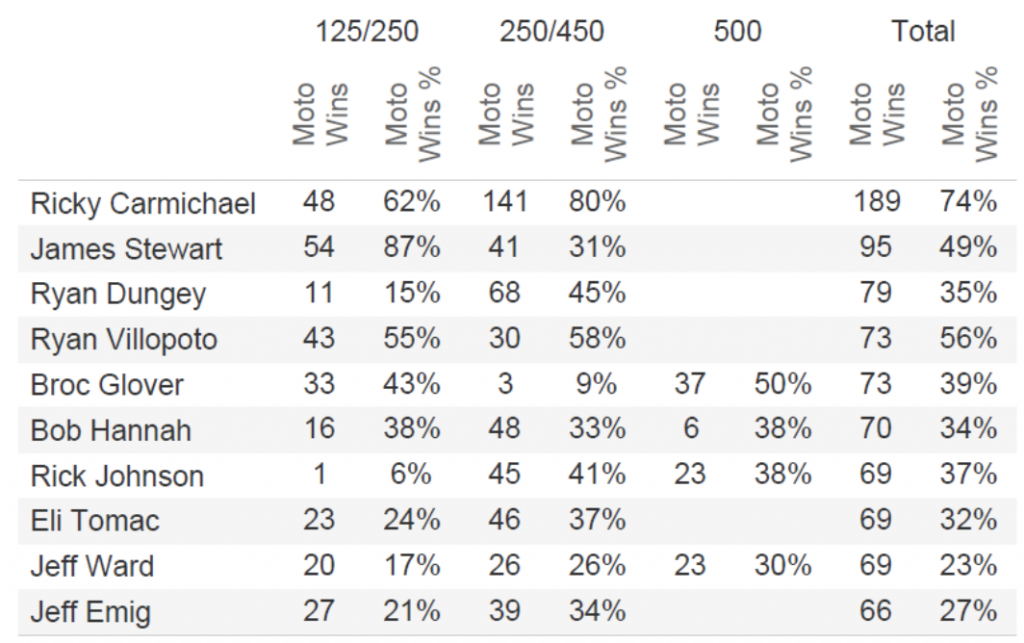 (Note: the NBC Sports broadcast had Eli Tomac at 44 wins in the 250/450 class but Kawaski and I both had him at 45 before this weekend).
450 Race Stats:
Henry Miller (FXR Miller Pasha Racing) takes Top Privateer honors this week with a 12th overall. The 6% of PulpMX fantasy team owners that picked him enjoyed 60 points, the 6th best amongst 450 riders!
Eli Tomac tied Ryan Dungey for the highest qualifying position (13th) to win a moto going back to 2013. (Note that Aaron Plessinger won both motos in 2018 after qualifying 19th at Ironman Raceway)
Adam Cianciarulo was the fastest qualifier joining Chase Sexton as the 2nd rookie to qualify fastest in 2020.
Zach Osborne has now led laps in 3 different motos. Adam Cianciarulo is the only other rider to lead laps in more than one moto.

 

Broc Tickle had +31 net position changes and an average 1st lap position of 25th and finished the day 9th overall. He now sits 8th in the standings. Not bad for a guy that had to sit out 2 years of racing.
250 Race Stats:
Jeremy Martin (GEICO Honda) broke Star Racing Yamaha's 5 moto holeshot streak. He's averaged a

 

Brandon Hartranft (TLD Red Bull KTM) got his first Pro Motocross moto and overall podium with 3-4 moto finishes.
Rookie Spotlight goes to Jett Lawrence who scored his first Top 5 moto finishes with a 4-5 day. Rumors at the beginning of the season were that his brother was the one to watch outdoors but Jett's been strong minus bike issues at Round 2.
Mason Gonzales (Rock River Yamaha) is once again the top placing Privateer (Round 1 previously) with a 15th place finish. He now sits 13th in the standings ahead of 6 factory riders. Not a bad rookie year!