Welcome to the first installment of Career Stats Quiz. Ryan Sipes accepted the challenge to be our guinea pig and has now set the bar. He scored 9.5 out of 15 points. Continue reading to see what he did and didn't remember along with some great racing stories.
We caught up with Ryan after a photo shoot with Travis Pastrana (keep your eye on the lookout for some upcoming 'bets' between these two). The interview was done over Zoom after he dropped Travis at the airport on his way back to his apartment nearby the Moto Sandbox where he's been staying the last few weeks.
If there's anything we took away from the conversation with Ryan, it's that he's still having fun riding bikes.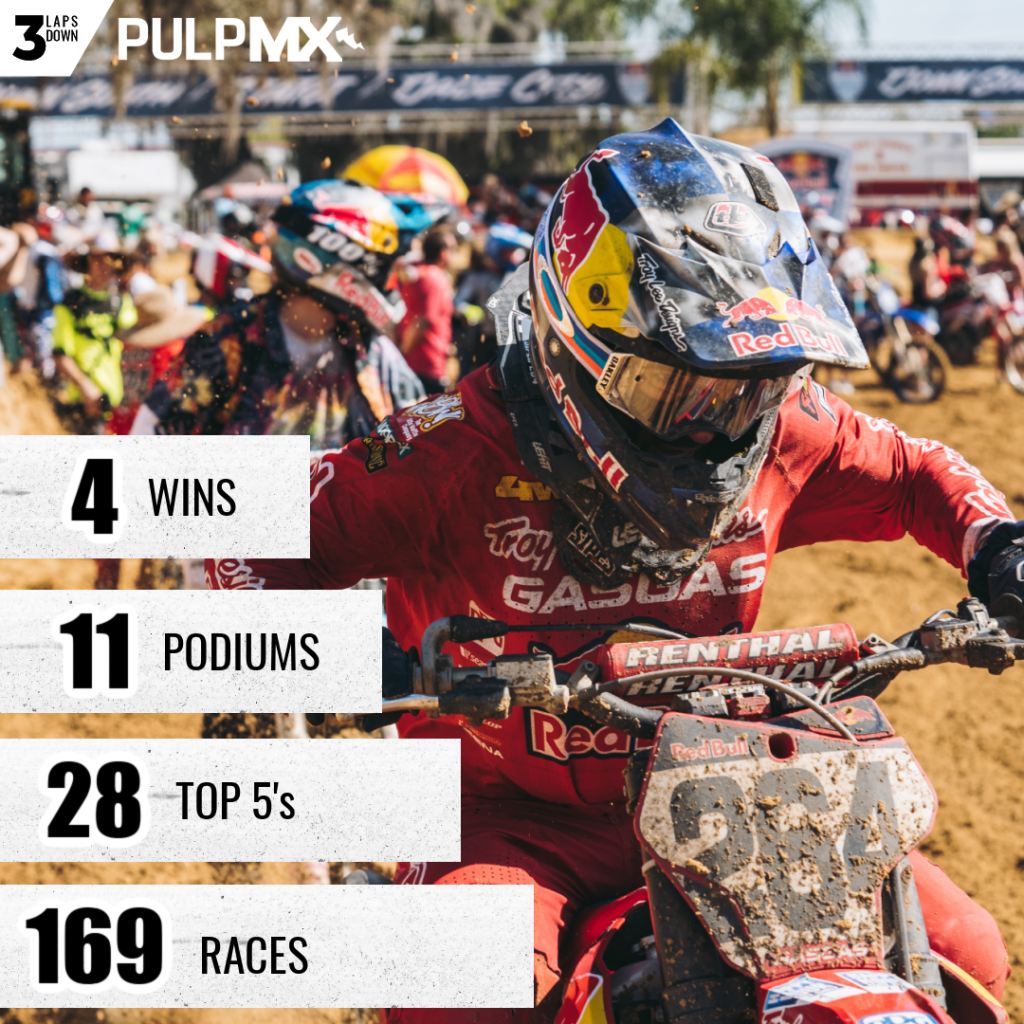 Clinton Fowler: How old were you when you started racing?
Ryan Sipes: My first race, I was not quite four. I got a bike for my second birthday, but I didn't race it for a little while. Hey, I like your hat…
[I was wearing a Boston Celtics hat. We sidetracked briefly to discuss the Celtics piss poor season.]
All right, you're racing every discipline on the planet these days. How the hell do you balance training with racing and prepping the bikes? What's the average day and week look like for you?
It's a little crazy. It's hard to get a real good routine just because I'm always doing something different. But I've hired my brother to help me with working on the bikes which has been a big help. If we're not riding, we're working on stuff or swapping parts or whatever. It's a lot of work to keep one discipline of bike ready at all times. But to have like four or five is a freaking full-time job. If I want to ride flat track tomorrow but I haven't ridden flat track in a month or two, well, that bike needs to always be ready. It's a lot of work but we're having fun.
I have to ask about your son Jack attempting a backflip at Pastrana's. What's it like as a dad watching him try a backflip?
It was a little bit scary. I know it's pretty safe in the foam pit as long as he doesn't let go of the bike. But, man, just watching his progression was cool. When we got there, Jack says 'I'm scared to go up the ramp, it's too steep' and I just let him know he can do it, it's not out of his range. He got like 90 percent of a back flip, he almost made it around, just not quite. I was super proud of him. Some people said that we were crazy to do that, but it was his idea. I just want him to be the best at whatever he wants to do, to go for it. If you want to do something, let's try it, you know? It was scary, but it was fun to watch him push his limits.
[we sidetracked again and talked about him doing a backflip into mulch. I shared the Dune Goon's experience doing a backflip! Sipes then stops to get some gas and a brief bio break.]
All right. What do you enjoy racing more, motocross or supercross?
Probably Supercross. I can't really tell you why… I think just the technicality of it. But the race is so intense and so dangerous. It's not much better than moto, but I think Supercross was probably more fun. I mean, a good day of outdoor moto is really fun, but there's a lot of super hard days in outdoor.
Outside of supercross or motocross, what's your favorite race?
My favorite thing to race is enduro or ISDE. That format is fun. You've got to find your limit, then add three percent more for 10 minutes, then take a break and do it again. That's just fun to me. I like that intensity. It's kind of a fine line. You got a wall you've got to push past, but you can't really make mistakes or crash. It's fun to see how far I can push it.
What's an event you never want to do again?
Any race at Glen Helen. Actually, if I never had to go to California again, I'd be just fine with that. But Glen Helen was downright scary on a pro motocross national day. During practice on a national day, it doesn't get much more fun than that. So when it's smooth and it's watered, that's fun. But after two motos, that place is just scary to me.
That sounds terrible!
All right, let's get into the career stats questions. You're the guinea pig on this format. You're gonna have to let me know if it's too difficult. And you get to nominate who we're going to do this with next.
Well, that's all going to depend on whether they look it up. I didn't look anything up. I was true to my word. So we'll see who's honest.
[Each of the questions was answered in an online survey before the interview, but Ryan's not been given the answers until this conversation.]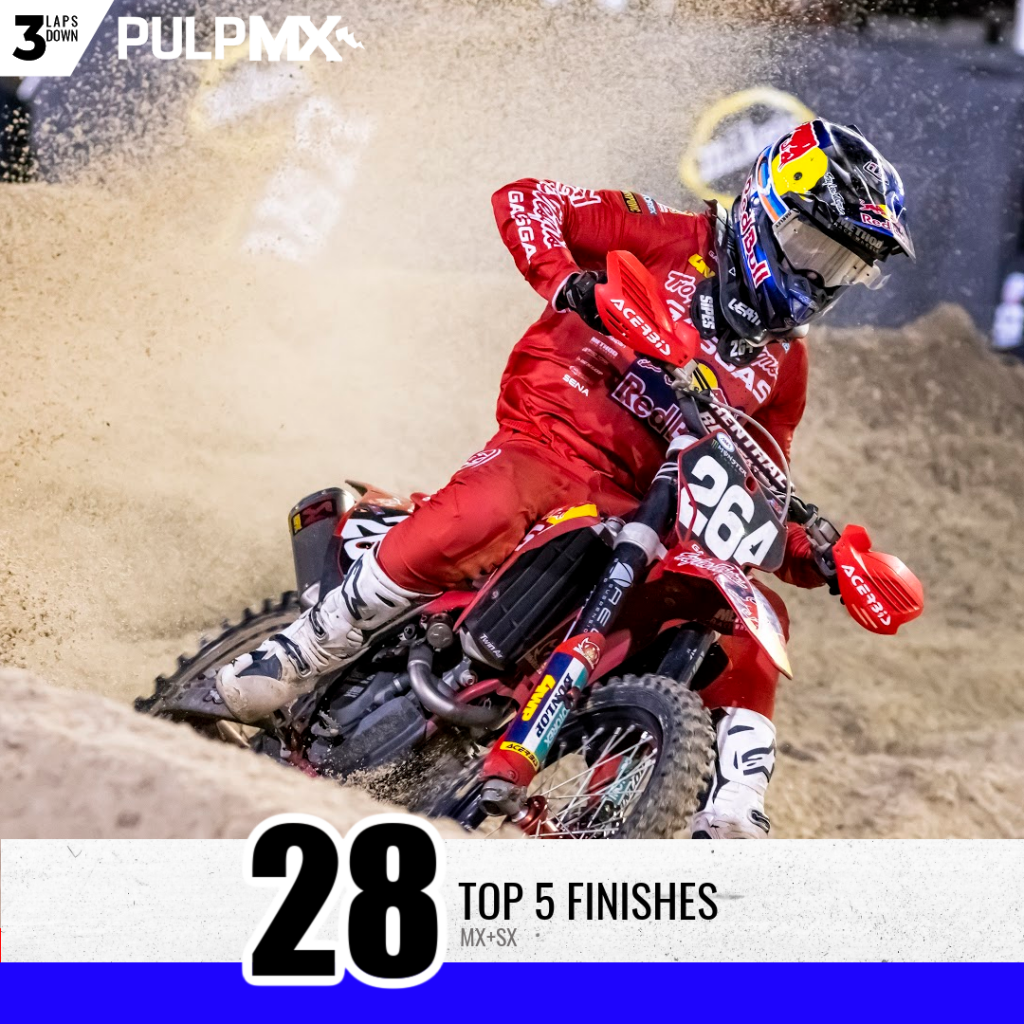 CAREER STATS
The first question was how many combined races did you compete in. You said 150. The correct answer was 169. You were within about 10 percent. So not too bad.
Yeah, not too bad.
Any particular race stand out that you'll never forget?
First 'official' win at Indy, that's pretty hard to forget. I went so long without a win. I started thinking, was it ever going to happen, and then I was finally able to pull it off. So that was one of the best memories I had racing supercross.
Next question was how many times did you finish in the top five? You said 5 but I think you want to change your answer. You lowballed this one.
Yeah, that doesn't make any sense at all. I don't want to come across as conceited and I was probably thinking you were asking about just supercross. Let's say 15.
You had 27 top five finishes.
Hey, that's way better than I thought.
The next one you nailed. The third question was what venue did you race the most. You said High Point and that's correct. You raced at High Point ten times.
That was a total guess. But the only reason I guessed it was because that was my first professional race. I know I did it one extra year before I went full pro.
Any good memories of High Point? What do you remember about your first pro national there?
Yeah, I remember a lot. I was still racing amateur and I went up like two weeks before and raced a spring race against Broc Helper. Hepler had done really well in supercross that year. I think it was his rookie year. I actually beat him at the spring race. I liked the track a lot and I felt pretty good about that. Then Helper went and got second at the first two nationals so I was feeling confident. I was thinking that maybe I got something for them. But this is back when they had a full practice day and had to race qualifiers. I don't remember how I did in those but I qualified. In the first moto with like three or four laps to go, I was like, I'm in the top five at a National. This is crazy. I kind of tightened up and finished seventh. But still, I thought it was pretty cool for my first national moto. In between motos I had like three strawberries and half a bottle of water to drink and completely bombed in the second moto. I could keep it upright, but I was done. That taught me to pay attention to nutrition and hydration! [Ed Note: Ryan went 7-34 in his first ever pro national at High Point in 2004]
How old were you?
That was 04, so I was 19.
19, man, that's young. All right, question four was what supercross venue did you race the most? You said Anaheim. You were right on!
That was a guess too.
Pretty good guess.
I usually started the season healthy. I didn't end it healthy.
What's it like racing A1?
It's a circus, dude. I mean, as I got older, I got better at it. Actually, my best was my first year and I got lucky. 2005. That was my very first Supercross. There was no pressure at the moment and that's when I ride my best. I was like, dude, I can win this thing. I crashed my heat race but I got 6th in the main. So that was cool. But A1 is the start of your season and you want to be awesome. Everybody says you can't win it at the first round, but you can lose it. So you're thinking about that a little bit… but you want to be awesome. It's just a spider web of emotions and things that you're thinking about. If I had to do it again, I would be a lot stronger mentally. But when you're a young man, it's like 'this is a big deal'.
Question five was what city did you have your best supercross average finish? You said Vegas, which was actually a pretty good answer, but not your best city. The correct answer is Toronto (5th place average).
Well, wait. I probably only raced there a couple times.
Only two times.
That average is better then, that makes sense.
You did well in Vegas too but you also had a couple of 19th place finishes. You seem to like the hard pack tracks!?
Well, we grew up without a way to water our track and there's a lot of clay where I grew up. So most of the time I rode hard pack. Whatever God gave us for water, that's what we had. So we got good at riding on the hard stuff.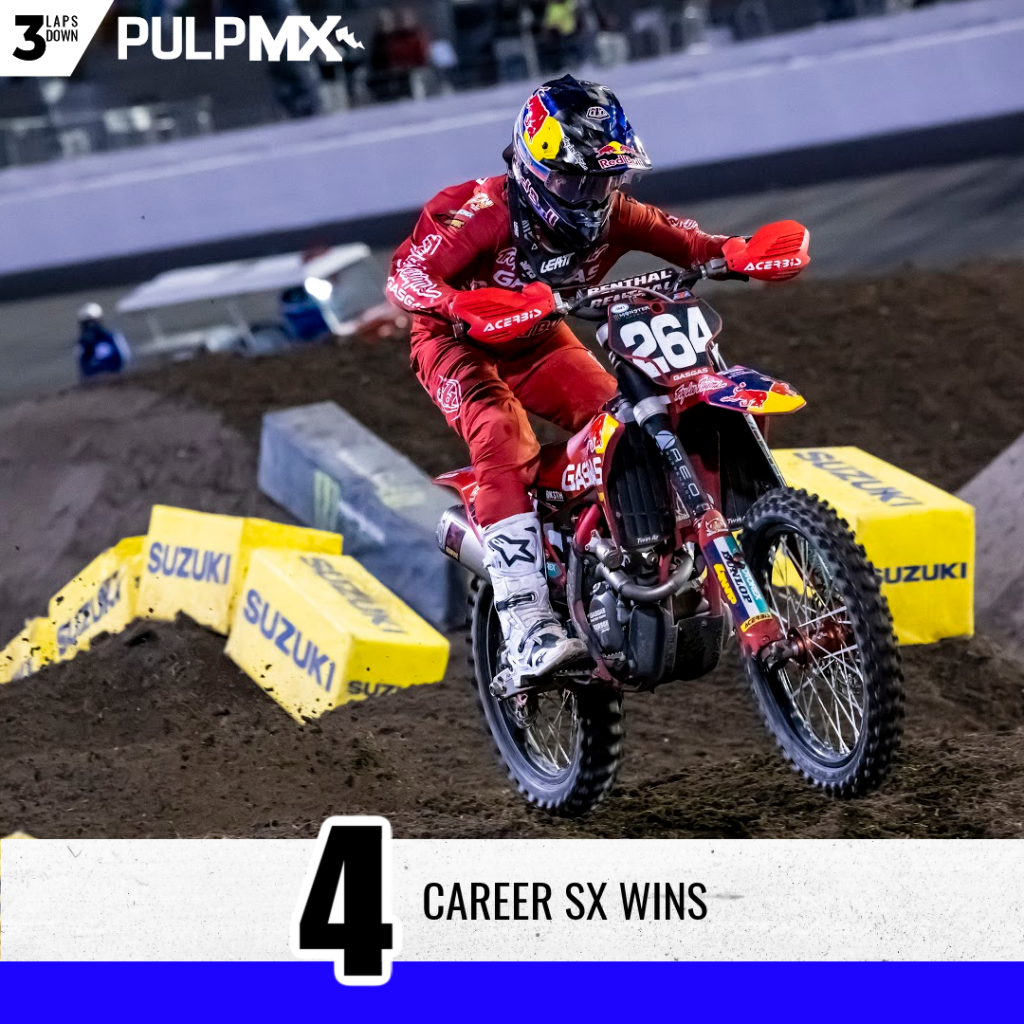 SUPERCROSS STATS
All right, time for some supercross stats. I gotta ask this because you, me, and Brett Smith had some text back and forth after Daytona. You got pummeled in your heat race. You're 36. You could be Hardy's Dad. What's it like racing against these kids nowadays?
If I was his dad, I'd give him a butt whooping for being a bad kid because that was a stupid move. Nah, I don't care. I think it's kind of fun going in there… I'm old, but I'm not that old. I can still go fast for a minute. So I think it's kind of fun. The only thing I don't like about it is exactly what happened there. In the 450 class, you don't have that quite as much. He was going to take out the top five if I hadn't turned down. You couldn't see it on the TV angle but I saw the angle that the TLD GasGas team filmed for us. He was coming all the way from the outside, turned 90 degrees, and held it wide open, perpendicular to what everybody else was doing. If I hadn't turned down, he would have cleaned out the entire top five. So that's what you get with the 250 class and with young kids, like, "I'm going to be a hero right now". It's not like that in the 450s.
So first supercross stats question was the number of supercross wins. You said 4 but I've only got 2. There's no way you're wrong about your wins though so what am I missing!?
I got it. Some people say it's three, but there's one people forget.
What am I missing? I've only got Indy and Seattle.
Well, there's the Las Vegas shootout and there's Vancouver.
How pitiful is it that I don't have Vancouver and I had filtered out Vegas by mistake. So much for being the stats guy. Not the first time and definitely not the last time I'll be wrong, so you've got 4 wins.
Not many people remember it, but way back, they had a race in Vancouver in the 'preseason'. It was in December 2006 but part of the 2007 series. Most people don't count it because it was part of the world supercross thing. I'm old enough to remember it. I mean, Ricky and James and Chad did them. In fact, that night, Dungey, Weimer, Davalos, Osborne, a bunch of dudes that were awesome raced and I beat them all straight up, so I count it and that was my first real win of any sort.
That counts in my book. I've gotta find the stats on those races and get them added.
Yeah, well, remember every time they said the series name it was like some super long name – the AMA and FIM World Championship but this one's only the FIM World Championship.
Yeah, it was pretty ridiculous how long the name was. Seattle, 2012, you're just coming back from injury and you get the holeshot and lead wire-to-wire. You beat Marvin Musquin, Eli Tomac, Cole Seely, Jason Anderson, Dean Wilson. That's a stacked field.
That was a cool one. My first one back from injury. I was probably not quite ready to come back, but I wanted to anyway and is one of those deals where I had no pressure. I was a bit of a headcase back in those days. But on days when there was no pressure, there was no expectation, I would have a good race. I pulled the holeshot and I think I was fast enough to win, but Tomac and Wilson just rammed into each other the whole time and let me pull away for the win.
So the next question was how many podiums did you get in 250 Supercross. You said eight and you actually got eleven. You were close. You know what I thought was interesting about your podiums – there's only one place where you got a podium more than once (Vegas).
Yeah, I was a little bit… a lot erratic back then. Part of not being Mr. Consistent.
Next question was who did you race against the most in supercross main events? Your answer was Justin Brayton but you only raced him 14 times. You actually raced Martin Davalos the most (29 times).
Oh, Davalos. I didn't even think of a name like that. I was talking to my brother trying to figure this one out. I had no idea. I started racing against guys like Nathan Ramsey and ended against guys like Jason Anderson. That's two different generations. I wasn't sure who it was going to be.
Hey, fun fact. How many total riders have you raced against in supercross? It's a number near and dear to you.
Hhhhmmm, 264?
Yup.
That's awesome. That's pretty cool.
Next question was who beat you the most in supercross and who'd you beat the most in supercross? You said it was Justin Barcia and Kyle Cunningham. Great guesses, but it's Martin Davalos and Jason Anderson/Kyle Cunningham.
I'm bummed that it's Davalos that beat me the most. That makes me feel terrible.
You raced him 29 times and he beat you in 18 of those races. But you were right on with Kyle Cunningham. You beat Kyle and Anderson 13 times.
That was a total guess. I was just trying to think of who I raced against the whole time and I knew it couldn't be any of the new guys.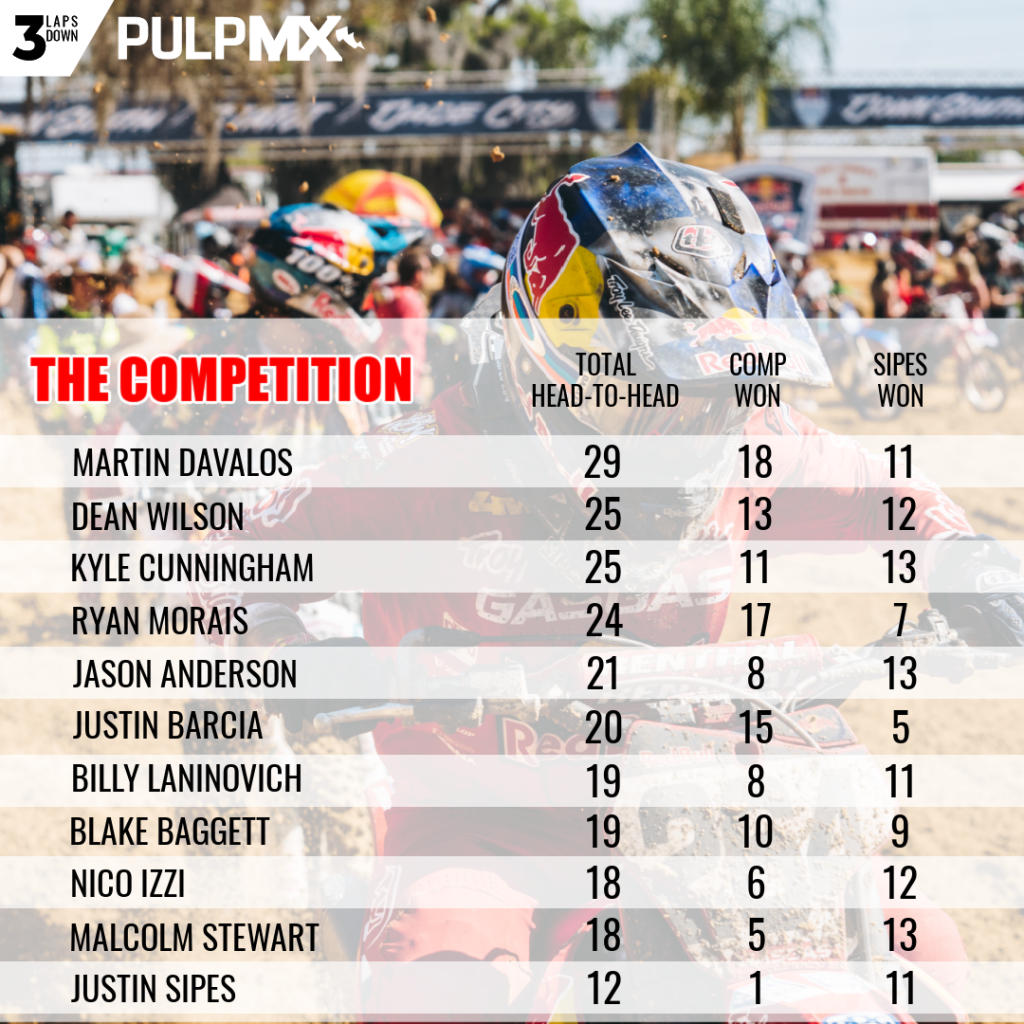 Last supercross question was what percentage of the 65 Supercross main events did you finish in the Top 10? You totally lowballed your answer. You were totally being humble, Ryan.
Maybe. Yeah, I don't even remember what I put, but I'm like, I don't want to overshoot this. That'd be the worst look in the world.
You put 10%. 10% is just ridiculously low.
What did I get?
You finished in the Top 10 67% of the time!
Oh, that's way better than I even thought. I thought it would be like 30 or 40 or something.
I was laughing when I read your answer. I figured you didn't want to come across as conceited or anything like that.
OK, so here's a bonus question. This is fuel for trash talk with your bro. You two raced against each other 12 times. How many times did he beat you?
Oh man. I have to say zero.
Close. He beat you once.
Ok, what race?
2008, Detroit. And here's the brutal part, he got 17th and you got 18th
Barely, he barely got me.
[laughter]
MOTOCROSS STATS
The first question was how many seasons did you race all 12 rounds of motocross. The answer was three and you guessed six.
Yeah, I was counting on my hand. I thought in 05 I raced them all, but apparently, well, 2005, 2008, 2010, 2011, 2012, and 2013 is what I thought, but I guess I missed some in there.
You're not far off with 2011 and 2013. You raced 10 times in 2011 and 11 times in 2013.
I used to get hurt a lot.
You didn't have a lot of seasons without injuries.
That's what made it hard. I'm not making excuses or whatever, but you never get on a roll. You never build momentum when you get hurt every year. So it's like you can never get on a roll. You never build on anything.
Question two for motocross was what place did you finish in your best season, 2008 in the 250's. You finished 6th in the standings. You guessed 4th. Not too far off.
Huh, I thought I was 4th.
Question three for motocross was how many top five overall finishes did you have in your mx career. Five was the answer. You said five.
Nice! That was a total guess.
Do you have any recollection of where you got them?
Ah, I remember, I got 4th at Washougal 2008. I think I got 4th at Pala 2010. I think I got 4th at Ironman 2014. I don't know the rest.
The other two were 2006 Broome Tioga…
Oh, I forgot about that. I should have had third in that one. I caught Matt Walker with like two laps to go and I went for a pass and our lines came together and neither of us let off. We went down and his bike was on top of my bike and somebody passed me. I was sitting pretty for a third.
What was the other one?
Steel City 2009
Oh, yeah, that was a good race for me. That was because I'd gotten hurt early in supercross that year and I came back and did only the last four or five, I think. Yeah, I forgot about that. I got a picture of that one from the holeshot. I'm in like first or second. It was cool but I forgot about that race.
Next to last motocross question was how many moto podiums did you get in your career? You answered three and it was three.
Yeah, those aren't hard to remember, there wasn't that many of them [laughs].
Last question was what place you finished in 2010 in the 450's, your best season. You finished 8th and that's what you guessed. That was your rookie year. What do you remember about that year?
[details removed to keep the innocent, innocent.]
Bonus question was what's the best Loretta Lynn's finish on a PW50? You answered 14th place in 1992.
Yeah, I got lucky here. I only knew that I got 14th overall and wasn't sure about my moto finishes. I'll take it though.
Sipes finished the Career Stats Quiz with 9.5 out of 15. Not bad for being the guinea pig and particularly cool to know he didn't study prior to taking the quiz either.
Last question I asked Ryan is if we'd see him lining up for Daytona in 2025 when he's 40 years old. He said "if I could still go fast and make a main event when I'm 40. Yeah, sounds good."