For this edition of Classic Ink we are going to take a look back at Fox Racing's Spring lineup for 1991.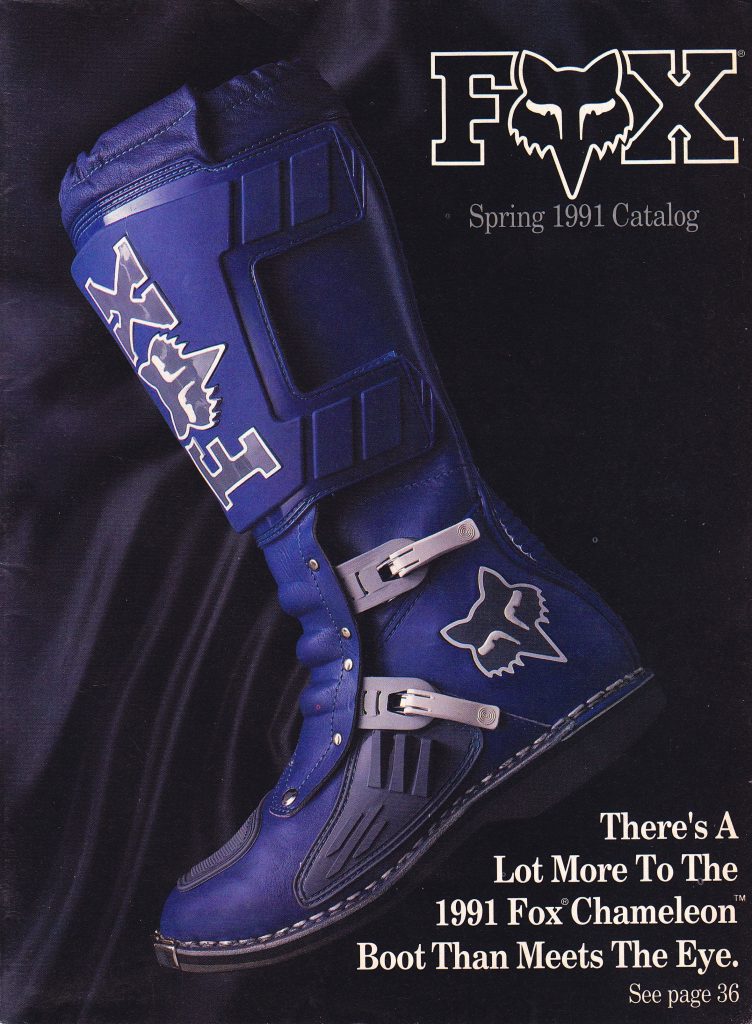 Blaze:  The new Chameleon boot was very attractive and plenty innovative with its interchangeable buckles and logos but it failed to capture the appeal of the outgoing and iconic Comp-2 of the late eighties. 
Matthes: In my pod with Pete Fox, he expressed regret that this boot didn't work out. The Comp-2 boot (made by A Stars for Fox) was an incredible boot and this one was trying to follow it up. It didn't work.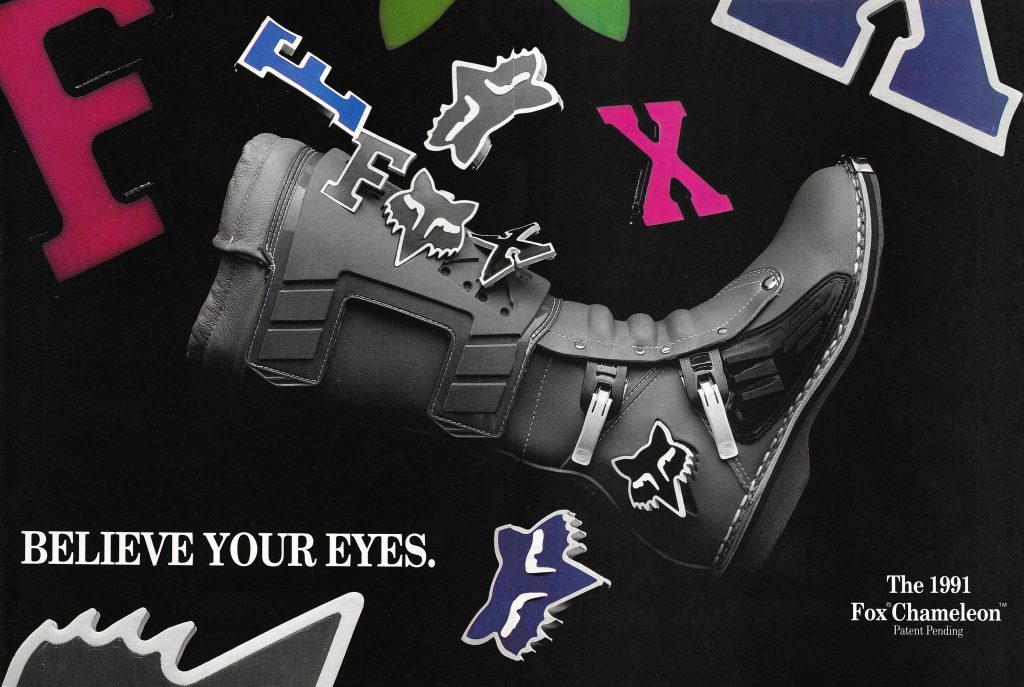 Blaze: In 1991, I was more of an AXO Sport guy and never ponied up the $269 ($519 in today's money) for the Chameleon. I loved the old Comp-2 (probably because RJ wore it) but was never drawn to this design. 
Matthes: Yeah the logos never stayed on, they fell off rather easily and it's a neat idea and all that but a rare miss for Fox.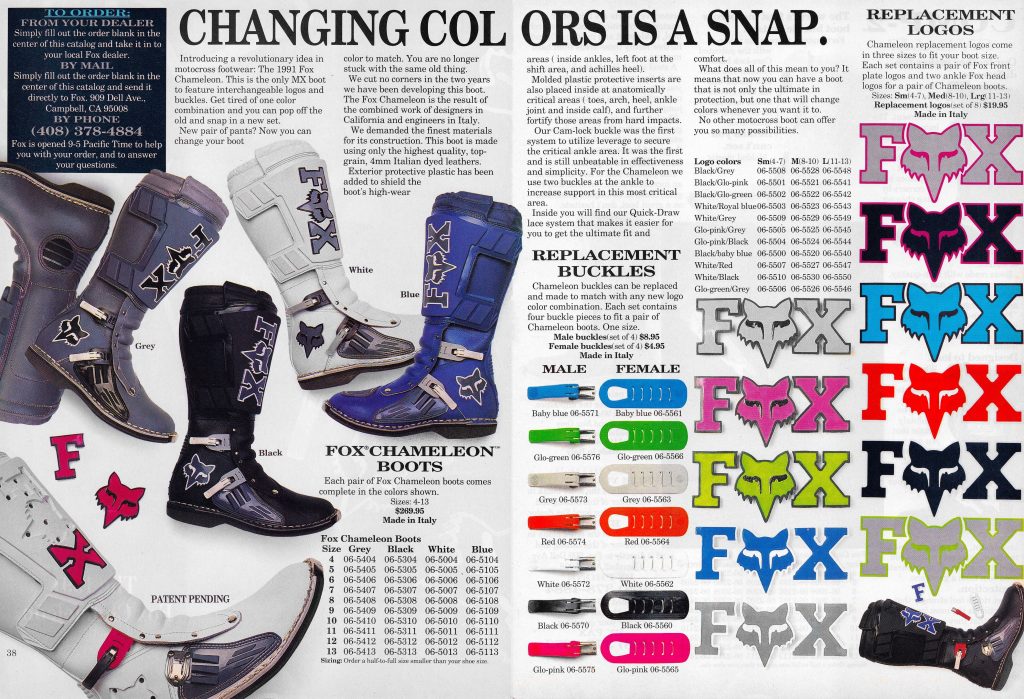 Blaze: While innovative, the interchangeable logs turned out to be a gimmick that no one much cared about. On paper it seems like a great idea and I'm really not sure why it did not catch on but I do know that the logos turned out to be prone to popping off unexpectedly which probably soured many (including Fox) on the design.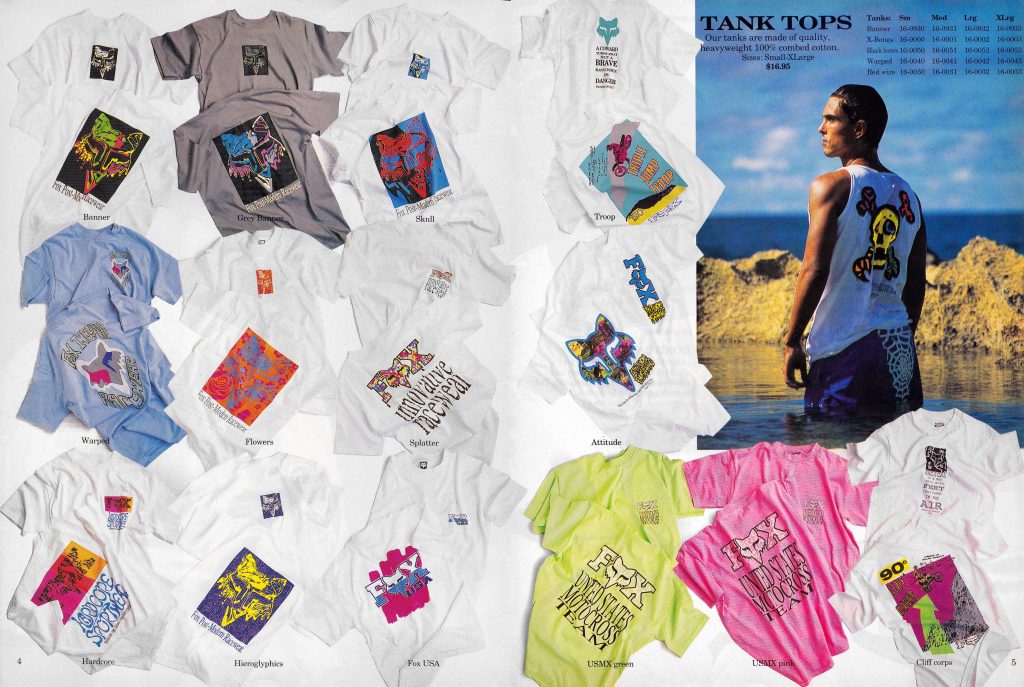 Blaze: We all love to show off our "motoness" with casual wear and Fox had you covered in 1991 with a full lineup of tanks and T-shirts. While I didn't really love any of this stuff in 1991, I would definitely run one of these classic Fox head shirts today. 
Matthes: It was the early 90's, "we" loved pastel colors. That is all.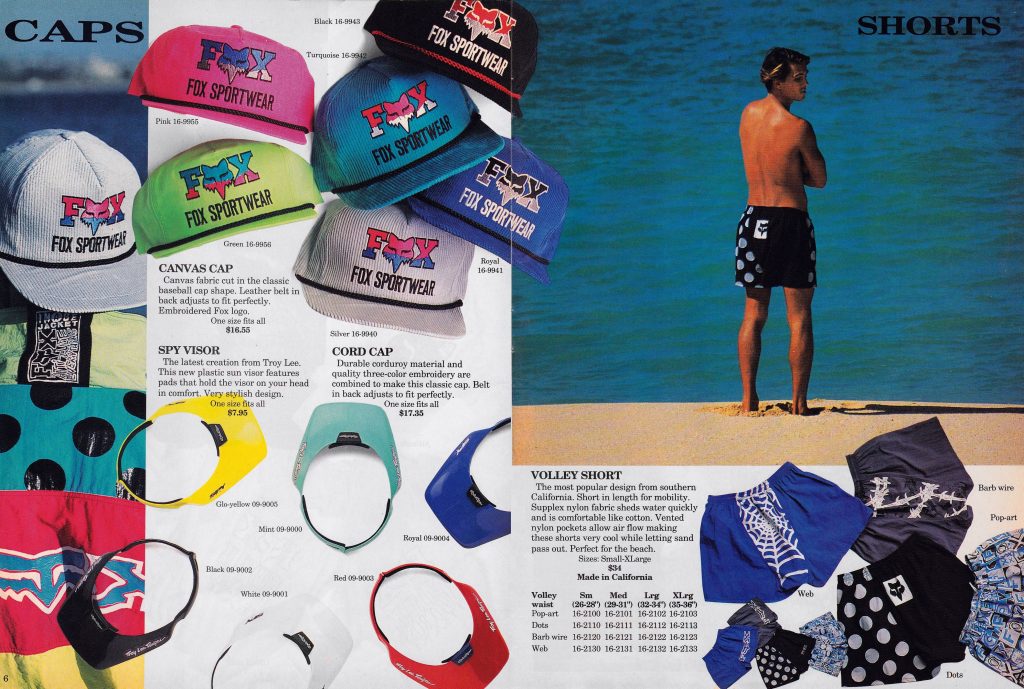 Blaze: I was never a Steve Spurrier "visor guy" and always thought corduroy hats were cheeseball so most of this stuff is a hard pass for me. The Volley Shorts seem ok but those suckers would cost $70 in todays money which seems downright insane to me for a pair of polka dot swimming trunks. 
Matthes: I had a TLD plastic visor thing for a bit. Definitely felt cooler than I looked I'm sure. You know what though? Throw the thing on Bradshaw in an ad and I'm ALL IN.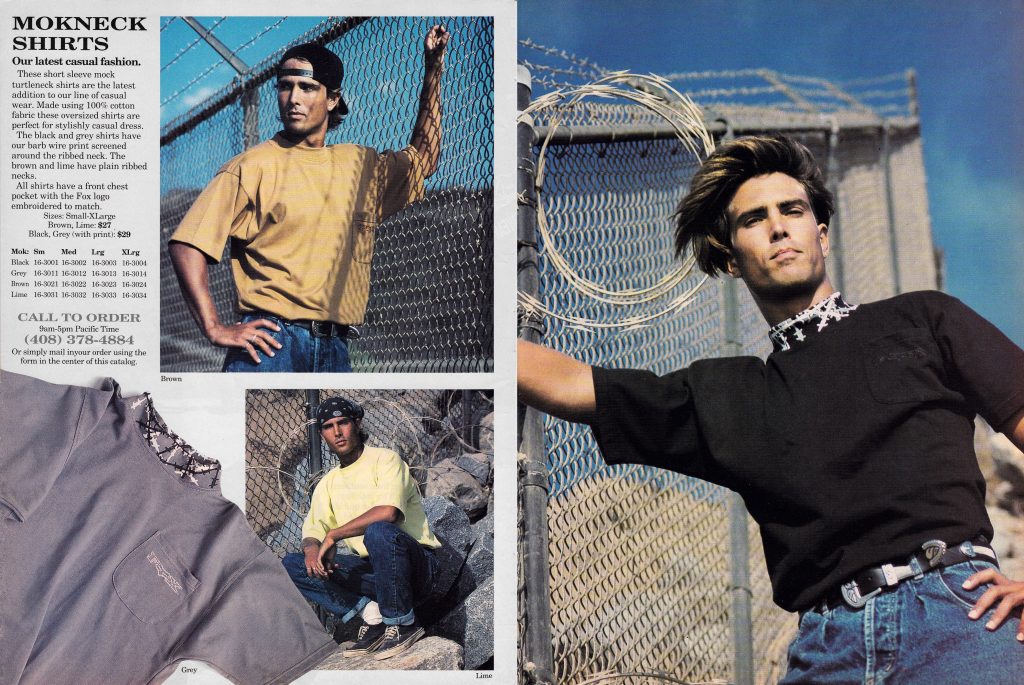 Blaze: The collars would be a bit high today and I was never a fan of the barbed wire but otherwise these are some nice-looking shirts. I would have happily ran the tan in 1991.  
Matthes: I'm with you Blaze, love the Zebra, don't mind the polka dots but I'm eeeeh on the barbed wire and definitely OUT on the femur bones pants. You can't blame Fox though, the Zebra stuff was so out there when it came out that it was a risk and when that risk paid off with great sales, they looked to what else they can put on the back of pants.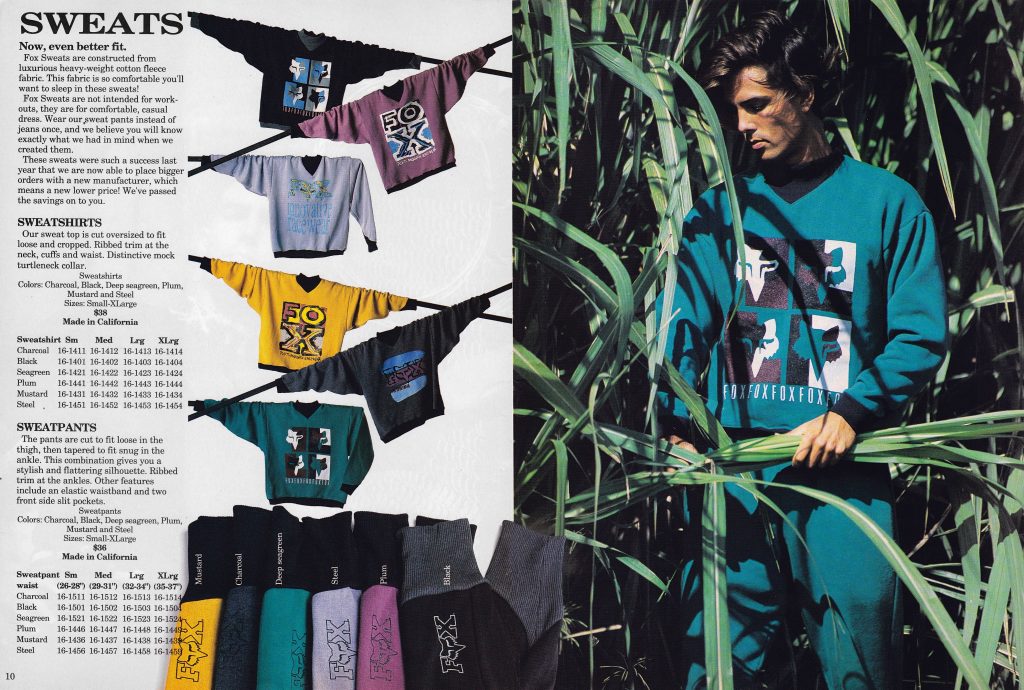 Blaze: Paging Captain Kirk: I never had any of these sweats, but I don't think they look bad aside from the slightly "Star Trek" collar design they are using. Redo that and they would probably sell really well today. 
Matthes: I never saw any of these in the wild in Manitoba growing up. I would rock that aqua four Fox head sweatshirt today though.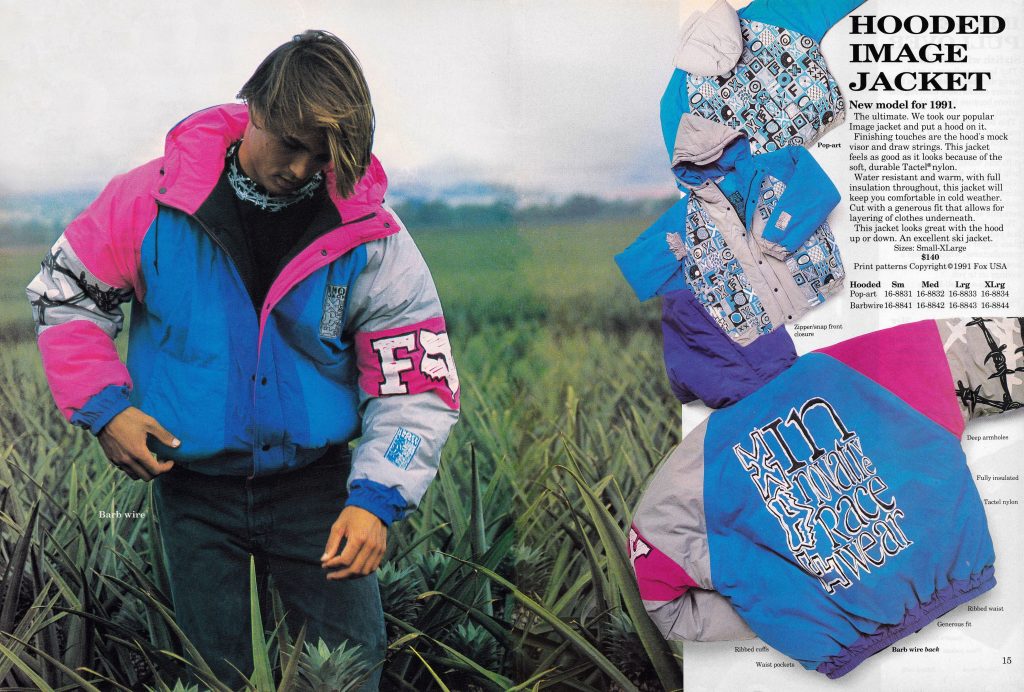 Blaze: This is where things really start to look dated today. The colors, nylon construction, and graphics all firmly root this in the early 1990s. I did not really like these in 1991 and thirty years of life experience have not changed my mind. 
Matthes: Yeah, I'm out.
Swiz: I had this jacket and I was the shit!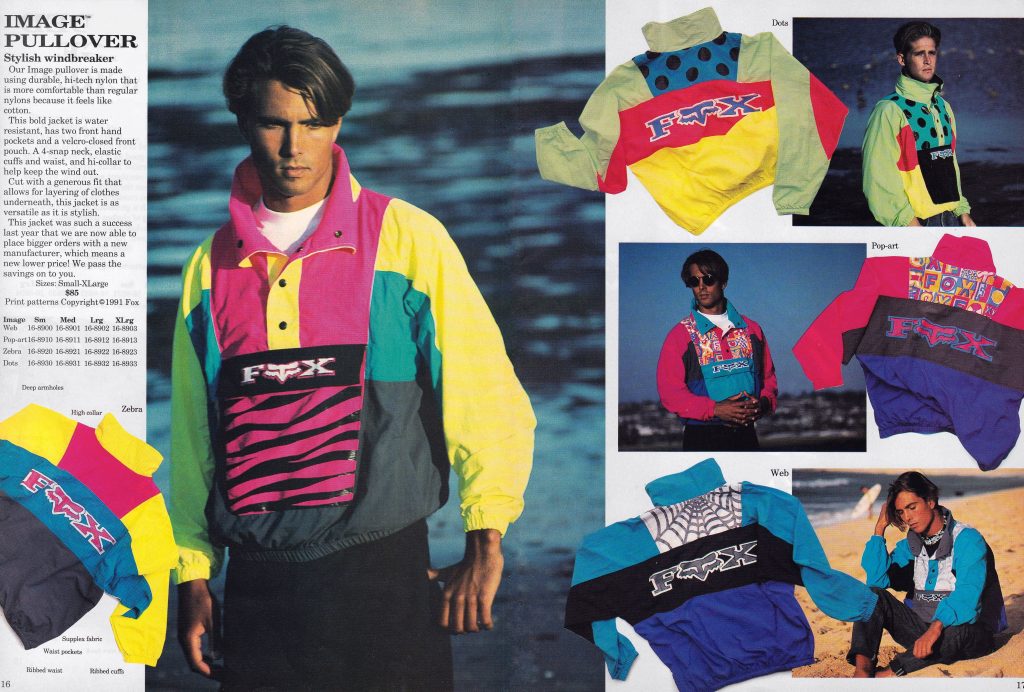 Blaze: I like this a little better than the poofy moon jacket but only just. These look like Pete Fox took a bunch of scraps from the design department and just sewed them together haphazardly. Yeah…no.  
Matthes: I've never been a pullover "guy"…gimme a zip up hoodie any day. Even if I was a pullover "guy", I would NOT be a multi-colored pink zebra striped pullover "guy".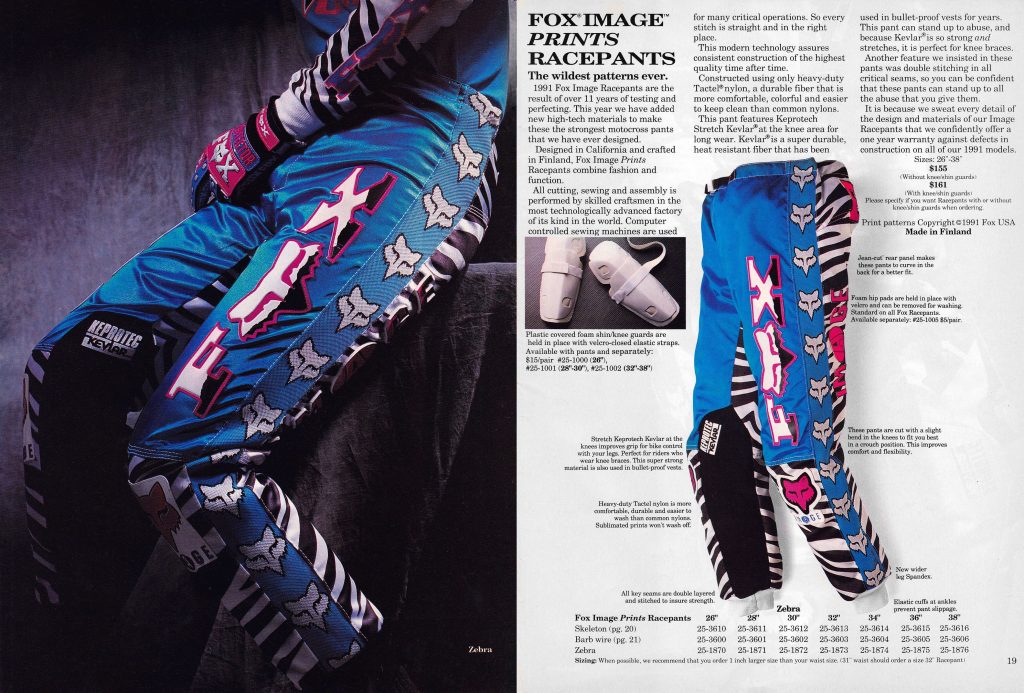 Blaze: When I first saw these pants on Ricky Johnson in 1988 my mind was utterly blown. Taken objectively, the thought of plastering zebra stripes on a pair of motocross pants could have been design suicide. Motocrossers are a bold lot but this was quite a step beyond what was common at the time. Somehow, however, Pete Fox caught lightning in a bottle and this creative combination of colors and design elements took off like a rocket. By 1991, Fox had expanded the Image line to include all manner of print designs, but I still think the original was the best.  
Matthes: A design so good, so cool that two years later the company still had them in the line! Fox added the zebra stripes on the front down at the bottom and updated the logos but yeah, they kept rocking them. Still very cool!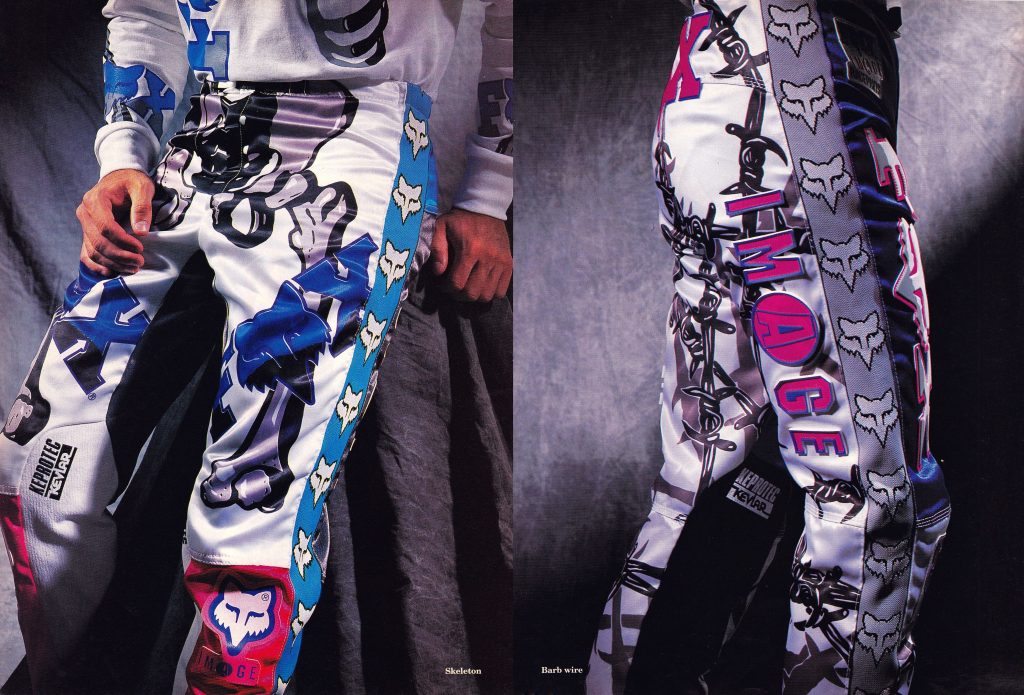 Blaze: To me the new Skeleton and Barb wire design were the beginning of the end for Fox's Prints era. 
Matthes: Please refer to the paragraph above for my thoughts on these.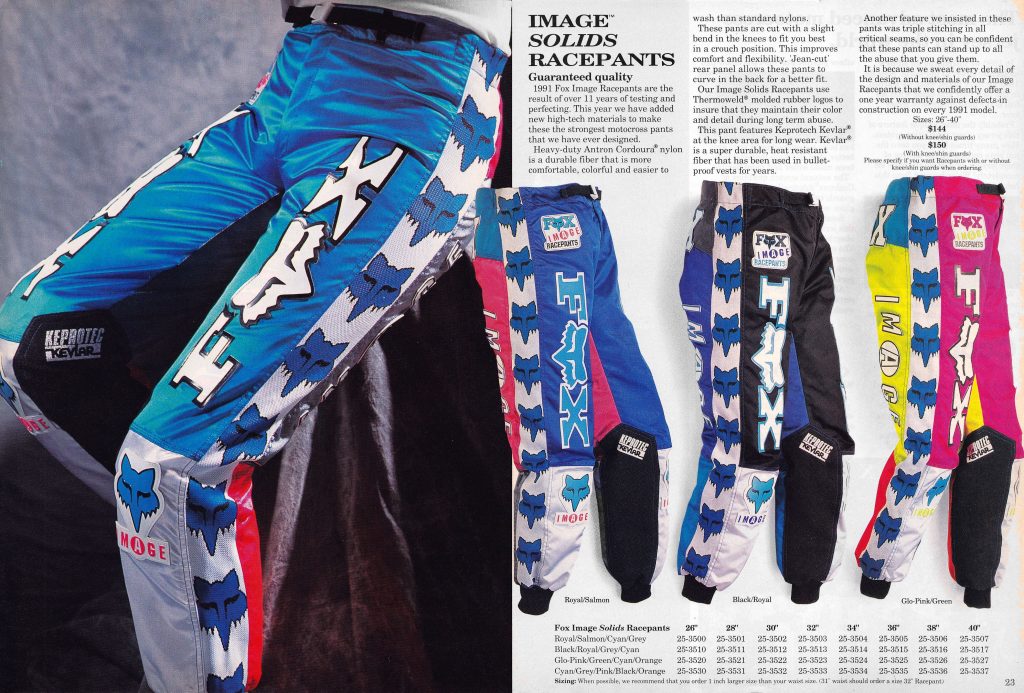 Blaze: After three years of Rorschach tests on their pants, the return to solid colors was a welcome change to many. Even today I love the Glo-Pink/Green combo on the right. 
Matthes: The name "Fox" is so cool and works out so well for a company right? What if Geoff's name was "Finkleday" or something like that? Cool name, cool logo, etc. BTW that wide elastic strip on the side of pants…first brought out by JT in 1989 I believe, was a game changer for fit and function. I'm with you Blaze, these things still look cool today.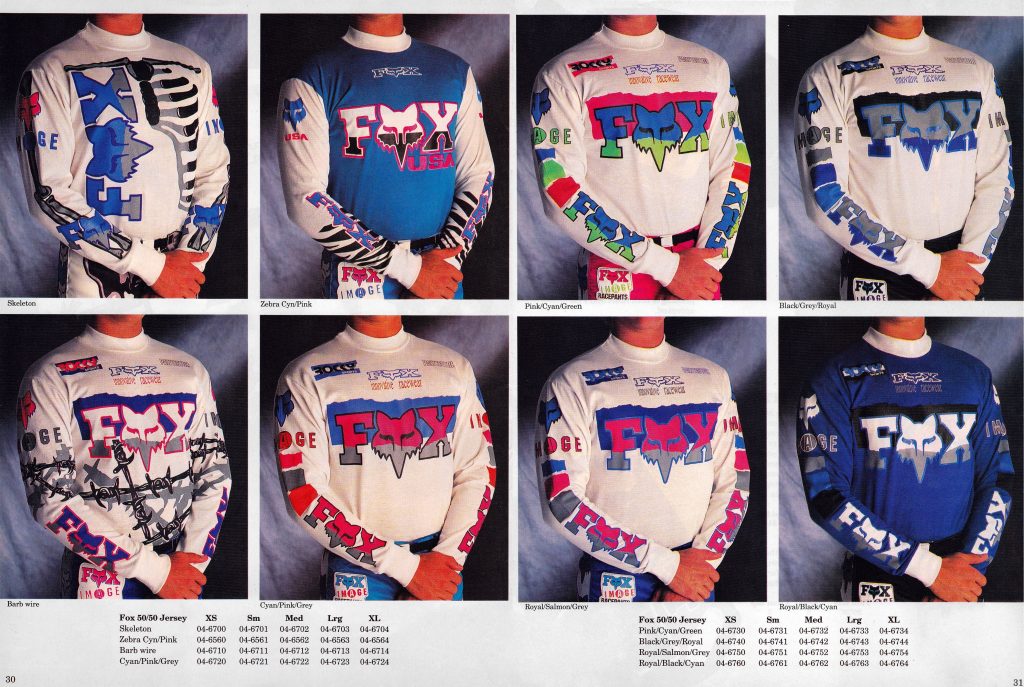 Blaze: I can't say I really love any of these jerseys aside from the classic Zebra. The Pink/Cyan/Green is pretty decent but the barb and bones belong in the ash can of history. 
Matthes: That Kawi one is cool also. Funny how jersey technology didn't change for a long time, we just ran cotton!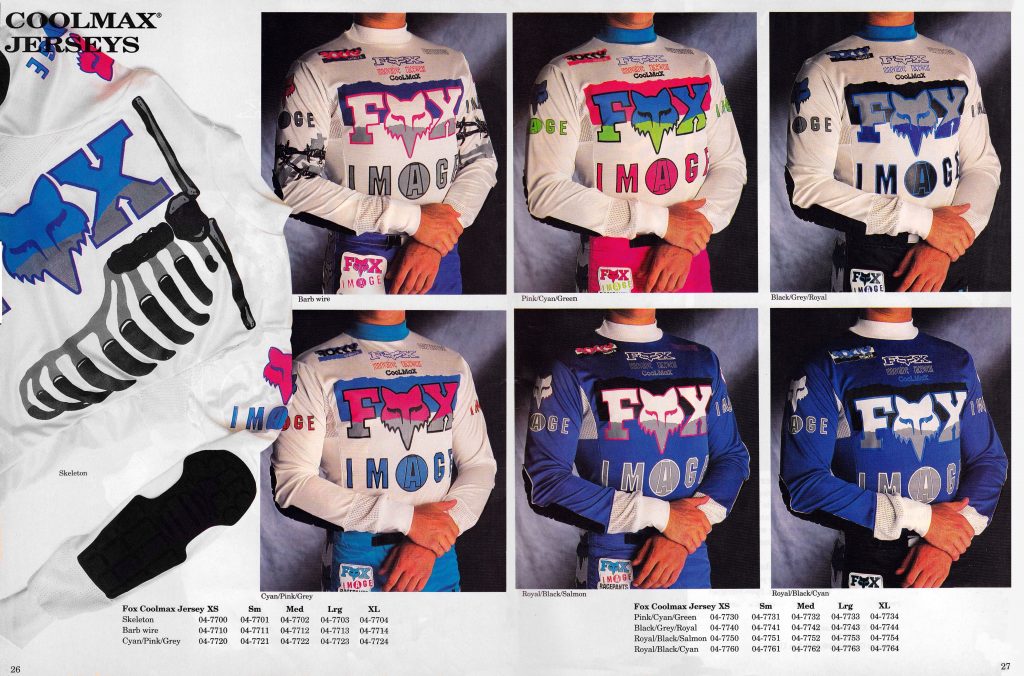 Blaze: This is the era where you finally start to see some advanced fabrics making their way into jersey design. The all-new CoolMax jersey used a Dupont-designed synthetic fabric to wick away moisture and added ventilated panels in strategic places. The collar was still a turtleneck but at least your armpits could finally breathe.
Matthes: Yeah, this was something new for sure.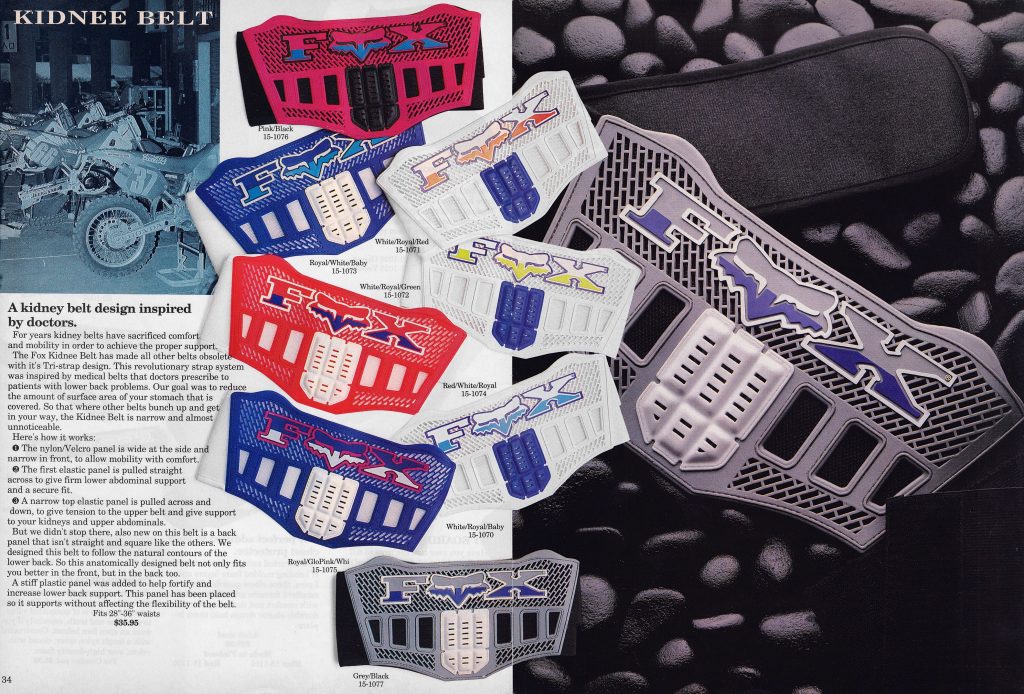 Blaze: Once upon a time kidney belts were a thing and these Fox ones were some of the coolest in the business. 
Matthes: Everyone took the formula from AXO in, I think, 1988 and made their belts like those. I did a podcast with Bob Rathkamp from Sinisalo recently and he talked about that design.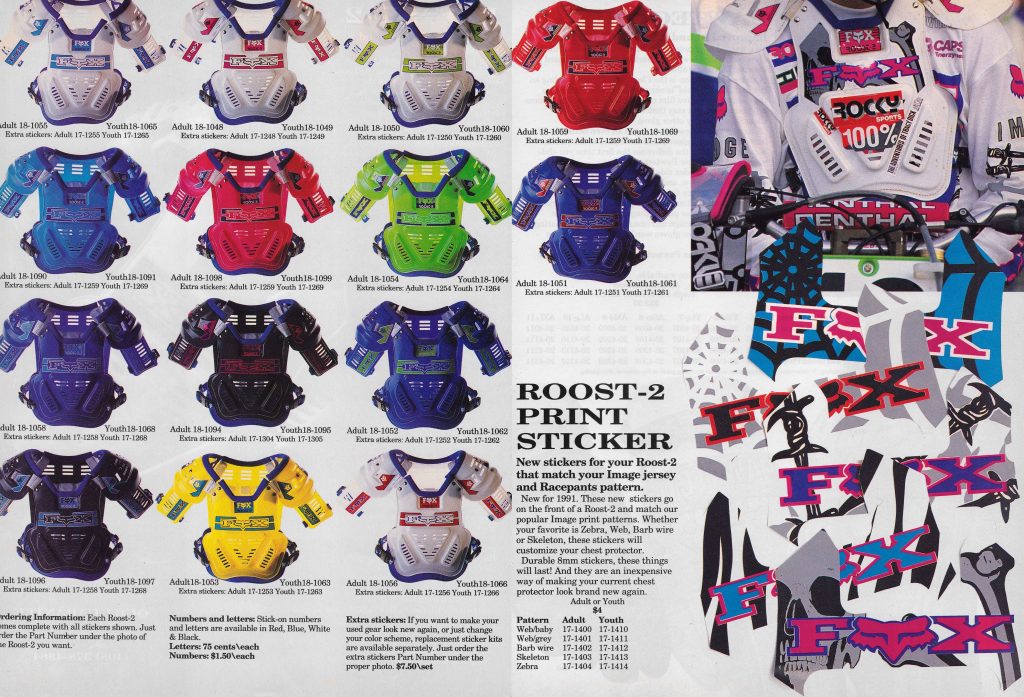 Blaze: Much like kidney belts, the over-the-jersey chest protector has largely fallen out of style today, but in 1991, it was still common to see the top riders sporting a set of pads over their jersey. By 1991, the Roost-2 was already a six-year-old design, but I think its iconic styling holds up even today aside from the optional stickers, which seem like the tacked-on afterthought they were.
Matthes: Why change what wasn't broken? Amazing sales and design by the Fox guys with this chest pro and they probably sold one billion of these.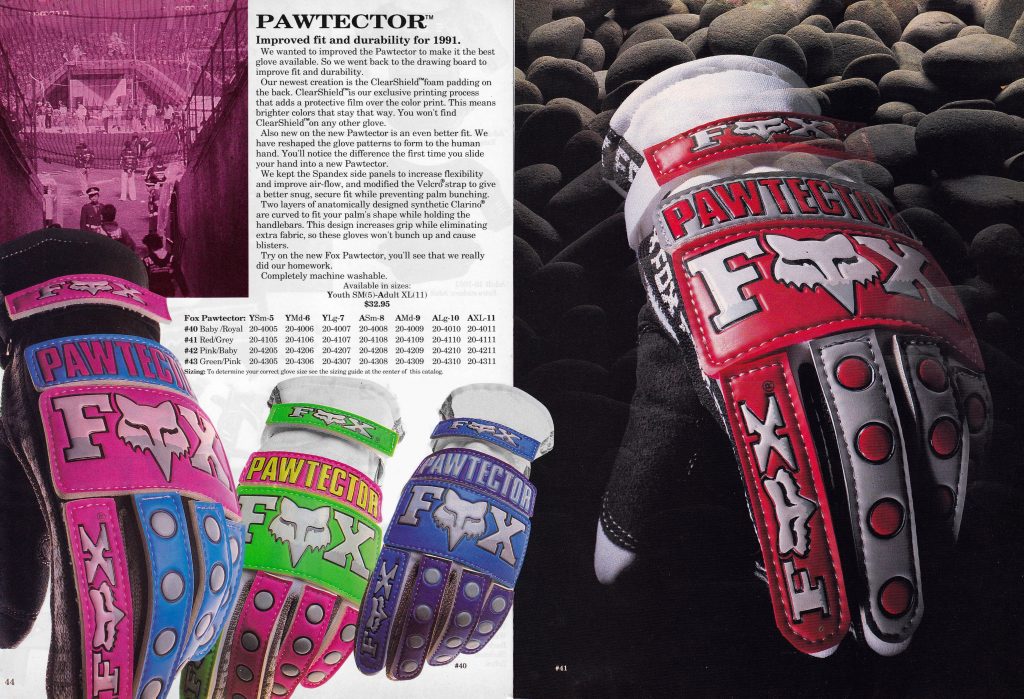 Blaze: I have owned tons of pairs of Pawtectors over the years and they were all pretty good gloves. This 1991 version was not my favorite, but I did own a pair and they were perfectly fine at the time. 
Matthes: Yeah, they did what they set out to do. I bet the palm material of the Pawtector didn't change for 15 years.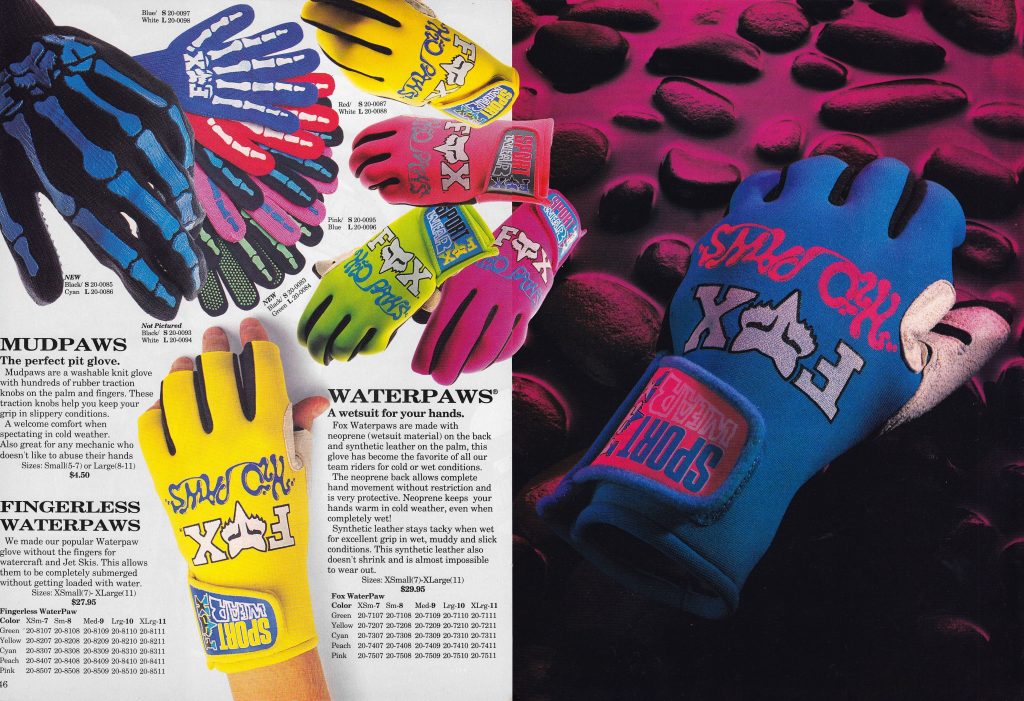 Blaze: I have never been into watercraft, so I never had any of these Waterpaws. The Mudpaws seem like an interesting idea as well but I have never tried a pair in the mud. Considering how useless normal gloves are in the slop maybe I should have picked up a pair and tried them out. Maybe more interesting is the fact that Fox is marketing them here as sort of a precursor to what Jim Hale would do a few years later with his Mechanix Wear line of gloves.
Matthes: I had a set of these Waterpaws for jet-skiing! Hard to take on and off but once on, they were sweet looking. And MudPaws were always a staple in my gear bag for years and years and would have to bust them out a couple times a year.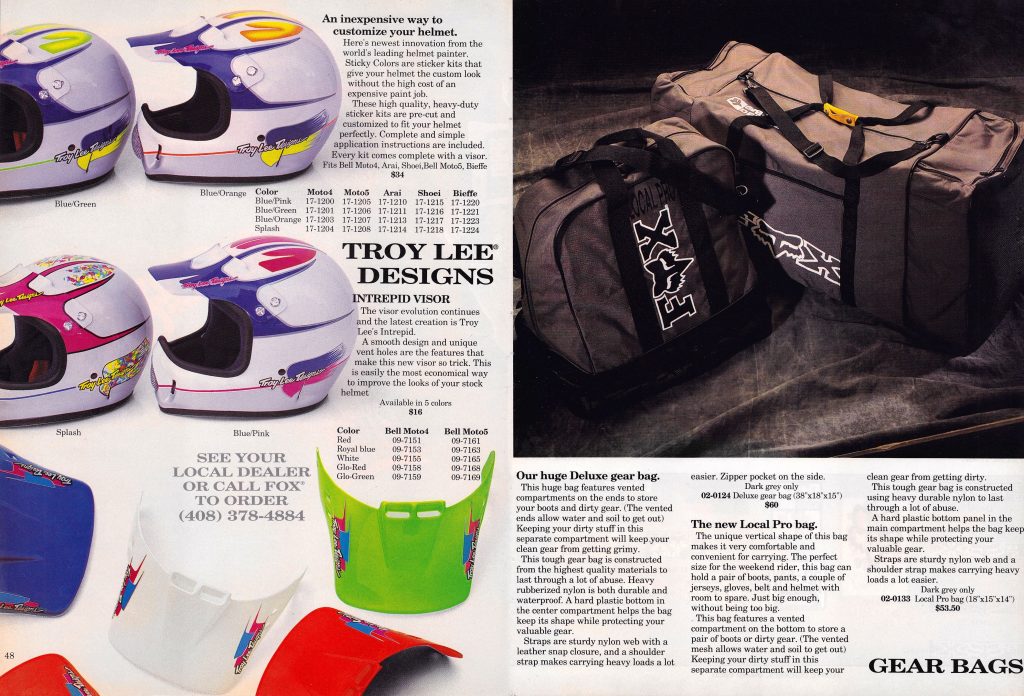 Blaze: Holy Moses it is hard to understate how popular these Troy Lee Designs visors and graphic kits were in 1991. At the time, I had a Bieffe Jeff Leisk helmet (don't laugh) and I wanted this visor soooo badly that I tapped my own screws into the helmet to make it work. When I look back now, I honestly cannot fathom what I was thinking. There is no way drilling holes and tapping metal screws into a helmet is a great idea, but I was young and stupid. It eventually cracked around the holes but thank god I did not get killed in my pursuit of moto coolness. Young and stupid is a dangerous combination my friends. 
Matthes: Hold on Blaze, I also had a few Bieffe helmets as a kid (they were cheap and my dad obviously didn't care about my safety) but I believe he figured out which TLD visor fit on without tapping (?!?) new holes into the helmet. I'm pretty sure he didn't drill into the helmet to make it work. Obviously the center screw didn't work but I think it still held pretty good? Also, it's funny to see TLD and Fox work together here, like AXO and Sinisalo, etc but nowadays everyone is mortal enemies with each other.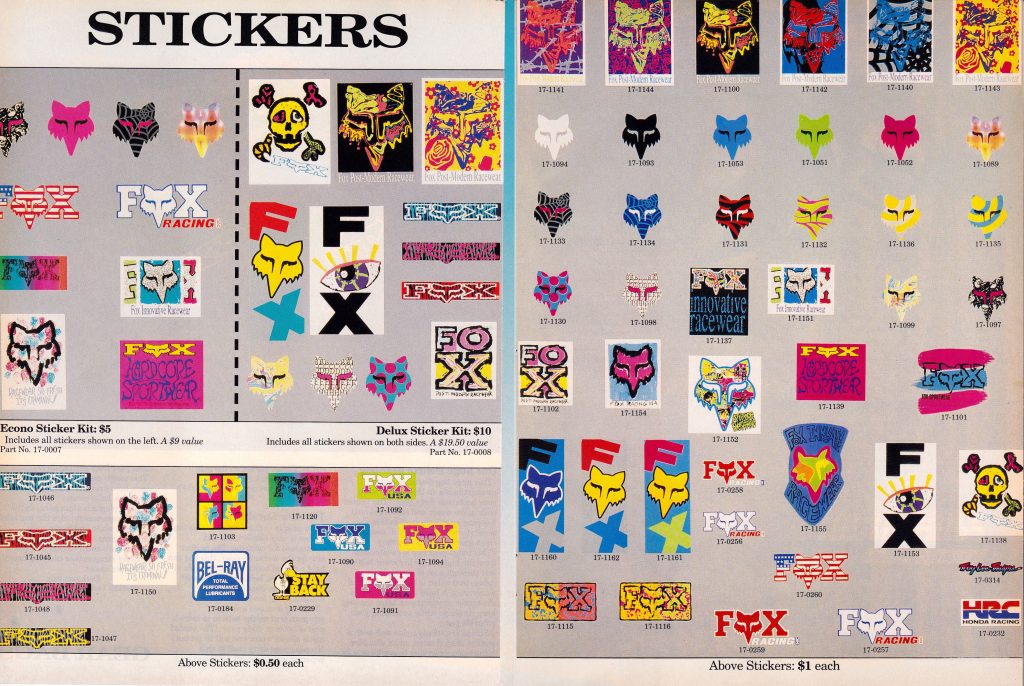 Blaze: In my youth stickers were the currency of moto coolness and I had more than a few of these on my old Elsinore. The iconic Fox head was a must-have and the always popular "Stay Back" was a popular warning to those who would tread too close to the mighty Elsie's Cheng Shin knobby. 
Matthes: I probably ordered from the back of MXA those sticker kits with the duck with the gun on it half a dozen times. You could pick ten for $20 bucks or something? I don't know, I do know I had one of those neon Fox head stickers on my van at the time.
For your daily dose of old school moto goodness, make sure to follow me on Instagram and Twitter @tonyblazier 
For questions or comments, feel free to drop me a line anytime at TheMotocrossVault@Gmail.com