The late eighties were a great time for fans of motocross gear. New technology was increasing rider comfort and bold designs from perennial powerhouses like JT and upstarts such as Fox and AXO were pushing the envelopes of motocross aesthetics. Colorful, creative, and confident, motocross gear of the late eighties was unflinching in its desire to break new ground and float fresh ideas.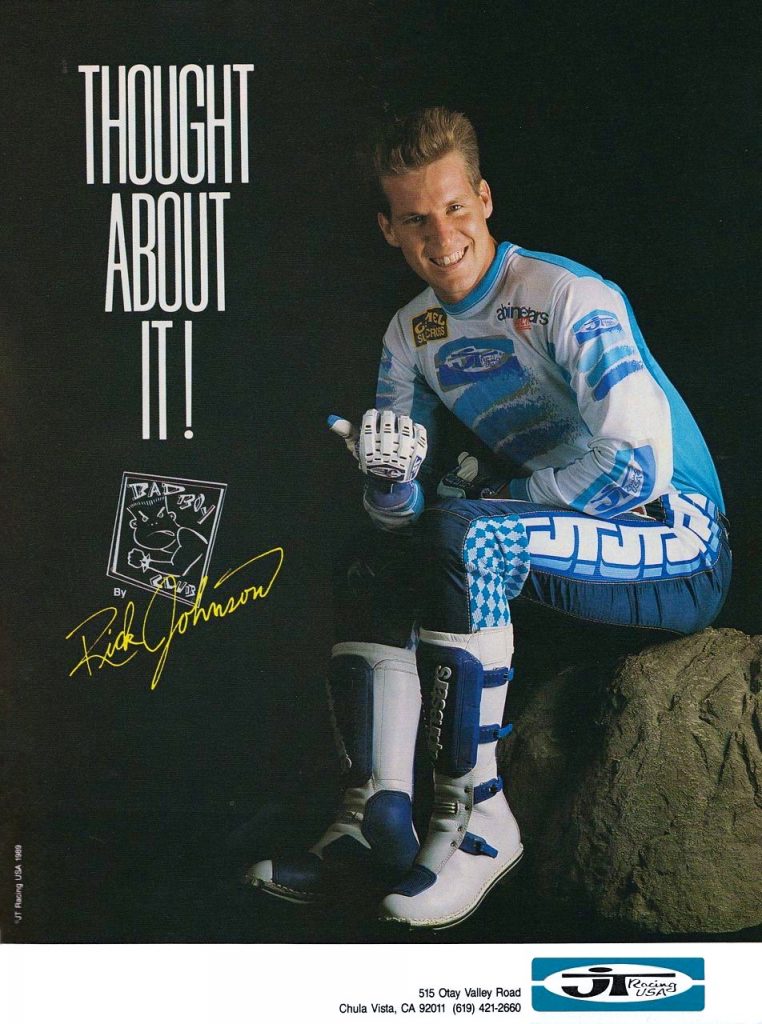 Rick Johnson's move to JT Racing in the fall of 1988 was the fallout of a powerplay by Honda who had tried to push Johnson into severing ties with Fox and racing the 1989 season in their in-house TX-10 line of gear. 
Throughout most of the 1980s, the preeminent gear brand in motocross was JT Racing. At one point or another, they had nearly every star in the sport under their banner. Jeff Ward, David Bailey, Rick Johnson, Broc Glover, Donnie Hansen, Chuck Sun, Johnny O'Mara, Kent Howerton, Marty Smith, and Ron Lechien all rode for JT in the 1980s. They were an absolute powerhouse of style with the gear riders wanted to wear and the athletes racers wanted to emulate.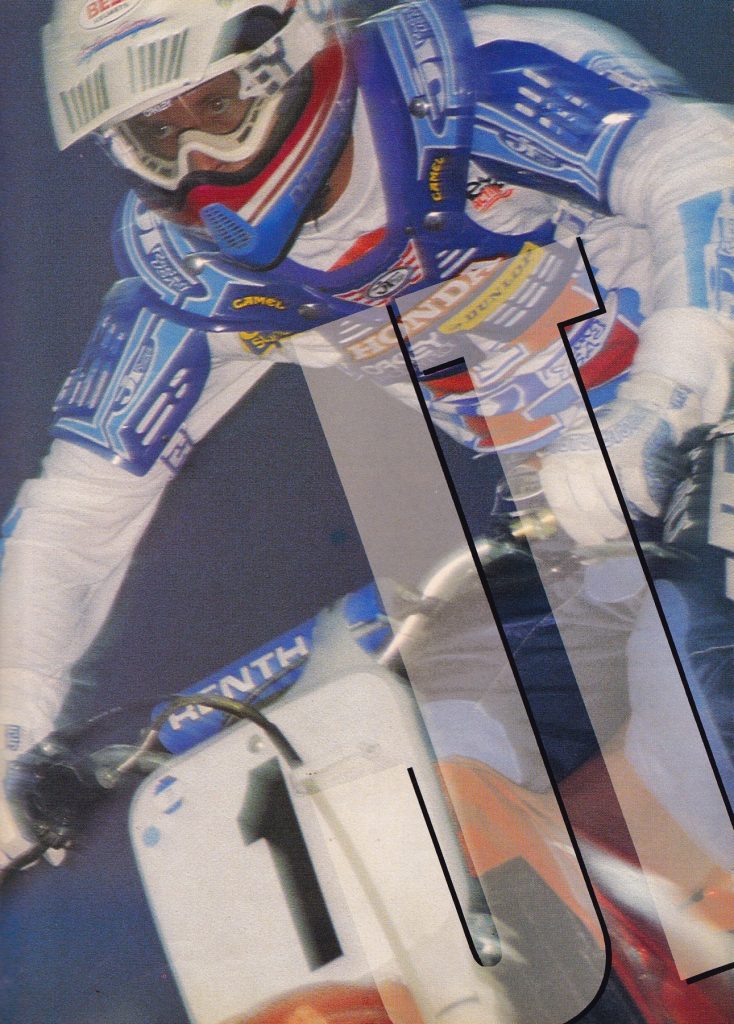 The RJ to JT move was one of the most shocking changes of the 1989 Supercross season. 
Towards the latter part of the decade, however, JT Racing started to face some serious competition from Fox Racing and AXO Sport. Pete Fox's inspired designs and Jim Hale's marketing wizardry started to chisel away at JT's dominant position.  By 1988, JT Racing was no longer the gear to have with many riders migrating to AXO, Fox and Answer. 
For Fox Racing, one of their major coups had been the signing of Ricky Johnson away from Sinisalo in 1985. At the time, RJ was coming off his first 250 National Motocross Title and was already thought of as one of the sport's true stars. His outgoing personality and flashy style on the track made him a great spokesperson for a brand trying to break away from a stodgy reputation. The Fox/Johnson pairing would turn out to be one of the most successful in the sport's history with both riding a wave of huge success throughout the middle part of the decade. With Pete Fox's vision and Johnson's style, Fox was transformed from a bit player to the most influential brand in the sport in only a few short years.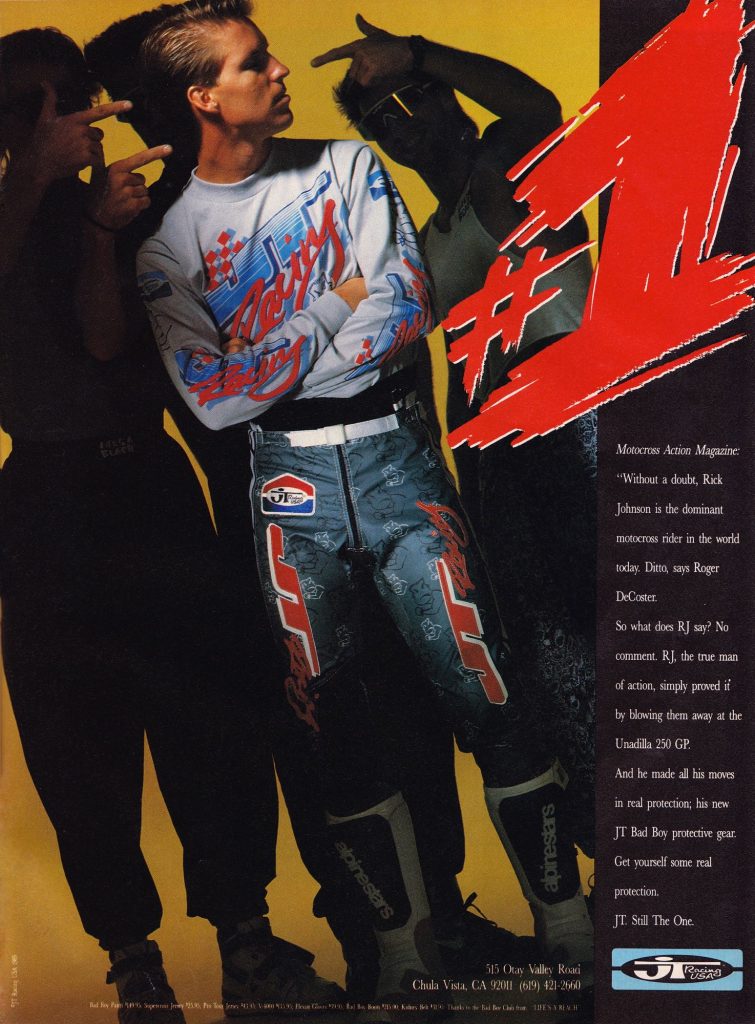 While the new "Bad Boy" RJ signature gear was far from unattractive, its understated style seemed somewhat out of step with the bold designs of the time. 
By end of 1988, Rick Johnson was firmly established as the biggest star in the sport. He had managed to score two major titles in each of three previous seasons and helped lead Team USA to Motocross des Nations victories in 1986, 1987, and 1988. Knowing they had the biggest motocross star in the world on their roster, Honda made the rather questionable decision in 1989 to try and leverage Johnson's star power to sell their in-house Hondaline gear. During contract negotiations, Honda attempted to pressure Johnson into leaving Fox and this led to some rather heated exchanges between the three parties. In the end, the negotiations backfired for both Fox and Honda with Johnson choosing to instead sign with his old partner JT.
At the time, this was a fairly momentous move. While certainly not irrelevant, JT's portion of the motocross mindshare had certainly declined by 1989. With Johnson's hiring, more than a few pit pundits thought JT might be ready to make a move to reclaim their lost position as the kings of motocross style. Unfortunately, however, the JT signing turned out to be the first in a series of events that would see Johnson go from the sport's biggest star to a mere afterthought in less than a year.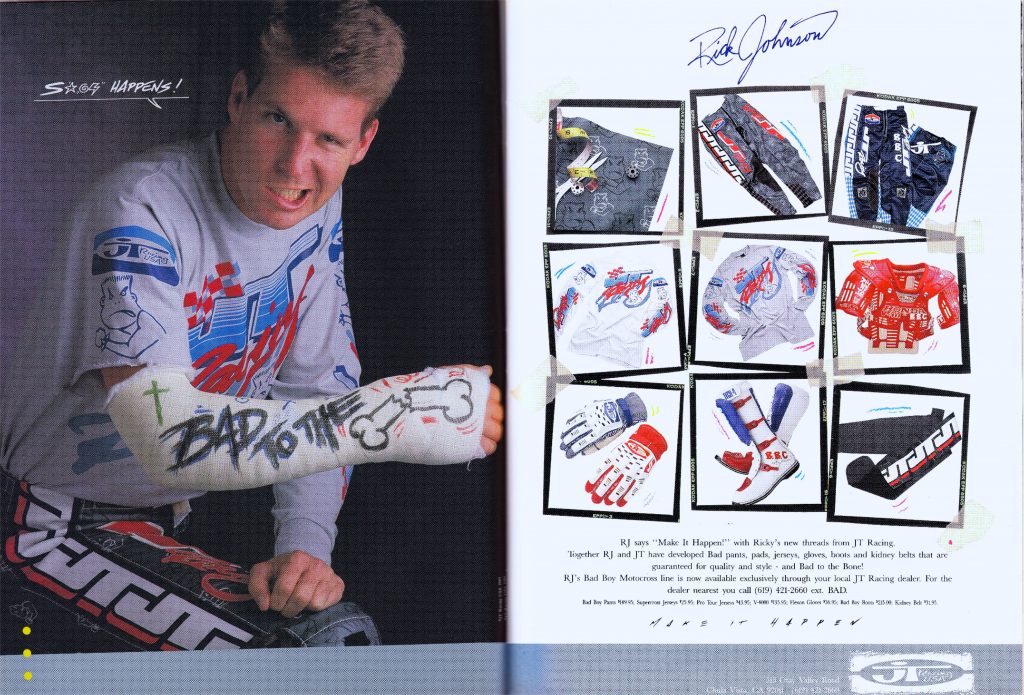 At the time I loved this lighthearted ad poking fun at RJ's wrist injury. I think virtually everyone outside of Johnson's doctors thought there was no way he would not bounce back from this and be the same old Bad Boy once the cast came off. Unfortunately, this was not to be. 
With such a late start, JT did not have much time to capitalize on Johnson's popularity and ended up introducing a rather boring and uninspired line of gear based on Rick's Life's A Beach "Bad Boy Club" line of casual wear. While certainly not unattractive, it was a far cry from the red-hot Fox pattern designs being sported by Damon Bradshaw and Jeff Matiasevich. In a bit of irony, the 1989 JT Racing RJ signature gear actually most resembled the boring Hondaline TX-10 he had fought to not wear.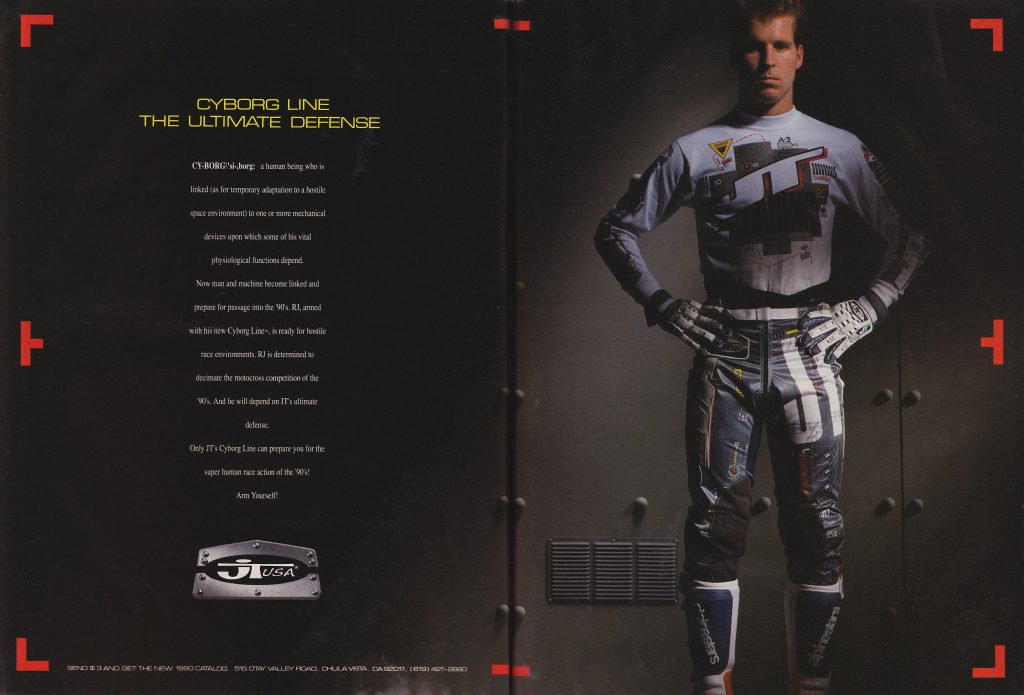 For 1990, JT and RJ were back with another line of boring gunmetal gray gear. Perhaps this was some sort of counterprograming to the neon assault being launched by the competition. 
While the gear turned out to be rather pedestrian, Johnson's results on the track were anything but.  He ripped off wins in the first five Supercross races of the season and looked to be on his way to a third Supercross title when a Gainesville practice crash left him with a badly broken wrist. At the time, no one could have predicted just how seriously this crash would derail the career of Johnson. Complications and lingering structural damage would leave the seven-time AMA champion with reduced mobility in his wrist that would prevent him from ever approaching his former speed and style. 
In 1990, Johnson would attempt to make a comeback on his factory Honda machine. This season he would also introduce the "Cyborg" line for JT racing which appeared to be setting itself up as an alternative to the loud and colorful offerings of the competition. In an era dominated by bright neon and bold patterns, the battleship gray and rivets of the Cyborg gear stood out for its understated appearance.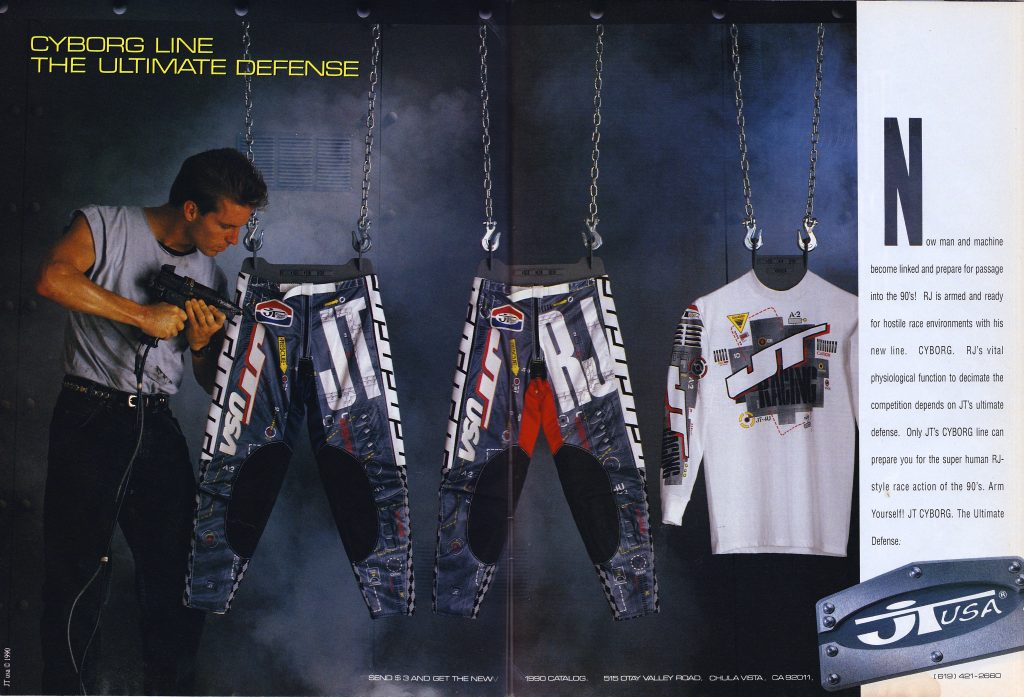 While I have no idea how well the Rick Johnson signature lines sold, I doubt they were as successful as JT had hoped for when they signed RJ in 1988. 
For both Johnson and JT Racing, the rekindling of their relationship never proved to be the success story both had hoped for. Sub-par results on the track and uninspired designs off of it left both feeling as if a change was best for the 1991 season. A move to Thor by Johnson for the 1991 season would prove to be the last of his illustrious motocross career. After struggling in the first five rounds, Johnson would officially retire from professional motocross racing and move on to pursue a career in auto racing.