With the 2021 SX series being so unique with three cities hosting three rounds in a week, a back to back in Orlando and SLC, I thought that I could at least try to make this a bit fun and different if I were to be in these cities covering the races. I put my Intense Tazer e-bike on the Fly Racing truck (shoutout to the Team HEP guys for taking it from SoCal to Houston BTW!) and would try to ride some different spots throughout the country. It allowed me a chance to hang out with some different guys, see some different terrain and all in all, it was a great idea.
Here are the rides I went on this SX season.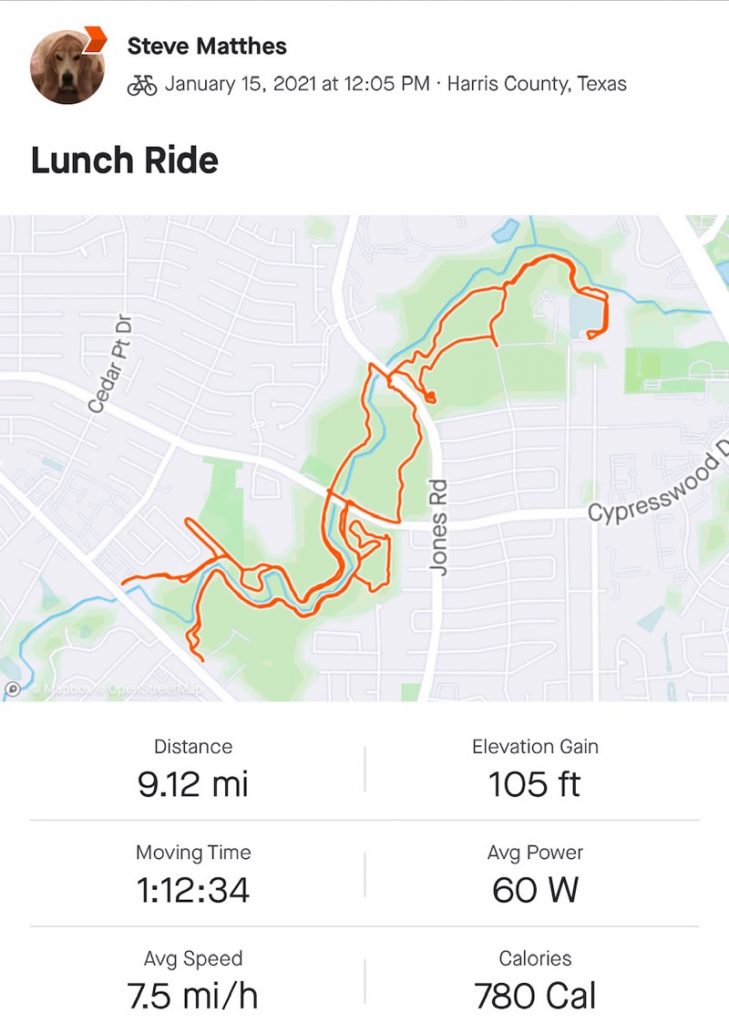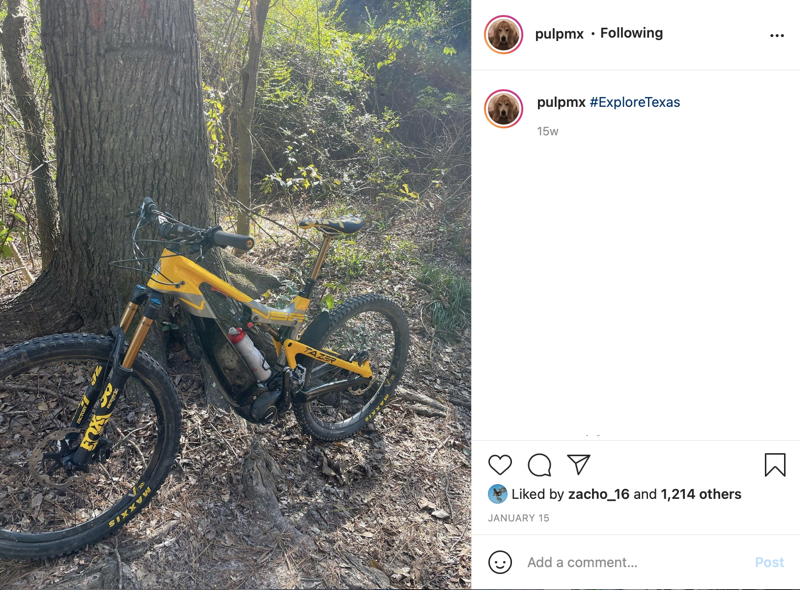 Right out of the gate I hit probably my worst ride of the whole year! Look, I didn't have much time the Friday before Houston 1 so on some recommendations of Van Martin, I hit these local trails that weaved in and out of some suburbs. Didn't turn the assist on at all!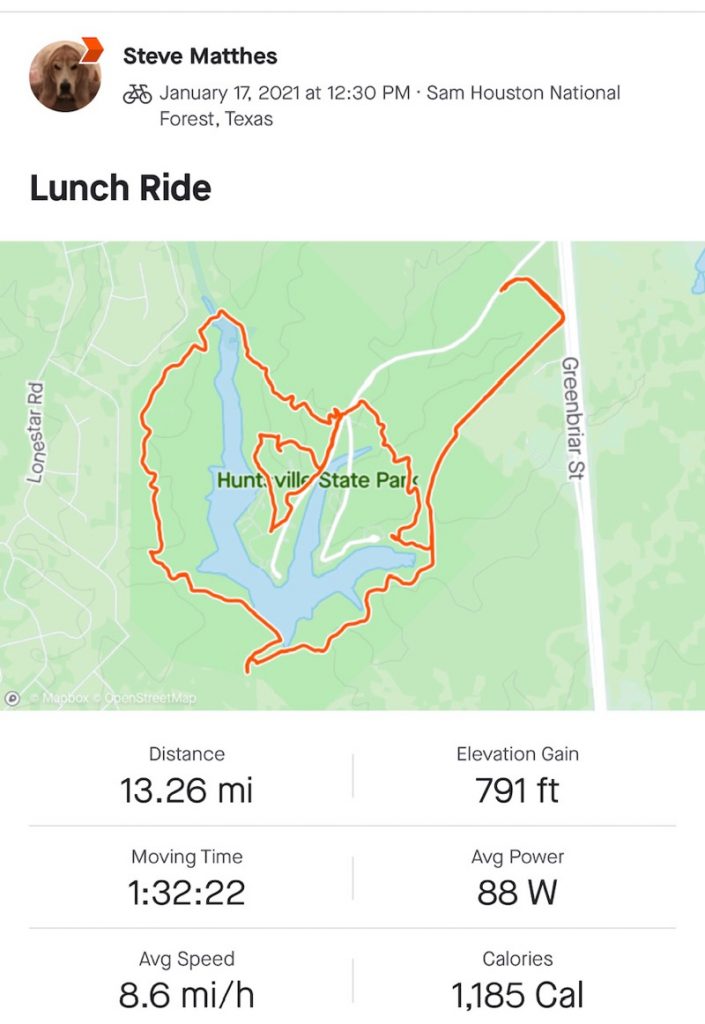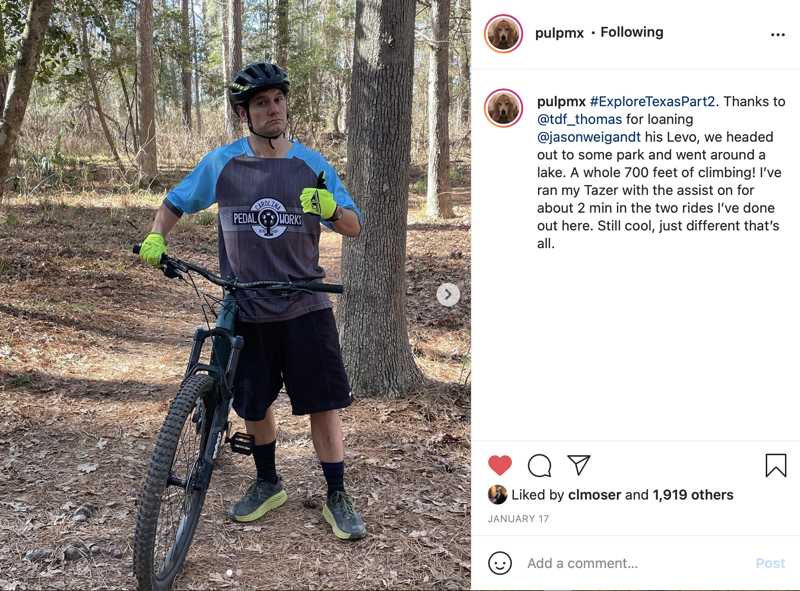 Sunday after the first round, Weege borrowed a Levo SL from our buddy Thomas and we headed out to a little bit better of a spot. Still didn't really need the assist, it was pretty flat and being a Sunday, it was very crowded also. Weege is a sneaky good athlete BTW, he's got great cardio on a bike or running. It was cool to ride through trees and stuff!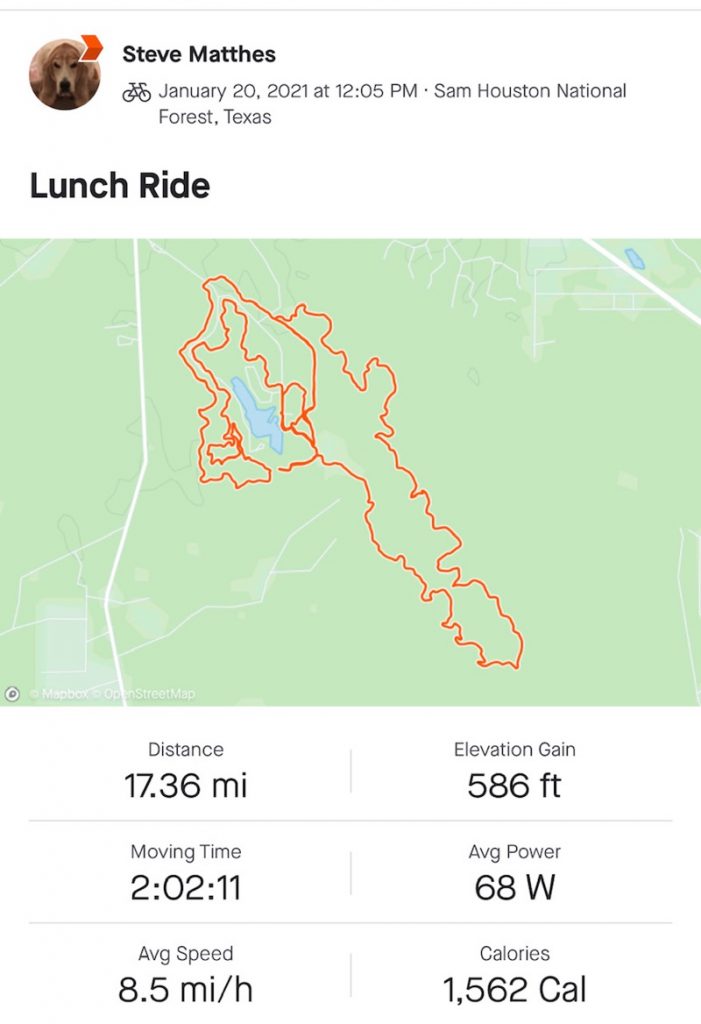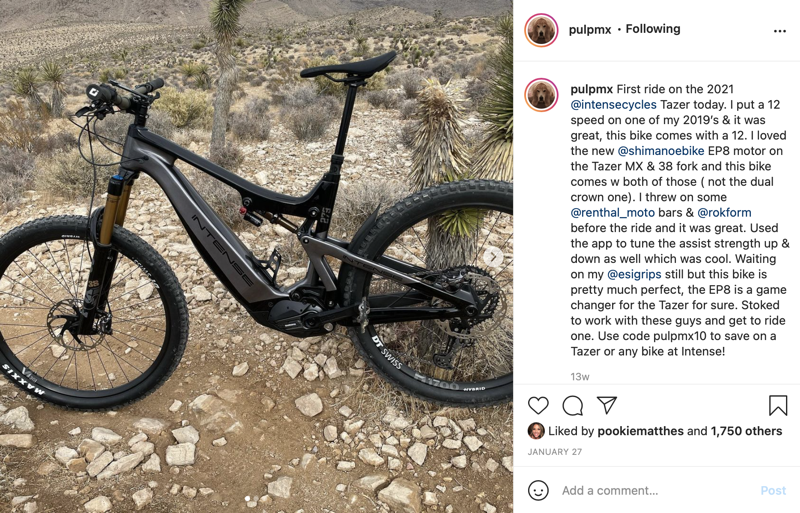 This was perhaps one of my best rides, the photo above is wrong place/wrong bike but yeah, whatever. This was a far drive for me, two hours or so but it was really cool. It was kind of spooky as it was a national park and I was the only one I saw all day. I was deep in the forest on a single-track with trees covering me but it was kind of peaceful. Again, not much climbing but I really explored this place and rode pretty much every trail. Popped out at a lake at one point and stopped to soak that in.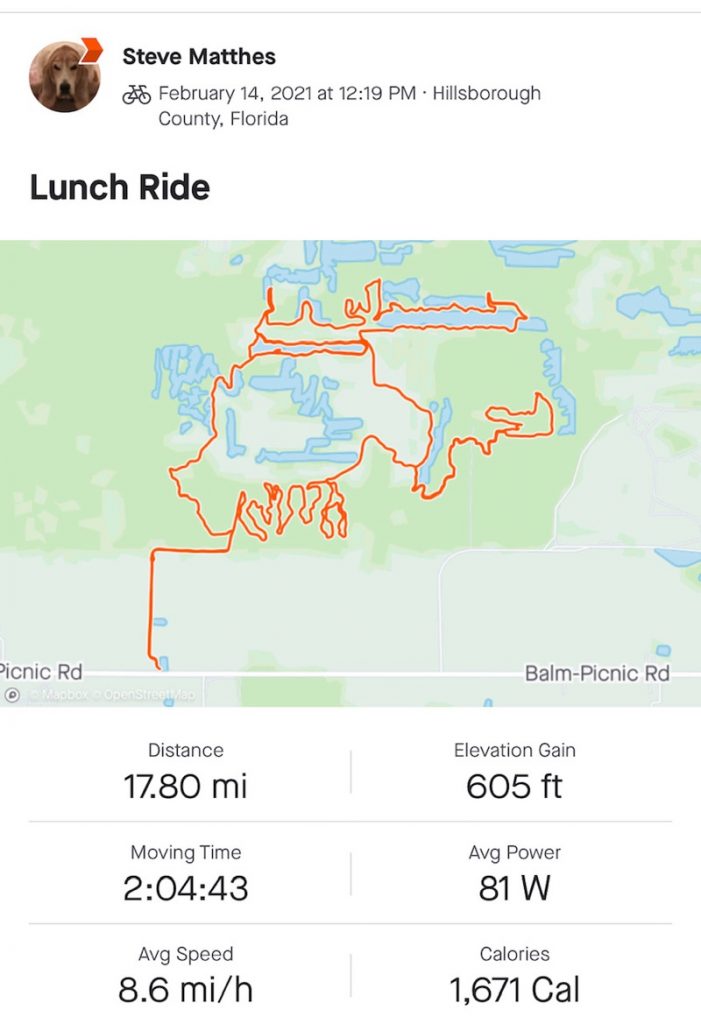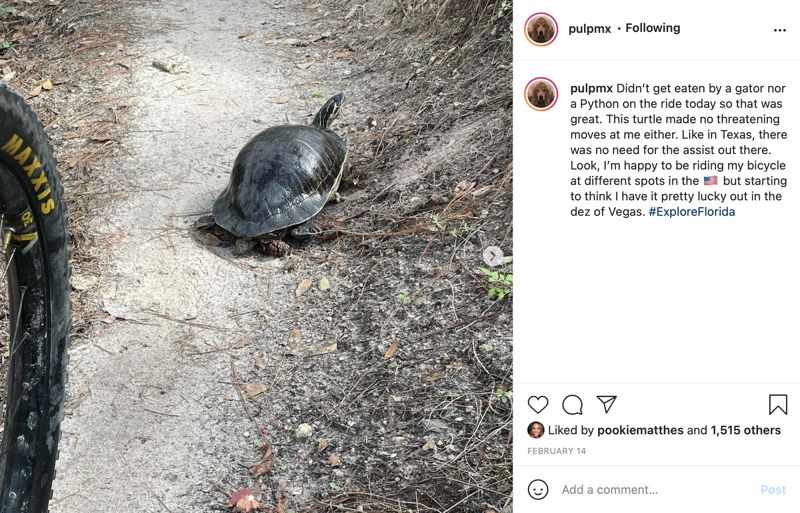 Didn't ride at rounds 4-5-6 because, yeah we were in Indianapolis in Feb but it was onto Orlando for two rounds and there were three spots that everyone told me to hit up. First was Balm Boyette and although a couple of trails were closed this was a fun spot to go to. Palm trees and humidity were a nice change. This ride was more small ups and downs as you went alongside a river. Saw this turtle also and my front brake hit a tree and I went down as well at point.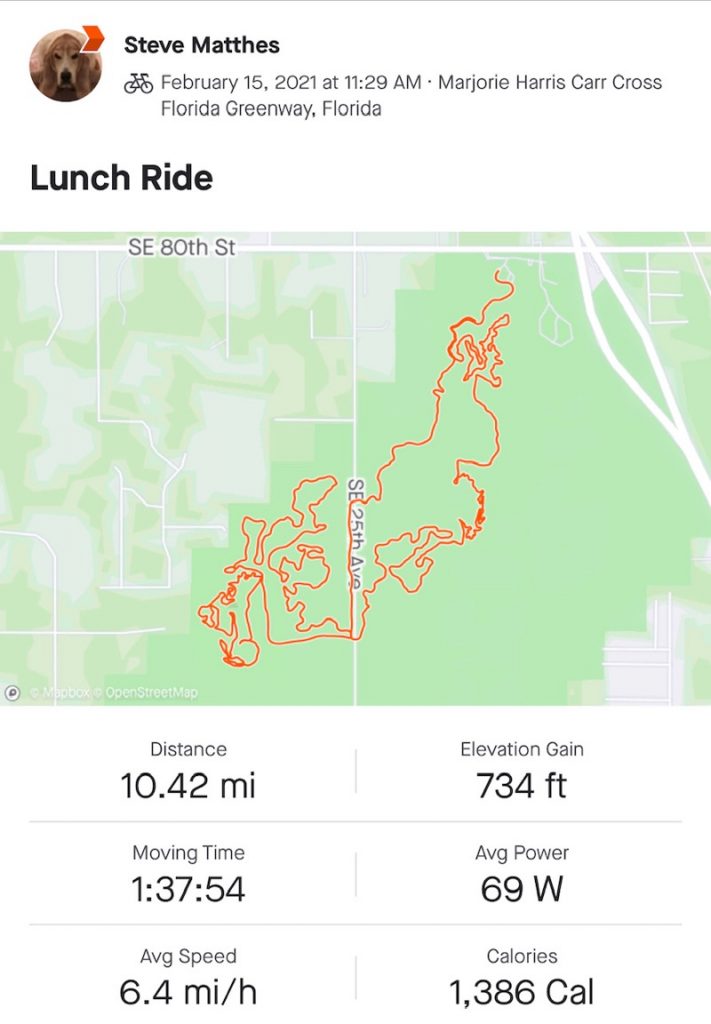 The next day I headed out to Santos and this was more of the same as the day before but more fun for sure. There were some really tight spots out there on this ride where the trees felt like they were closing in.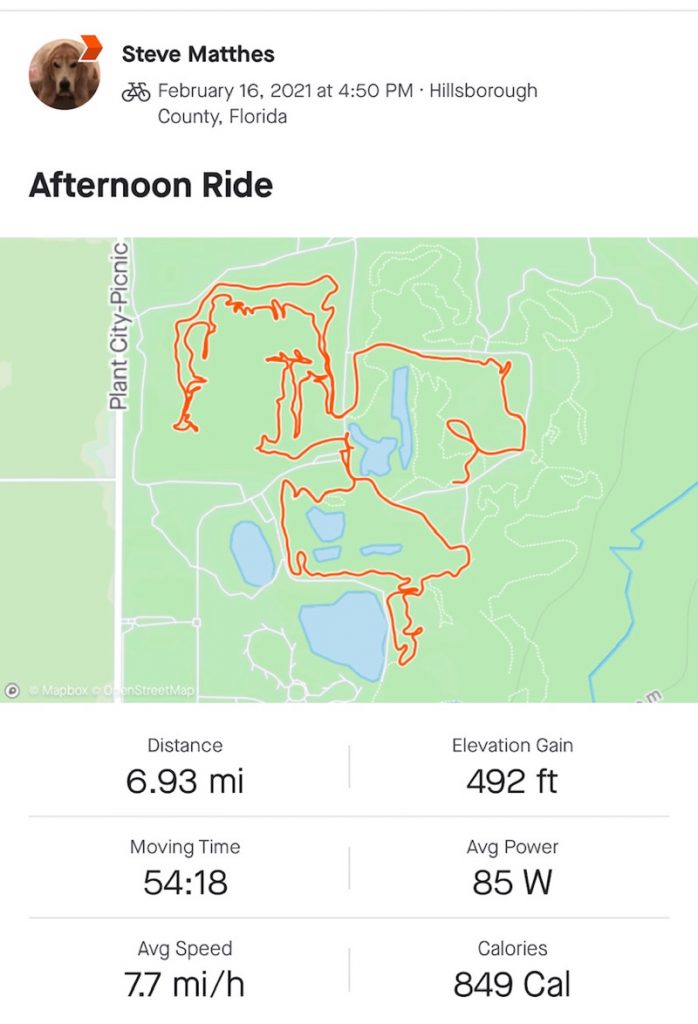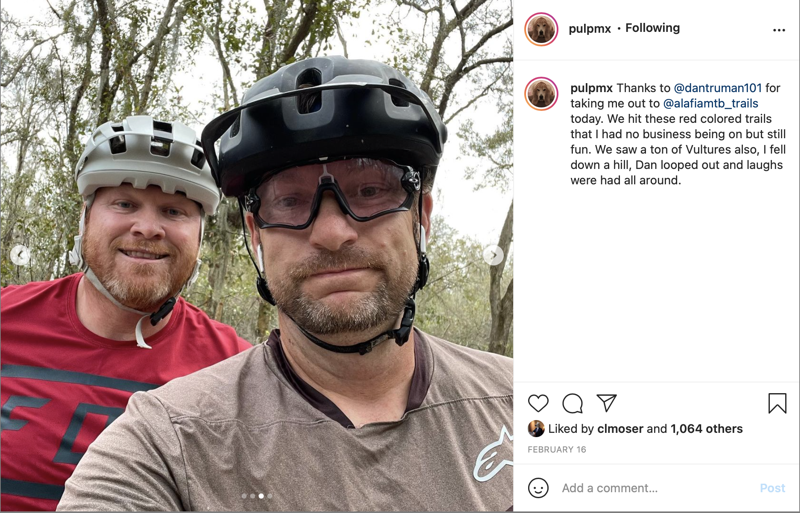 My buddy Dan Truman took me out to this Alafia place after we watched some guys ride dirt bikes for a little evening ride. It was a cool spot that was pretty busy, it was also pretty wet and Dan & I went on this section that was coded black (meaning very tough) and with the mud plugging up my tires and some very steep ups and downs, I was struggling! LOL, Dan ate crap by looping out which was funny. My cleats and tires were muddy, I wasn't really going anywhere. Outside of that loop, it was fun and at one point were deep in the forrest with all these vultures above us hanging off the branches like a horror movie.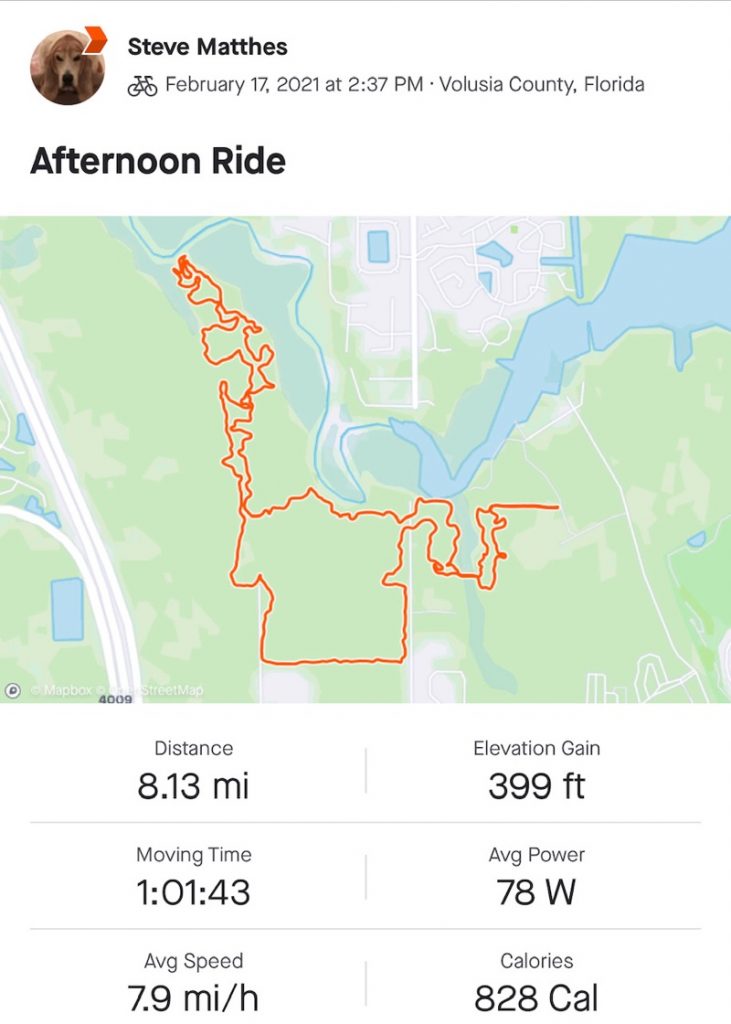 Went out here with Eric Perronard and his son Alex for this one and there was a cool view right over a lake at around the halfway point. Florida was fun to ride but you definitely don't need an e-bike to ride the trails out there.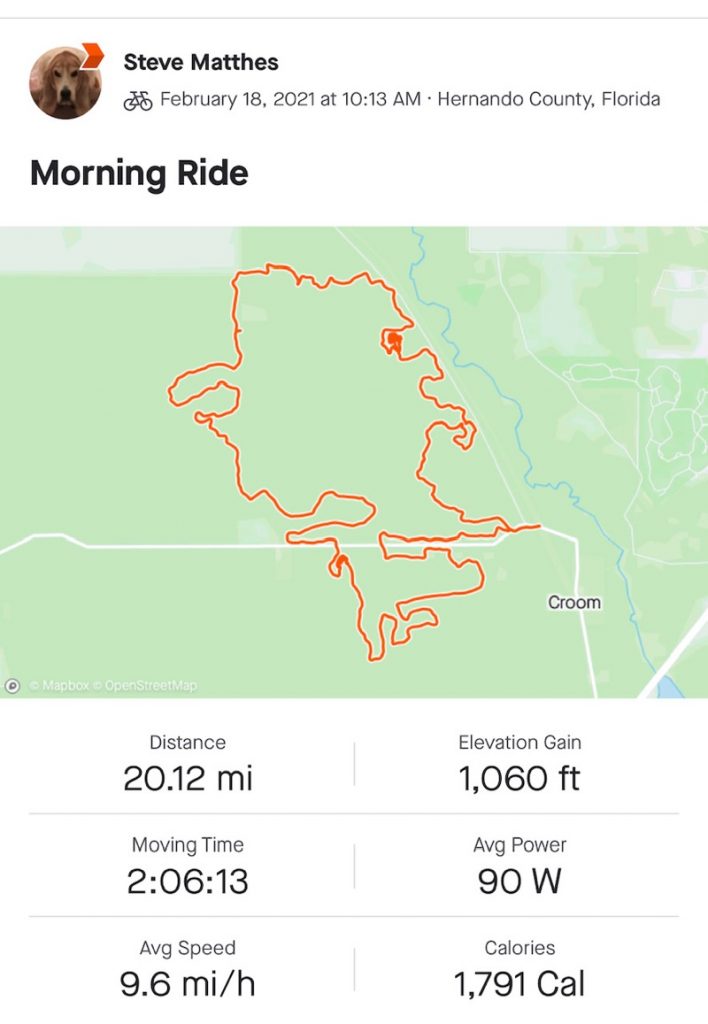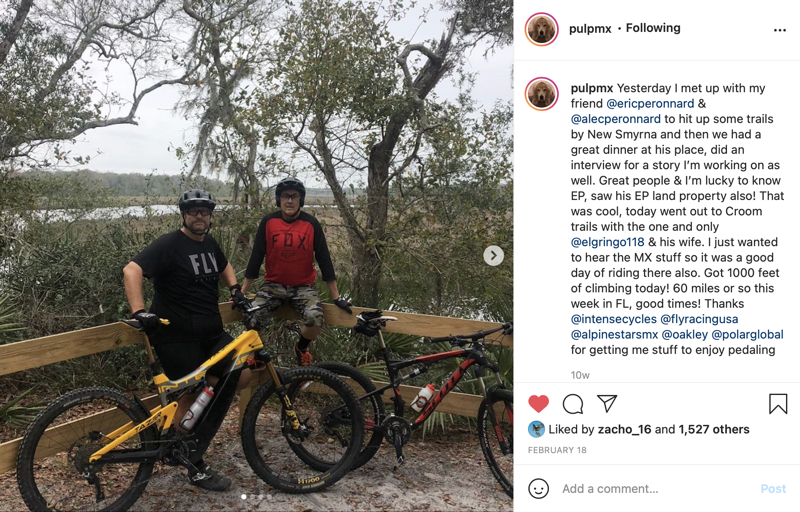 This ride was out at Croom with the man, the myth, the legend Gringo! His wife joined us also and this was maybe the most taxing ride I had on my trip outside of the SLC ones. It was hot, it was long and I was feeling it by the end. Gringo and his wife cut off early and I met them back at the truck. Going through the trees at a pretty good clip and just slow gradual climbs and downhills. Croom has a ton of trails and I didn't even come close to hitting them all. There was this little cool jump track about halfway through the ride, you can see those squiggles all close to one another.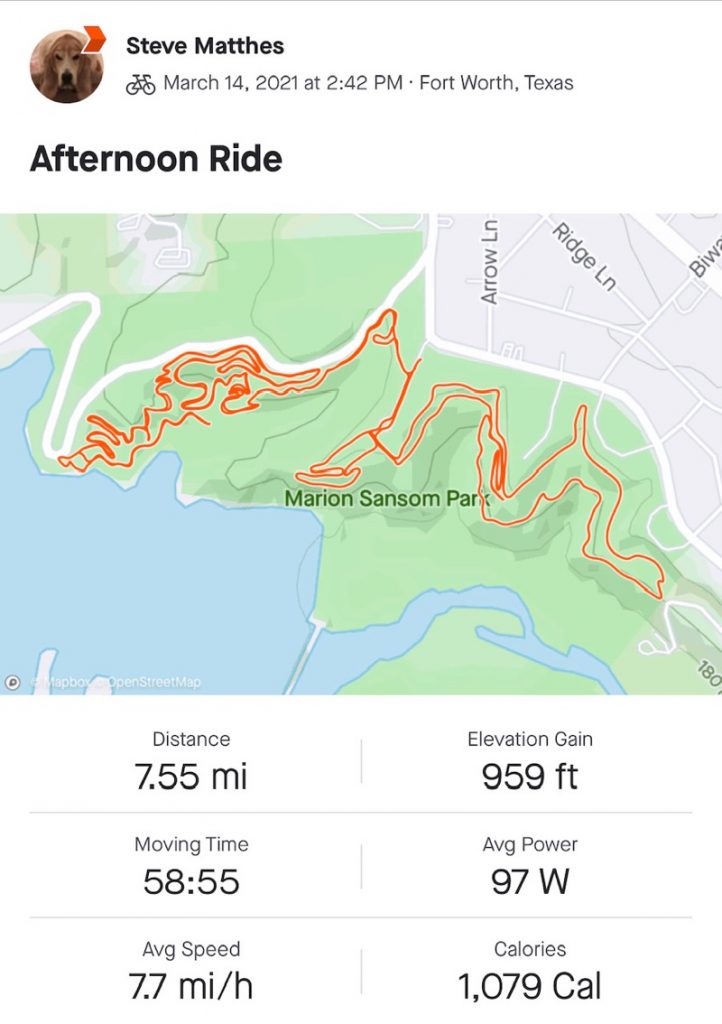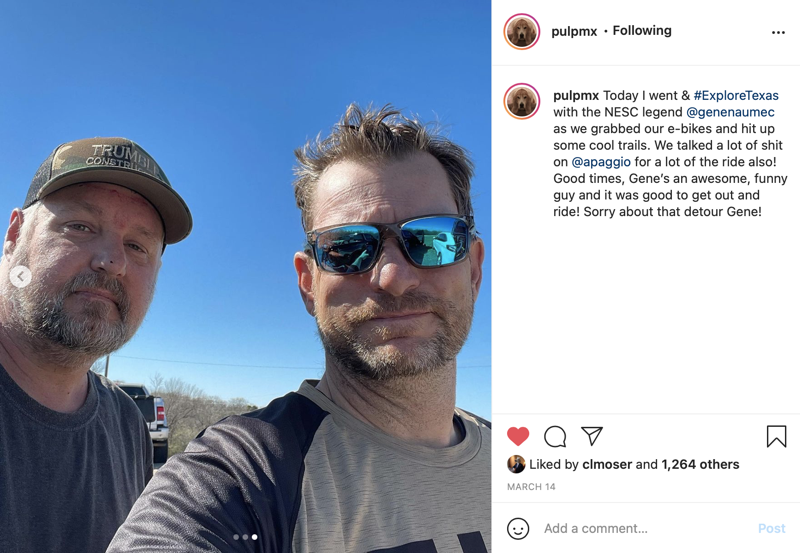 This wasn't far from Dallas Stadium and I met my buddy Gene Naumec out there. Gene was a great rider, he's gotten into E-bikes and this was a fun afternoon of catching up with him. I took a wrong turn, had to go down this steep-ass hill and Gene went right over the bars! That wasn't good. He broke his Polar watch and I felt bad so it was great to have Wayne at Polar hook him up. This was a fun day although I wish I had started earlier to hit more of the spots.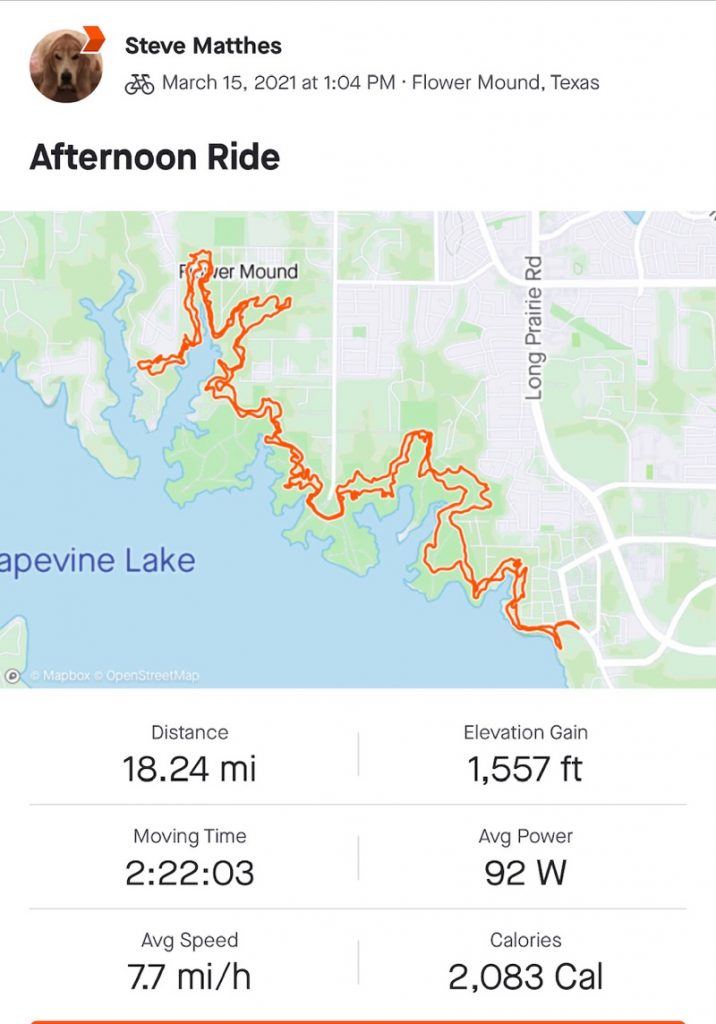 This was maybe my most underrated ride. It was outside of Dallas and through these neighborhoods but you really didn't see any houses. It was a bit bizarre, I went out by myself and had a blast here. At one point I was an hour or so in and came to a T in the trail where I could start heading back or I could tack on an extra 8 miles with that loop you see at the top of the route. Well, that 8 miles was the hardest part of the trail by far! And I was regretting my decision..LOL, it was cool though as I went up and down these ditches, through pretty deep water crossings also. This was a tough ride.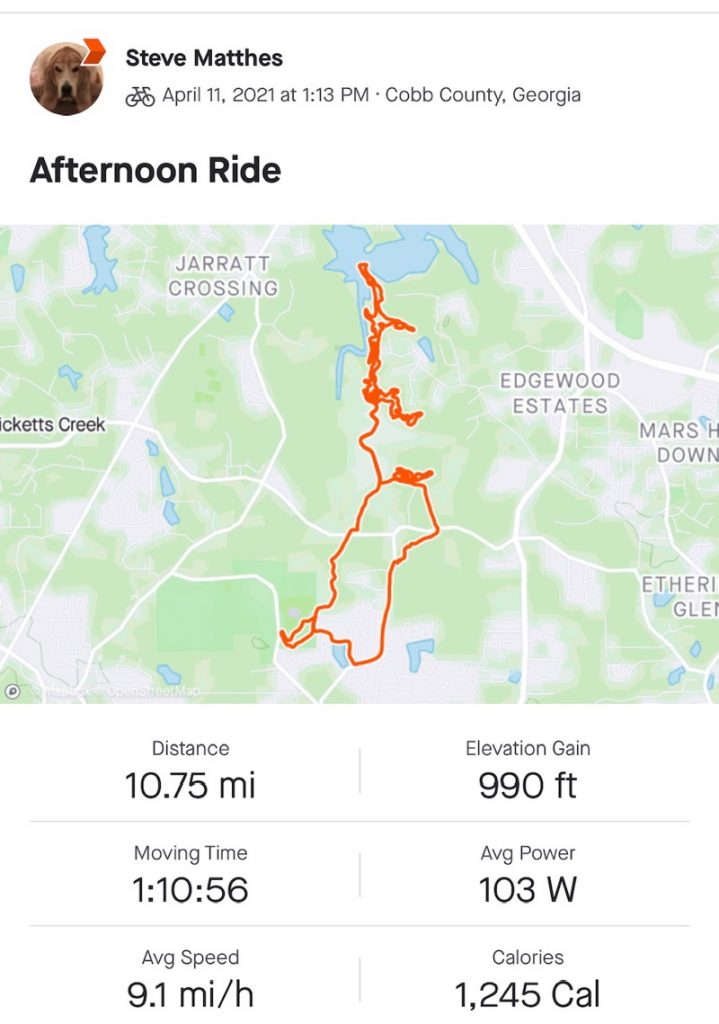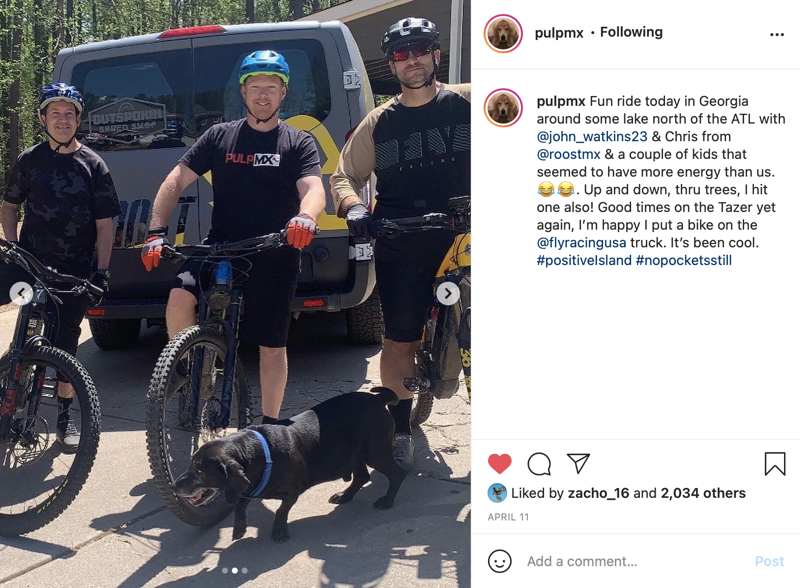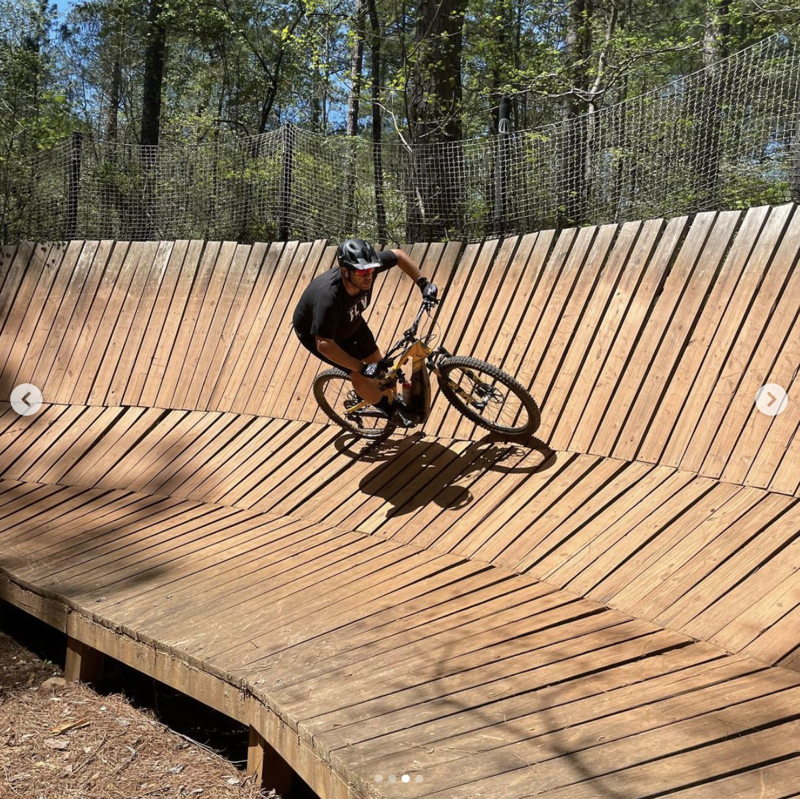 John Watkins is a listener who paid some money for Ron Tichneor's medical bills and got to sit in on the show with RV and Jake and Coke getting hammered. Him and his awesome wife got QUITE a show in. It was pretty funny, anyways, he's into mtb bikes and I mentioned that maybe he could take me out when we're out there for the 3 Atlanta's. Hit hit me up and this ride was with him, his kid and their friend. Their friend was a soul rider with checkered vans and barely a helmet on. Good little ride in Georgia.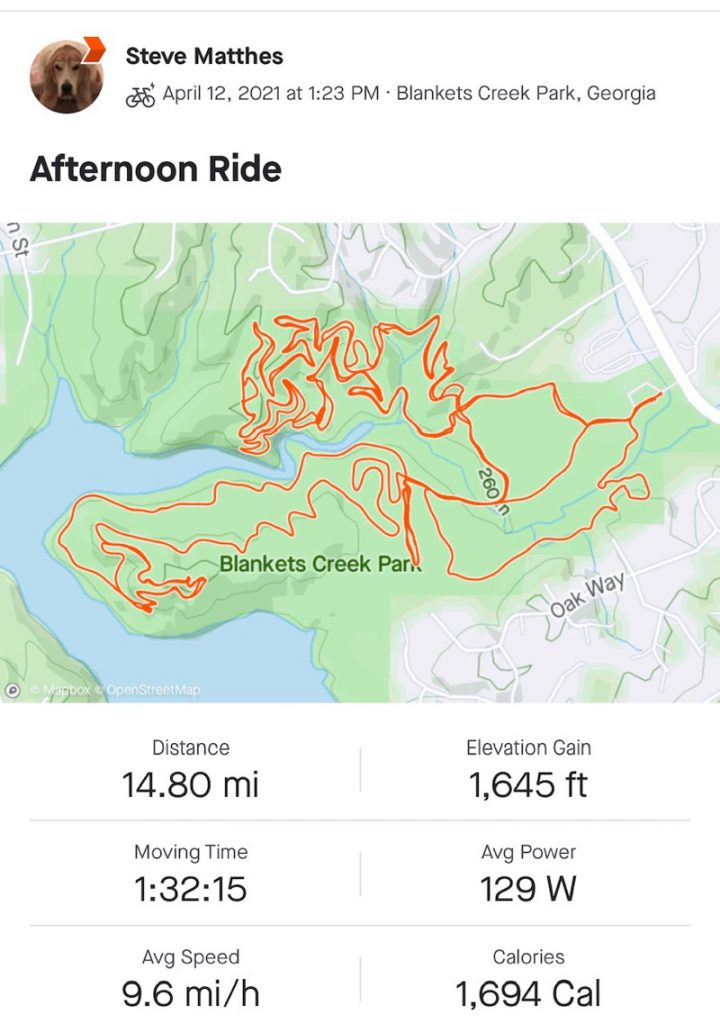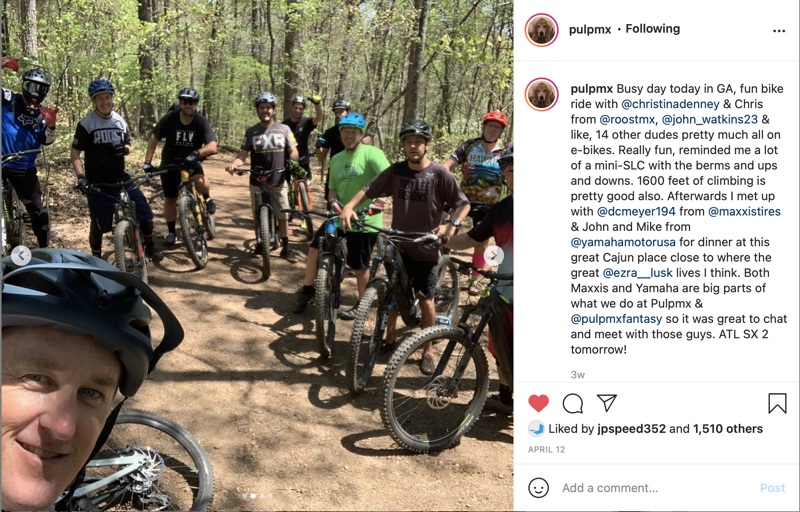 The next day John again met me out at a trail that I went on with Chris and Christina Denney from Roost MX. That photo above of me on the wood berm was from this day actually. Somehow we started with a pack of 15 e-bikers, LOL. By the end, there were like five of us left. But this was great, specific mtb bike trails, ups and downs, some huge dirt berms and you could really have some fun here. Then there was the little SX track with that wood berm and stuff. We rode a lot of stuff twice, it reminded me of Bobsled stuff out in SLC.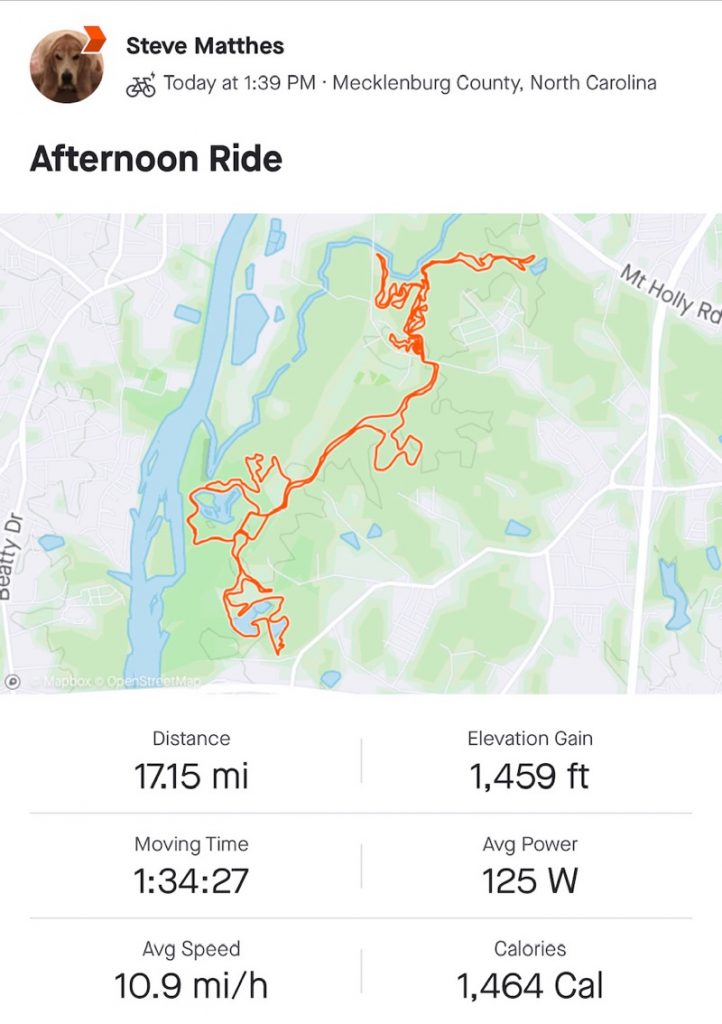 I headed out to NC after Atlanta 2 to meet up with Filthy Phil, Brayton, Josh Osby, Seth Rarick and Chris and Christina also came out. We went out to this USA White Water Rafting place and it was awesome. We had a blast, Phil wouldn't let us stop to chat for very long. This ride, as you can imagine with a bunch of motocrossers on it, was fast and intense. Winding in and out of trees, short bursts of up and down. Love that hard pack NC dirt that's a bit red also.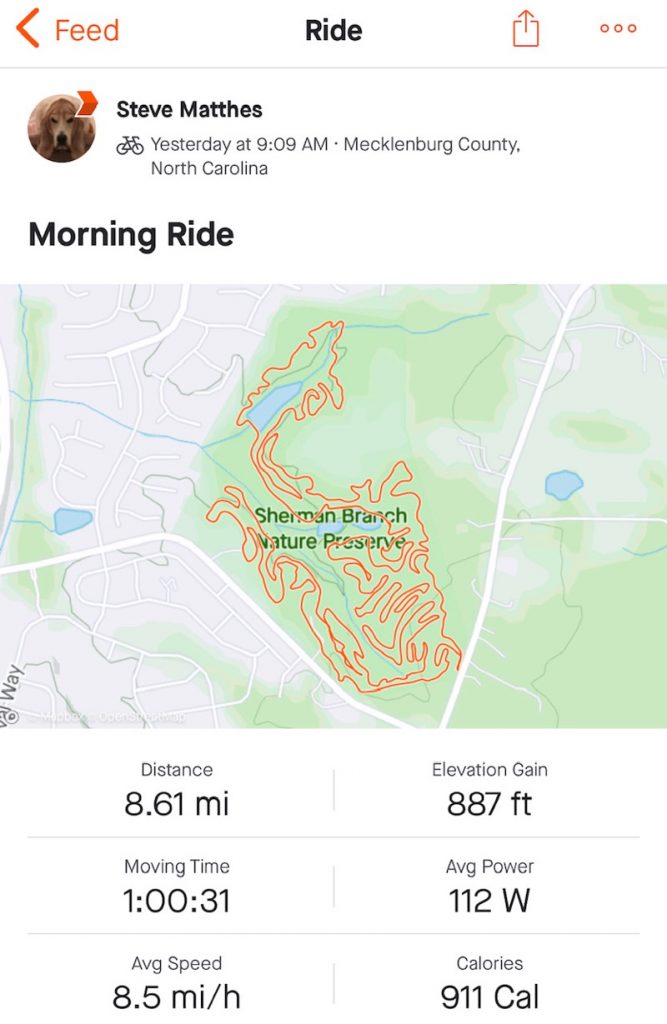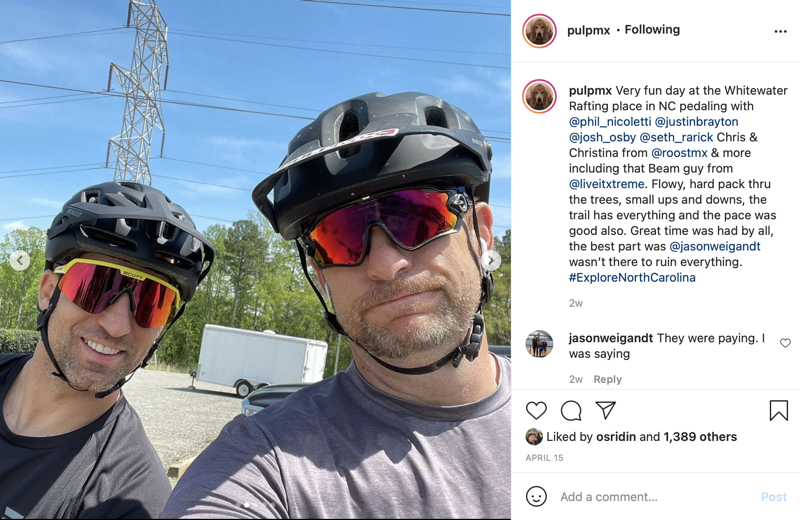 The next day JB10 and Osby took me to another place (along with Chris and Christina) close by where we went the day before. We rode every trail in the place and again, the pace was fast. In and out of trees, some rock crossings of streams, this was a ton of fun because we stopped maybe once, just get there, get going and hammer it out. JB also ate crap going over some rocks which made me remind him he wouldn't have crashed if he had a Tazer.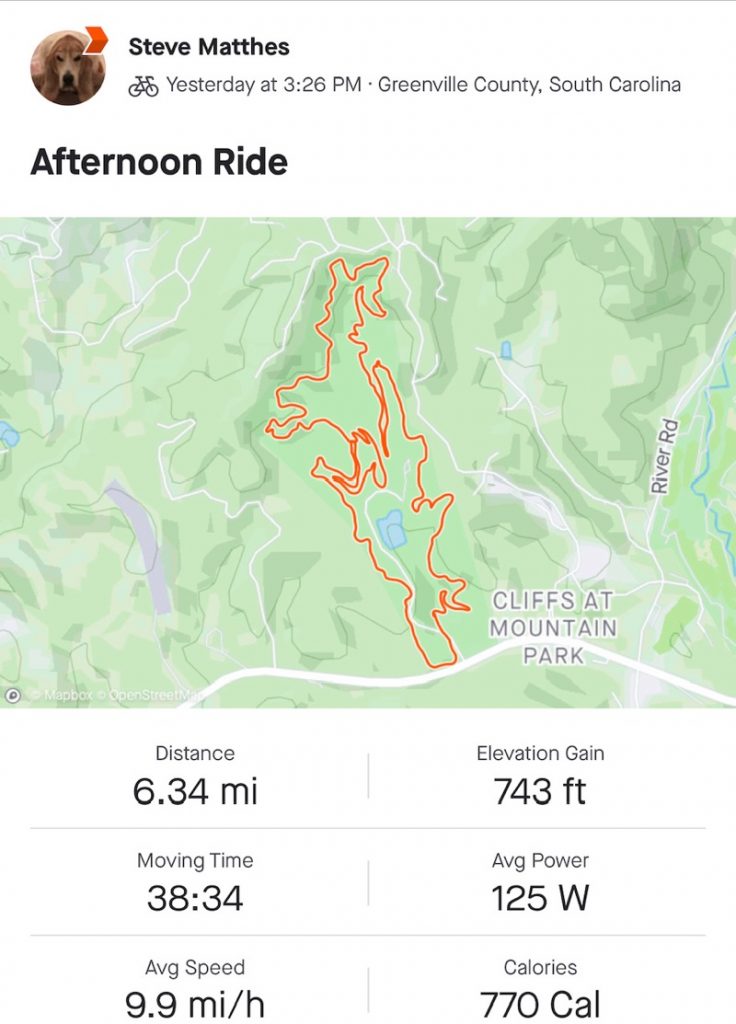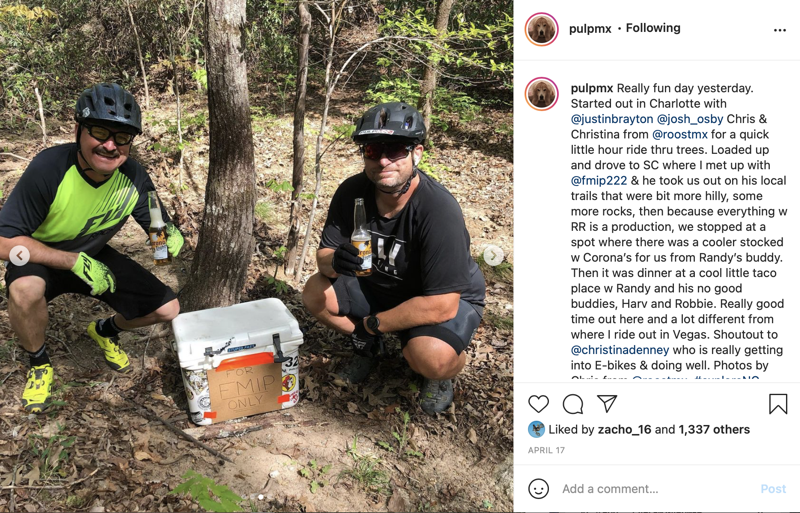 After that ride w JB, I drove maybe two hours and met up with my buddy Randy Richardson and we stopped at his other buddies Robbies house. Then we took off for this ride (again with Chris and Christina, they were loving it!) and Randy took us on something that was a lot like the morning ride but had more ups and downs. Of course with the FMIP, everything is a production and we stopped 3/4 way through the ride where there was a cooler marked "For FMIP only" and inside were beers. Because, well of course there was.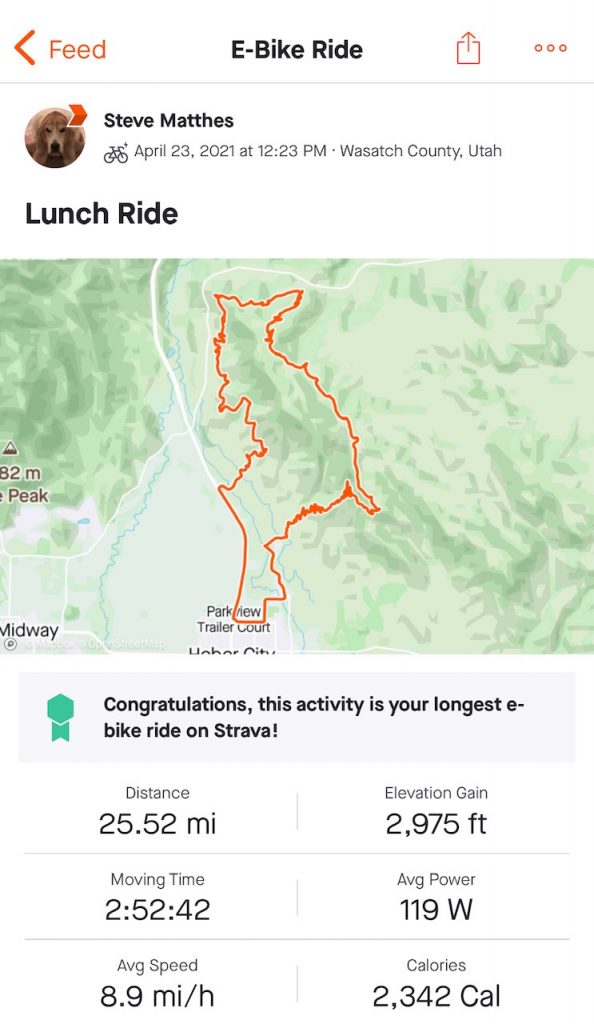 From there we headed to SLC for the final two rounds and I got a place out in Park City because last year when we were there, it was awesome riding and I was driving from SLC out to PC a lot. So I decided to pay way too much for an Air BNB in PC only to find out pretty much every trail I wanted to ride still had snow on it! Yes, this made me upset. Anyways, I did the best I could do and drove south of PC 20 min to this spot. This was maybe my hardest ride of the SX tour. Unreal views up on top of this mountain, I ran into spots where it was maybe four inches wide through snow banks and I was muddy AF afterwards.
I was just following Trail Forks the whole time and thought I was lost at one point because phone wasn't working in the trees. Then I started thinking about bears and mountain lions. Then I got freaked out. There was NO ONE around. The backside of the ride was the side where the highway was and that was awesome, flowy, downhill stuff. Oh I should also mention that I went down the hill to where I thought my truck was but I was too soon. So I hit my phone up, found my truck on the map and then headed there but soon realized that it was taking me like I was driving there. And I went down a big ass hill to the highway.  My battery was pretty much dead so I didn't want to head back up that hill so I went down the highway there (lower left) but then my battery did die. And I still had to climb to my truck. THAT sucked badly.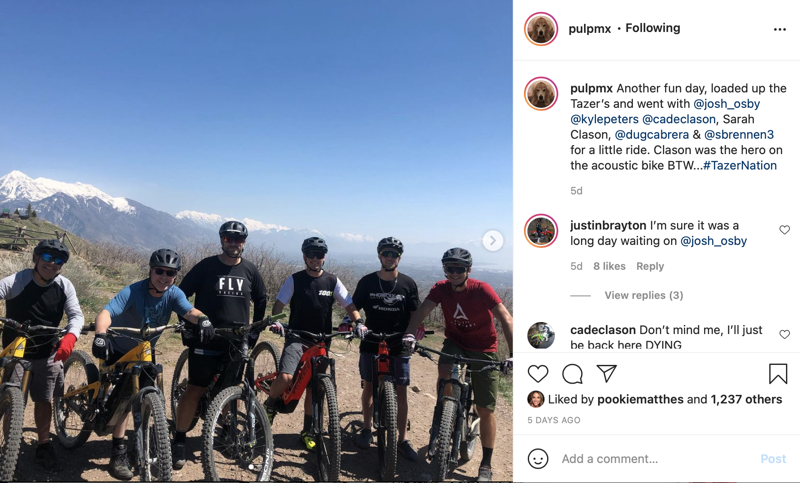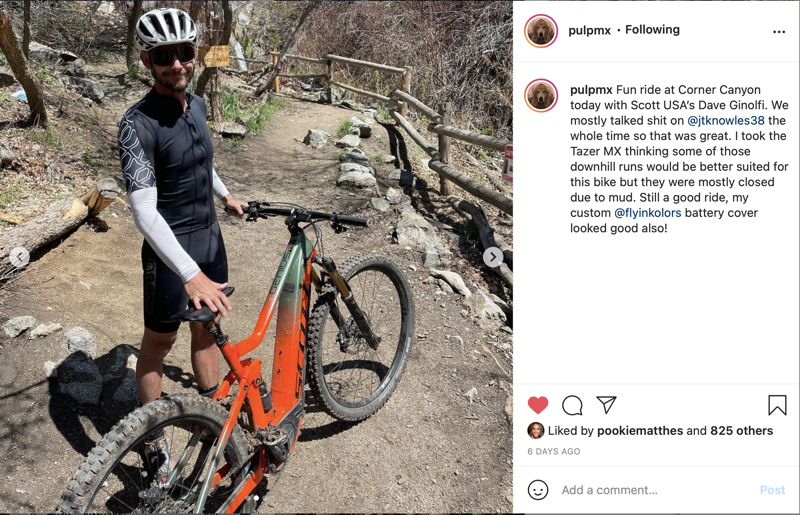 Again, part of the awesomeness of these rides were just hanging with friends. Once it became known I had a bike on the road and was our pedaling, people were hitting me up to get out. That was awesome. Cade brought his wife one time, Dave Ginolfi lives in SLC and took me out last year and did so again. I didn't really know Osby that well but went on three rides with him, he's low-key funny. I brought four e-bikes to SLC and so I was borrowing them out to guys like Sean and Doug from Feld and taking people out for the first time on an e-bike. It was just a great time to hang with so many people away from the races.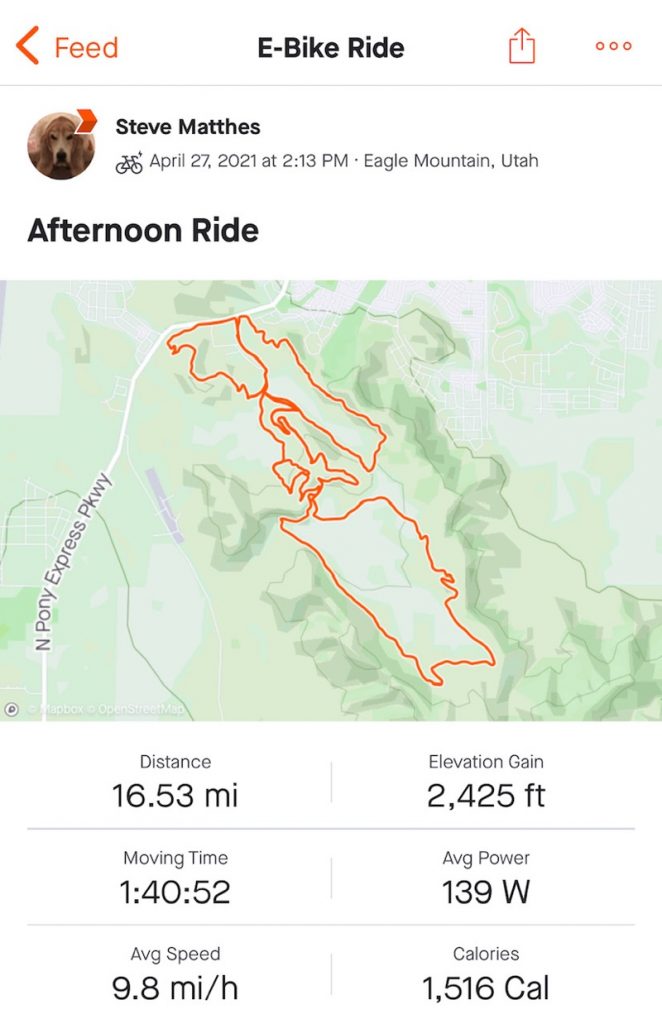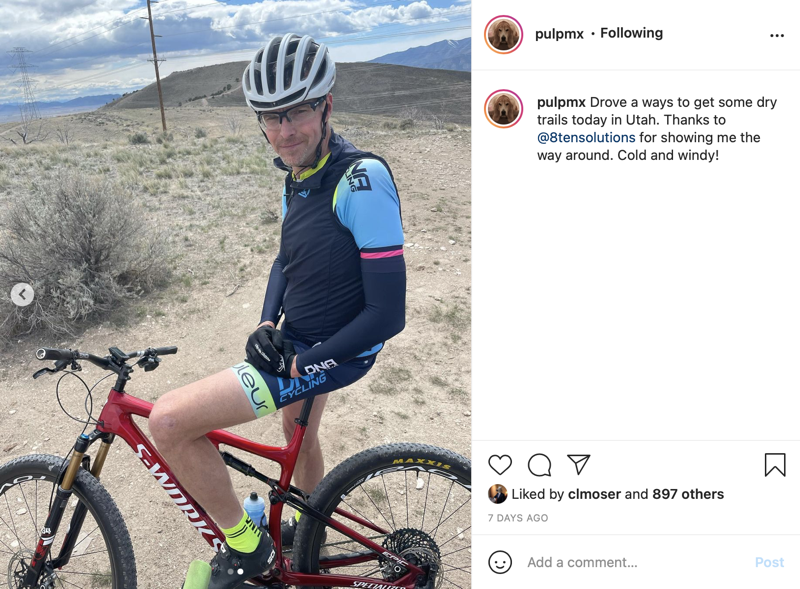 My buddy Jeff lives up in SLC and is a gnarly biker (no motor for him!), he took me out to this Eagle Mountain for some fun ups and downs. I got there before him and got in 45 minutes exploring the place. It was kind of cold and windy but some cool sights along the way. This ride was the most "Vegas-ie" of the ones I went on.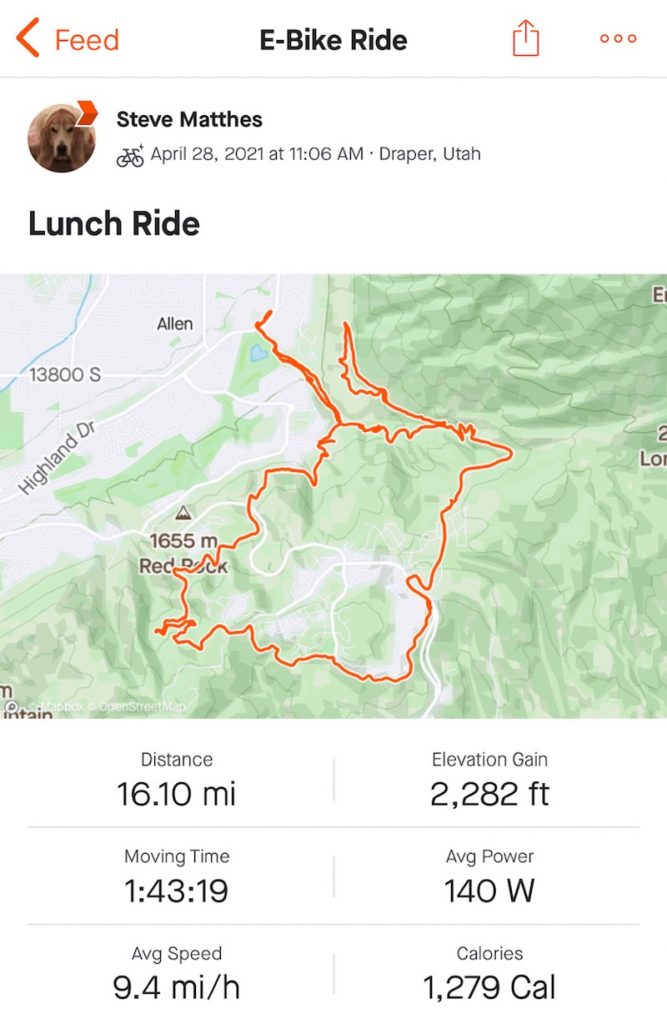 This was Corner Canyon in Utah where I went to two times and is a bit far to drive for me from SLC. This was where I rode a ton last year as well, really well marked trail system, a bit too busy for my liking but there's a downhill run named "Rush" that is great. This is the ride Ginolfi and I went on but had to cut it a bit short, it was muddy in spots and my battery was going to die because I took the Tazer MX out this ride and I have to ride that one in "Trail" mode more than the others because of the way it's programmed. I need to change this BTW.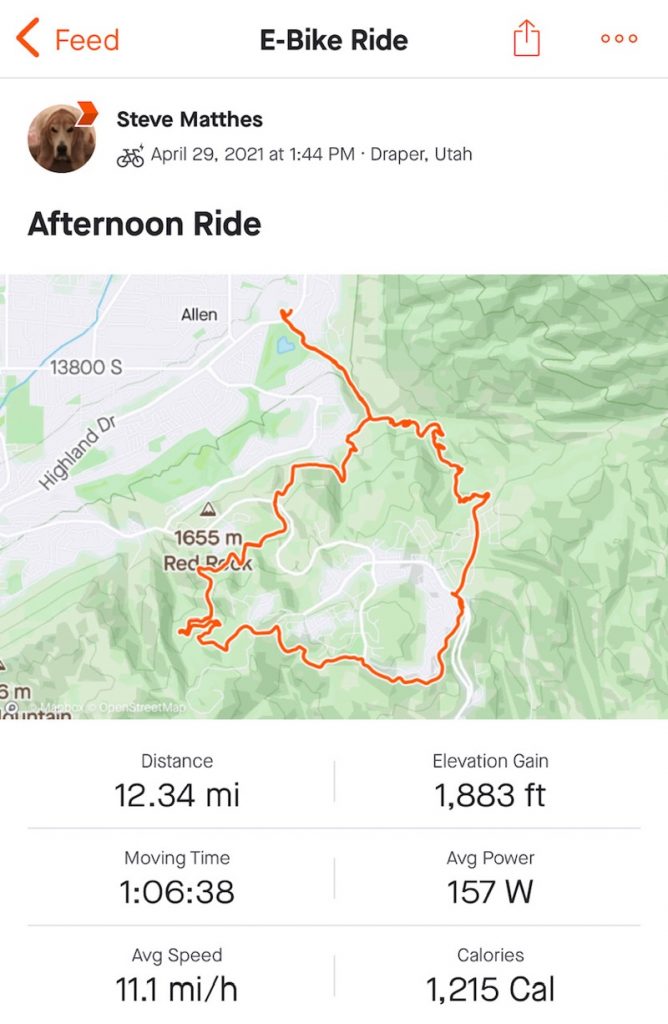 This was the ride, Cade, his wife, Osby, Kyle Peters and Sean and Doug from Feld went on. Cade was being the hero and the only guy not on an E-bike and Sean and Doug didn't have a lot of experience mtb in general so Cade stuck with these two and we all rode ahead of this gang. Same route as Ginolfi and I took (close anyways) but because of all the stop and chats, we had to cut the ride short. Still, a good time was had by all even Sean who had a crash out there!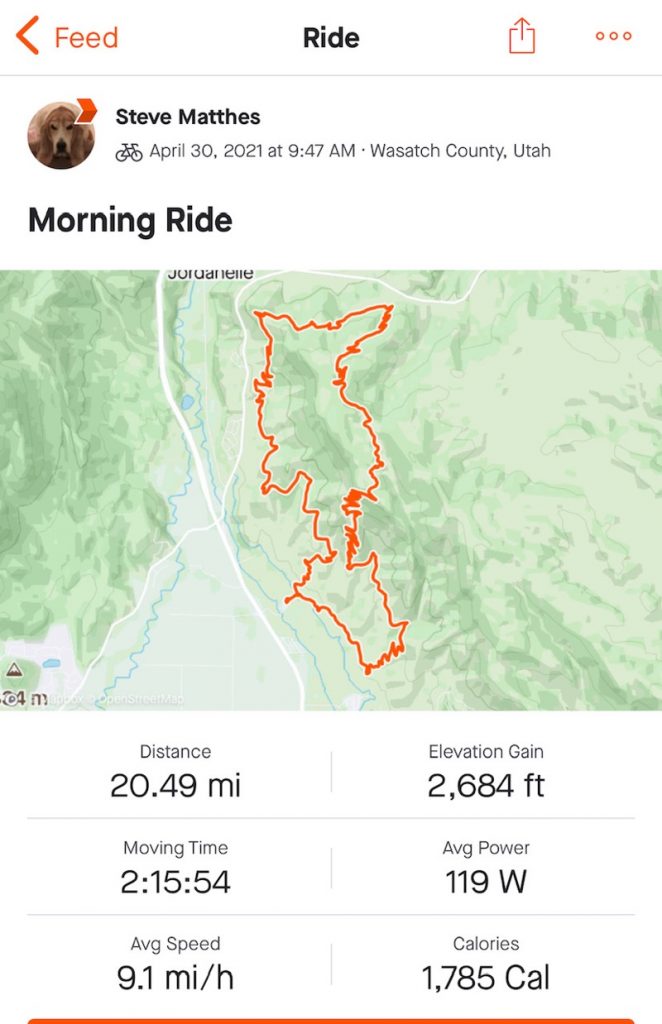 This was my final ride, it was the same route as I took the first day in Utah EXCEPT this time I found my truck right away. So based on this ride, I went an extra 300 feet of climbing and 35 minutes of time by mistaking where my truck was parked the first time. Actually, I lied, this route was a little different than the first one because I went up to the top a little different way, those zig-zags were what I did as opposed to the loop up to the top. This was also very tough but views were amazing and it was so peaceful up there.