For this edition of Classic Ink we are going to take a look back at an ad for KTM's 1987 125 MX. 
Today, KTM is the industry powerhouse in off-road motorcycling. They offer the widest range of models over three distinct brands and have risen to a dominant position in motocross and off-road racing. If you are looking for a machine to scratch your off-road itch, there is a good chance KTM makes it. 
In the eighties, however, KTM was more of an afterthought on this side of the pond. Launched as Pentons in the early seventies, the Austrian machines had been successful in off-road racing but had failed to catch on in a motocross market obsessed with the latest offerings from Japan. As Honda, Kawasaki, Yamaha, and Suzuki took over the sport in the late seventies and early eighties, established brands like CZ, Maico, Bultaco, and Husqvarna struggled to keep up. One by one, they fell behind and were eventually gobbled up by others or shut down entirely.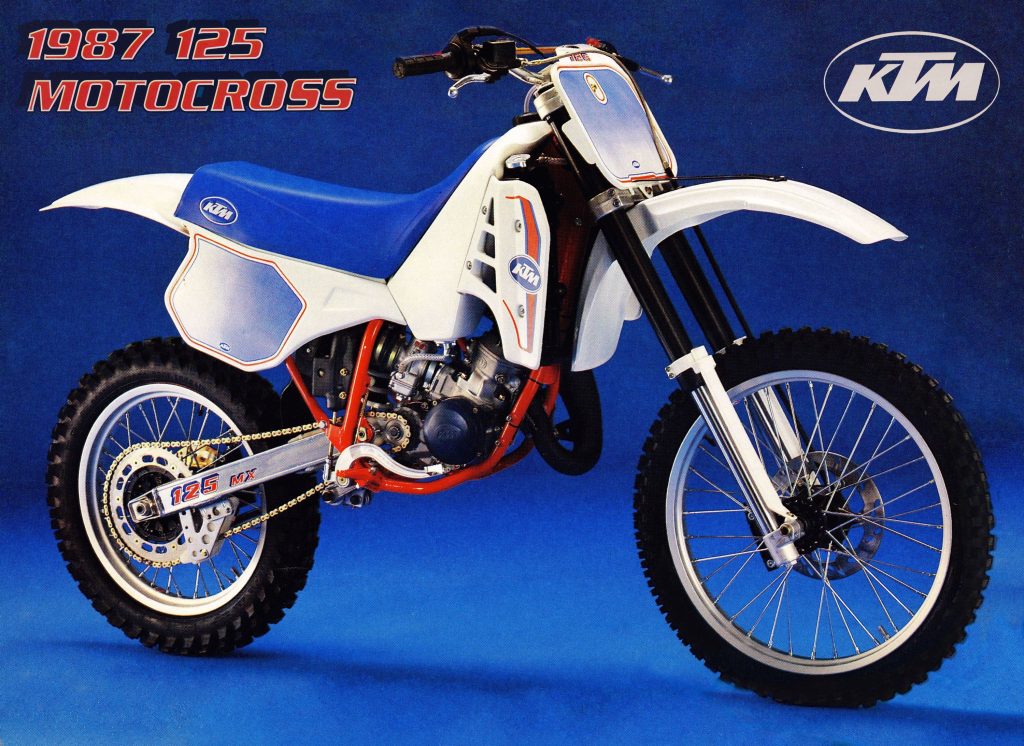 While most of Europe fell behind, the one brand that blazed a trail forward was KTM. The Austrian brand was unafraid to push the envelope of design and build machines that were in some cases even more advanced than the Japanese competitors. If you wanted works-style inverted forks on your 125 in 1987, the only place to get it was KTM. Its 4054 inverted White Power forks were the absolute state of the art in 1987. In 1986, they had joined Kawasaki as the only brands to offer a rear disc brake in the 125 division and for 1987 they introduced an all-new ultra-compact case-reed motor that was as powerful and advanced as anything in the class. The KTM featured premium components throughout including a set of aluminum bars nearly two decades before the Japanese saw fit to include them as standard equipment. 
In spite of its premium construction and formidable performance, the 1987 KTM 125 MX continued to be largely ignored in America. Most of the magazines did not even bother to test it and it was left out of all the major 125 shootouts. Some of this was probably due to KTM's lackluster distribution network at the time but there can be little doubt that KTM was fighting an uphill battle for acceptance within the industry in 1987. Machines like the 1987 KTM 125 MX were more than capable of going to-to-toe with the Japanese but for most American riders they remained an exotic curiosity from across the pond. Eventually, that perception would change, but it would take a bankruptcy, two decades, and a complete reinvention of the brand to make it happen.
For your daily dose of old school moto goodness, make sure to follow me on Instagram and Twitter @tonyblazier 
For questions or comments, feel free to drop me a line anytime at TheMotocrossVault@Gmail.com