The 2021 and 2022 Yamaha YZ450F's are almost  identical minus some suspension valving changes (increased mid-high speed damping), lighter rear wheel with a spoke lacing pattern that is a 3X not a 2X, lighter sprocket, as well as a lighter chain. For a bike that used to get some shade thrown its way in the professional motocross racing world, this Yamaha YZ450F is now the 2021 AMA Motocross Champ! This bike also has treated me really well in my racing goals the past couple years. I have won a Loretta Lynn's title as well as a Vet World Championship on the exact same machine and haven't had a huge maintenance list to go through.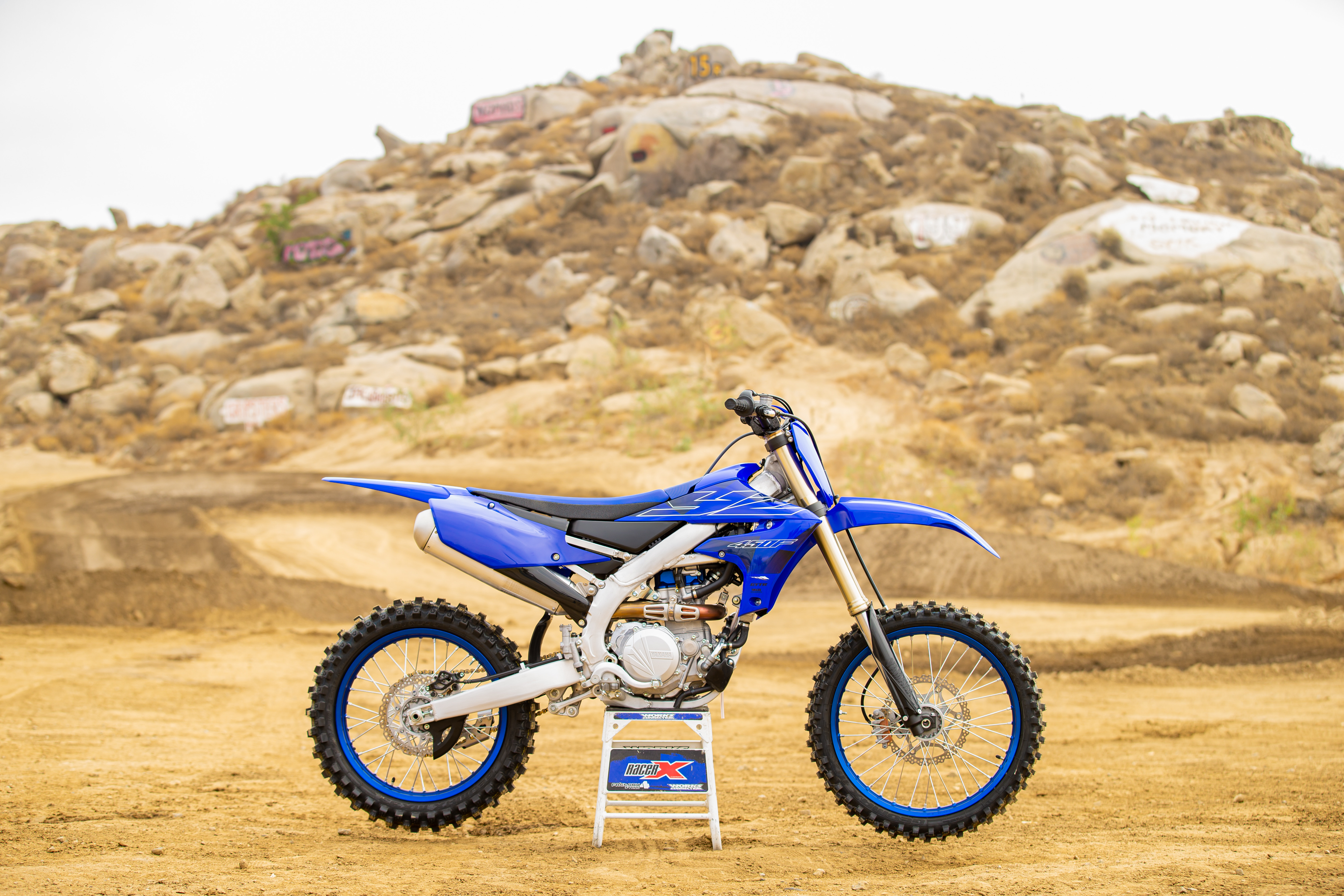 Is the Yamaha YZ450F the slimmest bike? No. Does it corner the best? No. Does it have the best cockpit? Absolutely not. I am the type of rider who would rather have stability than the best cornering machine! The Yamaha is a great middle of the road machine that does everything good. Below are some key settings, as well as mods, that I have rolled over into my 2022 YZ450F since I picked it up a while ago. These can help you drop your lap times, give you more comfort on the track and make a good bike, GREAT!
Suspension: If you're sticking with stock valving the 2022 Yamaha YZ450F's suspension, just know that Yamaha did some significant changes to the valving to get some extra hold up. This means that the baseline settings from 2021 are null and void. Yes, the fork is still slightly soft (once suspension is broke in) at times under hard braking at speed. Going slower on the action, stiffening the compression, as well as lowering he fork in the triple clamp really helps the whole bike remain planted around the track (with less low front end feel coming into corners). The comfort that the KYB SSS fork/suspension has is unmatched and the track toughness it provides makes your life so much less stressful on set up. This setting below will work for most riders ranging from 165-195 pounds with no gear.
Fork: 
Height: 3mm
Compression: 7 clicks out
Rebound: 9-10 clicks out
Shock:
Sag: 104mm
Low Speed Compression: 8 clicks out
High Speed Compression: 7/8 turns out
Rebound: 10-11 clicks out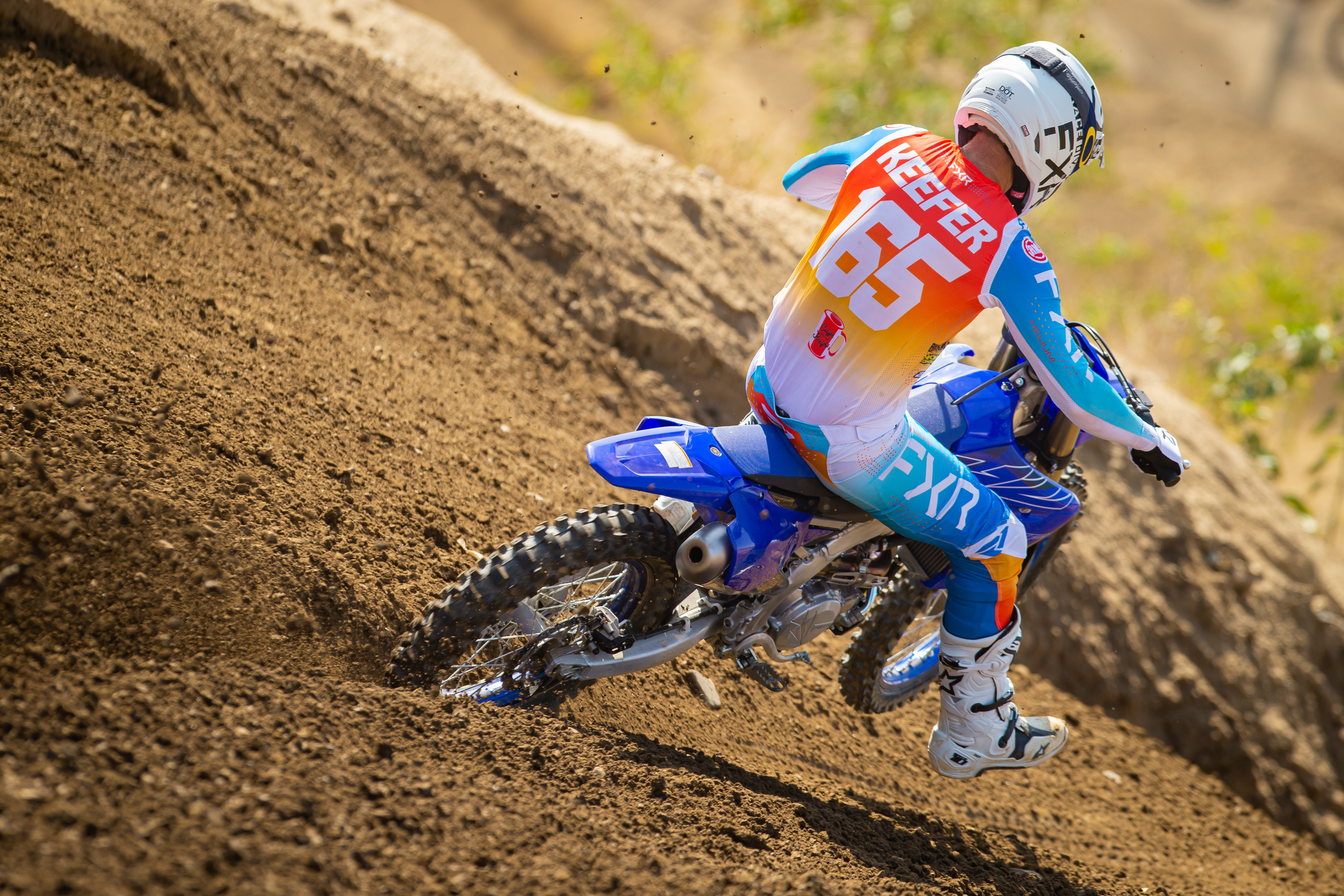 Important Spec Adjustments: 
Chain Slack: 55-60mm
Recommended Torque Settings: These recommended torque settings help the Yamaha's chassis be slightly more compliant over braking bumps/acceleration bumps.
Front Axle 80 ft. Lbs.
Pinch Bolts 15 ft. Lbs. 
Rear Axle Nut: 85-90 ft. Lbs. 
Engine/Power Tuner App: I have tried several maps on the YZ450F, but have always came back to the two below. The stock engine has a lot of bark (rpm response) from 0-10% throttle opening and for the tracks that we have out here (on the west coast) it's too much at times. For you east coast riders try the "TP Magic Map1" as that should be enough bottom to mid range delivery to get you out of that soft soil, yet keep it manageable/linear to hold onto for a 20 minute moto (YES, I AM JEALOUS OF YOUR DIRT!). For all the rest of you, try the TP 3.0 map (on Keeferinctesting.com) as that is the map that I use 80% of the time. The linear/easy to roll on throttle delivery along with the longer pulling power that this map has makes it a tractor around the track. This makes connection to the rear wheel much more apparent with this TP version. Yes, these maps will also work on your 2019 YZ450F, so give them a try.…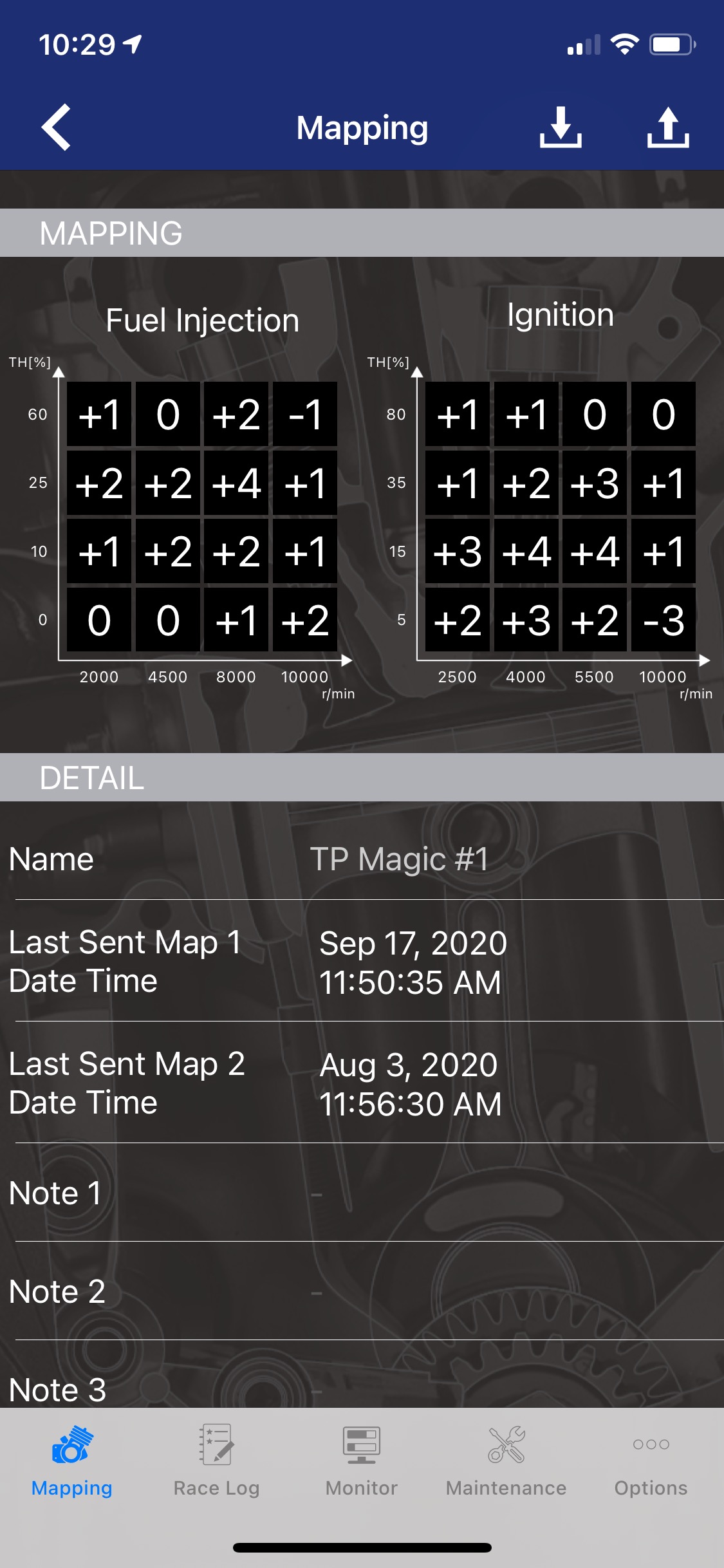 Seat: If there is one problem area of the Yamaha it is the seat. The seat still breaks down quickly and can feel clapped out. This makes you feel like you're riding "in" the Yamaha and not on top. I am sticking with a standard height/density GUTS foam which is actually a little firmer than the OEM foam. The foam density will not break down as much as the OEM foam. 
MX3S or Pirelli MX32 Mid-Soft Front Tire: Yamaha will not want to hear this, but I feel the Yamaha corners better with a Dunlop MX3S or a Pirelli MX32 Mid-Soft front tire rather than the stock MX33. If you're having trouble with initial lean into corners, get yourself a Dunlop MX3S or Pirelli MX32 Mid-Soft front and thank me later.
Gearing: I tried a 13/50 gearing set up for all you novice riders, but it didn't work as good as the stock 13/49 set up. The stock gearing is just fine for 90% of tracks because the Yamaha's engine has so much torque that it can pull third gear. Yes, even for you novice riders! Third gear is that "lugable" that you will not stall through corners, just make sure to cover the clutch lever.
Triple Clamps/Offset: The Yamaha YZ450F doesn't need aftermarket triple clamps nor does it need an offset change (but I am trying some aftermarket clamps soon to see if it causes any rigidity). The rigidity balance that the stock clamp has is a blend of comfort and performance that is hard to find with aftermarket clamps. Still having a hard time in corners? Don't purchase clamps yet, chill down, simply go to a 102mm shock sag setting or go back to a fork height of 5mm. I suggest trying one or the other, not both at the same time. This keeps balance as well as keep the superb bump absorption of the chassis/clamps. Some other machines accept aftermarket clamps better than others, but this Yamaha has a lot of comfort/performance with the stock clamp. Don't go backwards on your set up by purchasing parts you don't need!
Muffler: I go back and forth between the Pro Circuit, FMF and Akrapovic muffler systems if I am not running the stock muffler. All these systems are smoother off the bottom end and pull more in the mid range than the stocker. I like this because it can actually calm the chassis down a little on acceleration bumps. There is nothing wrong with the stock system, but if you MUST get an aftermarket system go with one of these two brands. If you can find one these days! Tough to do right now.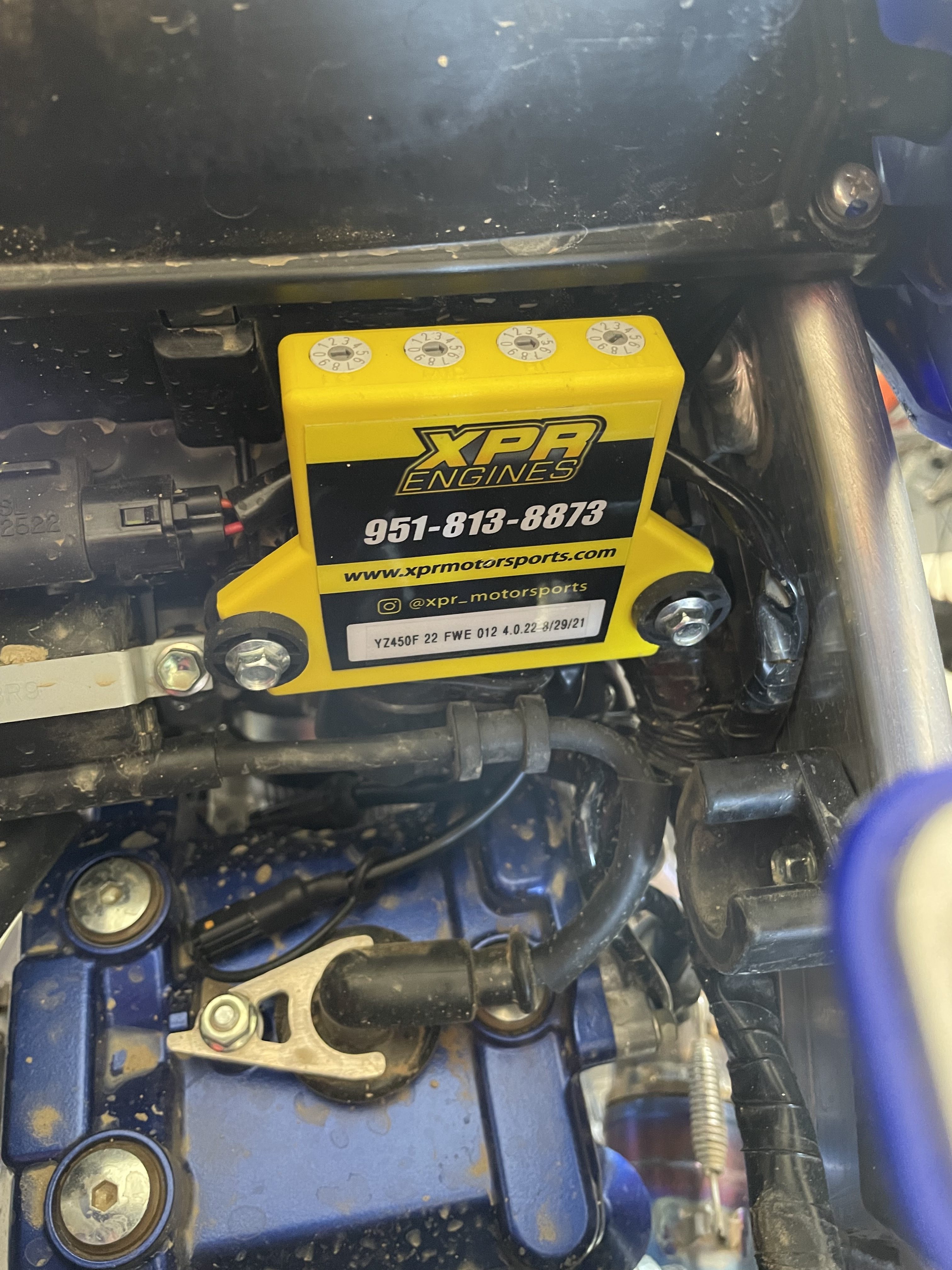 Vortex ECU: I haven't been that vocal about this mod because it's so hard to justify spending $800-1000 bucks on an ignition when the Yamaha ECU/Power Tuner app is so good. However after working on a ton of settings on the standard ECU, I decided to try the Vortex to see if I could make the power broader versus the stock ECU. I have worked on settings with Chad from XPR  and I can say that we have spent many days at the track trying to make the Yamaha not spool up so quick (light or short crank/rod feel). You might be asking yourself, "what the hell is spool up"? The Yamaha has a quick revving light crank feel and sometimes that feeling can cause lack of rear end traction when exiting corners. The rear tire can light up when trying to exit corners under hard acceleration and that can get tough to manage at the end of a long moto. Now this is great when traction is high and the dirt is deep, but once the track gets rough, this Yamaha can be too much to handle compared to a KTM or Husqvarna. Adjusting the ECU via Power Tuner App helps a little, but for safety reasons Yamaha only allows certain parameters, but the Vortex ECU has a wider range of adjustment. Adding the Vortex ECU helps lessen engine braking and also gives the Yamaha a longer power character (almost a long rod feel). Now usually when you get less engine braking in any particular engine character you might feel a more free feeling engine, but with the mapping that Chad created, it makes the power more controllable with less pitching off throttle. The maps that we came up with help rear wheel traction out of corners, allows the rider to ride in third gear even easier, yet allows me to use second gear longer out of corners. Once I got a map (with the Vortex) that wasn't too powerful, I have noticed an improvement in chassis feel when the track gets rough. The YZ450F can be pushed harder through bumpy conditions now that the delivery of the Yamaha is much broader with less engine braking. I would recommend anyone looking to get more connection as well as more power to get with Chad and ask for the Keefer World Vet map.